Chocolate "Wacky Cake" Cupcakes with Salted Caramel Buttercream
This post may contain Amazon or other affiliate links. As an Amazon Associate I earn from qualifying purchases.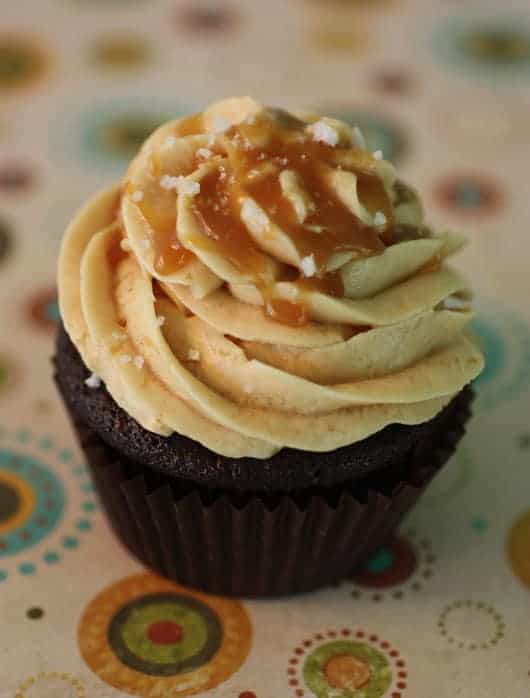 I have been all over the latest salted chocolate and salted caramel goodies available at bakeries and in fancier candies. And I've seen alot of people crinkle their noses at the combination. Until they actually try it. Once they have a couple bites, they're usually hooked. There's just something so right about this combo.
I have been on a caramel kick lately, too, which is not a craving I'm used to. Caramel frappes, caramel on my brownies, caramel on my ice cream, etc. So when I was thinking about what to make to celebrate my mother-in-law's birthday, her love of caramel was speaking my language.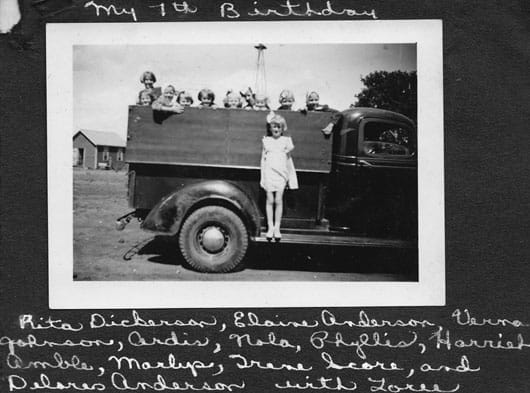 I really wanted to do a chocolate cupcake topped with caramel buttercream. I didn't look any further than my recipe box for the chocolate cake recipe. It's known in my family as "Wacky Cake", the only birthday cake my sisters and I ever knew as kids. It's a very straightforward chocolate cake with, for us Klein girls, very special memories attached.
As for the caramel buttercream, however, I had no clue where to begin. I've never taken the time to make one of those fancy recipes. But I knew what I wanted. I wanted the silky smooth tons-of-butter kind of buttercream, a topper that wasn't made with a bag of powdered sugar. A buttercream that makes your eyes roll to the back of your head after you take a bite. And I do believe I couldn't have found a better caramel buttercream than the one from crispy waffle.
The recipe has a Swiss meringue buttercream base, with the caramel mixed in at the end. It's a time consuming little operation with a big pay-off. I will definitely be making this again. I made a double recipe for a hefty piling of frosting atop each of the 24 cupcakes (that's 4 sticks of butter = 1.33 tablespoons of butter per cupcake, if you're doing the math). After I piped the buttercream onto the cupcakes, I drizzled some delicious Tastefully Simple Creamy Caramel Sauce over it and finished it off with a sprinkle of flakey sea salt. All I could think about as I was eating the super silky buttercream was 'caramel popcorn'. The slightly salty caramel flavor was fantastic. And I ate way too much of it!
Happy Birthday Loree!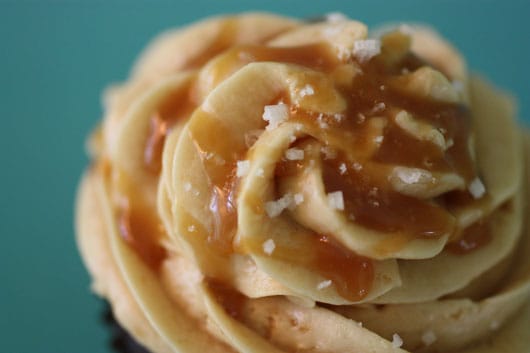 Chocolate "Wacky Cake" Cupcakes with Salted Caramel Buttercream
Yield: 24 cupcakes
Prep Time: 30 minutes
Cook Time: 25 minutes
Total Time: 55 minutes
With a decadent caramel Swiss meringue topping, these Chocolate Cupcakes with Salted Caramel Buttercream are the perfect flavor combination of chocolate, caramel and sea salt. These are the cupcakes you make to impress that special someone or serve at a wedding or baby shower.
Ingredients
for the cupcakes:
3 cups all-purpose flour
6 tablespoons cocoa powder
1 teaspoon kosher salt
2 cups sugar
2 teaspoons baking soda
2/3 cup vegetable oil
2 tablespoons white vinegar
2 cups cold water
2 teaspoons pure vanilla extract
for the caramel:
1 cup sugar
4 tablespoons water
1/2 cup heavy cream
pinch sea salt
for the buttercream:
6 egg whites
1/2 cup granulated sugar
1/4 teaspoon cream of tartar
2 cups (4 sticks) unsalted butter, at room temperature
for finishing:
Instructions
For the cupcakes: Preheat oven to 350° F. Prepare 2 regular cupcake pans (24 cupcakes). Use paper cupcake liners or just spray the cupcake wells lightly with cooking spray.
In a large bowl, whisk together dry ingredients. With a spoon, make 3 large holes in the dry ingredients.
In a small bowl, combine vegetable oil and vinegar. Pour this into the 3 holes in the dry ingredients. Then pour the water over the entire mixture. Mix with a fork. Add vanilla and stir. Divide evenly into the 24 cupcake wells.
Bake for 25 to 30 minutes, removing from the oven as soon as a toothpick comes out clean. (This can also be made in a 9" x 13" cake pan - bake for 30 to 35 minutes, until toothpick comes out clean.)
For the caramel: Add the sugar to a small saucepan and pour the water over it. With the heat on low, swirl the pan around until the sugar has nearly dissolved. Be careful to not let it boil yet. If it starts getting too hot, remove it from the burner for a few seconds, while continuing to swirl. Once the sugar has mostly dissolved, raise the heat to medium-high and bring the mixture to a boil. Cover it immediately and let it boil for 2 minutes.
Uncover and continue swirling the mixture until it becomes dark amber. Be VERY careful here. You want it to be dark, but it can go from dark to burning in seconds. Once it goes from golden amber to dark amber, take it off the heat immediately.
Slowly pour the cream into the dark amber mixture, whisk continually. Be careful, as the caramel will start splattering if you pour too fast. Whisk until combined, then set aside. Let caramel cool to room temperature.
For the buttercream: Combine the egg whites, sugar, and cream of tartar in the stainless steel bowl of an electric stand mixer. Bring a large pan of water to simmer on the stove, making sure that when you place your mixer bowl into it, that the bottom of the bowl is sitting in the water just a bit. Set the mixer bowl in the pan of simmering water and whisk constantly until the mixture is extremely foamy and reaches 140° F on an instant-read thermometer. Be very careful to not let the egg whites curdle. If they start to curdle, they are getting too hot, too fast - remove the mixer bowl for a short while and reduce the heat a bit.
Move the bowl to the stand mixer and beat on high speed for 3-5 minutes, until the meringue mixture holds glossy, marshmallowy peaks. Remove the meringue to another bowl and place the empty mixer bowl back on the stand mixer. Then add half the butter and one-third of the meringue to the mixer bowl and beat until well combined. Continue to add the remaining two-thirds of the meringue a dollop at a time. The mixture may look curdled at this point, which is a bit alarming after going through all this work, but adding the remaining butter a tablespoon at a time will smooth things out. It really does come together at the end.
With the mixer on low, add the room-temperature caramel and mix until evenly combined. Do NOT add warm/hot caramel, as it will melt the butter!!
To finish: With a pastry bag and tip, swirl the caramel buttercream on top of individual cupcakes - this buttercream recipe makes enough to add a large mound of frosting to 24 cupcakes. Drizzle on your favorite caramel sauce, and then sprinkle with sea salt flakes to finish them off.
Notes
Cupcakes recipe from Mom's recipe box. Caramel buttercream from crispy waffle.
Nutrition Information:
Yield: 24
Serving Size: 1
Amount Per Serving:
Calories: 390
Total Fat: 23g
Saturated Fat: 12g
Trans Fat: 1g
Unsaturated Fat: 10g
Cholesterol: 46mg
Sodium: 375mg
Carbohydrates: 43g
Fiber: 1g
Sugar: 30g
Protein: 3g
Nutrition information is automatically calculated by Nutritionix. I am not a nutritionist and cannot guarantee accuracy. If your health depends on nutrition information, please calculate again with your own favorite calculator.
We participate in the Amazon Services LLC Associates Program, an affiliate advertising program designed to provide a means for us to earn fees by linking to Amazon.com and affiliated sites. See our
disclosure policy
for more info.