Chocolate Chip Angel Food Cupcakes with Vanilla Cream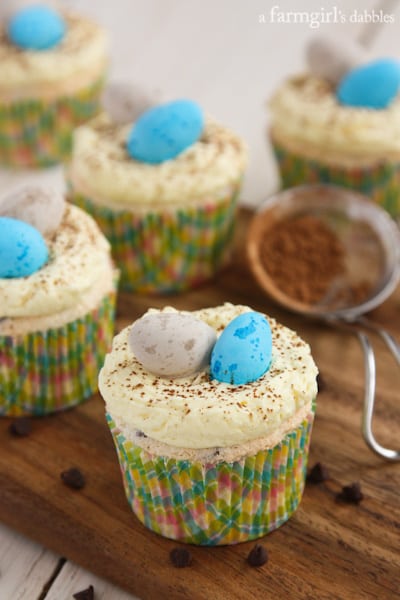 If you like angel food cake, you are going to LOVE these Chocolate Chip Angel Food Cupcakes with Vanilla Cream! The cupcakes are soft and moist, with just the perfect scattering of chocolate bits. And the vanilla cream, oh my. With pudding mix added to the sweetened whipped cream, it is nothing short of amazing in both texture and flavor, and creates the perfect "nest" for the pretty speckled eggs from our Harry and David Easter basket.
Such a delightful cupcake to celebrate Easter and the arrival of spring!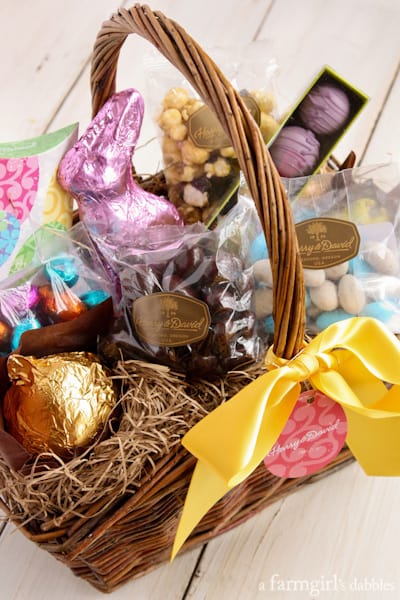 Whenever I open our front door to find a box stamped with Harry and David's signature logo, immediate giddiness sets in. Their boxes always contain so much deliciousness. And their packaging is a gift in itself, always beautiful and thoughtfully detailed. I can still remember the first time I opened one of their signature gift towers. Gorgeous boxes of varying sizes stacked high, each filled with one wonderful treat after another. I was in awe. And then, many years later, I had the opportunity to visit Harry and David in southern Oregon, to see their magic in motion. It was an amazing experience, one that I'll always hold dear.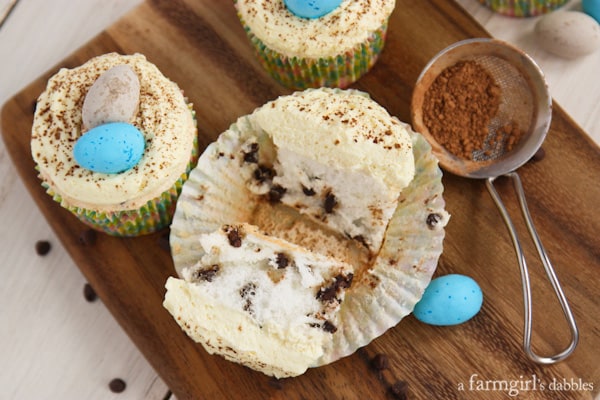 I am sharing my recipe for these Chocolate Chip Angel Food Cupcakes with Vanilla Cream in a guest post on the Harry and David blog. Hop over here to check it out!
And then please promise me you'll make these cupcakes. They were overwhelmingly approved by our whole family. Enjoy!
Disclosure: Thank you to Harry and David for sponsoring this post. I'm a huge fan of their company and products, and love the opportunity to share our experiences with you. All opinions are my own.