Chocolate Coconut Cream Monkey Bread in Jars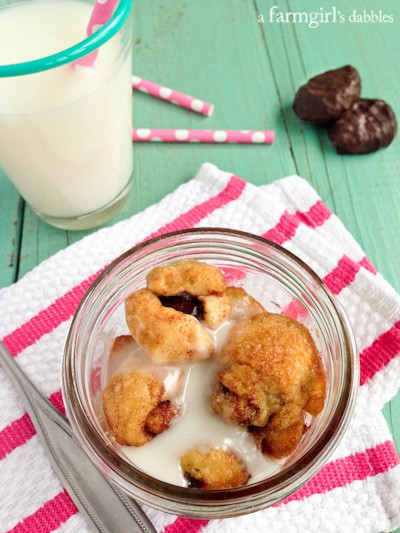 You might think that we make everything from scratch around here. But we truly don't. We bake a frozen pizza or stir up a box of mac & cheese, probably once or twice a week. Life just gets busy and we do what we need to do to get some food on the table.
But when it comes to place-and-bake cinnamon rolls…well that's another story. My family thinks of these as a treat. A luxury. A very special occasion. It's what you'll find on our table whenever my husband preps breakfast the morning of my birthday or Mother's Day, most likely in our favorite flavor of orange. I'm pretty sure that Blake secretly hopes I'll do the same for him on his special days!
So when Pillsbury asked me to create a fun and easy breakfast recipe for Easter, I was all in. I knew my family would support every last bite of my cinnamon roll testing, and they loved this recipe for Chocolate Coconut Cream Monkey Bread in Jars!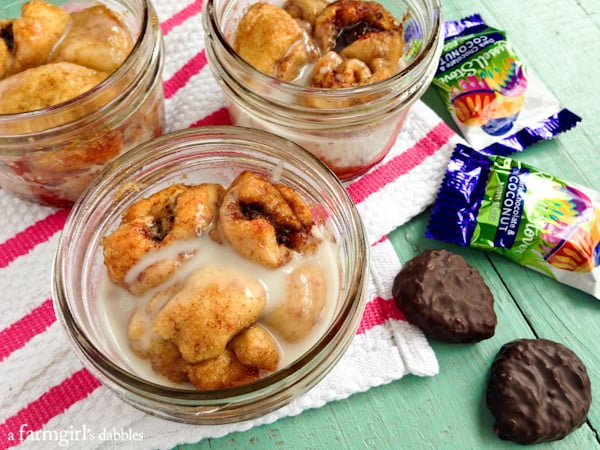 I've always loved a good coconut cream egg, preferably when it's encased in dark chocolate. I've even made my own version, all tender and yummy with the addition of marshmallow creme. It's the perfect Easter basket treat inspiration for these jars of monkey bread, tucked inside warm pillows of cinnamon roll dough.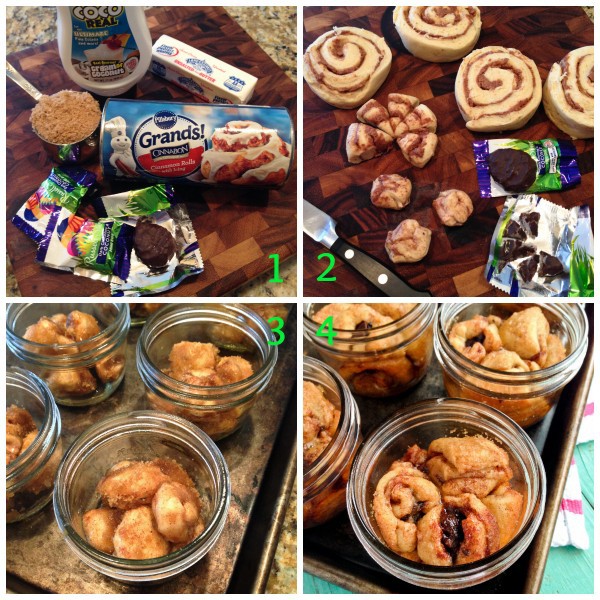 These jars of breakfast deliciousness come together in a fun way, perfect for enlisting small, eager hands on Easter morning. All you need are five ingredients. Then simply pinch pieces of cinnamon roll around pieces of coconut cream egg to form little balls of dough. Dip the dough balls in butter and brown sugar, divide between simple canning jars or ramekins, and bake. I love how some of the dough balls pop open a bit while in the oven, exposing the chocolate and coconut within!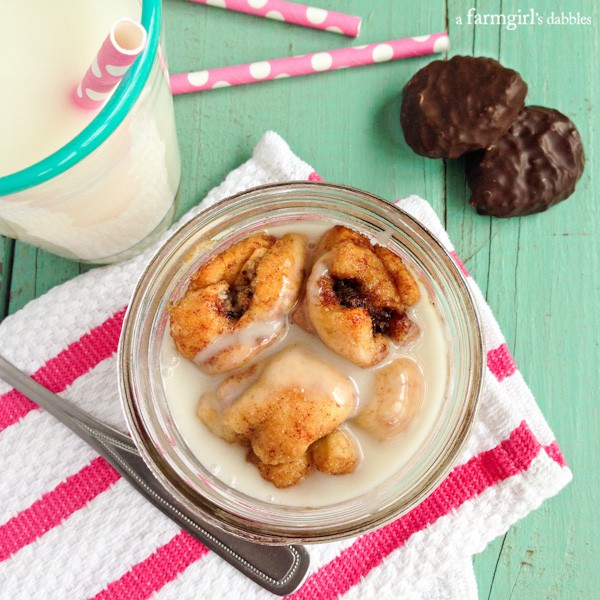 The final step is to stir together the icing that comes in the Pillsbury cinnamon roll tube with the cream of coconut or a bit of coconut extract, and then drizzle the mixture over the warm monkey bread. It's a super easy way to infuse just a little more of that wonderful coconut flavor.
Pillsbury always offers tons of great recipes and tips for every holiday and occasion. Be sure to check out more of their easy Easter celebration ideas!
I just HAVE TO share this photo!
This picture is of my beautiful mom, when she worked for Pillsbury after graduating from high school. I remember looking at this when I was young and being so amazed that my mom lived in a big city and worked for such an iconic company. Growing up in rural South Dakota, 75 miles from the nearest shopping mall (that's always a great way to describe how far we were from anything!), it was a big thing for my little mind. And it made me so proud of my momma. :)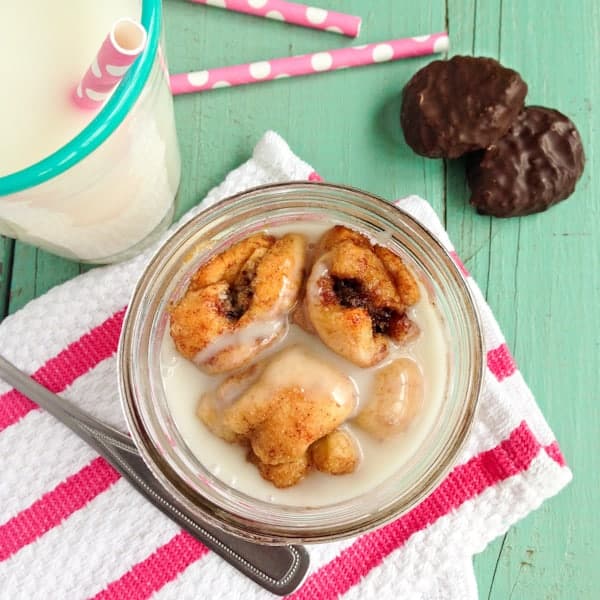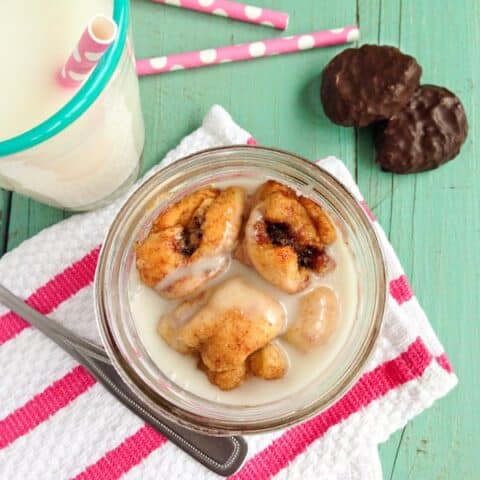 Chocolate Coconut Cream Monkey Bread in Jars
Yield: 6 servings
Prep Time: 15 minutes
Cook Time: 20 minutes
Total Time: 35 minutes
These jars of breakfast deliciousness come together in a fun way, perfect for enlisting small, eager hands on Easter morning.
Instructions
Preheat oven to 350° F.
Lightly spray six wide-mouth half-pint jars or 1-cup capacity ramekins. Place them on a baking sheet and set aside.
Cut each cinnamon roll into 8 pieces, like cutting a pie. Then do the same to the coconut cream eggs. Flatten each piece of cinnamon roll and place a piece of coconut cream egg in the center. Fold cinnamon roll dough up and over the coconut cream egg, pinching the dough closed to form a ball. Repeat until all dough balls are formed. Dip each dough ball into the melted butter and then the brown sugar, and place 6 to 7 dough balls in each jar.
Place jars on the baking sheet and bake for 20 to 22 minutes.
Remove from oven and let cool for 5 minutes. In a small bowl, mix icing from the cinnamon rolls tube with the cream of coconut, and then drizzle over the warm rolls. Serve immediately.
Notes
from a farmgirl's dabbles
Nutrition Information:
Yield: 6
Serving Size: 1
Amount Per Serving:
Calories: 639
Total Fat: 28g
Saturated Fat: 13g
Trans Fat: 4g
Unsaturated Fat: 9g
Cholesterol: 61mg
Sodium: 1128mg
Carbohydrates: 88g
Fiber: 1g
Sugar: 37g
Protein: 10g
Nutrition information is automatically calculated by Nutritionix. I am not a nutritionist and cannot guarantee accuracy. If your health depends on nutrition information, please calculate again with your own favorite calculator.
Disclosure: Thank you to Pillsbury for sponsoring this post. I received Pillsbury product to create this delicious recipe, plus compensation to share it with you. All opinions are my own.