Italian Meatloaf Muffins
Italian Meatloaf Muffins are mini versions of a classic meatloaf recipe, in fun individual portions. You'll love the gooey mozzarella cheese centers! Not to mention how easy it is to make meatloaf in a muffin tin!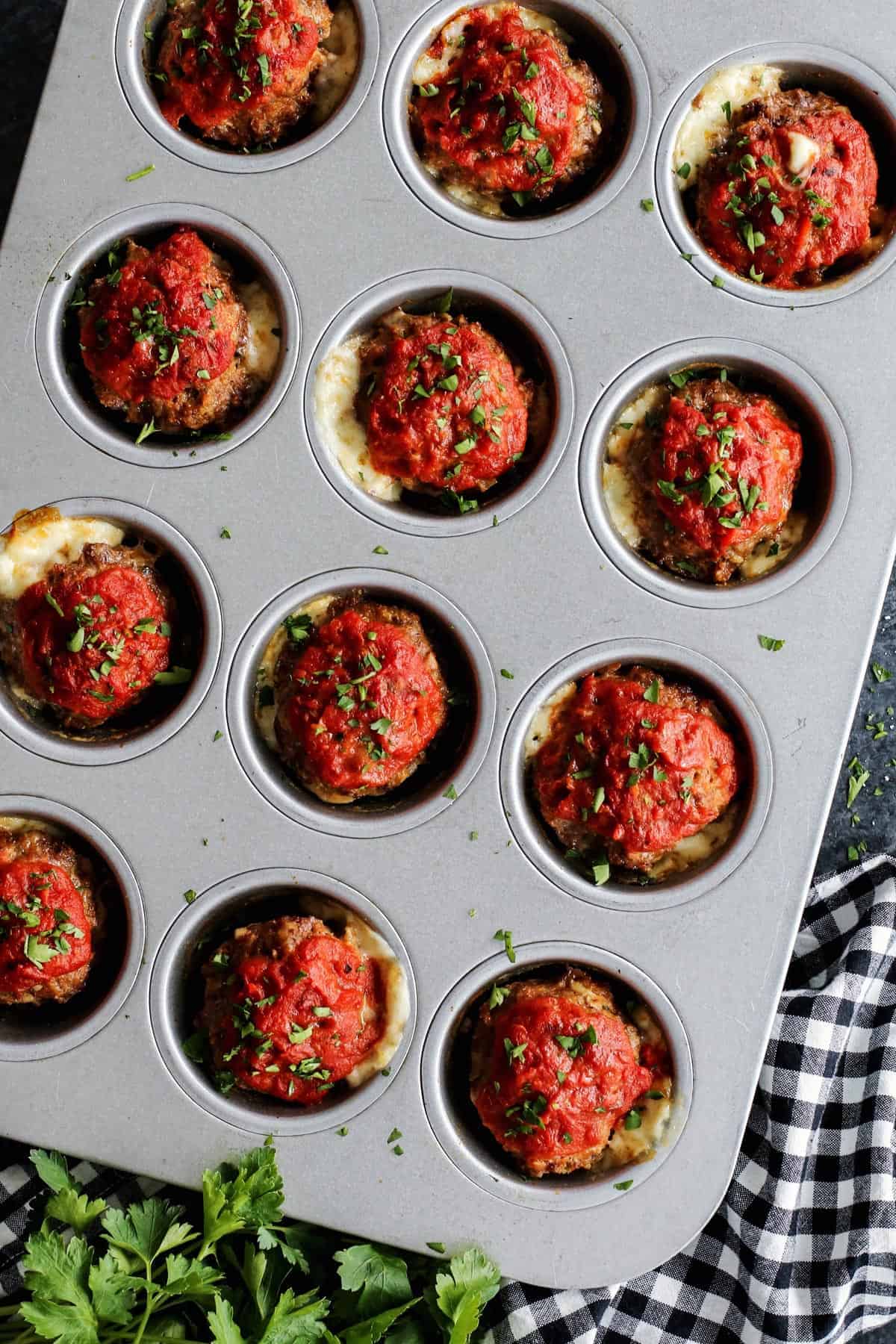 My Family Loves These Italian Meatloaf Muffins!
Every now and then, I have the most unbelievable craving for meatloaf. Please tell me that you do, too!
These Italian Meatloaf Muffins with cheese are definitely crave-worthy. My family can attest to that. Maybe it's the Italian flavor riff, or quite possibly it's about the gooey mozzarella centers. Whatever their reason, this meal always disappears in a flash.
Muffin Tin Meatloaves Are Perfect For Valentine's Day
If you're looking for a great Valentine's Day meal to serve your family, your honey, or a special friend, this meatloaf muffin recipe would be perfect. I also highly recommend my Lasagna Soup – everybody loves it! And then cap off the meal with a fun dessert – might I suggest Heart Shaped Brownies with Fresh Raspberry Buttercream? Or perhaps Gooey Chocolate Mug Cake (super quick and easy!) or Nutella Cheesecake Brownie Bites?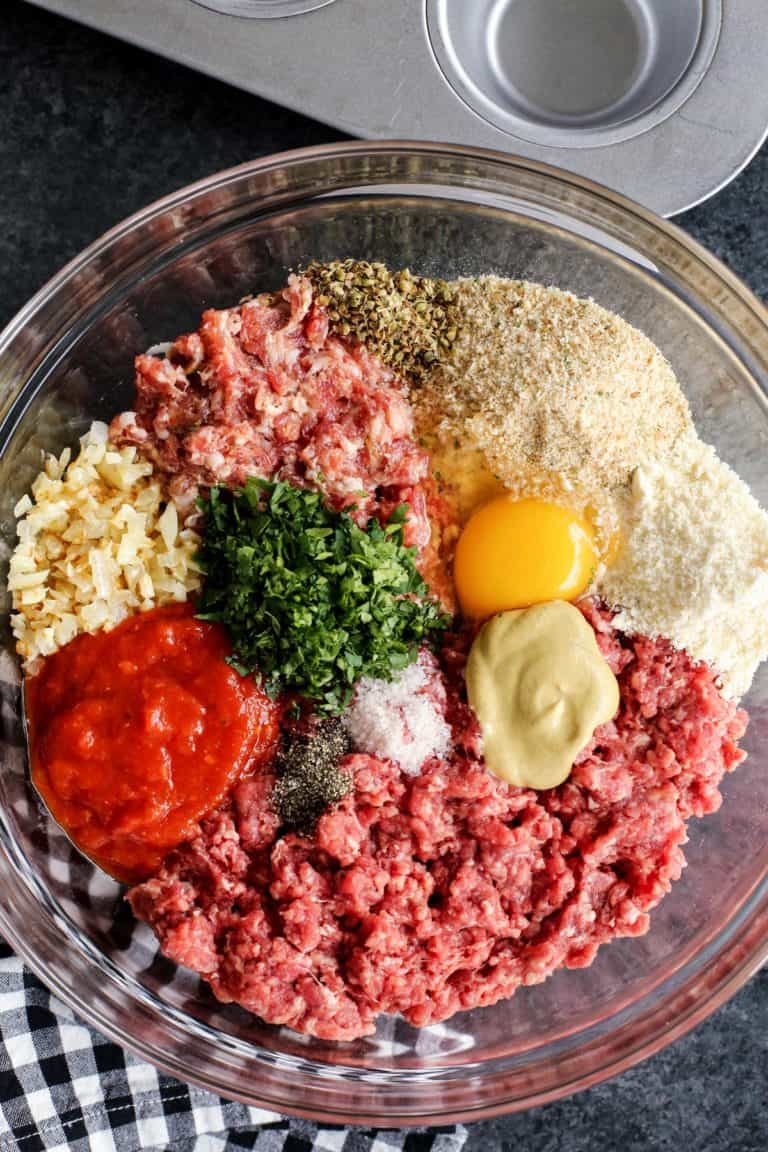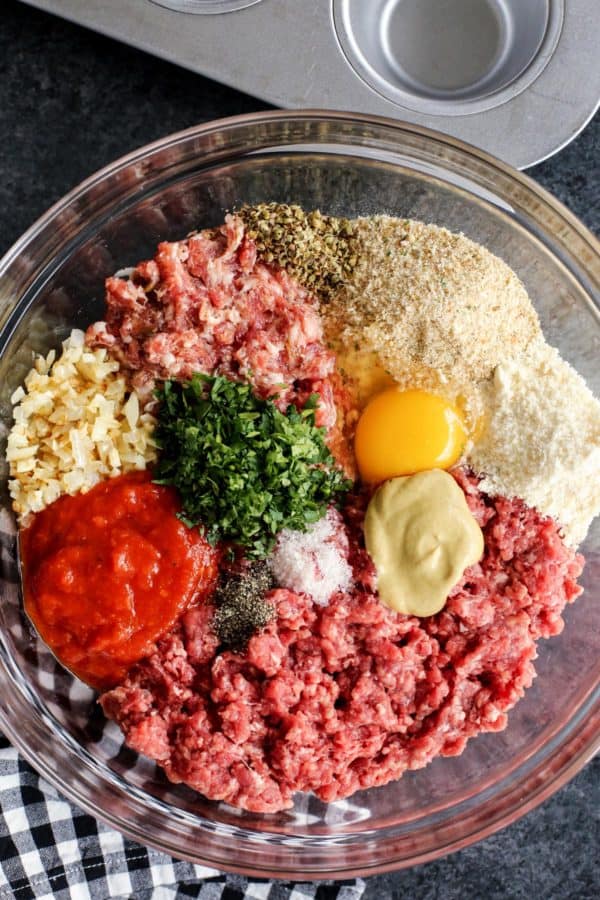 How To Make Meatloaf Muffins
I have a few pieces of criteria that are important to me when it comes to meatloaf:
I want plenty of meat texture. No mushy, unstable, wobbly meatloaf allowed on my table!
I like the fresh onion to be sauteed prior to adding it to the rest of the meatloaf ingredients, so it "melts" into the finished meatloaf. No crunchy, under-cooked pieces of onion for me, thankyouverymuch.
And finally, I need flavor. I do not like a bland meatloaf that requires me to get out a bottle of ketchup.
With this recipe, I start out with a base of ground beef and mild Italian sausage, which gives great texture and flavor. Then I add sauteed onion and garlic, assuring mellowed-out flavors and no crunchy onion pieces.
I include just the right amount of Italian seasoned bread crumbs to soften the texture just a bit, without making it mushy.
And I finish off the muffin tin meatloaf with an egg (to bind everything together), marinara sauce, grated Parmesan, Dijon mustard, dried oregano, fresh Italian parsley, salt, and pepper.
What Is The Best Way To Mix Meatloaf?
Many people don't like to touch raw ground meat, I am well aware. But I still think the best way to incorporate all the meatloaf ingredients is to use your hands.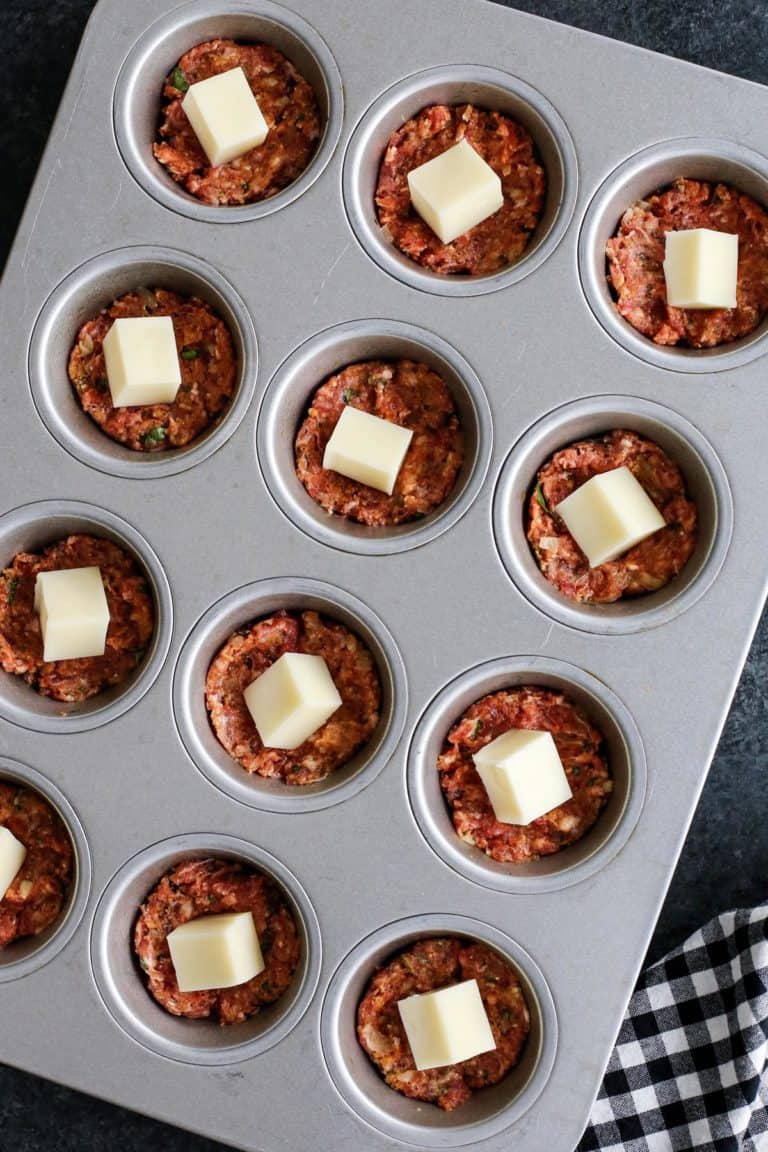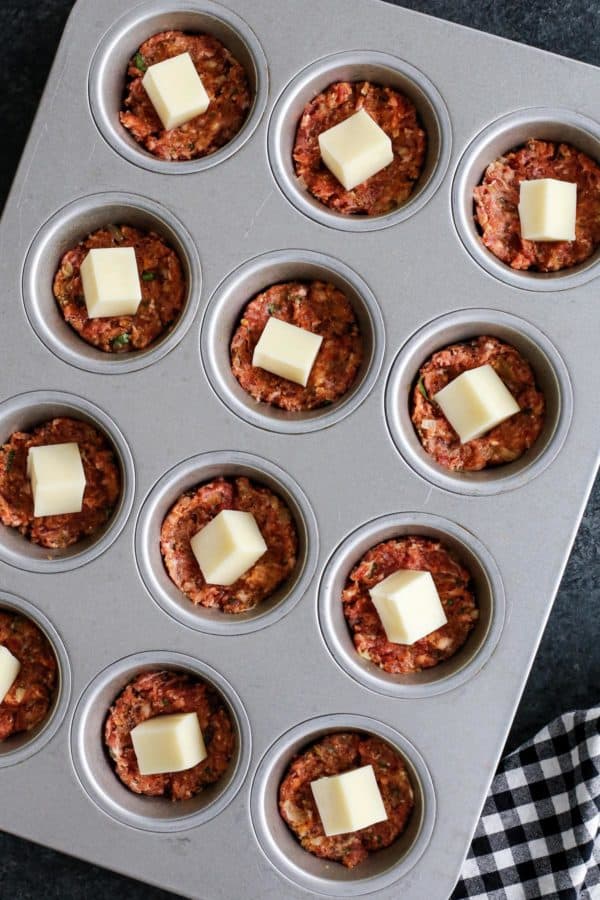 How To Make Meatloaf In A Muffin Tin
Then comes the fun part: Creating individual servings of meatloaf in a muffin tin.
Press half the meatloaf mixture into the bottom of each muffin cup. Then top each portion with a cube of mozzarella. When that cheese gets baked inside, it gets all soft and gooey and crazy fun!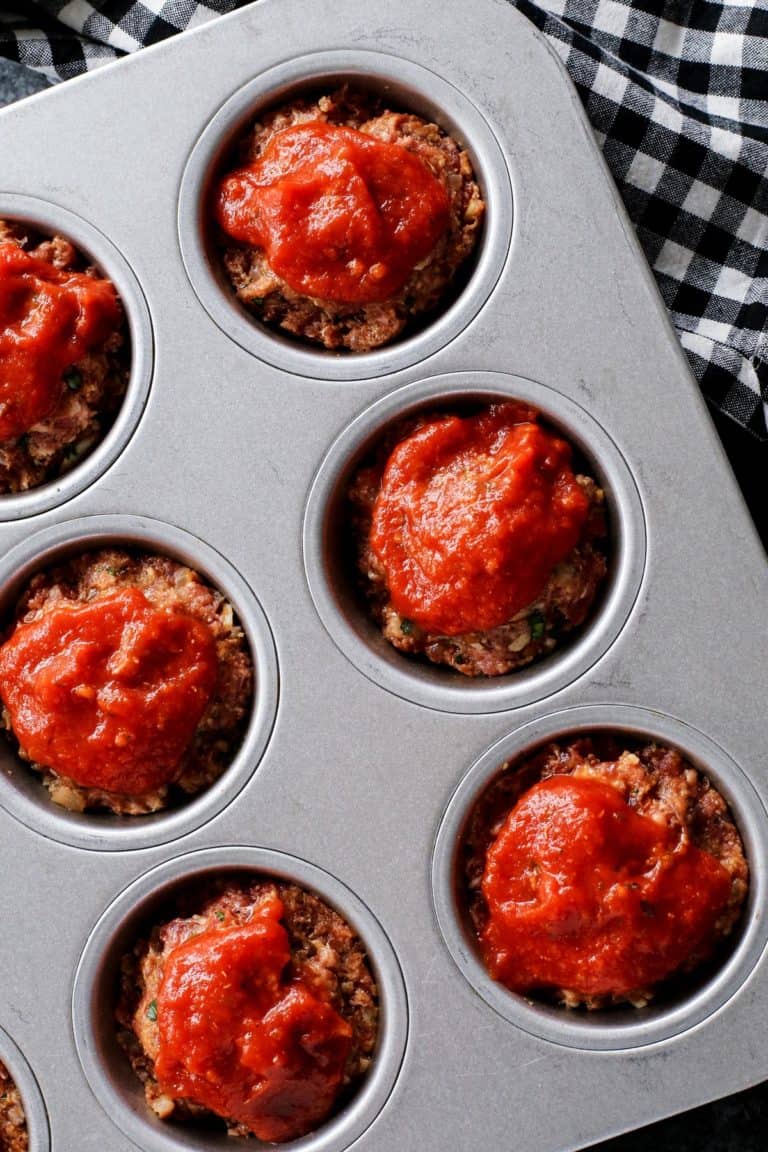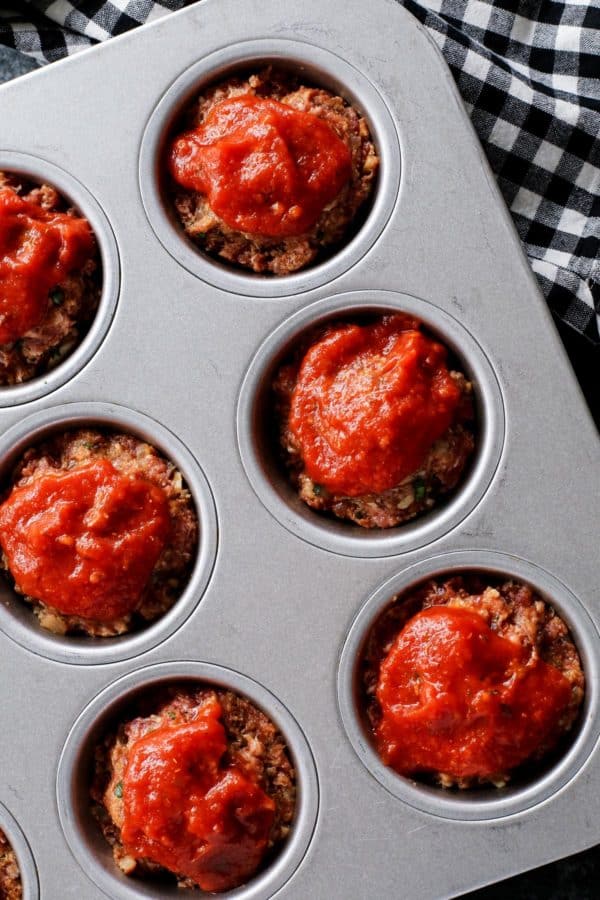 Top each portion with the remaining meatloaf mixture, followed by a spoonful of marinara.
I like to use an extra flavorful marinara – the spicy Arrabiata Sauce from Trader Joe's is a favorite.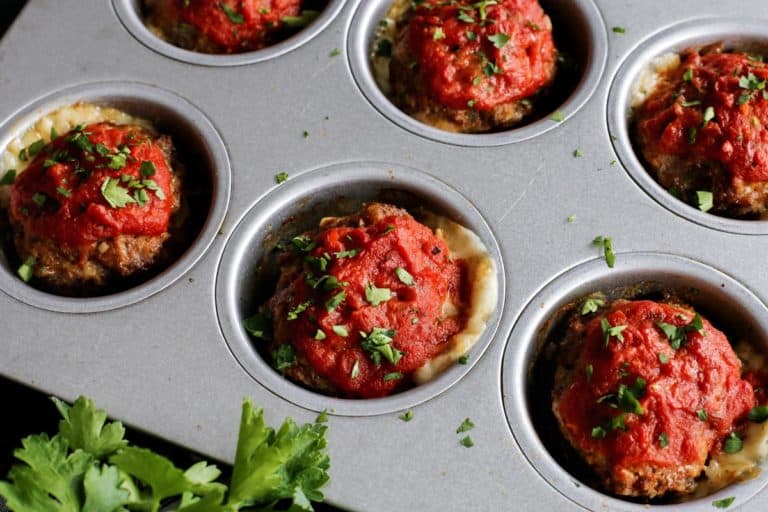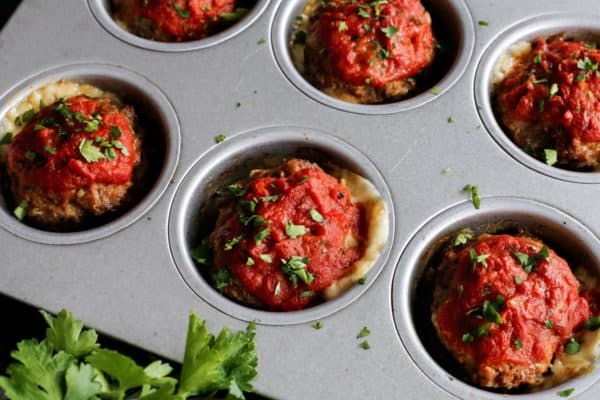 The Cheesy Insides Are My Favorite Part Of These Mini Meatloaves
I love it when the cheese oozes out from the centers partway through the baking time. It just can't contain itself!
This was not my original intention for this recipe, to have the cheese bust out from the belly of the meatloaf muffins. And at first I was disappointed, feeling that my plan had failed.
But then, as they baked longer and I watched the mozzarella bubble and turn golden at the edges of the pan, I knew that this was a fortuitous event.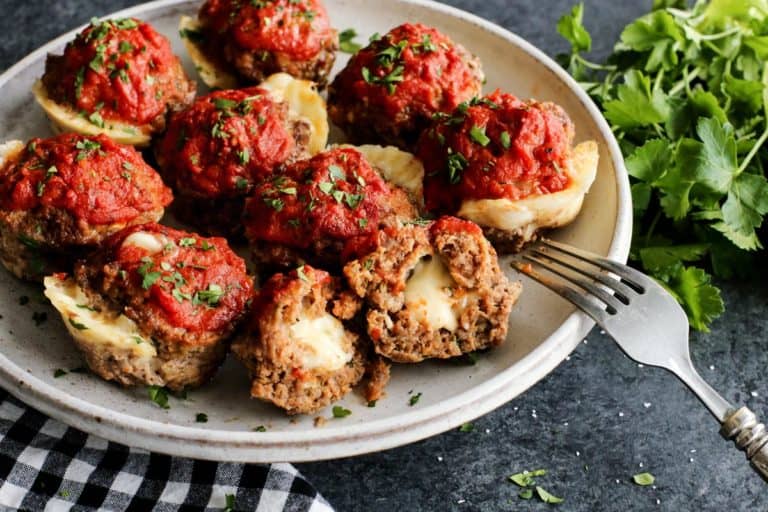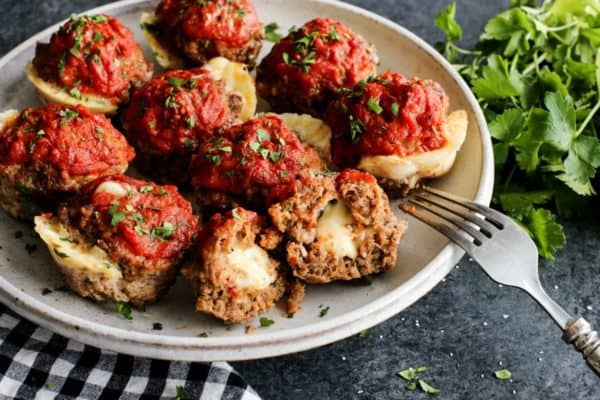 These easy meatloaf muffins with a cheesy Italian twist work great for a weeknight meal, and are wonderful enough for a special occasion.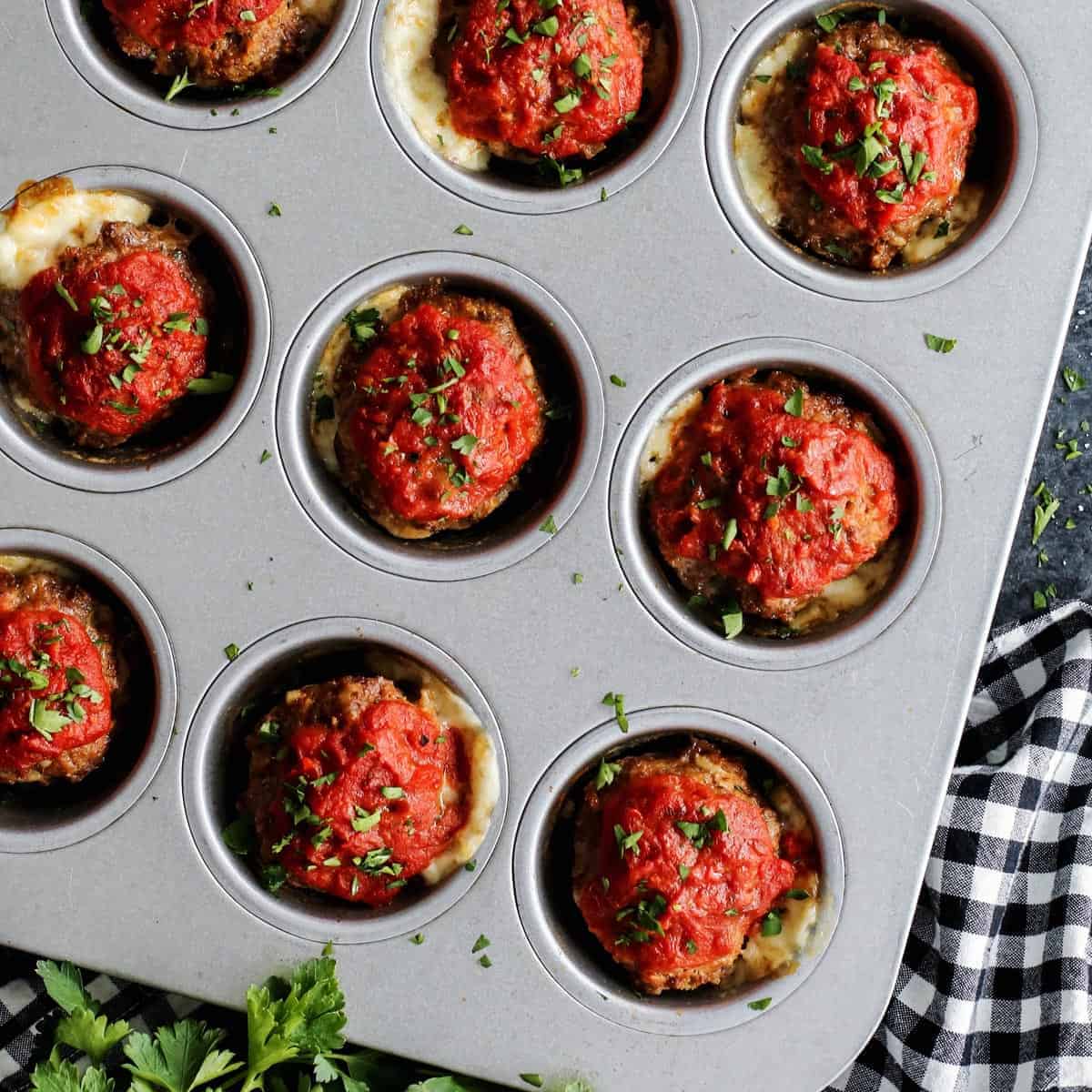 What Sides Go With This Meatloaf Recipe?
I like to serve the Italian meatloaf muffins with buttery mashed potatoes (ALL meatloaf recipes deserve mashed potatoes. It's a rule!) and a fresh green salad. Our family especially likes this Italian Chopped Salad with its super zippy Italian Vinaigrette.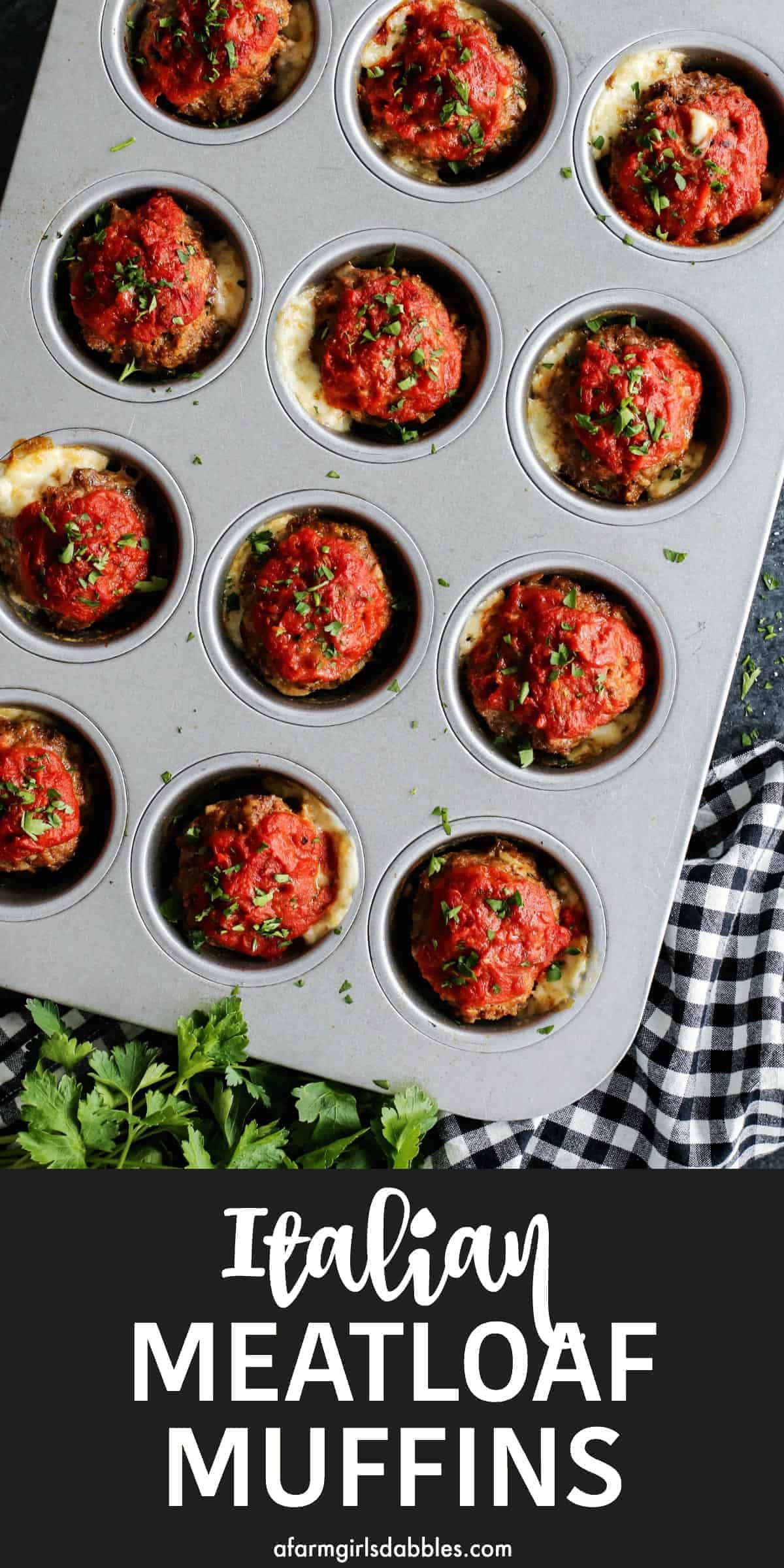 If you enjoy this meatloaf recipe you should also try my Meatloaf With Chili Sauce recipe!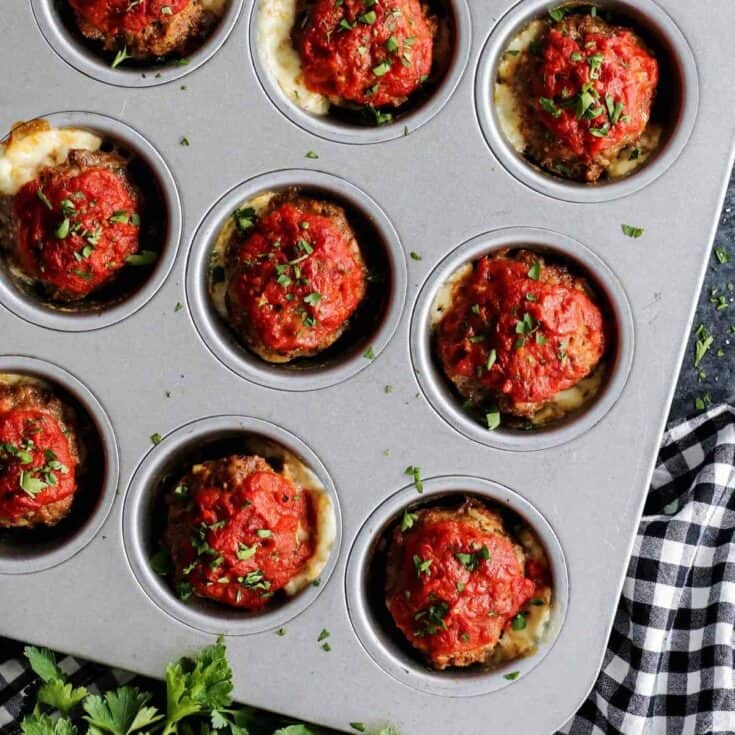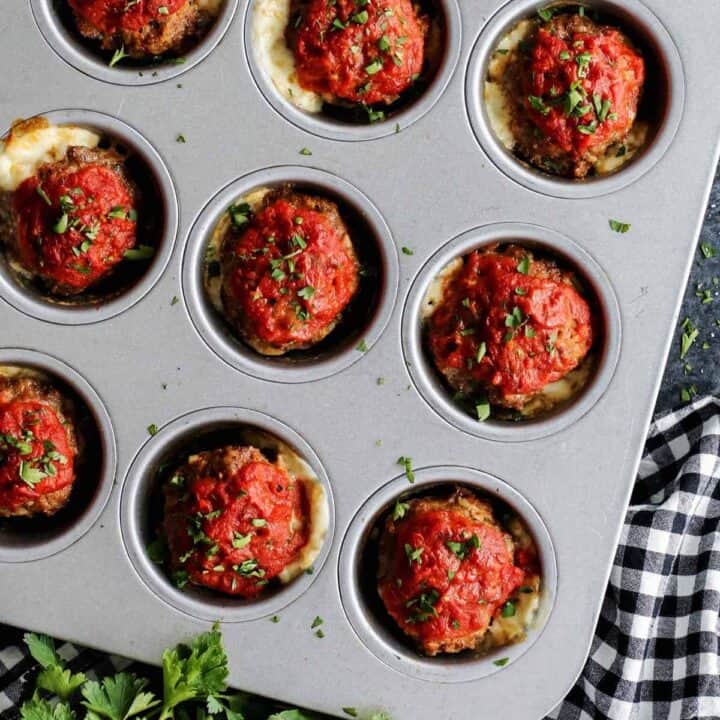 Italian Meatloaf Muffins
Yield: 6 servings
Prep Time: 25 minutes
Cook Time: 30 minutes
Total Time: 55 minutes
Italian Meatloaf Muffins are mini versions of a classic Italian meatloaf recipe, in fun individual portions. You'll love the gooey cheese centers!
Ingredients
1 T. olive oil
1/2 c. finely chopped yellow onion
3 large garlic cloves, minced
1 c. your favorite marinara sauce, divided (I like to use a spicy marinara)
1 large egg, lightly beaten
1/2 c. seasoned Italian bread crumbs
2 T. grated Parmesan cheese
1/4 c. finely chopped fresh Italian parsley
1 T. Dijon mustard
1 tsp. dried oregano
1/4 tsp. kosher salt
1/4 tsp. freshly ground black pepper
1 lb. lean ground beef
8 oz. mild Italian sausage, or use hot Italian sausage to kick up the flavor
a 4 oz. block of mozzarella cheese, cut into 12 cubes
Instructions
Preheat oven to 400° F. Very lightly spray a regular-sized muffin pan with non-stick cooking spray.
Heat a medium skillet over medium to medium-high heat. Add oil. Once oil is hot, stir in onion. Sauté for 3 to 5 minutes, until onion is softened, stirring occasionally. Then add garlic and sauté for 3 minutes more. Remove pan from heat. Transfer onion and garlic mixture to a large bowl. Let cool for a few minutes.
To the onion and garlic mixture, stir in 1/2 cup of the marinara, and then the egg, bread crumbs, Parmesan, parsley, mustard, oregano, salt, and pepper. Stir to combine. Add ground beef and Italian sausage, and combine thoroughly with your hands.
Lightly press about half of the meatloaf mixture into each of 12 muffin cups. Press a cube of mozzarella gently into the center of each muffin cup. Top each cube of cheese with more meatloaf mixture, evenly dividing up the remaining mixture.
Top meatloaf muffins with remaining 1/2 cup of marinara, dividing evenly amongst the 12 portions. Place muffin pan on a rimmed baking sheet and bake for about 30 minutes, or until internal temperature registers 165° F and the muffins are hot and bubbling. Remove pan from oven and let stand for a few minutes. Using a slotted spoon, carefully transfer meatloaf muffins to a serving platter. Sprinkle with additional chopped parsley, if desired.
Nutrition Information:
Yield: 6
Serving Size: 1
Amount Per Serving:
Calories: 519
Total Fat: 32g
Saturated Fat: 12g
Trans Fat: 0g
Unsaturated Fat: 19g
Cholesterol: 144mg
Sodium: 1097mg
Carbohydrates: 16g
Fiber: 2g
Sugar: 5g
Protein: 40g
Nutrition information is automatically calculated by Nutritionix. I am not a nutritionist and cannot guarantee accuracy. If your health depends on nutrition information, please calculate again with your own favorite calculator.
This post was previously published in 2015. Photographs and some of the text were updated in 2020.