Cheesy Italian Meatloaf Muffins
These Cheesy Italian Meatloaf Muffins are a tasty rendition of a classic meatloaf recipe, in fun individual portions.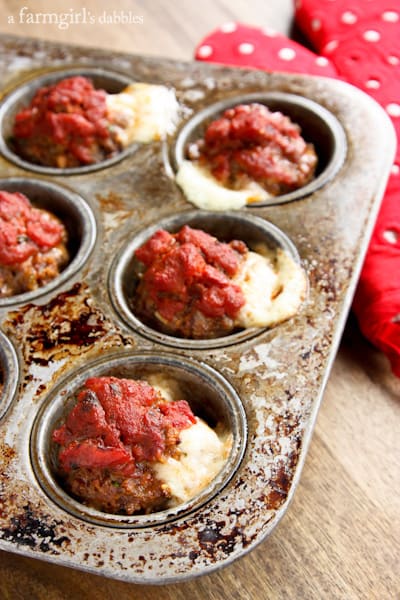 Every once in awhile, I have the most unbelievable craving for meatloaf. My family's favorite recipe, a wonderful mixture of flavorful ground sirloin and pork, is topped with chili sauce, straight from the bottle. All the flavors take on extra depth while in the oven, creating an irresistible meatloaf. With a side of buttery mashed potatoes and some fresh green veggies, this adds up to a perfect meal to quench my meatloaf cravings.
When my cravings flared up recently, though, I was feeling the need for a fresh take on our regular meatloaf dinner. If you haven't yet planned your Valentine's Day menu, these Cheesy Italian Meatloaf Muffins would be a most excellent addition!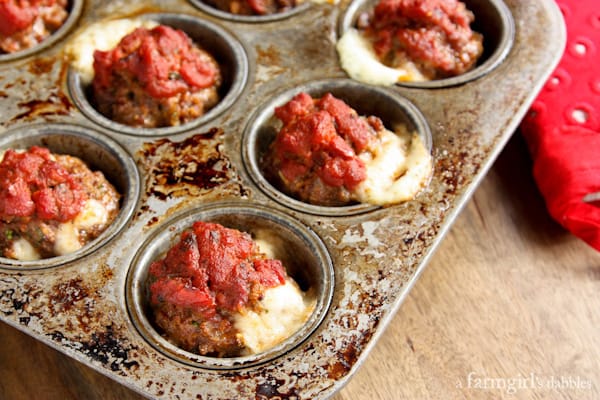 I have tried a couple meatloaf muffins recipes in the past, but they never knocked my socks off enough to hold onto the recipes. One of the main things I'm looking for in a meatloaf is texture. I cannot stand a mushy, unstable meatloaf, or one that has pieces of crunchy onion, not fully softened. Another important feature is flavor. Bland meatloafs, please just leave me alone!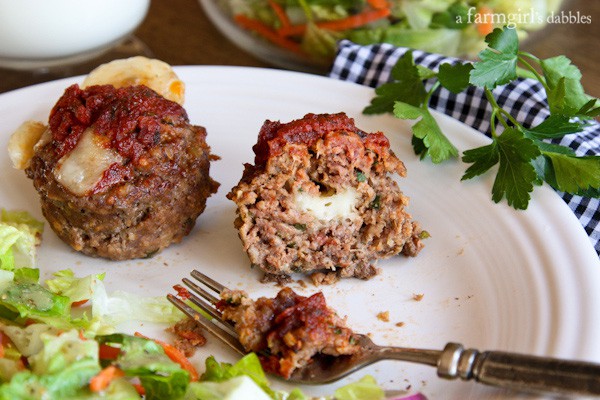 I like adding grated Parmesan cheese to my meatloaf mixture. It gives a lovely extra layer of flavor. And with this new Italian rendition, I incorporated chunks of mozzarella, adding a gooey, chewy element of fun. Not to mention another layer of flavor.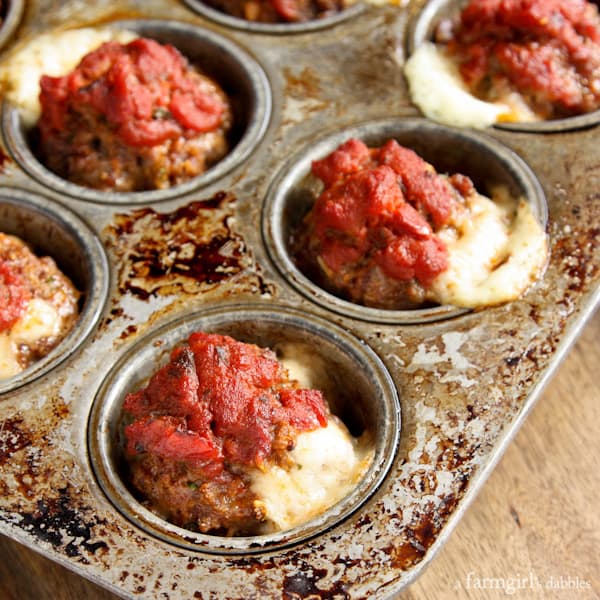 When creating these Italian meatloaf muffins, a chunk of mozzarella gets buried in the belly of the meatloaf mixture. I was taken by surprise when I peeked in the oven to find the cheese oozing out of the centers partway through the baking time. This was not my intention for this recipe. At first I was disappointed, feeling that my plan had failed. But then, as they baked longer, I watched the mozzarella bubble and turn golden at the edges of the pan. I became more and more intrigued, quite smitten with this unexpected result.
This meatloaf muffins recipe with an Italian twist is everything I was hoping for. And, actually, a little bit more. The exposed mozzarella, all melty and golden, adds a great deal of flavor and texture, plus enticing visual appeal. And I really like the Italian marinara mixed throughout and baked on top. This recipe's a keeper, for sure. Serve it with a fresh green salad drizzled with creamy Caesar dressing, and you have one fabulous meal.
IF YOU LIKE THIS MEATLOAF MUFFINS RECIPE, YOU MIGHT LIKE:
*Here are a few more recipes I'd like to try! This Turkey Meatloaf from Melanie Makes looks wonderful. As well as this Classic Meatloaf Recipe from Simply Recipes and Bacon Jalapeno Meatloaf from Foodie With Family.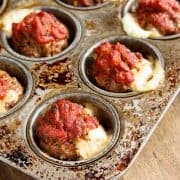 Cheesy Italian Meatloaf Muffins
Yield: 12 meat loaf muffins
Prep Time:30 minutes
Cook Time:25 minutes
Ingredients:
 1 T. olive oil
1/2 c. finely chopped yellow onion
3 large garlic cloves, minced
1 c. your favorite marinara sauce, divided (I used a spicy marinara)
1 large egg, lightly beaten
1/2 c. seasoned Italian bread crumbs
2 T. grated Parmesan cheese
1/4 c. finely chopped fresh Italian parsley
1 T. Dijon mustard
1 tsp. dried oregano
1/4 tsp. kosher salt
1/4 tsp. freshly ground black pepper
1 lb. lean ground beef
8 oz. mild Italian sausage, or use hot Italian sausage to kick up the flavor
a 4 oz. block of mozzarella cheese, cut into 12 cubes
Directions:
Preheat oven to 400°.
Heat a medium skillet over medium-high heat. Add oil. Once oil is hot, add onion. Sauté for 3 to 5 minutes, until onion is softened, stirring occasionally. Then add garlic and sauté for 3 minutes more. Remove pan from heat and add onion and garlic mixture to a large bowl. Stir in 1/2 cup of the marinara, and then the egg, bread crumbs, Parmesan, parsley, mustard, oregano, salt, and pepper. Stir to combine. Add ground beef and Italian sausage, and combine thoroughly with your hands.
Lightly press about half of the meatloaf mixture into each of 12 regular muffin cups. Press a cube of mozzarella gently into the center of each muffin cup. Top each cube of cheese with more meatloaf mixture, evenly dividing up the remaining mixture. Top with remaining 1/2 cup of marinara, dividing evenly amongst the 12 meatloaf muffins. Place muffin tin on a rimmed baking sheet and bake for about 25 to 30 minutes, or until internal temperature registers 165°. Remove pan from oven and let stand for a few minutes before serving. Using a slotted spoon, transfer meatloaf muffins to a serving platter. Sprinkle with additional chopped parsley, if desired.
from a farmgirl's dabbles
©
We participate in the Amazon Services LLC Associates Program, an affiliate advertising program designed to provide a means for us to earn fees by linking to Amazon.com and affiliated sites. See our disclosure policy for more info.