Meatloaf with Chili Sauce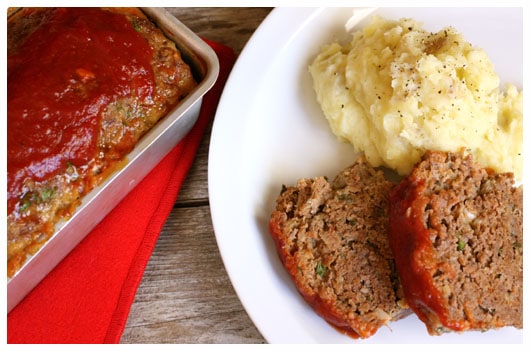 I don't remember eating meatloaf as a kid. But I do remember hearing my cousins, who lived just down the road from us (or across the corn field), talk about their mom serving it now and then. And I recall being secretly thankful that my mom didn't make us eat meat logs (yuck!) at our house!
Now I sorely realize how much I was missing out on, however.
Some time after we were married, I asked Blake if we should dare to experiment with making a meatloaf. Of course, he was all for trying something new. And the recipe's title had the word "meat". The decision was a no-brainer.
We've gone through a number of different meatloaf recipes over the years. And quite honestly, we haven't met one we didn't liked. But one thing I learned was that I don't like crunchy onions in my meatloaf! The courseness and sharper bite never settles right with me, amongst the loaf's otherwise softer components. So whatever recipe I now make, I'm certain to always saute the onions before adding them to the meat mixture.
This Meatloaf with Chili Sauce has been an ever evolving favorite recipe for our family. It has a beautiful little kick to it, without being completely spicy. Our oldest daughter's tastebuds continue to develop more and more heat tolerance, and she now loves this chili sauce version. Our youngest daughter, however, does not share her sister's same enthusiasm. Although she likes meatloaf, she votes for a slightly tamer one, eliminating the cayenne, and swapping the chili sauce for good ol' ketchup.
Did you grow up eating meatloaf?
Do you like it now, as an adult?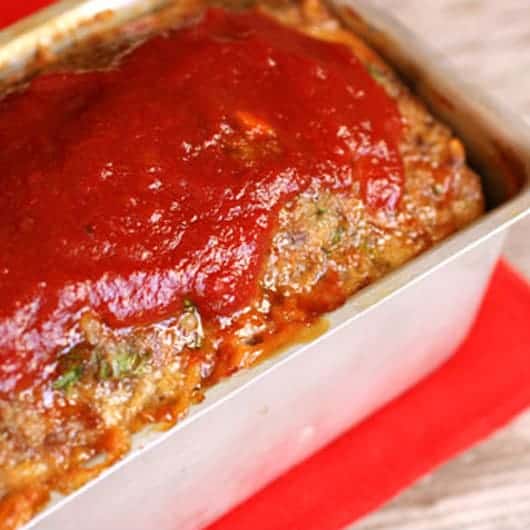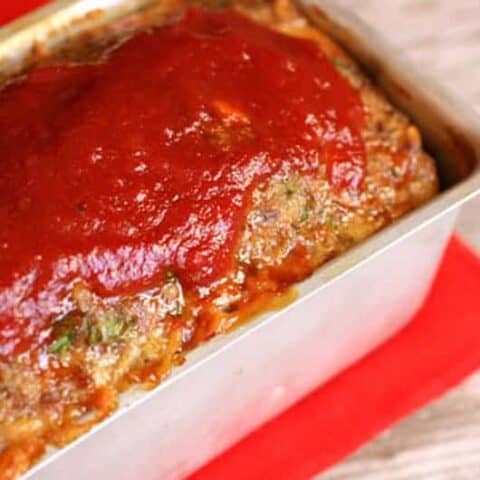 Meatloaf with Chili Sauce
Yield: 8 servings
Prep Time: 15 minutes
Cook Time: 1 hour 5 minutes
Total Time: 1 hour 20 minutes
Meatloaf with Chili Sauce is a classic dinner recipe with a little bit of heat! If you're looking for the best way to use up some ground beef, this is it.
Ingredients
FOR THE MEATLOAF:
1 T. olive oil
1/2 c. finely chopped onion
6 large garlic cloves, minced
1/2 c. milk
4 slices white bread, torn into pieces
1-1/2 lbs. ground sirloin
1 lb. ground pork
1/2 c. prepared chili sauce
1/8 tsp. cayenne pepper
1 tsp. cumin
1/2 tsp. Worcestershire Sauce
1/2 c. finely chopped fresh parsley
1/2 c. grated Parmesan cheese
2 large eggs, lightly beaten
1 tsp. kosher salt
1/2 tsp. black pepper
FOR THE GLAZE:
1/3 c. prepared chili sauce
Instructions
Preheat oven to 350°.
Heat the olive oil in a nonstick skillet over medium heat. Add the onion and garlic and saute until soft and the onion is translucent. This should take about 5 minutes. Remove the onions and garlic to a plate to cool.
In a large bowl, pour milk over torn bread and let soak for about a minute. Add the remaining ingredients, from the sirloin to the black pepper, plus the cooled onions and garlic. Using your hands, mix until just combined.
Divide meat mixture in half and very gently pat each half into an 8-1/2″ x 4-1/2″ loaf pan. Try not to press the meat too much.
Place both loaf pans on a jellyroll pan, to catch any possible drips, and place in the oven. Bake for 45 minutes. Spoon the remaining 1/3 cup of chili sauce onto the loaves and continue cooking for about 15 minutes longer. The meatloaves will be done when the juices run clear and a thermometer inserted into the middle registers 160°.
Remove loaves from the oven and let them rest for 5 minutes. The temperature of the loaves will continue to rise a bit. Turn loaves out of the pans. I run a knife around the outside of the pan and then firmly stab a fork into each end of the loaf and lift it out. Slice into 3/4″ to 1″ thick slices.
Nutrition Information:
Yield: 8
Serving Size: 1
Amount Per Serving:
Calories: 574
Total Fat: 31g
Saturated Fat: 12g
Trans Fat: 0g
Unsaturated Fat: 16g
Cholesterol: 207mg
Sodium: 1020mg
Carbohydrates: 18g
Fiber: 2g
Sugar: 5g
Protein: 53g
Nutrition information is automatically calculated by Nutritionix. I am not a nutritionist and cannot guarantee accuracy. If your health depends on nutrition information, please calculate again with your own favorite calculator.