Nutella Cheesecake Brownie Bites
Nutella Cheesecake Brownie Bites consist of a fudgy brownie layer topped with a dense and super creamy Nutella cheesecake. It's a fun and decadent dessert!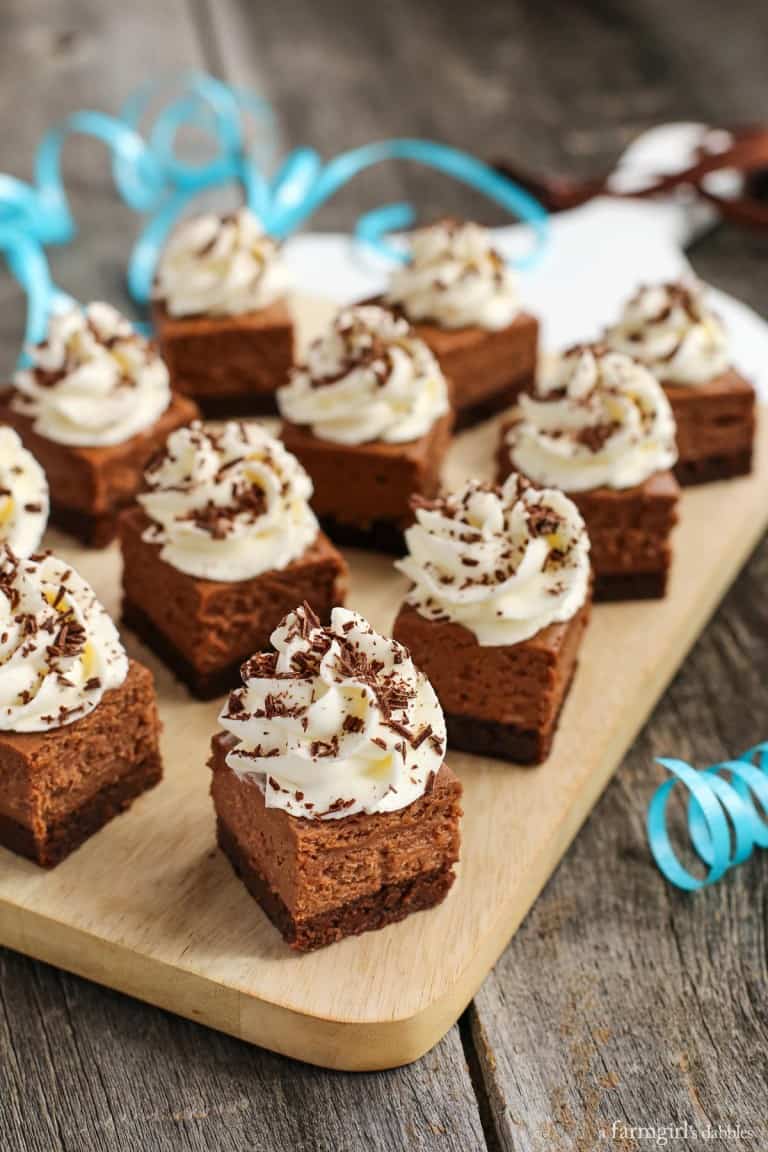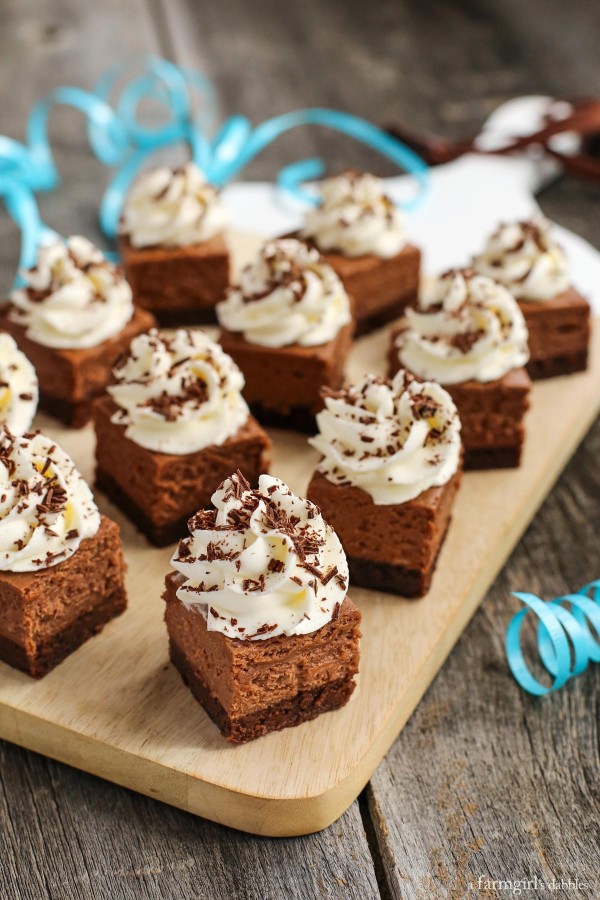 NUTELLA CHEESECAKE BROWNIE BITES
I'm hanging myself out on a limb here, admitting to something that is not going to be very popular.
I don't love Nutella.
There. It's publicly documented.
There's not too much in this world that I don't like, but hazelnuts have never been my thing. The only reason you'll find Nutella in our pantry is because our oldest daughter adores it. And this year for her birthday, she requested Nutella cheesecake, "a thick cheesecake, Mom". So all you Nutella lovers can thank Hatti for prompting the very first Nutella recipe here at a farmgirl's dabbles.
These Nutella Cheesecake Brownie Bites consist of a dense and lusciously creamy Nutella flavored cheesecake layer on top of a fudgy brownie. Even I couldn't resist reaching for a second square of this sweet goodness!
CLICK HERE to save recipe to Pinterest!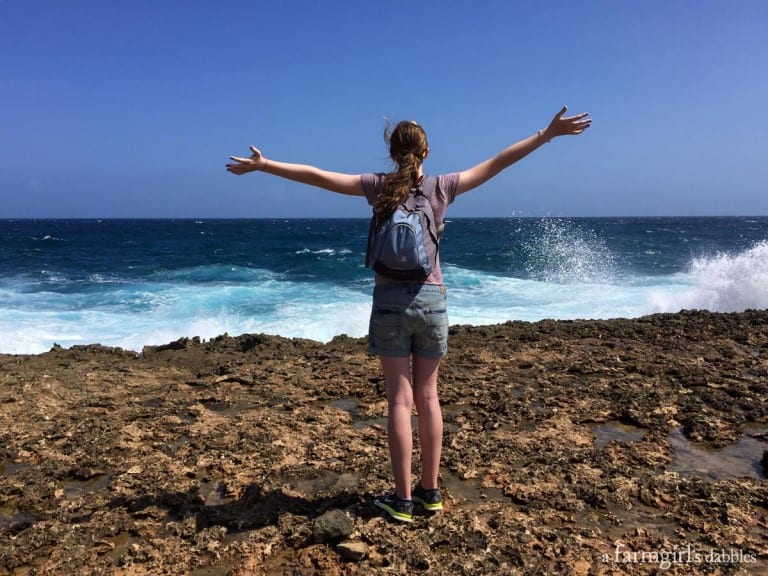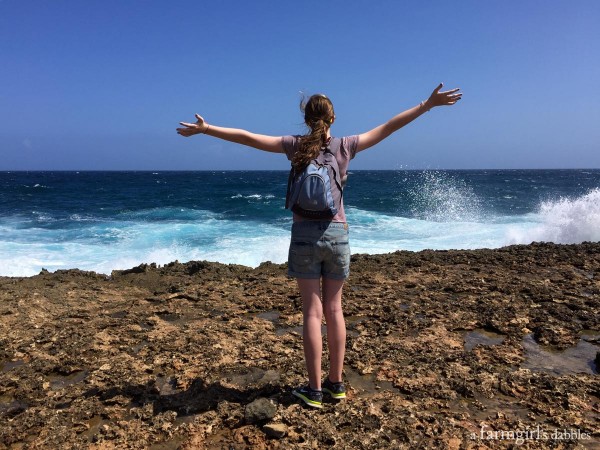 Our sweet Hatti will turn 14 this upcoming weekend. This is one of my favorite most recent pictures of her. I know we can't see her face in this shot, but I was the person behind the camera that day on Aruba, and know very well the happiness pumping through her veins. Hatti was nothing but smiles and laughter and complete joy, taking in this island's wild and stunning scenery, all her senses experiencing new and exciting things.
We counted on Hatti to line up several family photos while we were on our cruise recently (the same vacation that we visited Aruba). The selfie stick she purchased for a school project came in mighty handy! This photo was taken shortly after we left the port of Miami. We were bound for the southern Caribbean.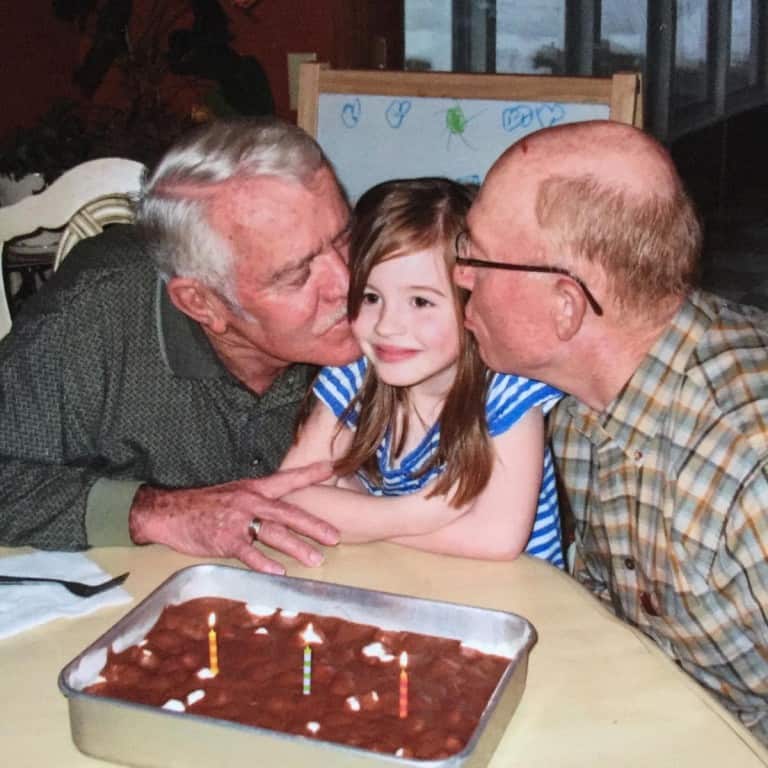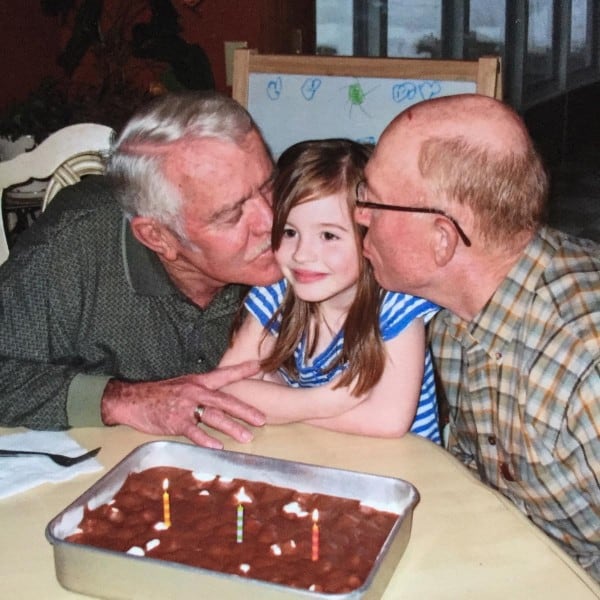 Hatti was born on the same day that my dad (on the right) was born, and just two days after the birthday of Blake's dad (on the left). So it's been a common occasion that we've joined together to celebrate the three of them, altogether.
This photo was taken when Hatti turned 6, and is still one of my favorite memories. Both her grandfathers leaned in to plant a kiss on her little birthday cheeks.
This year will be a bittersweet celebration, as Blake's dad is no longer with us. Archie passed away just five days ago, after a very painful struggle with cancer over the past few months. We will be attending his funeral tomorrow, on the day he would have turned 86. He was one great man. What a beautiful life we will be celebrating.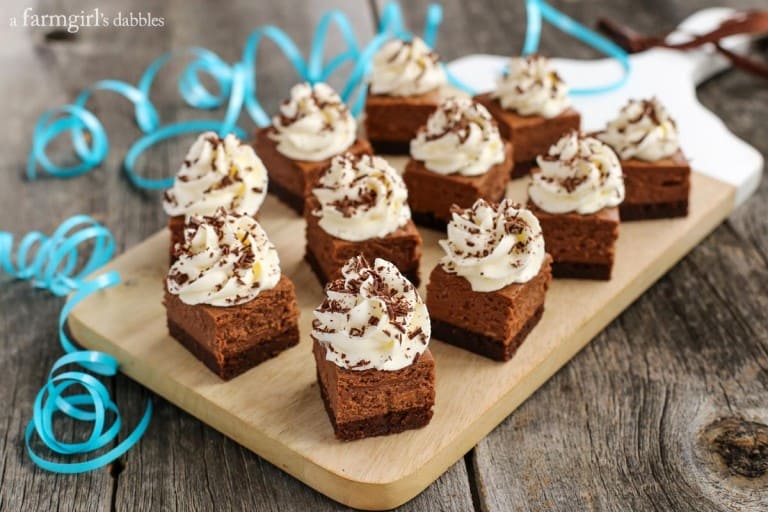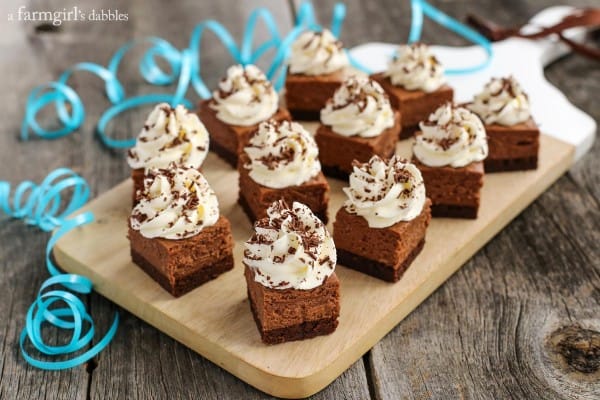 There's no easy way to transition from that last paragraph, to this one about Nutella Cheesecake Brownie Bites…except for the fact that I know if Archie were still here, he'd absolutely love this dessert. And he'd have found no greater joy than to share a piece with his granddaughter on her birthday.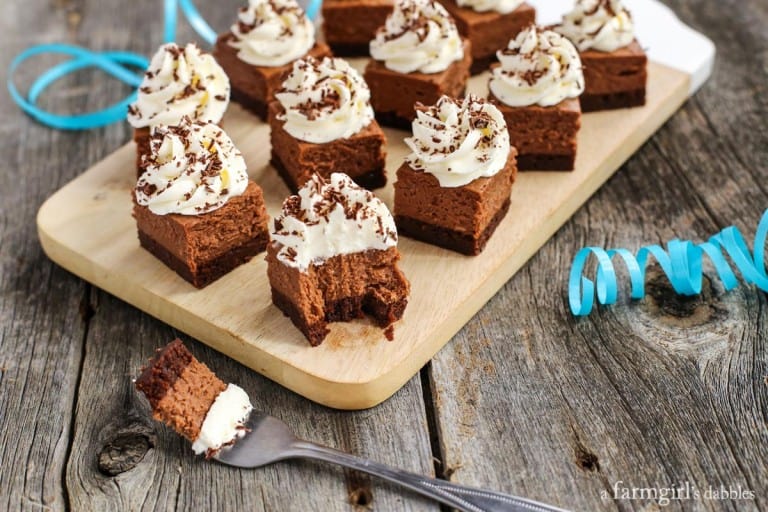 At the base of these squares is an irresistibly fudgy layer of brownie. And on top of that is a creamy layer of cheesecake, super dense and flavored with Nutella.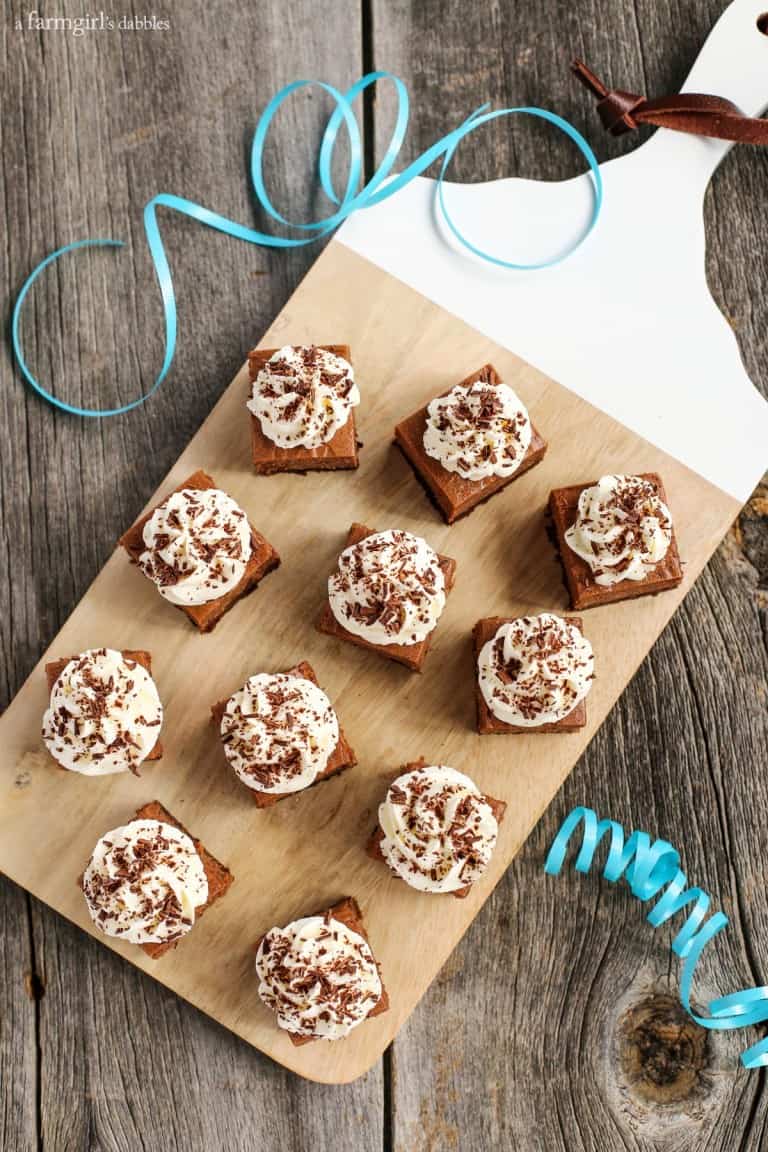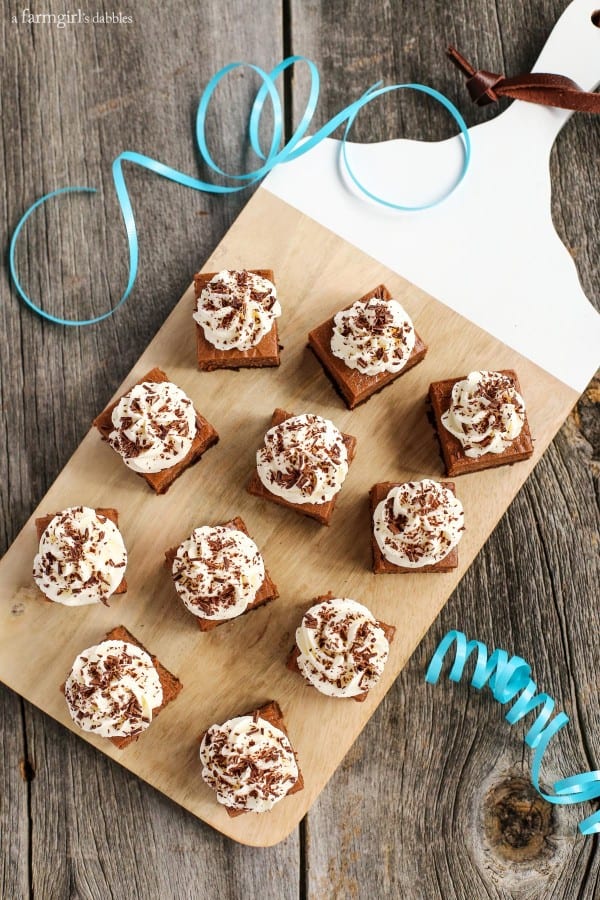 I topped the bites off with fluffy swirls of homemade sweetened whipped cream, followed by a good sprinkling of chocolate shavings. Because in my book, every piece of cheesecake (even Nutella cheesecake) deserves a little whipped cream.
Like this Nutella cheesecake recipe? Pin it!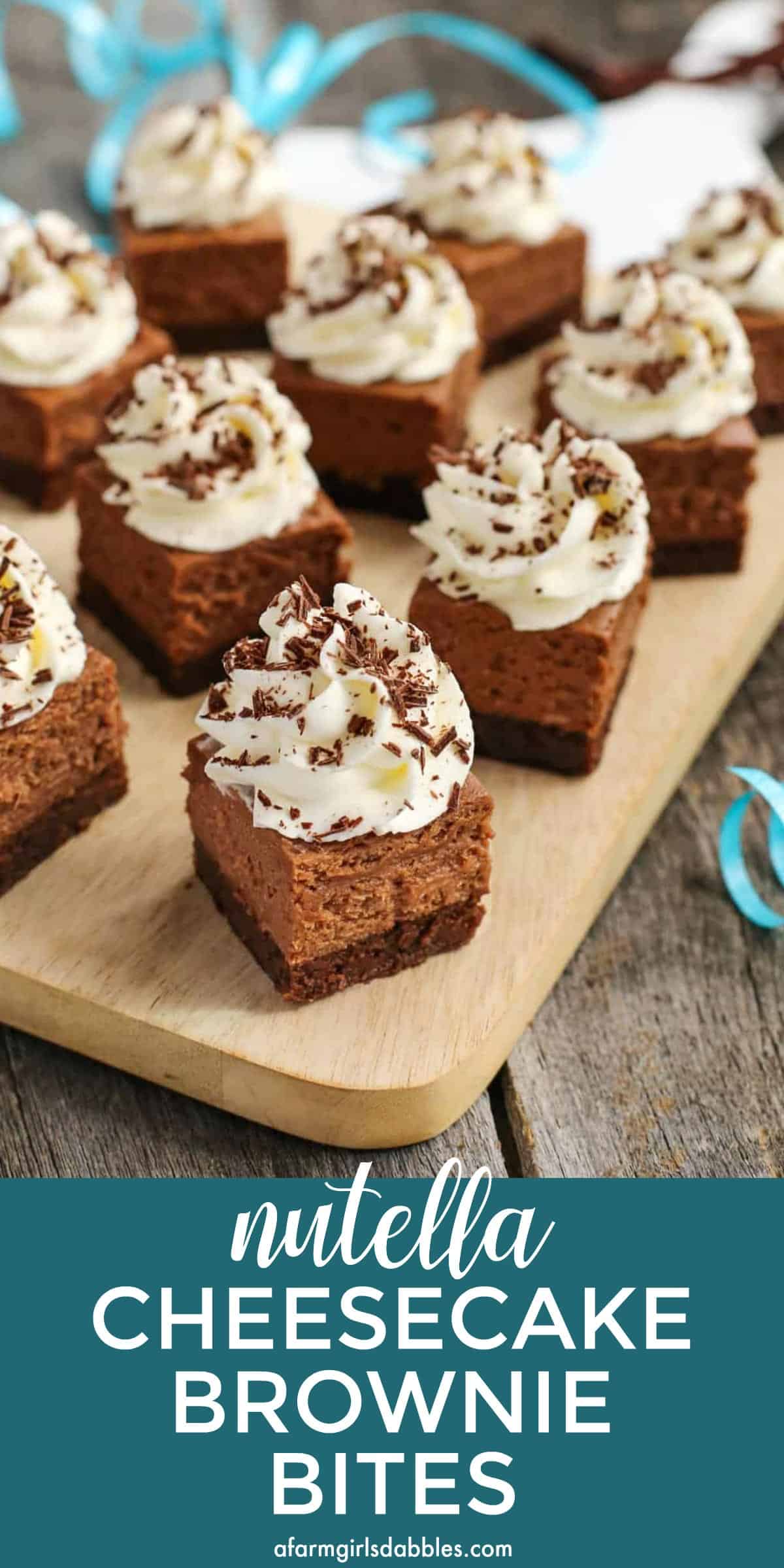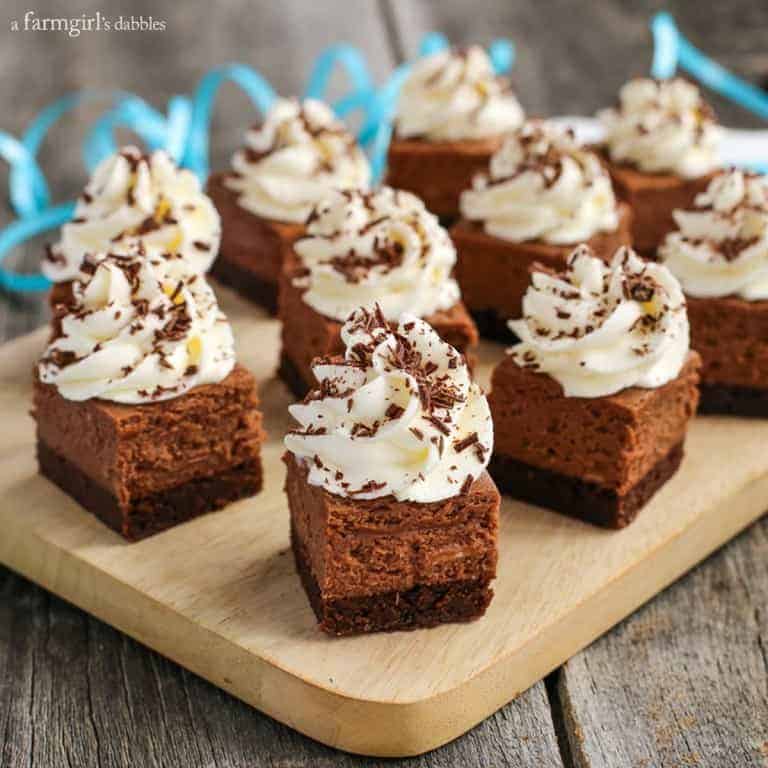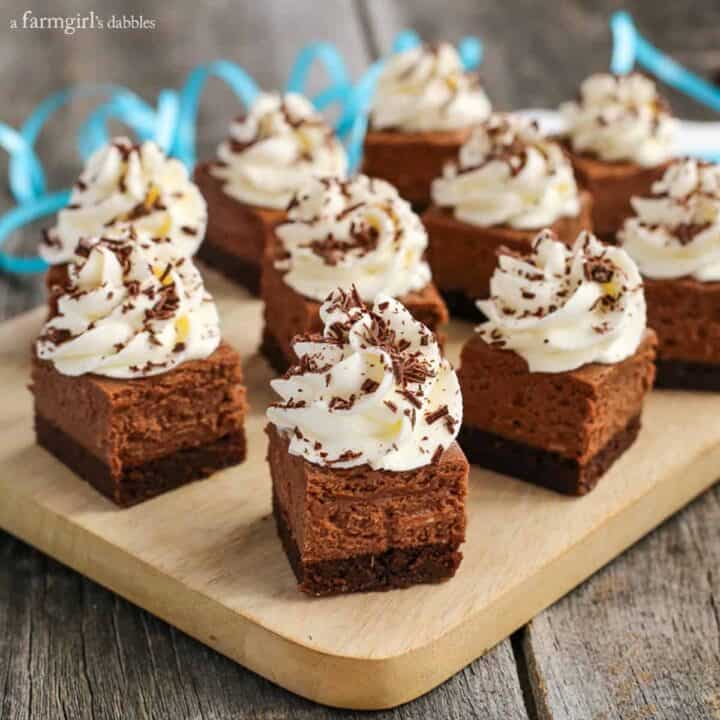 Nutella Cheesecake Brownie Bites
Yield: 24 servings
Prep Time: 20 minutes
Cook Time: 1 hour 10 minutes
Total Time: 1 hour 30 minutes
With layers of fudgy brownie and dense, creamy Nutella cheesecake, this is one fabulously fun and decadent dessert!
Ingredients
for the brownie base:
1/2 c. unsalted butter, diced
3 oz. unsweetened chocolate, chopped
1-1/2 c. sugar
3 large eggs
2 tsp. pure vanilla extract
1/4 tsp. kosher salt
3/4 c. all-purpose flour
1/2 tsp. espresso powder
for the Nutella cream cheese layer:
24 oz. cream cheese, softened to room temperature
1-1/2 c. Nutella
3 large eggs
3/4 c. sugar
1/3 c. sour cream
1 tsp. pure vanilla extract
Instructions
for the brownie base: Preheat oven to 325° F. To achieve ultra clean cuts, prepare a pan with a foil or parchment paper liner. Fold a long piece of heavy foil into a 13" wide strip and place inside a 9'' x 13'' metal baking pan, leaving overhang on 2 long sides. Spray foil lightly with nonstick spray. If you're not looking for perfect brownie cuts, simply spray pan with nonstick spray and eliminate the foil lining. Set pan aside.
In large heavy saucepan over low heat, stir together butter and chocolate until they are melted. Remove saucepan from heat and whisk in sugar, then eggs, one at a time. Whisk in vanilla and salt, and then sprinkle flour and espresso powder over the top. Stir to blend well.
Transfer batter to prepared pan. Bake brownies for 20 minutes and then remove from oven and let rest for 5 minutes.
for the Nutella cream cheese layer: While brownie base is baking, prepare the Nutella cream cheese layer. In the bowl of a stand mixer, cream together cream cheese and Nutella on medium-high speed until completely smooth and creamy, about 1 to 2 minutes. Add eggs, sugar, and sour cream, and beat on medium speed until just combined. Add vanilla and beat to combine.
Spread mixture evenly over warm brownie layer and tap the pan gently on the counter to settle it in. Return pan to the oven and bake for another 45 to 50 minutes, or until center no longer wobbles and edges are just a bit golden. Remove from oven and let cool completely before refrigerating. Chill for at least two hours before serving.
If you lined the pan with foil for clean cuts, use a knife to cut around the edges of the pan and loosen any areas that might have gotten stuck. Grab the 2 long foil edges and gently lift cheesecake from pan. Place on a large cutting board and cut into 2" squares. To achieve clean cuts, dip a long non-serrated knife into a tall glass of warm water after each cut, and then clean off the knife blade before cutting again.Top with sweetened whipped cream and chocolate shavings right before serving.
Nutrition Information:
Yield: 24
Serving Size: 1
Amount Per Serving:
Calories: 387
Total Fat: 23g
Saturated Fat: 15g
Trans Fat: 0g
Unsaturated Fat: 6g
Cholesterol: 87mg
Sodium: 141mg
Carbohydrates: 41g
Fiber: 2g
Sugar: 34g
Protein: 5g
Nutrition information is automatically calculated by Nutritionix. I am not a nutritionist and cannot guarantee accuracy. If your health depends on nutrition information, please calculate again with your own favorite calculator.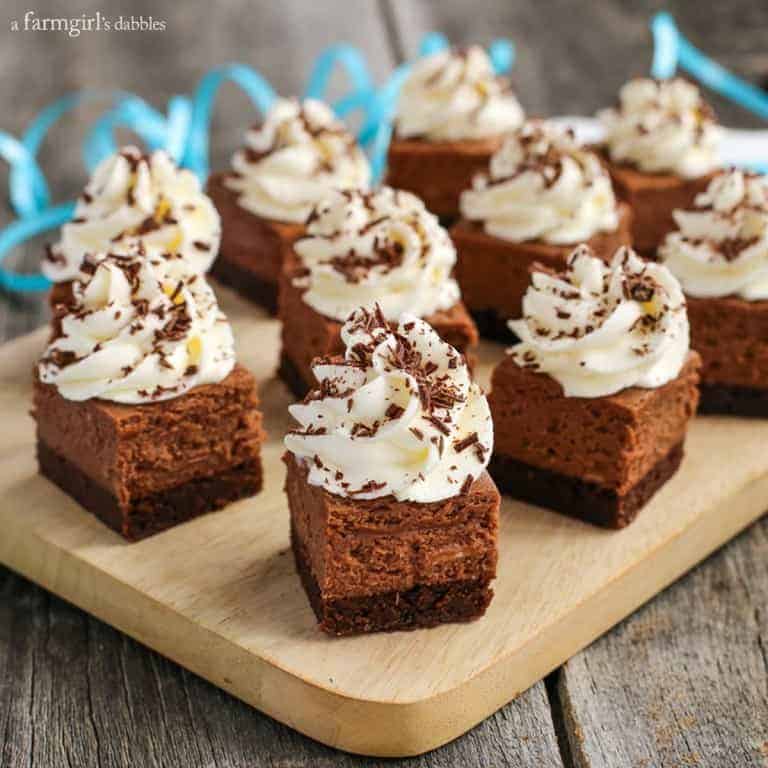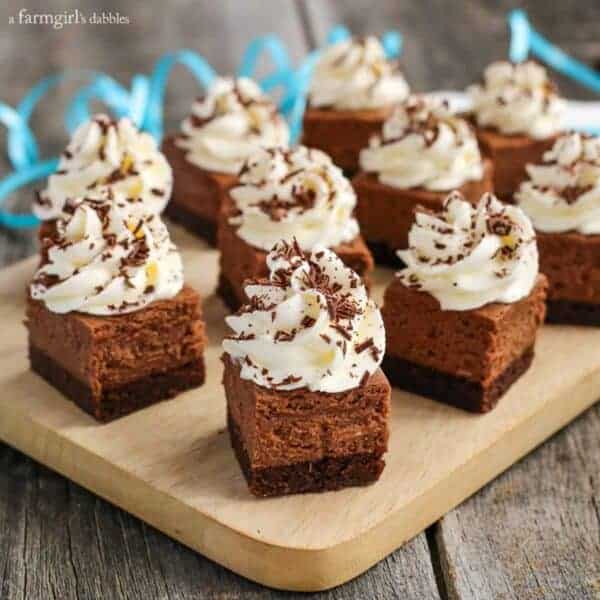 Here are some more Nutella treats you might enjoy!