One-Bowl Almond Chocolate Chunk Blondies with Sea Salt
These One-Bowl Almond Chocolate Chunk Blondies with Sea Salt are rich and dense and chewy, with a fantastic caramel-like flavor!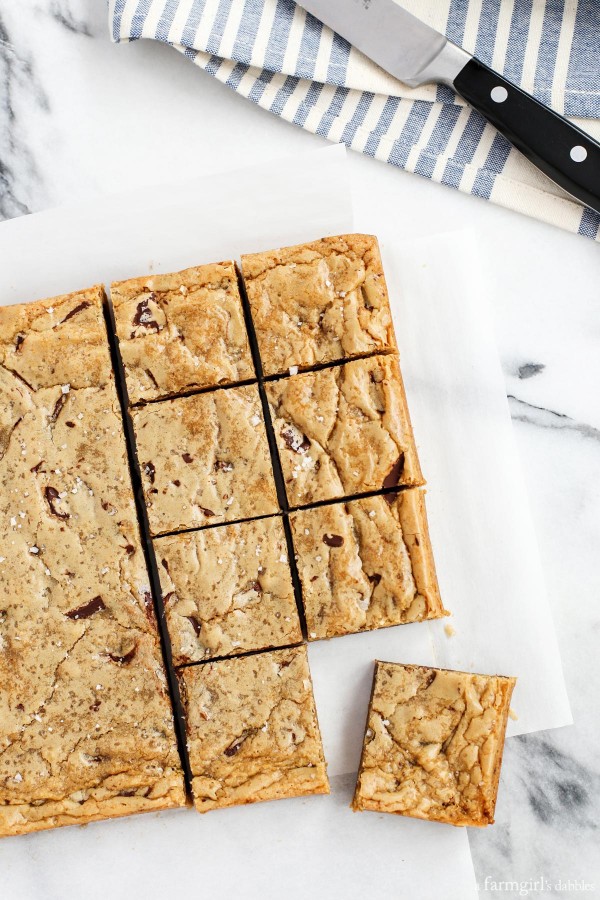 Hello, all! I took a little break from the blog last week to spend some down time with my family. We just returned from quite an amazing family vacation, a cruise to the southern Caribbean. Those warm, sparkling, turquoise waters were heaven on earth. I find myself closing my eyes every now and then, just to bring it all back into focus. The warm sun on my skin, the salty scent of the sea…it was so very lovely. For some trip highlights, be sure to check out my photos on Instagram.
I'm grateful to have experienced new sights last week, but most of all to have that one-on-one time with my husband and daughters. There's just nothing like getting out of your familiar surroundings for a week, away from the the to-do lists and routines and chores, to just relax and "be". I only opened my computer once while we were gone, and that was to download pictures from my iPhone and camera. Freedom from the computer felt like an incredible gift, all on its own!
As things are returning to normal around here (the piles of sandy laundry are diminishing, yay!) and my appetite is coming back after a serious case of overeating, I've started setting recipes aside for the upcoming week. Believe it or not, I think I'm ready for some sweets again. And these One-Bowl Almond Chocolate Chunk Blondies with Sea Salt will do very nicely, thank you!

* This post is sponsored by White Lily®.
White Lily, a Southern staple in the kitchen since 1883, has recently introduced a new premium flour to their line, this Wheat & Almond Flour Blend. The wheat is sourced from Shepherd's Grain®, from family farms right here in the USA. I had the pleasure of spending some time with Shepherd's Grain and White Lily last summer in Spokane, Washington, to meet some of the farmers and learn about this new line of flours. And I first met up with White Lily a couple years ago when I visited them in Nashville for the Southern Baking Retreat. That's the time I learned a thing or two about Southern biscuits. ;)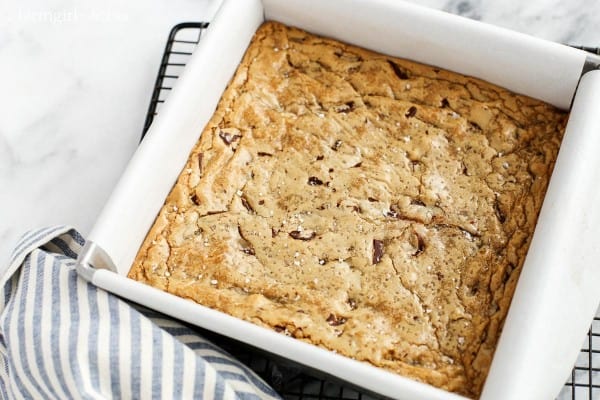 White Lily's Wheat & Almond Flour Blend lends itself perfectly to any baking project, offering rich flavor and moist texture. You can substitute this flour blend for traditional all-purpose flour, cup for cup, in all your favorite recipes.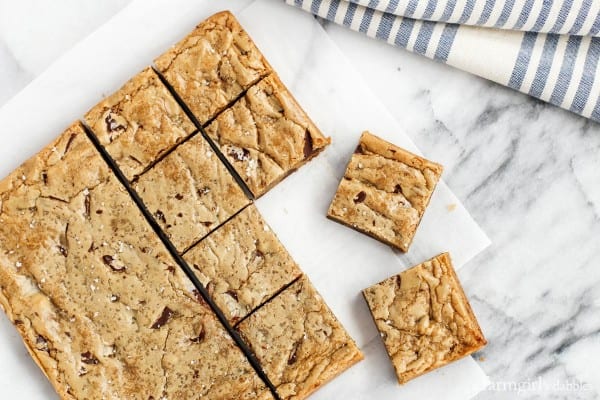 If you've been hanging around here for awhile, you already know how much I adore a good fudgy brownie. But every once in awhile I run into a blondie that knocks my socks off. I thought it was about time I finally added a blondie recipe to my archives!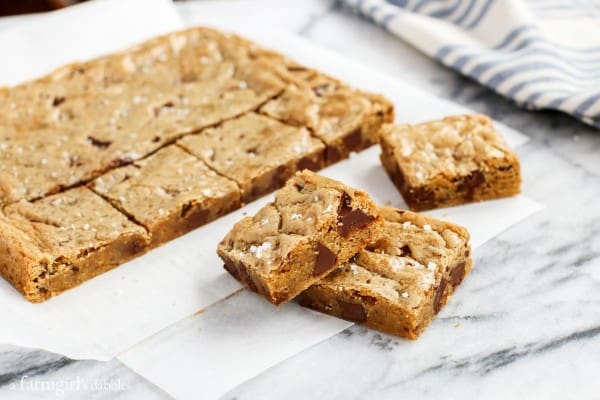 These almond chocolate chunk blondies come together in quick fashion. And you'll only dirty one bowl!
They're rich in butter and dark brown sugar, giving a fantastic caramel-like flavor. Add to that some almond extract (love!) and roughly chopped dark chocolate (substitute semi-sweet or milk chocolate if you must), and you have a beautifully flavored sweet treat. A sprinkling of flaky sea salt makes these dense and chewy blondies beyond irresistible.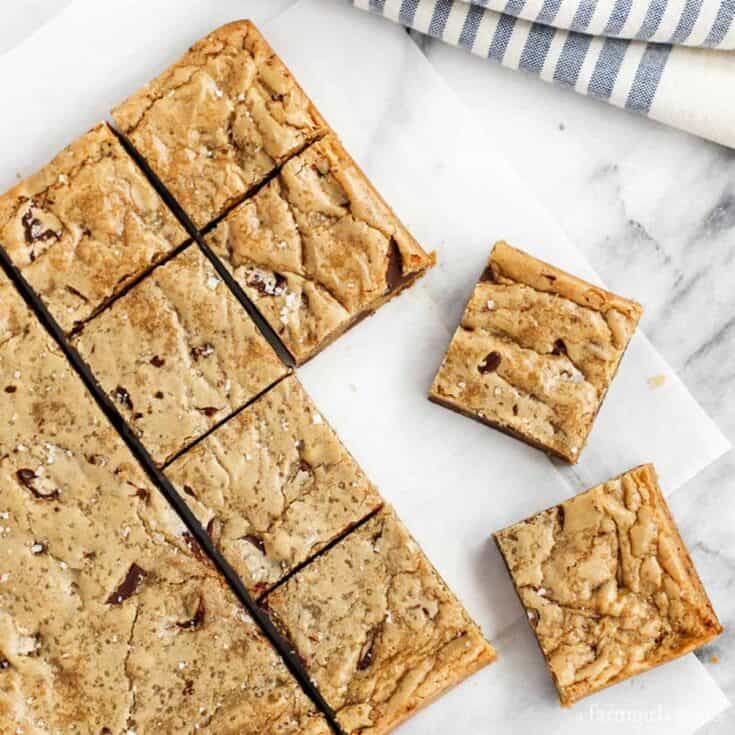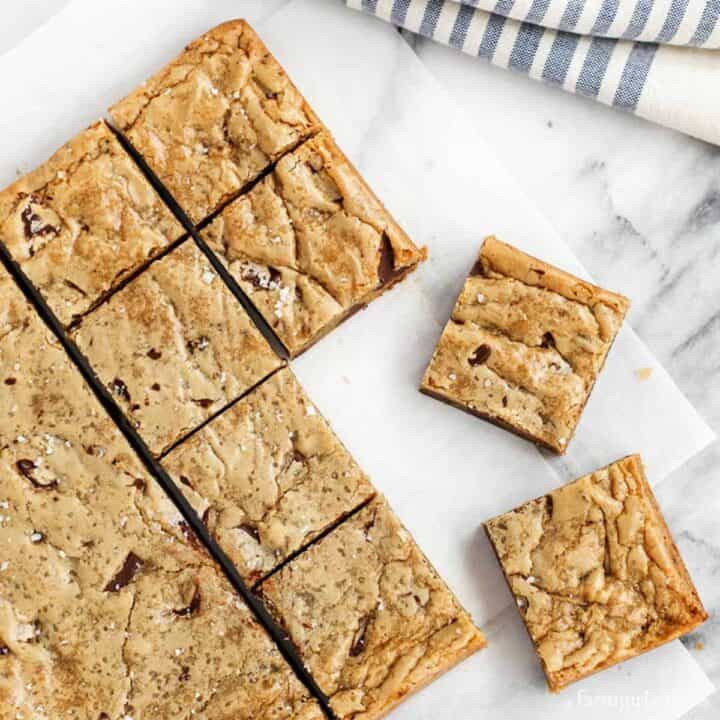 One-Bowl Almond Chocolate Chunk Blondies with Sea Salt
Yield: 16 bars
Prep Time: 10 minutes
Cook Time: 22 minutes
Total Time: 32 minutes
These One-Bowl Almond Chocolate Chunk Blondies with Sea Salt are rich and dense and chewy, with a fantastic caramel-like flavor!
Ingredients
1/2 c. unsalted butter
1 c. lightly packed dark brown sugar
1 large egg
1 tsp. pure vanilla extract
1.5 tsp. pure almond extract
large pinch kosher salt
1.25 c. White Lily® Wheat & Almond Flour Blend
1/2 tsp. baking powder
1/4 tsp. cinnamon
4 oz. good quality dark chocolate bar, chopped into 1/4" to 3/8" chunks
1/2 tsp. flaky sea salt
Instructions
Preheat oven to 350° F.
Line an 8" x 8" metal baking pan with parchment paper and set aside.
In a medium-sized microwave-safe bowl, gently melt the butter in the microwave. Try to not let the butter get too hot. With a rubber spatula, stir in the brown sugar until blended. Add the egg, vanilla extract, almond extract, and kosher salt, stirring until completely incorporated. Sprinkle the flour over the top, followed by the baking powder and cinnamon. Then stir just until combined. Do not over mix. If the batter is noticeably warm from the melted butter, let it sit for a bit to cool down to room temperature.
Then gently fold in the chocolate chunks, taking care to not over mix. Spread batter evenly in prepared pan and then sprinkle with sea salt.
Bake for 22 to 24 minutes, or until a toothpick inserted into the middle comes out just barely clean. Let blondies cool completely before cutting.
Nutrition Information:
Yield: 16
Serving Size: 1
Amount Per Serving:
Calories: 228
Total Fat: 12g
Saturated Fat: 5g
Trans Fat: 0g
Unsaturated Fat: 6g
Cholesterol: 27mg
Sodium: 107mg
Carbohydrates: 27g
Fiber: 3g
Sugar: 15g
Protein: 5g
Nutrition information is automatically calculated by Nutritionix. I am not a nutritionist and cannot guarantee accuracy. If your health depends on nutrition information, please calculate again with your own favorite calculator.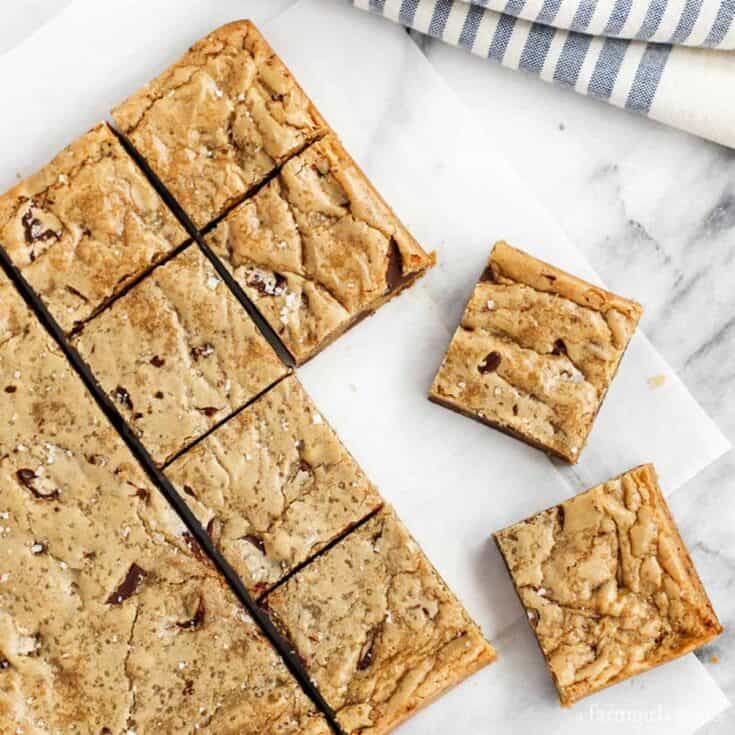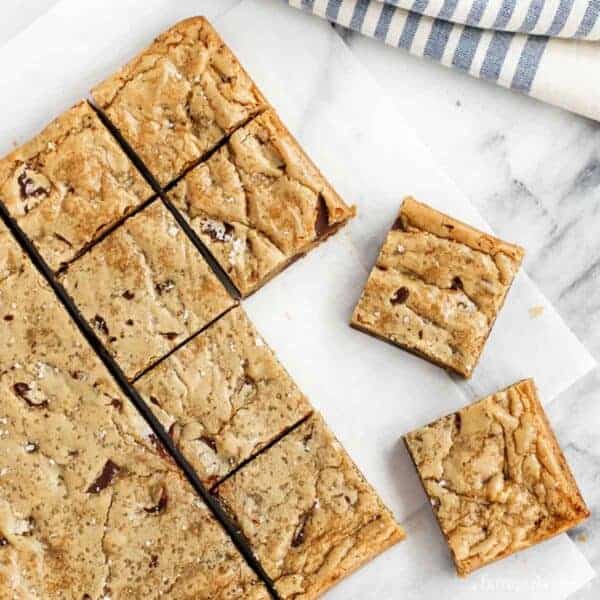 Find out more about all of White Lily's flours on their beautiful new website, and look for their products on store shelves in your area or in the Smucker's online Store!
This post is sponsored by White Lily. I am proud to be partnering with them this year, bringing you delicious new recipes using their new premium flour blends. All opinions are 100% my own. Thank you for supporting the brands that help make this site possible. There are affiliate links in this post.