Italian Meatball Soup
Made with tender homemade meatballs, pasta, and veggies, this Italian Meatball Soup is cozy, comforting, and filled with the flavors of Italy. Perfect for chilly winter days!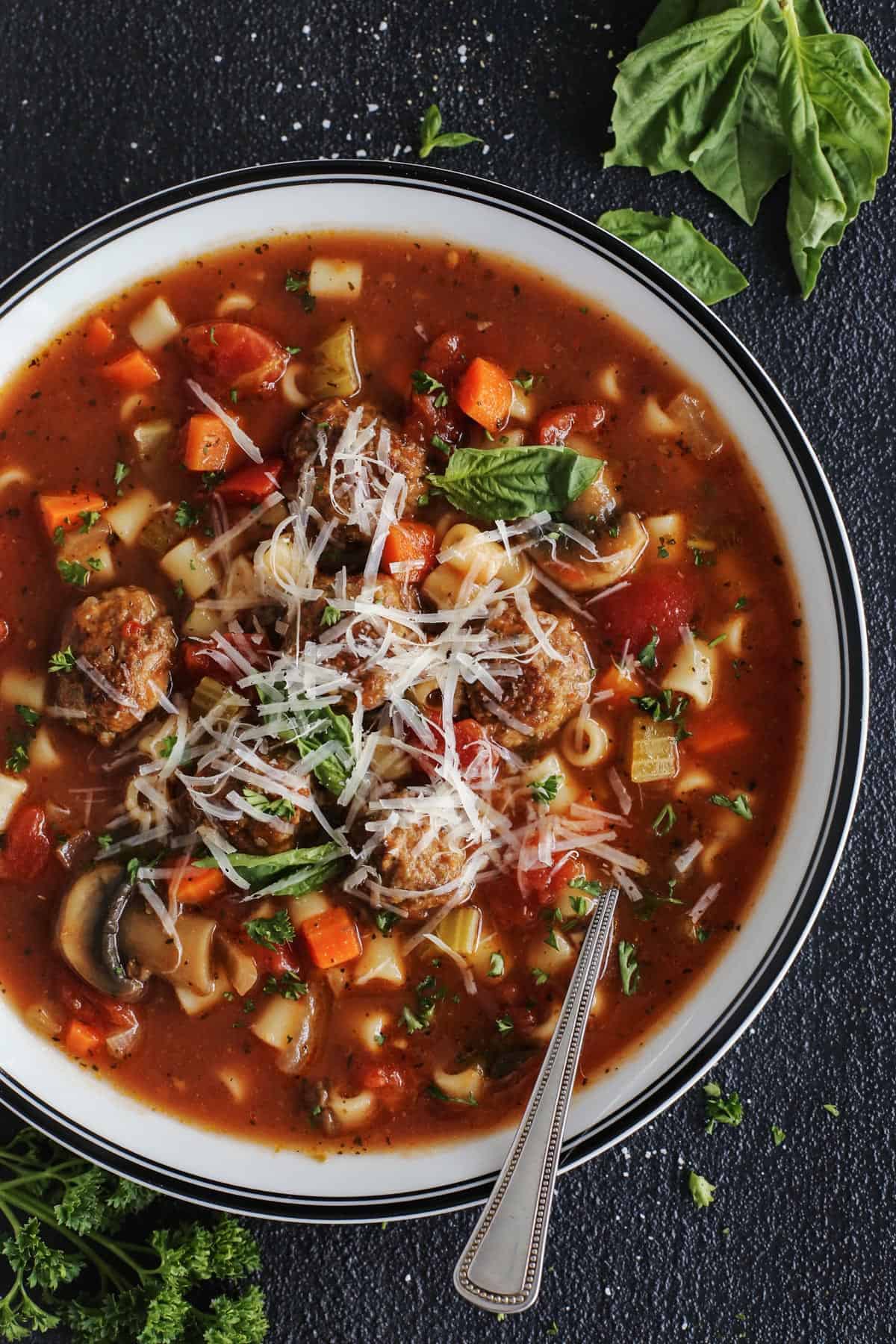 The Best Italian Meatball Soup
This Italian Meatball Soup includes a number of my family's favorite things – meatballs, ditalini pasta, and the flavors of Italy. I simply can't go wrong when putting this easy soup on our table!
If you're a fan of the Pasta e Fagioli Soup at Olive Garden, this soup has very similar flavors. Minus the fagioli (beans), which makes our kids happy. Plus meatballs, which makes the whole family happy!
A few more of our family's favorite soup recipes: Lasagna Soup is not only a family favorite, but also a much loved reader favorite. Slow Cooker Beef and Barley Stew, Irish Beef Stew, and Slow Cooker Chili are total comfort. And I always welcome a bowl of Mom's Homemade Chicken Noodle Soup.
* This is a sponsored post, created in partnership with Red Gold®.
Why You'll Love This Meatball Soup Recipe
The meatballs! The beef meatballs add big flavor to this soup with. With fresh garlic, Parmesan, and parsley, it can be tempting to eat them all on their own.
Loaded with veggies. Now as for the vegetables… I pack them into this soup. They add flavor, color, texture, and nutrition. And I'm betting that your kids won't even notice!
Leftovers are even better. This is one of those recipes where you definitely WANT to have leftovers as it tastes even better the next day. Plus it lasts for up to 5 days in the fridge!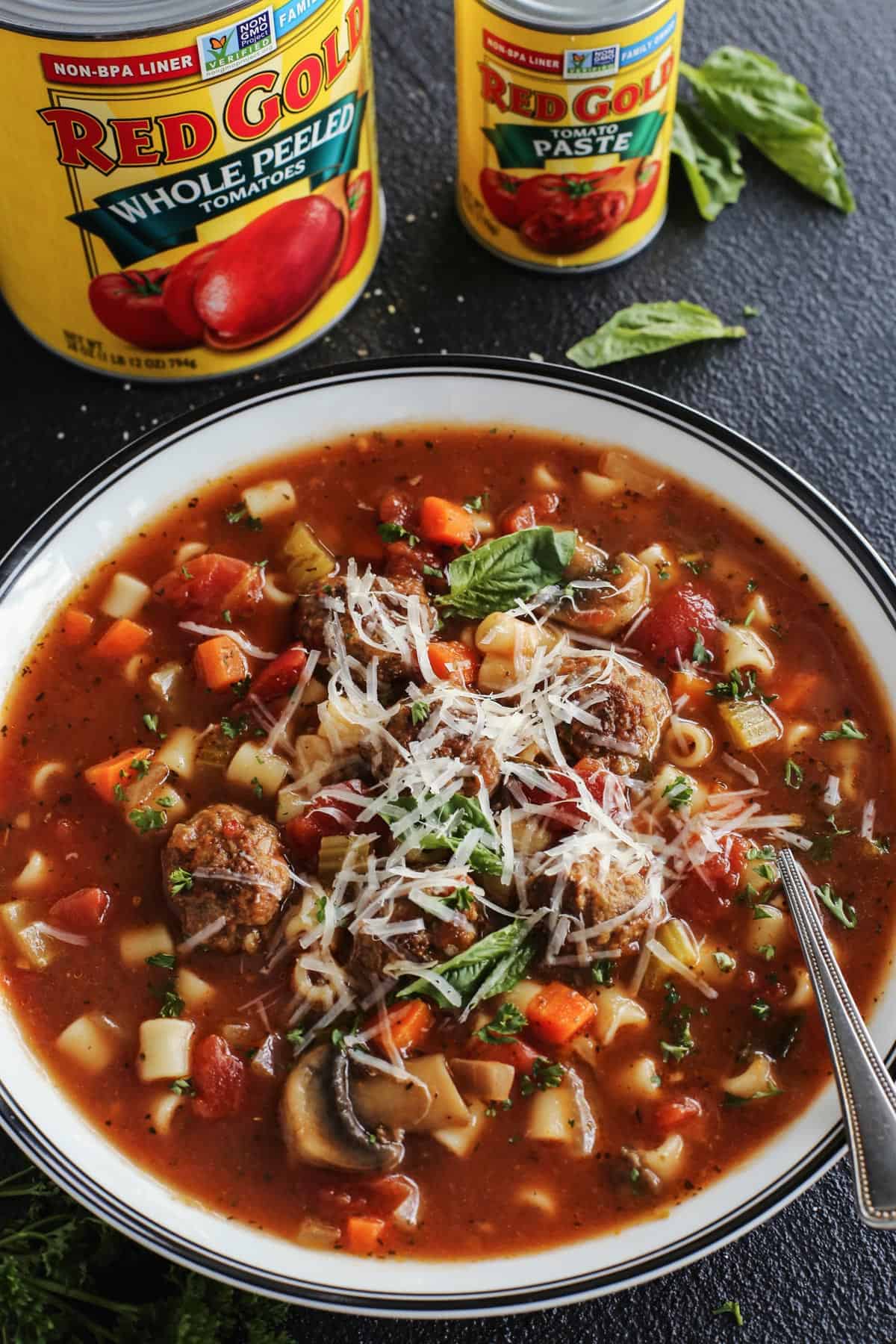 What You'll Need
For this recipe, we're making some easy, flavorful homemade meatballs, plus a broth full of vegetables. See the recipe card below for measurements.
For the Meatballs:
Ground beef – I recommend lean ground beef to avoid overly greasy meatballs.
Breadcrumbs – This gives flavor to the meatballs, plus lightens up the texture a bit.
Parmesan – I like to grate some Parmesan, fresh from the block. But you can use the kind from the can for ease.
Egg – Helps to help everything together
Garlic
Italian parsley
Salt & pepper
Oil – For cooking the meatballs.
For the Soup:
Unsalted butter – A little butter adds a bit of richness when sautéing the vegetables.
Olive oil
Vegetables – Onion, celery, carrots, and mushrooms add nutrients and a ton of flavor to this soup.
Tomatoes – You can either use a large can of whole peeled tomatoes or a can of diced tomatoes and a can of crushed tomatoes.
Tomato paste – Enhances the tomato flavor throughout the broth, giving it more richness and depth.
Beef broth – I recommend low-sodium.
Fresh basil & bay leaves – Add flavor to the broth.
Italian seasoning – Adds the classic Italian flavor to the broth.
Salt & pepper
Ditalini pasta – Any other small pasta would also work for the recipe.
Parmesan – Additional shredded parmesan is optional, but perfect for serving.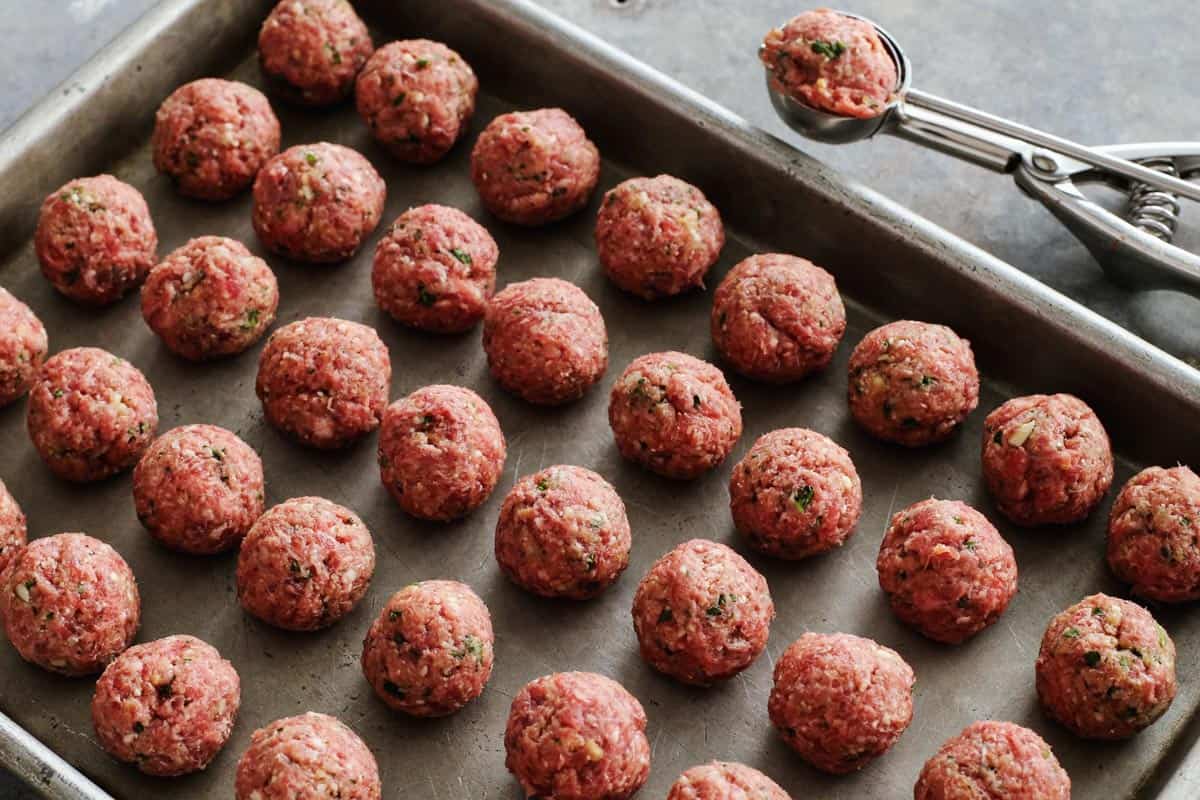 How to Make Italian Meatball Soup
Here's how to make homemade Italian meatball soup in a few easy steps. Scroll down to the recipe card for more detailed instructions.
Cook the meatballs. Combine the meatball ingredients then form into meatballs. Cook the meatballs in a large Dutch oven until nicely browned on all sides.
Sauté the veggies. Add the butter and olive oil to the same Dutch oven. Sauté the onion, celery, carrots, mushrooms, and garlic until softened.
Prepare the tomatoes. Dice half of the peeled tomatoes, then randomly chop and crush the remaining tomatoes. Add them to the pot, along with any accumulated juices.
Add the remaining ingredients. Stir in the tomato paste, broth, basil, bay leaves, seasonings, and meatballs. Increase the heat until the soup just boils, then reduce the heat and simmer for 15 minutes.
Cook the pasta. At the same time, in a separate pot, cook the ditalini pasta according to the package instructions.
Serve. Add the cooked pasta to individual bowls then ladle the soup over the top. Garnish with Parmesan if desired.
Tips for Success
Here are a few tips for making the best Italian meatball soup.
Combine the meatball ingredients well. I like to use my hands to get all the meatball ingredients combined evenly – it's just the easiest, quickest way to do it. But you can also use a wooden spoon.
Portion the meatballs evenly. For quick and easy meatball portioning, I like to use a small scoop (affiliate link). Then I give each portion a quick roll with my hands.
Don't overcook the pasta. Cook the pasta to al dente only, to avoid too-soft noodles.
Why do I need to cook the pasta separately? Cooking the pasta separately ensures that the pasta will not absorb excess liquid from the soup. When the pasta sits in the soup for a long time, it becomes mushy. This is especially important if you anticipate having leftovers.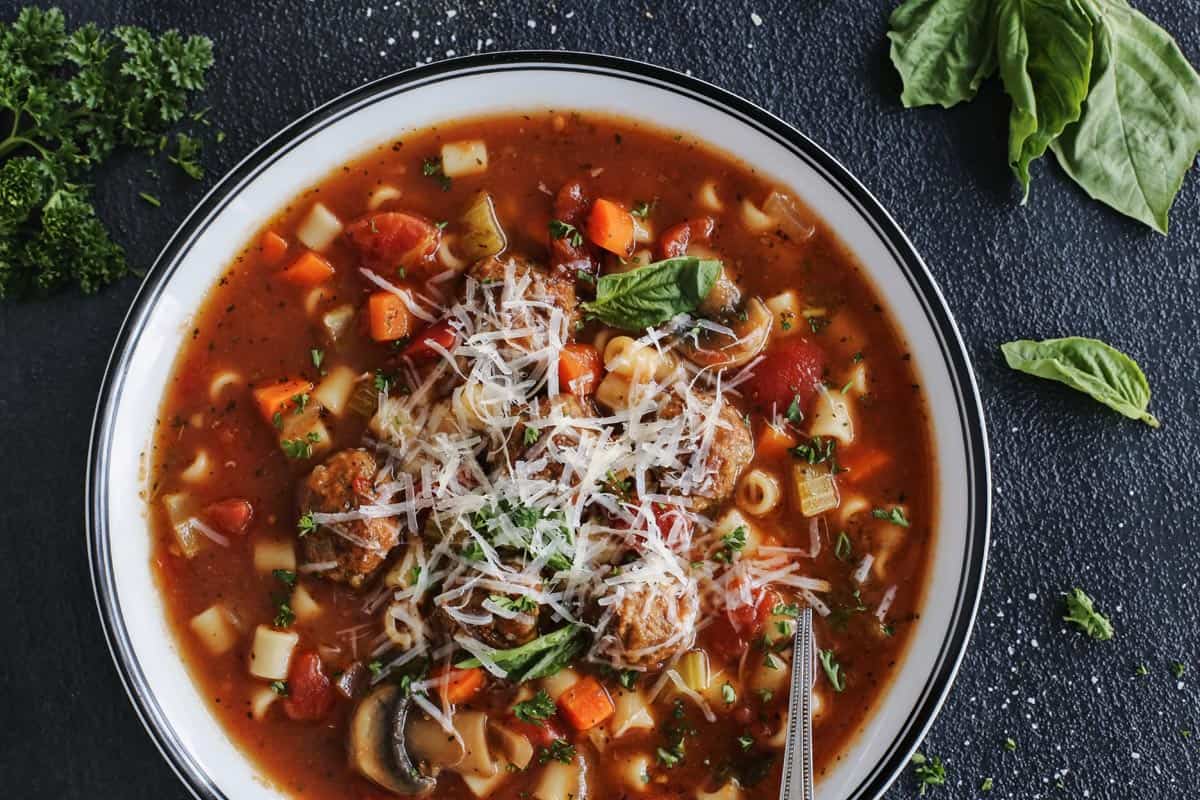 Easy Variations
Here are a few ways to make this meatball soup recipe your own.
Use a different type of meatballs. Instead of pure ground beef meatballs, try making them with half beef and half pork. You could also use ground chicken or turkey. And Italian sausage would be great!
Add more veggies. Feel free to add more veggies as desired, like frozen corn or green beans. Or stir in some spinach or kale just before serving.
Add some heat. If you like spicy Italian food, add some dried red pepper flakes!
Use frozen meatballs. I love making homemade meatballs for this soup. But if desired, you can use frozen meatballs instead. Italian seasoned meatballs would work especially well.
Serving Suggestions
If you're looking for a great salad to start off your meal, try this Italian Chopped Salad. I loaded it with all kinds of delicious goodies and dressed it with a zippy Italian Vinaigrette. People rave about it!
My family also goes crazy for soft, warm bread to dip in their meatball ditalini soup, especially this Homemade Garlic Bread – it's easy, cheesy, and full of garlic flavor. Texas Toast would also be great!
How to Store & Reheat Leftovers
Fridge. Leftover meatball soup can be refrigerated for up to 5 days. I recommend storing the pasta separately, so it doesn't soak up all the soup broth as it sits.
Freezer. This Italian meatball soup also makes a great freezer meal. Again, you'll want to freeze it without the pasta. Once the soup and pasta have cooled, transfer each one separately to freezer-safe containers and freeze them for up to 3 months. Then thaw overnight in the fridge.
Reheat. Reheat the soup gently on the stovetop, until heated through. Then stir in the pasta.
More Hearty & Comforting Soup Recipes
Like this Recipe? Save it to Pinterest!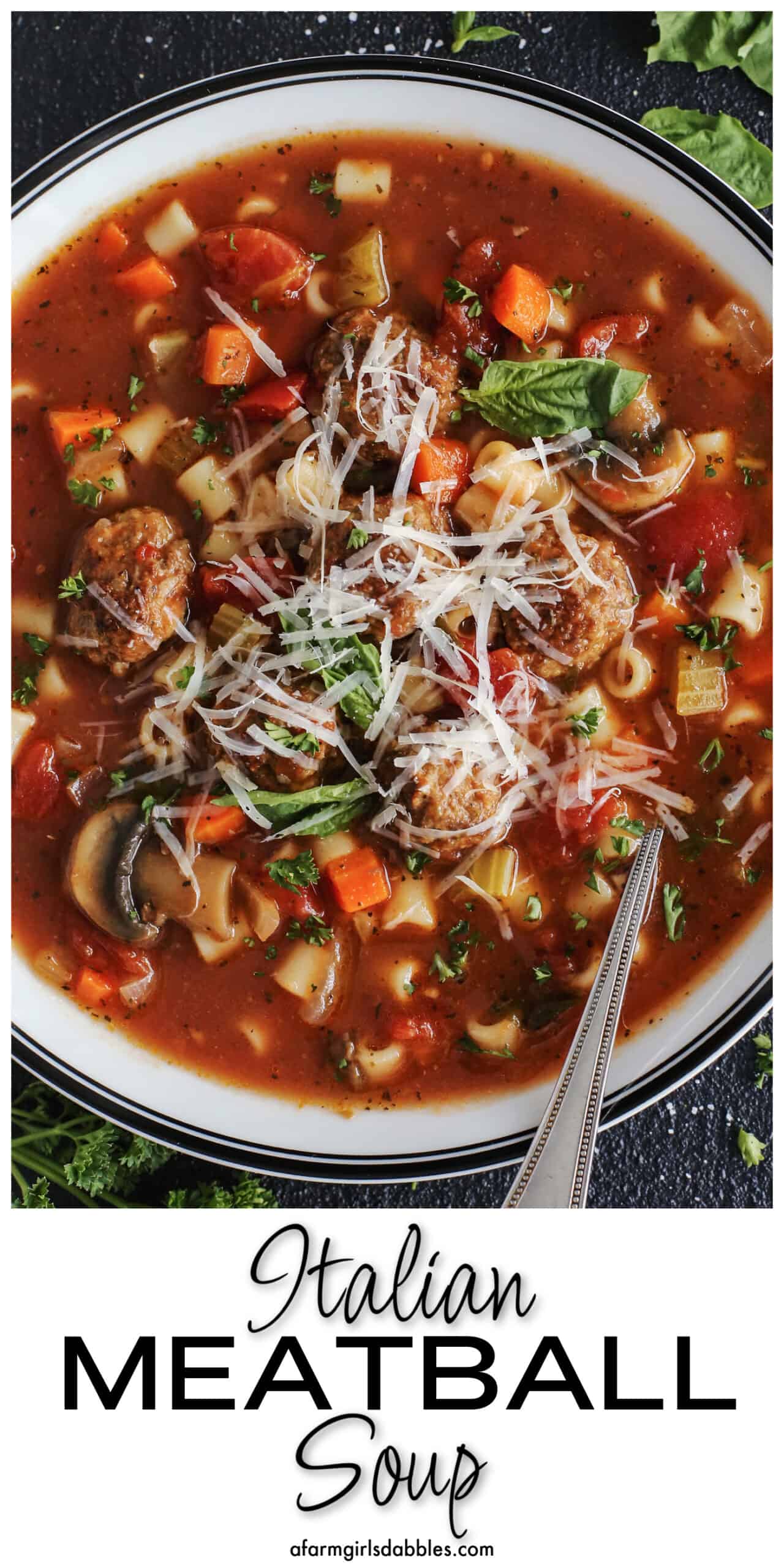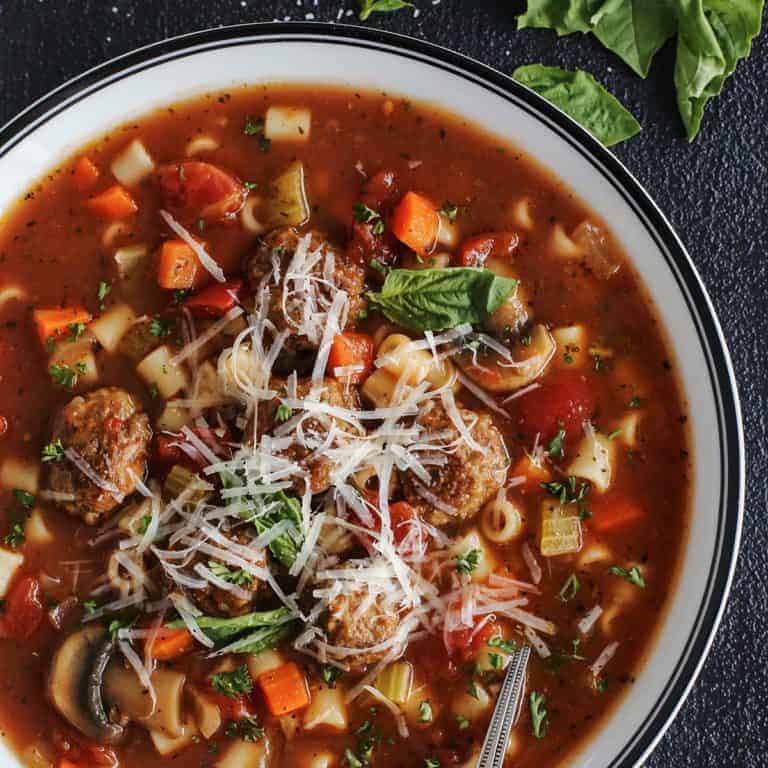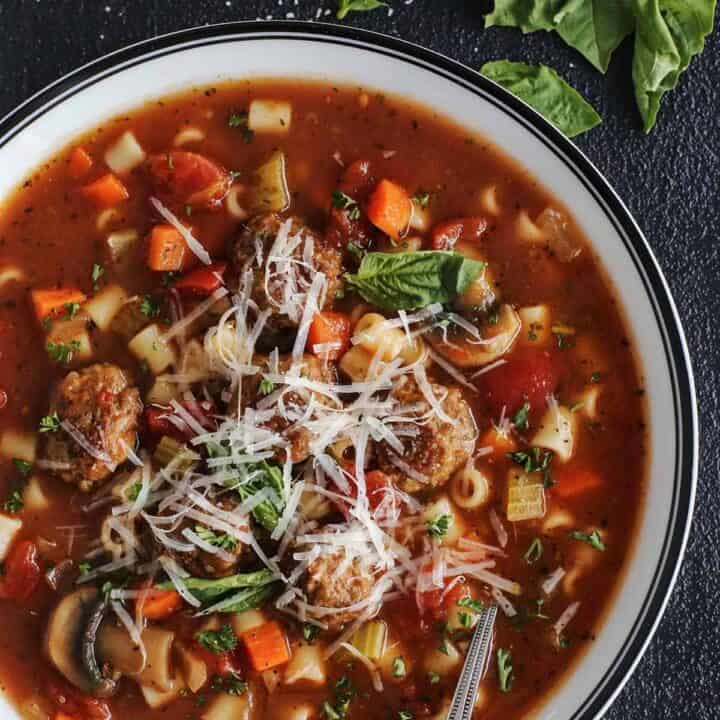 Italian Meatball Soup
Yield: 6 servings
Prep Time: 25 minutes
Cook Time: 45 minutes
Total Time: 1 hour 10 minutes
Made with tender homemade meatballs, pasta, and veggies, this Italian Meatball Soup is cozy, comforting, and filled with the flavors of Italy. Perfect for chilly winter days!
Ingredients
for the meatballs:
1 pound lean ground beef
⅓ cup bread crumbs
¼ cup grated Parmesan
1 large egg, beaten
1 large clove garlic, minced
2 tablespoons minced fresh Italian parsley
½ teaspoon Morton kosher salt
1/4 teaspoon black pepper
1 tablespoon olive oil
for the soup:
1 tablespoono unsalted butter
1 tablespoon olive oil
1 medium yellow onion, chopped
2 celery ribs, chopped
3 medium carrots, chopped
8 ounces button mushrooms, sliced
3 large cloves garlic, minced
1 can (28 ounces) Red Gold®️ Whole Peeled Tomatoes - or substitute 1 can (14.5 ounces) Diced Tomatoes plus 1 can (15 ounces) Crushed Tomatoes
1 can (6 ounces) Red Gold®️ Tomato Paste
6 cups reduced sodium beef broth
6 large leaves fresh basil, torn
2 bay leaves
1 tablespoons dried Italian seasoning
½ teaspoon Morton kosher salt
½ teaspoon black pepper
2 cups uncooked ditalini pasta
freshly shredded Parmesan, optional for serving
Instructions
For the meatballs: In a medium bowl combine beef, bread crumbs, Parmesan, egg, garlic, parsley, salt, and pepper. Use your hands to combine evenly, or fold with a wooden spoon.
Form mixture into 40 meatballs, about 1 tablespoon each. I use a small scoop to portion quickly and evenly.
Heat a large Dutch oven (or another heavy-bottomed soup pot) over medium to medium-high heat. I use a 6.75 quart Dutch oven - it's a great size for this recipe. Add olive oil. Once oil is shimmery, add meatballs. Turn meatballs occasionally, until all sides are nicely browned. Remove meatballs to a plate.
For the soup: Using same Dutch oven over medium to medium-high heat, add butter and olive oil. Once shimmery, stir in onion, celery, carrots, mushrooms, and garlic. Sauté, stirring occasionally, about 10 to 15 minutes or until vegetables are softened.
Dice half of the whole peeled tomatoes and add to pot. Randomly chop and then crush the remaining whole peeled tomatoes, using the back of a fork or a rigid pastry cutter. Add to the pot any accumulated juices and any tomato juice left in the can.
Stir in tomato paste, to taste - I like to use between 4 and 6 ounces. Add beef broth, basil, bay leaves, Italian seasoning, salt, pepper, and meatballs. Turn heat up a bit and cook just until soup starts to boil. Then turn heat down to medium-low and simmer for 15 minutes or until meatballs are fully cooked and vegetables are soft and tender.
While soup is simmering, cook ditalini pasta in boiling salted water, until al dente. Do not over cook. Drain pasta and set aside.
To serve: Add cooked ditalini pasta to individual bowls and then ladle soup over the top. Sprinkle shredded Parmesan over the top.
Notes
Cooking the pasta separately ensures that the pasta will not absorb excess liquid from the soup, which makes the pasta mushy. This is especially important if you anticipate having leftovers. I follow this same method when making Lasagna Soup.
Nutrition Information:
Yield: 8
Serving Size: 1
Amount Per Serving:
Calories: 260
Total Fat: 14g
Saturated Fat: 5g
Trans Fat: 0g
Unsaturated Fat: 7g
Cholesterol: 81mg
Sodium: 709mg
Carbohydrates: 12g
Fiber: 3g
Sugar: 4g
Protein: 22g
Nutrition information is automatically calculated by Nutritionix. I am not a nutritionist and cannot guarantee accuracy. If your health depends on nutrition information, please calculate again with your own favorite calculator.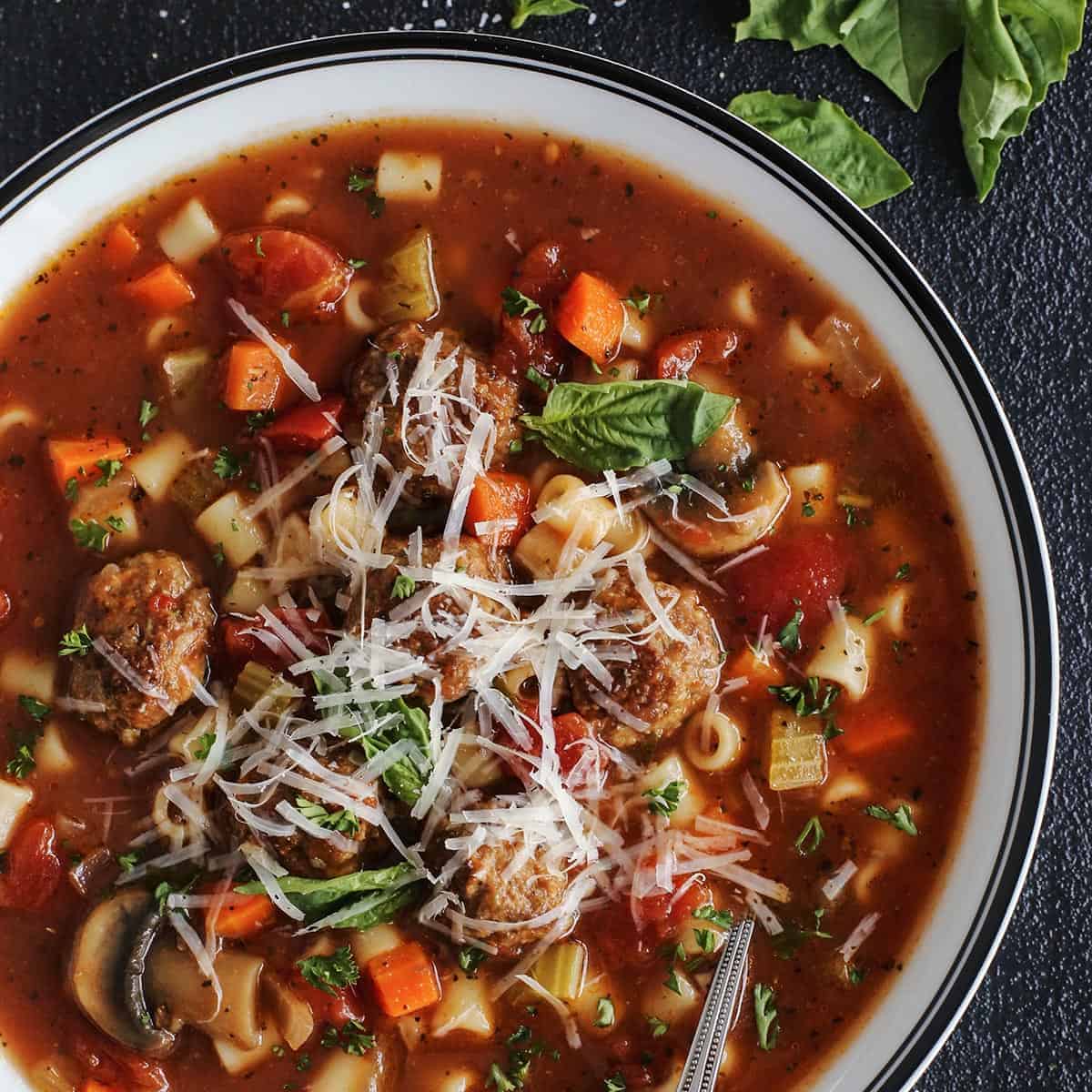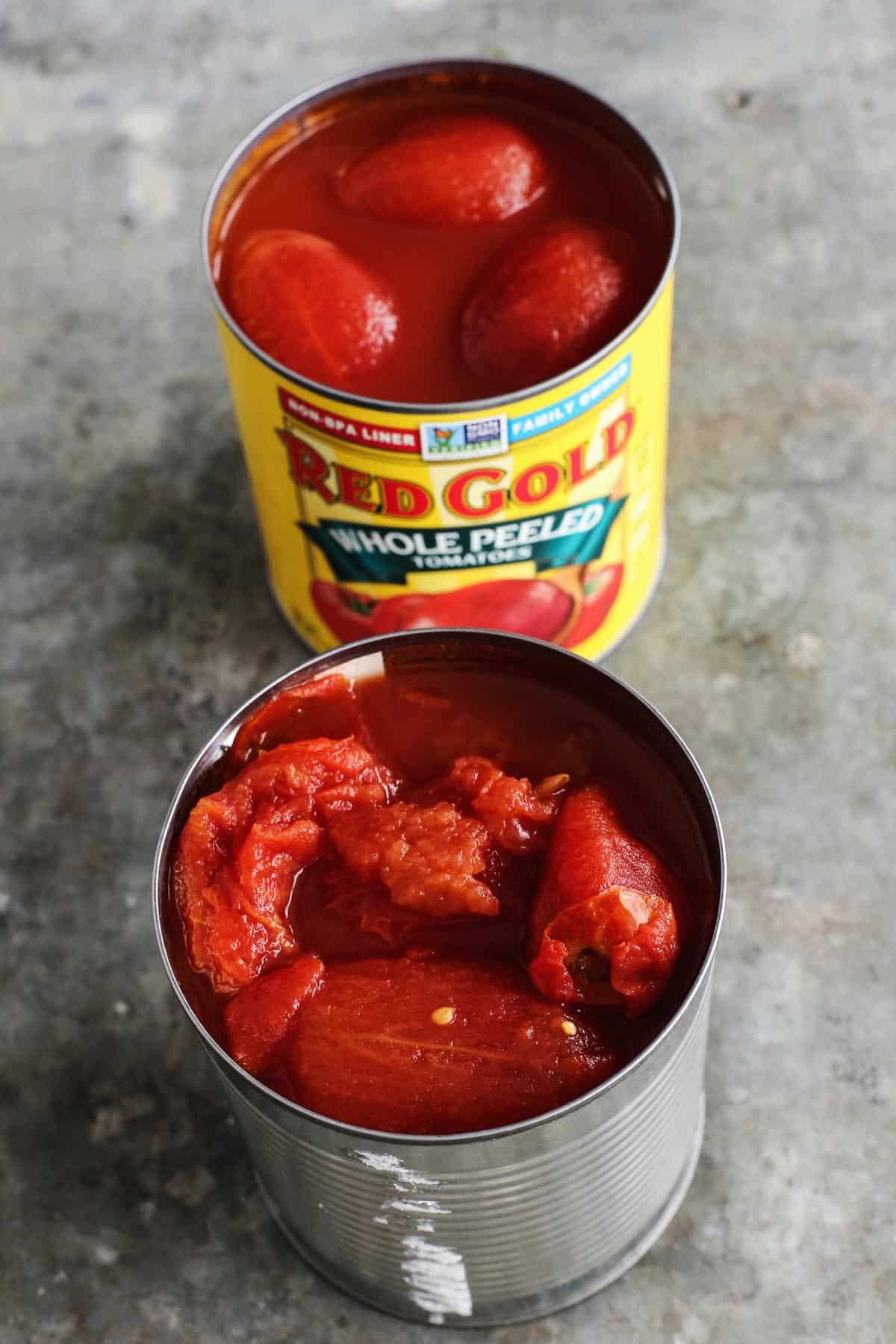 The Key to the Best Meatball Soup? The Best Canned Tomatoes!
You've heard me say it before, and I'm saying it now again. I am a huge fan of Red Gold Tomatoes.
The quality is obvious to me. Red Gold's®️ Peeled Whole Tomatoes always (ALWAYS!) look just like the tomatoes shown in the top can, in the photo above. They are perfectly intact with no peel attached, firmly tender, and nestled in rich tomato juice.
This is in stark contrast to another leading brand's tomatoes, which can be seen in the bottom can. The tomatoes are broken and mushed, with some peel still attached. And the tomato juice is much thinner.
Red Gold also has a more intense fresh tomato flavor, and there's no hint of metallic taste that I often pick up from other brands.

It's no wonder that Red Gold's®️ Whole Peeled Tomatoes received the 2019 Chefs Best Excellence Award for their quality and strong tomato integrity!
For more than 75 years, Red Gold Tomatoes have been family owned, grown, and made on family farms in the Midwest. Red Gold picks their tomatoes when they are absolutely vine-ripe red. This means that nothing artificial needs to be added. No artificial flavors, colors, or preservatives.
Find out more about Red Gold on their website, Facebook, Twitter, Instagram, and Pinterest.
This post is sponsored by Red Gold, and originally published in 2020. All opinions are 100% my own.