Turkey and Biscuits Casserole with Lemon and Dill
If you like turkey or chicken pot pie, you will LOVE this Turkey and Biscuits Casserole with Lemon and Dill! It's a quick and easy leftover turkey casserole, perfect for the day after Thanksgiving!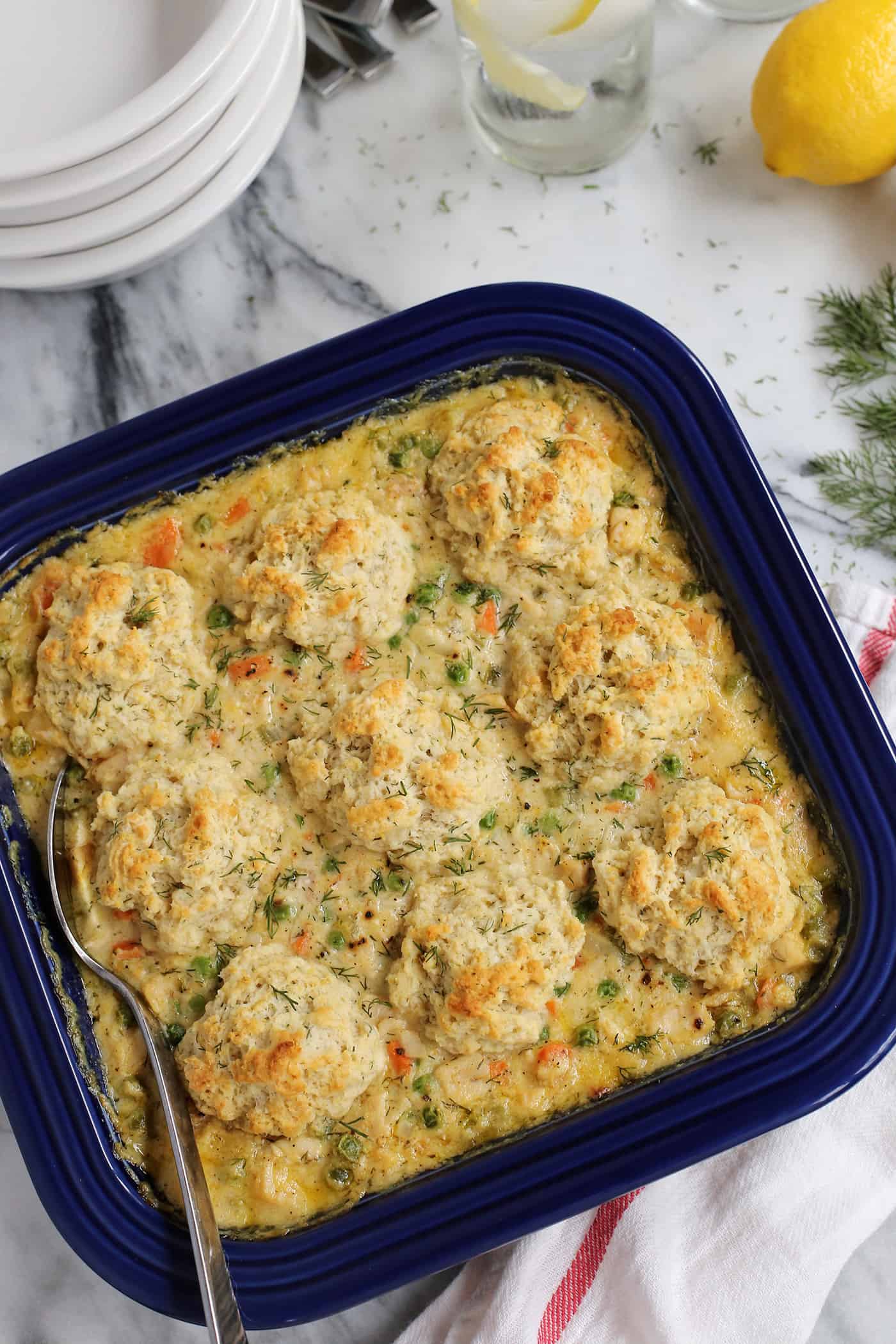 An Easy Leftover Turkey Casserole
Does anyone else purposefully buy a turkey bigger than they'll actually need, just so they can use the leftovers in the following days? Or is it just me?
I live for turkey leftovers each November, just so I can make cold turkey and mayo sandwiches and a big pot of creamy turkey and wild rice soup. I especially adore smoked turkey, a gift from Blake's tending to the bird on the Big Green Egg all day long. Because smoked turkey makes the very best turkey leftovers in the whole wide world. And then I can make my smoked turkey chowder with mushrooms and sweet potatoes.
But, out of all the Thanksgiving leftover recipes I make, this Turkey and Biscuits Casserole with Lemon and Dill is the biggest hit in the family. If you like turkey or chicken pot pie, you will absolutely LOVE this casserole. My family gobbles this up. Ha!
This leftover turkey casserole starts with a classic sauté of chopped vegetables which are incorporated into a creamy, flavorful homemade gravy that's lightly and brightly flavored with fresh lemon and dill. If you've never made homemade gravy, I urge you to give it a go. It's really easy to make, and so much better in flavor and texture than the canned stuff.
When this casserole comes out of the oven, all hot and bubbling, it's a beautiful, welcoming sight. I absolutely love the soft aromas of lemon and dill.
The final casserole is similar to a turkey pot pie, so if you enjoy those, you're going to love this turkey and biscuits casserole! And, of course, no need to wait until November – even if you don't cook turkey throughout the year, you can easily substitute rotisserie chicken!
What You'll Need
Everything in this leftover turkey casserole is made from scratch – no canned gravy or boxed biscuits here!
For the Turkey Casserole Filling:
Butter – I prefer unsalted butter to control the salt level.
Vegetables – The vegetables I chose to use were yellow onion, carrot, celery and frozen peas.
Garlic – Minced garlic is sauteed with the vegetables for flavor.
Flour – Thickens the gravy.
Low sodium chicken broth – The base of the gravy.
Whole milk – Creates the creamy texture and flavor.
Seasonings – A combination of dijon mustard, dry mustard, salt and pepper add flavor to complement the dill and lemon.
Parmesan – I highly recommend freshly grated parmesan!
Fresh dill – One of the star flavors of the dish!
Lemon – The lemon zest really brightens up this casserole! The juice is used as well.
Cooked turkey – Thanksgiving leftovers are ideal for this!
For the Biscuits
All-purpose flour
Sugar – Just a tablespoon for the tiniest hint of sweetness.
Baking powder – Allows the biscuits to rise.
Lemon – Lemon zest is adds even more lemon flavor to the dish.
Fresh dill – A pop of color and flavor.
Milk – I used whole milk.
Unsalted butter – Should be chilled, not at room temperature or warm.
How to Make Turkey and Biscuits Casserole with Lemon and Dill
Even though everything is made from scratch, this turkey and biscuits casserole is incredibly easy to make!
Saute the vegetables. Saute the onions, carrots and celery in butter. After 5 minutes, stir in the garlic and continue cooking.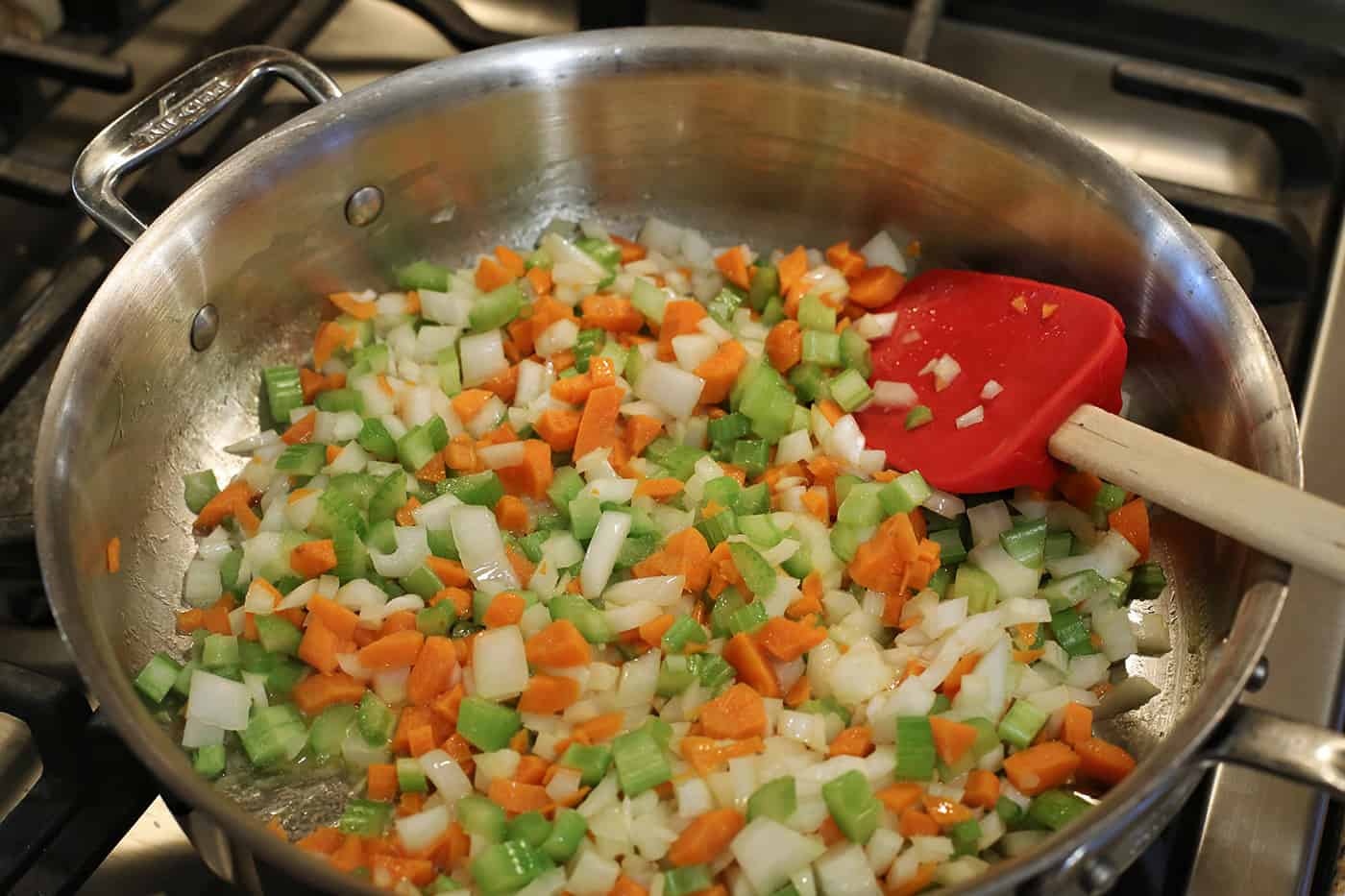 Make the gravy. In the same skillet (push the vegetables to one side), melt the remaining butter and whisk in the flour. After it's brown and fragrant, slowly whisk in the chicken broth and milk. Stir the vegetables back in and add the dry seasonings. Cook until thickened, then add parmesan and the remaining ingredients. Transfer turkey casserole filling to 9×9 inch dish.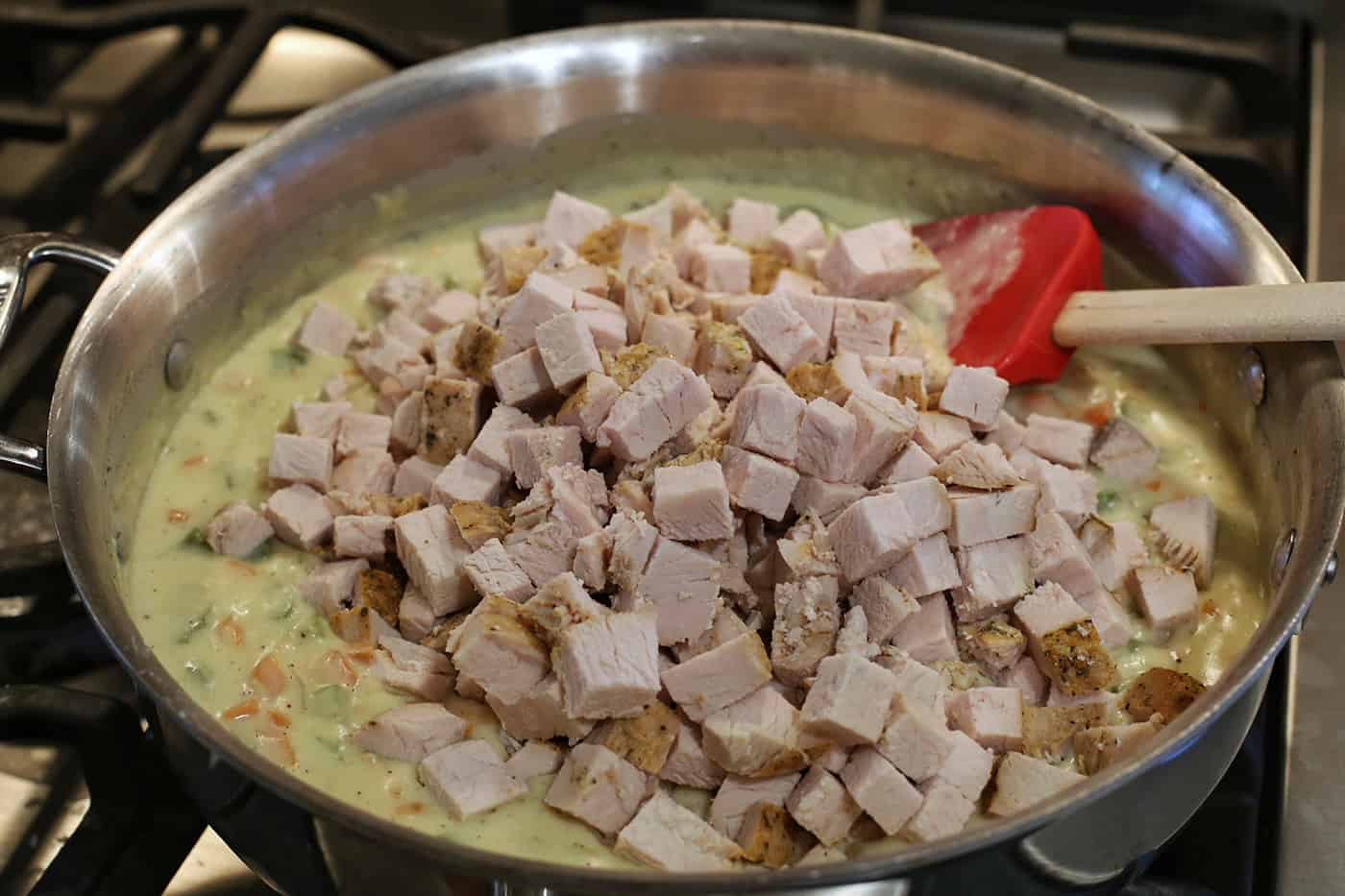 Make the biscuits. Whisk together all ingredients except the butter and milk. Cut in the butter until the dough is crumbly, then stir in the milk. Drop the biscuit dough in tablespoons over the leftover turkey casserole mixture.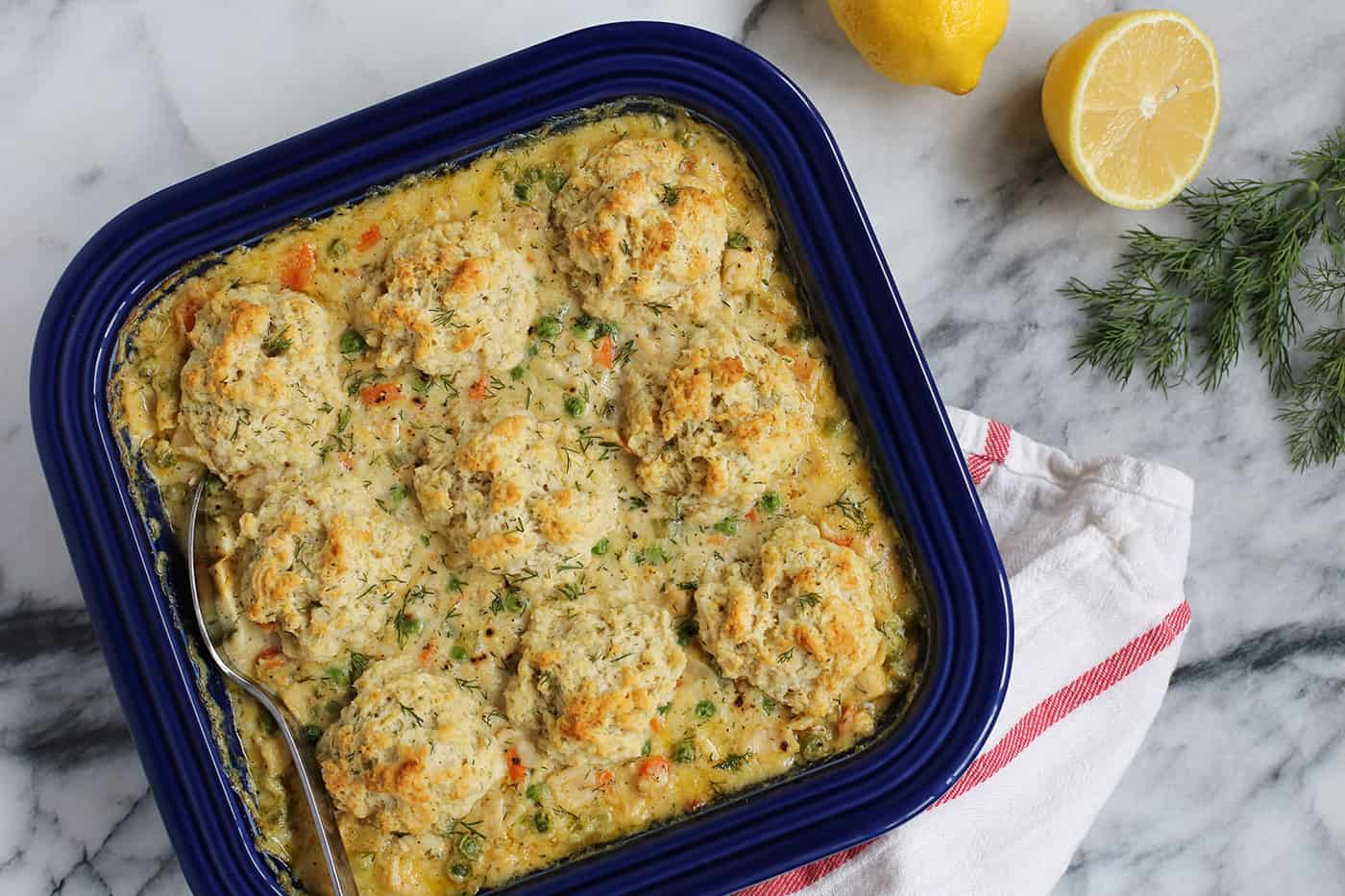 Bake. Bake, uncovered, for 25 minutes, until the filling is hot and bubbly. Allow to sit fora few minutes and serve hot.
Tips for Success
Want to make this casserole even easier and better? Here are a few ideas!
Don't overmix the biscuit dough. After the butter is cut in and milk added, the dough should be mixed just enough to incorporate everything.
Use leftover veggies. If you have any plain veggies that didn't get finished up for Thanksgiving dinner, you can easily incorporate them into the gravy. This includes carrots and celery, broccoli, corn and more. This leftover turkey casserole is great because the ingredient list can be easily adapted.
Substitute chicken for turkey. This recipe can be made with chicken just as easily as it can be with turkey. Leftover chicken breast will work in this recipe or even rotisserie chicken.
Serving Suggestions
I like to serve this turkey and biscuits casserole in low, wide bowls, to contain the creamy gravy. Make sure each bowl gets a biscuit or two, plus a little sprinkle of fresh dill. I'll leave it up to you whether you should eat this with a fork or a spoon!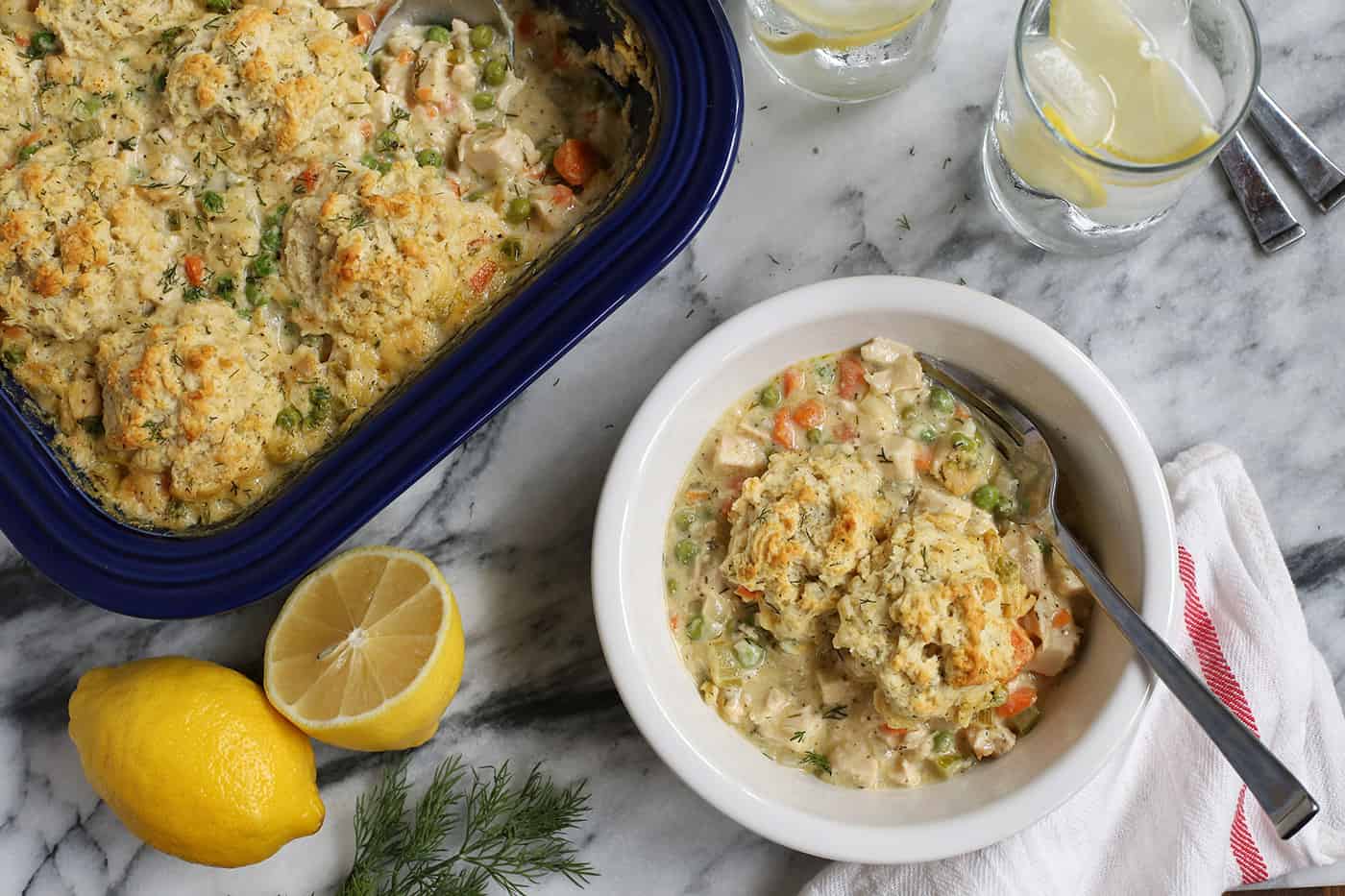 How to Store Leftovers
Leftover turkey casserole should be tightly covered and placed in the fridge or transferred to an airtight container. Enjoy leftovers within 3 days – just reheat individual servings in the microwave or pop the casserole dish back into the oven until heated through.
Can I Freeze This?
Yes! One of the reasons this is a favorite Thanksgiving leftovers recipe is because it can be frozen for later! Just make it according to the directions, allow it to cool completely, wrap tightly with plastic wrap and foil, and pop into the fridge. Allow to thaw overnight in the fridge and reheat in the oven!
More Recipes With Turkey: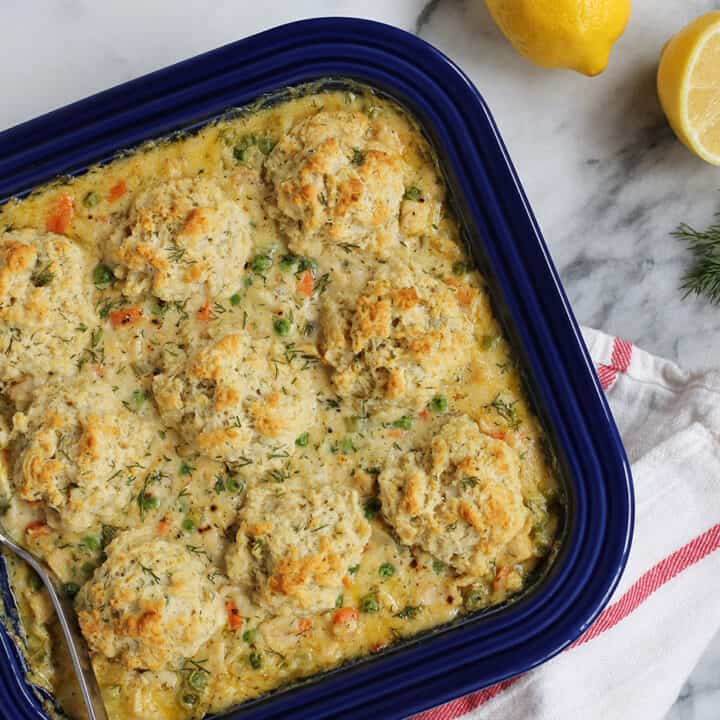 Turkey and Biscuits Casserole with Lemon and Dill
Yield: 8 servings
Prep Time: 20 minutes
Cook Time: 1 hour
Total Time: 1 hour 20 minutes
If you like turkey or chicken pot pie, you will LOVE this Turkey and Biscuits Casserole with Lemon and Dill! It's a quick and easy leftover turkey casserole, perfect for the day after Thanksgiving!
Ingredients
For the Turkey Casserole Filling
5 tbsp. Unsalted Butter, Divided
1 c. Chopped Yellow Onion
1 c. Peeled And Chopped Carrot
1 c. Chopped Celery
3 cloves (Large) Garlic, Minced
1/3 c. All-purpose Flour
1/3 c. Low Sodium Chicken Broth
2 c. Whole Milk
1 tsp. Dry Mustard
1 tsp. Dijon Mustard
1 tsp. Kosher Salt, Or More To Taste
1/4 tsp. Freshly Ground Black Pepper
1/4 c. Grated Parmesan Cheese
2 tbsp. Chopped Fresh Dill
1 whole Lemon, Zested
2 tbsp. Freshly Squeezed Lemon Juice
4 c. Cubed Cooked Turkey
1 c. Frozen Peas
For the Biscuits
1 c. All-purpose Flour
1 tbsp. Sugar
2 tsp. Baking Powder
1/4 tsp. Kosher Salt
1 whole Lemon, Zested
1 tsp. Minced Fresh Dill
1/3 c. Milk
3 tbsp. Unsalted Butter, Chilled And Diced
Instructions
For the Turkey Casserole Filling
Heat a large skillet with tall sides (my skillet is 12 inches in diameter) over medium heat. Add 3 tablespoons of the butter. Once butter is melted, add the onions, carrots, and celery. Cook for 5 minutes, stirring periodically. Stir in the garlic and cook for another 4 or 5 minutes, or until the vegetables are nicely softened.

Now slide everything in the skillet to one side. Add remaining 2 tablespoons of butter to empty side of skillet. When the butter is melted, sprinkle the flour over the butter, whisking all the while (a flat whisk works great here!). Draw in as much butter and vegetable juices as you can, into the flour. The mixture will be thick. Cook for a minute or two, until the mixture is slightly browned and fragrant.

Slowly pour the chicken broth over the flour mixture, whisking all the while to smooth out the flour. Then slowly pour in the milk, whisking to incorporate until completely smooth. Now bring the entire contents of the skillet together, folding and stirring to incorporate. Stir in dry mustard, Dijon mustard, salt, and pepper. Cook until thickened, about 8 to 10 minutes, stirring occasionally. Then stir in the Parmesan and give the mixture a taste test, adding more salt and pepper if needed. Add the dill, lemon zest and juice, turkey, and peas, and fold to incorporate. Transfer turkey casserole filling to a 9 x 9 inch dish with tall sides, or something of similar size. Level mixture out in the pan.

For the Biscuits
Preheat oven to 375°F.
In a large bowl, whisk together flour, sugar, baking powder, salt, lemon zest, and dill. With a rigid pastry blender or a couple forks, cut the butter into the dry mixture until incorporated and crumbly. Drizzle milk evenly over the top of the mixture and then stir together just until evenly moistened. Do not over mix. Dough will be very thick.
Drop biscuit dough by nine rounded tablespoonfuls onto the turkey casserole filling. Bake, uncovered, for about 35 minutes, or until filling is hot and bubbling and the biscuits are beautifully browned. Let sit for a couple minutes before serving.
Nutrition Information:
Yield: 8
Serving Size: 1
Amount Per Serving:
Calories: 409
Total Fat: 20g
Saturated Fat: 10g
Trans Fat: 0g
Unsaturated Fat: 8g
Cholesterol: 113mg
Sodium: 537mg
Carbohydrates: 30g
Fiber: 3g
Sugar: 8g
Protein: 27g
Nutrition information is automatically calculated by Nutritionix. I am not a nutritionist and cannot guarantee accuracy. If your health depends on nutrition information, please calculate again with your own favorite calculator.