Lemon Broccoli with Beans and Bacon
Lemon Broccoli with Beans and Bacon is an easy great northern beans recipe with roasted broccoli, chewy-crisp bites of bacon, and a squeeze of fresh lemon. It's humble, yet stunning!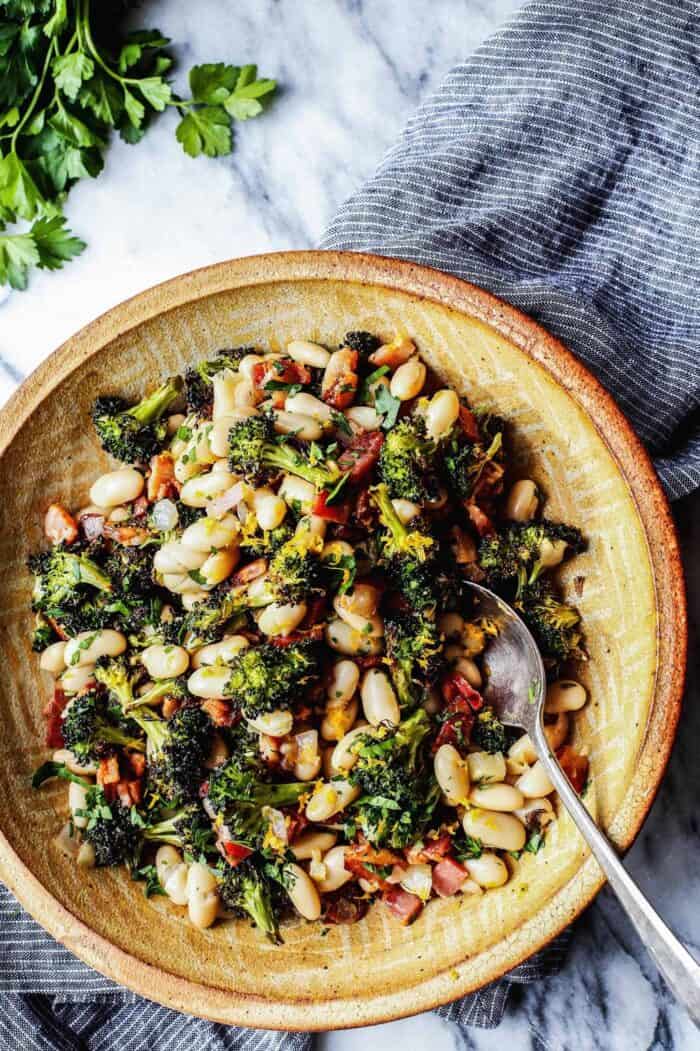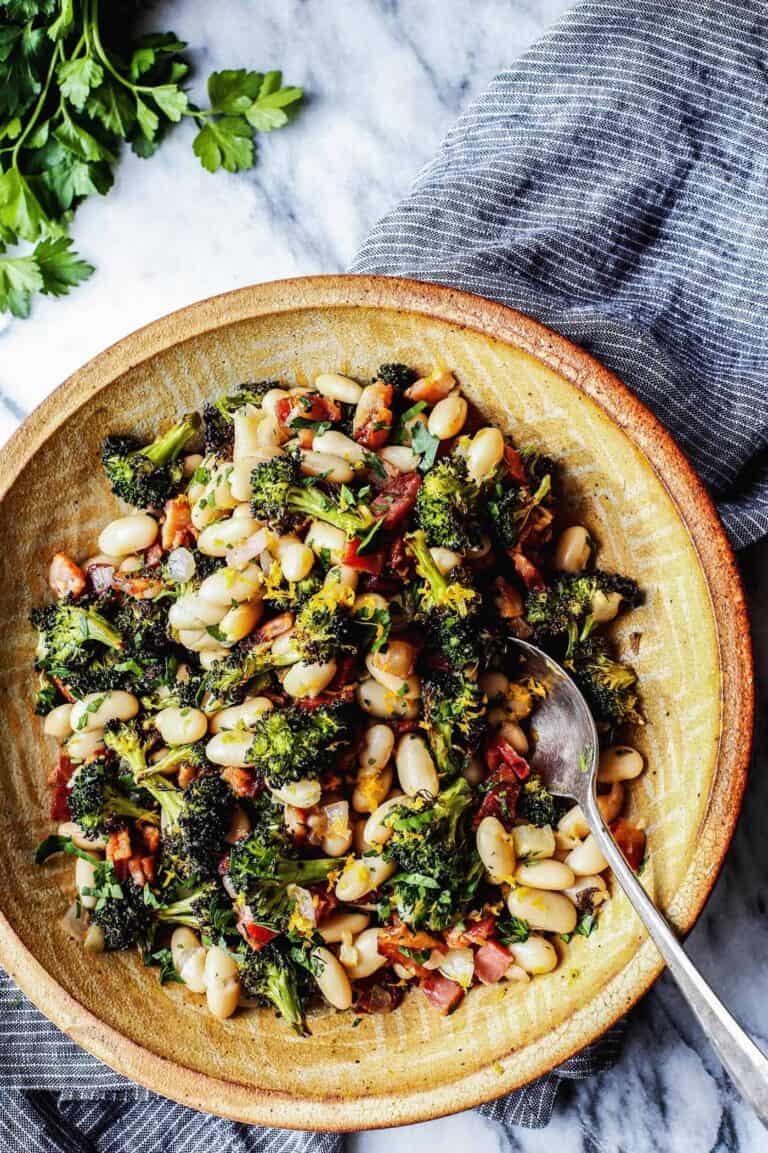 Lemon Broccoli with Beans and Bacon
We had such pretty natural light to work with, that day when my friend Amanda came over to share a day in our kitchen. It was overcast, yet bright. And a calm, quiet snowfall the night before had left 8″ of soft, fluffy, sparkly snow outside the window. It was the perfect reflector of light. A food blogger's dream lighting scenario.
We poured cups of fresh-brewed coffee and then started pulling out dishes and ingredients we had collected for our day of cooking together. While chatting and catching up, I found the tension of the early morning dash to get kids dressed and fed and their lunch boxes packed…all fading away.
If you know Amanda from Heartbeet Kitchen, then you know all too well what a joy she is to be around. Amanda's smile and tinkly laughter, coupled with her warm and charmingly chatty personality, always put me at ease.
We made Lemon Broccoli with Beans and Bacon that day, a stunning yet humble kind of dish. With a short ingredient list, it relies on simple, fresh flavors that let every component shine.
After Amanda and I finished taking our photos, we sat down to enjoy our tasty creation together. And I just have to say, it turned out to be one of the very best broccoli recipes. We also discovered that this dish goes splendidly with a chilled glass of bubbly Prosecco. So, Cheers! To friendship and fabulous food!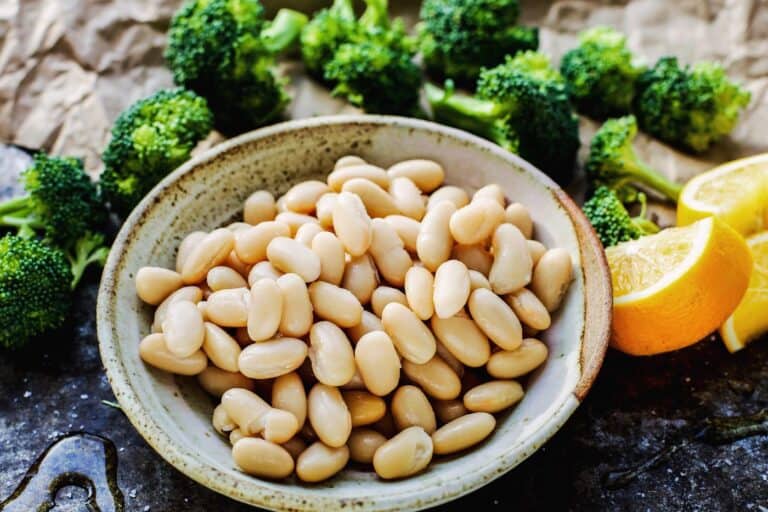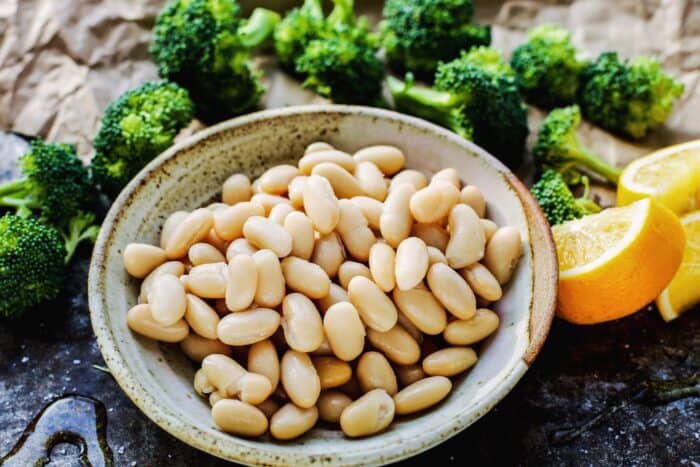 An Easy Great Northern Beans Recipe
It was Amanda who prompted our day of cooking together. Food blogging can be rather solitary, as you're mostly working from home, either sitting behind a computer or creating dishes in the kitchen. So I welcomed her idea with open arms.
She brainstormed a short list of ingredients to include broccoli, lemon, and white beans – which are also called great northern beans.
What are great northern beans?
Great northern beans are white medium-sized beans, larger than navy beans and smaller than cannellini beans. They are delicately flavored and most commonly used when making baked beans and "pork and beans". The beans are available dried, canned, and less commonly, fresh. You can easily substitute this bean in any recipe that calls for white beans.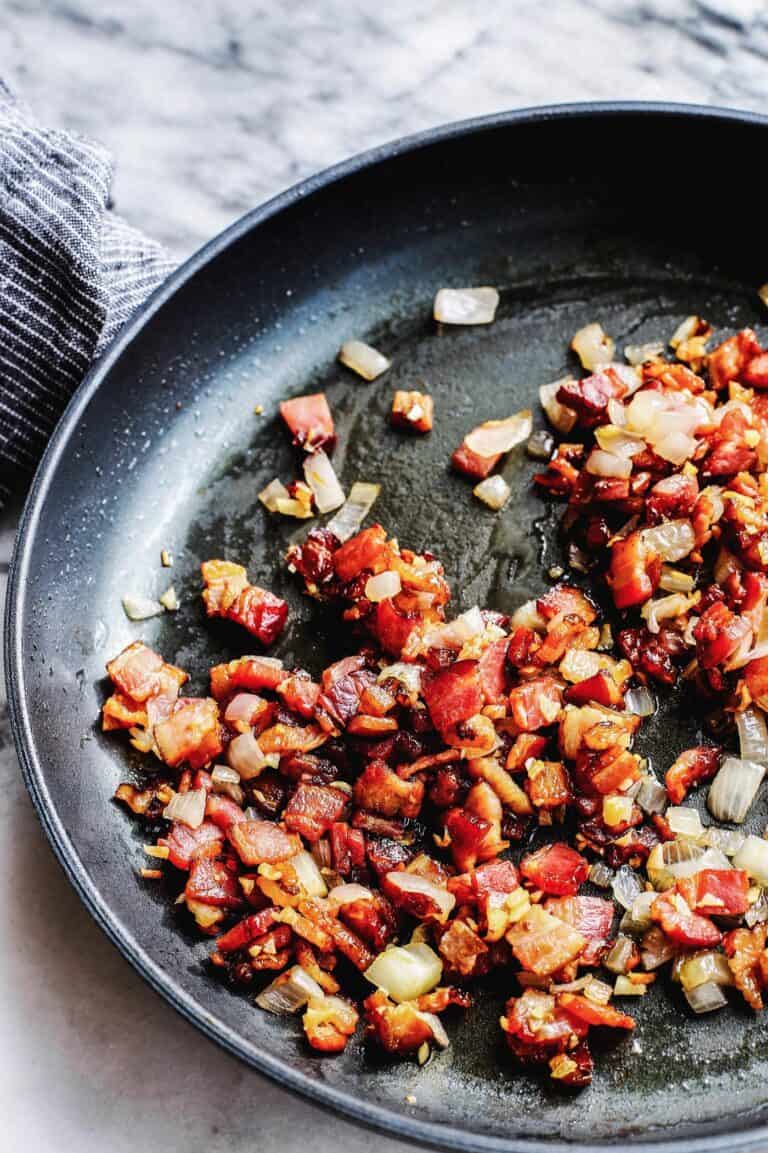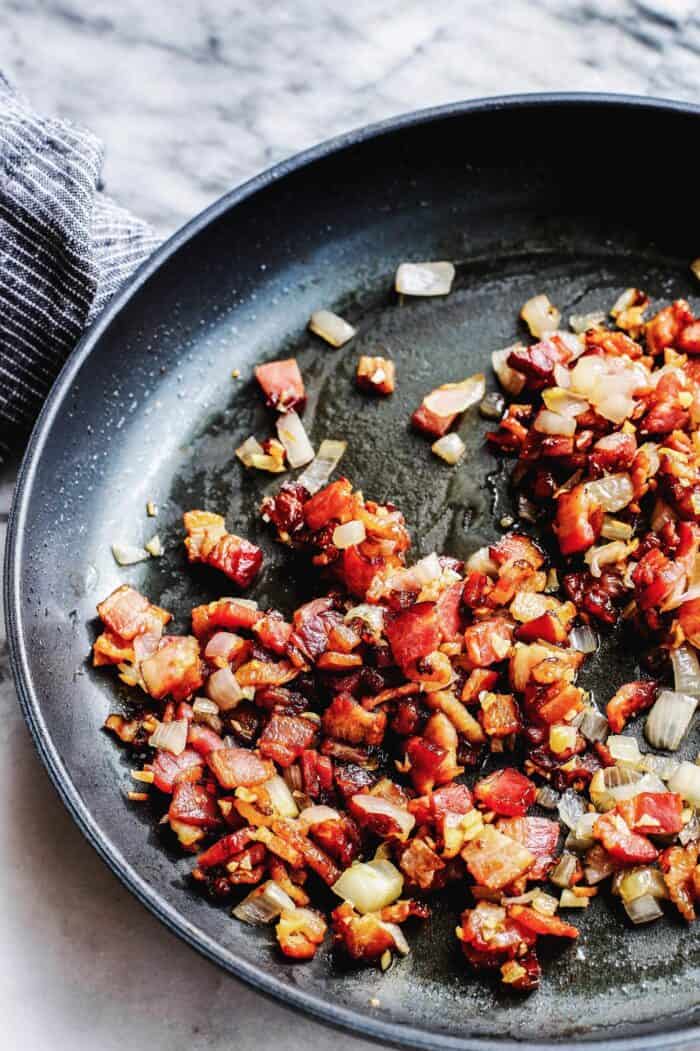 My contribution to the kitchen party was a slab of thick-cut double-smoked bacon from our local Hagberg's butcher shop. It is The Best Bacon. I like to keep a package or two in our freezer for whenever we're needing that ultimate bacon fix.
Although not a part of our original thinking for this recipe, I was certain that Amanda would not oppose my last-minute addition to the ingredient list.
We chopped up the bacon and then fried it in a skillet, along with some fresh shallots and garlic. The kitchen smelled so wonderful. There was no way to resist our snitching hot, salty bites from the skillet.
Like bacon, too? Here are a few more recipes with bacon: Breakfast Egg Salad with Bacon is a fun twist on traditional egg salad. Bacon Cheeseburger Pizza Rolls always disappear FAST. And this Tuna Guacamole Sandwich with Bacon makes a fantastic lunch!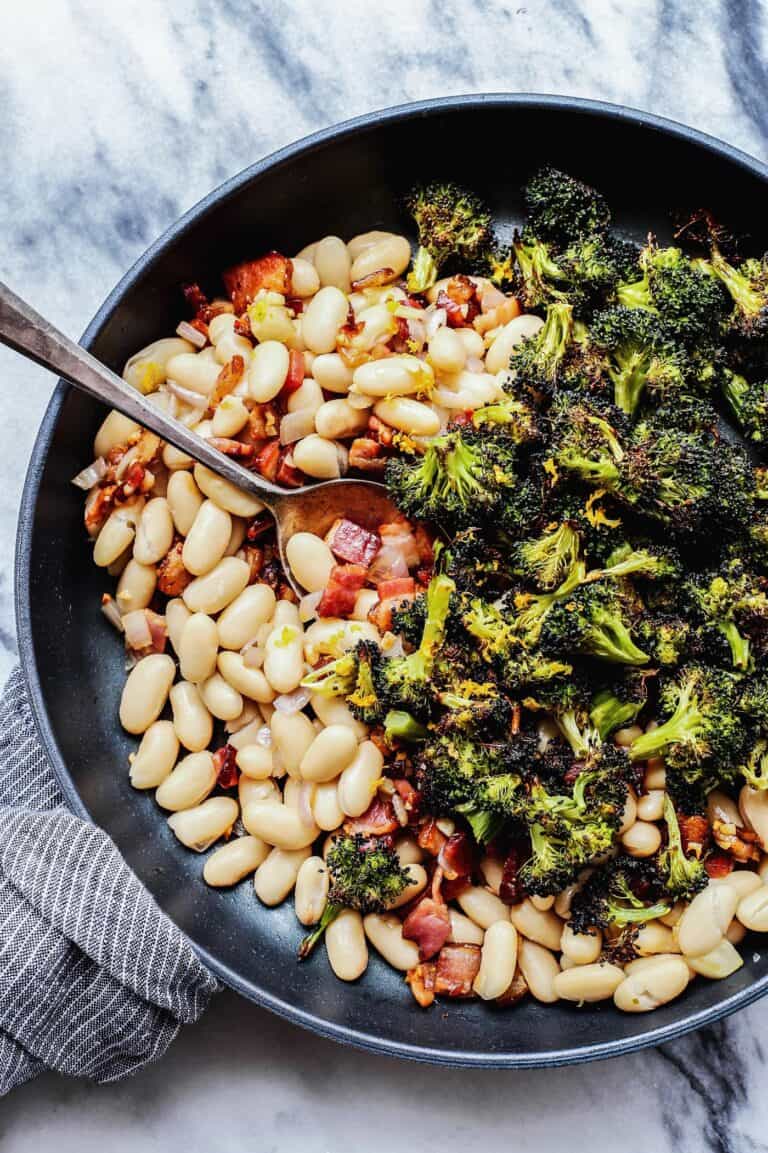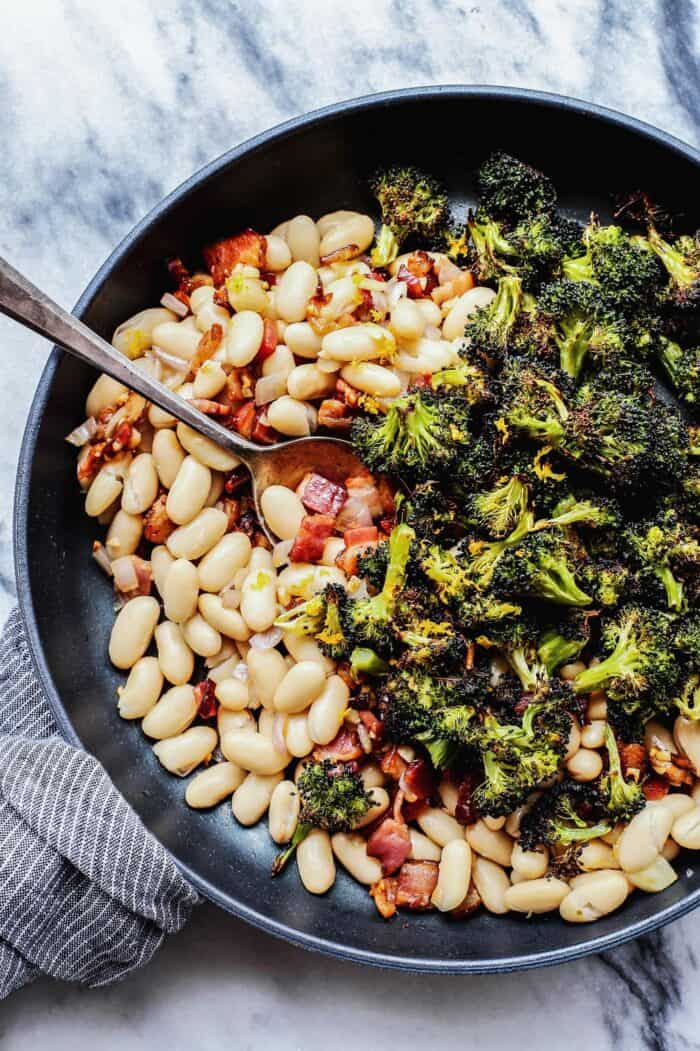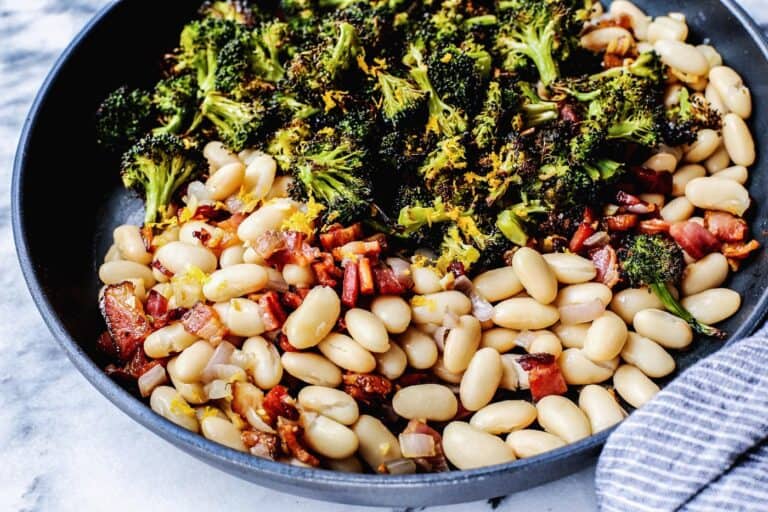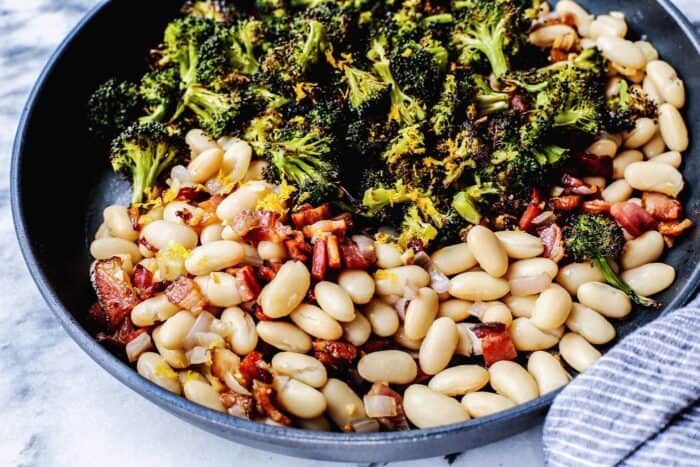 The Best Way to Cook Broccoli
This dish is best when the broccoli is beautifully charred. The crispy edges lend a fabulous layer of texture against the creamy beans and chewy-crisp bacon.
To accomplish this, place a large rimmed baking sheet in the oven while it preheats.
Once the oven reaches 375° Fahrenheit, remove the hot baking sheet and spread the broccoli florets out on it. Dress the broccoli very simply with only olive oil and kosher salt, and then gently fold it altogether.
Then place the broccoli in the oven. It won't take long for the broccoli to emerge perfectly caramelized against the hot pan.
Roasted broccoli is my favorite way to eat broccoli!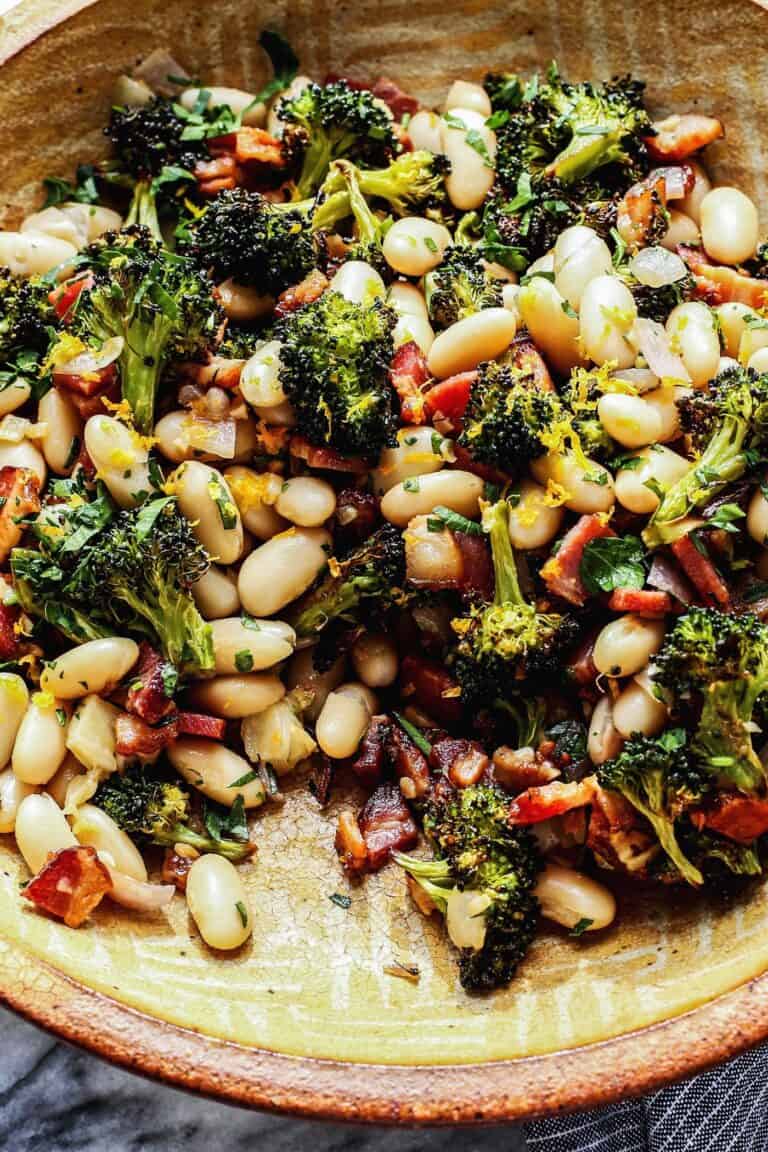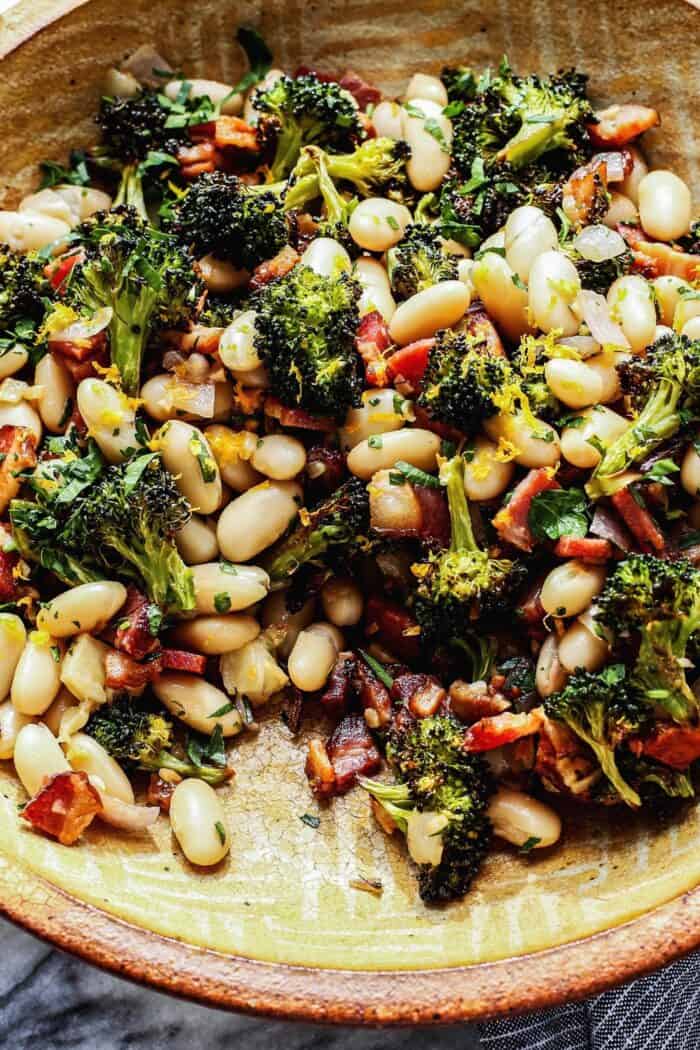 This dish's simplicity will try to fool you into thinking it's so much more.
There's incredible texture and flavor when roasted broccoli florets, salty bacon pieces, creamy white beans, and bright, fresh lemon juice come together. It's almost too simple to be true!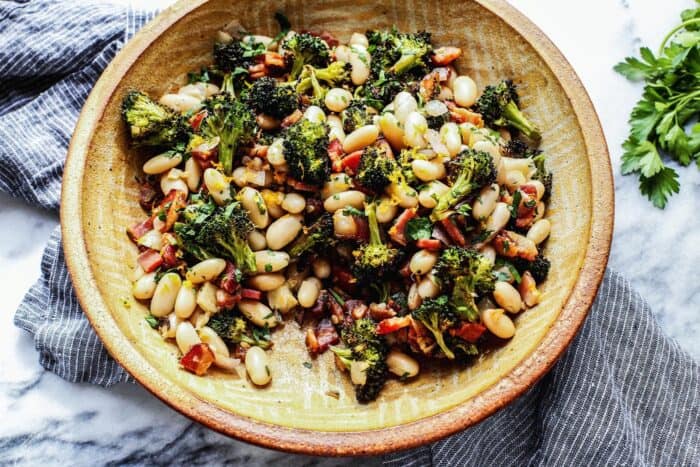 The earthy colors and range of textures. They get me every time.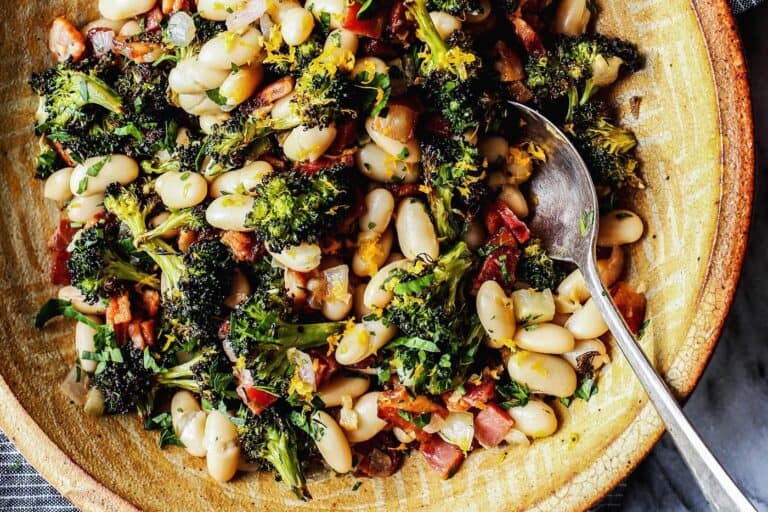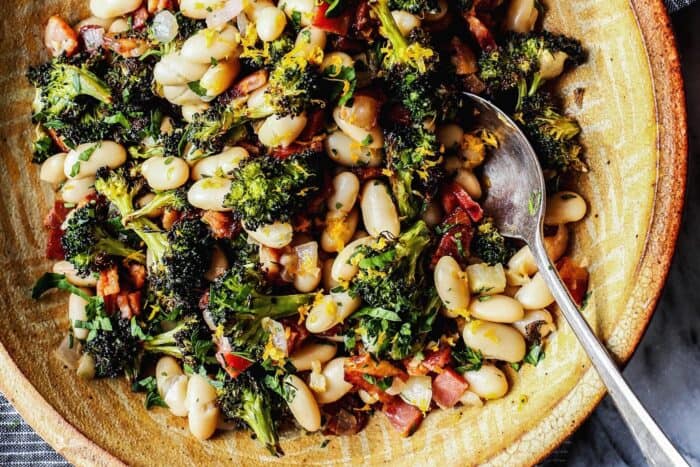 If you, like me, keep a package of your favorite bacon in the freezer "for emergencies", then you're not far from enjoying this easy meal at your own table. With white beans, shallots, and garlic – always in our pantry – this dish comes together quickly and easily.
For a simple, no-fuss kind of meal, just serve this lemon broccoli with beans and bacon straight from the skillet. Because really, the only things that really matter are the meal's deliciousness and comfort, and who's beside you at the table.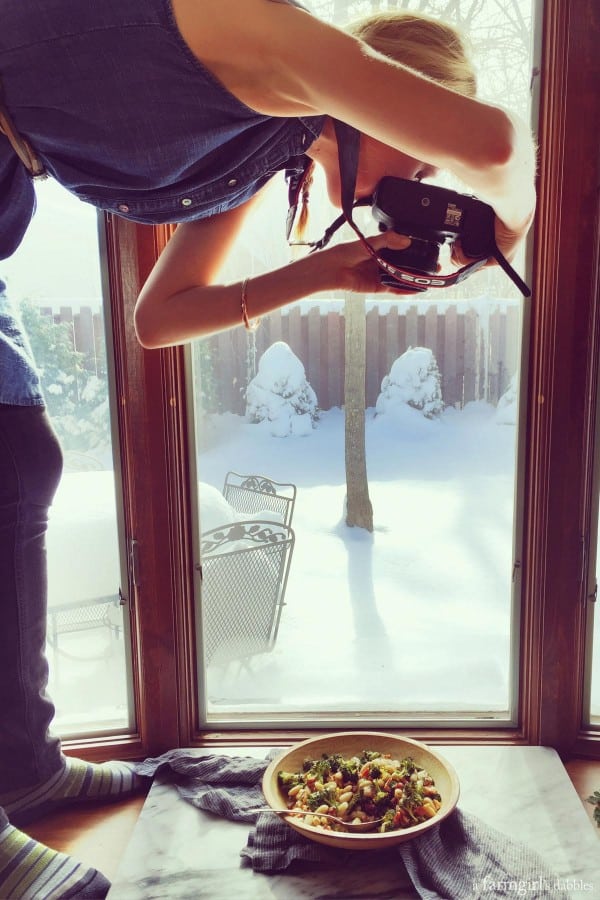 I had such a beautiful day with Amanda. Be sure to check out her own take on this day and recipe – and look her up on Facebook, Twitter, Pinterest, and Instagram!
Like this recipe? Save it to Pinterest!
A few more broccoli recipes for you! Coconut Beef and Broccoli Stir Fry Rice Bowls from love & olive oil. Lightened-Up Broccoli Salad from greens & chocolate. And Simply Scalloped Potatoes with Broccoli from Southern Bite.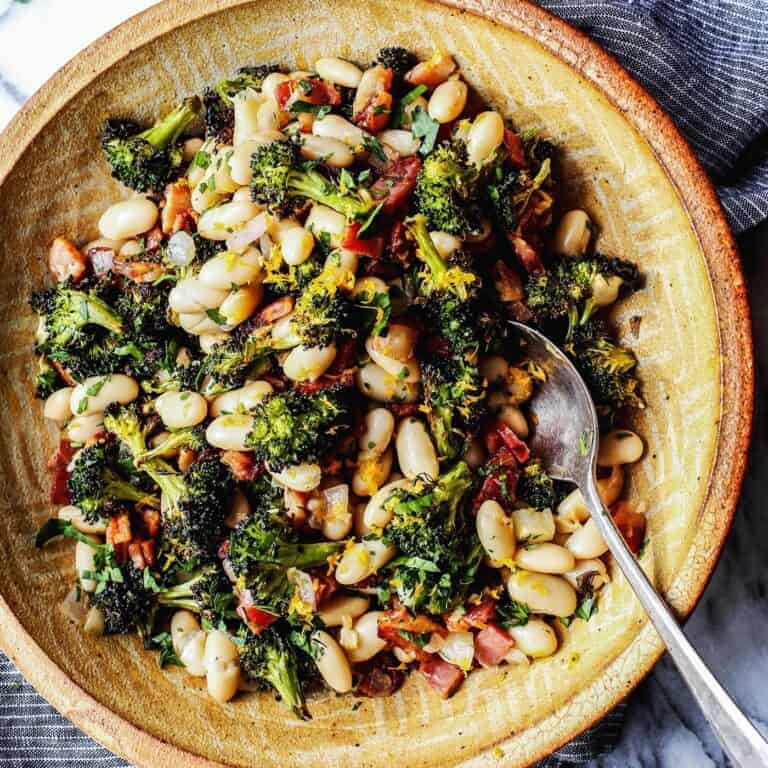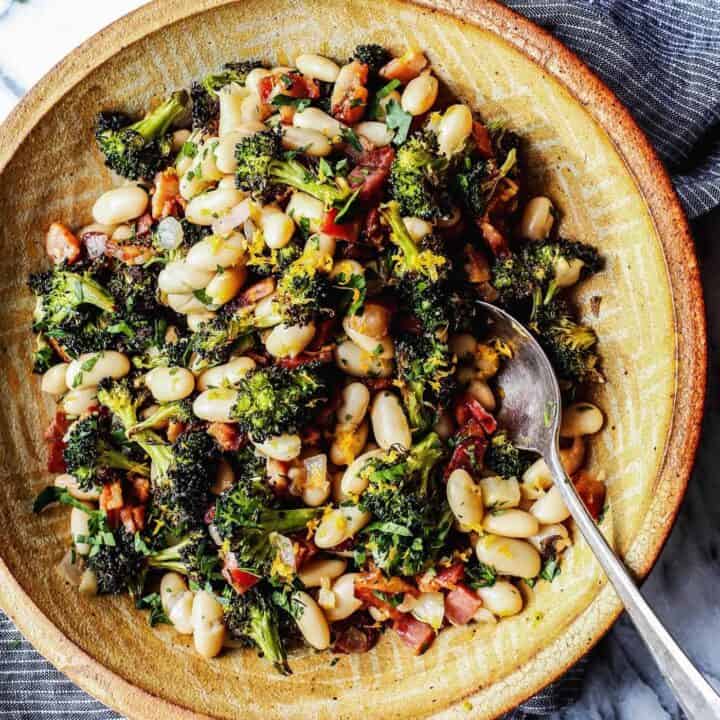 Lemon Broccoli with Beans and Bacon
Yield: 4 servings
Prep Time: 20 minutes
Cook Time: 35 minutes
Total Time: 55 minutes
I love all the fresh flavors and textures of this dish. There's white beans, roasted broccoli, chewy-crisp bites of bacon, and a squeeze of fresh lemon. It's humble, yet stunning!
Ingredients
1 small head broccoli, cut into florets (about 3/4 pound)
1-1/2 T. olive oil
1/4 tsp. kosher salt
1/2 lb. thick-cut bacon, cut into small matchsticks or 1/2" size pieces
1 15-oz. can white beans, drained
1 medium shallot, chopped
2 large cloves garlic, minced
1/2 medium lemon
2 T. minced fresh parsley
1/4 tsp. black pepper
Instructions
Place a large rimmed baking sheet in lower half of oven and preheat oven to 375° F. Once oven is preheated, remove heated pan and spread broccoli florets out on it. Drizzle broccoli with olive oil, then sprinkle with salt and toss just a bit to combine. Return pan to oven and roast for 15 minutes. Toss broccoli and roast for another 15 to 20 minutes, or until broccoli is just softened and nicely caramelized and charred. Remove pan from oven and set aside.
While broccoli is roasting, heat a medium-large skillet over medium to medium-high heat. Fry bacon pieces, stirring occasionally, until bacon is crispy on the edges but still mostly chewy. Once most of the fat has rendered from the bacon, drain all but 2 tablespoons of the fat from the skillet.
Add shallot to skillet and cook for another 4 to 5 minutes, stirring occasionally, until shallot has softened. Stir in garlic and cook for another 1 to 2 minutes, until garlic is softened and fragrant. Add roasted broccoli and beans, folding to combine.
Transfer to serving dish and sprinkle fresh lemon juice over the top, followed by lemon zest, parsley, and a bit of freshly ground black pepper. Serve hot or at room temperature.
Nutrition Information:
Yield: 4
Serving Size: 1
Amount Per Serving:
Calories: 473
Total Fat: 27g
Saturated Fat: 8g
Trans Fat: 0g
Unsaturated Fat: 18g
Cholesterol: 56mg
Sodium: 1479mg
Carbohydrates: 30g
Fiber: 7g
Sugar: 2g
Protein: 28g
Nutrition information is automatically calculated by Nutritionix. I am not a nutritionist and cannot guarantee accuracy. If your health depends on nutrition information, please calculate again with your own favorite calculator.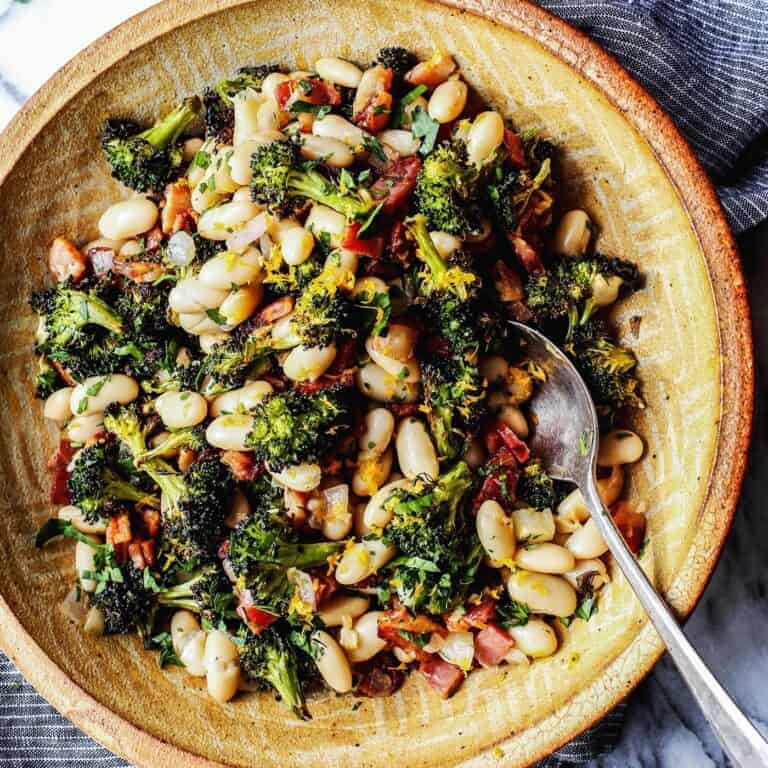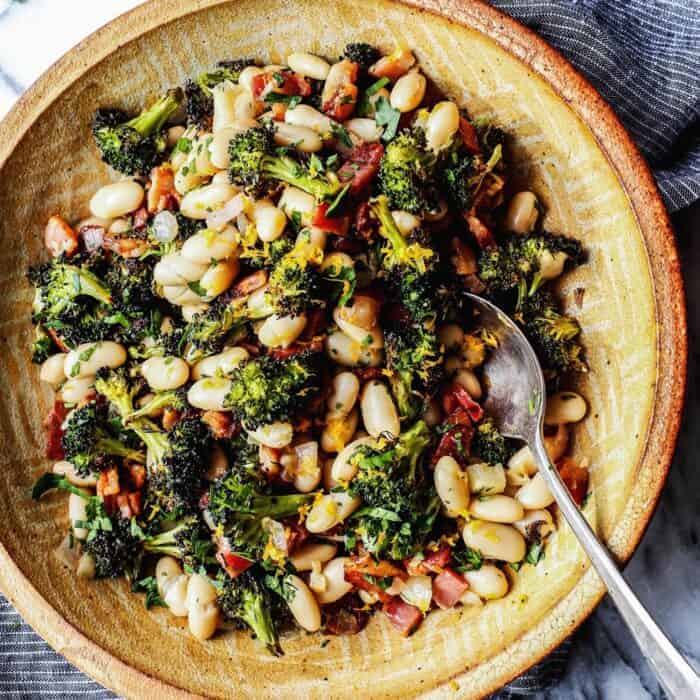 This post was originally published in 2016. I updated some of the photos and text in 2020.