Lemon Broccoli with Beans and Bacon
This dish of Lemon Broccoli with Beans and Bacon relies on simple, fresh flavors for its goodness.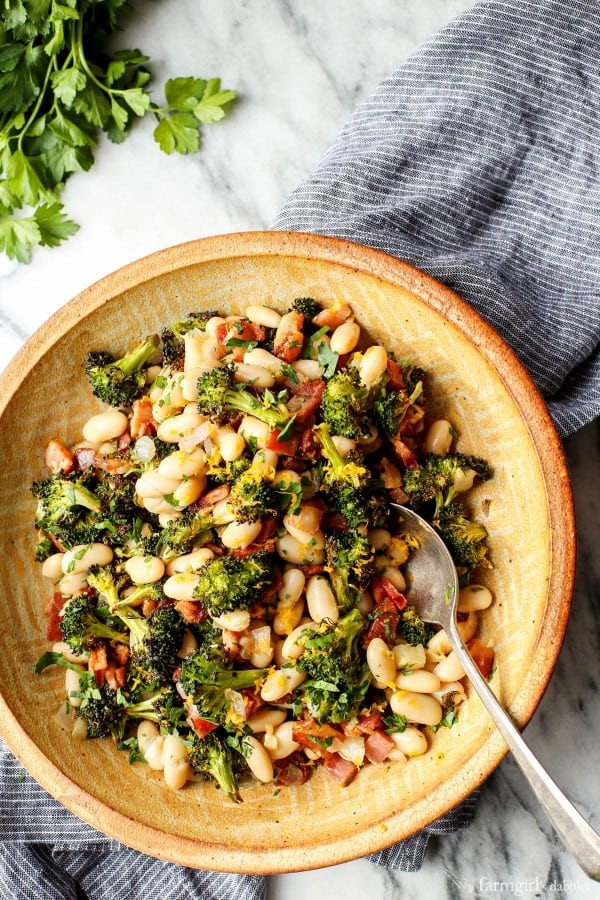 There was such pretty natural light to work with, that day when my friend Amanda came over to our home to share a day in the kitchen. Overcast, yet bright. And a calm, quiet snowfall overnight had left 8″ of soft and fluffy, sparkly snow outside the window, the perfect reflector of light. A food blogger's dream lighting scenario.
We wasted no time getting down to business that morning, pouring cups of fresh-brewed coffee and then pulling out dishes and ingredients we had both collected for our day together. Chatting all the while, catching up on the latest happenings in each others' lives, I found the tension of the early morning dash to get kids dressed and fed and their lunch boxes packed…all fading away. If you know Amanda, then you know all too well what a joy she is to be around. Amanda's smile and tinkly laughter, coupled with her warm and charmingly chatty personality, always put me at ease and make me feel so darn blessed.
The dish we made that day was this Lemon Broccoli with Beans and Bacon, and it's a humble kind of stunner. The recipe's ingredients list is on the short side, relying on simple, fresh flavors that let every component shine. After Amanda and I finished taking our photos, we sat down to enjoy our tasty creation together. And I just have to say, it goes splendidly with a chilled glass of bubbly Prosecco. Cheers to friendship and fabulous food!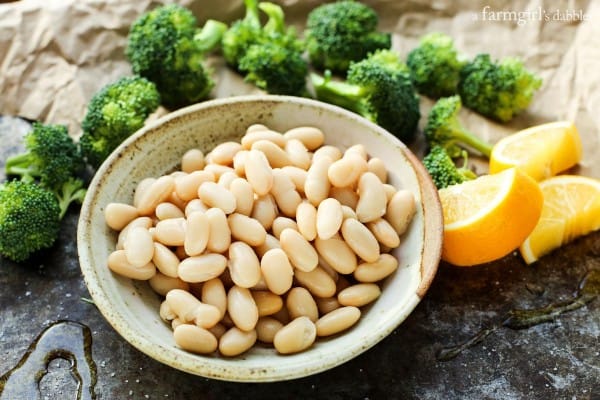 A couple months ago, Amanda prompted our getting together to cook for a day. Food blogging can be rather solitary as you're mostly working from home, either sitting behind a computer or creating dishes in the kitchen. So I welcomed her idea with open arms.
She brainstormed a short list of ingredients to include broccoli, white beans, and lemon.
We roasted the broccoli in the oven, very simply with only olive oil and kosher salt. This is my favorite way to prepare broccoli. I love how the broccoli caramelizes against the hot pan, creating charred extra-delicious nibbles of savory goodness.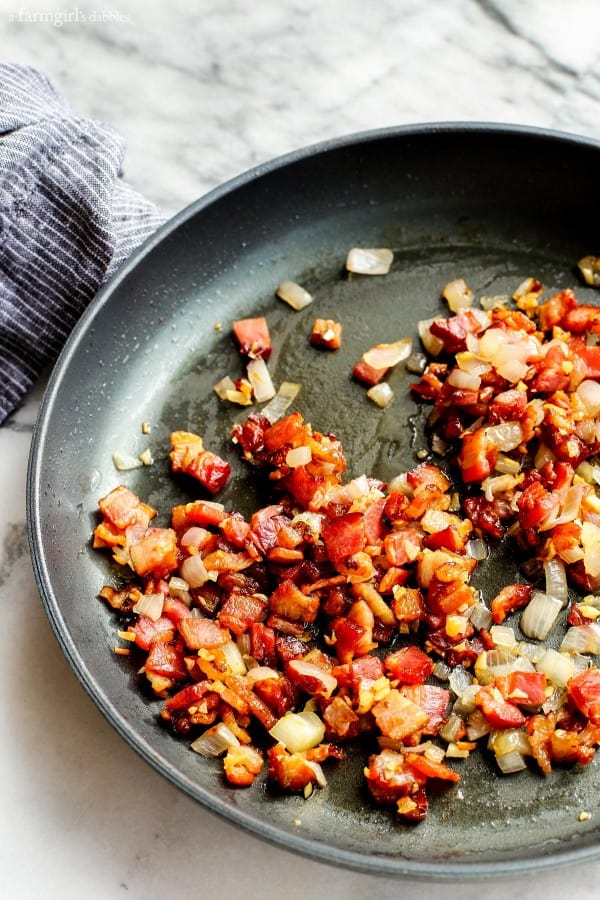 When I was picking up some of the ingredients the evening before, I couldn't resist stopping by our local meat counter to pick up a package of their thick-cut double-smoked bacon. It's my bacon of choice. I already knew Amanda would approve of this recipe addition, as I had previously shared some of this bacon at a food blogger brunch she had hosted at her home, and she had gushed about its goodness.
The bacon was chopped and then fried in a skillet, along with some fresh shallots and garlic. The kitchen smelled so wonderful. Snitching hot, salty bites from the skillet was undeniable.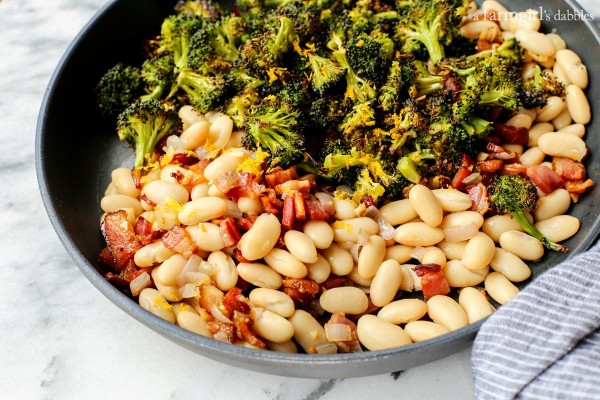 Caramelized roasted broccoli florets + chewy-crisp bacon pieces + creamy white beans. With a squeeze of fresh lemon and a sprinkling of its zest. The colors and textures, aren't they just so lovely?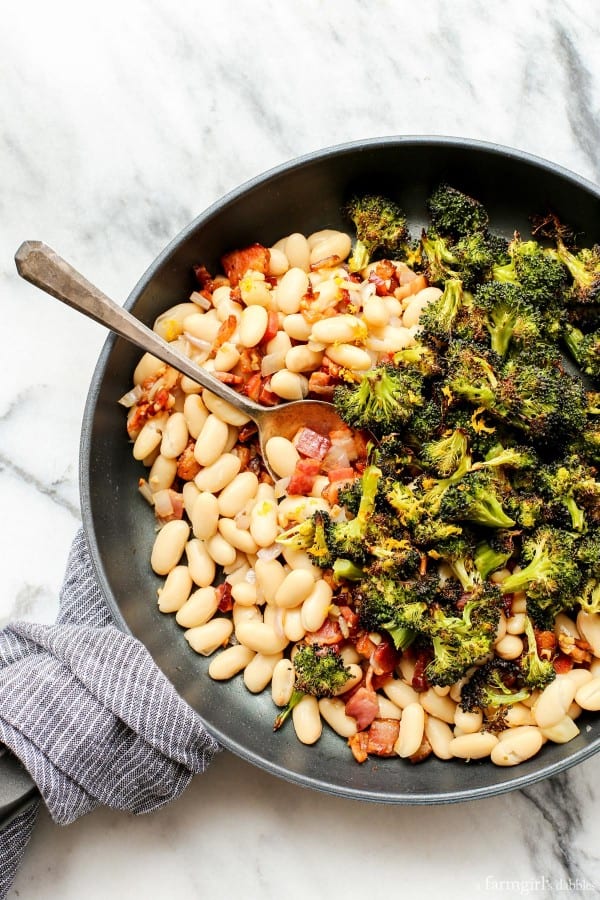 For a simple, no-fuss kind of meal, I'd have no problem serving this lemon broccoli with beans and bacon straight from the skillet.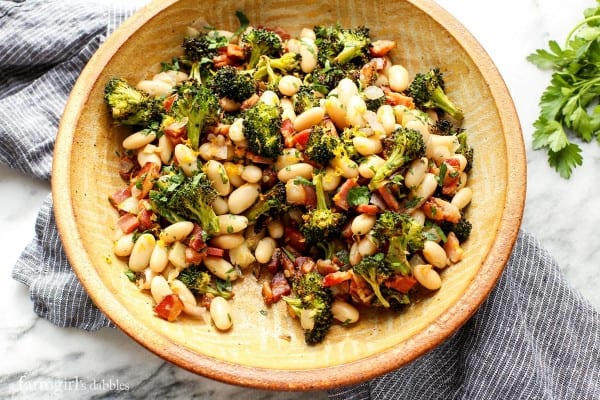 To finish it off, all the dish requires is a sprinkling of minced parsley. Another layer of flavor, fresh and subtle.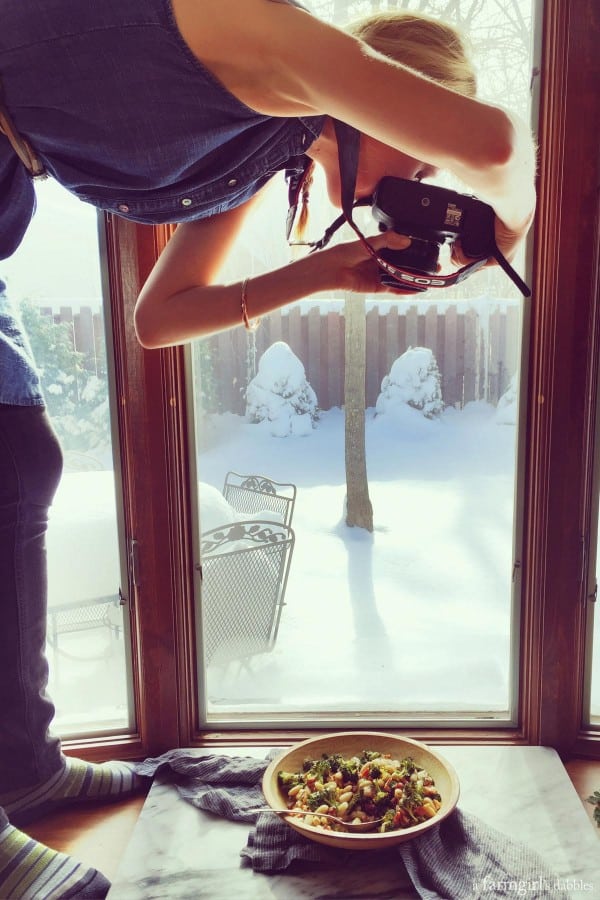 You'll find the instructions to make this recipe for Lemon Broccoli with Beans and Bacon below. And click here for the ingredients and quantities at Heartbeet Kitchen, Amanda's blog. You can also find Amanda on Facebook, Twitter, Pinterest, and Instagram.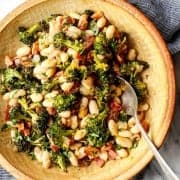 Lemon Broccoli with Beans and Bacon
Yield: 4 to 6 servings
Cook Time:30 minutes
Ingredients:
Click here for the ingredients and quantities at Heartbeet Kitchen.
Directions:
Place a large roasting pan in the lower half of the oven and preheat the oven to 375°F. Once the oven is preheated, remove the heated pan and spread the broccoli florets out on it. Then drizzle the broccoli with olive oil. Sprinkle with salt and toss just a bit to combine. Return the pan to the oven and roast the broccoli for 15 minutes. Toss the broccoli and roast for another 15 to 20 minutes, or until broccoli is just softened and nicely caramelized and charred. Remove pan from oven and set aside.
While broccoli is roasting, heat a medium-large skillet over medium to medium-high heat. Fry the bacon pieces, stirring occasionally, until bacon is crispy on the edges but still mostly chewy. Once most of the fat has rendered from the bacon, drain all but 2 tablespoons of the fat from the skillet. Then add the shallot and cook for another 4 to 5 minutes, until shallot has softened. Add the garlic and cook for 1 to 2 minutes, until garlic is softened and fragrant. Add the roasted broccoli and beans, folding to combine. Transfer to a serving dish and sprinkle the fresh lemon juice over the top, followed by the lemon zest, parsley, and a bit of freshly ground black pepper.  Serve hot or at room temperature.
©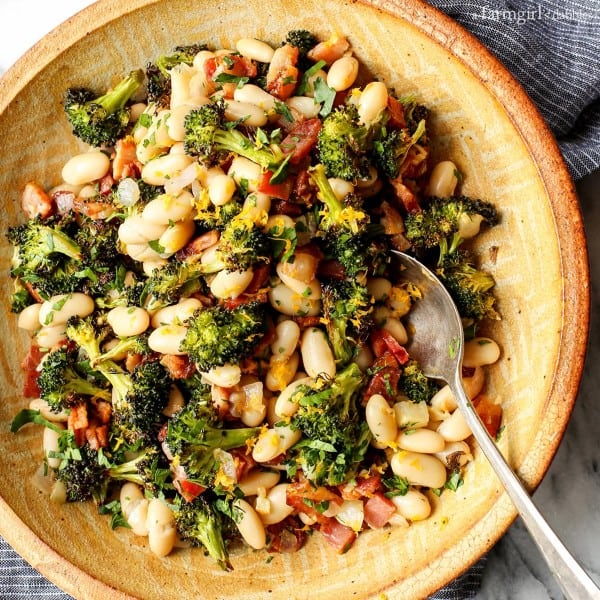 We participate in the Amazon Services LLC Associates Program, an affiliate advertising program designed to provide a means for us to earn fees by linking to Amazon.com and affiliated sites. See our disclosure policy for more info.