Homemade Pumpkin Bacon Dog Treats
Homemade Pumpkin Bacon Dog Treats. What dog wouldn't love these?!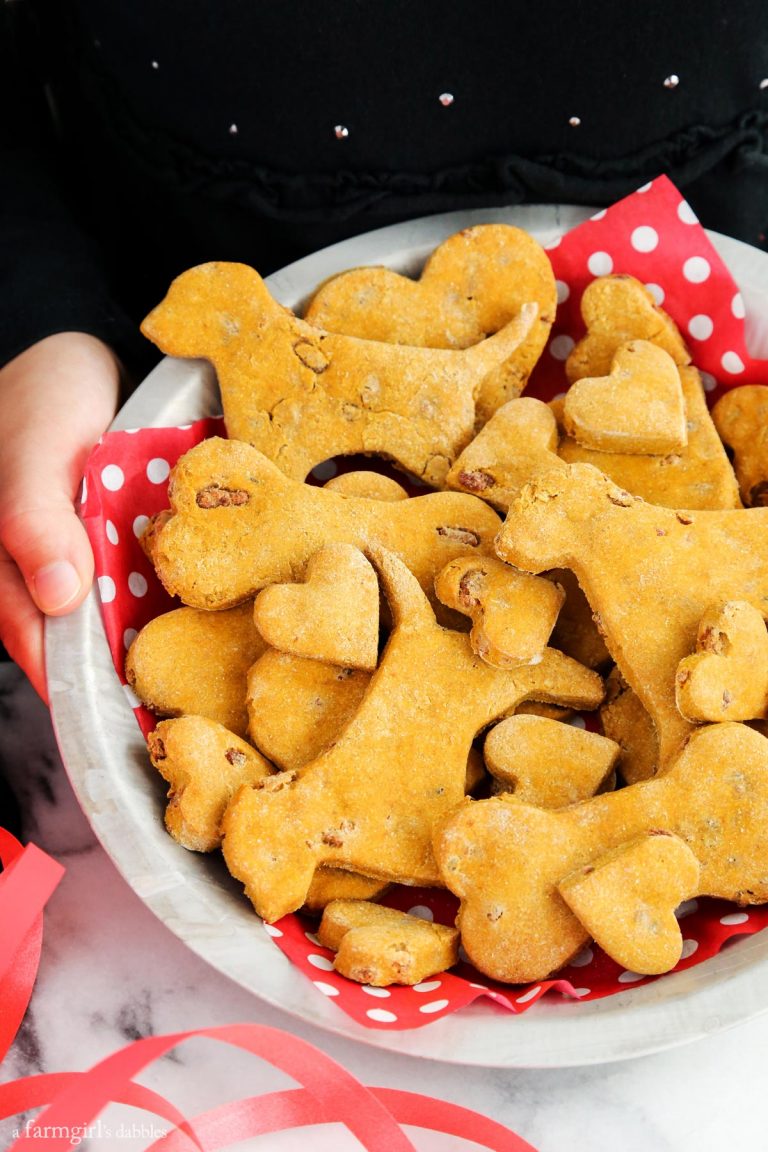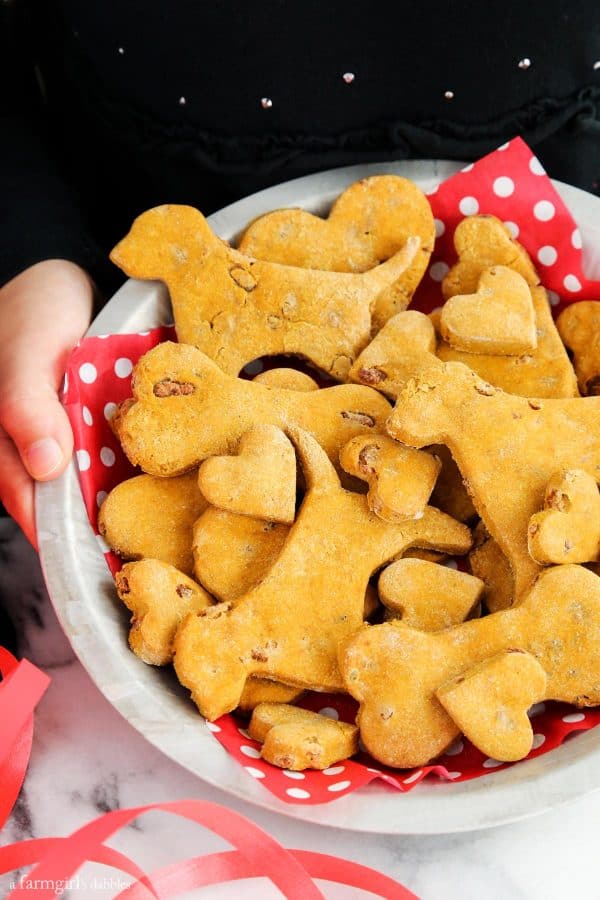 A dog treats recipe? On a farmgirl's dabbles?!
I know, not what you have come to expect with recipes here. But there's a first time for everything. So today I'm sharing homemade baked treats for four-legged friends. Our youngest daughter finds so much joy in baking goodies for her dog friends, I just can't help but share about it.
These Homemade Pumpkin Bacon Dog Treats are easy peasy to make, with just five ingredients!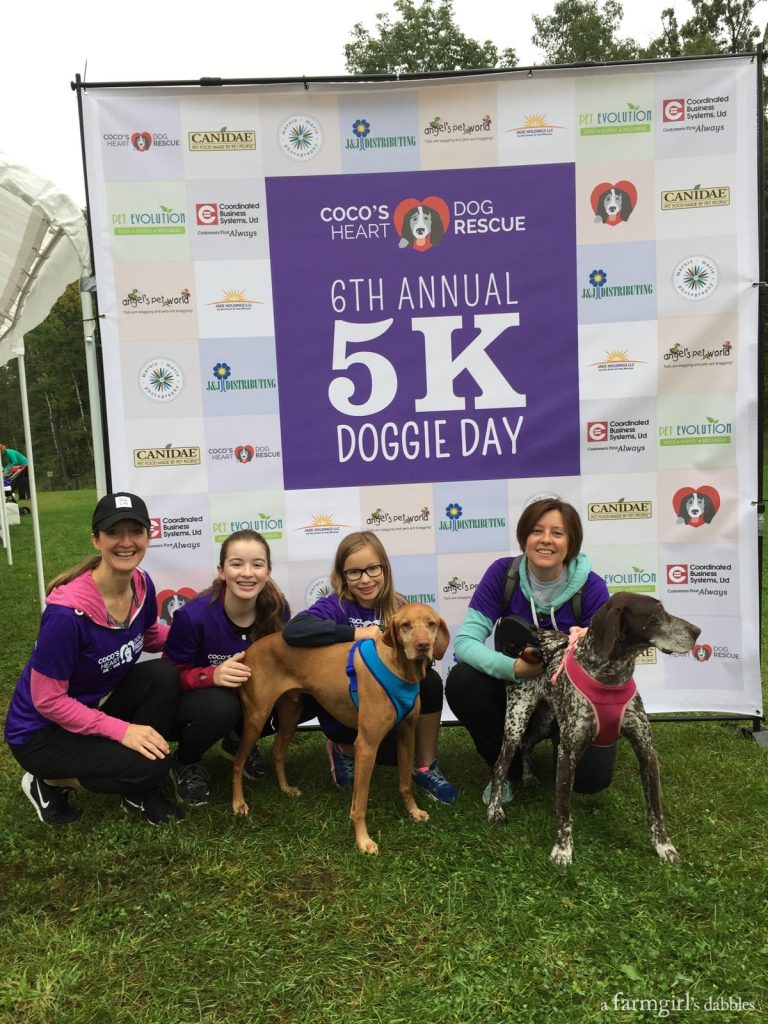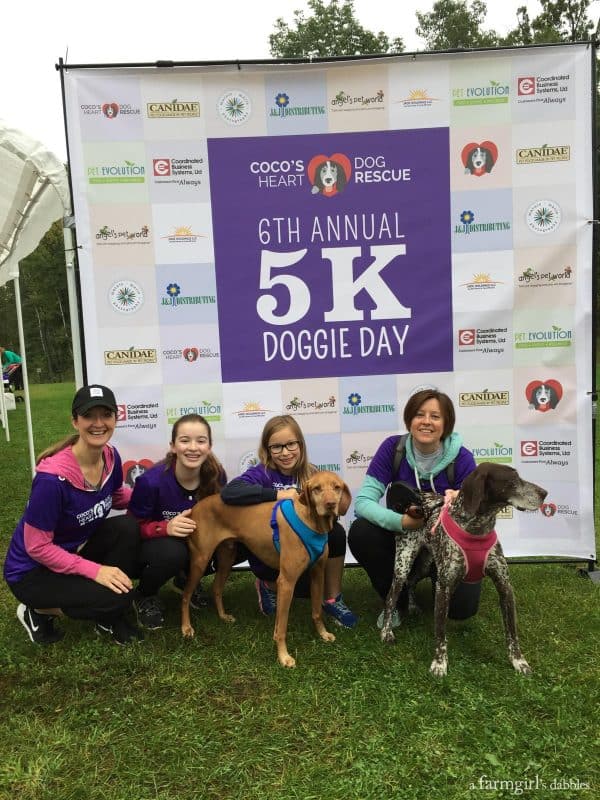 Tessa, our youngest daughter, has a huge heart for animals. Her bookshelf is stuffed with giant dictionary-style books on horses, dogs, and all kinds of animals that walk, swim, and fly. If she is watching TV or reading a book, the subjects of her attention are more than likely animals. She especially adores any time spent with her dog friends Paprika (the lighter colored Vizsla) and Sadie (the darker, two-toned German Shorthaired Pointer) and her horse friends Rio and Angel. Tessa walks Paprika and Sadie several times every week and has taken horse riding lessons spring through fall for the past three years.
The photo above was taken this past fall when Tessa organized a group to walk a 5K in support of a local dog rescue organization called Coco's Heart Dog Rescue. It was all her idea. Tessa talked with our friend/neighbor Audra about walking with her dogs, Paprika and Sadie, and we were registered and walking in no time.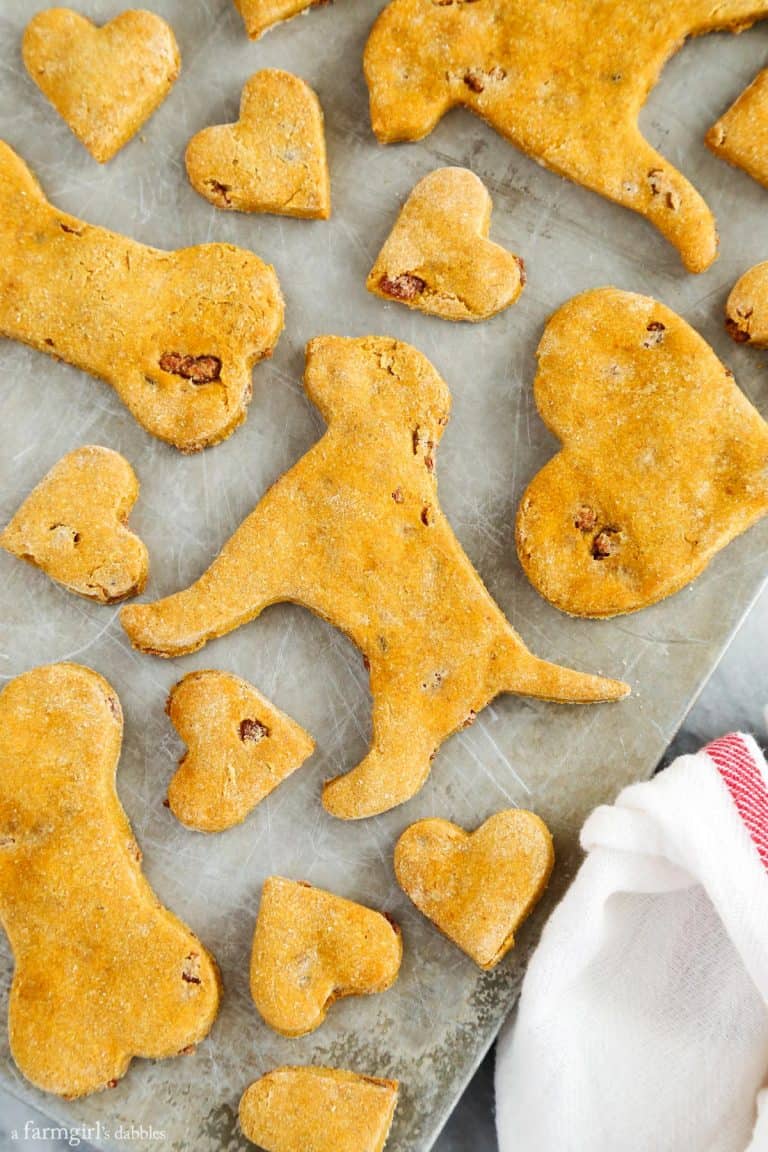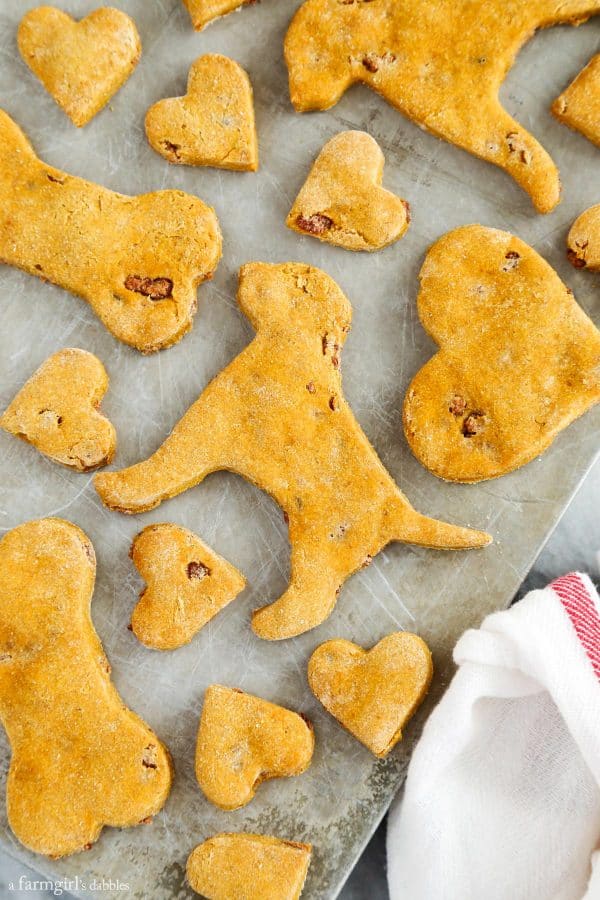 Tessa and I baked our first batch of dog treats last fall, a little different recipe than this one. And we thought it would be fun to make another batch as a Valentine's Day gift for Paprika and Sadie. Tessa knows how much they love pumpkin, so she was excited to make this recipe, perfect with pumpkin, bacon, and a bit of peanut butter. As Tessa was mixing together the ingredients, she said with a smile, "What dog wouldn't love these?!"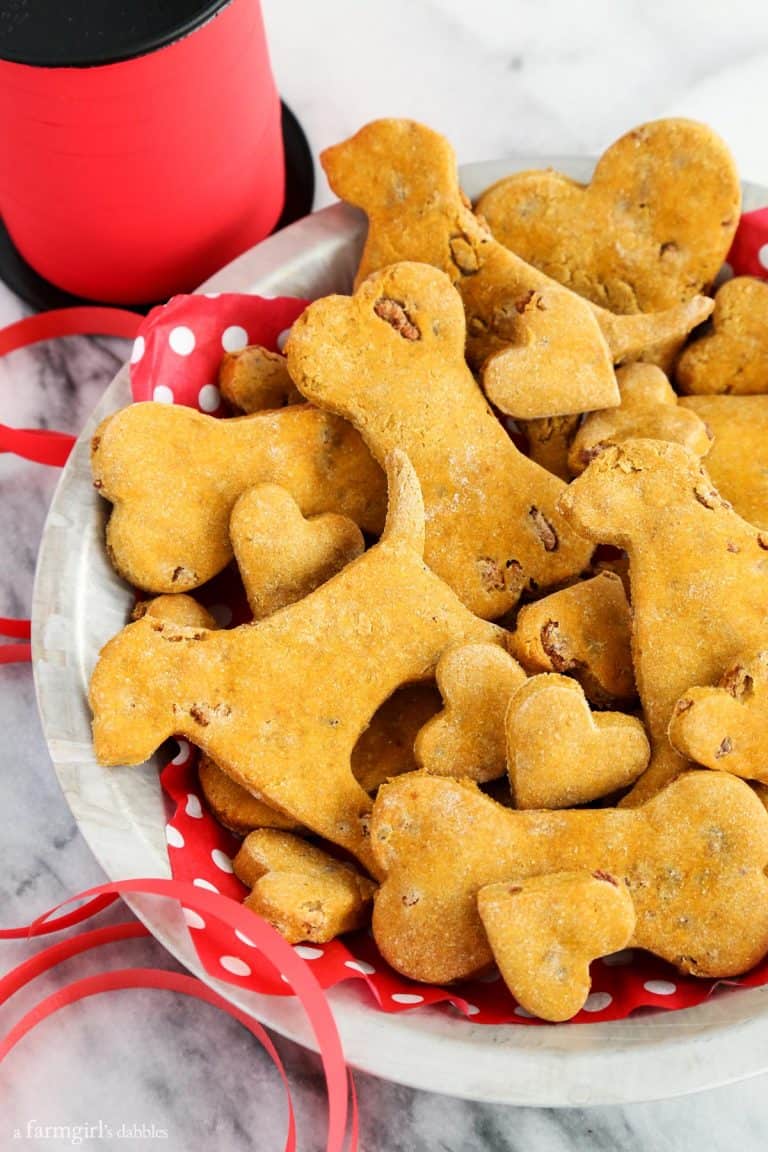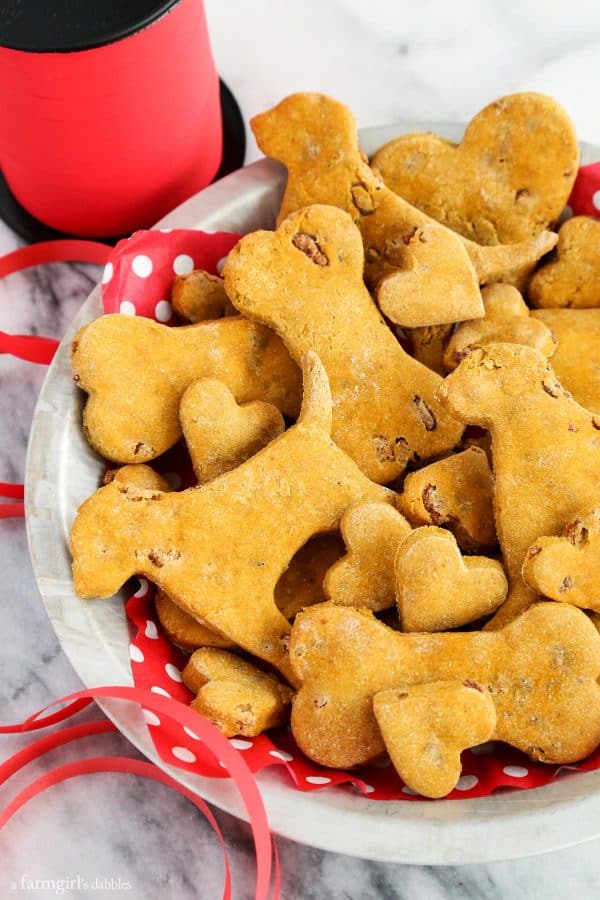 If it were up to Tessa, she would make all the homemade pumpkin bacon dog treats in a smaller size, like the little heart-shaped ones shown. In her precious mind, then she can give more treats because of the smaller size.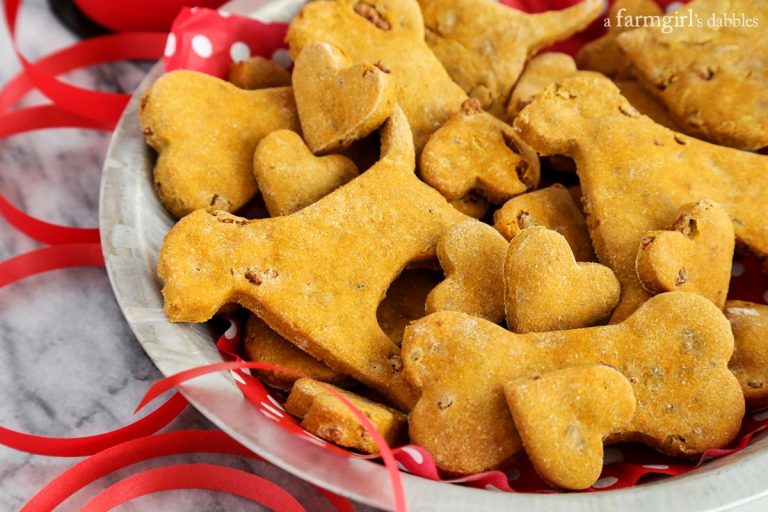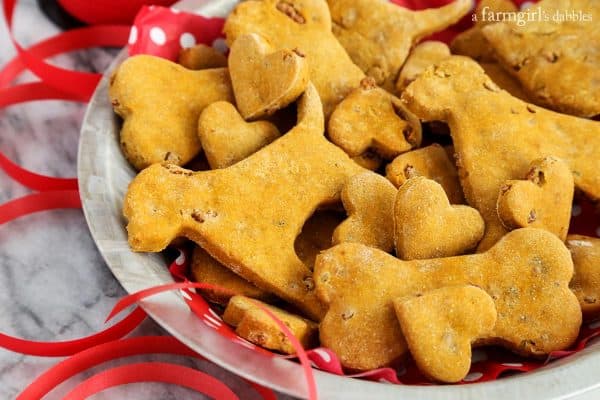 With the heart-shaped treats, there is more of a Valentine's Day theme going on. But of course, you could make these treats in any shape or size you desire.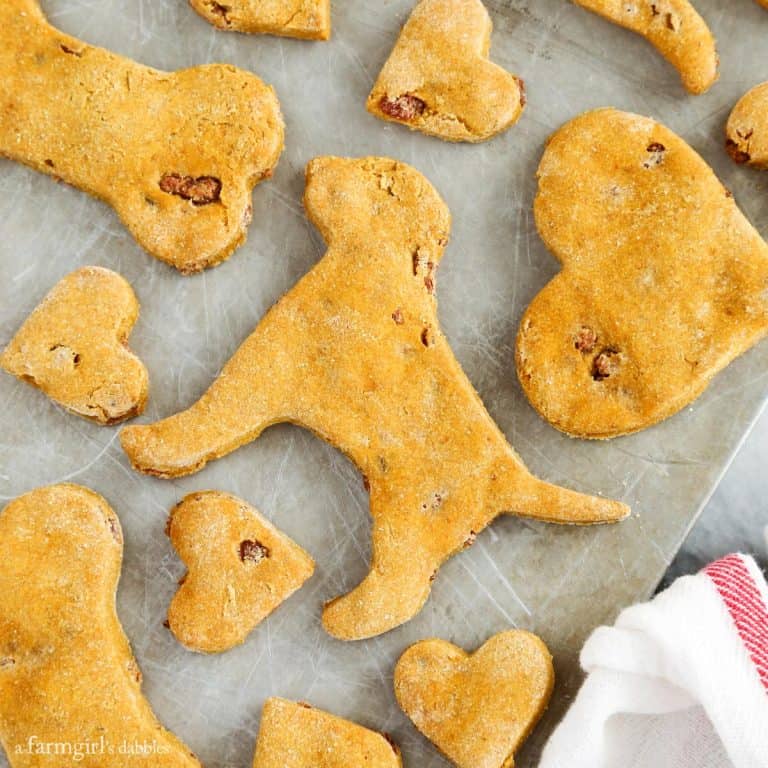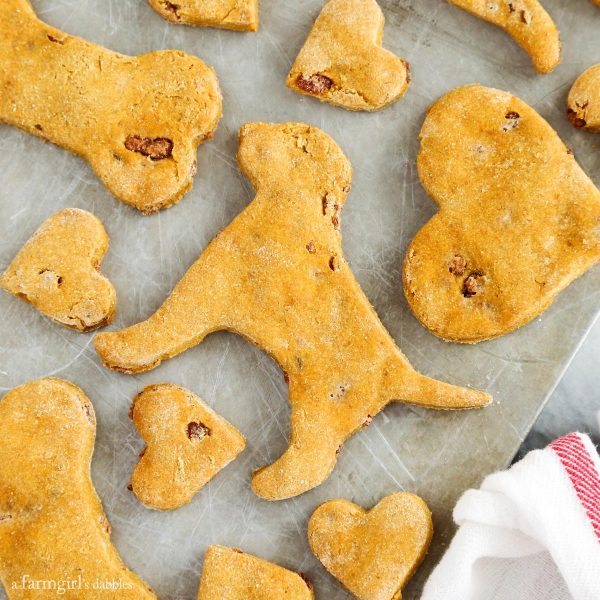 The homemade pumpkin bacon dog treats are incredibly easy to make. I'd even go so far as to say "fool-proof". The dough rolls out nicely, cuts beautifully, and the shapes transfer easily to the baking sheet. The dough really doesn't spread, so you can cram alot of treats on one pan to bake, saving you time taking multiple pans in and out of the oven.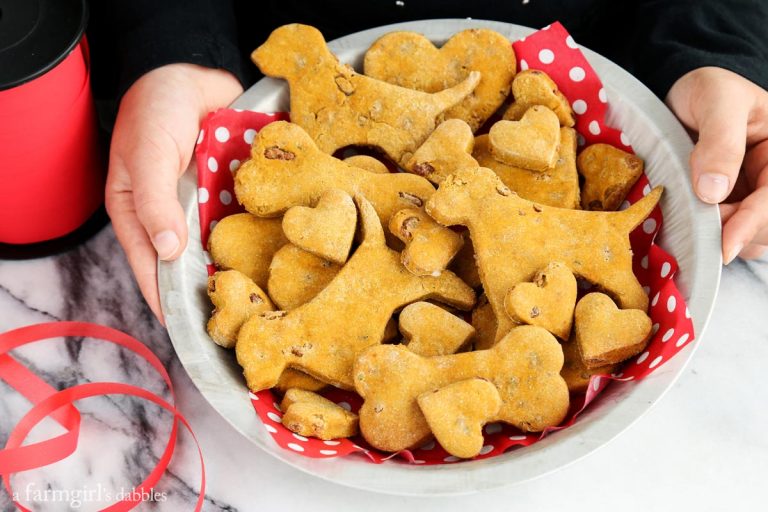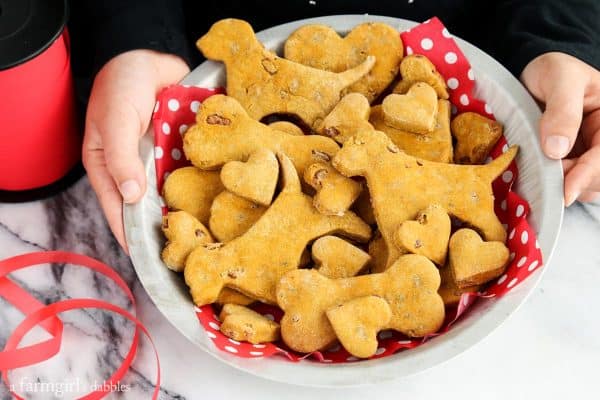 If you're looking for a fun baking project to do with your kids, or a simple recipe to bake something special for your own dog or a friend's —> Homemade Pumpkin Bacon Dog Treats. They are Tessa and Paprika and Sadie approved.
Homemade Pumpkin Bacon Dog Treats
Cook Time: 30 minutes
Yield: number of treats will depend on size of cookie cutters used
Ingredients:
2/3 c. canned pumpkin

2 large eggs

1/4 c. creamy peanut butter

1/2 c. packaged crumbled cooked bacon pieces

2 -1/3 c. whole wheat flour
Directions:
Preheat oven to 350°F.
In a large bowl, beat the pumpkin, eggs, and peanut butter with an electric mixer on medium speed until smooth. Beat in bacon. Beat in flour. If needed, add another tablespoon or two of flour until dough is no longer sticky. On a lightly floured surface, roll dough to 1/4″ thickness. Cut into shapes with cookie cutters. We used a variety of small and medium to large sized cutters as shown, but Tessa prefers the smaller sizes to share with her dog friends. Place dough shapes 1″ apart on ungreased cookie sheets. This dough barely spreads when baking. Bake for about 30 minutes, or until crisp and lightly golden. Transfer to wire racks to cool. Store in an airtight container for up to 1 month.
Adapted just a bit from MidwestLiving magazine.