Skillet Pizza with Sausage and Chili Garlic Tomato Sauce
This Skillet Pizza with Sausage and Chili Garlic Tomato Sauce is a fun and super tasty way to enjoy homemade pizza!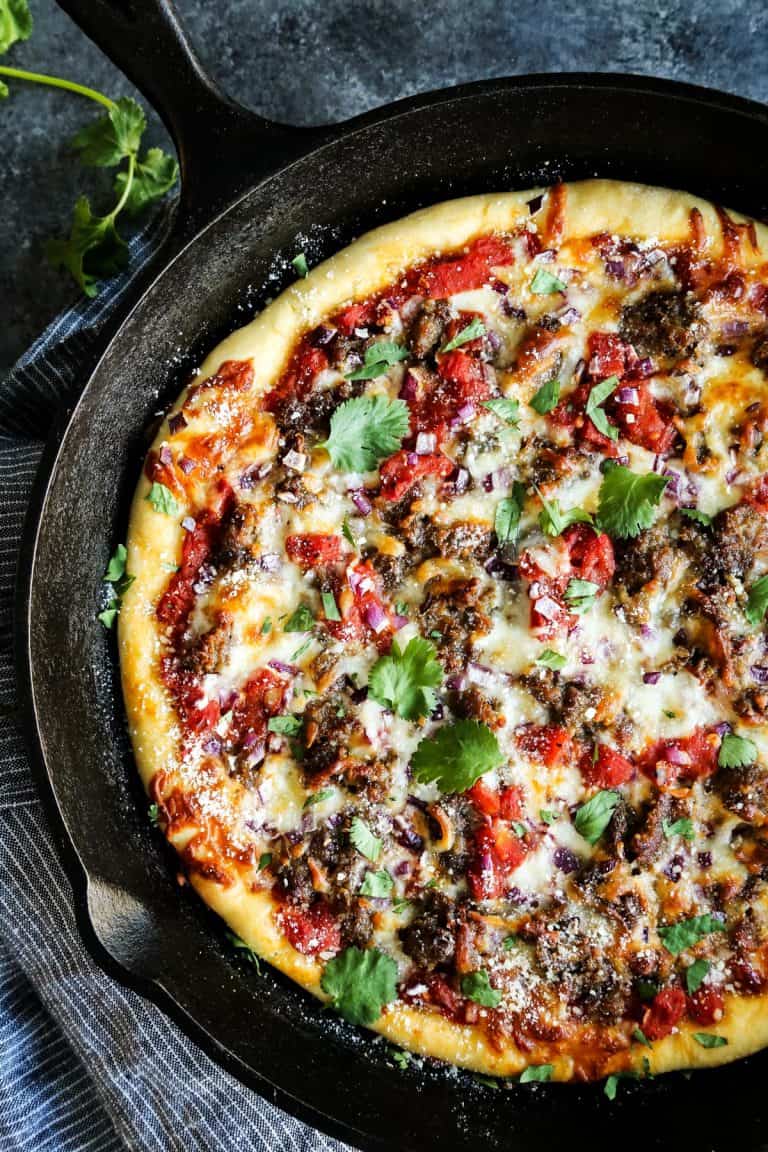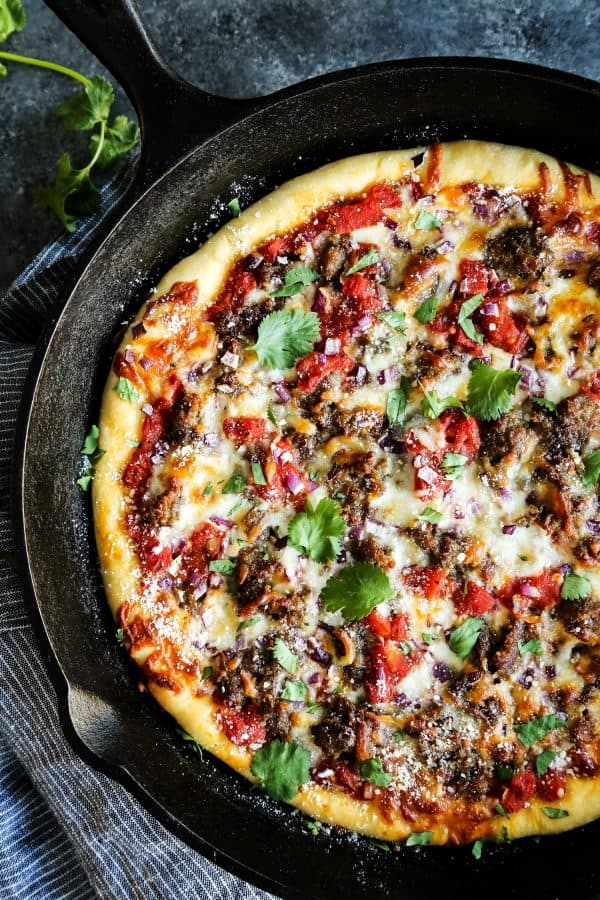 At our house, pizza meals just never grow old. If I set a pizza on the table two or three nights a week, my family would be a happy, happy bunch.
So I've been extra excited to share this new recipe with you – my Skillet Pizza with Sausage and Chili Garlic Tomato Sauce – because my family has gone crazzzzzy for it. I think that tasty sauce tickles their taste buds just enough to let them know it's something a little different. I can't wait to hear what YOU think!

* This is a sponsored post, created in partnership with Red Gold®.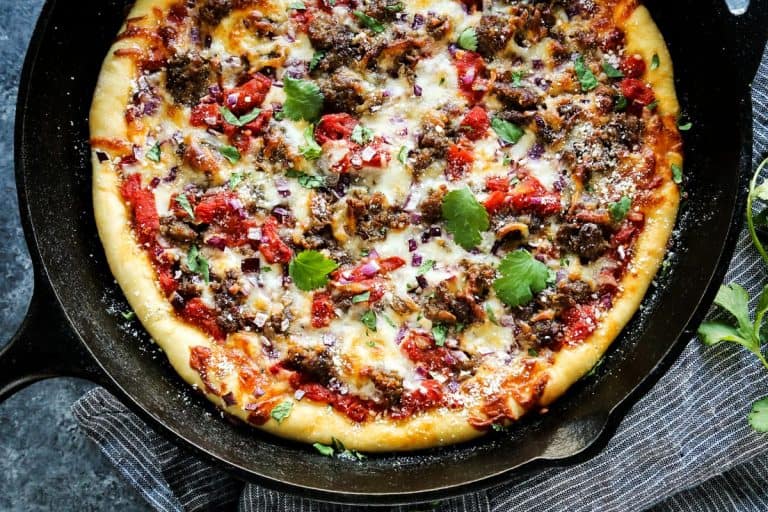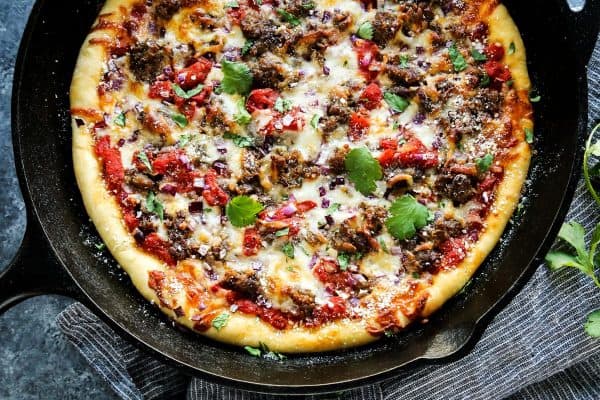 Some of my favorite Twin Cities restaurant pizzas include flavors influenced by Asia. Have you had the Korean BBQ pizza from Pizzeria Lola or Young Joni, or the Banh Mi from Red Wagon Pizza Co.? They're fantastic.
In this skillet pizza recipe, I stir together a quick red sauce that includes chili garlic sauce, plus a touch of brown sugar. It's a little bit spicy, a little bit sweet…my easy at-home answer to those restaurant pizzas I so often crave.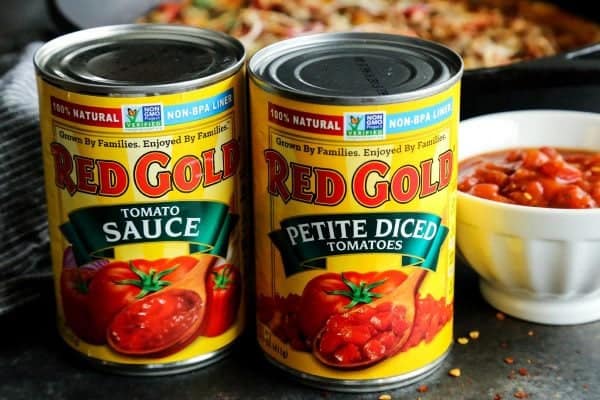 At the base of the sauce are petite diced tomatoes and a bit of tomato sauce, both from Red Gold. These are also great in our favorite Slow Cooker Chili recipe.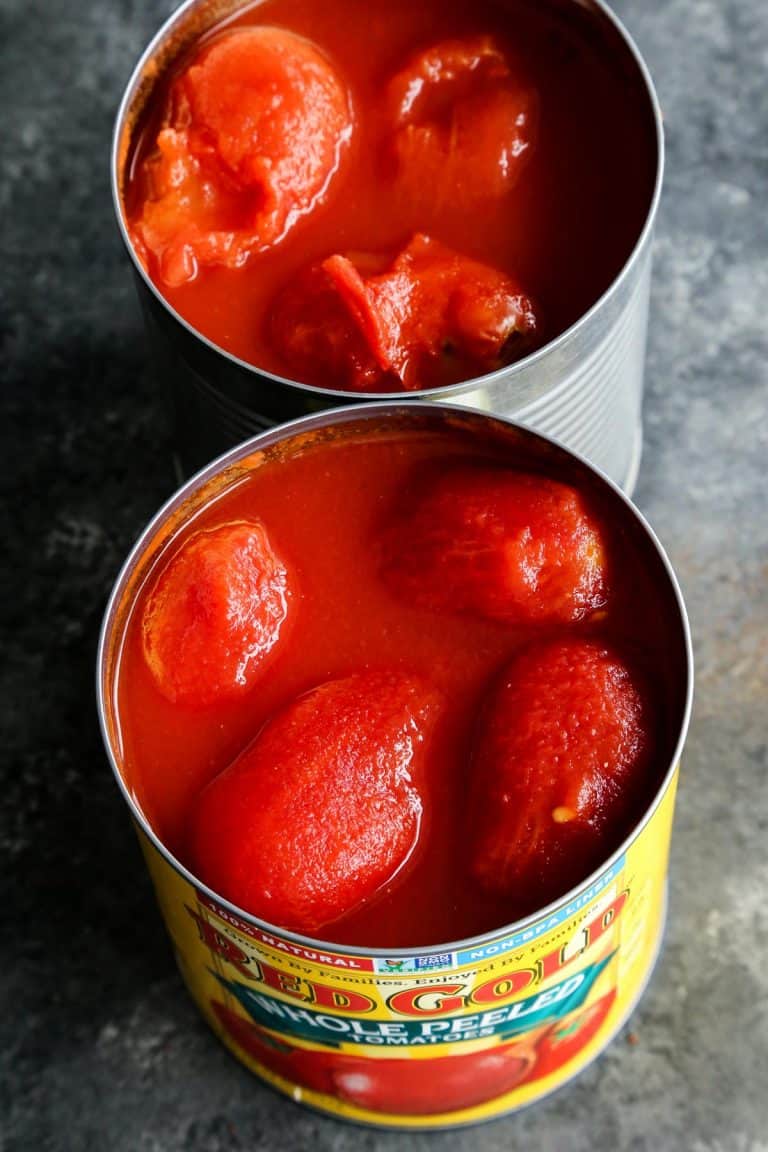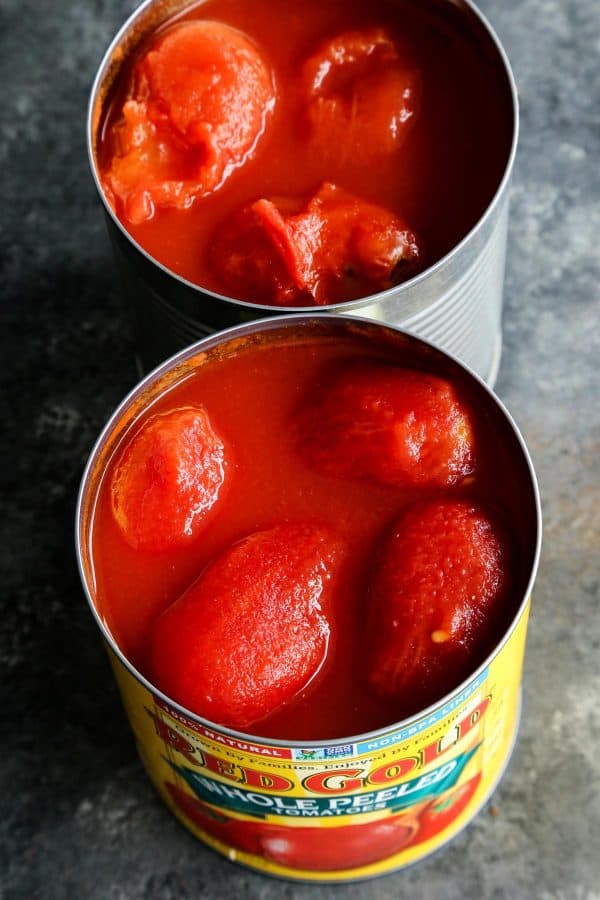 The Red Gold company is a 75-year-old, family-owned business. Their beautiful tomatoes, sustainably grown on Midwest family farms, impress me each time I open a can.
Just look at the difference in appearance between the Red Gold whole peeled tomatoes in the near can versus another company's tomatoes in the far can. I will tell you that the flavor quality is also noticeable, with Red Gold having a richer tomato flavor.
Red Gold Whole Peeled Tomatoes were even voted "Best Canned Tomatoes" by Epicurious!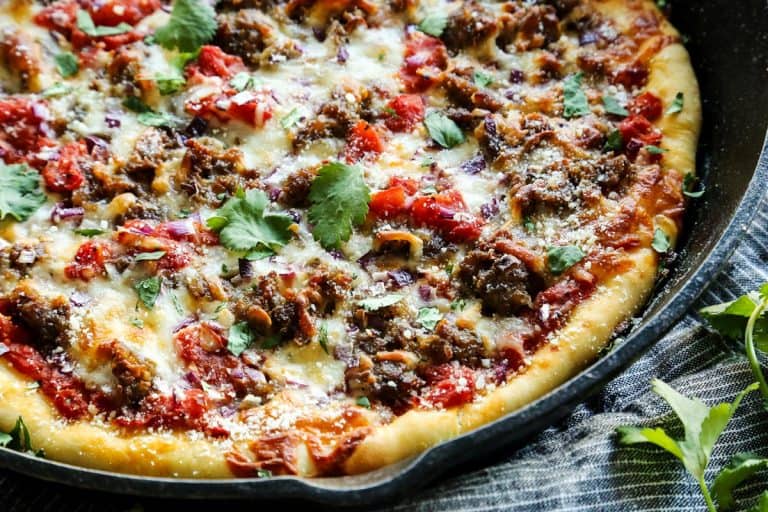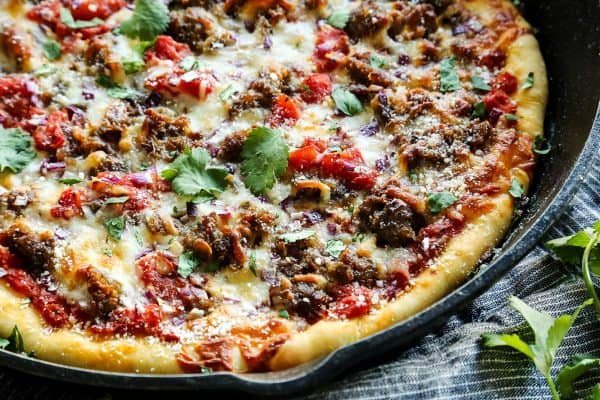 I especially like when a pizza sauce contains a little bit of tomato chunkiness, which is why I included some petite diced tomatoes rather than all tomato sauce.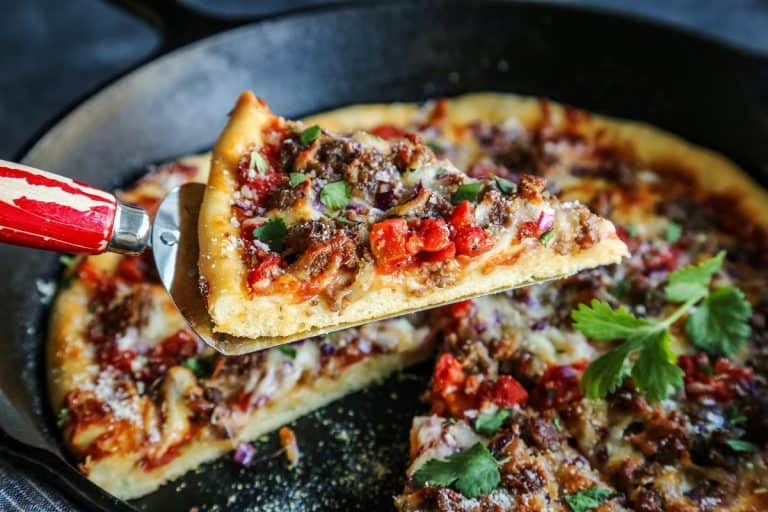 And I will include sausage in our meals any chance I can get. This skillet pizza was the perfect dish to slide some more in!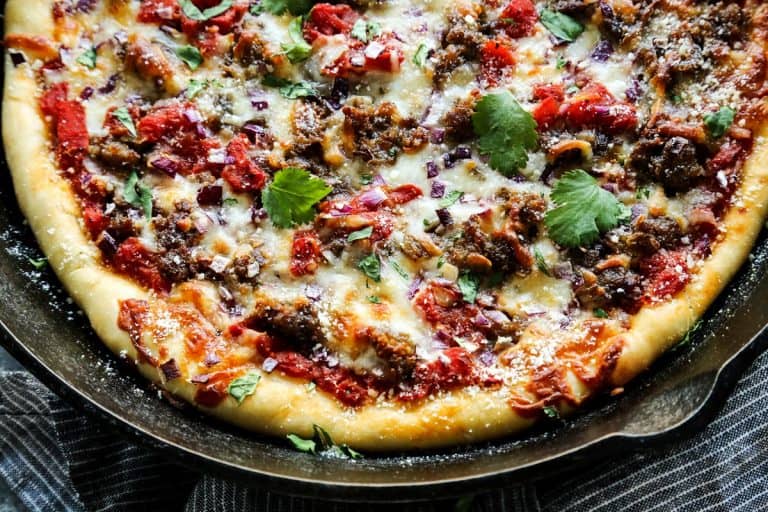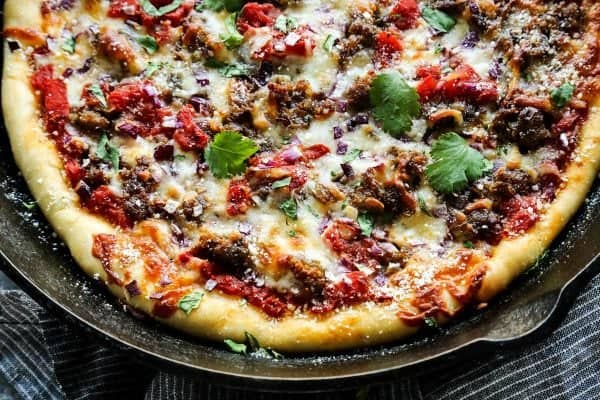 The pizza dough comes together so nicely and is very easy to work with. I adore the texture it gets when baked in a screaming hot cast iron skillet.
The cast iron skillet gets a light coating of olive oil and a sprinkling of corn meal before the dough is placed in the skillet. This gives the finished crust bottom a slightly crispy texture, plus it prevents the dough from sticking to the skillet. It's a win-win situation.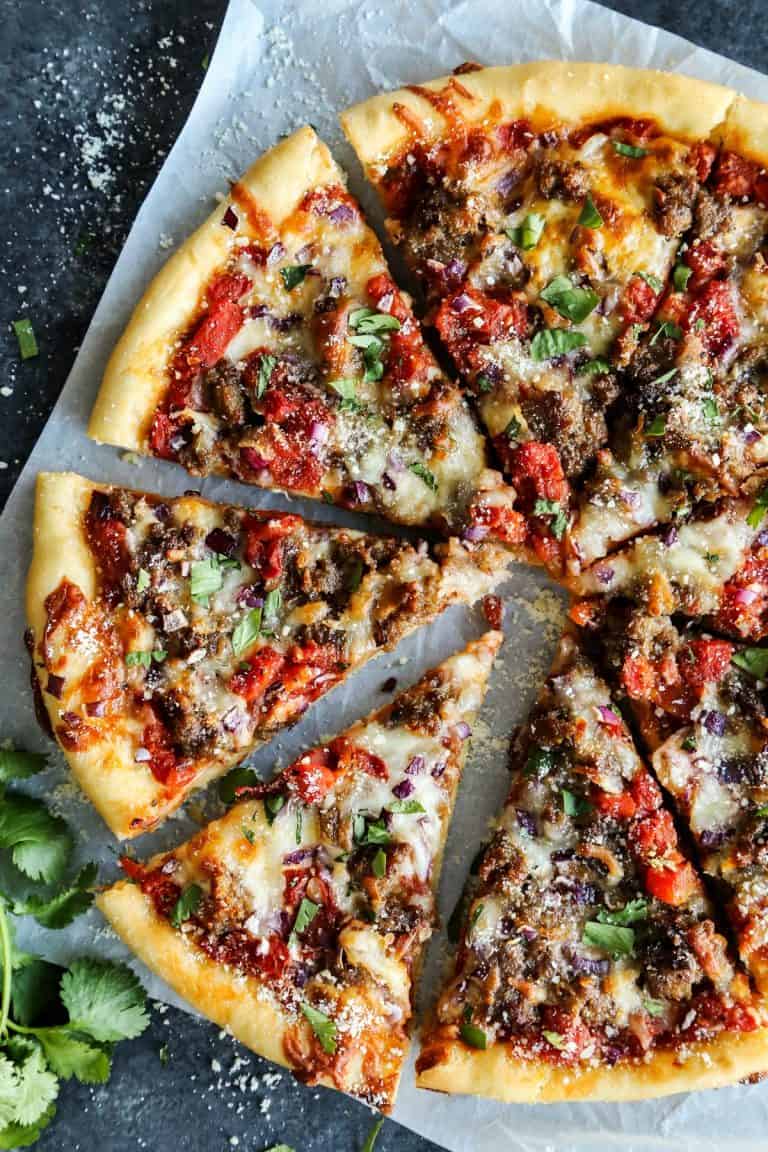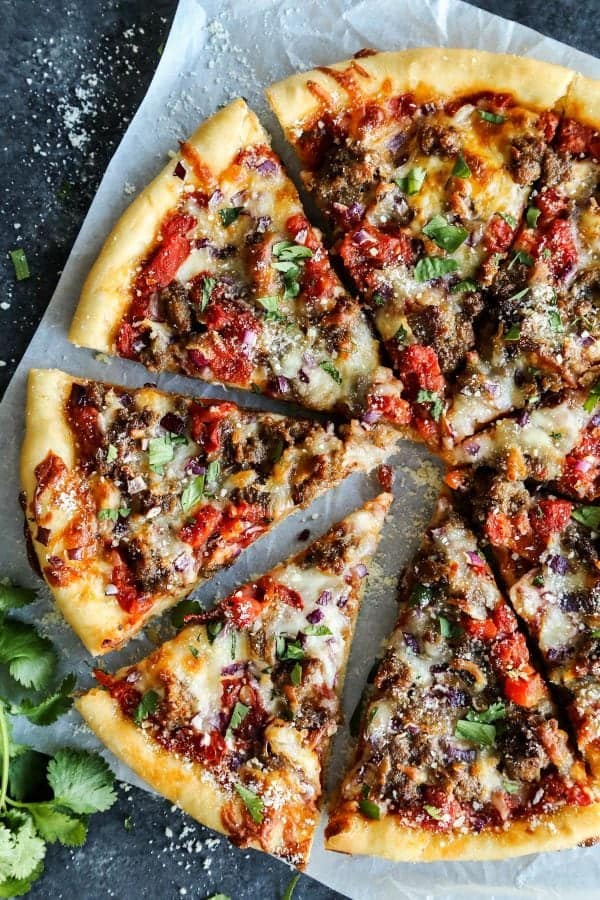 Skillet Pizza with Sausage & Chili Garlic Tomato Sauce
Your homemade pizza night never looked or tasted so good!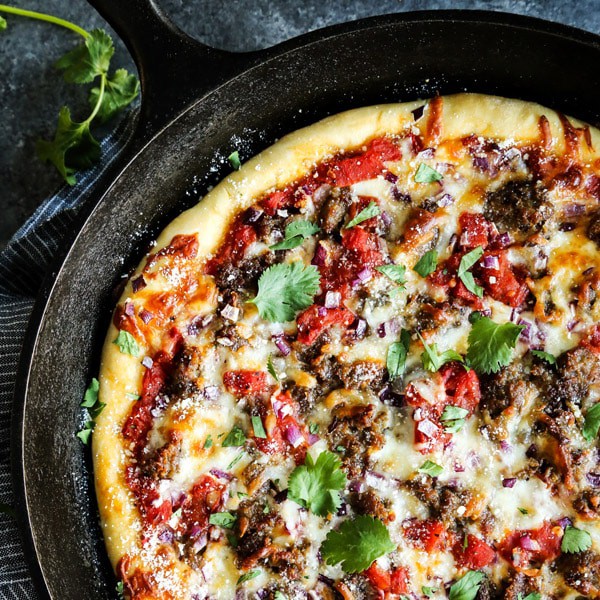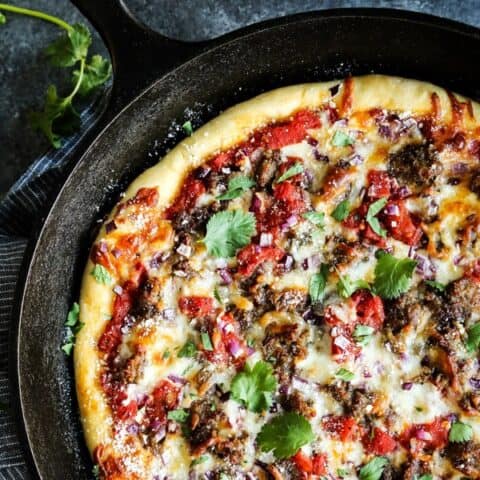 Skillet Pizza with Sausage and Chili Garlic Tomato Sauce
Yield: 4 servings
Prep Time: 30 minutes
Cook Time: 17 minutes
Additional Time: 1 hour
Total Time: 1 hour 47 minutes
This Skillet Pizza with Sausage and Chili Garlic Tomato Sauce is a fun and super tasty way to enjoy homemade pizza!
Ingredients
FOR THE CRUST:
1 c. warm water
1 packet (1/4 oz.) active dry yeast
2 T. olive oil, plus a bit more for the dough ball in the bowl and a bit more for the cast iron skillet
2 tsp. sugar
3 c. all-purpose flour, plus more for dusting your work surface
1-1/2 tsp. kosher salt
1/2 tsp. yellow corn meal
FOR THE PIZZA TOPPINGS:
1/2 lb. bulk pork sausage
1/4 tsp. kosher salt, divided
1/4 tsp. black pepper, divided
3/4 c. drained Red Gold® Petite Diced Tomatoes
1/4 c. Red Gold® Tomato Sauce
2 tsp. chili garlic sauce (use more if you really like heat!)
1 tsp. brown sugar
4 oz. shredded mozzarella cheese
2 T. diced red onion
2 T. grated Parmesan cheese
1 T. chopped fresh cilantro
Instructions
FOR THE CRUST:
In the bowl of a stand mixer fitted with a dough hook, pour the warm water in and sprinkle with yeast. Aim for the water to be the warmth of a bottle you'd feed a baby. If the water is too hot, it will kill the yeast. Let stand until yeast is foamy, about 5 minutes.
Add olive oil and sugar to yeast mixture. Turn mixer on low and slowly add flour and kosher salt. Turn speed up to medium and mix until everything comes together and forms a ball of dough. Transfer to a lightly floured surface and knead just a couple times to bring it together into a ball. Transfer dough ball to a bowl that has a light coating of olive oil. Turn the dough ball to coat with olive oil. Cover bowl with plastic wrap and set aside in a warm area for about an hour. The dough should approximately double in size.
* While dough is rising, prepare pizza toppings (directions below). Place a 12″ cast iron skillet in the oven and preheat oven to 450°F.
Cut dough in half. Place both pieces on a floured surface and gently knead each one a few times. You can now prepare both pieces (if making two pizzas, you will need to double the pizza topping ingredients listed) or freeze the second piece by wrapping it in plastic and placing it in a resealable freezer bag for up to 3 months. With a rolling pin, roll a piece of dough into a 10″ round, or the diameter equal to the bottom surface of your 12″ cast iron skillet.
FOR THE PIZZA TOPPINGS:
In a separate skillet over medium to medium-high heat, brown the sausage, breaking it up into bite-size pieces until no longer pink. Drain excess pork grease, sprinkle with 1/8 teaspoon of kosher salt and 1/8 teaspoon of black pepper, and stir. Remove skillet from heat and set aside.
While sausage is browning, prepare chili garlic tomato sauce. In a small bowl, combine diced tomatoes, tomato sauce, chili garlic sauce, brown sugar, remaining 1/8 teaspoon kosher salt, and remaining 1/8 teaspoon black pepper. Set aside.
TO ASSEMBLE PIZZA:
Very carefully remove hot skillet from oven. Pour just enough olive oil into bottom of skillet to very lightly coat the bottom and about 1″ up the sides, spreading with a brush. Evenly sprinkle cornmeal over bottom of skillet. Carefully place rolled round of dough into bottom of pan, pushing it as needed into the sides of the skillet just a bit (look at my photo in the post). Spread all but 1/4 cup of the chili garlic tomato sauce over the dough, leaving about 1/2″ of dough exposed around the perimeter. Add half of the mozzarella, then all of the sausage. Add remaining mozzarella and then dot the top of the pizza with the remaining chili garlic tomato sauce. Sprinkle red onion over the top of it all. Bake for 17 to 20 minutes, or until crust is golden and cheese is perfectly melty and a bit blistered. Remove from oven and let rest a couple minutes before cutting. Sprinkle with Parmesan and cilantro and serve immediately.
Notes
From a farmgirl's dabbles, with pizza dough adapted from our grilled pizza recipe.
Nutrition Information:
Yield: 4
Serving Size: 1
Amount Per Serving:
Calories: 1043
Total Fat: 47g
Saturated Fat: 16g
Trans Fat: 0g
Unsaturated Fat: 27g
Cholesterol: 74mg
Sodium: 2596mg
Carbohydrates: 121g
Fiber: 6g
Sugar: 8g
Protein: 34g
Nutrition information is automatically calculated by Nutritionix. I am not a nutritionist and cannot guarantee accuracy. If your health depends on nutrition information, please calculate again with your own favorite calculator.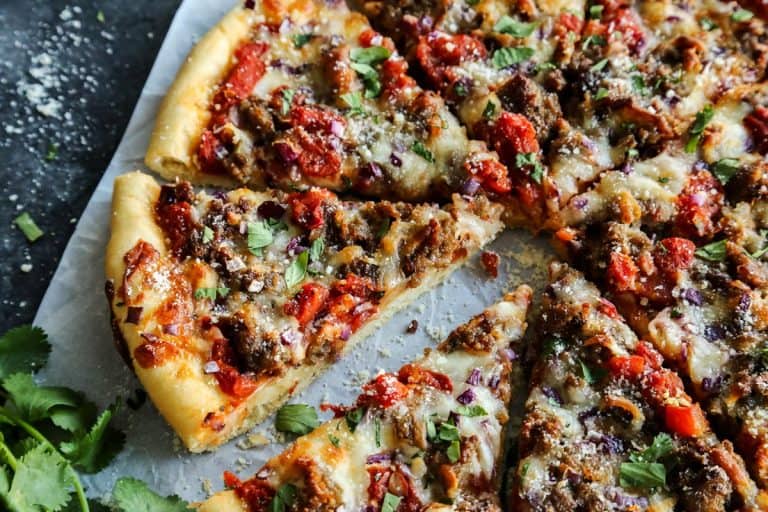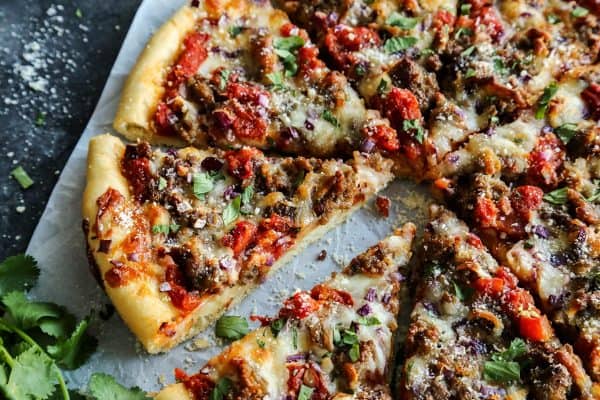 .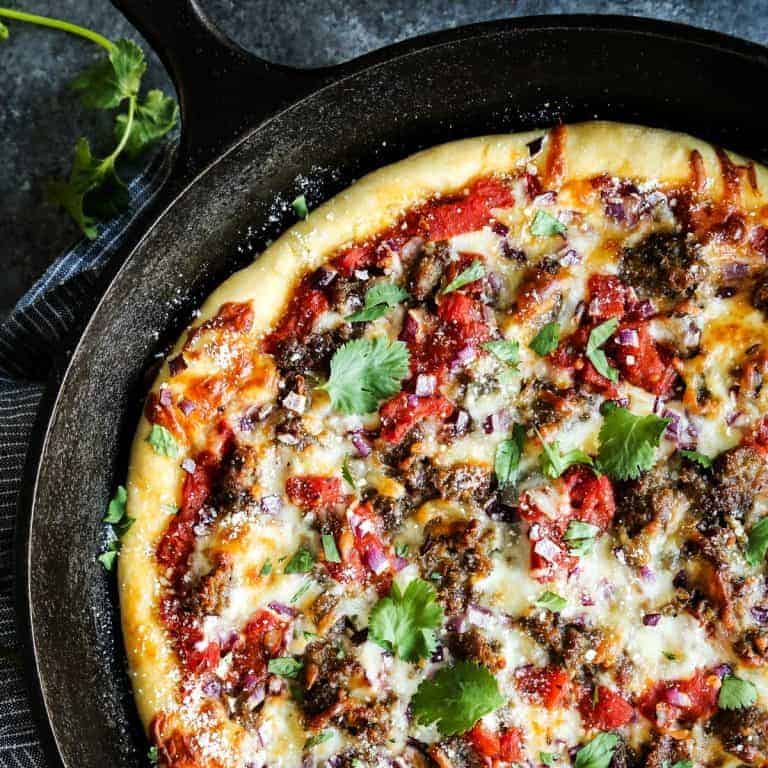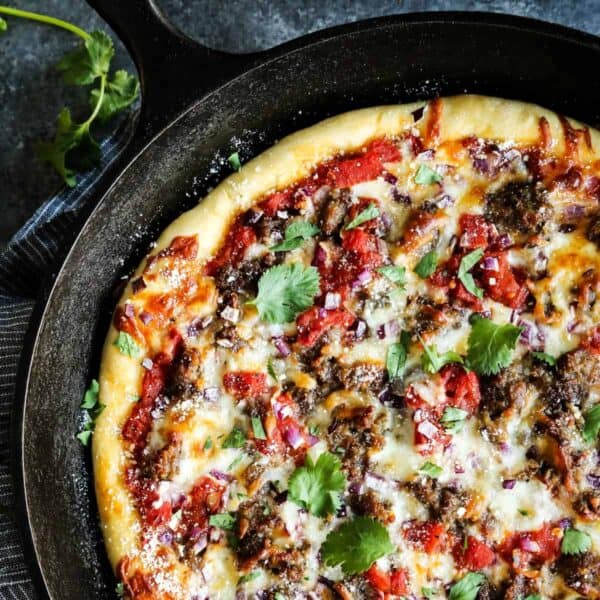 .


For more deliciousness with Red Gold tomatoes, here are a few more recipes featured on a farmgirl's dabbles and beyond:
Be sure to check out Red Gold on their website. You can also find them on social media on Facebook, Twitter, Instagram, and Pinterest.
This post is sponsored by Red Gold. I am happy to be partnering with this Midwestern company again, bringing you delicious recipes bursting with fresh, rich tomato flavor. All opinions are 100% my own. Thank you for supporting the brands that help make this site possible.