Chimichurri Chicken Soup
Chimichurri Chicken Soup is like your familiar chicken soup, with a super fun twist of flavorful chimichurri sauce and creamy white beans.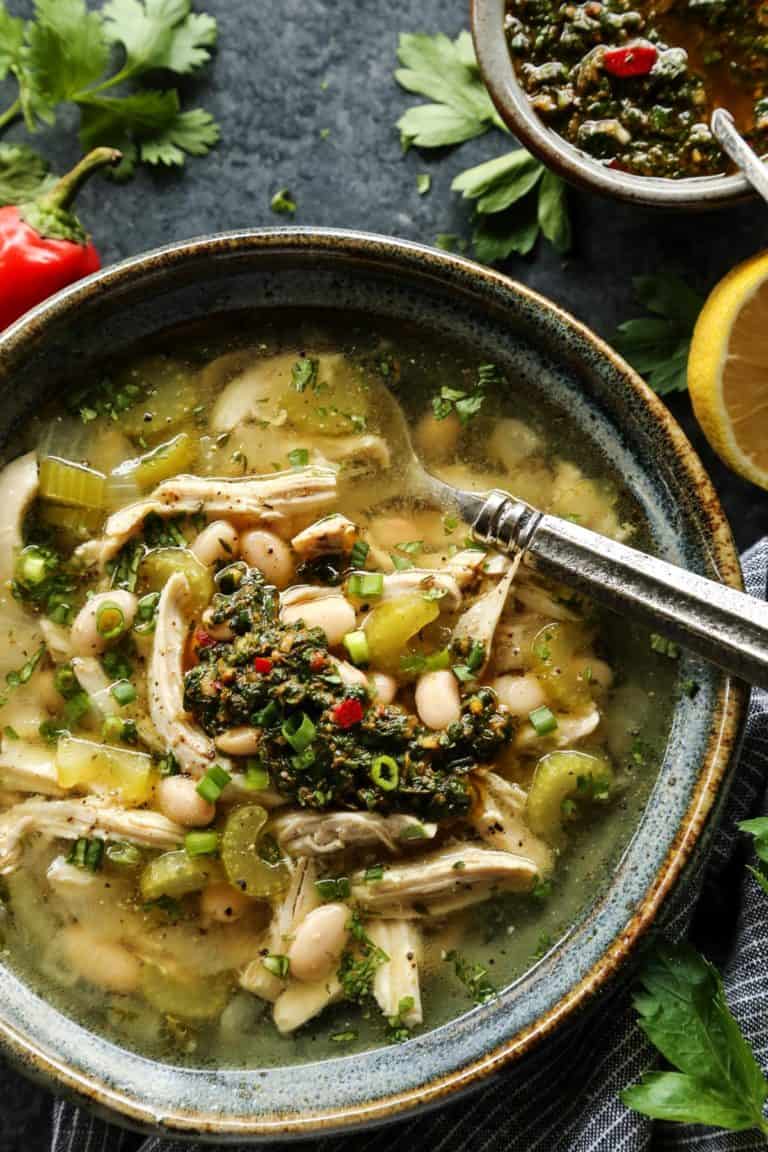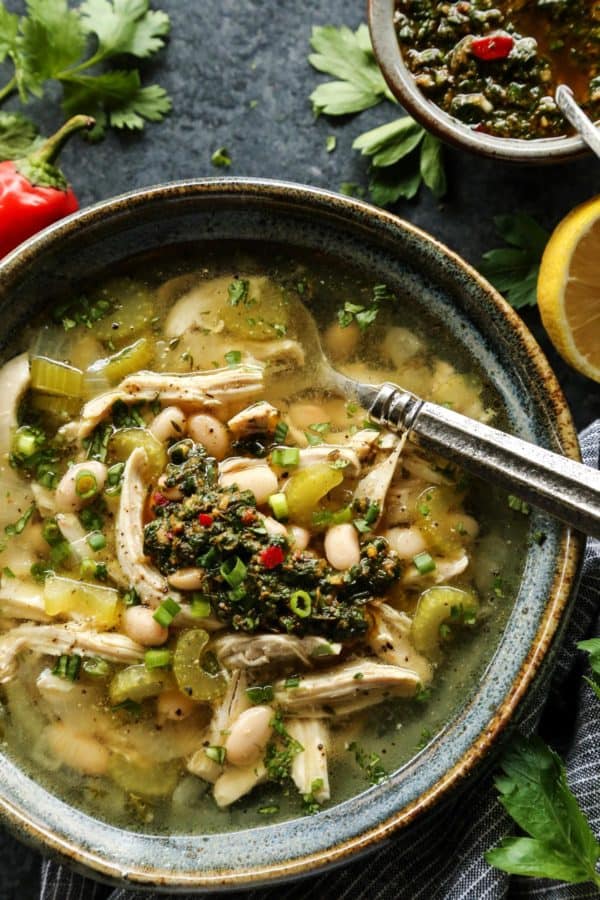 Every day is a good day for soup. Or so my husband says.
When I first met Blake, I was often surprised when he'd order a cup of soup at a restaurant. IN THE MIDDLE OF SUMMER. For me, soup had always been a cold-weather meal, to deliver warmth and comfort to cold, aching bones. It took me awhile, but I came around to his way of thinking, and now have no problem with enjoying a steaming cup of soup in the middle of July.
But.
I will say that I actually crave soup during the colder months. Enduring the cold and sometimes downright frigid temperatures of Minnesota each winter, our lives depend on hot meals loaded with flavor and comfort.
This Chimichurri Chicken Soup is like your familiar chicken soup, but with a wonderful flavor twist. You'll love the chimichurri sauce and creamy white beans. Fill your bowl. Cozy on in!
* This is a sponsored post, created in partnership with Gold'n Plump®.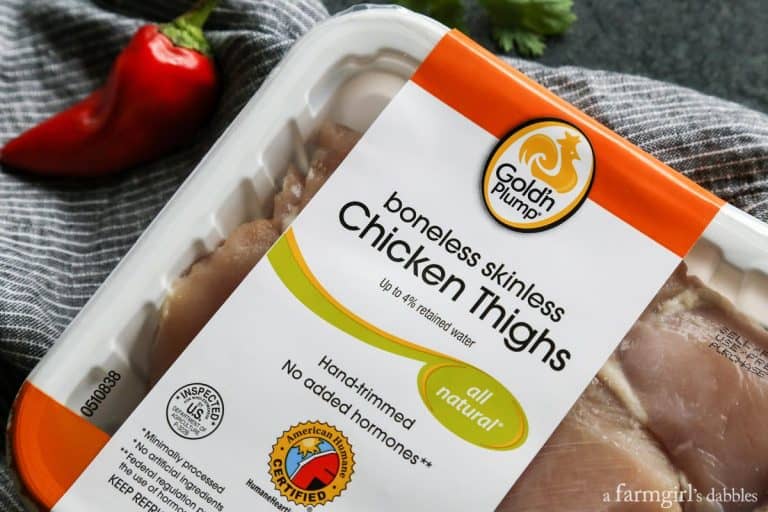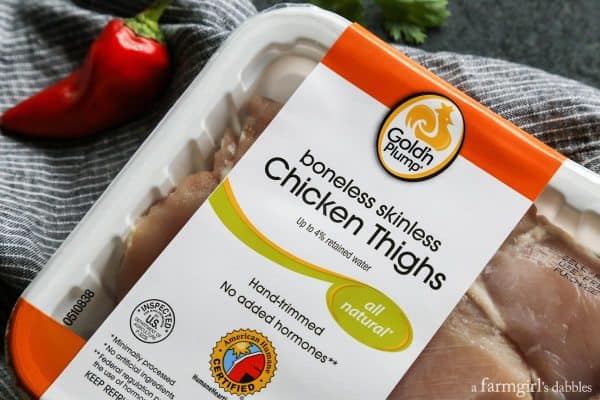 Use chicken thighs for extra flavor
I have been partnering with Gold'n Plump chicken for a few years now. They are a local brand that I'm happy to put on my table and to feature in my recipes here. Gold'n Plump chickens are grown by family farmers right here in Minnesota and Wisconsin with No Antibiotics-Ever.
My absolute favorite pieces from a chicken are the thighs, followed by the drumsticks. These pieces have been my preference ever since I was a little kid. I love that moist and extra flavorful dark meat.
And while I'm also a fan of some golden crispy chicken skin, there are times when I simply only want or need the meat. In the case of any homemade chicken soup, these Gold'n Plump Boneless Skinless Chicken Thighs are perfection.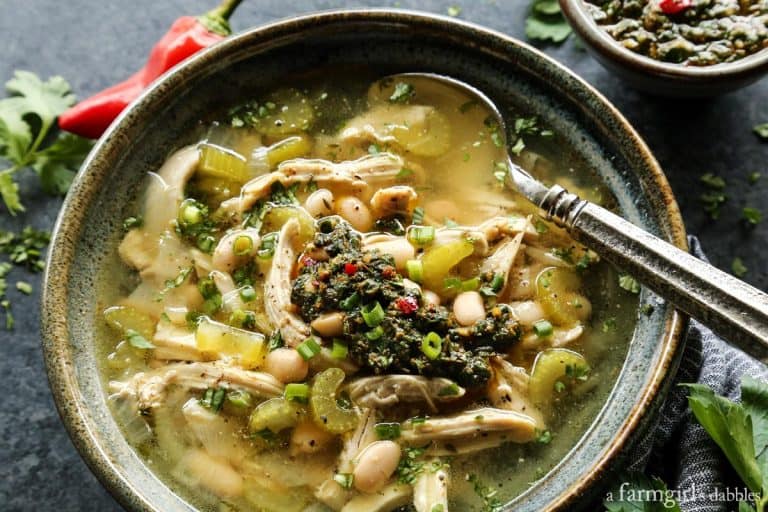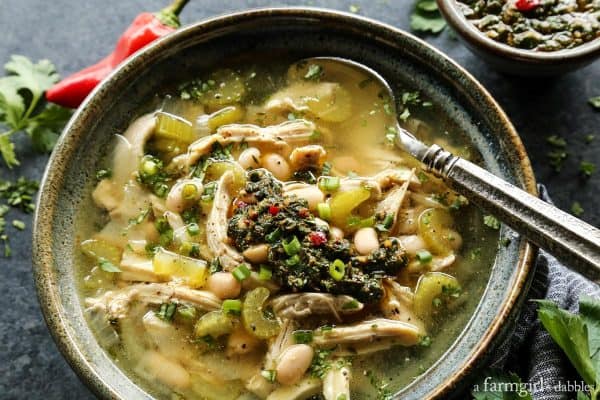 Chimichurri Chicken Soup
At the base of my recipe for chimichurri chicken soup are all the flavors of chicken soup that you've known your entire life. Simple and comforting.
But then I took out the noodles and added white beans, and swirled in some ultra flavorful chimichurri sauce.
What is chimichurri sauce?
If you're not familiar with chimichurri, it's a thick herb sauce from Argentina that usually consists of parsley, vinegar, olive oil, garlic, and chili pepper. This condiment is often served drizzled over grilled beef and other meats, adding a pop of fresh wow to anything it touches.
My version of chimichurri includes less oil than you'll typically find, simply because it's getting swirled into soup. And I used lemon juice instead of vinegar, for its bright freshness. I also incorporated plenty of cilantro, to give this cumin-scented soup a bigger nod toward Mexican flavors.
The chimichurri definitely has a kick to it. I love that red chili pepper and garlic! Serve the sauce on the side, for each person to add as they wish.
Like this chimichurri chicken recipe? Pin it!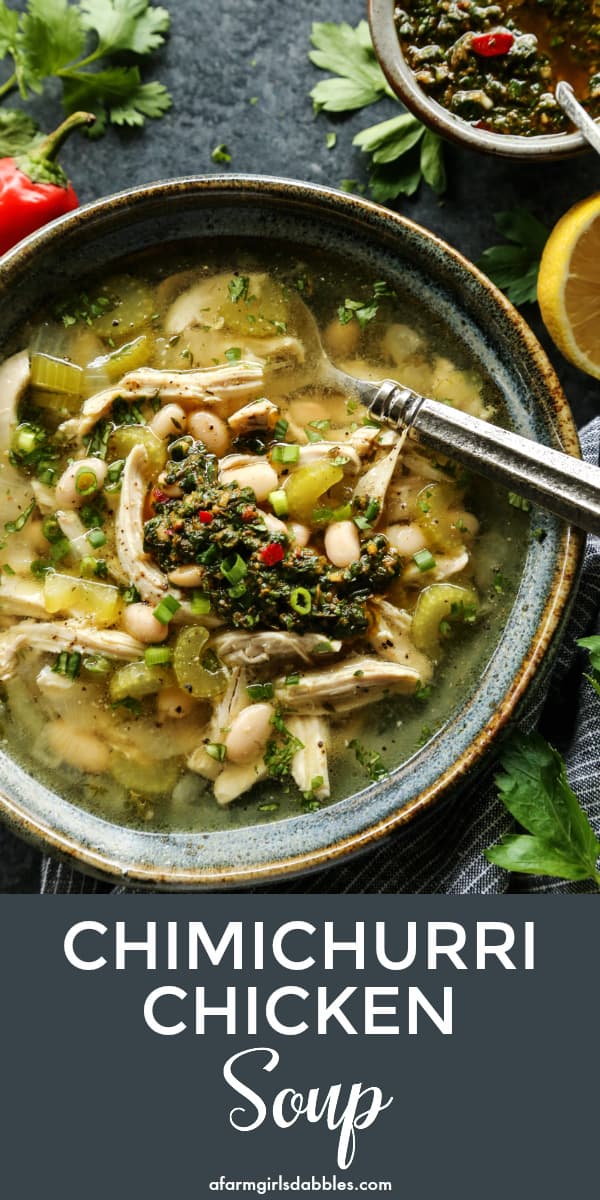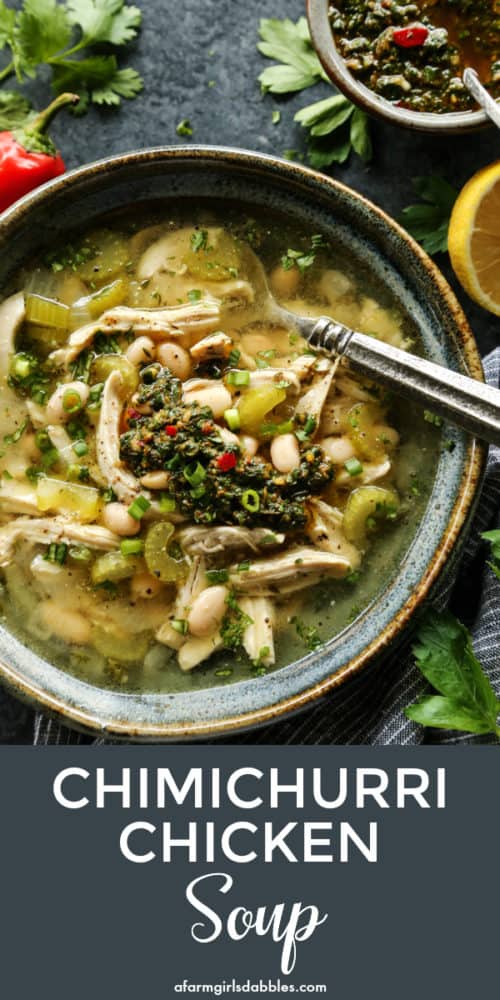 Here are a few more recipes I've created with Gold'n Plump chicken: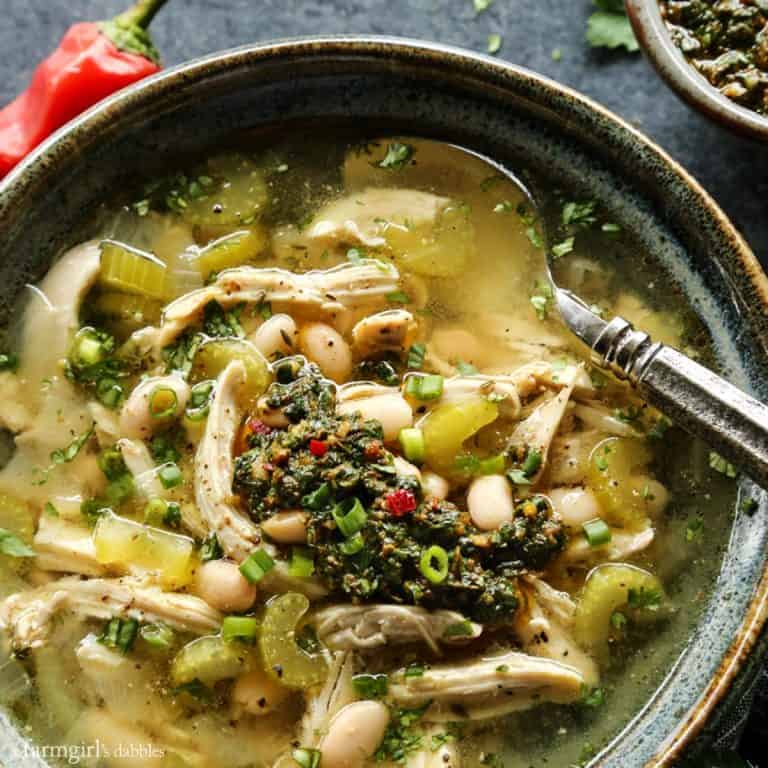 Chimichurri Chicken Soup
Yield: 8 servings
Prep Time: 35 minutes
Cook Time: 40 minutes
Total Time: 1 hour 15 minutes
This recipe is like your familiar chicken soup, but with a super flavorful twist of chimichurri sauce and creamy white beans!
Ingredients
for the chimichurri:
4 large cloves garlic, chopped
3 c. lightly packed fresh Italian parsley
1 c. lightly packed fresh cilantro
half of a medium shallot, chopped
2 T. dried oregano
1 T. finely chopped red chili pepper
1 T. paprika
3/4 tsp. kosher salt
1/4 tsp. hot pepper flakes
1/3 c. olive oil
1/4 c. freshly squeezed lemon juice
for the soup:
2 T. olive oil
2 T. unsalted butter
1 large yellow onion, finely chopped
1-1/2 c. sliced fresh celery
2 large cloves garlic
2 tsp. kosher salt, plus more if desired at the end
2 (1.75 lb.) packages Gold'n Plump® boneless skinless chicken thighs
8 c. low sodium chicken stock
1/4 c. white wine vinegar
1 bay leaf
1 T. cumin
1 (15 to 16 oz.) can white beans, rinsed and drained
1 T. fresh thyme leaves
1 tsp. black pepper
1/4 c. fresh chopped cilantro
2 green onions, sliced
Instructions
for the chimichurri: In a food processor fitted with a metal blade, combine all chimichurri ingredients and process until a smooth paste forms. With a spatula, transfer chimichurri to a bowl and let stand at room temperature while preparing the soup, to let flavors blend.
for the soup: In a large pot (I use this one), heat oil and butter over medium heat. Add onion and sauté until it starts to soften, about 4 minutes. Add celery, garlic, and kosher salt. Continue to sauté until all vegetables are softened, about 4 to 5 minutes more.
Add whole pieces of boneless, skinless chicken thighs to the pot, along with chicken stock, white wine vinegar, bay leaf, and cumin. Bring to a boil over medium-high heat. Partially cover, reduce heat to low, and simmer gently until chicken is just cooked through. This should take about 20 to 25 minutes. Using tongs, transfer chicken to large plate and let cool slightly. Let soup sit, undisturbed, while shredding meat into bite-size pieces with two forks. If any scum develops on the surface of the soup, skim it off with a big spoon and discard.
Add shredded chicken back to the pot of soup, along with white beans, thyme leaves, and black pepper. Bring to a simmer over medium heat. Taste and adjust with additional salt and black pepper, if needed. Don't be afraid to add salt and pepper to amp up the flavor! Discard bay leaf.
Serve soup hot with chimichurri on the side, for individuals to swirl in as much as they please. Also offer chopped cilantro and sliced green onions for garnish.
Notes
from a farmgirl's dabbles
Recommended Products
As an Amazon Associate and member of other affiliate programs, I earn from qualifying purchases.
Nutrition Information:
Yield: 8
Serving Size: 1
Amount Per Serving:
Calories: 245
Total Fat: 17g
Saturated Fat: 4g
Trans Fat: 0g
Unsaturated Fat: 12g
Cholesterol: 25mg
Sodium: 1426mg
Carbohydrates: 15g
Fiber: 4g
Sugar: 3g
Protein: 11g
And a few more chicken recipes you might like: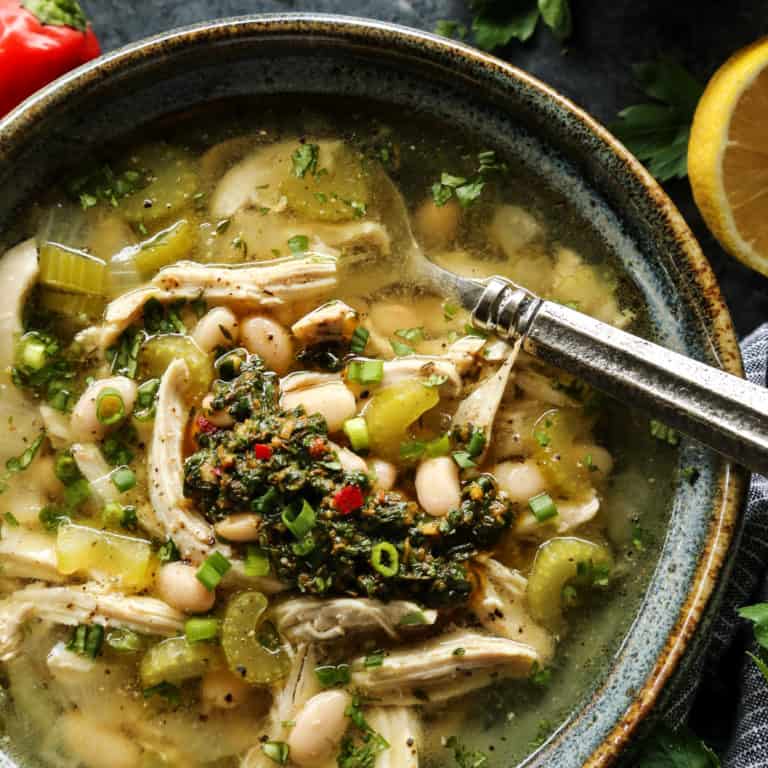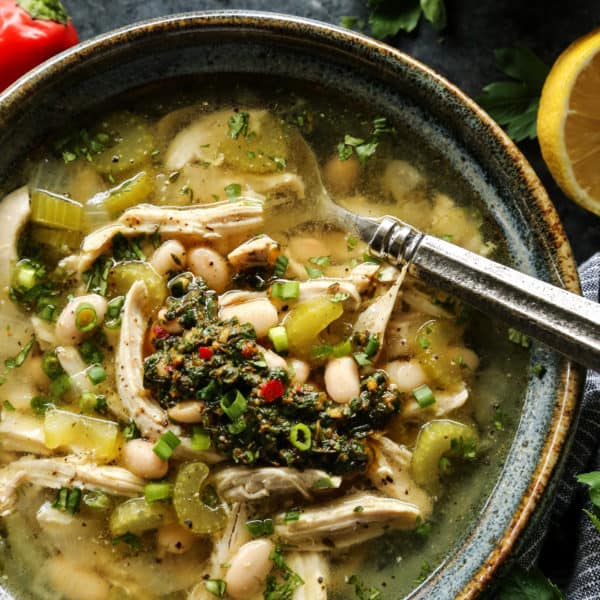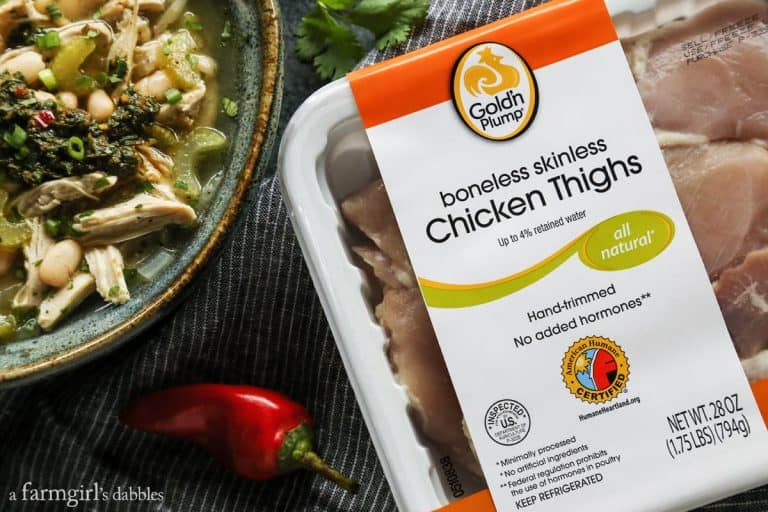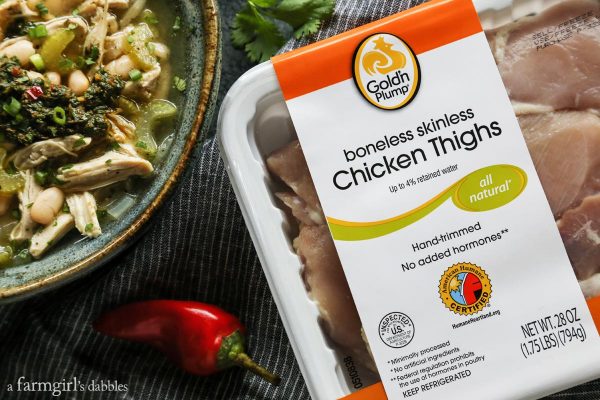 At Gold'n Plump, good chicken is their mission. They are proud to offer the best tasting chicken, raised on family farms in Minnesota and Wisconsin. Gold'n Plump chickens are raised with No Antibiotics-Ever and carry the American Humane Certified™ seal.
Connect with Gold'n Plump on their website and social media channels: Facebook and Pinterest.
Thank you to Gold'n Plump for sponsoring this post!