Individual Tortilla Caprese Pizzas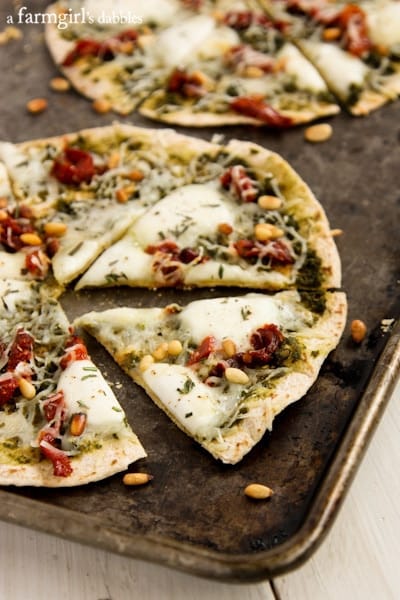 I've debated many times whether I should share these Individual Tortilla Caprese Pizzas with you. Because, well, it is more of a method or idea than it is a true recipe. I felt kind of silly sharing something so simple, and yet I know how much my family adores this meal, packed with flavor and a side of fun.
And then the perfect opportunity to share it arose…
A Virtual Baby Shower for Katie!
Katie, from Katie's Cucina, is a real sweetheart. I had the pleasure to finally meet her last spring when we both attended Food Blog Forum in Orlando. It was evident from the get-go that the smiley personality she emits via social media is just who she is. And it is so much fun to be able to celebrate this baby boy that she and her husband Jon (aka Mr. Woodsy) have been waiting for!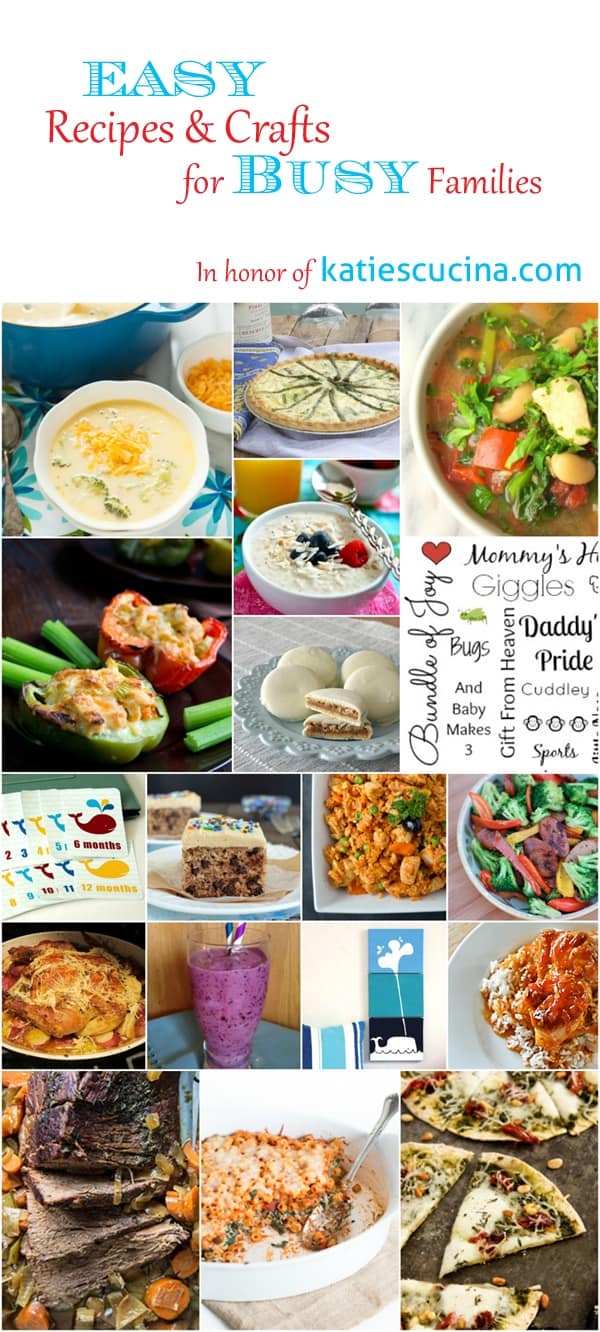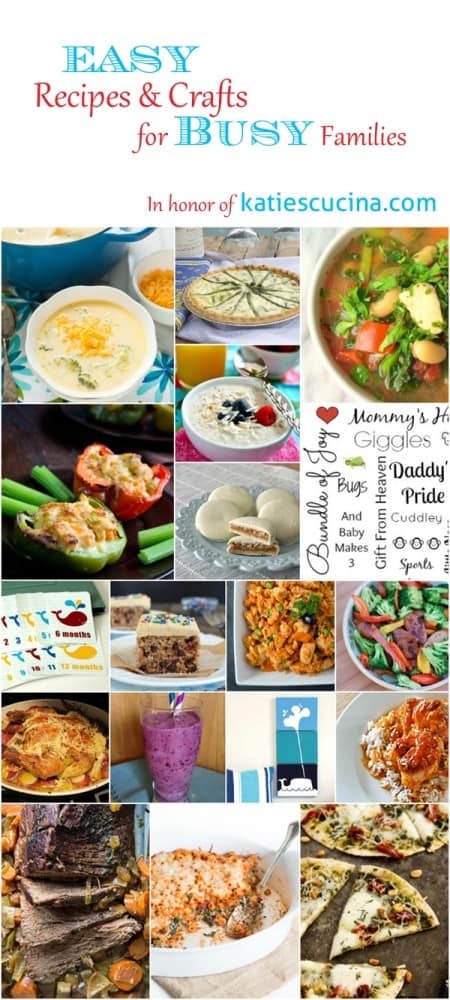 Any parent knows just how time consuming a newborn baby is. There's the constant requirement for cuddling. The necessary caressing of soft little toes. And the mandatory kissing of sweet button noses. Infatuation with these tiny amazing creations is unavoidable. It's a tireless job of adoration.
So having a collection of easy recipes on hand is always a good thing. And, for Katie and Jon, who are always working on a project or two or three, some easy crafts come in handy, too…
This round-up of easy recipes and crafts comes with the very best wishes for Katie and Jon, from a host of friends.
Congrats, Katie & Jon! Enjoy every single moment of that baby infatuation!
Please join in on this virtual baby shower celebration by visiting the rest of these blogs. I'm betting you'll find some meal and craft inspiration that will come in handy for yourself!
Easy Broccoli & Cheddar Soup from The Little Kitchen
Buffalo Chicken Stuffed Peppers from Cook the Story
Individual Tortilla Caprese Pizzas from a farmgirl's dabbles
Easy Cheesy Potato Corn Chowder from A Little Claireification
Slow Cooker Jambalaya from A Spicy Perspective
Italian Style Stir Fry from Aggie's Kitchen
Apricot Chicken from Bombshell Bling
Easy Baked Spaghetti from Chocolate & Carrots
Cuban Casserole with Whole Grain Mustard Butter Biscuits from Climbing Grier Mountain
Freezer-Friendly Quinoa Meatballs from Cooking with Books
Baby Boy Subway Art Printable from H2OBungalow
Peanut Butter Chocolate Chip Banana Cake from Inside BruCrew Life
Asparagus And Leek Quiche from Kokocooks
Roasted Lemon Parmesan Chicken with Red Potatoes from Life After Empty Nest
Yogurt Blueberry and Honey Smoothie from My Sweet Zepol
Pesto Parmesan Chicken Salad from Shaken Together
Printable Baby Whale Themed Cards and Project Life Mini Album from Simply Kelly Designs
Coconut Cookie Butter Sandwich Cookies from Simply Southern Baking
Slow Cooker Pot Roast with Garden Vegetables from Sweet Remedy
Easy Kofta Kebabs from Tasty Chomps
Crock Pot Fajitas with Chicken and Quinoa from The Dinner-Mom
Overnight Oatmeal from The Hungry Housewife
Honey-Dijon Chicken, Apple & Quinoa Wraps from The Kitchen Prep
Slow Cooker Italian Chicken Soup from The Lemon Bowl
Slow Cooker Pulled Pork Tacos from The Nifty Foodie
DIY Whale Art from While They Snooze
One Pot Mexican Chicken and Rice from Yellow Bliss Road
Thank you to Julie from The Little Kitchen and Christine from Cook the Story for organizing this celebration!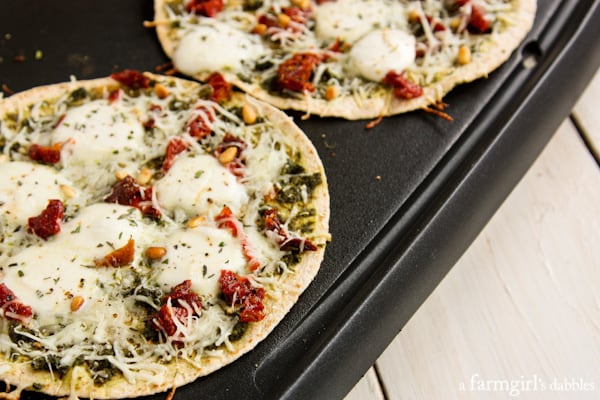 All it takes is a bit of ingredient prep, and you can have some hot and tasty individual pizzas ready in no time at all. A large electric or stovetop griddle is key to cranking out multiple pizzas at a time, but a large skillet can easily do in a pinch.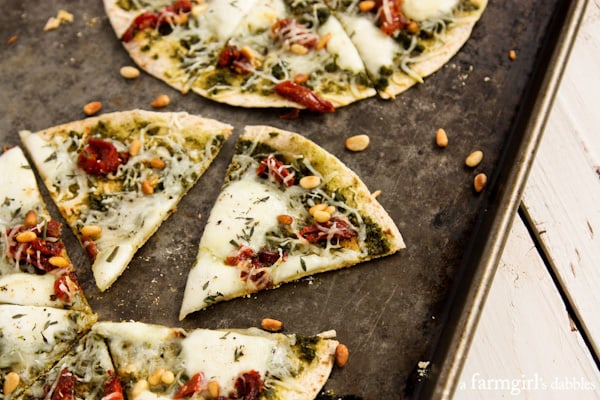 Our house starts buzzin' when I announce that it's "tortilla pizza night". We just have so much fun with it! It's a great easy meal for the end of a busy school and work week, and nothing says Friday night like pizza.
During the summer, when our herb garden is bountiful, the girls race out the back door to pick just the perfect collection of flavors for their own pizzas. When that's not an option (seriously, will it ever stop snowing?!), we use any fresh herbs we might already have on hand. Or in a pinch, we just sprinkle on some pizza seasoning. Our pizzas rarely include the very same ingredients twice. So mix it up with whatever works for you. It's all good!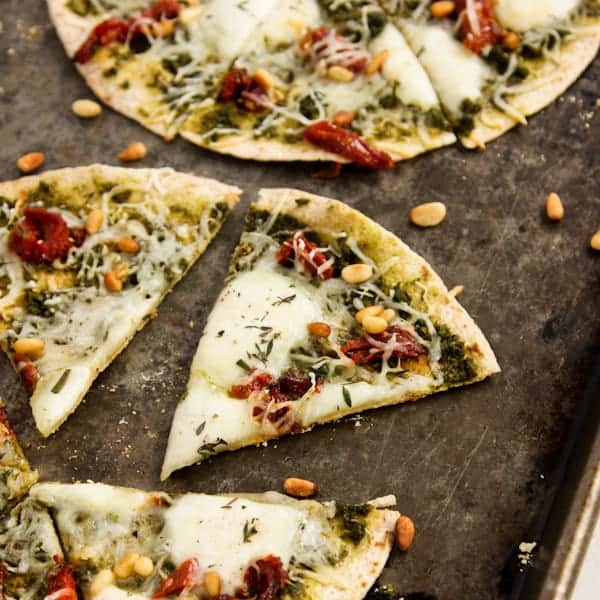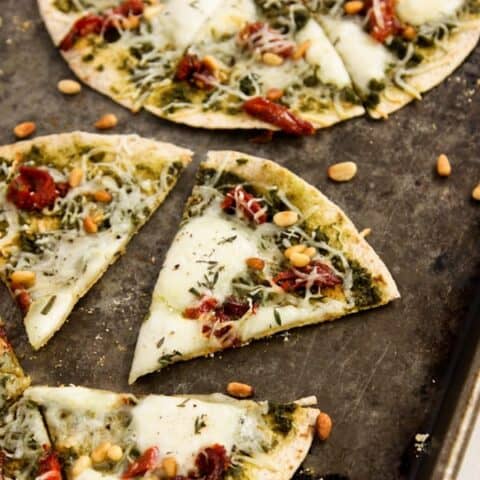 Individual Tortilla Caprese Pizzas
Prep Time: 15 minutes
Cook Time: 15 minutes
Total Time: 30 minutes
All it takes is a bit of ingredient prep, and you can have some hot and tasty individual pizzas ready in no time at all.
Ingredients
8" whole wheat tortillas
softened butter
basil pesto (homemade or store bought)
julienne-cut sun-dried tomatoes (I prefer the oil packed variety)
fresh mozzarella packed in water, cut into 1/2" pieces (I like to use the small balls and cut them into halves or quarters, but you can also cut up a larger ball or log)
your favorite chopped fresh herbs or pizza seasoning (I especially like to use fresh rosemary, thyme, oregano, and/or basil...use what you like!)
toasted pine nuts
freshly ground black pepper
Instructions
I never use the same amount of ingredients, and like to switch up the ingredients with whatever we have on hand or are hungry for. But this caprese version is always a favorite. Here's our method!
Heat a large electric or stovetop griddle to medium/medium-high to make more than one individual pizza at a time. Or use a large skillet on the stovetop to make them one by one.
Take out as many tortillas as you want to make individual pizzas. Evenly butter one side of each tortilla and stack them on top of each other until ready to assemble. Then set out all your prepared ingredients so they are ready to assemble pizzas quickly.
When the griddle is hot, add tortillas butter side down to the griddle. Quickly spread desired amount of pesto onto the top side of each tortilla. Then add sun-dried tomatoes, mozzarella, herbs, pine nuts, and freshly ground pepper.
Heat until buttered side of tortilla is browned and crisped, and the mozzarella is melty. Remove to a large pan or cutting board to cut into wedges. Serve hot.
Notes
from a farmgirl's dabbles