Watermelon and Citrus Shrimp Ceviche
This post may contain Amazon or other affiliate links. As an Amazon Associate I earn from qualifying purchases.
This fresh and flavorful Watermelon and Citrus Shrimp Ceviche always puts me in a vacation kind of mood!
Looking for more easy shrimp recipes? Try these Grilled Shrimp Kebabs!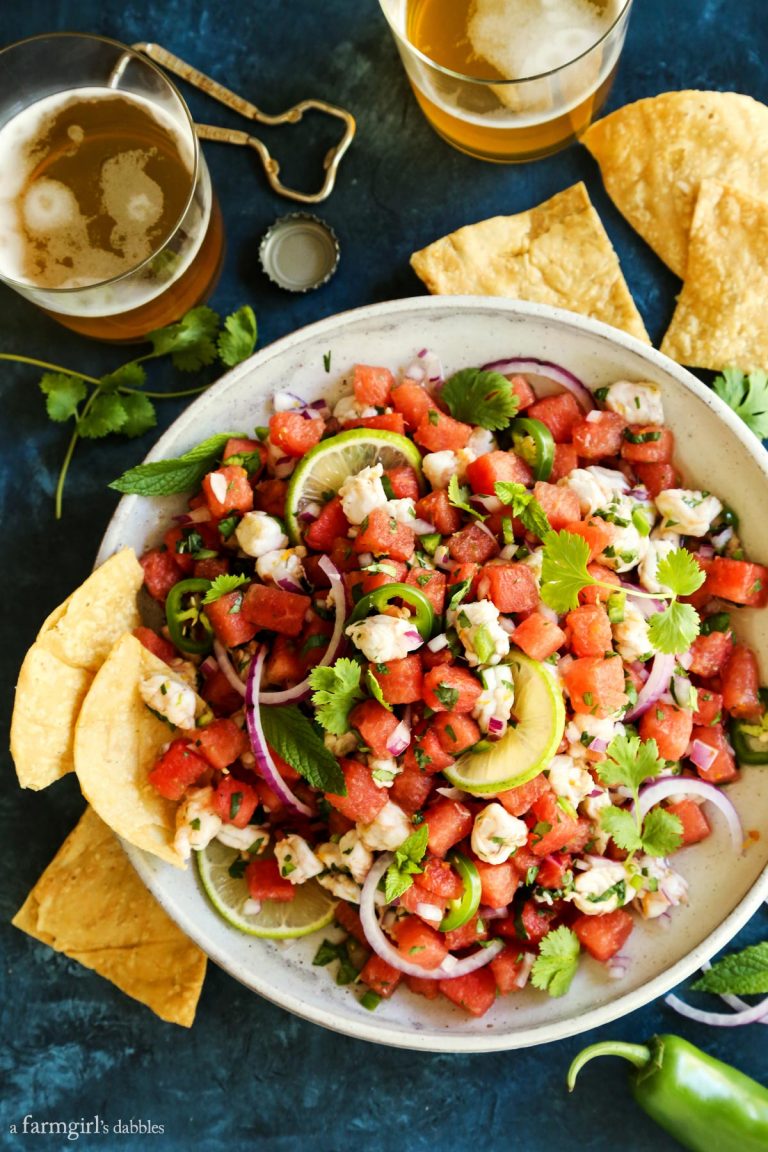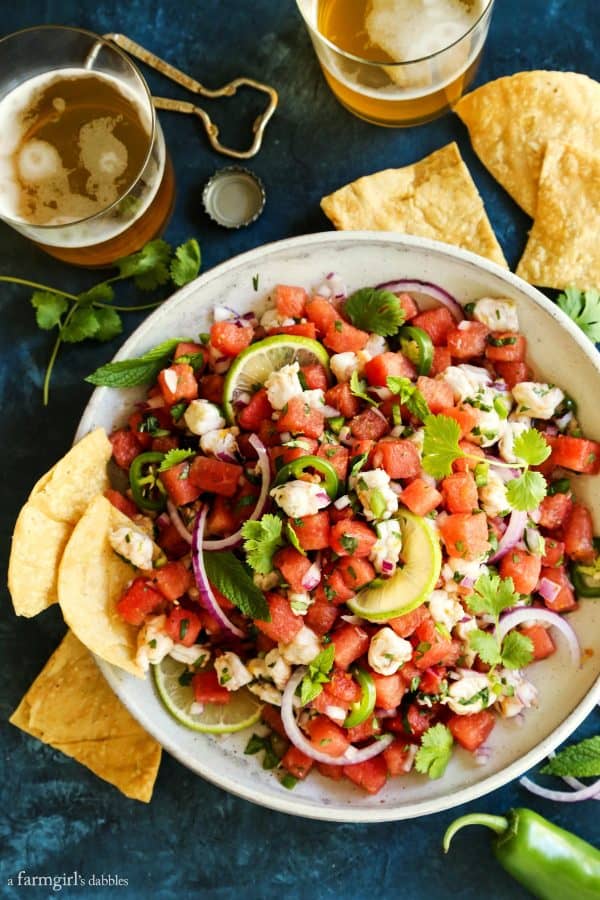 An Easy Shrimp Ceviche with Watermelon
When it comes to foods that scream "Summer!", watermelon is definitely on my Top 5 list. Sweet and juicy and ultra refreshing, I'm positive this fruit was created simply for the pleasure of celebrating this wonderful time of year.
In the heat of summer, I especially gravitate toward lighter fare that's bursting with fresh ingredients and big flavor. And one of my ultimate summer heat wave meals is ceviche.
Ceviche is most often found in the appetizer category, but I am not ashamed to call it a meal. Especially when it comes to this Watermelon and Citrus Shrimp Ceviche. Just give me a few chips and a big bowl of this fresh ceviche and I'm one happy girl!
* This is a sponsored post, created in partnership with the National Watermelon Promotion Board. July is National Watermelon Month and I'm excited to team up with them to celebrate!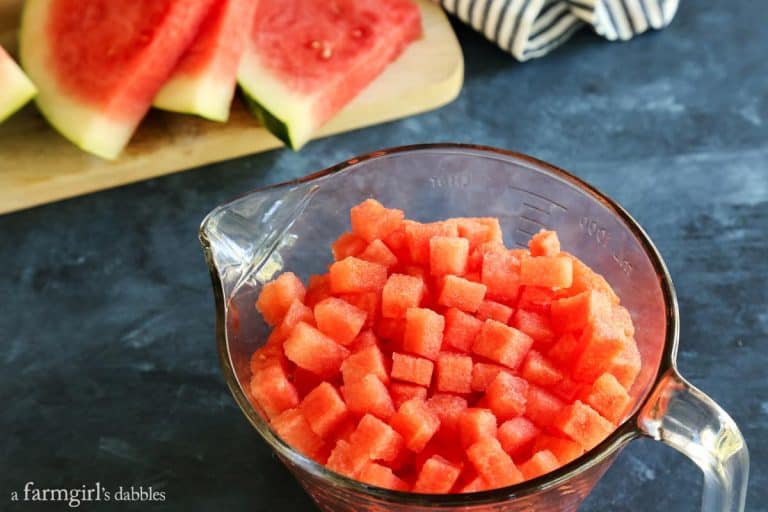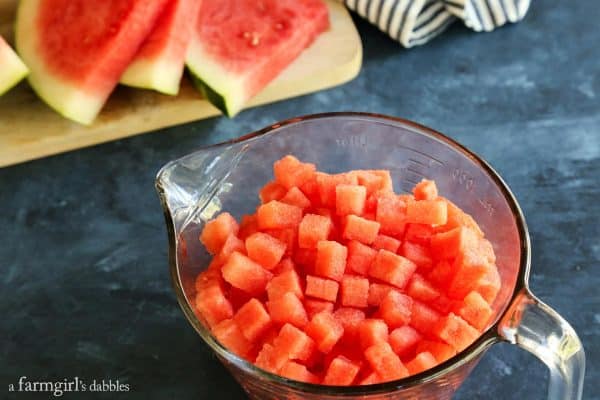 Use the Whole Watermelon
Did you know that 100% of watermelon is usable and compostable?
RIND: You can use the rind to create less food waste. Use the rind in recipes, as creative serving vessels and centerpieces, and/or in composting – take a look at this fun use of the rind in these watermelon jello shots!
Also. Have you ever enjoyed watermelon pickles?! Find watermelon rind recipes here.
JUICE: Juicing watermelon is a great way to use overripe watermelon, retaining its budget-friendly value (one watermelon can feed up to three dozen people!) and nutrition (watermelon is an excellent source of vitamins A and C, and free from cholesterol, fat, and sodium). Consisting of 92% water, watermelon is great for staying hydrated in the summer. My family especially likes a cold watermelon lemonade spritzer on a hot summer day. Get watermelon juice recipes here.
FLESH: Whenever I bring home a watermelon, our youngest daughter requests that it be cut into wedges – her absolute favorite way to enjoy it. But there are so many fun ways to use watermelon flesh beyond the wedge. A couple suggestions for you: dice watermelon for this watermelon jicama salsa and cube it for this beautiful fruit salad with vanilla bean yogurt dressing. Discover even more recipes using watermelon flesh here.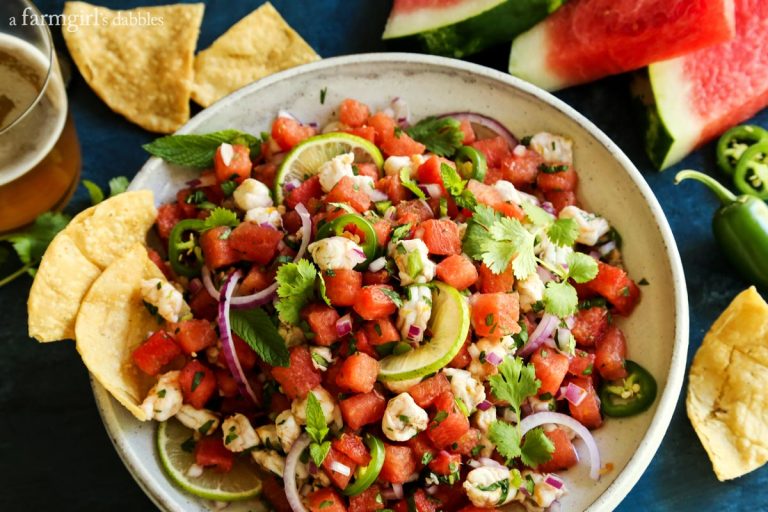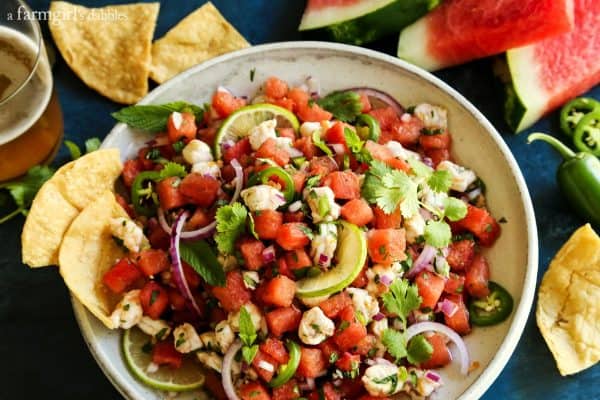 What is Ceviche?
Inspired by travels to tropical locations (I ate ceviche every single day for a week while visiting Mexico!), ceviche always puts me in a vacation kind of mood. Ceviche is a seafood dish where raw fish (in this case shrimp) is cured in fresh citrus juice, then mixed with other ingredients like fruit, pepper and seasonings.
Besides a good amount of sweet and juicy watermelon, this watermelon and citrus shrimp ceviche is loaded with nuggets of fresh shrimp, plus the bright flavors of orange and lime. I also tossed in some mint, as it's flourishing in our herb garden right now, and I simply cannot resist adding it to everything in sight!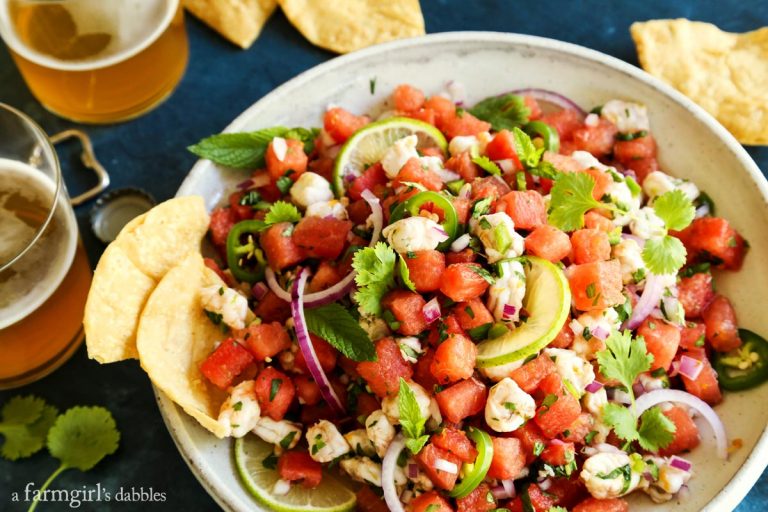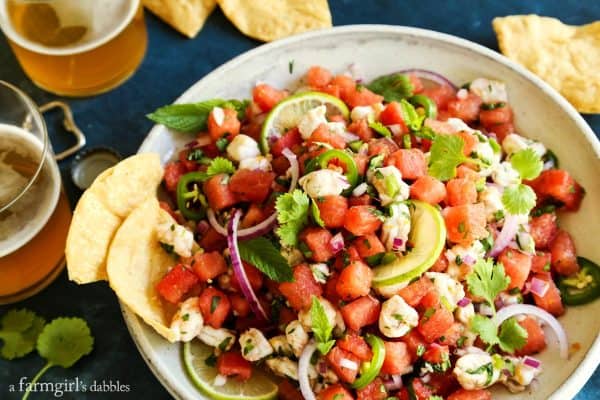 If you like watermelon as much as I do, I beg you to celebrate summer with me by mixing up a bowl of this fresh watermelon and citrus shrimp ceviche. And be sure to read to the end of this post for details on how you can participate in the National Watermelon Promotion Board's recipe contest, where you could win up to $500!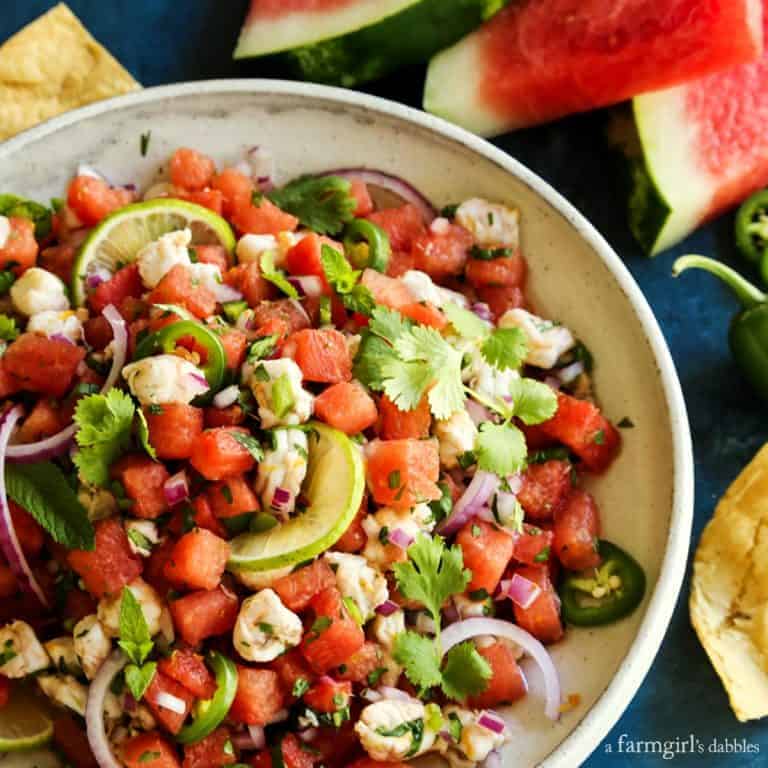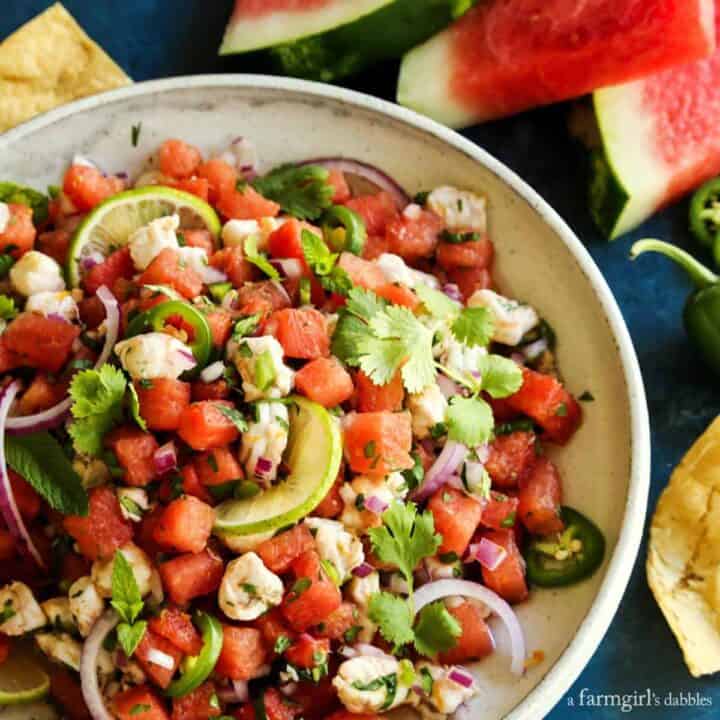 Watermelon and Citrus Shrimp Ceviche
Yield: 20 servings
Prep Time: 20 minutes
Total Time: 20 minutes
This fresh and flavorful Watermelon and Citrus Shrimp Ceviche always puts me in a vacation kind of mood!
Ingredients
1 lb. medium raw shrimp, peeled, deveined, and chopped into 1/2" pieces
1/2 c. freshly squeezed orange juice, divided
1/3 c. freshly squeezed lime juice, divided
4 c. diced (1/2" pieces) watermelon
3/4 c. minced red onion
2 T. minced jalapeno pepper (add more if desired)
1 tsp. orange zest
1 tsp. lime zest
1/2 tsp. kosher salt
1 c. loosely packed cilantro leaves, chopped
12 large mint leaves, chopped
Instructions
In a medium bowl, combine shrimp, 1/4 cup of the orange juice, and 1/4 cup of the lime juice. Cover and refrigerate 1 to 2 hours, or until shrimp are pink and opaque (no longer translucent). The citric acids will "cook" the raw shrimp. Drain. Discard juice.
In a large bowl, fold together watermelon, red onion, jalapeño pepper, orange zest, lime zest, and remaining orange and lime juices. Sprinkle salt over the top, and then add the shrimp, cilantro, and mint. Fold gently to combine.
Cover and refrigerate for 30 minutes to let flavors mingle. Serve with your favorite chips.
Nutrition Information:
Yield: 20
Serving Size: 1
Amount Per Serving:
Calories: 27
Total Fat: 0g
Saturated Fat: 0g
Trans Fat: 0g
Unsaturated Fat: 0g
Cholesterol: 29mg
Sodium: 189mg
Carbohydrates: 3g
Fiber: 1g
Sugar: 1g
Protein: 4g
Nutrition information is automatically calculated by Nutritionix. I am not a nutritionist and cannot guarantee accuracy. If your health depends on nutrition information, please calculate again with your own favorite calculator.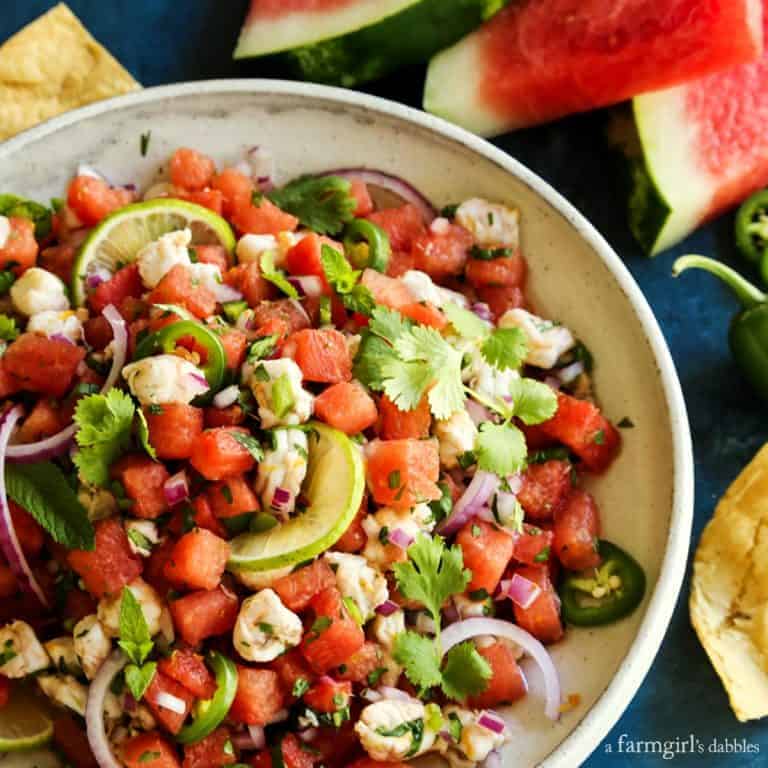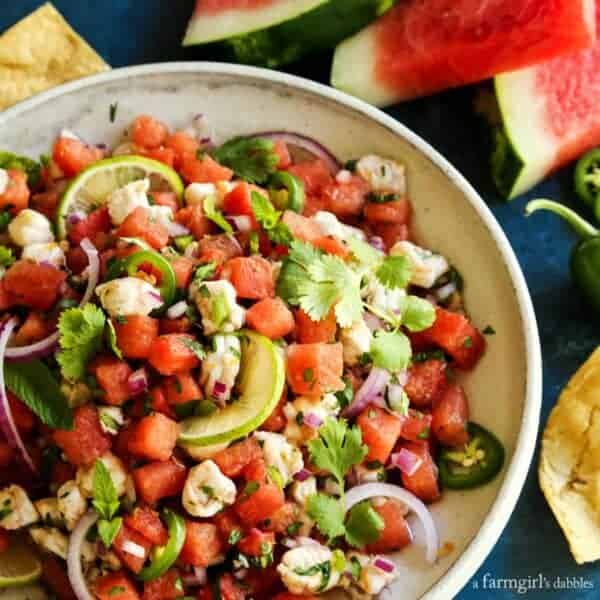 .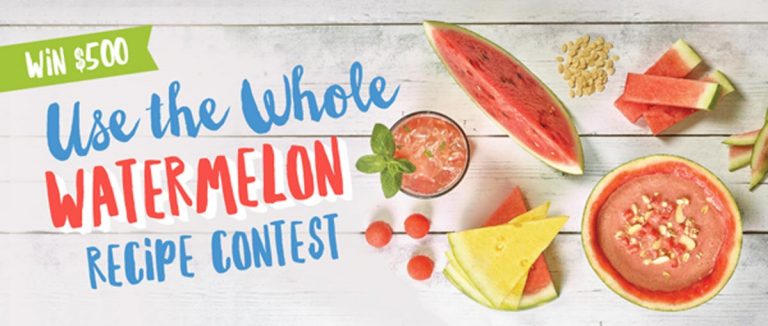 WATERMELON RECIPE CONTEST!
In celebration of National Watermelon Month, the National Watermelon Promotion Board is challenging watermelon lovers to use the whole watermelon – flesh, juice AND rind!
Submit your watermelon recipe using any part of the watermelon (categories include Flesh, Juice and Rind) to be entered to win up to $500! Multiple entries are permitted, just submit a new form for each entry to be eligible to win. (Note: You will receive a confirmation email once your entry is received. If you do not receive an email, your entry has not been officially submitted.)
SUBMIT YOUR RECIPE to enter the the watermelon contest at watermelon.org/recipecontest or click here!
.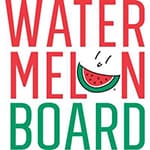 Visit the National Watermelon Promotion Board on their web site. You can also find them on social media on Facebook, Twitter, Instagram, and Pinterest.
Disclaimer: This post was sponsored by the National Watermelon Promotion Board. Thank you for supporting us and the brands we so carefully choose to work with. All opinions expressed are our own.
We participate in the Amazon Services LLC Associates Program, an affiliate advertising program designed to provide a means for us to earn fees by linking to Amazon.com and affiliated sites. See our
disclosure policy
for more info.