Jessica's "Not-So-Monster" Monster Cookies
This post may contain Amazon or other affiliate links. As an Amazon Associate I earn from qualifying purchases.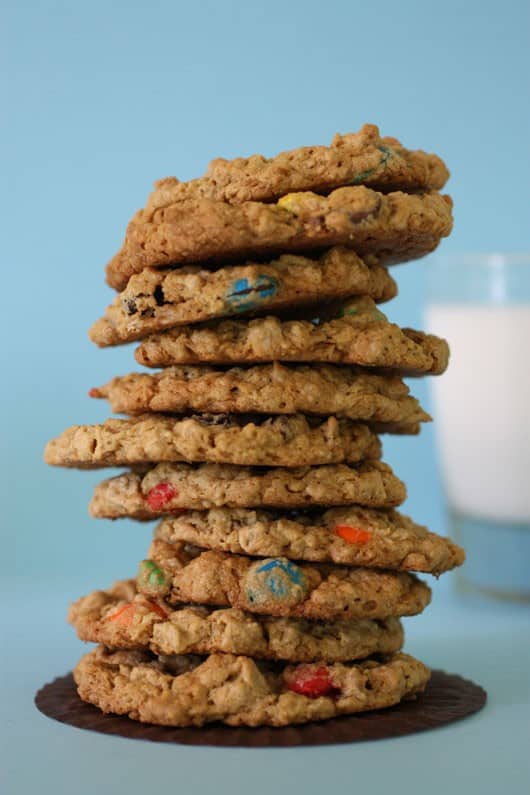 My husband, Blake, is a huge fan of the chocolate & peanut butter combo. So that was my focus when I started planning his birthday cake. I started digging through my recipes, looking for that awesome tasting, super light & whippy peanut butter frosting recipe I had made once before.
Then I came upon it. No, not that crazy good peanut butter frosting recipe.
I found my sister's super yummy Monster Cookies recipe.
And the realization struck me. Blake really doesn't enjoy cake all that much. So why should I make him anything but what HE would truly enjoy on his birthday?
Jessica's chewy, irresistable Monster Cookies would be THE perfect treat! They are his favorite cookie.
My sister is a real sweetie, with one of the givingest hearts I know. And she loves to spoil Blake with these cookies. Jessica knows he likes them, so she brings them when her family visits our home, and she has them waiting when we visit their home. We live over 4 hours apart, so we don't see eachother nearly as often as we'd like, and these cookies always help to sweeten up our togetherness.
I also like that Jessica makes them the size of normal homemade cookies, and not the typical Monster Cookies the size of salad plates. I can never eat one of those giant cookies – I either end up throwing half of it away or it sits on my counter for a couple days, staring at me to finish it off. Jessica says she's been told quite often, though, that "those aren't Monster Cookies", when people see their smaller size.
Well, I think Jessica's "Not-So-Monster" Monster Cookies couldn't be more perfect! And Blake would wholeheartedly agree.
Happy birthday, dear Blake!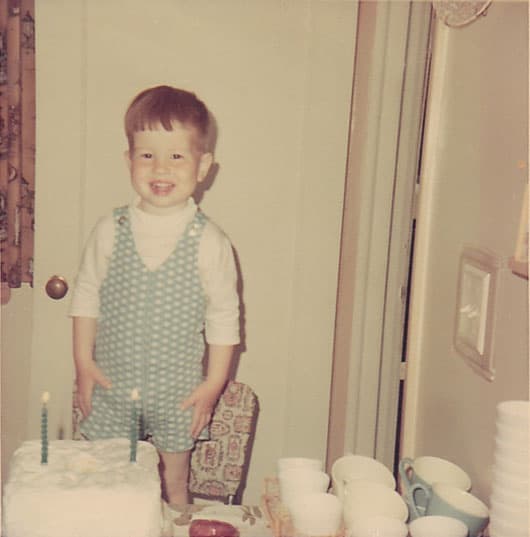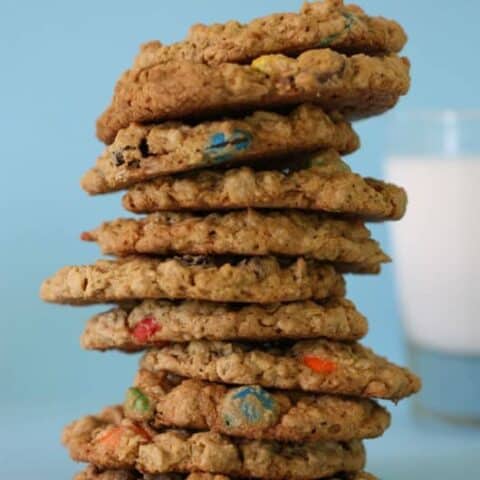 Jessica's "Not-So-Monster" Monster Cookies
Yield: 60 cookies
Prep Time: 10 minutes
Cook Time: 1 hour
Total Time: 1 hour 10 minutes
Jessica's chewy, irresistible Monster Cookies would be THE perfect treat!
Ingredients
4 large eggs
1½ cups packed brown sugar
1⅓ cups granulated sugar
1⅓ sticks good quality unsalted butter, at cool, softened room temperature
2 teaspoons pure vanilla extract
1 teaspoon light corn syrup
2½ teaspoons baking soda
1⅔ cups creamy peanut butter - I use Skippy
6 cups old fashioned oats
1/3 cup semi-sweet chocolate chips - I use Guittard brand
1/3 cup regular M&M candies
1/3 cup raisins
Instructions
Preheat oven to 350° F.
In a large mixing bowl, beat eggs briefly. Then add brown sugar, granulated sugar, and butter, and beat on medium speed until incorporated.
Add vanilla, corn syrup, baking soda, peanut butter, and oats, and mix on medium-low speed until oats are very evenly incorporated. Then fold in chocolate chips, M&M candies, and raisins with a sturdy spatula or wooden spoon. (You can vary the mix-ins however you like, just aim for 1 cup total.)
Scoop dough tightly with a 2-tablespoon scoop and place dough on a sturdy, non-coated baking sheet. Press in additional mix-ins if desired.
Bake for about 12 minutes, or until edges are lightly browned. Remove baking sheet from oven and let cookies cool on pan for 5 minutes, and then transfer cookies to a cooling rack.
Notes
"flourless" cookie
Adapted by my sister Jessica from the 75th Jubilee (1988) Claire City-New Effington, SD Cookbook, original recipe by Kristi Bostrom
Nutrition Information:
Yield: 60
Serving Size: 1
Amount Per Serving:
Calories: 147
Total Fat: 7g
Saturated Fat: 3g
Trans Fat: 0g
Unsaturated Fat: 4g
Cholesterol: 18mg
Sodium: 97mg
Carbohydrates: 19g
Fiber: 1g
Sugar: 11g
Protein: 3g
Nutrition information is automatically calculated by Nutritionix. I am not a nutritionist and cannot guarantee accuracy. If your health depends on nutrition information, please calculate again with your own favorite calculator.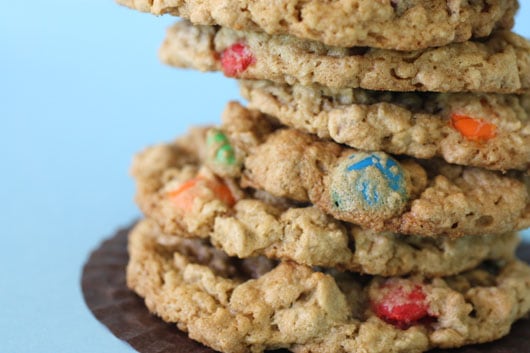 We participate in the Amazon Services LLC Associates Program, an affiliate advertising program designed to provide a means for us to earn fees by linking to Amazon.com and affiliated sites. See our
disclosure policy
for more info.