Pineapple Mint Julep Sangria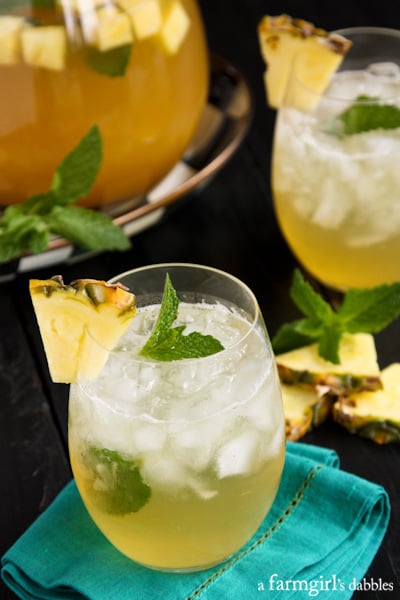 Hey, guys! I finally found a sangria that my husband and I can agree on. And, yes, I'm pretty excited about that!
This Pineapple Mint Julep Sangria is a fun twist on the traditional mint julep beverage served by the thousands at the Kentucky Derby race each spring. Actually…Churchill Downs serves almost 120,000 of these sweet drinks over the two-day period of the Kentucky Oaks and the Kentucky Derby. Famous for being served in a frosty pewter cup, it's a centuries-old tradition of the South. I visited the race track a couple years ago when I was in Louisville. Unfortunately, I missed the race. But what a grand ol' place it is!
I know I'm not giving you much notice to make this for the race tomorrow, but it really doesn't take much time to stir together a pitcher of this refreshing bevvy. And if you can't make it for the race, you have the whole summer to treat yourself. It's the perfect warm weather drink…lightly fruity and crisp, and just a bit boozy. Ahhhhhh…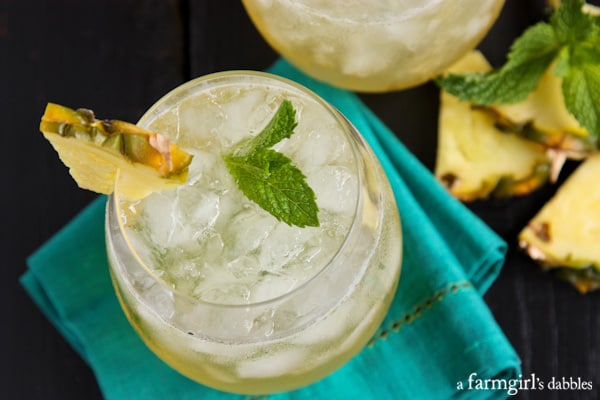 When I finished perfecting this sangria recipe, I poured some over a glass of crushed ice in true mint julep fashion, and handed it to Blake. I half expected him to take a sip or two and return the drink to me, along with some kind of mediocre review. I knew the drink was good. But I also know that Blake's cocktail preferences don't include fruit or mint simple syrup. I was barking up the wrong tree, offering this man a sweet drink garnished with mint leaves and fresh pineapple wedges…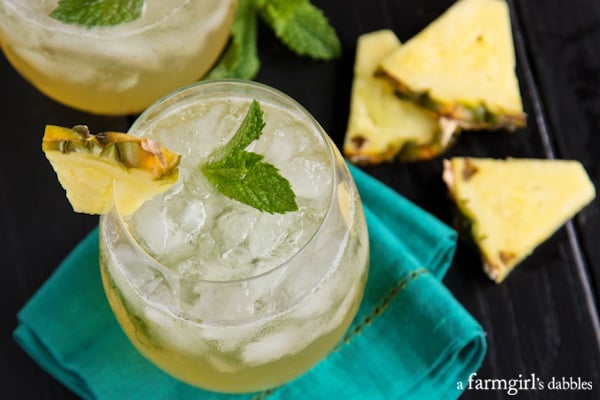 But I was wrong. Dead wrong. He liked it. Alot!
I should have remembered how much fresh pineapple juice he consumed while we were in Mexico last fall. Every morning we ordered room service – a tray filled with fresh fruits, a pot of delicious hot coffee, and four glasses of fresh pineapple juice. It was "our thing".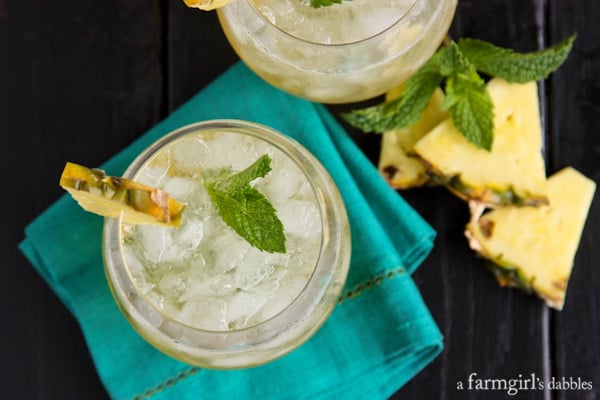 This sangria's other redeeming quality, according to Blake, is its bourbon. And I do have to agree. I love the depth that bourbon adds to the glass. If you're looking for a red sangria with bourbon, be sure to check out this Sangria in Rosé, Bourbon, and Blue. It's lovely, too.
Pineapple Mint Julep Sangria
Pineapple Mint Julep Sangria is a fun twist on the traditional mint julep beverage served by the thousands at the Kentucky Derby each spring.
Yield: 8 servings
Prep Time:5 minutes
Cook Time:30 minutes
Ingredients:
for the mint simple syrup:
1 c. water
1 c. sugar
6 to 8 fresh mint sprigs, rinsed well
for the sangria:
1  750 ml bottle light and crisp white wine, chilled (I used a Pinot Grigio)
3 c. fresh pineapple juice, chilled (I blitzed fresh pineapple chunks in a blender and strained it for juice, but you could also use a good not-from-concentrate pineapple juice)
1 c. mint simple syrup, chilled
1 c. bourbon
1 c. cubed fresh pineapple
crushed ice
fresh pineapple wedges and mint leaves for garnish
Directions:
for the mint simple syrup:
In a medium saucepan, bring water to a boil over high heat. Add sugar and whisk until dissolved. Add mint sprigs and continue boiling for 1 minute. Remove from heat and let mint steep for 30 minutes while the syrup cools. Remove mint sprigs with a slotted spoon and discard. Transfer mint simple syrup to a bottle or jar with a top and place in the refrigerator to cool completely. This can be made up to several days in advance of making the sangria.
Hint:  Make a double batch so you have extra to add to other favorite drinks for minty sweetness…think lemonades and teas and mojitos!
for the sangria:
In a large pitcher, stir together wine, pineapple juice, mint simple syrup, bourbon, and cubed fresh pineapple. Test for flavor and adjust to taste. Place in the refrigerator until ready to serve. This can be made many hours prior to serving.
When ready to serve, fill a medium glass with crushed ice and a fresh mint leaf or two. Pour sangria over the ice. Add a fresh pineapple wedge for garnish.
from a farmgirl's dabbles
©
We participate in the Amazon Services LLC Associates Program, an affiliate advertising program designed to provide a means for us to earn fees by linking to Amazon.com and affiliated sites. See our disclosure policy for more info.