Sangria in Rosé, Bourbon, and Blue
Sangria in Rosé, Bourbon, and Blue is the perfect patriotic sangria, made with fruity rosé and fresh summer berries and cherries. Easy to make, this fruity sangria with bourbon is ideal for the 4th of July, BBQs, and anytime you need a pitcher cocktail for easy entertaining!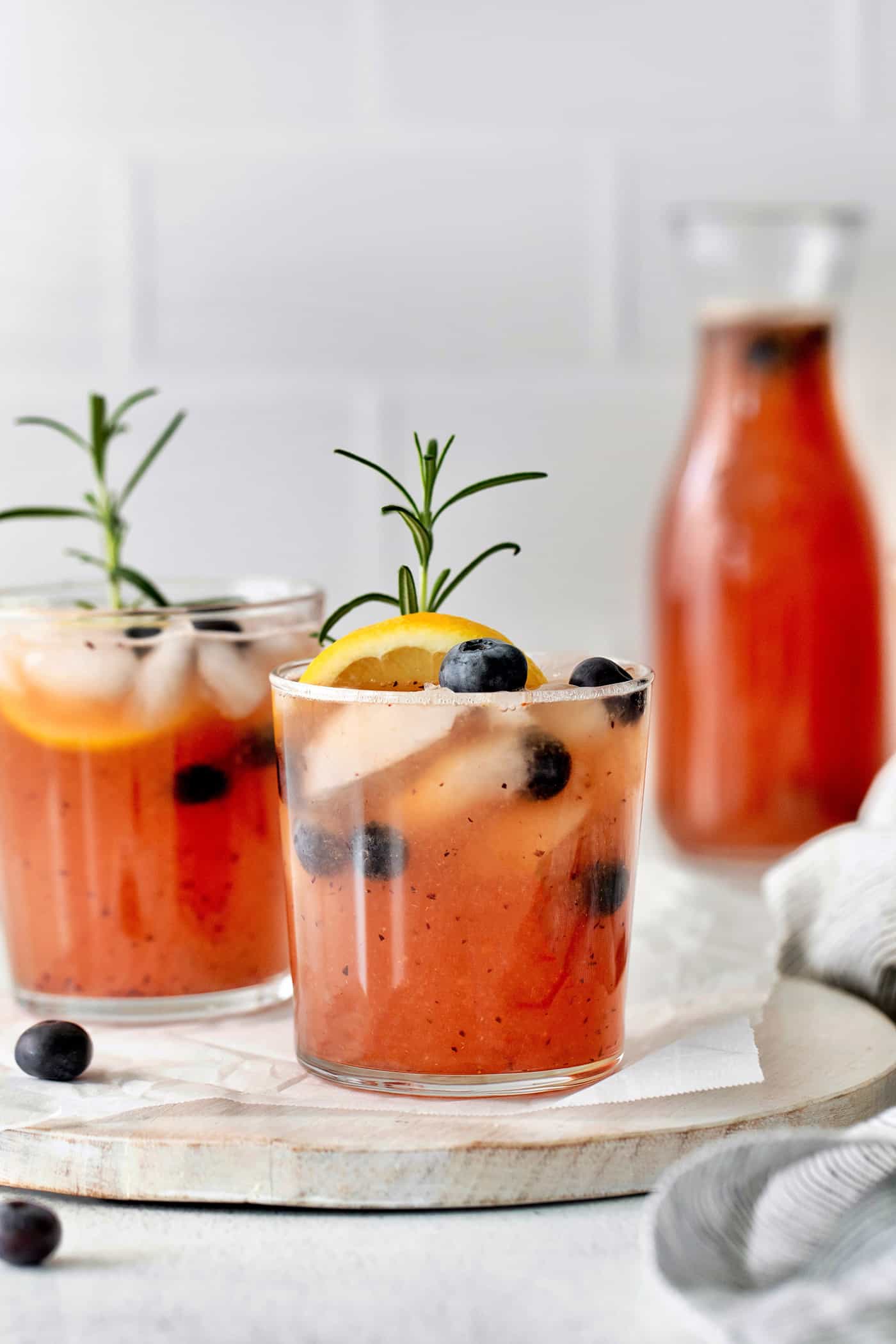 A Fruity Sangria with Bourbon
Sangria in Rose, Bourbon, and Blue. Ahhhhh…this sangria recipe has been a longtime favorite of mine!
A sangria with bourbon? If you haven't tried this, I implore you to make this top priority this summer entertaining season. Because it's the deep, sweet honey undertones of good bourbon that really sets this drink apart. And the fresh rosemary is stunningly delicious with the bourbon and fruits!
Made with fruity rosé and fresh summer berries and cherries, this cocktail is easily customizable. For a drier sangria, choose a dry rosé. Add less or more bourbon. Or change up the fruits – sweet, juicy peaches are also quite lovely, perfect for those steamy days of late summer.
And the big-time bonus with this rosé sangria recipe? This makes a pitcher's worth of drinks in one go – and that's pretty ideal when you have a backyard full of guests!
Another sangria with bourbon for you! This Apple Sangria with Bourbon & Thyme is filled with gorgeous fall flavors. When summer's over, pull out this fall sangria recipe!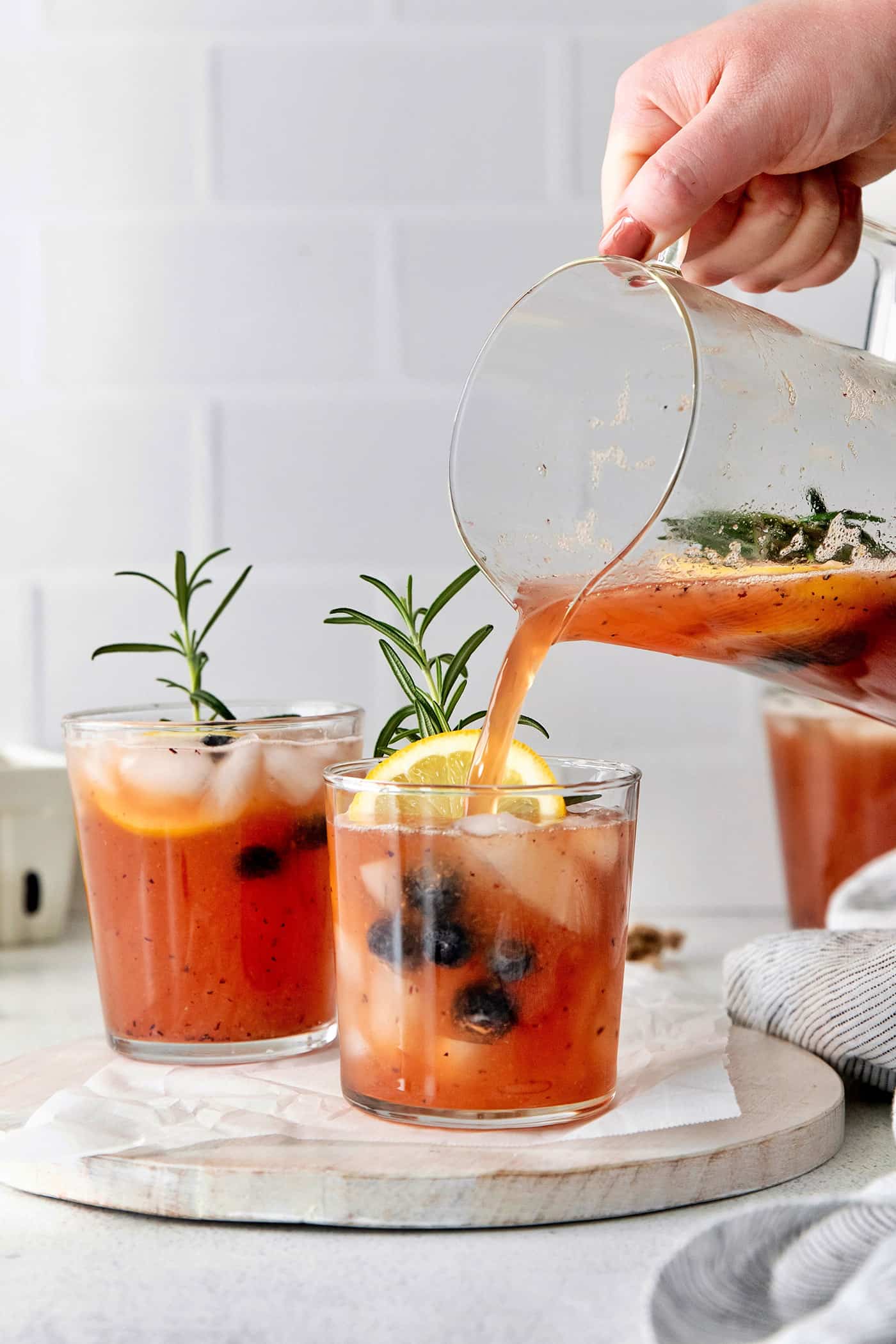 I was first introduced to this beautiful cocktail many years ago at a local blogger summertime BBQ. It was the drink of the evening, a recipe originally from bon appétit that another blogger (Molly) had adapted for our event. And then I made some changes to suit my own tastes after that. So you could say this recipe's been around the block. It's the perfect summertime sangria!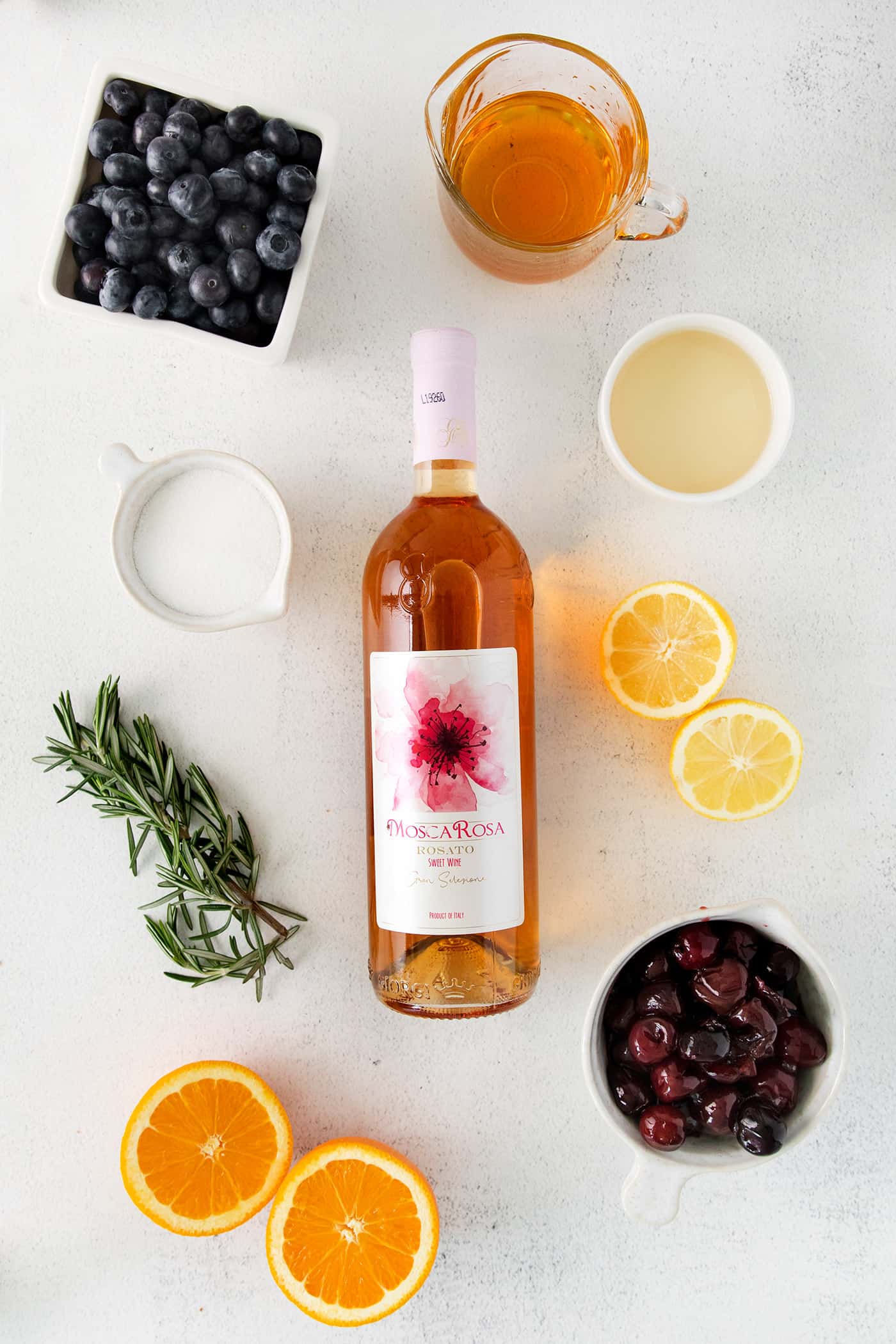 What You'll Need
I absolutely love that this bourbon sangria features fresh fruits and rosemary!
Sugar – I use "super fine" sugar, as it dissolves quickly without a gritty texture. You could also substitute some simple syrup.
Blueberries & cherries – The red and blue in this patriotic sangria!
Fruity rosé – Use a bottle of your favorite. Obviously, a sweeter rosé will give you a sweeter finished sangria.
Orange juice – Use freshly squeezed OJ for the freshest, best flavor.
Bourbon – Any bourbon you already like will work great.
Grand Marnier – Adds deeper citrus undertones to the fruity sangria.
Rosemary – Molly's addition and an ingredient I just love!
Lemon – Squeeze half of it for its brightly flavored juice, then thinly slice the other half to go in the pitcher.
Why Rosé?
Most sangrias are made with either red or white wine, but this one uses a fruity rosé. Why? Well, it keeps the focus on the fruits – so their natural flavors really pop. Plus, a fruity rosé keeps this drink lighter in body and overall flavor. It's a perfect match for summer.
Can I Make This Bubbly?
If you want to add a bubbly touch (not to mention lighten the drink and make a pitcher go even further!), you can top off each individual glass with chilled soda water. But please use soda water – not ginger ale or 7-Up! This is a sangria, not a big bowl of punch! ;)
Add the soda water directly to the glasses as you serve them. If you add the soda water directly to the pitcher, the bubbles will go flat quicker.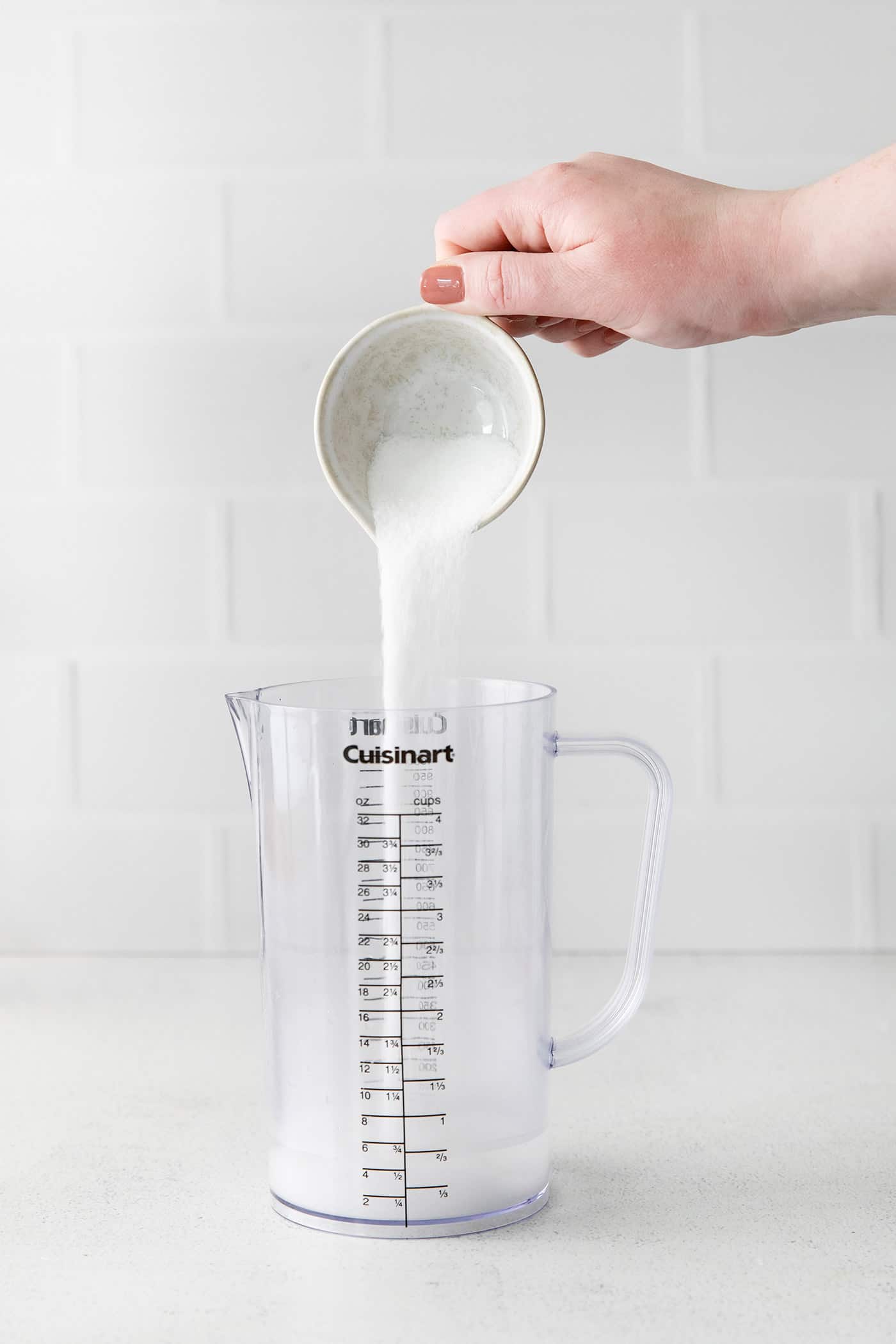 How to Make Sangria in Rosé, Bourbon, and Blue
I'm a big fan of a big-batch cocktail. A large pitcher comes together in minutes. No separate cocktails to mix as your guests are arriving – it's entertaining made easy!
Prepare the blueberries. Blend the sugar and hot water until the sugar dissolves. Add in the blueberries and blend until broken up. Strain the blueberry mixture and discard the solids.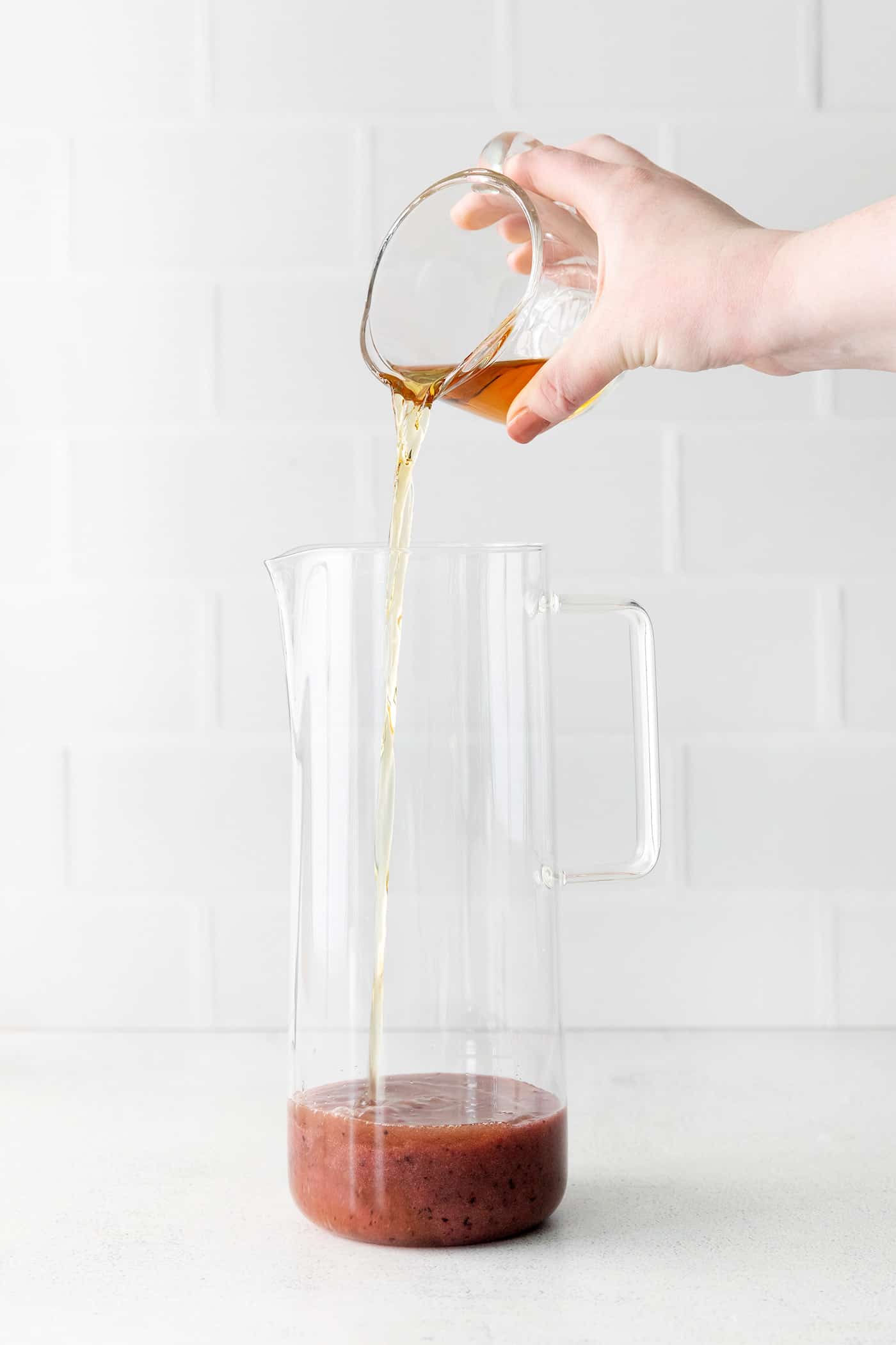 Combine the ingredients. Add the blueberry juice to a pitcher, then cut the rest of the blueberries in half and add them to the pitcher. Add the remaining ingredients. Stir to combine.
Chill and serve. Place pitcher in the fridge for at least 2 hours, to let the flavors mingle and chill. Pour into individual glasses over ice.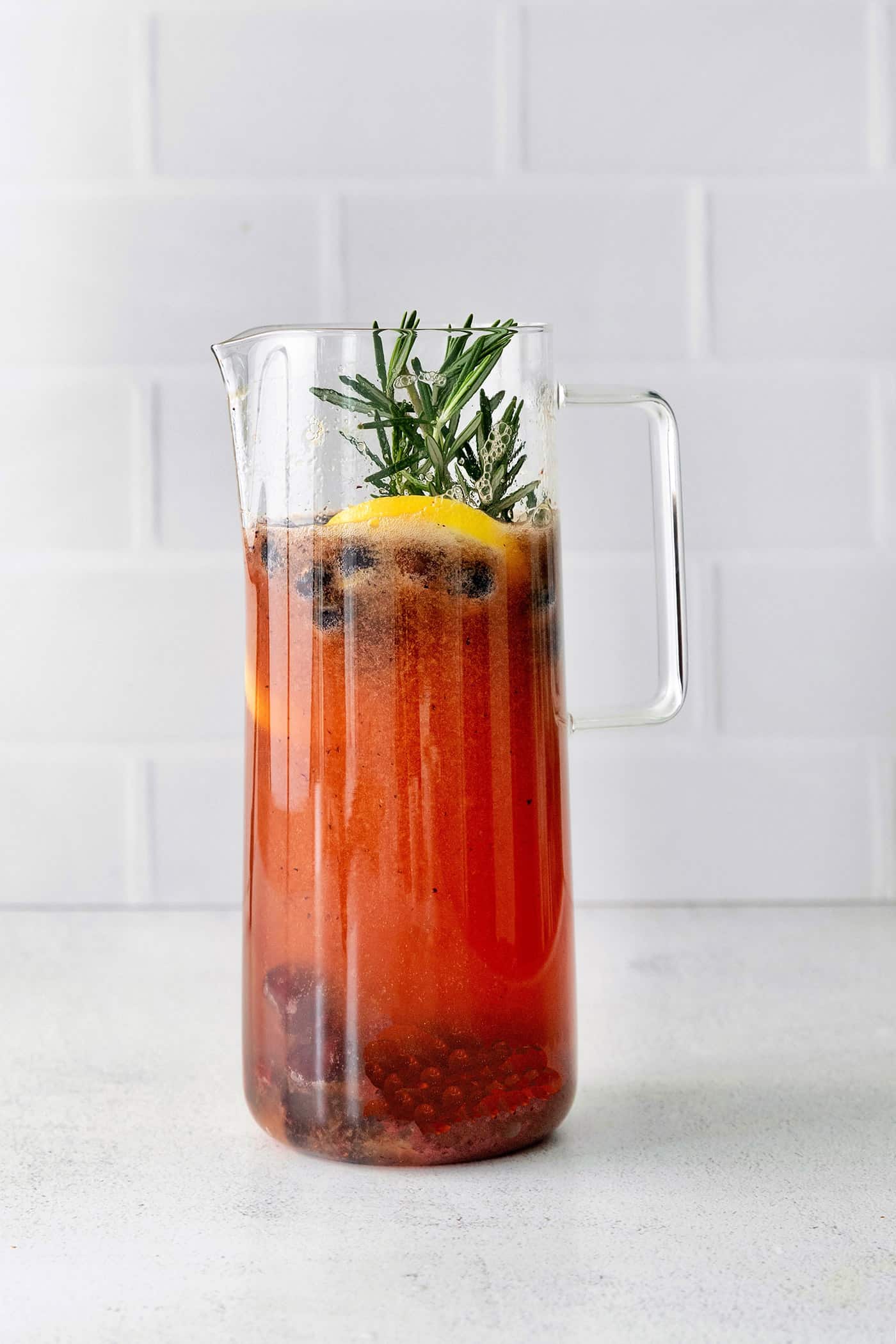 Recipe Variations
Here are a few ways to switch up this fruity sangria recipe.
Switch up the fruits. I added cherries for the red & blue fruit effect. But you can bet I'll be slicing up a couple of peaches for this drink when they're sweet and juicy later this summer. Plums would also be delicious!
Add tea if desired. I was curious about the black tea in the original recipe, so I tried it both ways. If you like tea, try it. It's very good with the bourbon, plus it can help add flavor while stretching out the pitcher. It's the perfect addition if you're looking for a sangria that's a bit more mellow.
Make it fruitier. While this is already a fruity sangria, if you want more you can go ahead and add more fruit juice.
Swap out the bourbon. Not a bourbon fan? No problem. Whiskey or rum would also work well.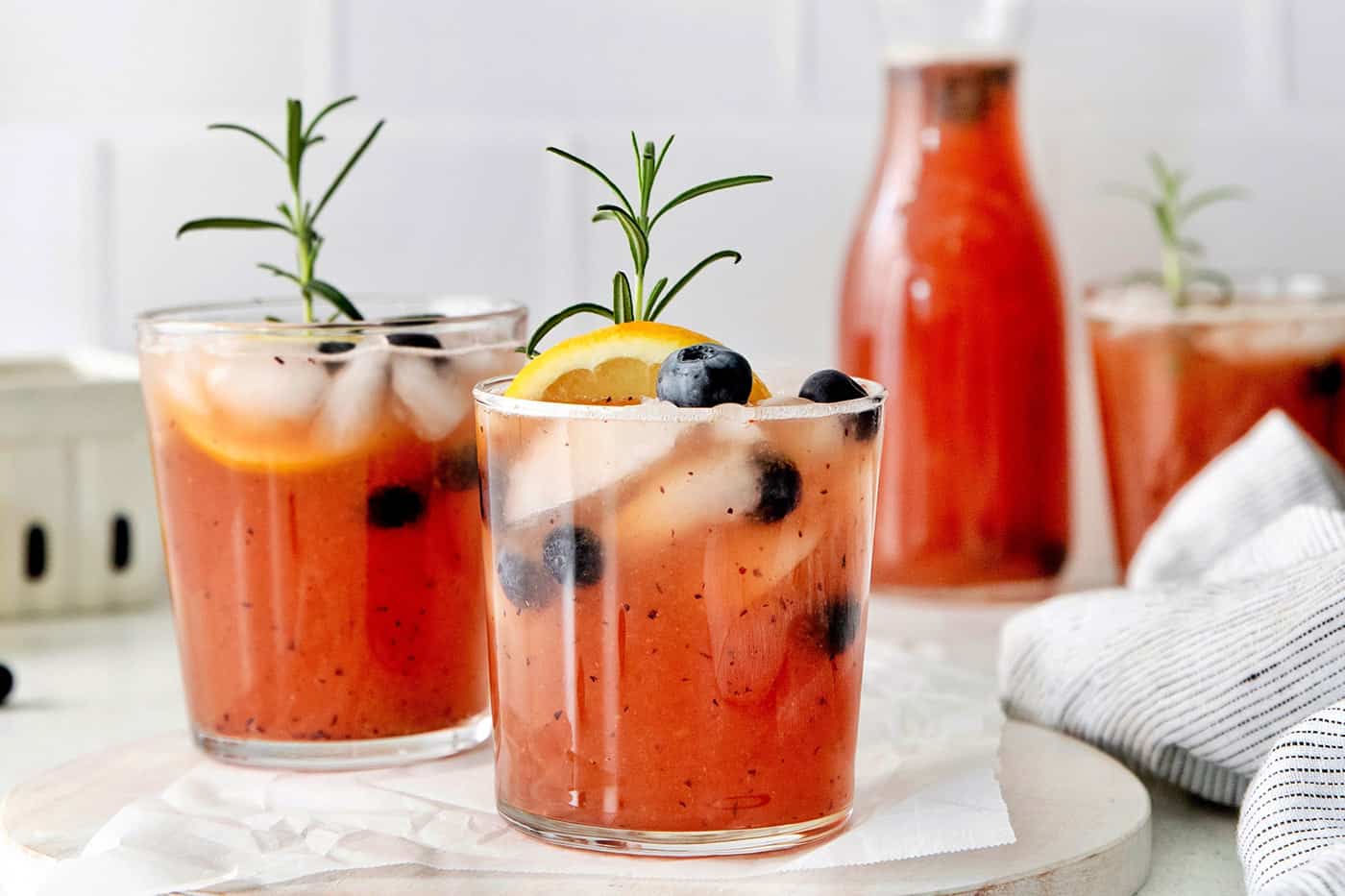 Serving Suggestions
A hot summer day begs for a well-chilled sangria. Serve this drink over ice in individual glasses and add in some extra fresh fruit as desired. I also like to include a small sprig of fresh rosemary. Not only does this work with the flavors, but it also smells divine!
This makes the perfect Memorial Day or 4th of July sangria, for sure – but I don't recommend reserving it only for our country's patriotic holidays. This drinks deserves to be made all summer long!
Can I Make This in Advance?
While it is best to let the flavors mingle and chill for at least 2 hours, I do not recommend making it tooooo far in advance. You want the flavors and the rosé to have a fresh flavor. So I'd suggest mixing it up no more than 4 hours in advance.
More Summer Cocktail Recipes:
Like this recipe? Save it to Pinterest!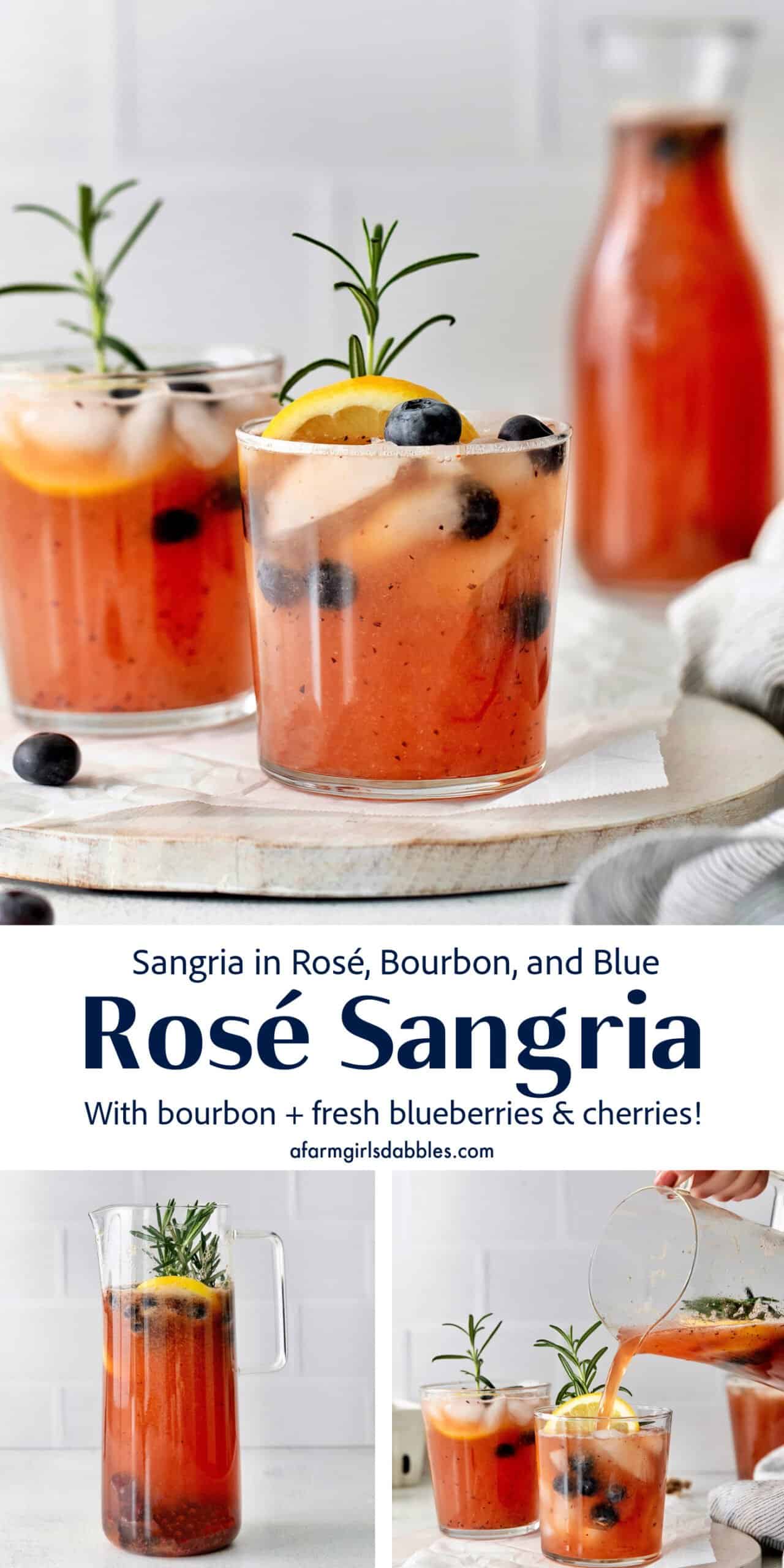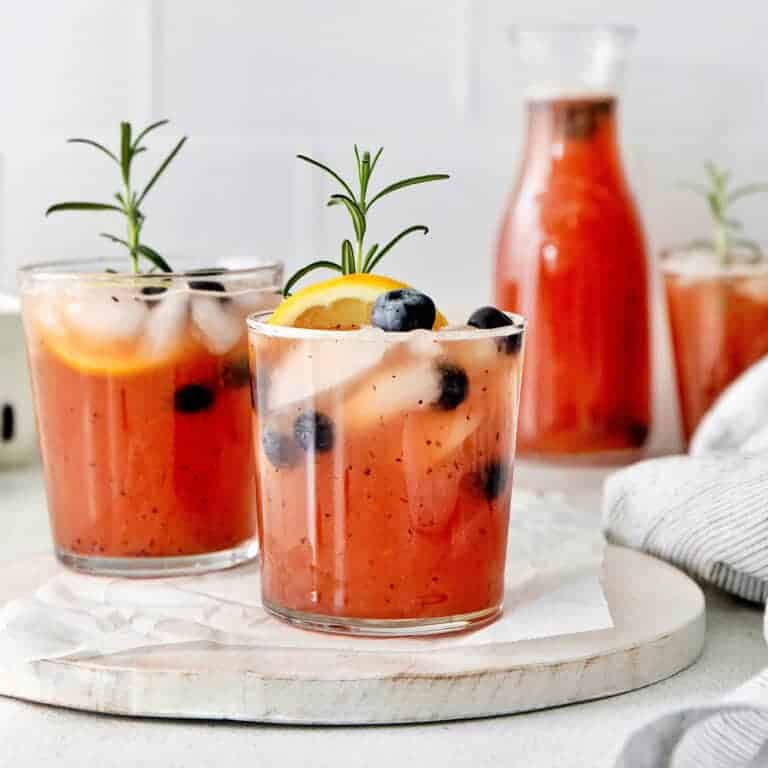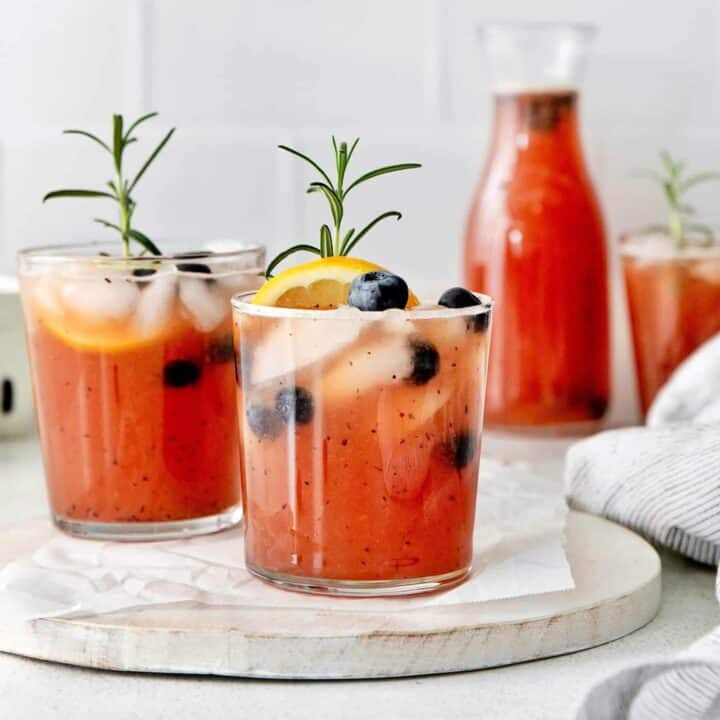 Sangria in Rosé, Bourbon, and Blue
Yield: 6 to 8 drinks
Prep Time: 5 minutes
Total Time: 5 minutes
Made with fruity rosé and fresh summer berries and cherries, Rosé, Bourbon, and Blue is the perfect patriotic sangria. Ready in minutes, this fruity sangria with bourbon is ideal for 4th of July, BBQs, and anytime you need a pitcher cocktail in a pinch.
Ingredients
1/3 cup super fine sugar
2 cups fresh blueberries, divided
1 cup pitted and halved fresh sweet dark cherries
1 bottle (750 mL) fruity rosé
2/3 cup freshly squeezed orange juice
1/2 cup good quality bourbon
2 tablespoons Grand Marnier or other orange liqueur
1 big sprig fresh rosemary
1 large lemon, one half squeezed for its juice, the other half thinly sliced
optional garnishes of blueberries, cherries, lemon slices, and rosemary sprigs
Instructions
In a small bowl with tall sides, combine sugar with 1/3 cup hot water. Using an immersion blender, blitz until sugar dissolves. (Or use a food processor or blender.) Add 1-1/2 cups of the blueberries and blitz again, until blueberries are completely broken up. Then set a strainer over a bowl and add the blueberry mixture. Strain the blueberry mixture, pressing on the solids to extract as much liquid and blueberry flavor as possible. Discard solids.
Pour blueberry liquid into a medium-large pitcher. Cut the remaining 1/2 cup blueberries in half and add to the pitcher. Then add the cherries, rosé, orange juice, bourbon, Grand Marnier, rosemary, lemon juice, and lemon slices. Stir together and then place in refrigerator until thoroughly chilled, about 2 hours.
To serve, fill individual glasses with ice and pour sangria over the ice. Garnish with additional blueberries, cherries, lemon slices, and rosemary if desired.
Notes
Adapted greatly from original recipe in bon appétit, with changes from Molly McNeil incorporated.
Nutrition Information:
Yield: 8
Serving Size: 1
Amount Per Serving:
Calories: 144
Total Fat: 0g
Saturated Fat: 0g
Trans Fat: 0g
Unsaturated Fat: 0g
Cholesterol: 0mg
Sodium: 20mg
Carbohydrates: 26g
Fiber: 2g
Sugar: 21g
Protein: 1g
Nutrition information is automatically calculated by Nutritionix. I am not a nutritionist and cannot guarantee accuracy. If your health depends on nutrition information, please calculate again with your own favorite calculator.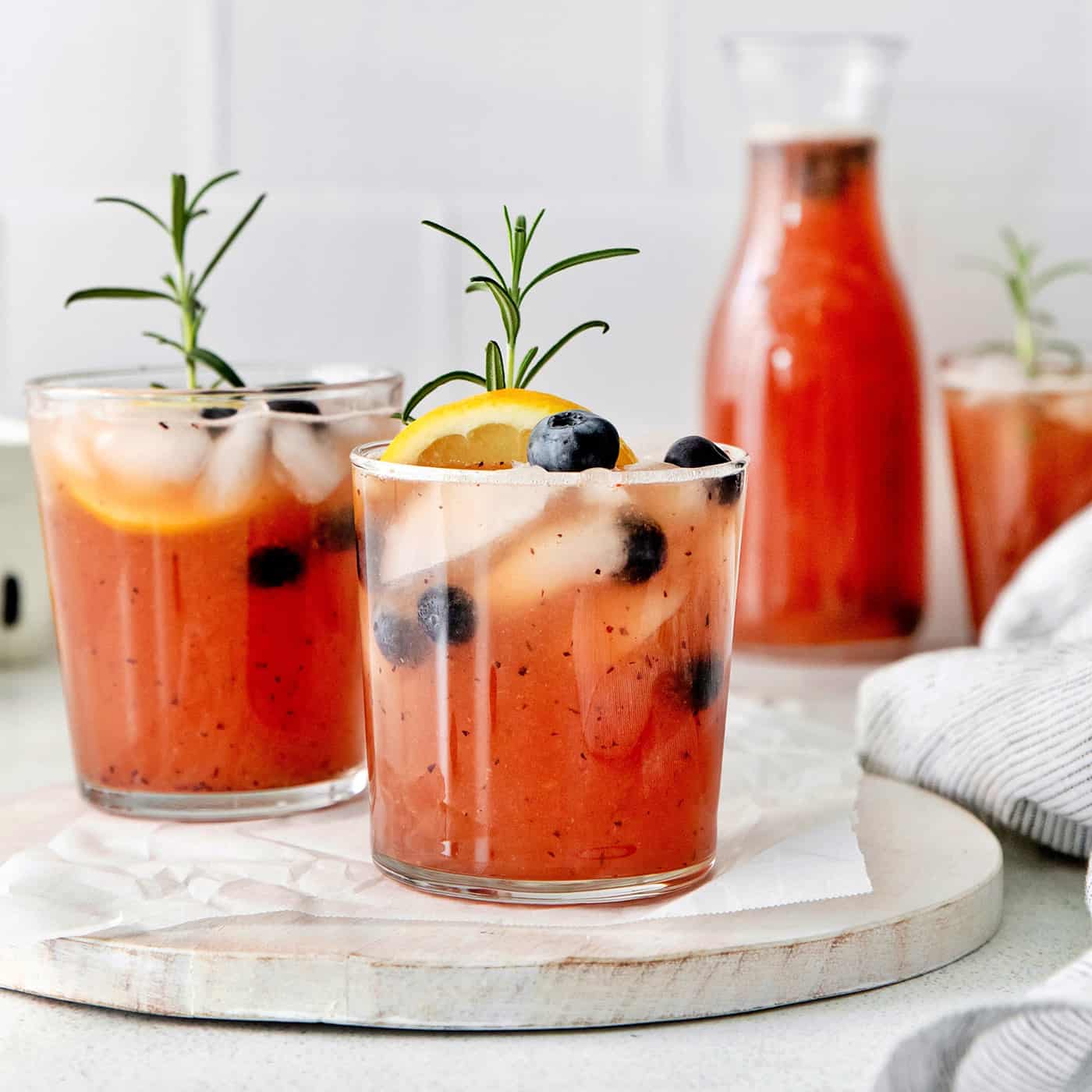 This post was originally published in 2013, updated in 2022.