Bacon Bourbon Old Fashioned
This post may contain affiliate links to products we use and love.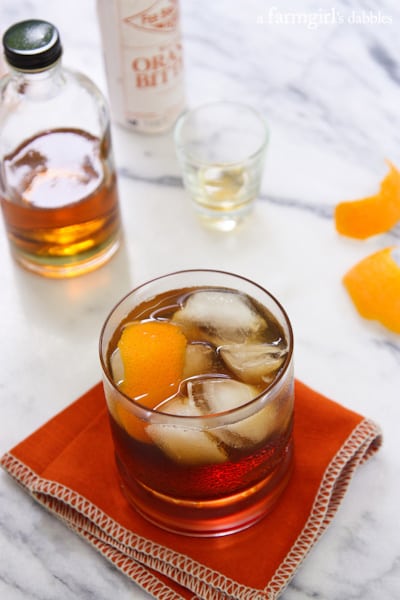 I am so excited to share this Bacon Bourbon Old Fashioned with you! It's a wonderful little bevvy, strong yet smooth and a little bit sweet, that I've wanted to replicate since I visited Nantucket last fall with the National Pork Board for the 2013 Pork Crawl.

So when the National Pork Board asked me if I'd share with my readers my own personal #PorkBucketList, a dream list of ways I'd love to experience pork in new ways, it took me all of two seconds to come up with the first item I wanted to tackle. You guessed it. My mouth was watering, waiting to infuse a bottle of bourbon with the awesomeness of bacon. You have to check out this recipe at the end of this post, courtesy of the Boarding House in Nantucket.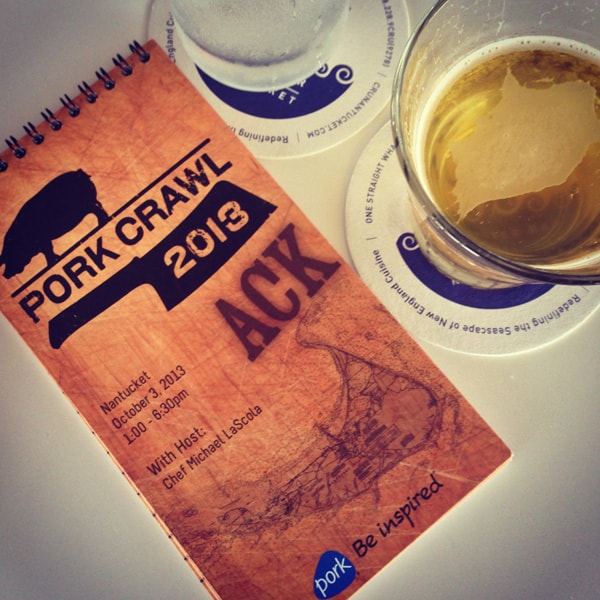 My trip to Nantucket last year to attend the Pork Crawl ranks extremely high on my list of awesomely cool places I've been, things I've done. The location, the people, the food. It was an experience I'll never forget. It was the ultimate item for a #PorkBucketList, for sure!
I always knew that pork was extremely versatile in its preparation and flavoring, but walking through the Pork Crawl and eating several pork dishes at each of the nine restaurants in one glorious fall afternoon…well, I'll just say my world of pork was opened up even wider. See my recap for a little Nantucket scenery in autumn, plus a whole lot of fun and inspiring pork dishes. Also be sure to check out the National Pork Board's video. It's such a great summary of the time we spent together on the Pork Crawl.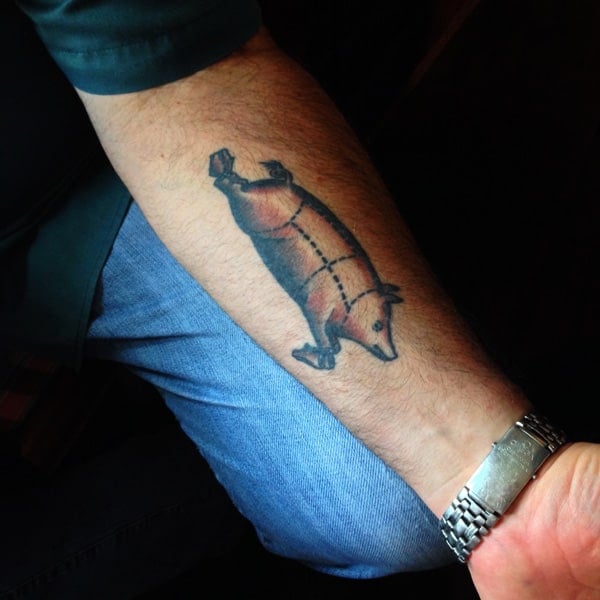 I had nothing but admiration for the dedication of the National Pork Board and the Nantucket restaurant owners and chefs. They were bent on spreading the good word about pork.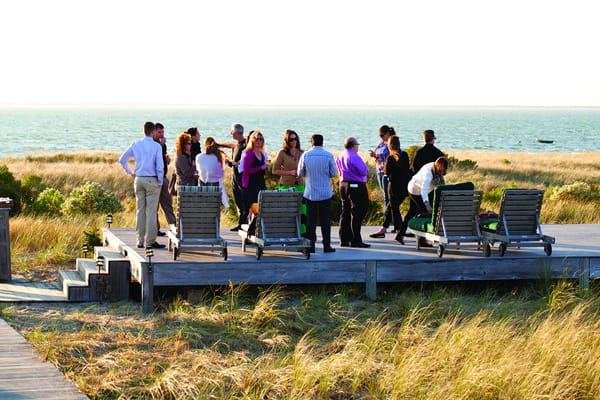 (Photo is property of the National Pork Board.)
And I had nothing but awe for the island and town of Nantucket. Imagine sipping chilled bubbly at sunset, nibbling on exquisite little pork appetizers, plus oysters harvested just 300 yards off the harbor, on the pristine beachfront of The Wauwinet. I pinch myself. It feels like something from a dream.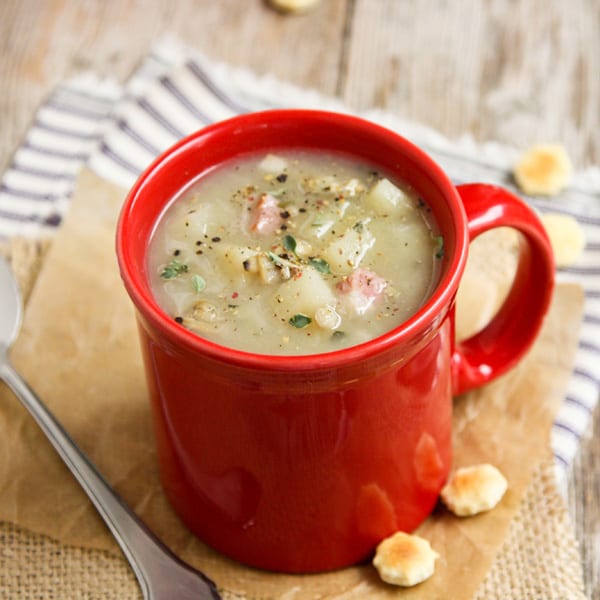 It was at TOPPER'S at The Wauwinet where we got a lesson in chowder history, plus a demonstration. We learned that pork is the foundation of all good chowder. Stephen Gerike of the National Pork Board shared his recipe for New England Clam Chowder with Salt Pork Belly, which I quickly recreated once I landed back home in Minnesota. Maybe this chowder could be added to your own #PorkBucketList? (hint, hint!)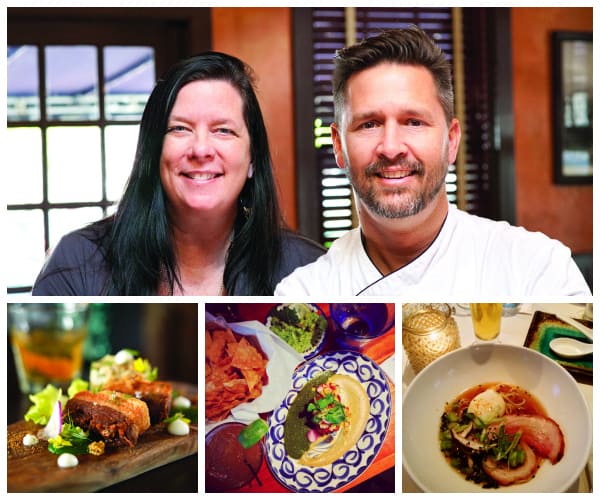 (Top photo and lower left photo are property of the National Pork Board.)
If I could only recreate every other wonderful pork dish from the Pork Crawl, in the same fashion, I'd be one very happy girl with a very happy family. We all love pork.
If you check out my recap, you'll see all nine restaurants from the Pork Crawl, highlighting their pork creations. Today I am focusing on Chef Seth Raynor and his wife Angela, co-owners of three very different and very awesome restaurants in Nantucket. Their restaurants hold the rights to a few of my favorite dishes from the Crawl. I love how these three dishes showcase the versatility of pork from cuisines around the globe.
From left to right:
Crispy Pork Belly with Creamy Potato Salad, Pickled Mustard Seeds, and Watercress Coulis from the Boarding House
Crisp Pork Carnitas with Fresh Corn Salsa over a Plantain and Coconut Purée from Corazon Del Mar
Berkshire Pork Belly Ramen from The Pearl
Experiencing any (all?!) of these three amazing dishes would be a fabulous addition to anyone's #PorkBucketList!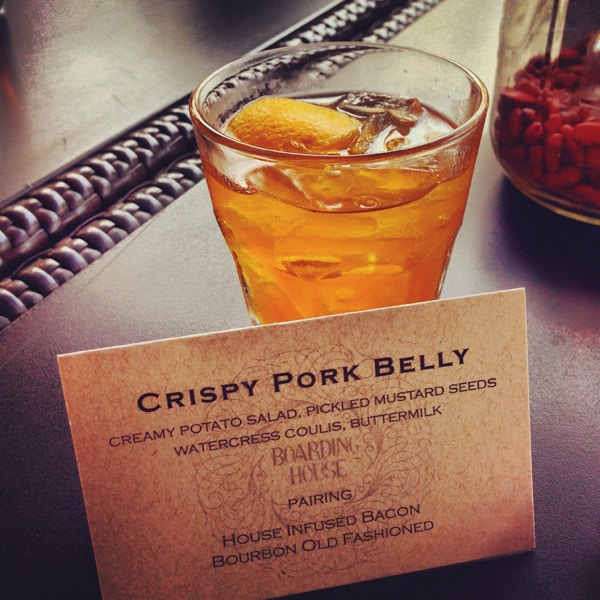 While at Chef Raynor's Boarding House, I ventured a new way with pork with my first bacon infused beverage. Quite candidly, I was skeptical when I first saw that drink listed on the little menu card when I sat down at the table. But one sip was all it took to draw me in to that house infused bacon bourbon old fashioned.
Which leads us back to the #PorkBucketList…
So here goes. Here's my #PorkBucketList, a collection of pork deliciousness that I'd love to see come to reality!
Brenda's #PorkBucketList
Recreate the Bacon Bourbon Old Fashioned from the Boarding House. (check!)
Take a class to learn more about charcuterie. And eat it while I'm learning about it!
Share an over-the-top pork meal with my husband at Butcher & the Boar, one of our favorite Twin Cities restaurants.
Make pork hocks and sour kraut, like I remember Mom doing when I was a kid.
Take in the bo ssäm pork shoulder experience at momofuku ssäm bar in New York City.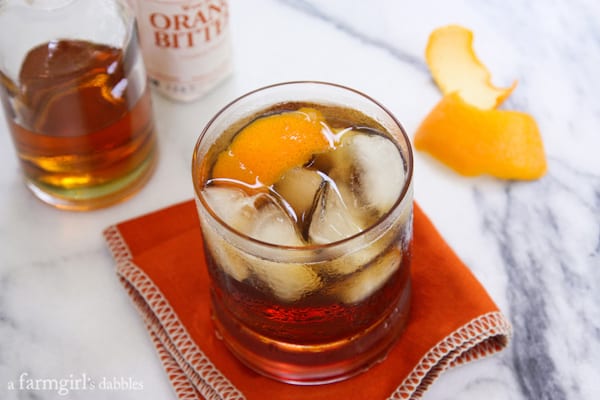 Be sure to grab the recipe below and make yourself one of these old fashioneds. I love how the subtle sweetness of the maple syrup and orange bitters plays with the hint of smoky bacon in this drink. Even my husband, the straight-up drinks sort of guy who doesn't want any amount of sweetness in his cocktail glass, likes this bevvy. I'd take that as a serious compliment to this drink if I were you!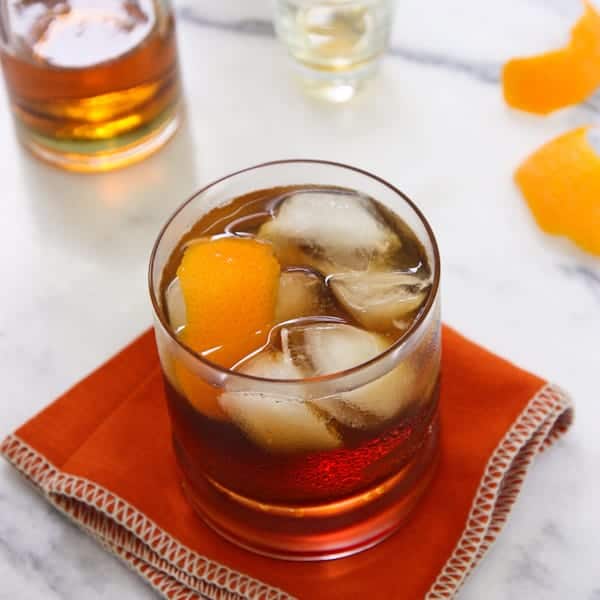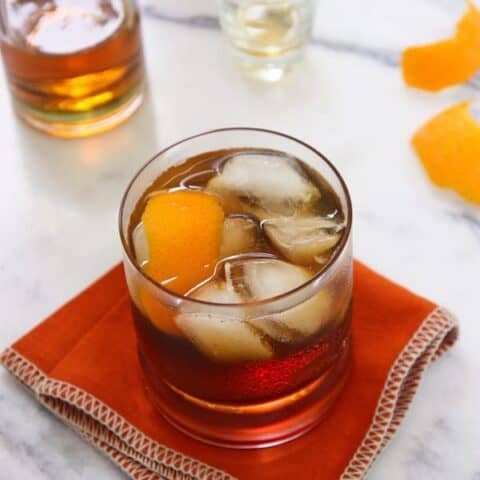 Bacon Bourbon Old Fashioned
Yield: 1 drink
Prep Time: 10 minutes
Additional Time: 6 hours
Total Time: 6 hours 10 minutes
It's a wonderful little bevvy, strong yet smooth and a little bit sweet.
Ingredients
for the bacon bourbon old fashioned:
2 oz. bacon bourbon (see recipe below)
(see recipe below)
3/4 oz. grade A pure maple syrup (I used grade B and it was still wonderful.)
(I used grade B and it was still wonderful.)
(I used Fee Brothers West Indian Orange Bitters)
1 piece of fresh orange peel
for the bacon bourbon:
2 oz. bacon fat, melted (the smokier the bacon, the better)
(the smokier the bacon, the better)
1  750-ml bottle of bourbon
Instructions
for the bacon bourbon old fashioned:
In a cocktail shaker, combine bacon bourbon, maple syrup, a few dashes of bitters, and ice. Shake and strain into a rocks glass.
If desired, fill glass with ice first. Garnish with an orange peel.
for the bacon bourbon:
In a medium non-porous bowl or pot (big enough to hold the bourbon) with a lid, combine bacon fat and bourbon. Cover and let stand at room temperature for 6 hours. Place in freezer overnight. Strain liquid from solids using a double layer of cheesecloth set over a colander.
Reserve bourbon and pour back into original bourbon bottle or other bottle of your choice. Discard cheesecloth with bacon fat.
Disclaimer: This blog post is sponsored by the National Pork Board. All opinions are my own. Thank you for supporting the brands I love that help make this site possible!
We participate in the Amazon Services LLC Associates Program, an affiliate advertising program designed to provide a means for us to earn fees by linking to Amazon.com and affiliated sites. See our
disclosure policy
for more info.