Raspberry Smash
Made with your favorite vodka, tropical St. Germain, and bubbly club soda, Raspberry Smash is cool, refreshing and oh-so-pretty. It's a cocktail that's perfect for celebrating both the big and not-so-big-moments in life.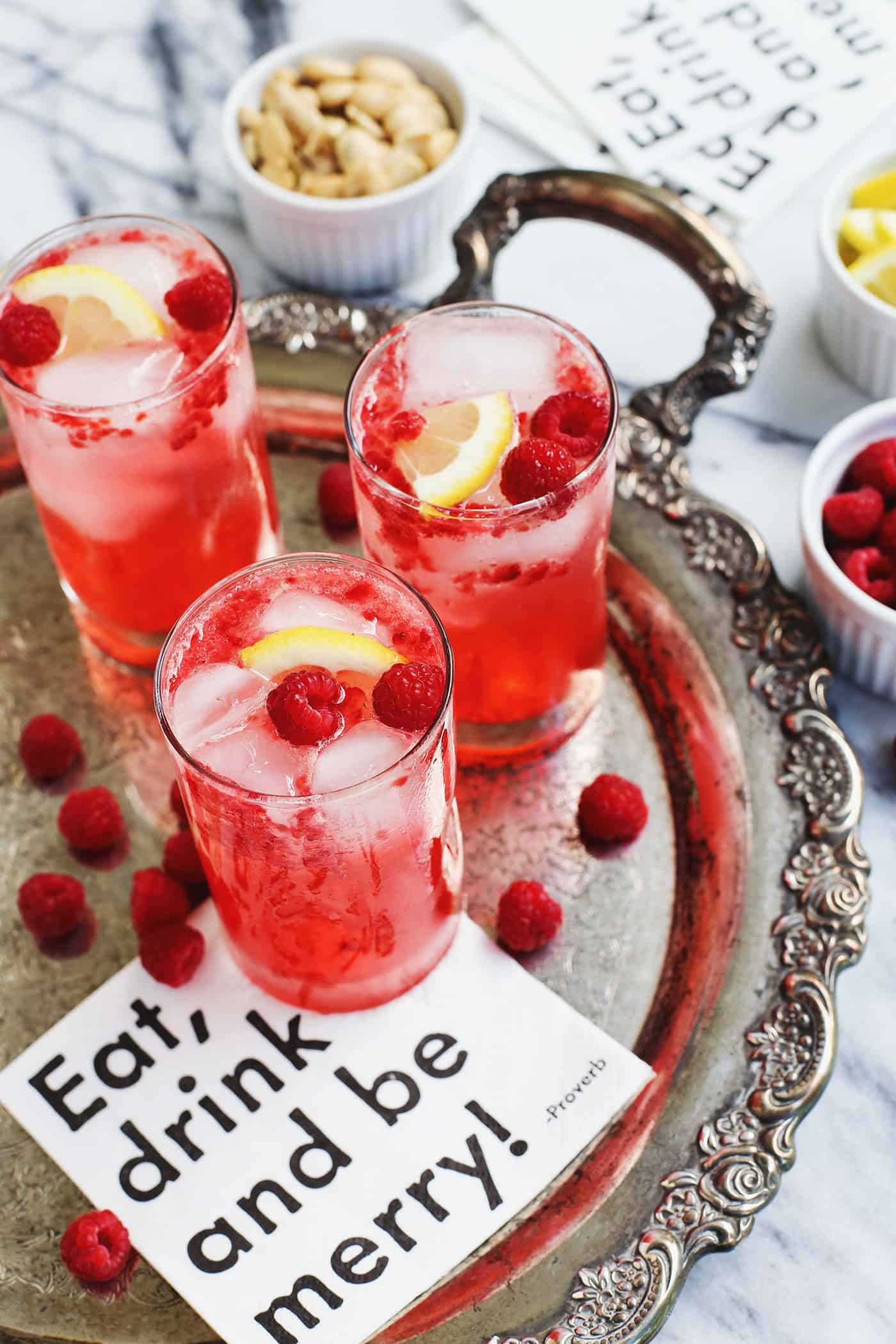 An Easy Summer Cocktail
I love a reason to celebrate, big or small, because life is just too short to miss out on spreading a little more happiness with those who are near to us. A dear friend of mine shared a tidbit of her own merriment philosophy with me a number of years ago, telling me how a glass of bubbles always sets an upbeat tone for the special moments that she celebrates. And I've taken her words to heart. There's just something about the joy-filled enthusiasm of effervescence. A chilled glass of bubbly is how I now prefer to start any special meal or get-together. It just feels right.
This Raspberry Smash isn't the typical bubbly beverage I was alluding to from a sparkling wine or Champagne. It's pretty much a cocktail, or mixed drink, with a big splash of bubble-filled club soda. This fruity beauty has been starting off the special occasions around here, ever since our raspberry patch started filling our pails with its ruby bounty this past summer. The raspberry smash is extraordinary enough to celebrate the trophy moments in our lives, and ordinary enough to simply raise a toast to getting through another work week.
This raspberry mixed drink is made with just a handful of ingredients and comes together in less than 5 minutes. The main ingredients, besides the raspberries, of course, are vodka and St. Germain liqueur. It's been about a year now that I've been enamored with the loveliness of St. Germain liqueur. I used to shy away from it, knowing it was made from elderflower. Flowers are beautiful to look at, but have never been a favorite of mine to eat or drink. But one well-mixed cocktail was all it took to change my mind. I found this liqueur to be softly bright and fragrant, with hints of pear and tropical fruits, and have started adding it to more and more cocktails.
Even though I've made it time and time again, I truly cannot get enough of this Raspberry Smash! I know I'll be so disappointed when raspberries are no longer in season!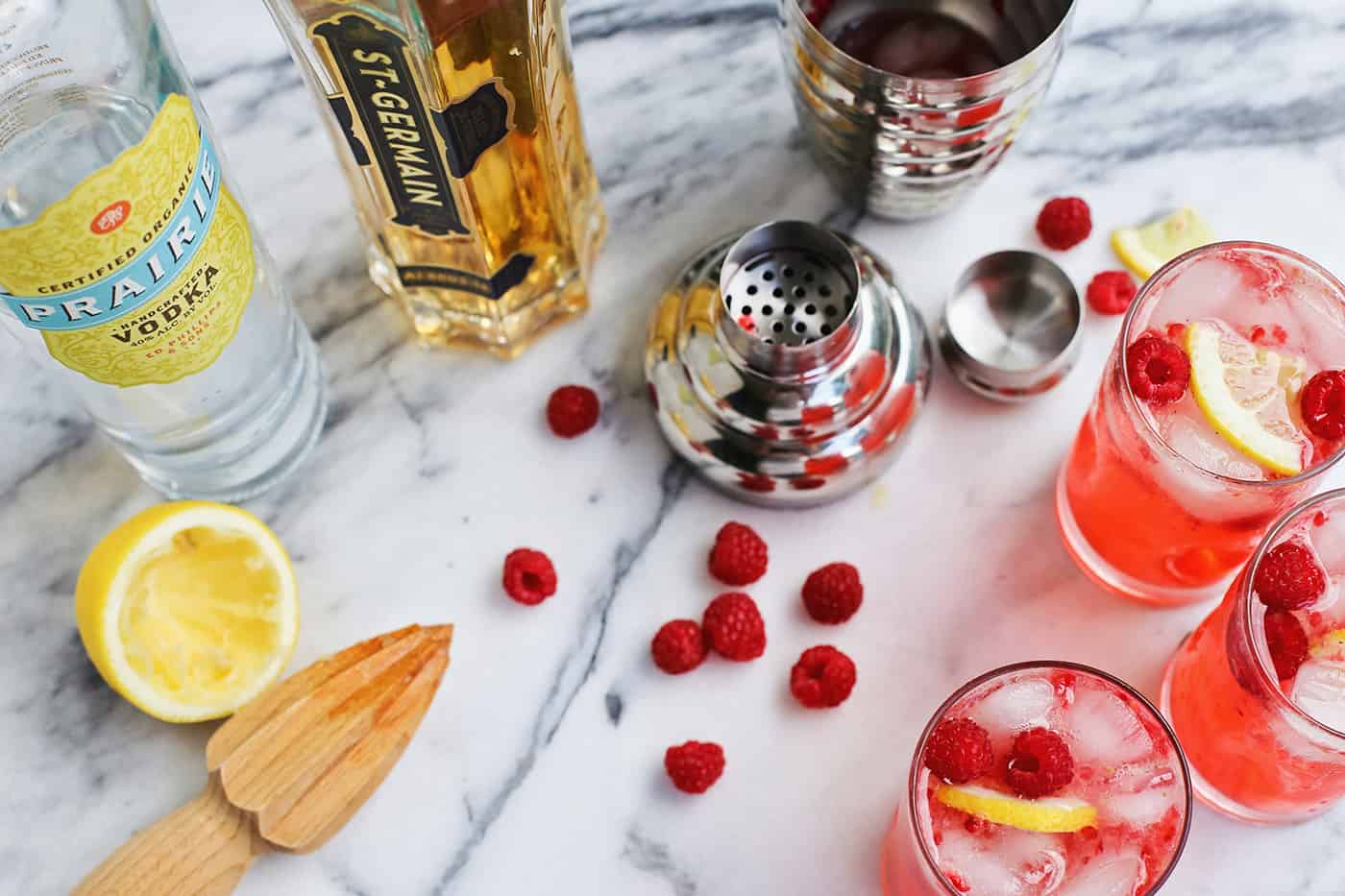 What is a Smash Cocktail?
The smash is an open-ended cocktail, flexible in its spirits and fruits. Usually diluted with seltzer or club soda, and many times served in a tall ice-filled glass, this drink is true refreshment. Plus, it's fun to make. Or smash, as the name implies. With a muddler or the back of a spoon, the raspberries in this drink get a quick smash, adding ruby red color and natural berry flavor.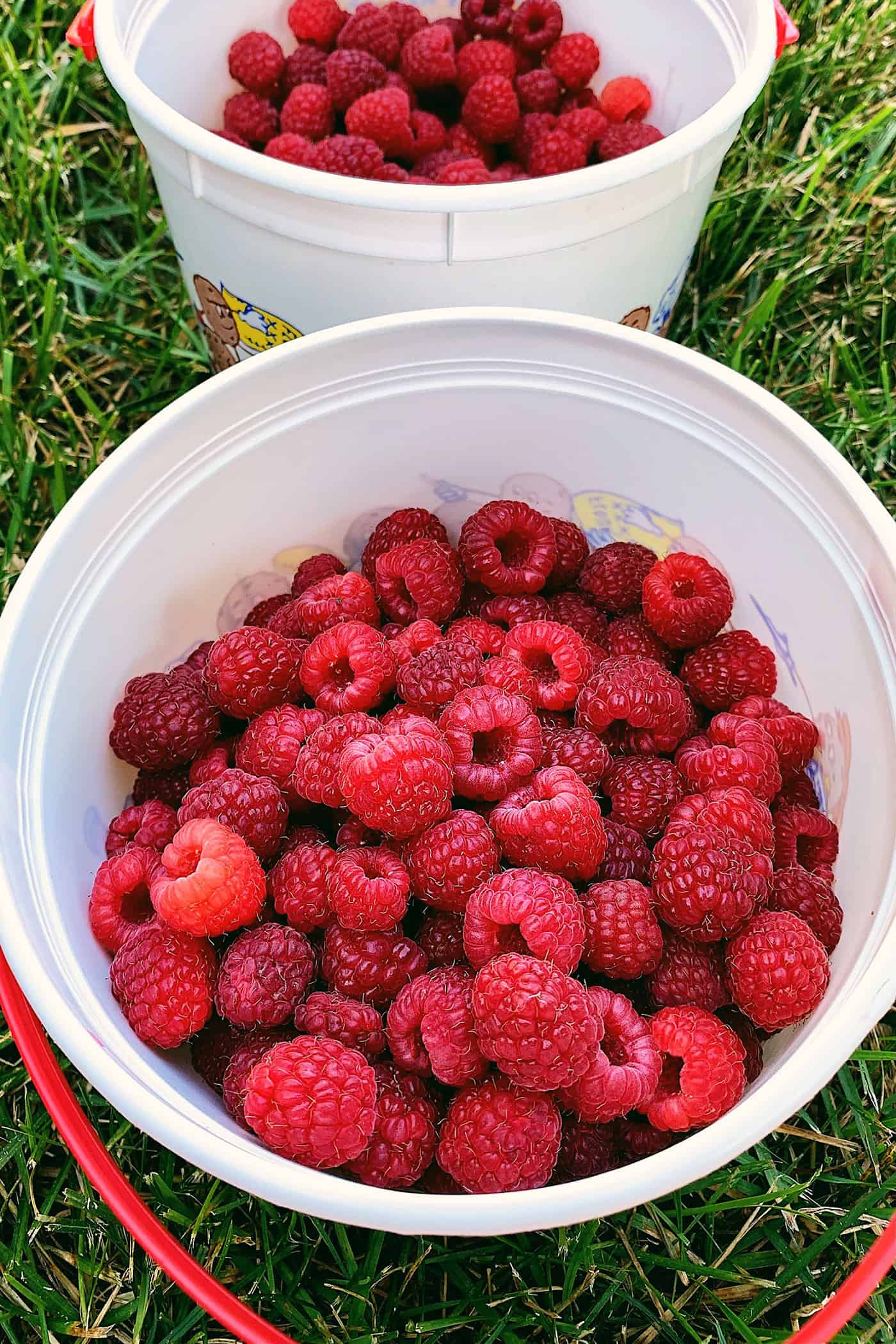 What You'll Need
There are just 6 ingredients in this raspberry cocktail! If you ever make mixed drinks at home, you probably have most of these on hand already.
Raspberries – You'll want fresh raspberries, not frozen, for this cocktail.
Vodka – Use your current favorite vodka or give this Prairie Organic Vodka a try. Made in Minnesota, where I'm from, I'm happy to toot its Midwestern horn. After several recommendations from trusted sources, plus finding out that it's highly awarded, I bought our first bottle. Now it's our "house vodka."
St. Germain Liqueur – Adds a bright and fragrant taste to this cocktail.
Simple syrup – You can make your own by boiling sugar in water on the stovetop or buy some at the store.
Lemon juice – You'll want freshly squeezed lemon juice.
Club soda – A splash is added at the end to top off this cocktail.
Fresh lemon – Used as a garnish to brighten up the drink.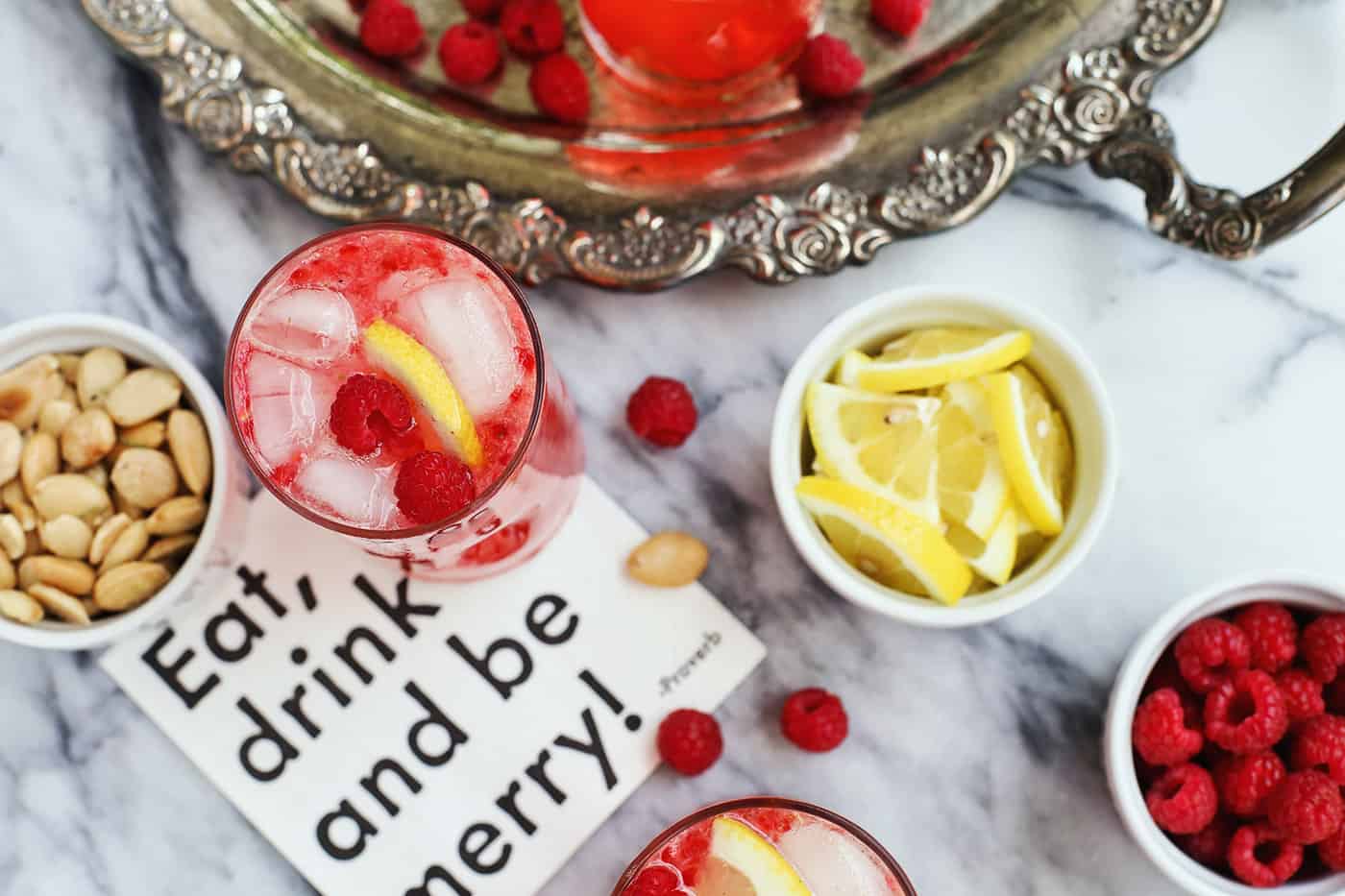 How to Make a Raspberry Smash Cocktail
The great thing about mixed drinks like this is that they are so easy to make! This Raspberry Smash is ready in under 5 minutes!
Muddle the berries. Crush the berries in a cocktail shaker with a muddler or the back of the spoon.
Add the other ingredients. Add all of the ingredients except for the club soda to the shaker. Shake for 15 seconds, until liquid is chilled.
Garnish and serve. Strain into a glass over ice, then top with club soda. Garnish with lemon and additional raspberries. Enjoy!
Tips for Success
With just two steps, it's all but impossible to mess up this cocktail.
Use fresh ingredients. The raspberries and lemons used in this recipe should be fresh. Avoid frozen berries or bottled lemon juice.
Use decent quality liquor. While you certainly don't need top-shelf vodka for this mixed drink, you will be able to taste some of the flavor so aim for at least a decent quality vodka.
Make your own simple syrup. If you don't have any simple syrup on hand, you can make your own by boiling equal parts water and sugar, and then allowing it to cool.
Adjust the sweetness. Are your raspberries a little extra tart? You can easily adjust the sweetness of this cocktail by adjusting the amount of simple syrup used to sweeten it.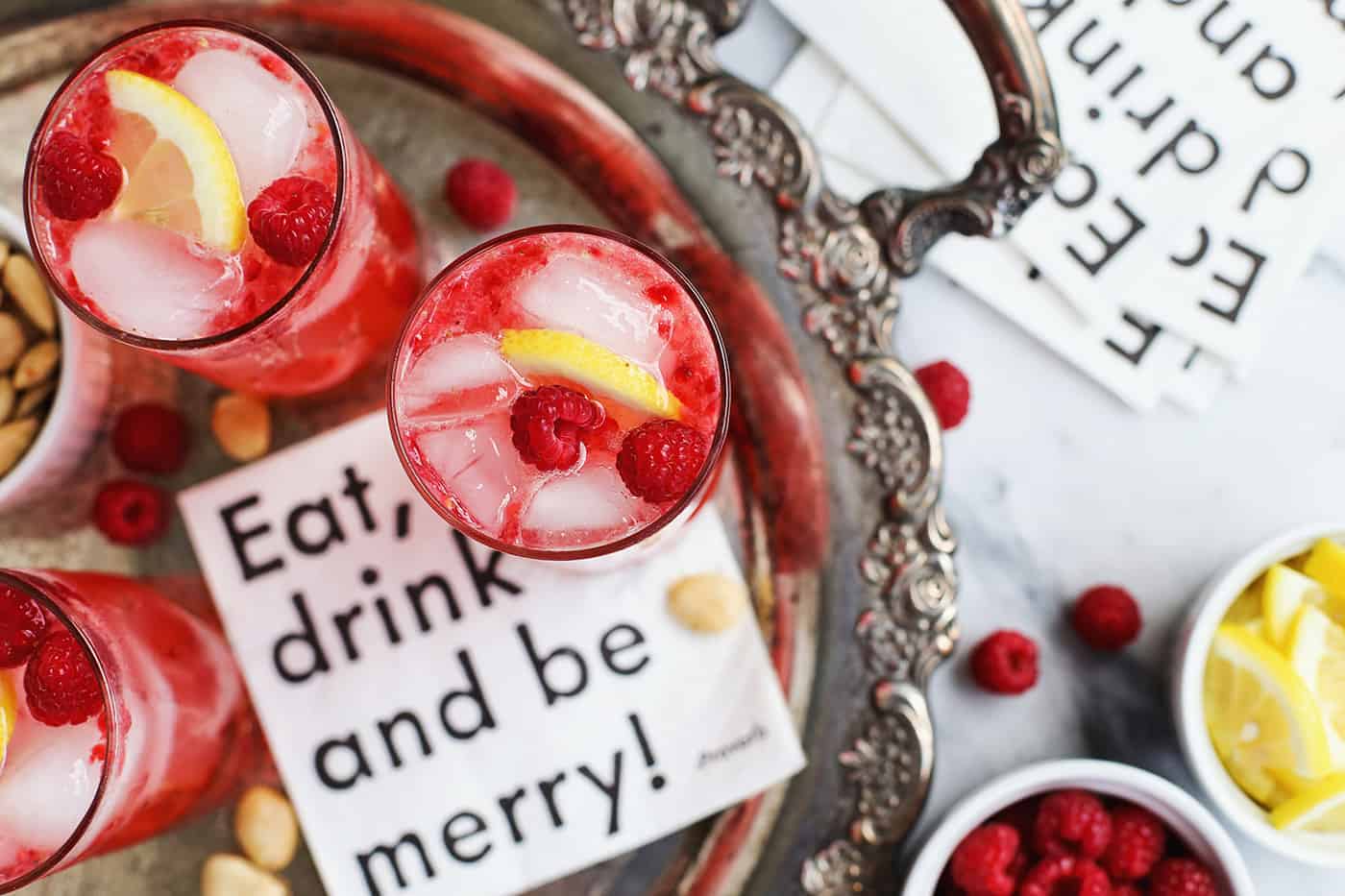 Smash Cocktail Variations
This Raspberry Smash is just the beginning of the possibilities. With a recipe as simple as a smash cocktail, it's expected that there be many different variations. Here are a few ideas.
Use different fruit. Pretty much any type of berry can be used in a smash cocktail. Think strawberries, blueberries, blackberries or even a combination of them all!
Use different alcohol. You can also make a smash mixed drink with white rum, gin or bourbon. Basically, whatever your favorite alcohol is, you can use it in a variation of this cocktail!
Make a pitcher. If you're preparing this for a crowd, you can easily muddle the berries in the bottom of a pitcher. Just multiply the ingredient amounts by the number of drinks you intend to make.
Can I Make This Ahead?
You can make this cocktail a few hours in advance, especially if you're making a pitcher of it for a group. Prepare the cocktail as normal, strain it, and place it in the fridge. Wait until serving to add the ice and club soda or you'll end up with a watered-down cocktail.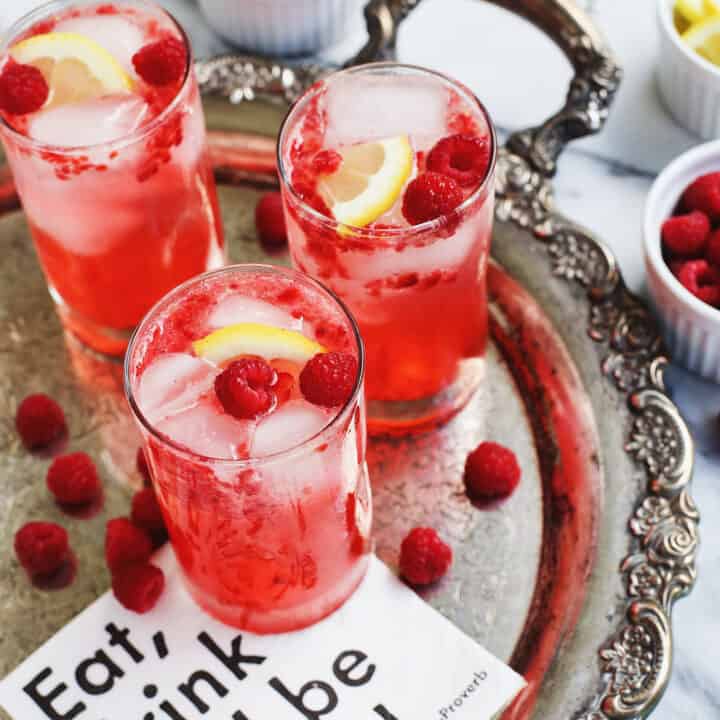 Raspberry Smash
Yield: 1 cocktai;
Cook Time: 5 minutes
Total Time: 5 minutes
Made with your favorite vodka, tropical St. Germain, and bubbly club soda, Raspberry Smash is cool, refreshing and oh-so-pretty. It's a cocktail that's perfect for celebrating both the big and not-so-big-moments in life.
Ingredients
10 Fresh Raspberries, Divided
Ice, As Needed
2 oz. fluid Vodka
1 oz. fluid St. Germain Liqueur
1 oz. fluid Simple Syrup
1 oz. fluid Freshly Squeezed Lemon Juice
Club Soda, Chilled, For Topping
1 slice Fresh Lemon For Garnish
Instructions
Add 8 of the raspberries to a cocktail shaker and crush them with a muddler or the back of a spoon. Add a glassful of ice to the shaker, then pour in the vodka, St. Germain, simple syrup, and lemon juice. Cap the shaker and shake it vigorously for about 15 seconds, until liquid is chilled.
Strain into a tall glass filled with ice. Top with your desired amount of club soda and give the drink a quick stir to combine. Add remaining 2 raspberries and a slice of lemon to the top of the drink and serve immediately.





Nutrition Information:
Yield: 1
Serving Size: 1
Amount Per Serving:
Calories: 299
Total Fat: 5g
Saturated Fat: 3g
Trans Fat: 0g
Unsaturated Fat: 2g
Cholesterol: 18mg
Sodium: 40mg
Carbohydrates: 24g
Fiber: 2g
Sugar: 21g
Protein: 1g
Nutrition information is automatically calculated by Nutritionix. I am not a nutritionist and cannot guarantee accuracy. If your health depends on nutrition information, please calculate again with your own favorite calculator.
More Easy Cocktails: