Oreo Fluffernutter Rice Krispies Treats
A kicked up version of an old favorite, these Oreo Fluffernutter Rice Krispies Treats are packed with peanut butter, Oreo cookies, and 2x the marshmallows!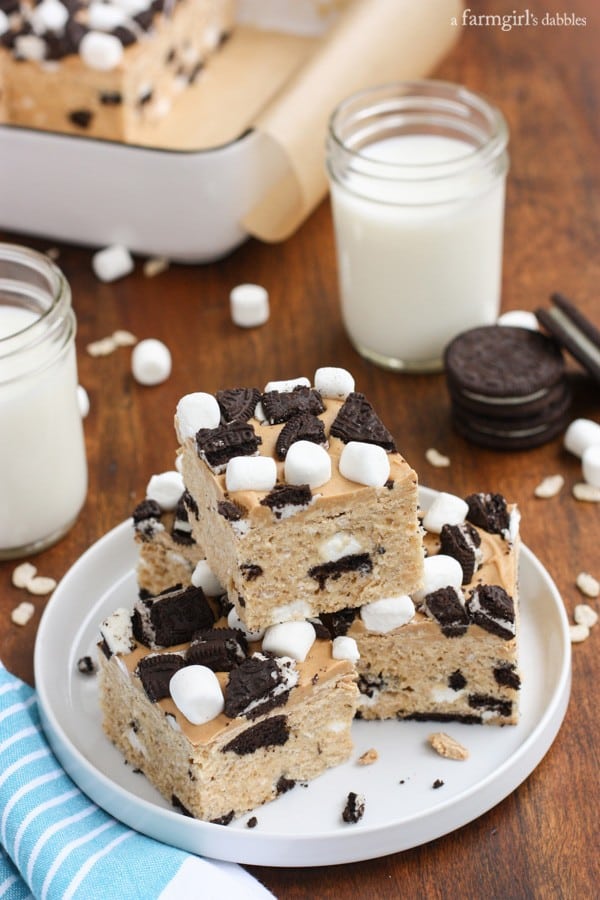 Our girls have always started school the day after Labor Day. But this year, with Labor Day being so late, our school district opted to start up one week early. My family groaned about losing those final days of summer to a hot, stuffy classroom, especially knowing that the Minnesota State Fair (one of my family's favorite summer events) is scheduled during that time. But now that we have a couple weeks successfully under our belts, we can look forward to getting out earlier than usual in the spring. That would be the silver lining.
I wanted to make an extra special treat last week, to welcome our girls home from school. And this is what happened: Oreo Fluffernutter Rice Krispies Treats.
Dropping their backpacks, the girls made their way to the kitchen, knowing the source of that sweet smell could only be found there. Their eyes were wide as I poured glasses of cold milk. And their smiles. Big, beautiful, happy smiles. Because >>> Rice Krispies treats with peanut butter, Oreos, and 2x the marshmallows. That's why!
[rss-cut]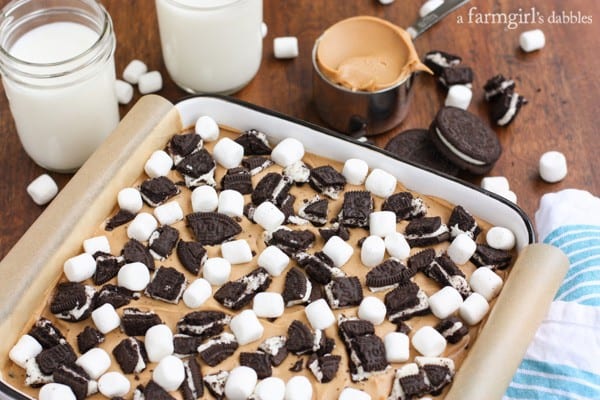 I like to play around with Rice Krispies bars, always aiming for that extra gooey marshmallow bite. And more often than not, I slather a melty chocolate and peanut butter frosting over the top. There's just something I can't resist about that chocolate, marshmallow, and peanut butter combination. You'll find many of my homemade ice cream sundaes adorned with this trio as well. Those favorites are the foundation of this recipe.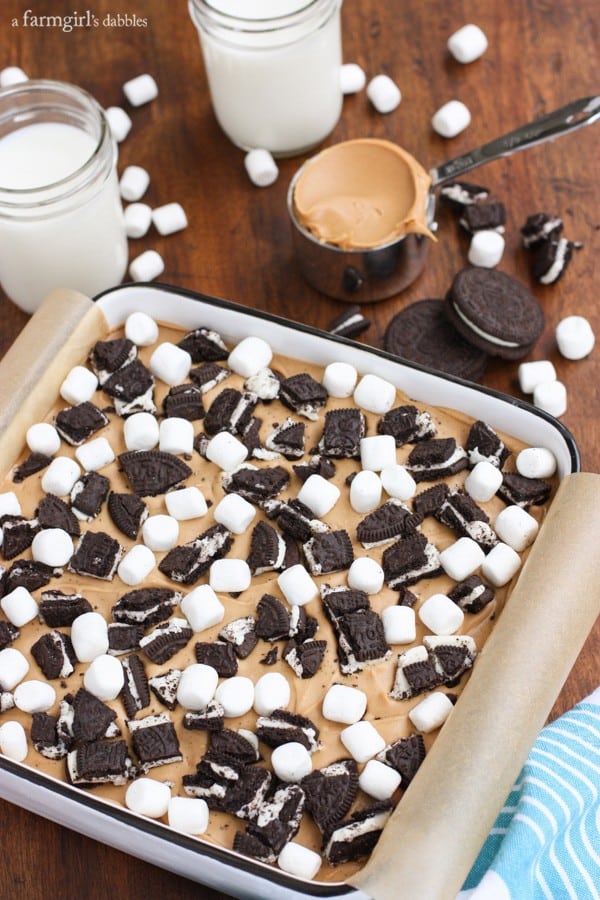 This recipe has double the amount of marshmallows as a traditional Rice Krispies treats recipe calls for, with marshmallows added at three separate stages. In our house, marshmallow always means "yum".
And then there's peanut butter. It's mixed in with the traditional melted marshmallow and butter concoction. Plus another layer of melted peanut butter chips is spread over the top of the treats, a delicious glue that holds the toppings firmly in place.
The Oreos are quite an obvious ingredient here, just looking at the pictures. But still, we need to talk about them. Have I told you that Double Stuf Oreos are a weakness of mine? I try to look the other way in the grocery aisle, knowing they'll get the best of me if I take them home. I just couldn't resist chopping some up for a little more fun in these amped-up Rice Krispies treats.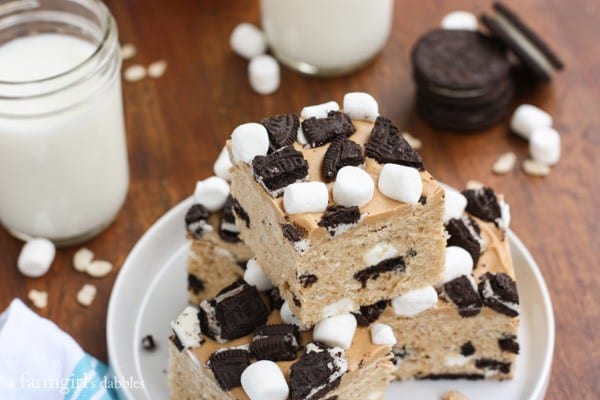 If you're looking to bring a smile to somebody's face (even if only for yourself), give these Oreo Fluffernutter Rice Krispies Treats try. I don't know how anyone could resist a moment of happiness when biting into this fun treat.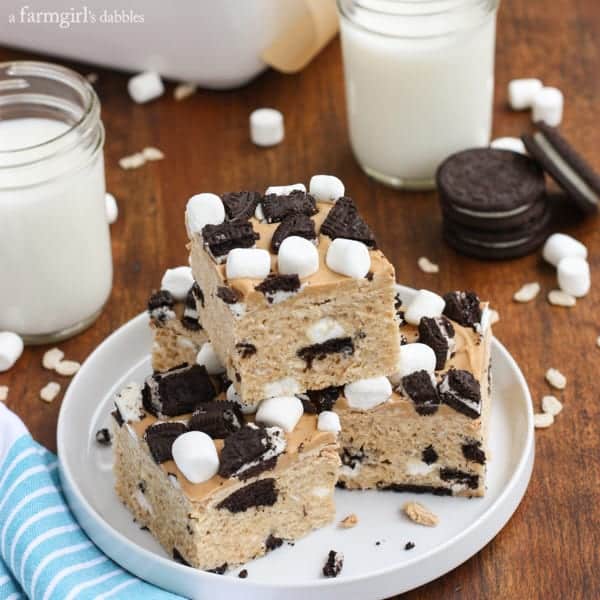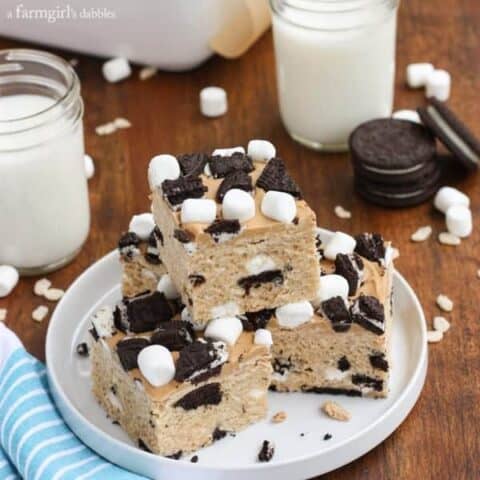 Oreo Fluffernutter Rice Krispies Treats
Yield: 16 bars
Prep Time: 30 minutes
Total Time: 30 minutes
A kicked up version of an old favorite, these Oreo Fluffernutter Rice Krispies Treats are packed with peanut butter, Oreo cookies, and 2x the marshmallows!
Ingredients
(my family likes Kraft Jet-Puffed®)
(my family likes Skippy®)
Instructions
Prepare a 9" square pan with a lining of parchment paper, leaving an overhang on two opposite sides (see my photos in this post). Set aside.
In a large pot over medium to medium-low heat, melt the butter. Turn heat down to low and add 8 cups of the miniature marshmallows. Stir constantly until completely smooth and then remove pan from heat. Quickly stir in the peanut butter and salt until smooth. Then fold in the Rice Krispies cereal, half of the chopped Oreo cookies, and 1-1/2 cups of miniature marshmallows. The mixture will be very thick. Work quickly to incorporate everything evenly, and to avoid over mixing.
Transfer mixture to prepared pan and very gently create an even layer of Rice Krispies treats. I like to use the buttery side of the butter wrapper to gently press on the mixture, for non-stick ease. Take care to not press the mixture in tightly - press as gently as you can.
In a microwave-safe bowl, melt the peanut butter chips very gently, checking on them and stirring regularly to avoid scorching. When they have reached a very soft state, just stir them until they are completely smooth. Pour melted peanut butter chips over the Rice Krispies treats and spread to an even thickness with a spatula or back of a spoon. While peanut butter layer is still warm, work quickly to sprinkle the remaining chopped Oreo cookies over the top, followed by the remaining miniature marshmallows. Press the cookies and marshmallows into the peanut butter layer gently to adhere.
Allow treats to set for an hour before cutting into squares. Store in an airtight container.
Notes
from a farmgirl's dabbles
Nutrition Information:
Yield: 16
Serving Size: 1
Amount Per Serving:
Calories: 146
Total Fat: 10g
Saturated Fat: 2g
Trans Fat: 0g
Unsaturated Fat: 6g
Cholesterol: 0mg
Sodium: 170mg
Carbohydrates: 12g
Fiber: 2g
Sugar: 2g
Protein: 5g
Nutrition information is automatically calculated by Nutritionix. I am not a nutritionist and cannot guarantee accuracy. If your health depends on nutrition information, please calculate again with your own favorite calculator.