End of Summer Quinoa Salad with Sweet Curry Vinaigrette
Bright, beautiful and super tasty, this End of Summer Quinoa Salad with Sweet Curry Vinaigrette is loaded with fresh seasonal veggies and topped with a warm, exotic curry vinaigrette. Enjoy as a meal or side dish!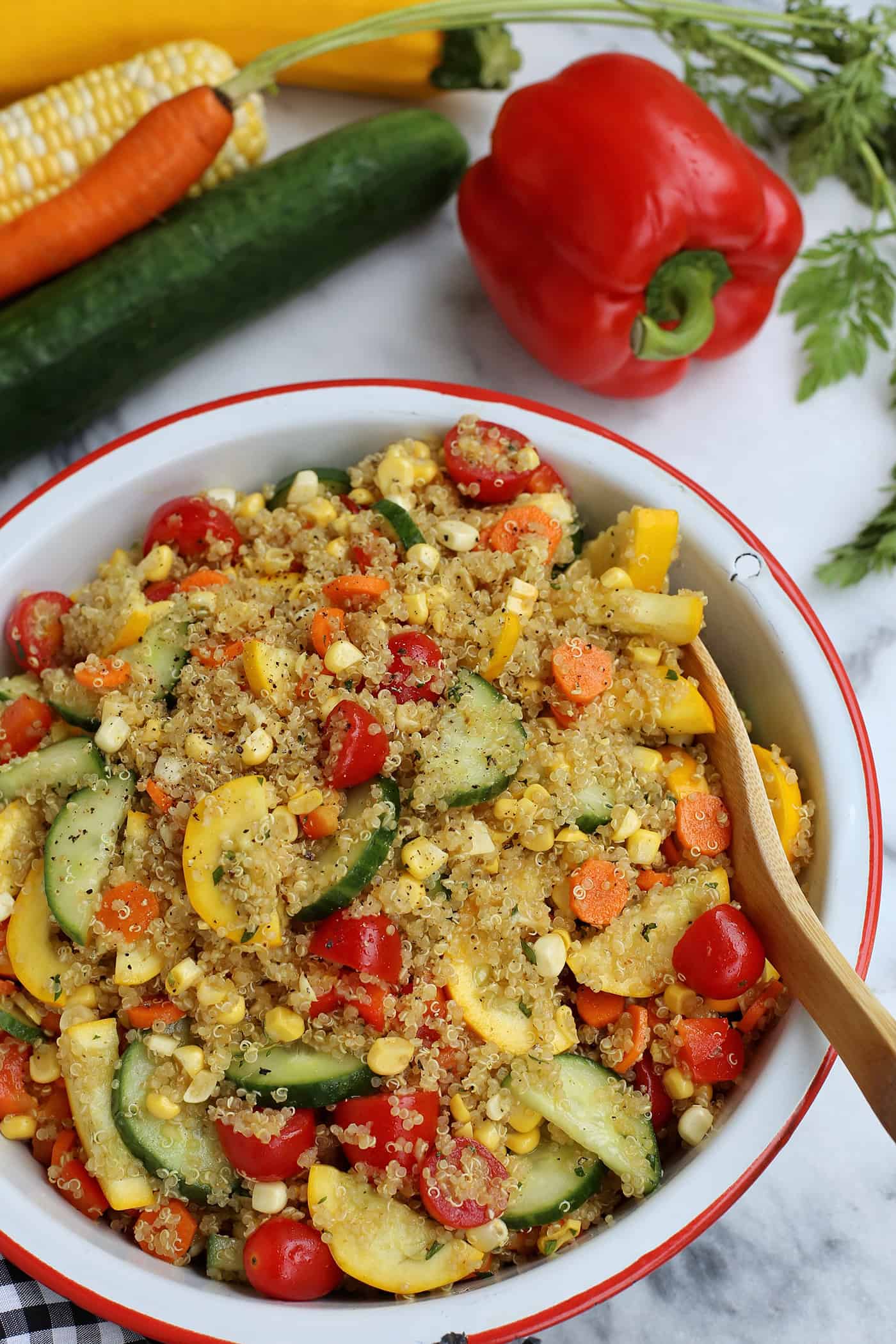 An Easy & Healthy Summer Salad
If I'm being honest, it took me a few tries to officially hop on the quinoa bandwagon. I tend to like a variety of textures in my meals, and have always been drawn to the earthiness of grains and seeds. So when quinoa came fully on the scene a number of years ago, it felt like it would be a natural fit for my taste buds. But while I enjoyed the quinoa dishes I'd order at restaurants, I never really loved anything I tried making at home.
But then, one day, it finally clicked – the secret to making an irresistible quinoa dish was in the use of a vinaigrette.
A vinaigrette works like magic, soaking into the little nuggets of quinoa, softening it up a bit and infusing it with flavor. The sweet curry vinaigrette in this salad is particularly lovely. It's sweet from honey, tangy from white balsamic vinegar, and warmed by oh-so-wonderful curry. I've found myself doubling this portion of the recipe, just to have extra to drizzle over fresh greens for lunch salads throughout the week ahead.
I've been making this salad with vegetables straight from the garden – tomatoes from our garden, yellow squash from my friend's garden, and sweet corn and peppers from the farmers market. While you can technically enjoy these ingredients year-round thanks to the supermarket, making this healthy quinoa salad with garden fresh ingredients just makes it a little better.
There's a bonus with this quinoa salad, too, as it keeps very well for a few days in the refrigerator. I eat it morning, noon, and night. It's awesome for breakfast with a couple of eggs, tossed with some fresh arugula for a lunch salad, or as a side dish for evening dinner. Bright and beautiful, and super tasty to boot.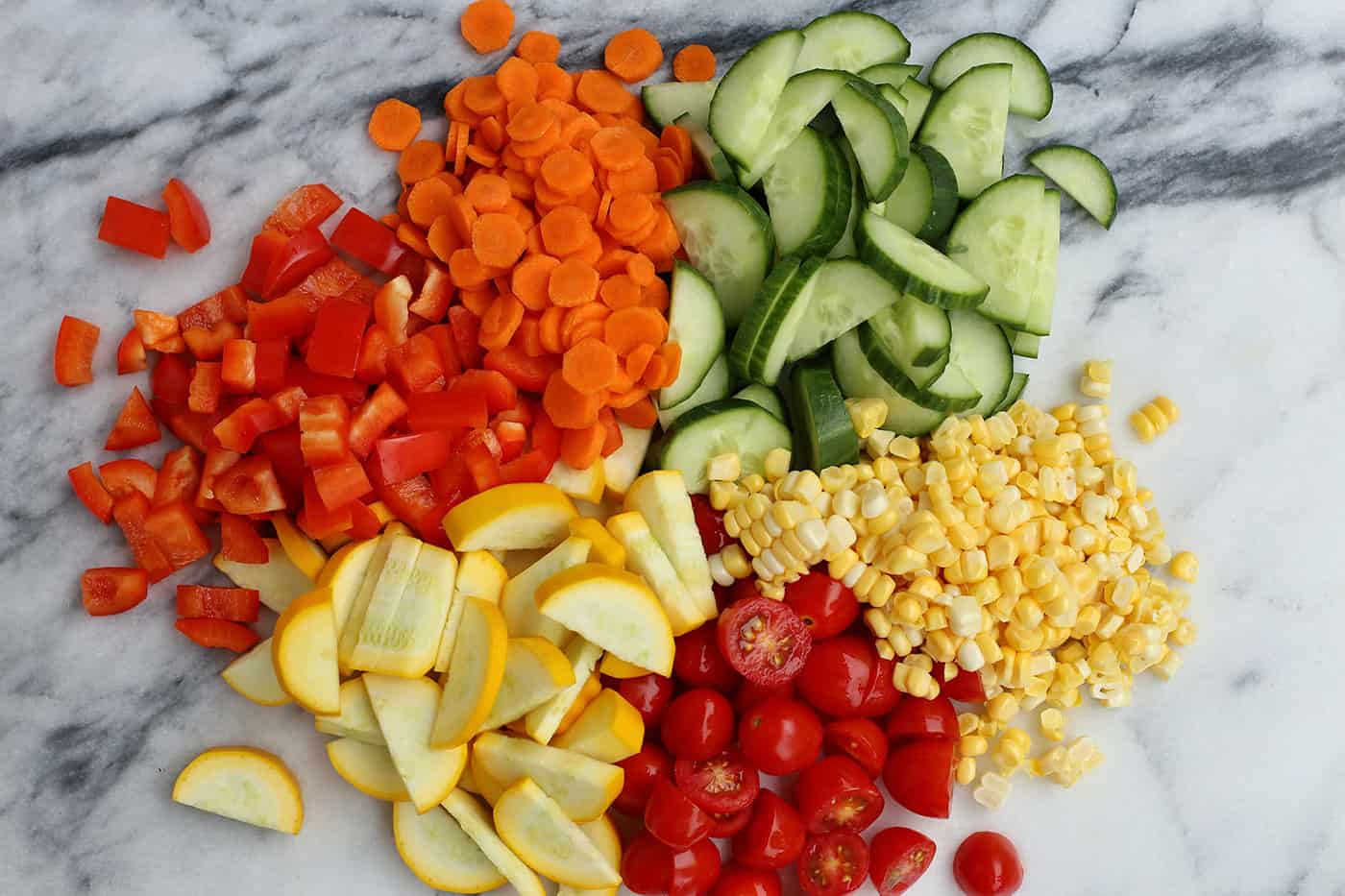 What You'll Need
This end of summer quinoa salad is filled with garden fresh veggies and topped with a simple curry vinaigrette. You can find most of these ingredients in your garden or pantry!
For the Sweet Curry Vinaigrette:
Honey – Adds a hint of sweetness to the vinaigrette.
Olive oil – Use a quality extra virgin olive oil.
Balsamic vinegar – The base of the vinaigrette.
Yellow onion – Grated yellow onion adds flavor to the vinaigrette.
Garlic
White wine Worcestershire sauce – Perhaps a surprising ingredient but adds so much depth to the flavor. I definitely do not recommend skipping it.
Curry powder – Curry is the star flavor of this vinaigrette!
Salt & pepper – To taste.
For the Quinoa Salad:
Quinoa – Cooked and cooled according to package directions.
Carrots – Peeled and thinly sliced into coins.
Sweet corn – Cut the kernels off from raw sweet corn.
Tomatoes – I use grape tomatoes but cherry tomatoes will also work, or you can cut larger tomatoes into quarters.
Cucumber – I recommend English cucumbers for the sweeter flavor and softer skin, which doesn't need to be peeled.
Yellow squash – Adds a pop of color to the salad.
Bell pepper – I prefer red bell pepper but orange or yellow bell peppers will also work.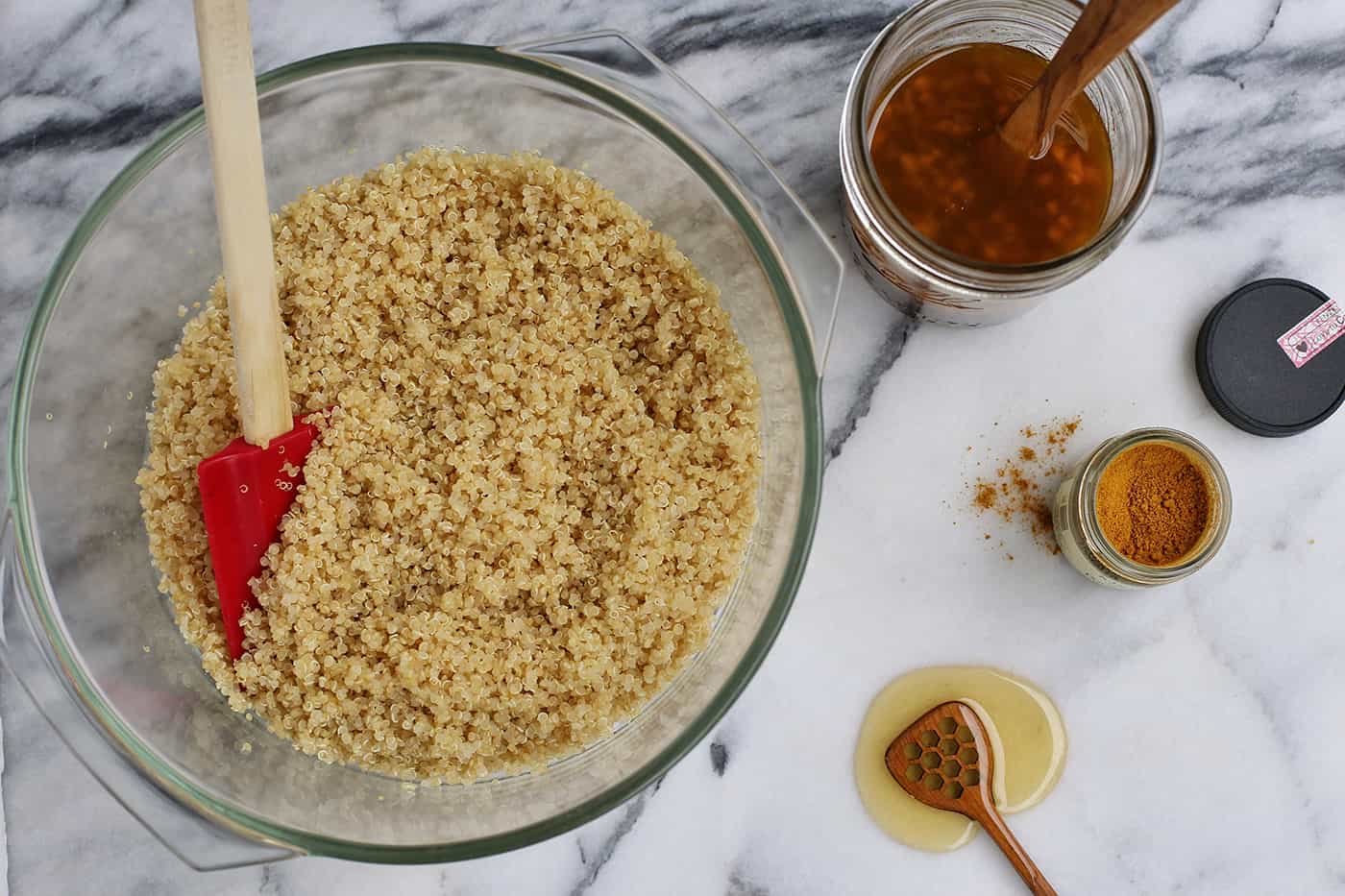 How to Make Quinoa Salad with Sweet Curry Vinaigrette
Making this end of summer quinoa salad couldn't be easier! It's just a matter of chopping all of the vegetables and combining all ingredients.
Make the vinaigrette. Whisk together all sweet curry vinaigrette ingredients.
Assemble the salad. Mix together the vinaigrette and quinoa. Mix until well-combined, then fold in all of the vegetables and fresh thyme.
Tips for Success
If you're ready to jump on the quinoa bandwagon with me (or maybe you're already there!), here are a few tips, ideas and suggestions for making the best quinoa salad.
Allow to chill before serving. While technically you can serve this salad as soon as you assemble it, I highly recommend allowing it to chill for even just a few minutes, to really let the flavors absorb into the quinoa.
Use fresh vegetables. As I mentioned, while you can find most vegetables year-round at the grocery store, I highly recommend making this salad with fresh, in-season vegetables. Somehow veggies fresh from the garden just taste better!
Adjust the ingredients to your preferences. Not a fan of cucumbers? Leave them out. Want some spice? Throw in some jalapenos. Not a curry person? Swap out the curry vinaigrette for any other vinaigrette. The beauty of this healthy quinoa salad is that it can be customized to anything you like!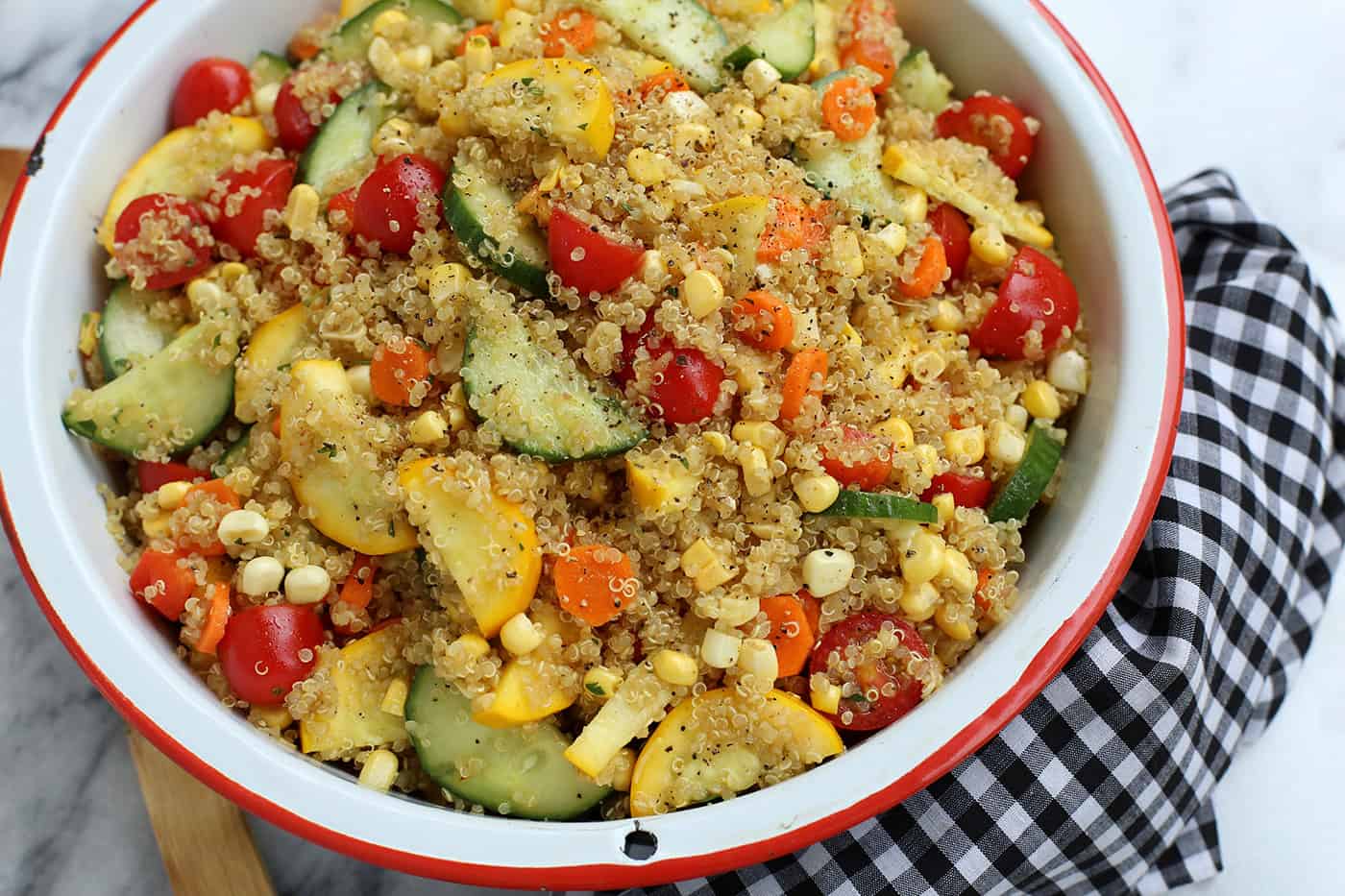 Serving Suggestions
There are oh-so-many ways to serve this quinoa salad with curry vinaigrette! I'm not joking when I say that I'll eat this morning, noon and night! Depending on how you serve it, you can literally turn this quinoa salad into breakfast, lunch, dinner, a snack or a side dish!
Here are a few of my favorite ways to enjoy this veggie-filled salad:
With a couple of fried eggs for breakfast
Toss with fresh arugula or mixed greens for a lunch salad
Topped with grilled chicken or shrimp
As a side dish for dinner – it pairs nicely with everything from grilled kabobs to burgers
How to Store Leftovers
Leftovers should be stored in an airtight container in the fridge. They'll last for up to 5 days – perfect for lunch meal prep! You can even store the salad in individual serving portions for a grab-and-go healthy weekday lunch!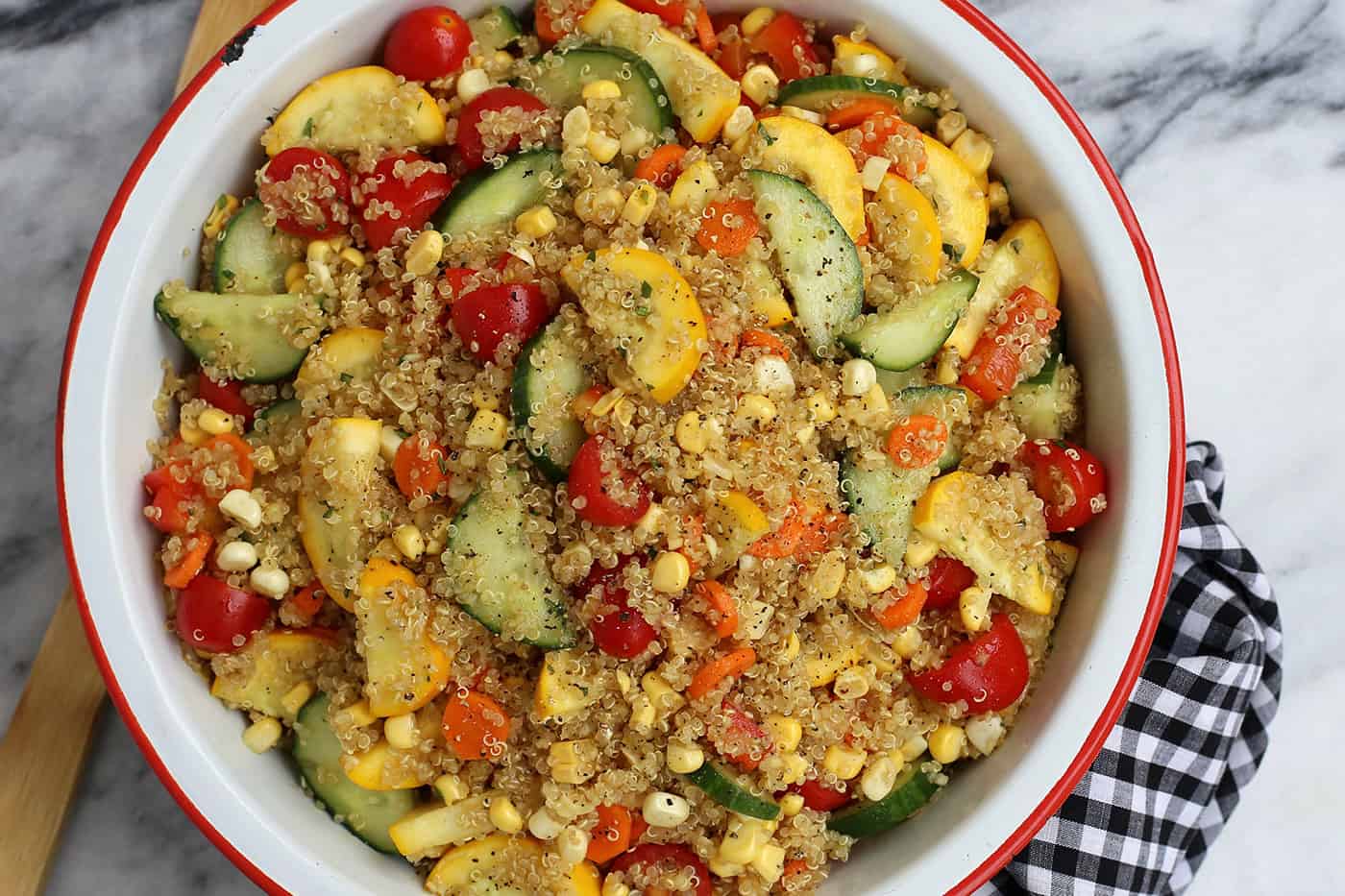 Can I Make This In Advance?
Yes, absolutely! In fact, I recommend making this quinoa salad at least a few hours in advance. That gives time for the vinaigrette to truly be absorbed into the quinoa and vegetables, making this salad even better! You can even make this a day or two in advance – as I mentioned, it's a great recipe for healthy meal prep because it will last for up to 5 days!
More Easy Quinoa Recipes: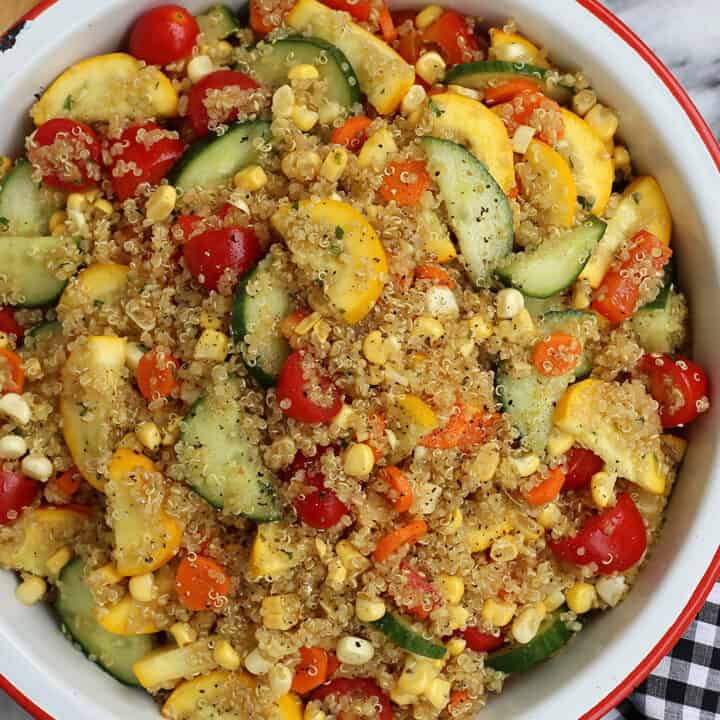 End of Summer Quinoa Salad with Sweet Curry Vinaigrette
Yield: 6 servings
Prep Time: 30 minutes
Cook Time: 15 minutes
Total Time: 45 minutes
Bright, beautiful and super tasty, this End of Summer Quinoa Salad with Sweet Curry Vinaigrette is loaded with fresh seasonal veggies and topped with a warm, exotic curry vinaigrette. Enjoy as a meal or side dish!
Ingredients
FOR THE SWEET CURRY VINAIGRETTE:
1/3 c. Honey
1/3 c. Extra Virgin Olive Oil
2 tbsp. Balsamic Vinegar
2 tbsp. Grated Yellow Onion
2 cloves Garlic, Minced
2 tsp. White Wine Worcestershire Sauce
1 tsp. Curry Powder
1/4 tsp. Salt
1/4 tsp. Freshly Ground Black Pepper
FOR THE QUINOA SALAD:
1 c. Quinoa, Cooked According To Package Directions, Drained And Cooled
2 Large Carrots, Peeled And Sliced Thinly Into Coins
2 ears Raw Sweet Corn, Kernels Cut
1 c. Halved Grape Tomatoes
1 English Cucumber, Halved Lengthwise And Then Cut Into ¼-inch Slices
1 Large Yellow Squash, Halved Lengthwise And Then Cut Into ¼-inch Slices
1 Large Red Bell Pepper, Chopped
1 tsp. Minced Fresh Thyme Leaves
Instructions
For the sweet curry vinaigrette: In a small bowl, whisk together all vinaigrette ingredients. Set aside.
For the quinoa salad: In a large bowl, stir together the quinoa and sweet curry vinaigrette until incorporated. Fold in the carrots, sweet corn kernels, tomatoes, cucumber, squash, red bell pepper, and thyme. Add kosher salt and freshly ground black pepper, to taste.
Nutrition Information:
Yield: 6
Serving Size: 1
Amount Per Serving:
Calories: 324
Total Fat: 15g
Saturated Fat: 2g
Trans Fat: 0g
Unsaturated Fat: 13g
Cholesterol: 12mg
Sodium: 154mg
Carbohydrates: 41g
Fiber: 4g
Sugar: 22g
Protein: 9g
Nutrition information is automatically calculated by Nutritionix. I am not a nutritionist and cannot guarantee accuracy. If your health depends on nutrition information, please calculate again with your own favorite calculator.