Quinoa & Black Rice Salad with Cumin & Avocado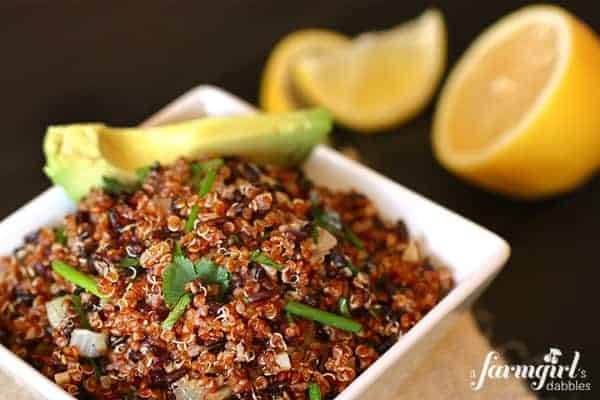 Quinoa.
Have you tried it?
I've eaten it here and there, at potlucks and other gatherings, and was never really taken with it. But I knew it had potential. I just needed to find a recipe that intrigued me, that had bigger flavor.
Then my eyes rested upon this beautiful photo of a quinoa salad in the November issue of Bon Appetit. I knew my time had come. This recipe was to be my springboard into the Land of Quinoa.
People usually think of quinoa as a grain, but it is actually a seed from a plant related to beets and spinach. This ancient seed is native to South America and was once called "the gold of the Incas", as it provided their warriors with protein-induced stamina.
Quinoa is not only nutritious, but as I've recently discovered, also very delicious. I've come to think of it as a lighter, fluffier, more delicate version of the wild rice nuttiness that I dearly love.
This recipe calls for red quinoa and black rice, which I couldn't find at my local grocery store. If you have trouble finding it, too, you could easily substitute the red quinoa for the more available yellow, and the black rice for another short-grain rice. But I was determined to make the recipe as that beautiful Bon Appetit photo depicted. So when I was near Whole Foods a couple weeks ago, I stopped in to scoop up some red quinoa and black rice from their bulk bins. I even bagged up some extra, as I was certain this salad was going to be a good one.
And it was!
I absolutely fell in love with quinoa, all nestled in with the warmness of cumin seeds and the creaminess of avocado. With a squeeze of bright and tangy lemon, this Quinoa & Black Rice Salad with Cumin & Avocado is a dish I have found myself craving ever since I finished it off. And the rest of the family liked it, too. Even our youngest daughter, who finds wild rice just too much to chew, gobbled this fabulous quinoa salad up. If you haven't yet tried quinoa, I highly recommend starting right here!
Do you have a favorite quinoa recipe?
I'm looking forward to eating alot more of it
and would love for you to share with me.
Thanks!!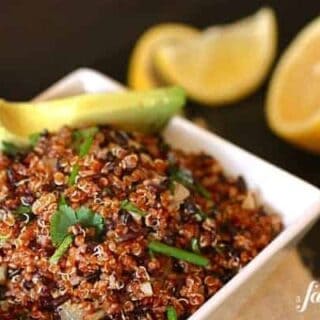 Quinoa & Black Rice Salad with Cumin & Avocado
Yield: 6 to 8 servings
Prep Time: 5 minutes
Cook Time: 50 minutes
Total Time: 55 minutes
Quinoa & Black Rice Salad with Cumin & Avocado is a healthy salad recipe that makes for a great lunch, or an easy dinner. This vegetarian rice salad is easy to make and incredibly delicious!
Ingredients
1/2 c. short-grain black rice (or substitute another color of short-grain rice)
1 c. red quinoa, rinsed well (or substitue another color of quinoa)
1 bay leaf
1/4 tsp. kosher salt
4 T. extra-virgin olive oil, divided
1 small onion, finely chopped
3 large garlic cloves, minced
2 tsp. cumin seeds
3 T. freshly squeezed lemon juice
1/4 c. chopped fresh cilantro
1/4 c. chopped flat-leaf parsley
2 T. 1″ pieces chives
salt and freshly ground black pepper, to taste
2 avocados, peeled, pitted, and sliced into wedges
1 lemon, sliced into wedges
Instructions
Bring rice and 1 cup water to a boil in a small saucepan. Cover, reduce heat to low, and cook until water is absorbed and rice is tender, 25 to 30 minutes.
While the rice is cooking, combine the quinoa, bay leaf, 1/4 teaspoon salt, and 2 cups water in a medium saucepan. Bring to a boil. Cover and reduce heat to low. Simmer until quinoa is tender, about 15 minutes. Drain the quinoa and let it sit in the hot saucepan, covered, for 15 minutes. Discard the bay leaf. Fluff quinoa with a fork.
Heat 2 tablespoons oil in a large skillet over medium heat. Add onion and cook, stirring occasionally until soft, about 8 minutes. Add garlic and cumin and cook, stirring often, for 2 minutes. Add this to quinoa. Then add the rice to the quinoa mixture and stir well. Add the remaining 2 tablespoons oil, fresh lemon juice, cilantro, parsley, and chives. Season to taste with salt and pepper.
Serve salad with avocado and lemon wedges.
Notes
Note: black rice and red quinoa are available at better supermarkets and at natural foods and specialty foods stores. I found mine at Whole Foods.
Slightly adapted from Bon Appetit magazine, November 2011
Nutrition Information:
Yield: 6
Serving Size: 1
Amount Per Serving:
Calories: 260
Total Fat: 20g
Saturated Fat: 3g
Trans Fat: 0g
Unsaturated Fat: 16g
Cholesterol: 0mg
Sodium: 163mg
Carbohydrates: 20g
Fiber: 6g
Sugar: 2g
Protein: 4g
Nutrition information is automatically calculated by Nutritionix. I am not a nutritionist and cannot guarantee accuracy. If your health depends on nutrition information, please calculate again with your own favorite calculator.