Roasted Curry Quinoa Stuffed Zucchini
This recipe for Roasted Curry Quinoa Stuffed Zucchini is fresh and bright, yet warm and comfy!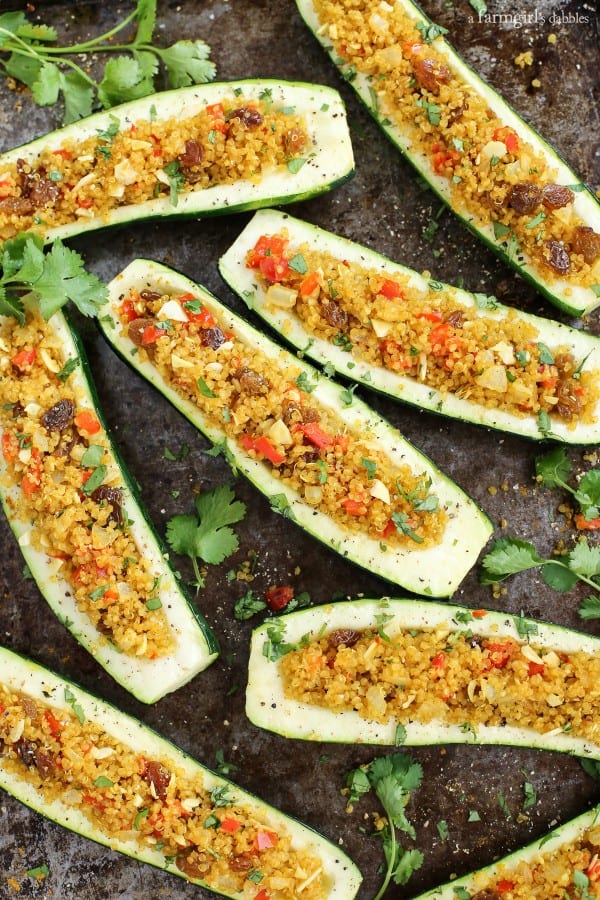 Getting back into a more normal (healthier) routine after the holidays can be rough. At least it is for me anyway. Coming off more than a month of enjoying an increase in gatherings with friends, family, and co-workers, plus eating more, staying up later, and exercising less…well, it all takes its toll. Not to say that I didn't enjoy it all in the moment, because there was quite alot of fun, but I'm thankful for a little more quiet now in January to focus on reeling it all back in.
This recipe for Roasted Curry Quinoa Stuffed Zucchini is fresh and bright, yet warm and comfy. Such a lovely combination to help us ease into this big new year in tasty style.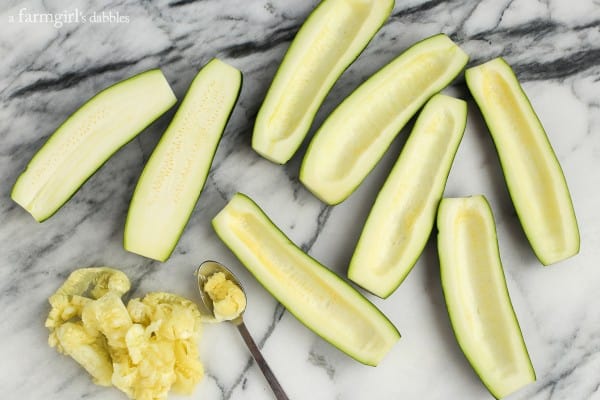 Have you ever made zucchini boats? It's a rather fun little expedition in the kitchen. Simply use the tip of a spoon to scrape out the seeds and some of the flesh of each zucchini half to create long, hollow cavities.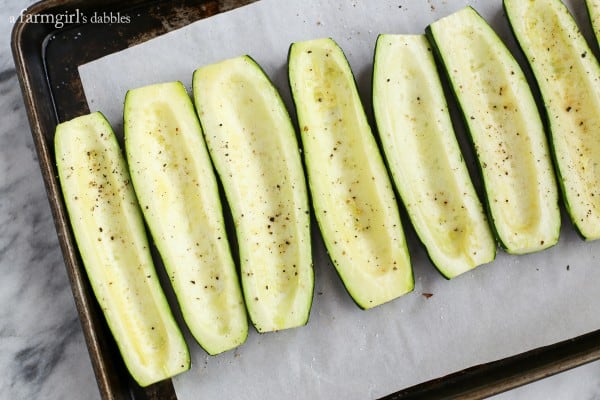 Then brush the zucchini boats lightly with olive oil, sprinkle with salt and pepper, and pop them in the oven to pre-bake and soften before stuffing with the quinoa mixture.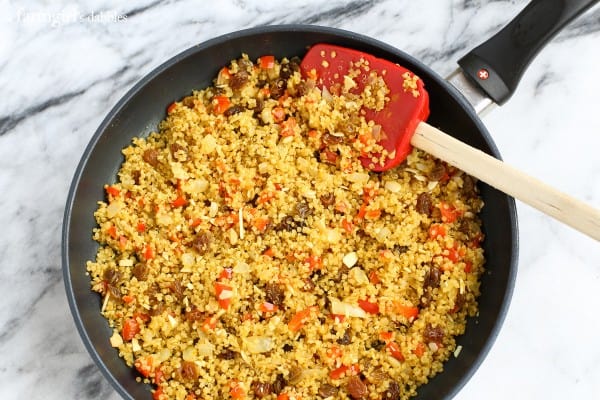 While the zucchini boats are in the oven, cook the quinoa and stir it into some sautéed veggies. Sprinkle with the fabulous warmth of curry and cumin, add a handful of golden raisins and some sliced almonds, and you have a light and ultra tasty little stuffing.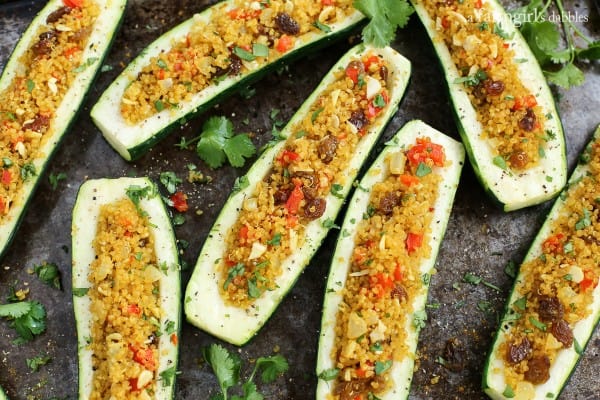 Spoon the prepared curry quinoa into the pre-baked zucchini boats and place them back into the oven to get good and hot. The zucchini bakes up tender, yet keeps its form to offer a little edible dish.
These roasted curry quinoa stuffed zucchini boats are fragrant and flavorful with beautiful spices, a pretty side dish that would go great with so many meals. Give these beauties a try!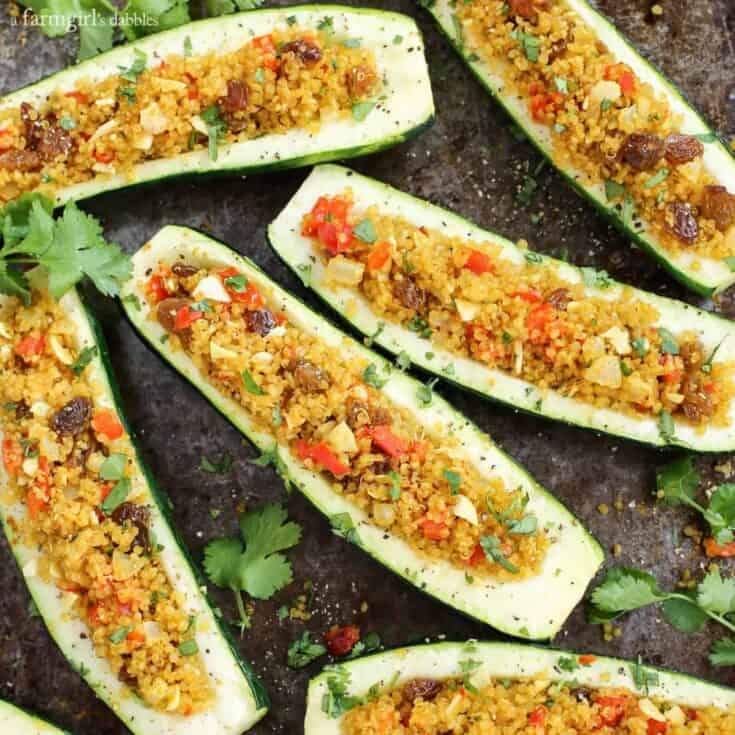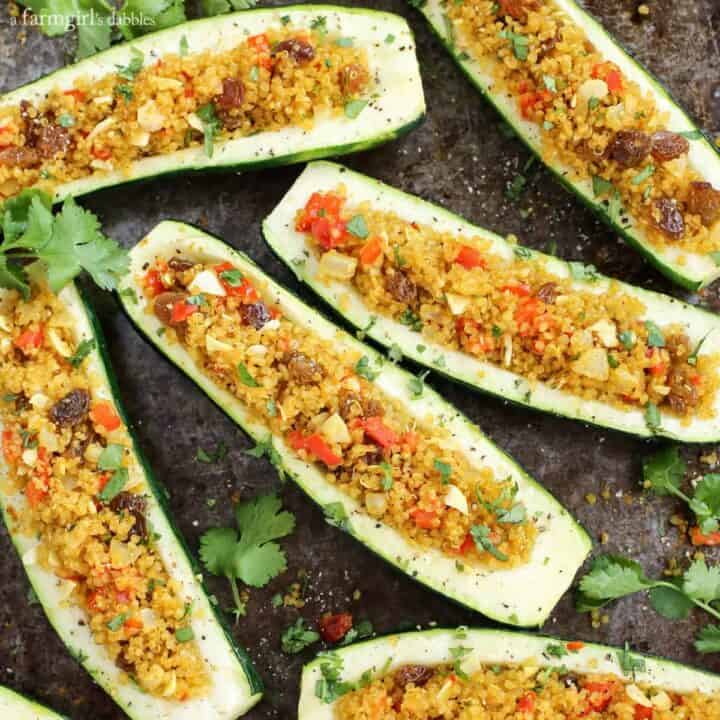 Roasted Curry Quinoa Stuffed Zucchini
Yield: 8 servings
Prep Time: 20 minutes
Cook Time: 15 minutes
Total Time: 35 minutes
This recipe for Roasted Curry Quinoa Stuffed Zucchini is fresh and bright, yet warm and comfy!
Ingredients
2 T. unsalted butter
1/2 c. chopped onion
1/2 c. chopped red bell pepper
1 large clove garlic, minced
1/3 c. golden raisins
2 T. water
1/2 c. quinoa, cooked according to package instructions, drained
1 tsp. honey
1 tsp. curry powder (If you don't like alot of heat, use a sweet curry powder, or just use less regular curry powder)
1/2 tsp. cumin powder
pinch of cayenne powder
kosher salt
freshly ground black pepper
4 medium zucchinis
extra virgin olive oil
2 T. sliced and randomly chopped almonds
1/4 c. chopped fresh cilantro
Instructions
In a large skillet, melt butter over medium to medium-high heat. Add onion and red pepper, and sauté until softened. Add garlic and sauté for 1 minute more. Add raisins, water, cooked quinoa, honey, curry, cumin, and cayenne. Stir everything together and cook for a minute or so to let the spices heat up and become fragrant. Season to taste with salt and pepper. Remove from heat and set aside.
Preheat oven to 425° F.
Trim the ends off the zucchinis and cut in half lengthwise. Trim a very thin strip from the bottom of each half so they will lay flat. Using the tip of a spoon, scoop out seeds and some of the flesh to create a boat. Brush inside and outside of zucchini boats lightly with oil and then season lightly with salt and pepper. Place zucchini boats on a rimmed baking sheet lined with parchment paper and bake for about 10 minutes, or until zucchini is slightly softened.
Remove from oven and scoop the curry quinoa evenly into zucchini boats. Bake for another 5 to 10 minutes, or until curry quinoa is hot and zucchini is tender and softened to your liking. Sprinkle with almonds and cilantro, a bit more salt and black pepper if desired, and serve immediately.
Notes
from a farmgirl's dabbles
Nutrition Information:
Yield: 8
Serving Size: 1
Amount Per Serving:
Calories: 115
Total Fat: 6g
Saturated Fat: 2g
Trans Fat: 0g
Unsaturated Fat: 4g
Cholesterol: 8mg
Sodium: 89mg
Carbohydrates: 14g
Fiber: 2g
Sugar: 8g
Protein: 3g
Nutrition information is automatically calculated by Nutritionix. I am not a nutritionist and cannot guarantee accuracy. If your health depends on nutrition information, please calculate again with your own favorite calculator.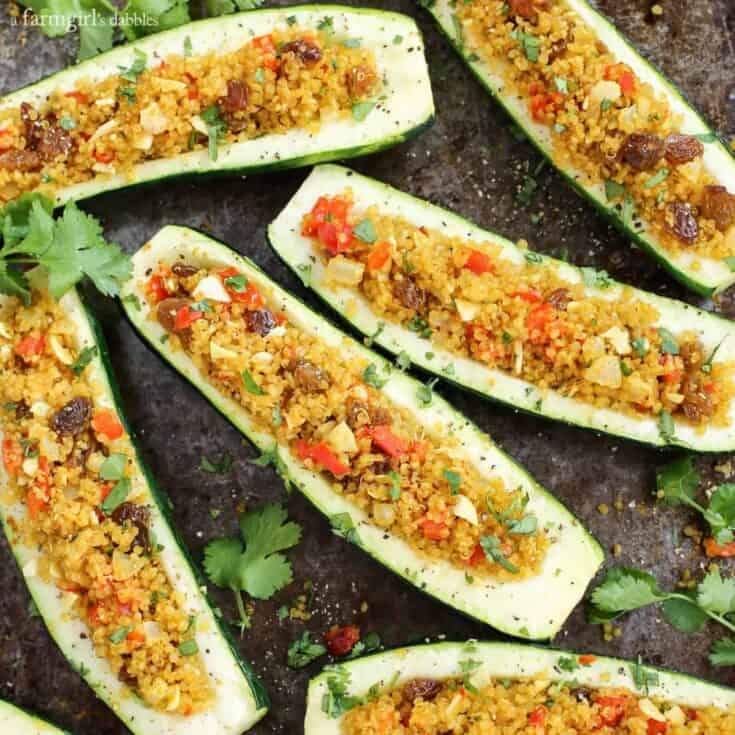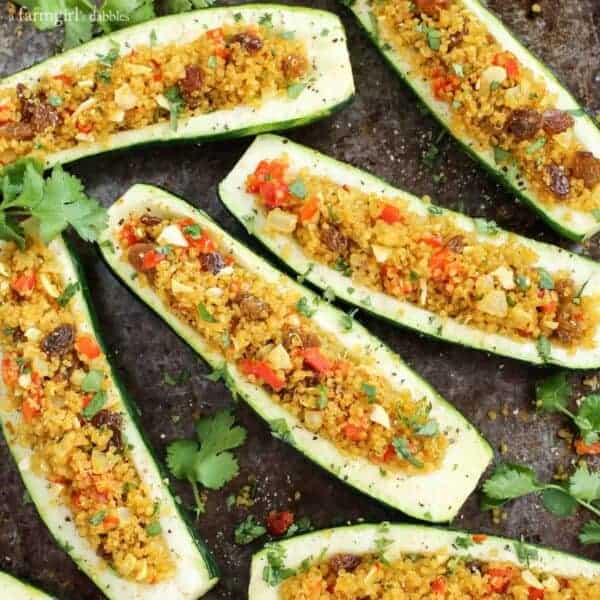 Here are a few more stuffed zucchini recipes for you!