Grilled Shrimp and Sausage Skewers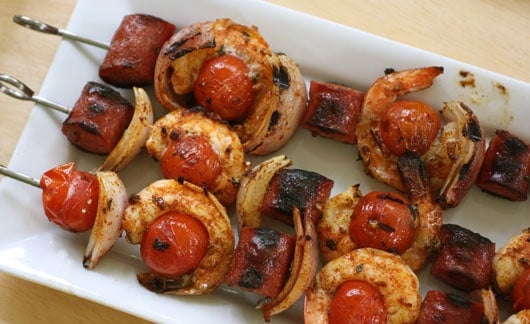 We don't tend to prepare alot of fish and seafood at home. But whenever we do, the same statement is voiced half-way through the meal…
"We need to do this more often!"
Since trying this recipe for Grilled Shrimp and Sausage Skewers with a Smoky Paprika Glaze, I have solemnly vowed to throw in fish and seafood much more often.
The dish was easy to prepare. It's one of those recipes that can be set up many hours ahead of time, if needed. While my daughter took her afternoon nap, I threaded the shrimp, sausage, and other ingredients onto skewers, covered them up, and put them in the fridge. Then I whisked together the ingredients for the smoky paprika glaze. And that's when I knew it was going to be very, very hard to wait until The Grill Meister got home from work, to put these babies on the grill. That smoked paprika had my number.
For the first few bites, nobody said a word. There were just lots of fingers being licked and low "mmmmmmm" mutterings. Nobody wanted to stop eating to take the time to say anything more than "mmmmmmm". The flavors and textures of each individual ingredient were wonderful and full of contrast, and the glaze just brought it all together. I'm known for tweaking a recipe after making it the first time, but this recipe is simply perfect. I wouldn't change a thing.
Have you ever grilled cherry tomatoes? It's a must try. The tomatoes undergo a transformation when grilled, and it's a real treat to bite into their sweetened, charred, and juicy warmth. I've been looking at all those green tomatoes ripening up in the garden in a whole new way.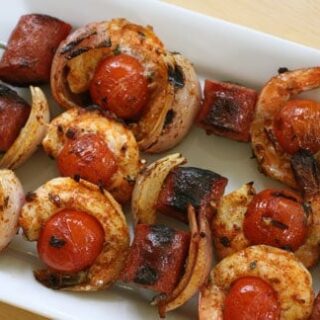 Grilled Shrimp and Sausage Skewers
Yield: 4 servings
Prep Time: 25 minutes
Cook Time: 8 minutes
Total Time: 33 minutes
Ingredients
For the glaze:
¾ cup olive oil
4 large garlic gloves, minced
2 tablespoons chopped fresh thyme
5 teaspoons smoked paprika
2 teaspoons rice vinegar
2 teaspoons red wine vinegar
¾ teaspoon Morton kosher salt
½ teaspoon ground black pepper
½ teaspoon dried crushed red pepper
For the skewers:
12 raw, very large (16-20 per pound) shrimp with tails on, peeled and deveined
12 pieces smoked and fully cooked andouille sausage link, cut to same width as shrimp
16 cherry tomatoes
16 2-layer sections of red onion wedges, cut to same width as shrimp and sausage
Instructions
For the glaze: In a small bowl, combine oil, garlic, thyme, smoked paprika, vinegar, salt, black pepper, and crushed red pepper. Blitz with an immersion blender until smooth. (If you don't have an immersion blender, just whisk very well.) Transfer about 1/3 of the glaze to a small serving bowl and reserve for dipping at meal time.
For the skewers: Alternately thread shrimp, sausage pieces, cherry tomatoes, and sections of onion wedges onto each of 4 long skewers (see Notes below).
To grill: Heat grill to medium-high. Clean grill rack and coat with oil. Brush skewers on all sides with the 2/3-portion of glaze. Grill until shrimp are just-turned opaque in center, turning and brushing occasionally with any additional glaze, about 5 to 8 minutes total. Do not overcook the shrimp.
Serve skewers with reserved glaze for dipping.
Notes
For the skewers: You will need 4 long metal or wood skewers (the metal ones in my photos are 13" long, not including the handle). If using wood skewers, be sure to soak them in water for at least an hour before adding the ingredients.
To prepare ahead of time: Place prepared, uncooked skewers on a rimmed baking sheet, cover with foil, and refrigerate up to 6 hours before grilling. Cover bowls of glaze separately and refrigerate as well. Pull everything out of the fridge about 30 minutes prior to grilling. Then proceed from Step 3 of the Instructions.
Adapted from Bon Appetit magazine, June 2010.
Nutrition Information:
Yield: 4
Serving Size: 1
Amount Per Serving:
Calories: 505
Total Fat: 51g
Saturated Fat: 9g
Trans Fat: 0g
Unsaturated Fat: 39g
Cholesterol: 26mg
Sodium: 549mg
Carbohydrates: 9g
Fiber: 3g
Sugar: 4g
Protein: 6g
Nutrition information is automatically calculated by Nutritionix. I am not a nutritionist and cannot guarantee accuracy. If your health depends on nutrition information, please calculate again with your own favorite calculator.