Grilled Shrimp and Sausage Skewers with Smoky Paprika Glaze
This post may contain Amazon or other affiliate links. As an Amazon Associate I earn from qualifying purchases.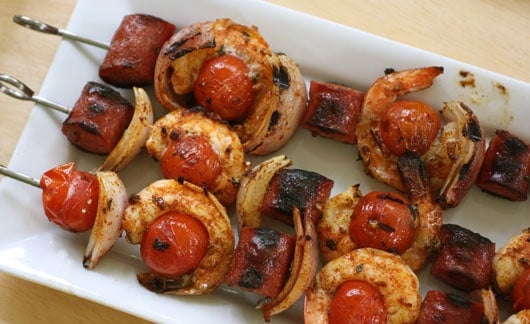 We don't tend to prepare alot of fish and seafood at home. But whenever we do, the same statement is voiced half-way through the meal…
"We need to do this more often!"
Since trying this recipe for Grilled Shrimp and Sausage Skewers with a Smoky Paprika Glaze, I have solemnly vowed to throw in fish and seafood much more often.
The dish was easy to prepare. It's one of those recipes that can be set up many hours ahead of time, if needed. While my daughter took her afternoon nap, I threaded the shrimp, sausage, and other ingredients onto skewers, covered them up, and put them in the fridge. Then I whisked together the ingredients for the smoky paprika glaze. And that's when I knew it was going to be very, very hard to wait until The Grill Meister got home from work, to put these babies on the grill. That smoked paprika had my number.
For the first few bites, nobody said a word. There were just lots of fingers being licked and low "mmmmmmm" mutterings. Nobody wanted to stop eating to take the time to say anything more than "mmmmmmm". The flavors and textures of each individual ingredient were wonderful and full of contrast, and the glaze just brought it all together. I'm known for tweaking a recipe after making it the first time, but this recipe is simply perfect. I wouldn't change a thing.
Have you ever grilled cherry tomatoes? It's a must try. The tomatoes undergo a transformation when grilled, and it's a real treat to bite into their sweetened, charred, and juicy warmth. I've been looking at all those green tomatoes ripening up in the garden in a whole new way.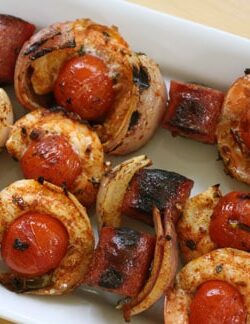 Grilled Shrimp and Sausage Skewers with Smoky Paprika Glaze
Yield: 6 servings

Cook Time:6 to 8 minutes

Calories per serving: 675
Ingredients:
3/4 c. olive oil
4 large garlic gloves, pressed
2 T. chopped fresh thyme
5 tsp. smoked paprika
4 tsp. Sherry wine vinegar (I used 2 tsp. white wine vinegar & 2 tsp. red wine vinegar)
3/4 tsp. salt
1/2 tsp. freshly ground black pepper
1/2 tsp. dried crushed red pepper
12 uncooked extra-large shrimp (13 to 15 per pound), peeled, deveined
12 1-inch-long pieces andouille or other fully cooked smoked sausages (about 16 oz.)
12 cherry tomatoes
12 2-layer sections of red onion wedges
Nonstick vegetable oil spray
Directions:
Special equipment: 6 long metal skewers (If using bamboo skewers, be sure to soak them in water for at least an hour, to prevent burning while on the grill.)

Whisk oil, garlic, thyme, smoked paprika, vinegar, salt, black pepper, and crushed red pepper in medium bowl to blend for glaze. Transfer half of glaze to small bowl and reserve for serving.

Alternately thread shrimp, sausage pieces, cherry tomatoes, and sections of onion wedges on each of 6 long metal skewers. Arrange skewers on large rimmed baking sheet. This can be made up to 6 hours ahead. Cover and chill skewers and bowls of glaze separately.

Coat grill rack with nonstick spray and heat grill to medium-high. Brush skewers on both sides with glaze from 1 bowl. Grill until shrimp are opaque in center, turning and brushing occasionally with more glaze, 6 to 8 minutes.

Arrange skewers on platter. Serve with remaining bowl of glaze.
We participate in the Amazon Services LLC Associates Program, an affiliate advertising program designed to provide a means for us to earn fees by linking to Amazon.com and affiliated sites. See our
disclosure policy
for more info.