Grilled Steak Salad with Cherry-Chipotle Balsamic Vinaigrette
This post may contain Amazon or other affiliate links. As an Amazon Associate I earn from qualifying purchases.
This Grilled Steak Salad with Cherry-Chipotle Balsamic Vinaigrette is bursting with flavor, color, and texture!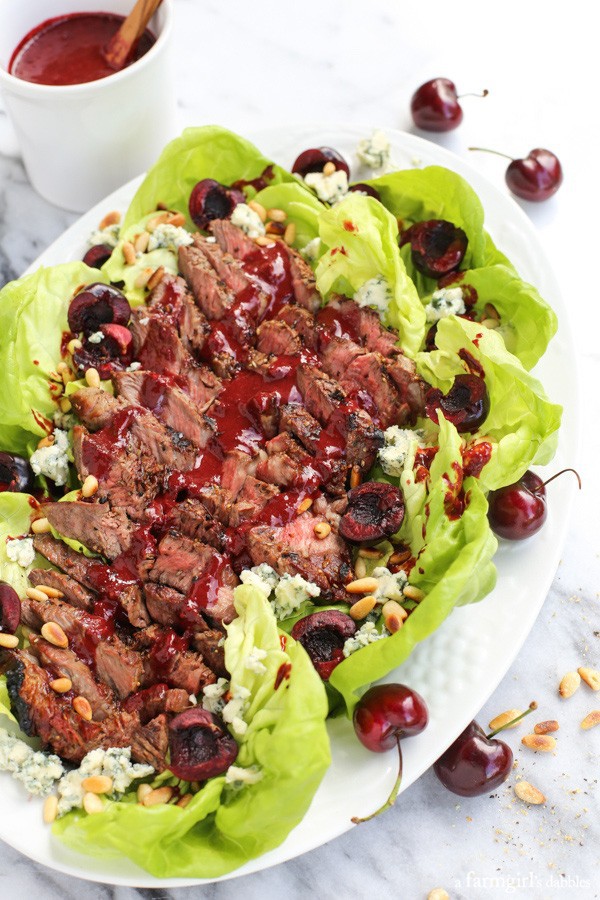 Grilling season is one of the very best seasons of all. Letting our meats, veggies, fruits, and even baked goods, char on the grill outdoors gives us nothing but amazing bursts of flavor. And I especially like to combine the awesomeness of a grilled piece of beef, pork, chicken, or fish with the flavors and colors of a fresh, simple salad. This Grilled Steak Salad with Cherry-Chipotle Balsamic Vinaigrette promises to knock your socks off!
[rss-cut]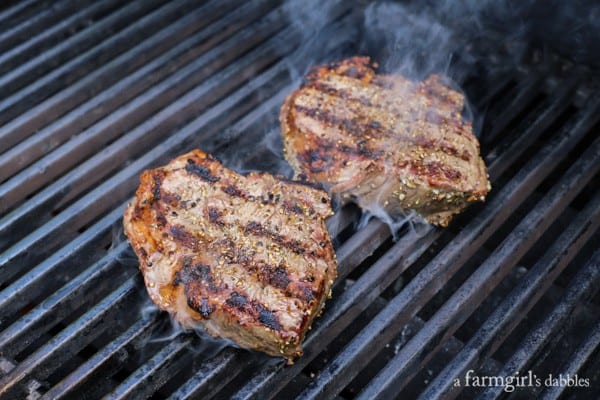 My husband makes the best grilled steaks in the world. Really. I hardly ever allow myself to order a steak in a restaurant because I usually end up disappointed. Too done. Too dry. Too blah.
Our cut of choice when grilling at home is a ribeye, marbled and tender and generous with rich beef flavor. It's definitely a treat. And when we're looking for a leaner cut, we turn to a top sirloin. Blake rubs a bit of olive oil over the surface of the beef, then sprinkles it with a Dry-Aged Beef Seasoning found at a local grocer. This flavorful blend consists of flaky grey sea salt, rosemary, thyme, and a few other ingredients. My favorite component, though, is the lavender. I never thought I would ever say that, but it's simply wonderful. If you don't have access to this particular seasoning blend, be sure to check out the recipe for my own homemade mixture.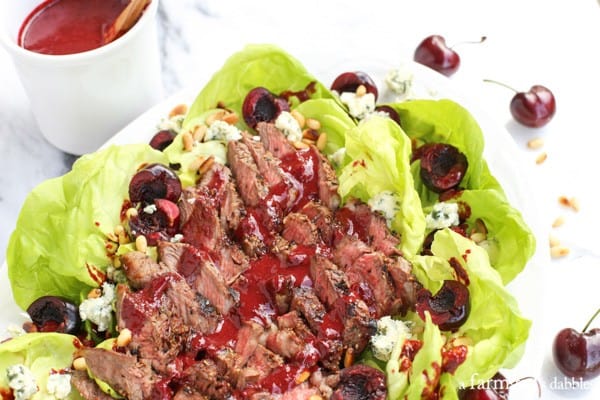 Once the steak comes off the grill, tent it loosely with foil to hold in the juices. Then slice the steak against the grain into strips and place it on top of fresh greens. I used tender-yet-sturdy Boston lettuce for this grilled steak salad, but use whatever you like best. Spinach, arugula, or even romaine would make great choices here.
Then add all the goodies. The fresh cherry halves, creamy crumbles of blue cheese, and buttery pine nuts, toasted to bring out even more of their nuttiness. Drizzle with some fresh Cherry-Chipotle Balsamic Vinaigrette and sprinkle with coarse salt and pepper, and you are good to go.
My family went (unexpectedly) crazy for this salad, much to my delight. It's true, our girls dodged the blue cheese, nudging it aside on their plates. Some day I know they'll regret such foolishness. But for right now, I'm just grateful that they're up for trying new combinations of flavors. They dipped, dunked, and drizzled that gorgeous cherry-chipotle balsamic vinaigrette all meal long!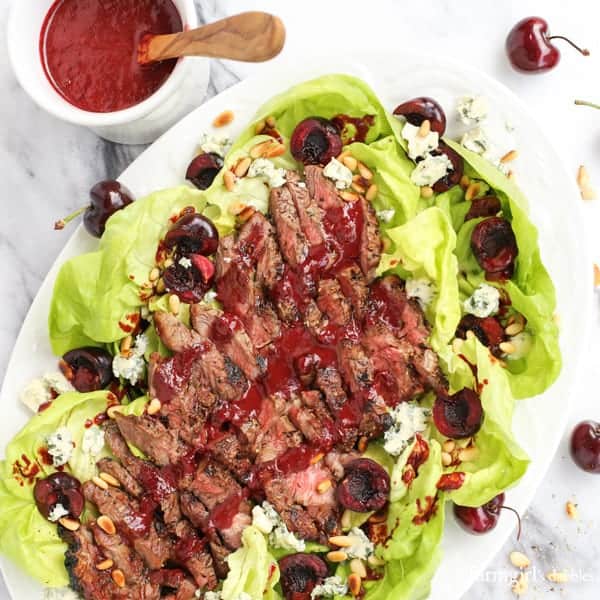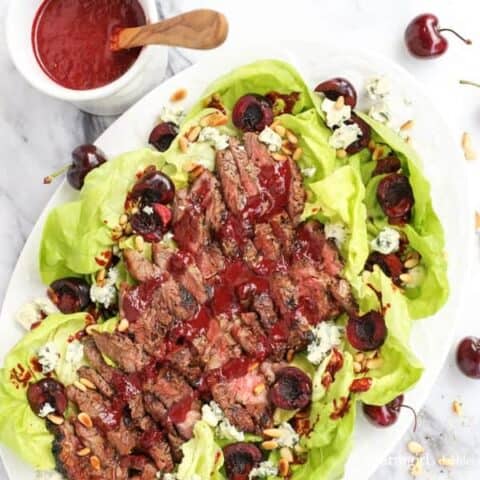 Grilled Steak Salad with Cherry-Chipotle Balsamic Vinaigrette
Yield: 5 servings
Prep Time: 10 minutes
Cook Time: 5 minutes
Total Time: 15 minutes
This Grilled Steak Salad with Cherry-Chipotle Balsamic Vinaigrette is bursting with flavor, color, and texture!
Ingredients
1.25 lbs. beef ribeye, or your favorite steak, 3/4" to 1-1/4" thick
olive oil
this Dry-Aged Beef Seasoning or my homemade Herbs de Provence mixture
kosher salt
freshly ground black pepper
1 head Boston lettuce (also known as butter lettuce or Bibb lettuce)
(also known as butter lettuce or Bibb lettuce)
12 fresh cherries, pitted and halved
4 oz. creamy blue cheese
1/4 c. toasted pine nuts
Instructions
Take steak out of refrigerator about 30 minutes prior to putting them on the grill. Rub a bit of olive oil onto both sides of each steak, about 1 teaspoon per large (1 lb. or more) steak.
Sprinkle both sides of the steak fairly generously with Dry-Aged Beef Seasoning, plus a bit of kosher salt and freshly ground black pepper. Let steak rest while you fire up the grill.
Heat the grill to super hot. If your grates aren't clean, give them a good cleaning next. Then coat your grill grates with canola oil. Blake likes to pour a few tablespoons of canola oil into a small bowl. Then he folds up a thick paper towel into a 3'' size piece and soaks it in the oil. With a grill tongs, he runs the soaked paper towel over the grill grates.
Once the grill grates are smoking hot, place your steaks on. Then close the lid and don't peek. For a 3/4'' thick, juicy medium-rare steak, grill for 2-1/2 minutes without peeking or moving the steak. Then flip and grill for another 2-1/2 minutes more on the second side without peeking or moving the steak. Increase grilling time for thicker steaks. Immediately remove steaks from grill to a platter and tent very slightly with a piece of aluminum foil. Let rest for a few minutes to retain juices.
Then slice steak against the grain into 1/4"-thick slices. Lay slices of steak over a platter of lettuce leaves. Sprinkle salad with cherry halves, blue cheese crumbles, and pine nuts.
Drizzle some of the Cherry-Chipotle Balsamic Vinaigrette over the steak and greens. Sprinkle a little kosher salt and freshly ground black pepper over the top of the salad. Offer the remaining vinaigrette on the side for extra drizzling and dipping.
Notes
from a farmgirl's dabbles
Nutrition Information:
Yield: 5
Serving Size: 1
Amount Per Serving:
Calories: 719
Total Fat: 51g
Saturated Fat: 20g
Trans Fat: 0g
Unsaturated Fat: 25g
Cholesterol: 187mg
Sodium: 570mg
Carbohydrates: 6g
Fiber: 1g
Sugar: 4g
Protein: 57g
Nutrition information is automatically calculated by Nutritionix. I am not a nutritionist and cannot guarantee accuracy. If your health depends on nutrition information, please calculate again with your own favorite calculator.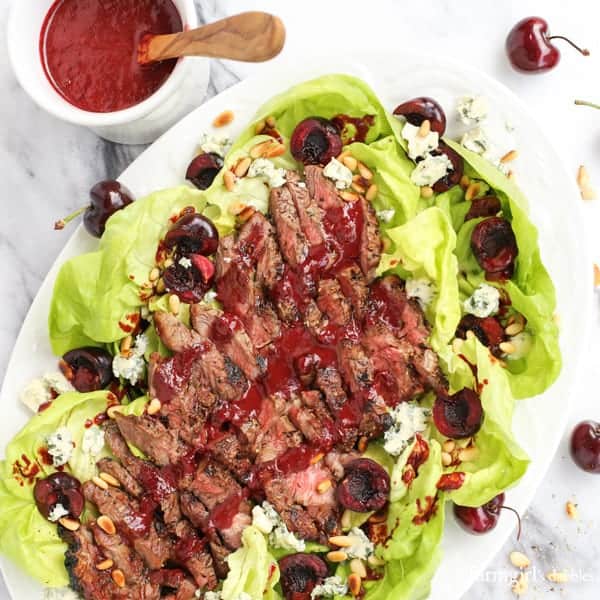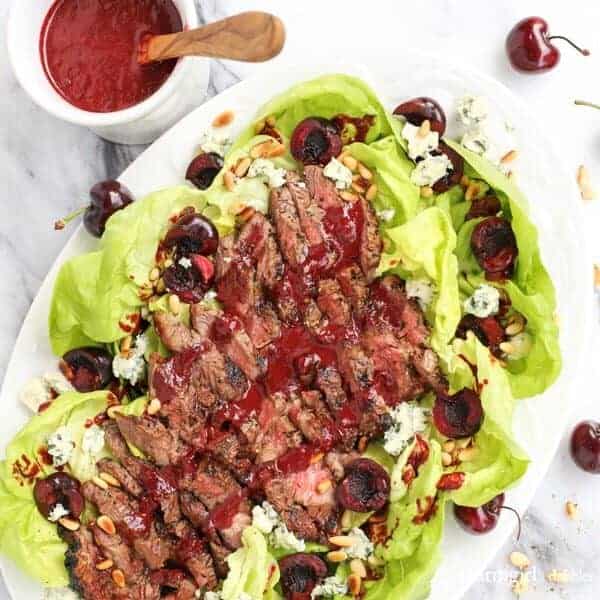 We participate in the Amazon Services LLC Associates Program, an affiliate advertising program designed to provide a means for us to earn fees by linking to Amazon.com and affiliated sites. See our
disclosure policy
for more info.