Cherry-Chipotle Balsamic Vinaigrette
Sweet and smoky with just a hint of heat, this Cherry-Chipotle Balsamic Vinaigrette is a vibrant and flavorful addition to any salad! It will quickly become a family favorite!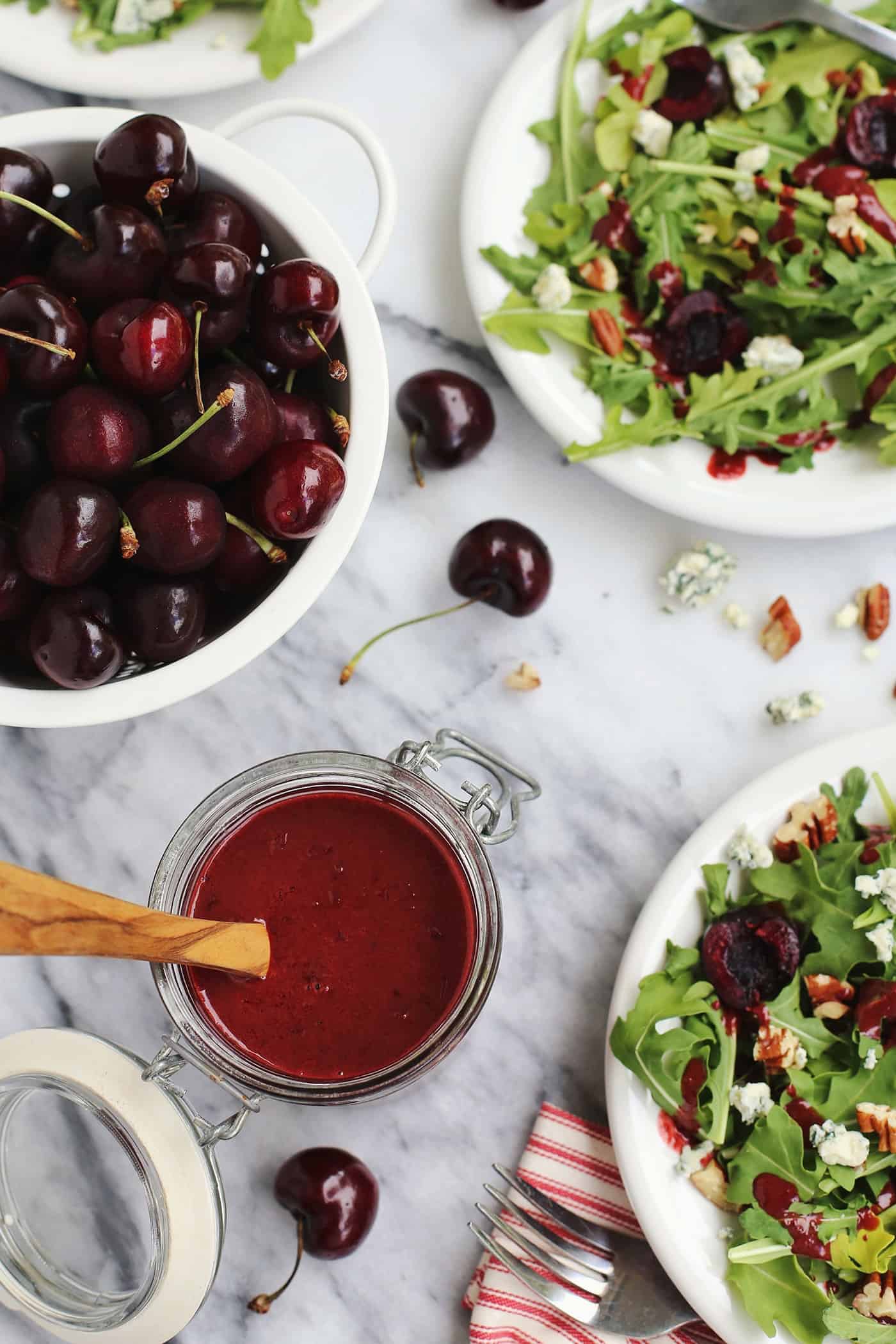 An Easy Homemade Dressing
When I was dreaming up this recipe for Cherry-Chipotle Balsamic Vinaigrette, I truly thought it would be a "me" indulgence type of thing. A recipe that I would pour into a cute little jar and tuck into the fridge, smiling to know that I would have several gorgeous lunch salads to enjoy over the upcoming week. It really was all about me, me, and me.
But, no. I went ahead and served a piled-high platter of greens to my family, topped with blue cheese crumbles and slices of grilled rib-eye steak, thickly crusted with salt and pepper … and drizzled with this subtly-spiced cherry vinaigrette. I was even so gracious as to offer the remaining vinaigrette as a side, for them to freely spoon more of its lusciousness over their plates if they so desired. Well, so much for my plan for several more weekday lunches. In just one meal, my family made a serious dent in my cute little jar. Beyond my expectations, they took a serious liking to this stuff, basically using the vinaigrette as a dip for everything on their plate. Yes, it's that good!
At the heart of this vinaigrette are fresh, sweet, dark, juicy, sumptuous cherries. I'm not afraid to heap glowing adjectives on these heavenly fruits. In my book, they totally deserve every morsel of positive recognition.
This cherry-chipotle balsamic vinaigrette is pretty in red, a vibrant addition to the table. It is slightly thick, coating fresh greens oh so nicely.
But what I love most is that, with just a few ingredients, there is so much flavor going on in this jar. The vinaigrette is most obviously fruity with fresh cherries. There is also a depth to this salad topper, with the inclusion of balsamic vinegar, shallots, and Dijon mustard. I believe that Dijon mustard is the secret ingredient to most vinaigrettes and dressings, as it adds an incredible amount of flavor and tang, with just a bit of heft in texture. Finishing off the vinaigrette is a touch of chipotle, subtle with its smoky heat, plus a bit of freshly squeezed lemon juice to both round it out and brighten it up.
Once you try this cherry balsamic vinaigrette, you'll be finding excuses to put it on everything. Side salads will turn into full meals because you'll want more of the dressing. French fries will be dipped in it. I bet you could even use it as a marinade for chicken!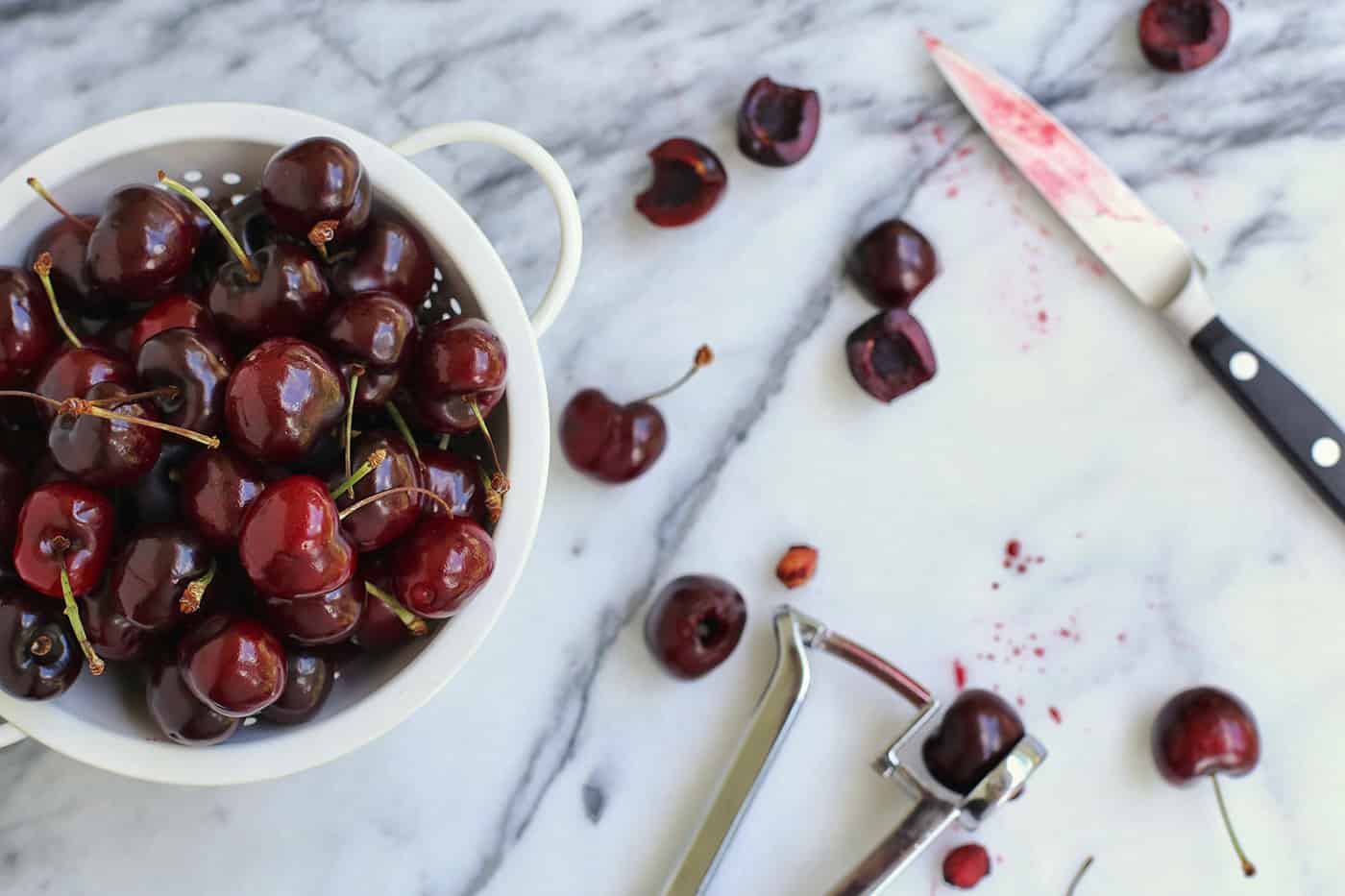 What You'll Need
This cherry-chipotle balsamic vinaigrette comes together with just a few ingredients – including my secret ingredient to making the best dressings!
Fresh sweet cherries – Cut them in half before adding to the blender.
Balsamic vinegar – It's not a proper vinaigrette without vinegar.
Lemon juice – Use freshly squeezed lemon juice, not the stuff in the bottle.
Shallot – Help to create a robust flavor.
Liquid from canned chipotle peppers – This adds the chipotle flavor and heat to the dressing.
Dijon mustard – My secret ingredient to making the best vinaigrettes and dressings!
Extra virgin olive oil – Be sure to use a high quality oil.
How to Make Cherry-Chipotle Balsamic Vinaigrette
Making this balsamic vinaigrette could literally not be easier! 5 minutes and your salad dressing is ready!
Blend ingredients. Combine all ingredients except fo the olive oil in a blender until coarsley chopped. Slowly pour in the olive oil until smooth.
Serve. Serve immediately or chill until ready to use.
Tips for Success
Making this homemade cherry vinaigrette is beyond easy – just keep these few tips in mind.
Use quality ingredients. As with any recipe that has only a handful of ingredients, be sure to choose the best quality ingredients possible – especially when it comes to the balsamic vinegar and the olive oil. You will taste the difference!
Don't forget to pit the cherries. Whether you do it by hand or with a tool, be sure to take the time to remove the pits. They do not do well in the blender.
Shake before serving. Since the oil and vinegar can sometimes separate from the other ingredients, it's always a good idea to give the vinaigrette a shake before drizzling it over your salad.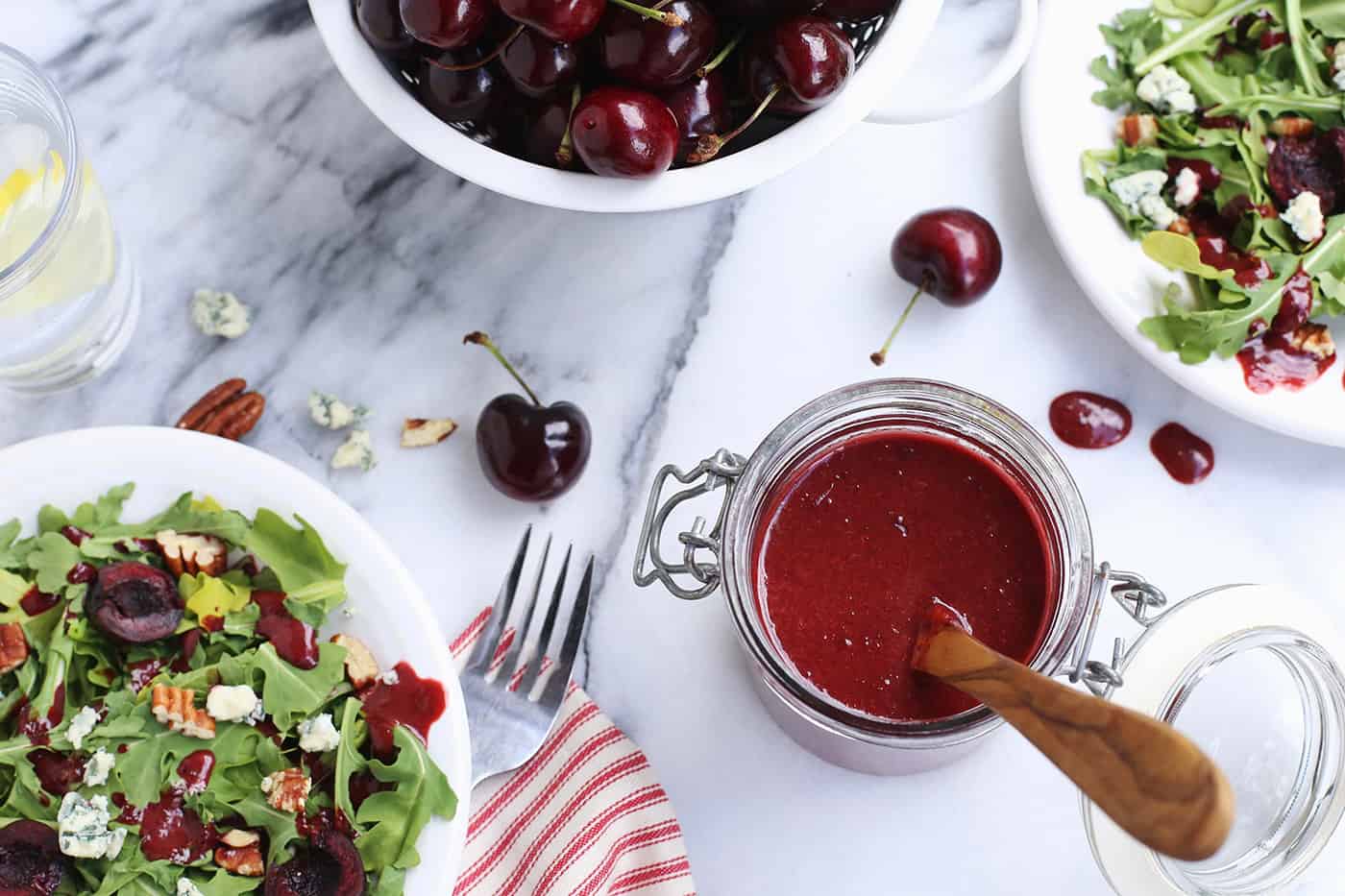 Serving Suggestions
The best thing about this cherry-chipotle vinaigrette is that it works with SO many things. As a salad dressing, a dip, on sandwiches and wraps, and so much more.
I like to serve this vinaigrette with side salads of arugula, topped with blue cheese, chopped pecans, and additional fresh cherry halves. Sprinkle a little coarse salt and freshly ground pepper over the plate, and you have one fresh, beautiful side. And if you're looking for main course ideas for this salad, it pairs extra wonderfully with a big, juicy, perfectly grilled steak. My whole family can attest to that. Just consider yourself warned, as you'll want to consume this vinaigrette as if it were a dip for your entire meal!
How to Store Leftovers
This homemade balsamic vinaigrette will last for quite a while in the fridge. Store it in a tightly sealed mason jar in the fridge. If the ingredients separate, just give it a shake before pouring. It will last around 2 months in the fridge – if you can keep it there that long!
Can I Make This Ahead?
Yes, absolutely. Since this stores so well in the fridge, you can make it at anytime – even if you aren't going to be using it that day. I'll often make it a day in advance so the flavors have time to meld.
More Easy Dressing Recipes:
Cherry-Chipotle Balsamic Vinaigrette
Yield: 8 servings
Prep Time: 30 minutes
Total Time: 30 minutes
Ingredients
1 c. Pitted And Halved Fresh Sweet Cherries
1/4 c. Balsamic Vinegar
1 tbsp. Freshly Squeezed Lemon Juice
1 tbsp. Minced Shallot
2 tsp. Liquid From Canned Chipotle Peppers
2 tsp. Dijon Mustard
1/3 c. Extra Virgin Olive Oil
Instructions
In a food processor or blender, combine cherries, vinegar, lemon juice, shallot, chipotle liquid, and mustard until coarsely chopped. Then slowly pour in the olive oil while processing, until very smooth. Serve immediately or chill until ready to use
.This vinaigrette is very nice drizzled over a salad of fresh greens (I used arugula in my photos) with crumbled blue cheese, chopped pecans, and halved fresh cherries, finished with a sprinkling of course salt and freshly ground black pepper. It also goes extremely well with a grilled steak.