Breakfast Salad with Berry Yogurt Dressing
Salad for breakfast? Why not! Start your day off right with Breakfast Salad with Berry Yogurt Dressing, a light and healthy breakfast you can pull together in minutes!
This breakfast salad pairs well with my Herby Lemon Vinaigrette. BOTH, so good!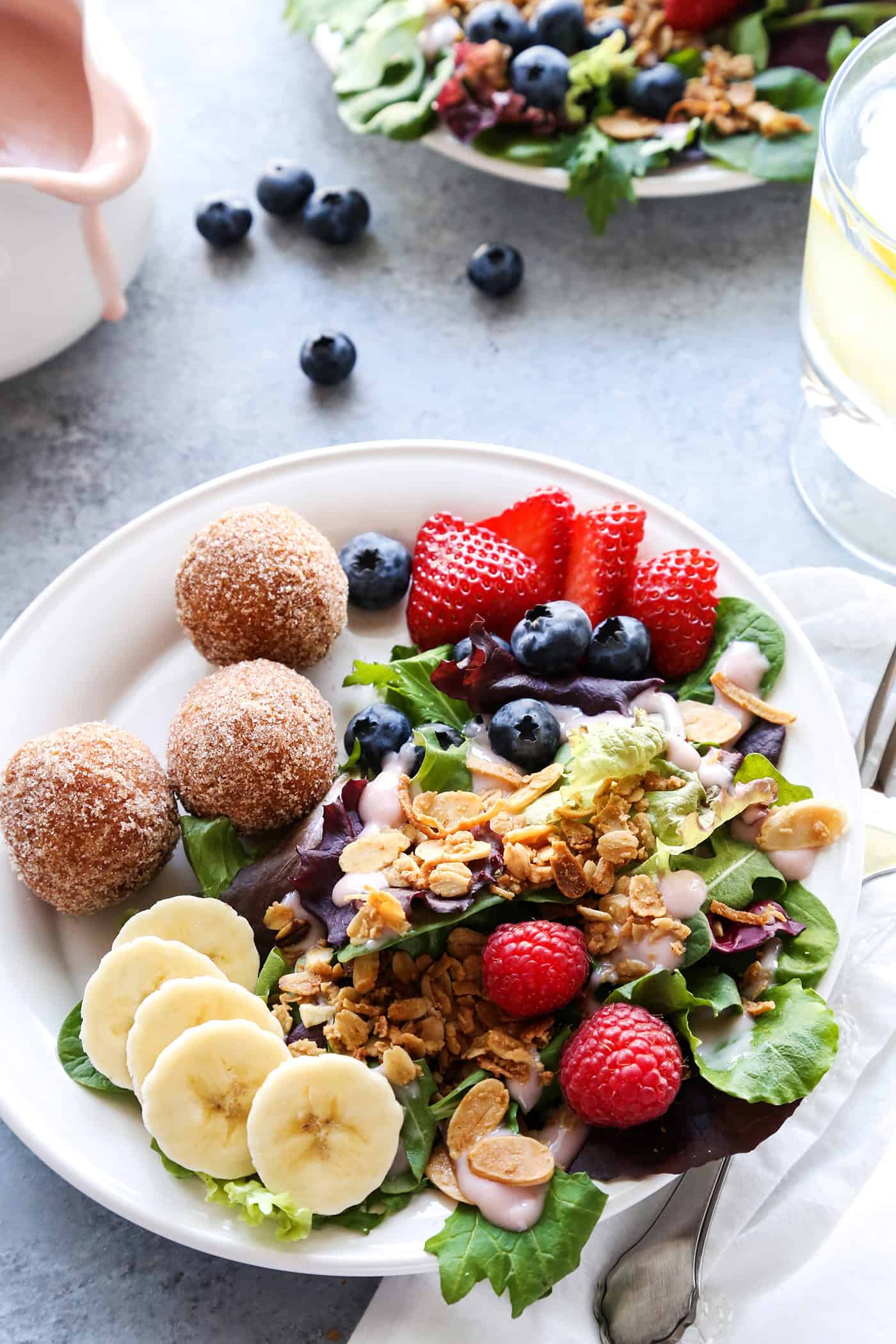 A Light and Healthy Breakfast
Salad for breakfast? It may seem unusual but once you try, I expect it will become a regular part of your morning routine! In fact, it's always surprised me that breakfast salad has not become more of a trend. After all, we all know that breakfast is the most important meal of the day and everyone is always looking for the healthiest one.
Breakfast salad seems like a solid answer. Like another other salad, there are endless possibilities when it comes to constructing a breakfast salad. Today I'm going to share my go-to recipe but I encourage you to get creative and make this your own.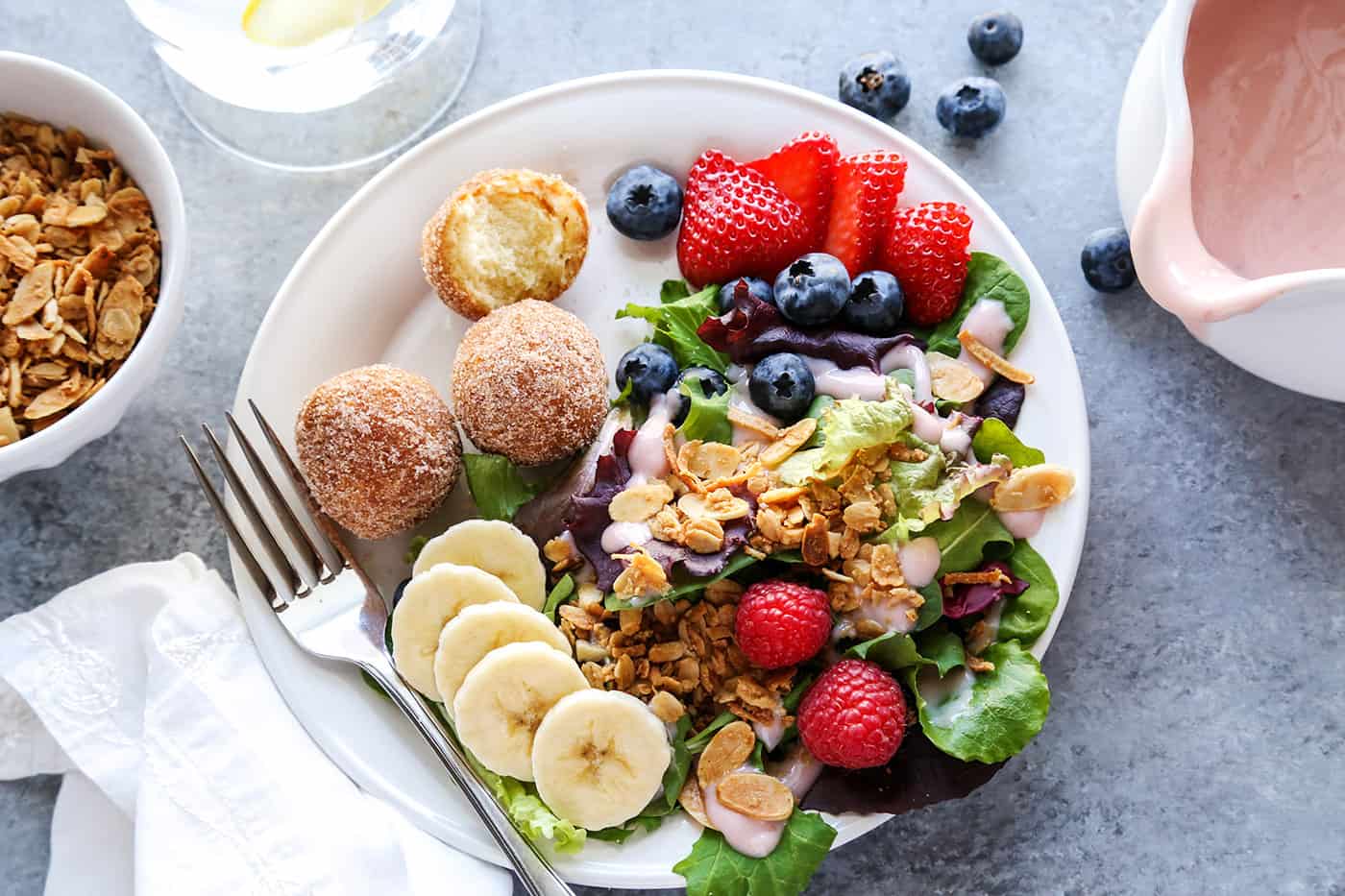 What is a Breakfast Salad?
This favorite breakfast salad consists of two parts – a spring greens base and a berry yogurt dressing. In both parts, there is a total of 7 ingredients and two steps to making this healthy dish.
One of the ingredients is my homemade almond coconut granola, which has always been one of my favorite things to add to my breakfast. It provides a sweet crunch to the salad and, of course, it goes well with the yogurt dressing. Yogurt and granola has long been one of my favorite breakfasts, so it only makes sense to add the two here.
Then we have the spring greens and berries base, topped with the berry yogurt. Berries and greens may seem like a strange combination but I've found that the flavors and texture of the two contrast nicely, and create a light but satisfying meal.
If you're on the search for your next healthy breakfast, definitely give this breakfast salad a shot!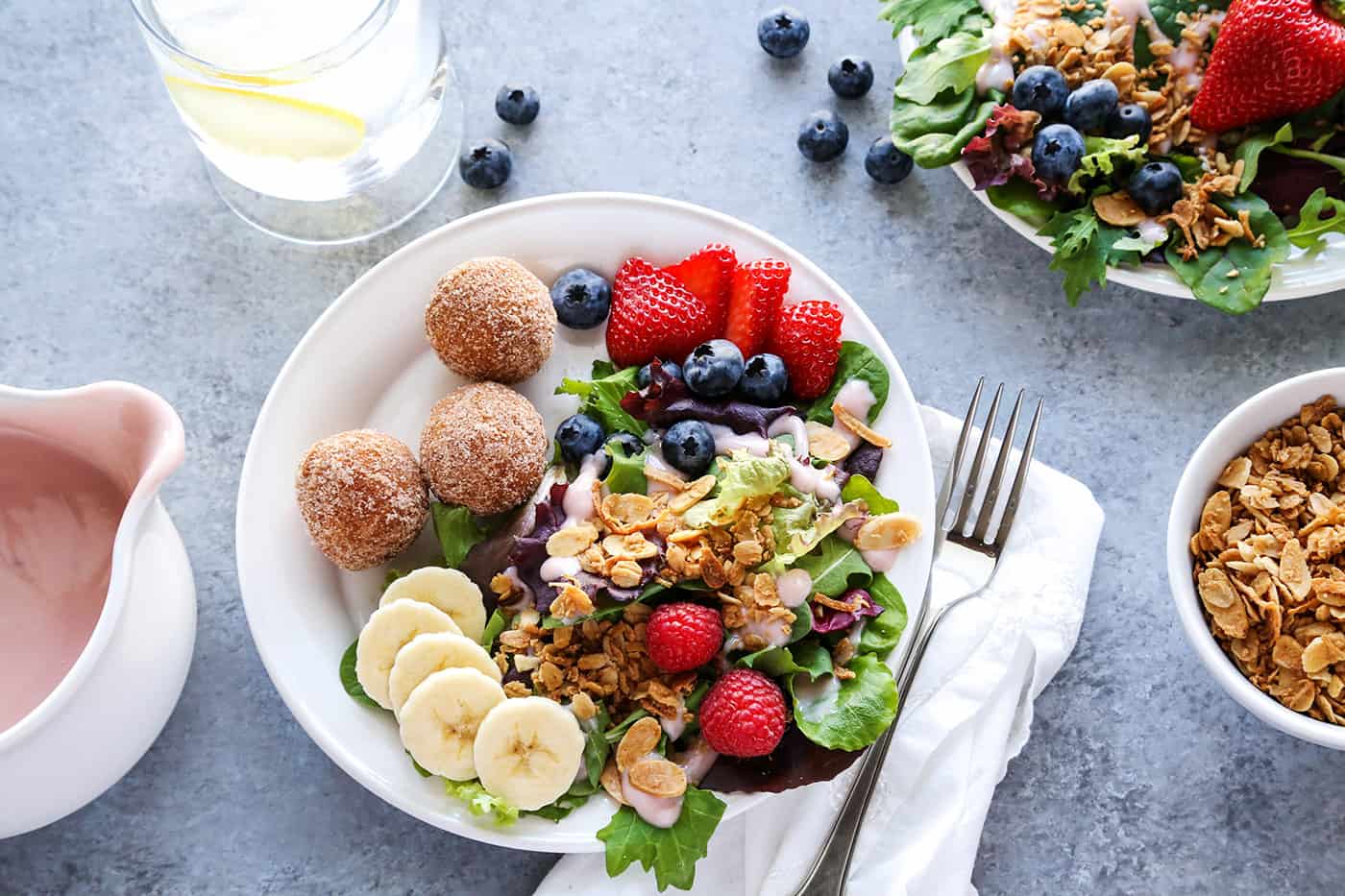 What You'll Need
This healthy breakfast salad is made with just 4 ingredients plus 3 ingredients n the yogurt dressing! No added sugar or preservatives either.
For the Dressing
Strawberry or Raspberry Yogurt – Your favorite berry yogurt will work perfectly as the base of this dressing.
Apple Cider Vinegar -Adds a balance to the sweetness of the yogurt and honey, and also helps thin the dressing.
Honey – A natural sweetener.
For the Salad
Fresh spring greens – A handful of your favorite spring greens works well.
Fresh berries – A variety of strawberries, blueberries, raspberries, or any other in-season berries.
Banana – Sliced to top the salad.
Almond coconut granola – You can substitute your favorite granola as needed.
How to Make Breakfast Salad with Berry Yogurt Dressing
Prepare the berry yogurt dressing. In a small to medium bowl, whisk yogurt, vinegar, and honey until combined.
Assemble the salad. Create one larger salad or smaller individual salads with the greens, berries, and bananas. Sprinkle granola over the top.
Combine and enjoy. Serve the breakfast salad with the dressing on the side or drizzled over the top.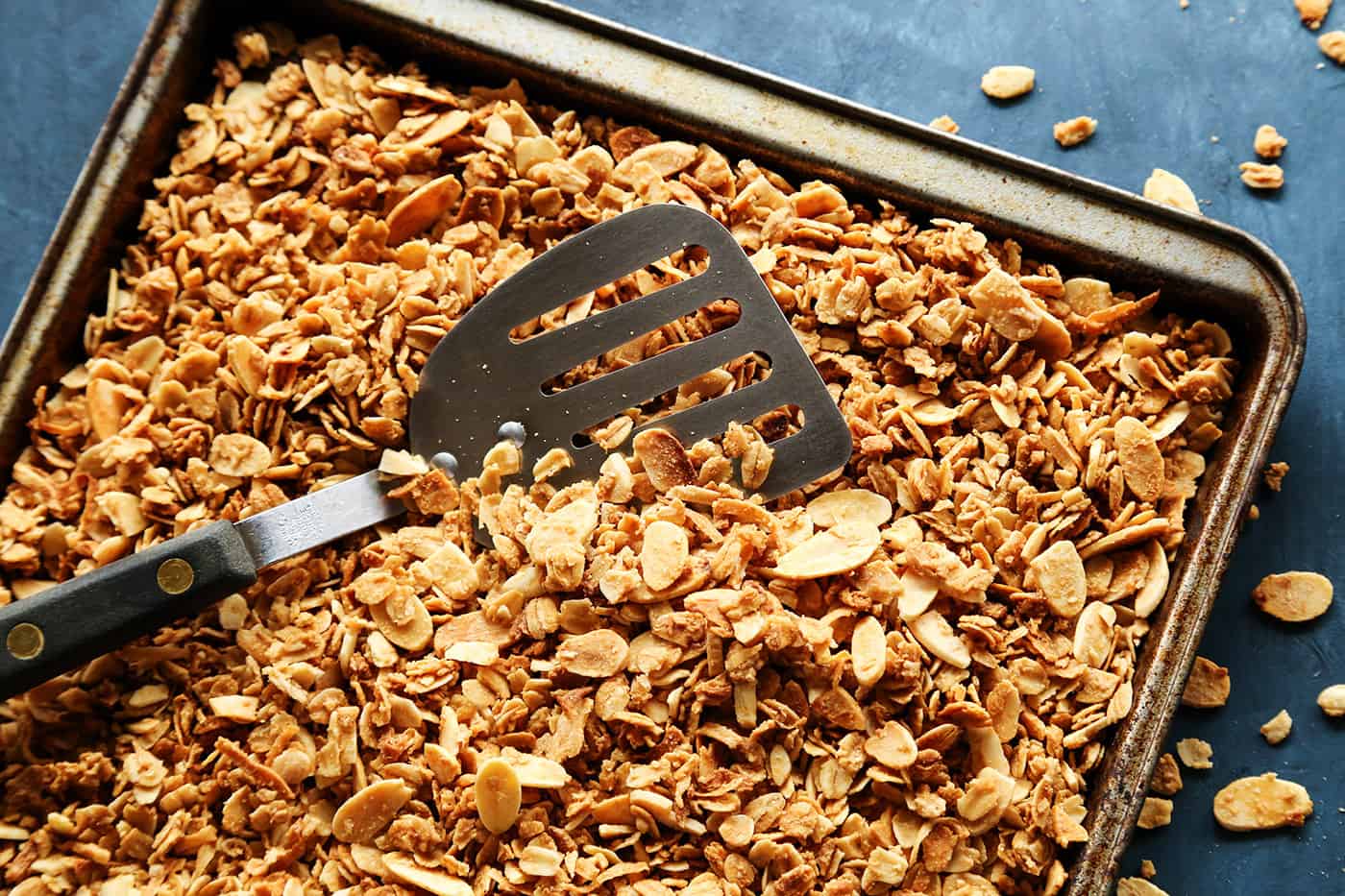 Tips for Success
Breakfast salad has been a part of my morning for quite some time now, so I like to think I've learned all the tips and tricks for making the best salad each morning.
Top with homemade granola. I recommend baking a fresh batch of my favorite granola to top your breakfast salad with berry yogurt dressing. Homemade granola takes this salad to a whole new level. Plus, you'll have crispy, flavorful granola to sprinkle over many bowls of morning yogurt and fresh fruit.
Switch up the dressing. If yogurt isn't your thing, you can also top this salad with my Herby Lemon Vinaigrette
Use fresh ingredients. From the spring greens to the fruit, I recommend using the freshest ingredients you can find. You will be able to taste the difference!
Enjoy immediately. Dig into your salad as soon as it's assembled, for the best textures and flavor.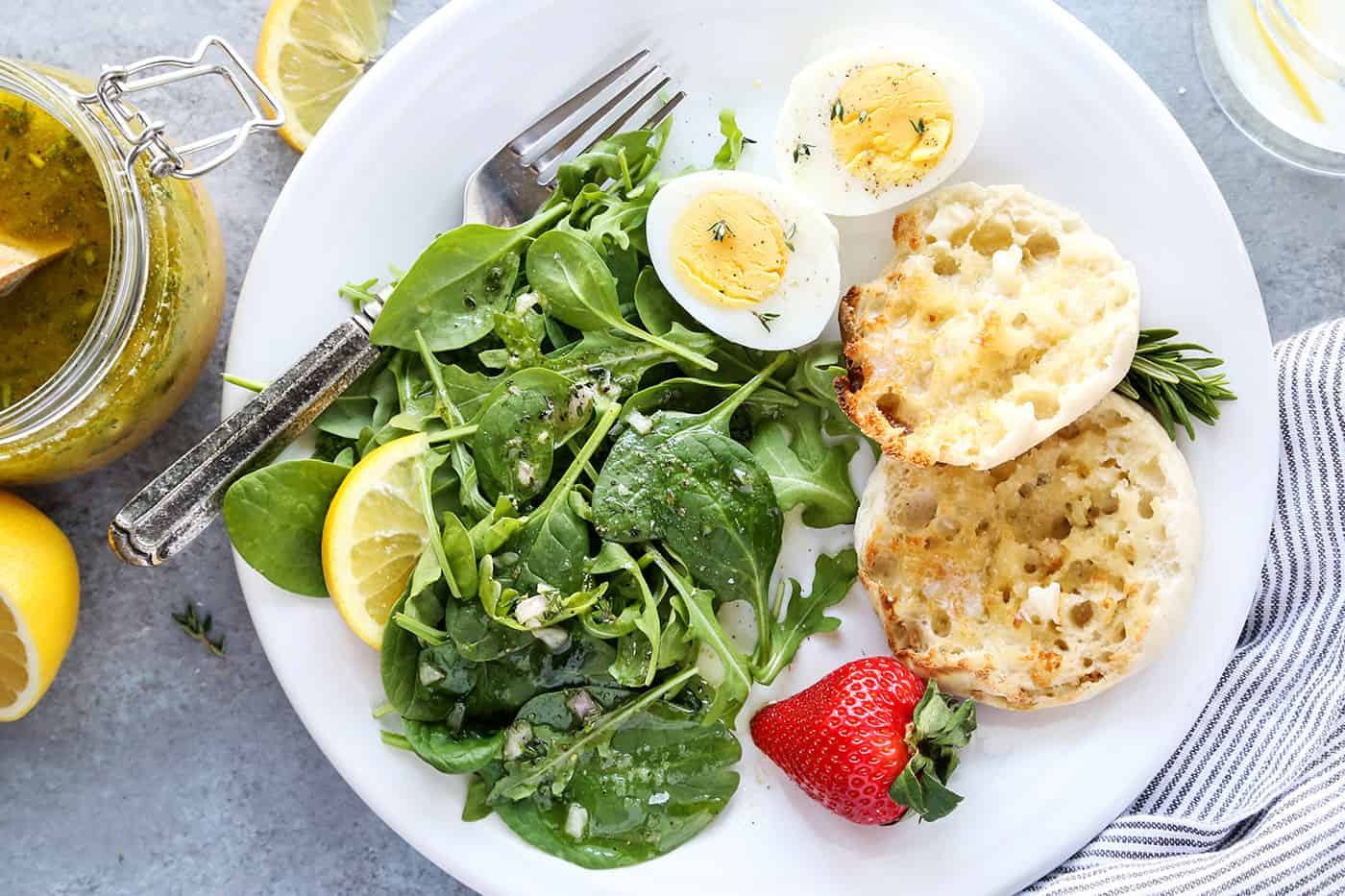 Serving Suggestions
Serve this breakfast salad immediately after preparing it. It works perfectly as a light breakfast on its own but can also be added to your brunch menu to be served with other breakfast favorites.
A few serving possibiltiies;
Any egg dish, from omelettes and scrambled eggs to quiche.
A sweet treat like caramel rolls or sugary donut holes
Biscuits or muffins
Breakfast sandwiches
Bacon. Bacon is ALWAYS the right choice!
Eggs and toast
These are just a few ideas but truly, the possibilities are endless with this easy breakfast salad!
If I'm going to be pairing this with something sweet, I'll often opt for the Herby Lemon Vinaigrette as opposed to the yogurt dressing, to balance it all out.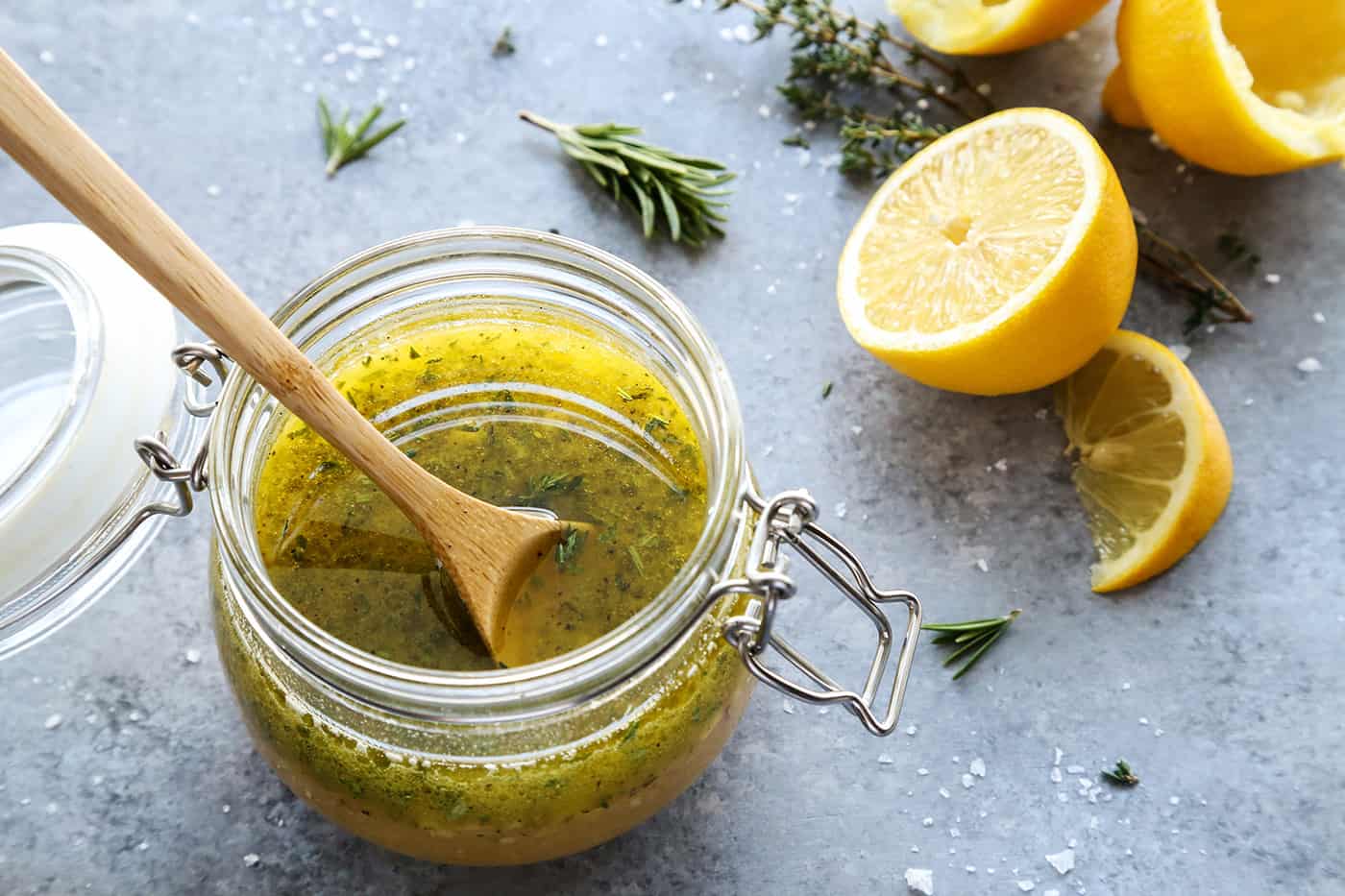 How to Store
Due to the delicate nature of the spring greens and the fruit, this is not a recipe I recommend storing. The best thing to do would be to store the ingredients individually, so that they are handy to assemble the salad in a pinch.
It really only takes a few seconds to pull this salad together, especially when all ingredients are prepared and ready to go.
Can I Make This Ahead?
While you can't necessarily make and assemble the breakfast salad in advance, you can make certain ingredients ahead!
The berry yogurt dressing can be made up to a couple hours before serving, as well as the Herby Lemon Vinaigrette can also be prepared in advance.
The homemade almond coconut granola can be prepared several days in advance, so that you always have some waiting and ready to go.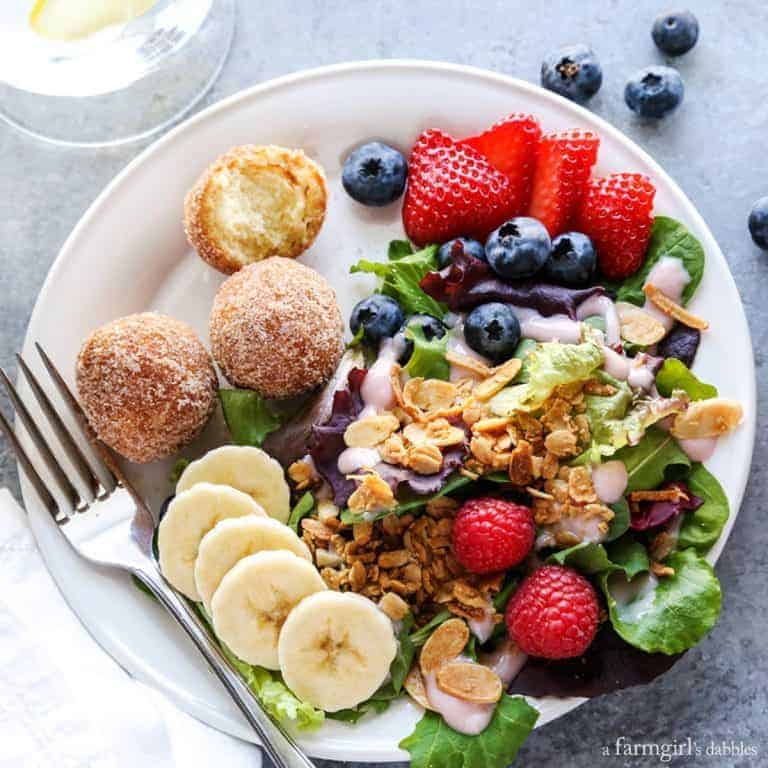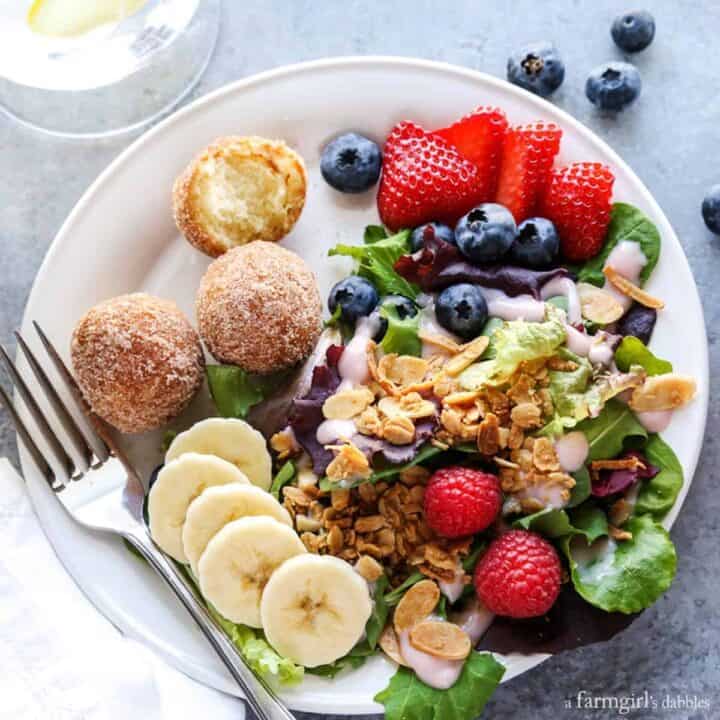 Breakfast Salad with Berry Yogurt Dressing
Yield: 4 servings
Prep Time: 10 minutes
Total Time: 10 minutes
This easy Breakfast Salad is topped with granola, fruit, and a simple 3-ingredient berry yogurt dressing. It comes together in just 10 minutes for a light, healthy breakfast any day.
Ingredients
For the Dressing
6 ounces of your favorite strawberry or raspberry yogurt
3 tablespoons apple cider vinegar
1 tablespoon honey
For the Salad
10 ounces fresh spring greens, or as desired
1 cup of variety fresh berries
1 whole banana, sliced
1/2 cup almond coconut granola, or as desired
Instructions
In a small to medium bowl, whisk yogurt, vinegar, and honey until combined. Dressing can be made up to a couple of hours before serving. Keep refrigerated.
Create one larger salad or smaller individual salads with the greens, berries, and bananas. Sprinkle granola over the top. Serve dressing on the side or drizzle over the top of the salad and gently fold to combine.
Nutrition Information:
Yield: 4
Serving Size: 1
Amount Per Serving:
Calories: 315
Total Fat: 15g
Saturated Fat: 3g
Trans Fat: 0g
Unsaturated Fat: 11g
Cholesterol: 2mg
Sodium: 224mg
Carbohydrates: 41g
Fiber: 8g
Sugar: 24g
Protein: 10g
Nutrition information is automatically calculated by Nutritionix. I am not a nutritionist and cannot guarantee accuracy. If your health depends on nutrition information, please calculate again with your own favorite calculator.
More Healthy Breakfast Recipes: