Mom's Ultra Soft and Tender Caramel Rolls
These caramel rolls are a Christmas morning tradition in our family. Mom's Ultra Soft and Tender Caramel Rolls, my favorite rolls in all the world!
Food traditions are such a big part of who I am. And these time honored recipes have a way of stacking up during the holidays. I would love to make each and every recipe every single year, but it gets hard to find the time to make all of them, much less the freezer space to store them and the tummy space to eat them.
I've listed some of the recipes that I would call Christmas traditions in my family. Some have been gracing our family since before I was born; others are fairly new to the scene, recipes that we now simply don't want to be without this time of year.
Doesn't that list just make you want to get in the kitchen and make somethin'? I hope so!
While we can't possibly make all these treats every year, there is one recipe that is extremely special, that I hope to never be without. Each Christmas morning, Mom gifts our family with a couple pans of her famous and amazing caramel rolls. It's tradition at its finest. Mom's Ultra Soft and Tender Caramel Rolls.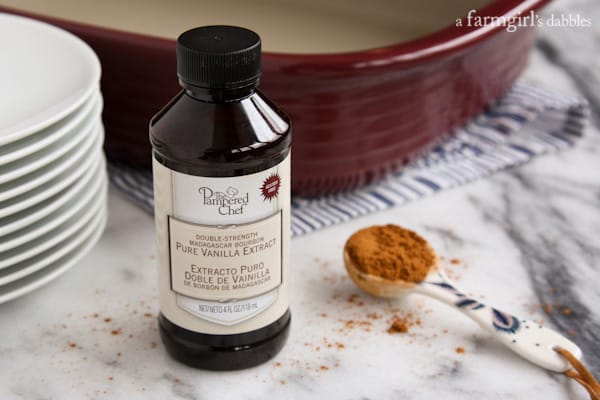 I already had Mom's caramel rolls recipe on my list to share with you this month, so when The Pampered Chef asked me to create a favorite baked good that could be gifted or served during the holidays, I knew it was the perfect opportunity to bake my favorite caramel rolls.
The Pampered Chef is known for their quality kitchen products, and is a brand I've been using for many, many years. I had been wanting to try out their stoneware, so I chose to bake a pan of my mom's rolls in their rectangular baker, so pretty in a beautiful cranberry color. Pure vanilla extract was stirred into the creamy caramel. And the finished rolls were served on classic white appetizer plates from The Pampered Chef, perfect for entertaining any time of year.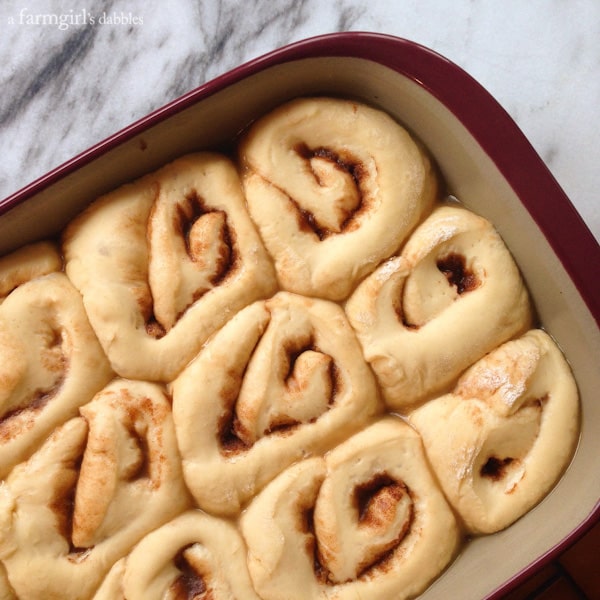 There's something so satisfying about creating a sweet, soft bread dough, waiting for it to rise, and then placing its cut swirls of melted butter, cinnamon, and sugar into a pan. Although I've had Mom's recipe for many years, it's not one that I've taken the time to know intimately. Because those caramel rolls just taste better when made by Mom. It's the simple undeniable truth. ;)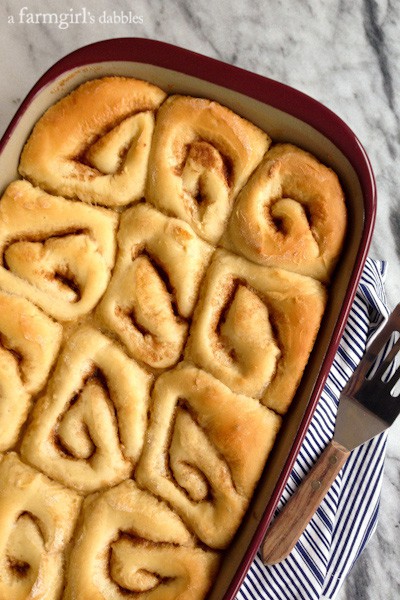 But I figured it was high time that I got this recipe perfected myself, so that I am able to pass this Christmas tradition down to our own daughters. I had quite a few conversations with Mom before I dug in, adding notes to the recipe where I had questions. I wanted to make sure I got them just right.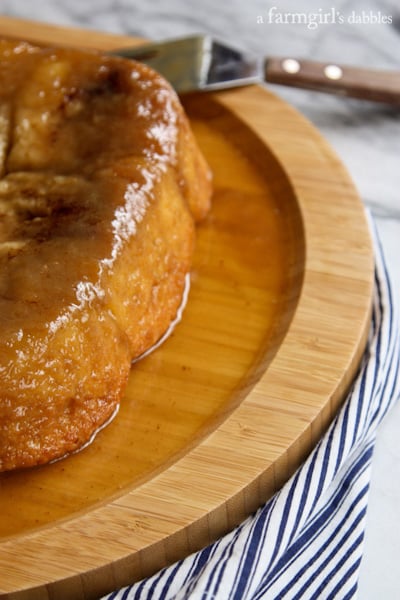 Normally, when Mom bakes these, she serves them straight from the pan, with the caramel on the bottom. But for special occasions, the rolls can be flipped out onto a platter with the caramel on top. The caramel will be somewhat clear in color, with a loose consistency, when hot from the oven. But when left to sit for awhile, as I recommend you do, it thickens and has a cloudy appearance. This caramel is not sticky or chewy or tough. Once it is set, it is lusciously soft and creamy. I absolutely love it.
The photo above shows the hot rolls flipped out onto a beautiful bamboo platter from The Pampered Chef. I wanted to show you how the caramel looks when it's piping hot, just out of the oven.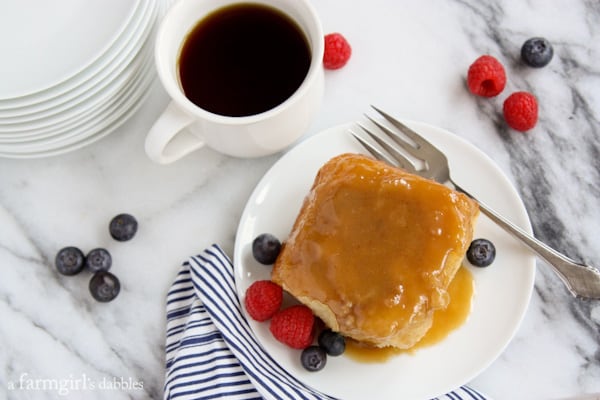 These rolls are a Christmas morning tradition for our family, but it's not the only time of year we enjoy them. They are welcome at any time, for any occasion. The recipe makes two pans of rolls, perfect for so many kinds of gatherings.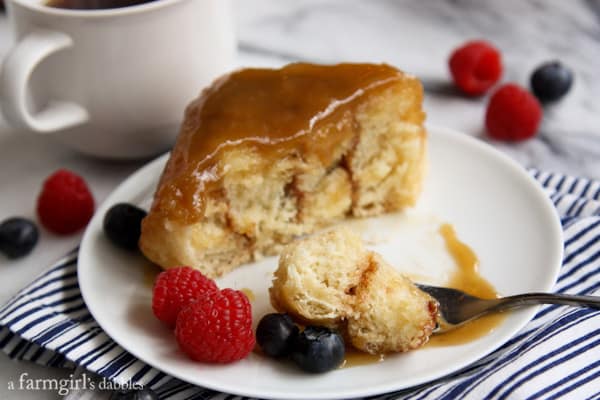 Mom's caramel rolls are the softest, most tender rolls I've ever met. Their pillowy sweet goodness will always be ranked #1 in my book of caramel rolls. They are pure comfort, with longtime tradition.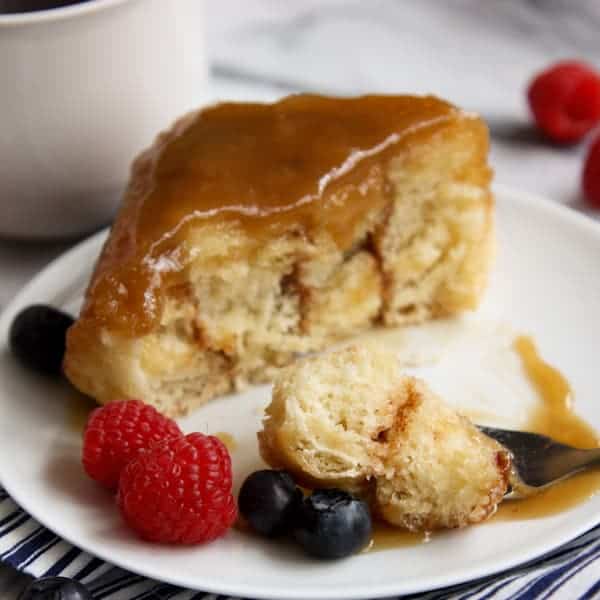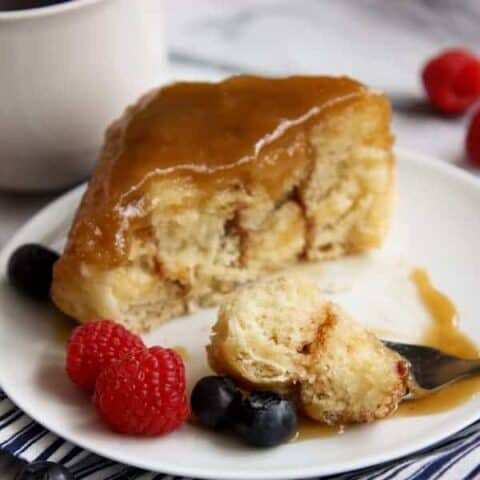 Mom's Ultra Soft and Tender Caramel Rolls
Yield: 24 caramel rolls
Cook Time: 30 minutes
Total Time: 30 minutes
These caramel rolls are a Christmas morning tradition in our family. Mom's Ultra Soft and Tender Caramel Rolls, my favorite rolls in all the world!
Ingredients
FOR THE ROLLS:
2 pkgs. dry yeast
1/2 c. warm water
1 c. hot water
3/4 c. shortening
1 c. cold water
3/4 c. sugar
1 heaping tsp. kosher salt
2 eggs, beaten
7-1/2 c. all-purpose flour
vegetable or olive oil
1/2 cup unsalted butter, divided
1/2 c. sugar
4 tsp. cinnamon
FOR THE CARAMEL:
2-1/4 c. brown sugar
2-1/4 c. heavy cream
3/4 c. unsalted butter, at room temperature
3 T. white corn syrup
3 T. water
2 tsp. pure vanilla extract
Instructions
FOR THE ROLLS:

In a small bowl, dissolve yeast in 1/2 cup warm water. I always aim for the water to be the warmness of a bottle of milk that you would give to a baby. Set aside.
In a small pan over medium heat, melt shortening in 1 cup of hot water. Remove from heat and add 1 cup cold water. Add the shortening and water mixture to the bowl of a stand mixer, and then add the 3/4 cup of sugar, salt, eggs, and dissolved yeast. With a dough hook attachment, mix these ingredients. Then add the flour, 1 cup at a time, mixing in the flour almost completely each time before adding the next cup. When all flour has been incorporated, you will have a very soft dough that is easy to handle.
At this point you can either use the dough right away or store the dough in the refrigerator for up to a week to make the rolls at a later time. To continue making this recipe, cover the bottom and sides of a large bowl with a very light coating of oil. Place dough in the oiled bowl, turning dough over to get some oil on all sides, so the top of the dough stays soft. Cover top of bowl with a clean kitchen towel and set in a warm place. Let dough rise to about double the original amount. This can take at least an hour, depending on the warmth of your surroundings, etc. While dough is rising, prepare the caramel (directions are listed below). Once dough has doubled, score it in half and roll out each half into a large rectangle shape, about 14″ x 8″. Melt the 1/4 cup of butter in a small bowl and brush dough with half of the butter. In a small bowl, stir together the 2/3 cup of sugar and cinnamon. Sprinkle half the cinnamon sugar evenly over the melted butter. Starting with the wide side of the dough rectangle, roll the dough up tightly, pinching the seam to seal it at the end. Cut dough roll into 12 slices. Place dough, cut sides up, in a 9″ x 13″ pan that already has caramel sauce in it. Repeat with the other half of the dough, to create a second pan of rolls. Cover pans with kitchen towels and allow dough to rise in a warm place for a second time, until doubled. This can take at least an hour, depending on the warmth of your surroundings.
To make the rolls at a later date, place the dough in a large airtight container that has a bit of oil in it to coat the dough. Spray one side of a piece of plastic wrap with nonstick spray and place it directly on top of the dough (so it doesn't stick to the dough). Put a lid on the bowl and place the bowl in the refrigerator. The dough will still rise while in the refrigerator, just at a much slower rate. When ready to make rolls, prepare the caramel and divide it into two pans. Then score the dough in half and continue with the recipe as normal. Note that when the dough is cold, it will take longer to rise in the pan.
Preheat oven to 350°. Place prepared pans of caramel and rolled dough in oven and bake for about 30 minutes, or until nicely browned. I found that the stoneware from The Pampered Chef required a bit more time in the oven than a metal pan. If you want to turn the rolls out onto a platter, let the rolls rest for 5 minutes after removing them from the oven before doing so. We usually just serve the rolls right from the pan.

FOR THE CARAMEL:

In a medium saucepan over medium heat, stir together brown sugar, cream, butter, corn syrup, and water until melted and combined. Heat to just near boiling, but do NOT boil. It will have a cloudy appearance and will stay softer once the rolls are cooked. Divide caramel between two 9″ x 13″ pans. Set pans aside to let the caramel cool while the dough is rising.
Nutrition Information:
Yield: 24
Serving Size: 1
Amount Per Serving:
Calories: 492
Total Fat: 31g
Saturated Fat: 18g
Trans Fat: 0g
Unsaturated Fat: 12g
Cholesterol: 89mg
Sodium: 128mg
Carbohydrates: 51g
Fiber: 1g
Sugar: 43g
Protein: 3g
Nutrition information is automatically calculated by Nutritionix. I am not a nutritionist and cannot guarantee accuracy. If your health depends on nutrition information, please calculate again with your own favorite calculator.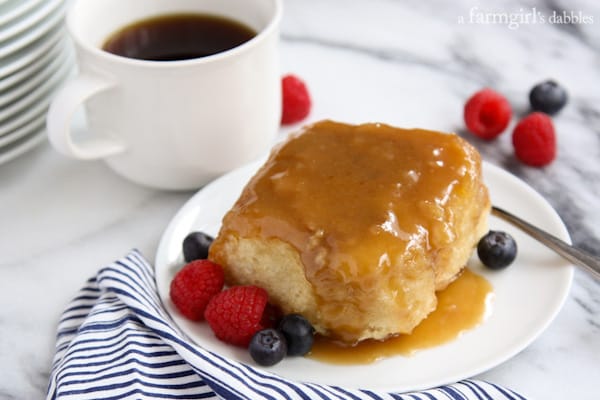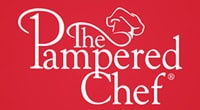 Connect with The Pampered Chef on their website, facebook, twitter.
Disclaimer: This blog post is sponsored by The Pampered Chef, creators of kitchen tools and food products that I've trusted for many, many years. They also provided me with the products used in this post. Thank you for supporting the brands I love, and that I so carefully choose to partner with. All opinions are 100% my own.