Cheesesteak Totchos
This Cheesesteak Totchos recipe combines the flavors of one of our favorite sandwiches with a pile of crispy tots. It's one awesome appetizer!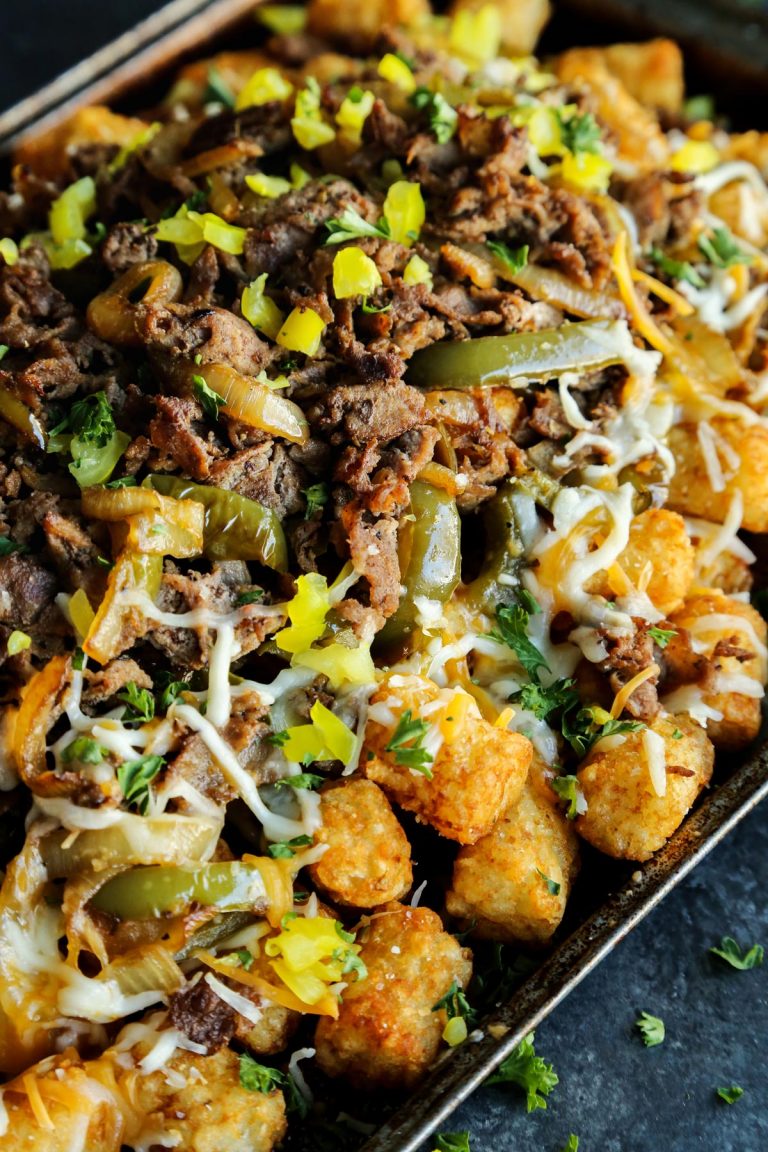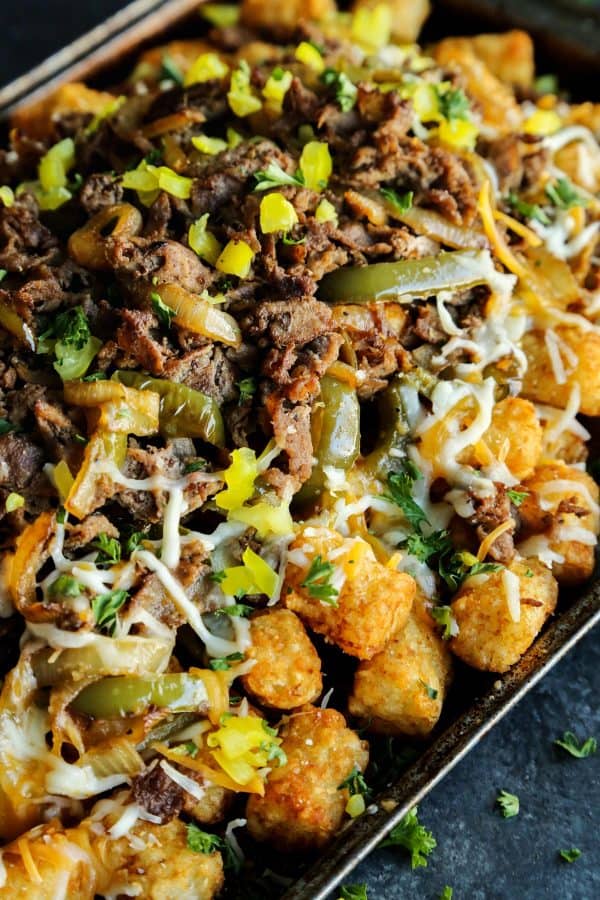 It's the final week leading up to Super Bowl LII, and Minnesota is both honored and excited to host this national sports event.
I talked a bit last week about our own Vikings' end-of-season games, full of unexpected joy and then the ultimate defeat…they were sooooo close to playing the big game on their own turf, in our Bold North!
If you're local or visiting the Twin Cities this week, I hope you'll take the opportunity to visit Super Bowl LIVE on Nicollet Mall, in the heart of downtown Minneapolis. Our family took it all in over the past weekend and had such a great time!
We've been ramping up for the big game here at home as well, planning our Super Bowl menu. And I must say, you just HAVE to try these Cheesesteak Totchos!
* This is a sponsored post, created in partnership with Schwan's®.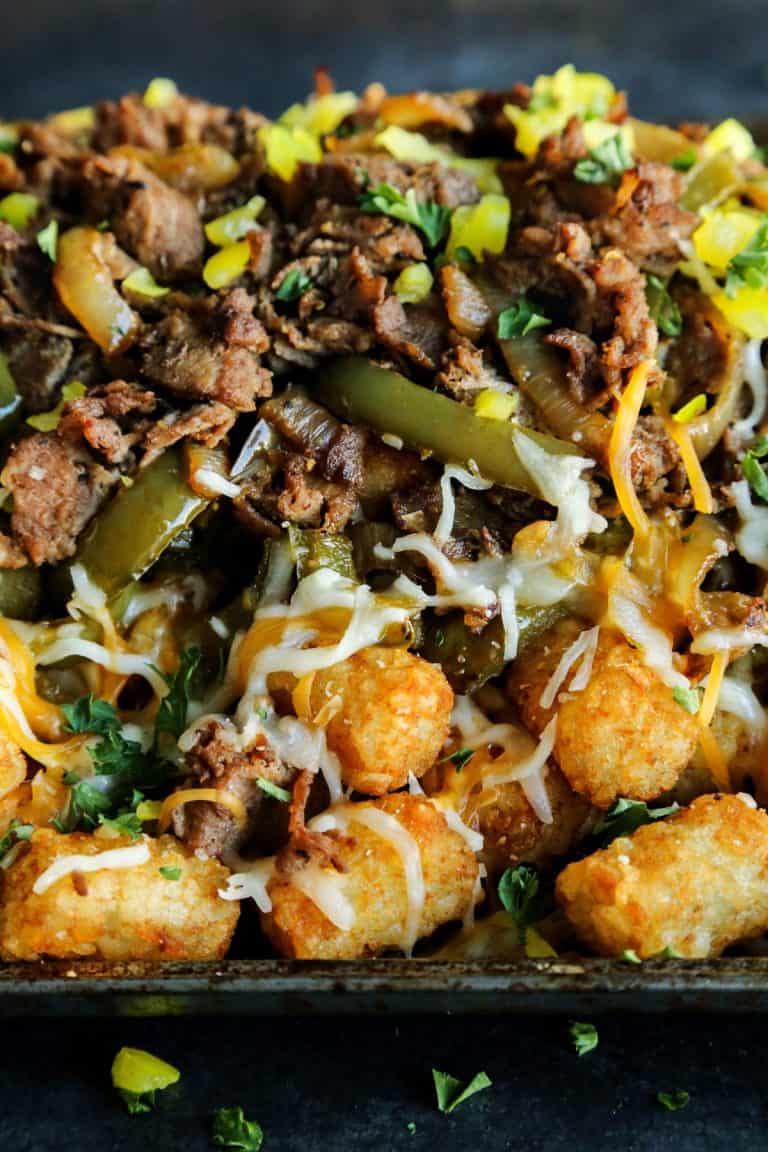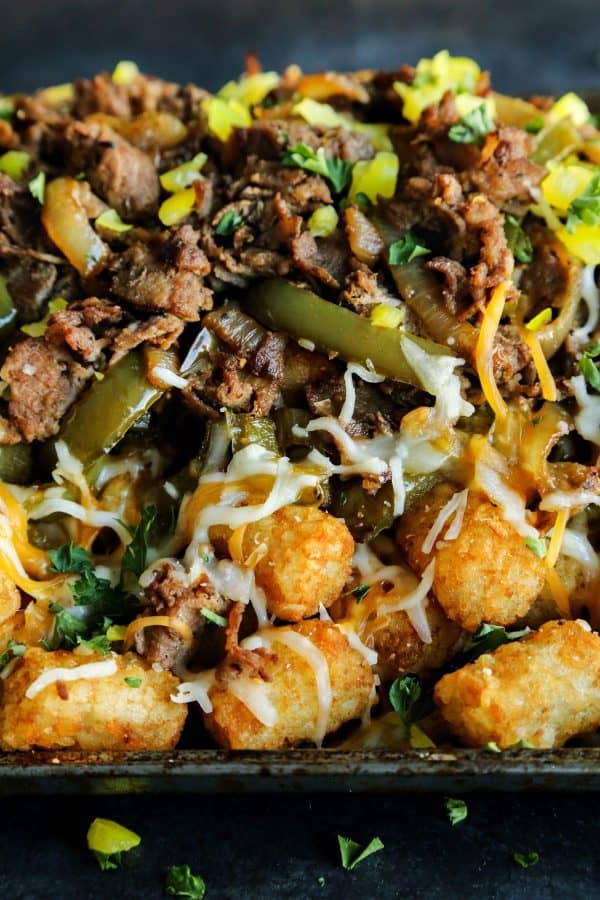 Totchos. You've heard of them, right? Like nachos, but with tots filling in for nacho chips.
Our family adores a big pan of baked nachos. It's a regular kind of appetizer around here, and dare I say, meal.
So I knew that mixing up our "usual" with some crispy potatoes was going to be a huge win for me. Especially when adding the flavors of the cheesesteak sandwich that we all love. One of our favorite cheesesteaks comes from Andy's Grille at the Minnesota State Fair. Have you had it?!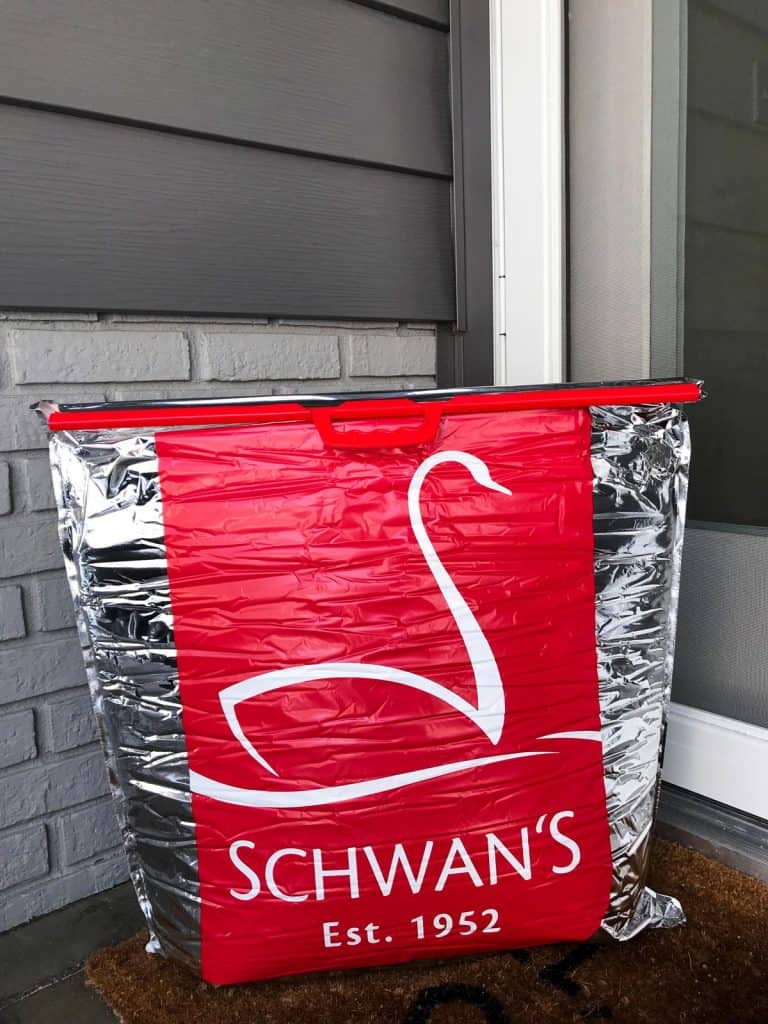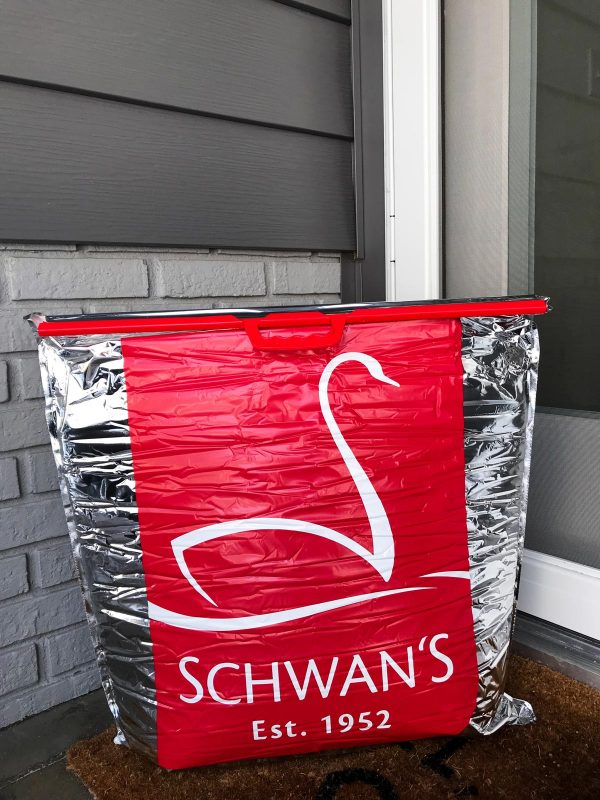 I love highlighting great local brands, you already know that. So when Schwan's, a Minnesota company celebrating 65 years in business, contacted me to visit them at Super Bowl LIVE and share here about their foods, I was at the ready.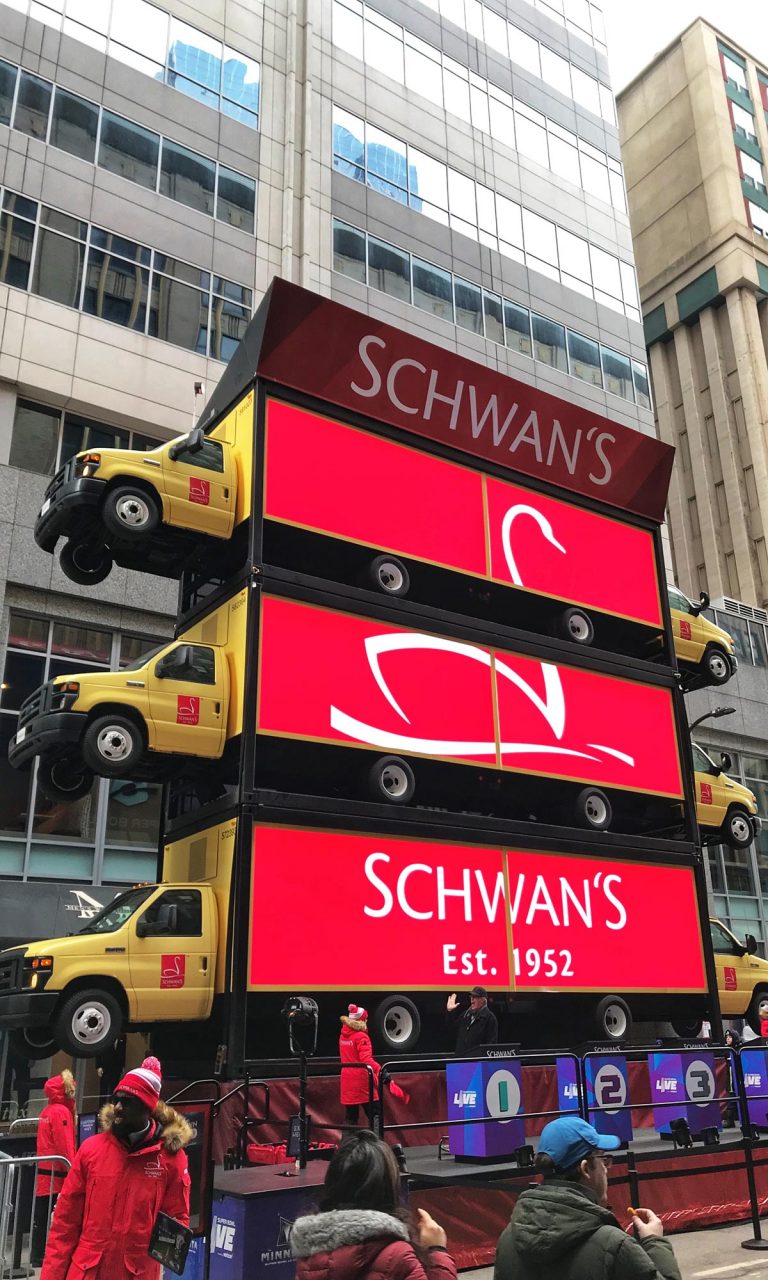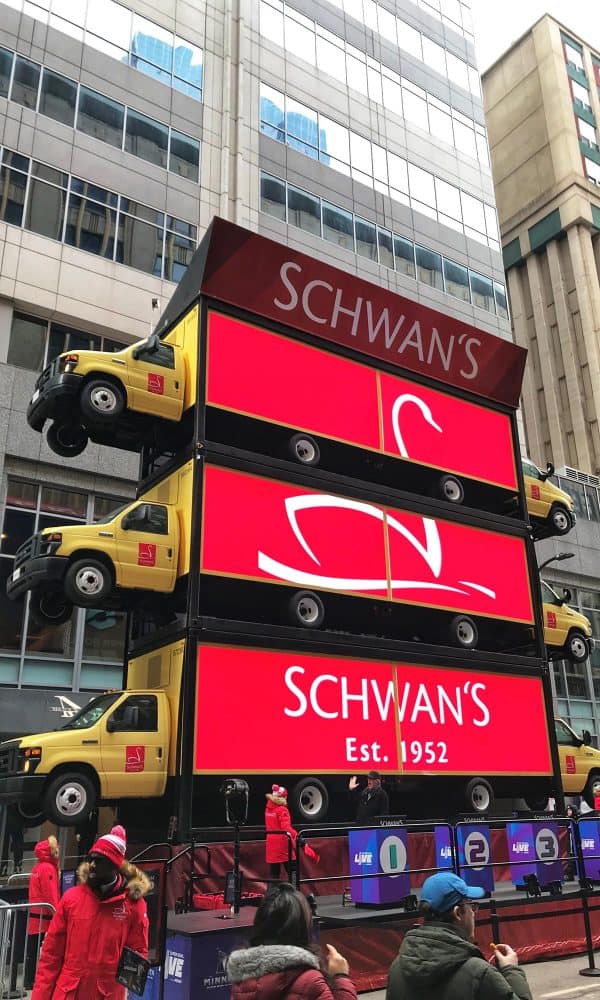 The Super Bowl LIVE event was hopping with festivity; we thoroughly enjoyed our day downtown.
And the Schwan's experience was definitely impressive, with a Schwan's truck tailgate tower featuring trivia and highlighting all the tasty foods that Schwan's has to offer.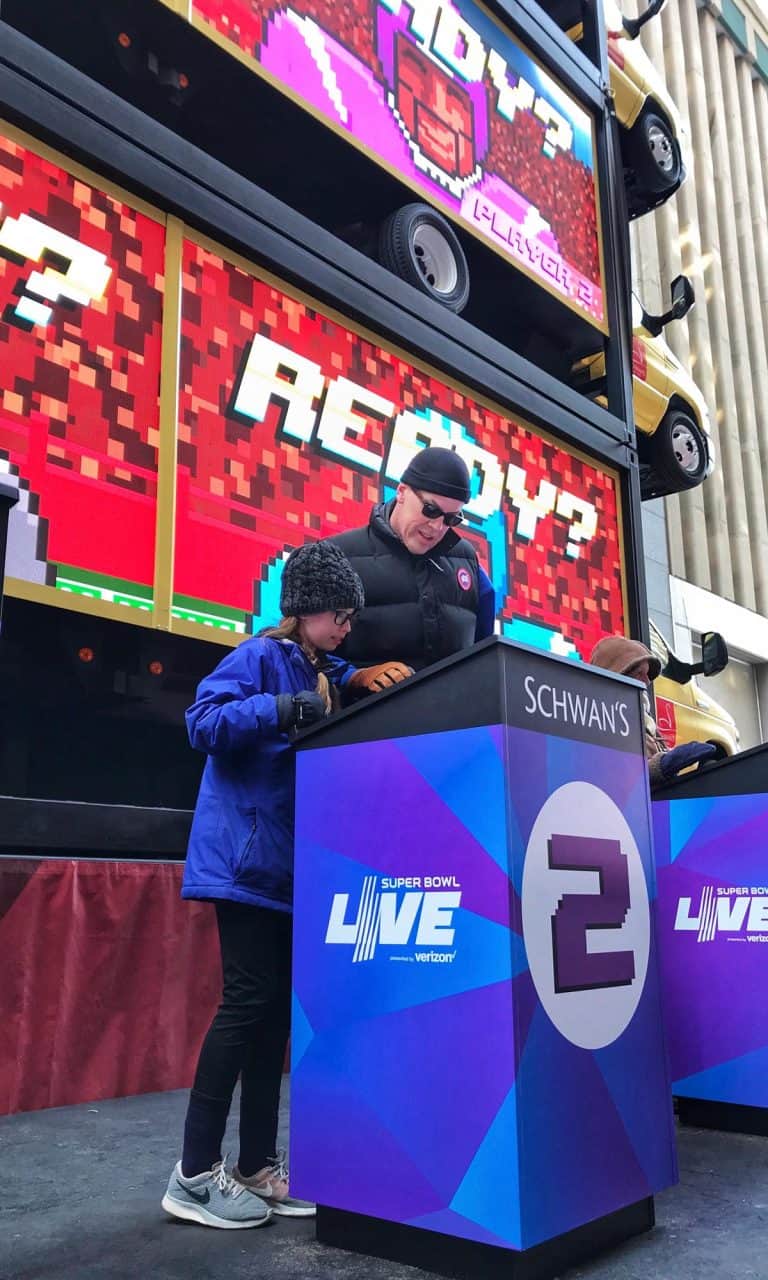 If you were following along on my Instagram story while we were there, then you know that Team @farmgirlsdabble took home a win in a round of tailgate trivia. We had so much fun!
If you're not familiar with Schwan's, they distribute 300 high-quality frozen foods through home delivery. You might have seen their famous yellow trucks around town? Or driving through the country?
Growing up on the farm in South Dakota, and being more than an hour away from any major city for her bulk shopping, my mom relied on those yellow trucks to deliver everything from meats and seafood, to veggies, to ice cream.
A few of Mom's favorite items were the personal pizzas, SIGNATURE™ Wild-Caught Alaskan Cod, Black Cherry Ice Cream, and SIGNATURE™ Silvermint® Bars. And my sisters both remember the PUSH-EMS® Orange Sherbet.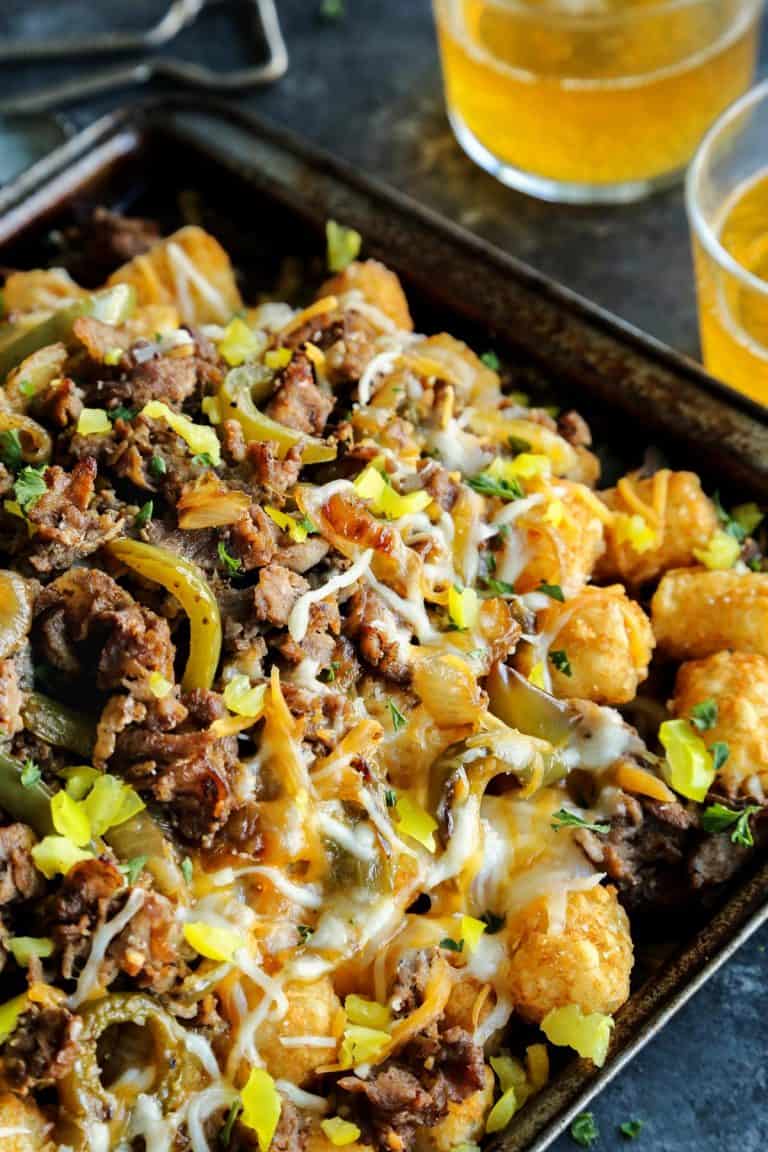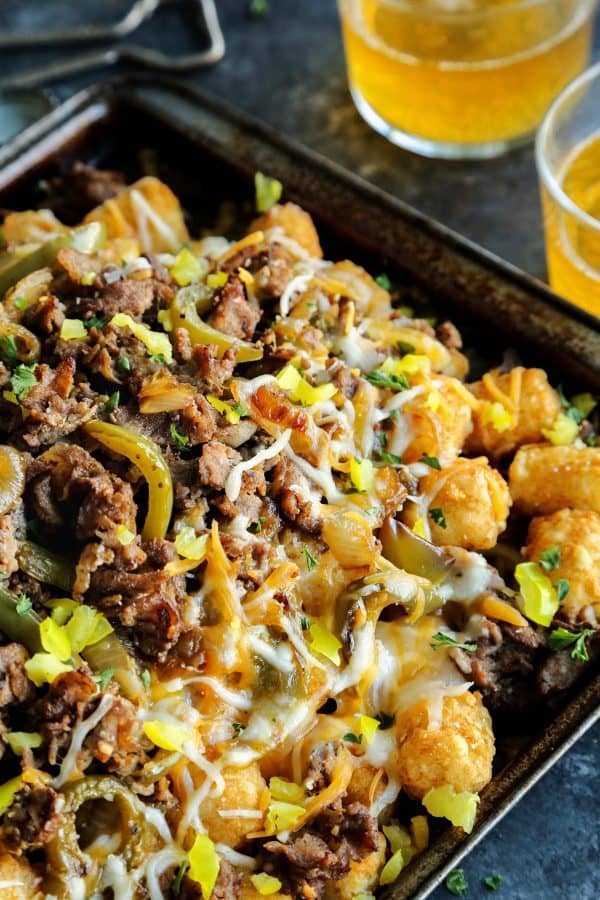 In this cheesesteak totchos recipe, I used Schwan's Crispy Taters and Philly Sliced Beef Steak. (No relation to the Philadelphia Eagles who stole away the Vikings' chance to play in the Super Bowl in Minnesota, ha!)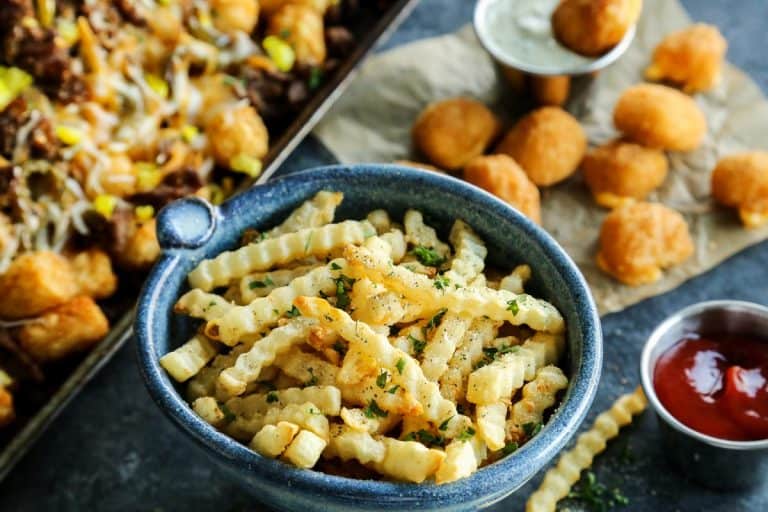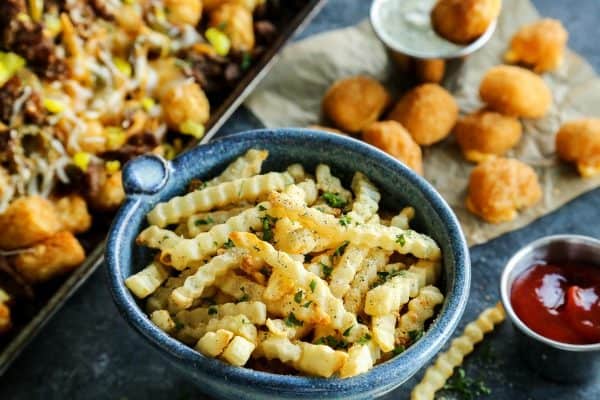 And we rounded out this game day spread with Quick-Bake French Fries and Cheese Curds, both from Schwan's.
My family is crazy for ALL of this!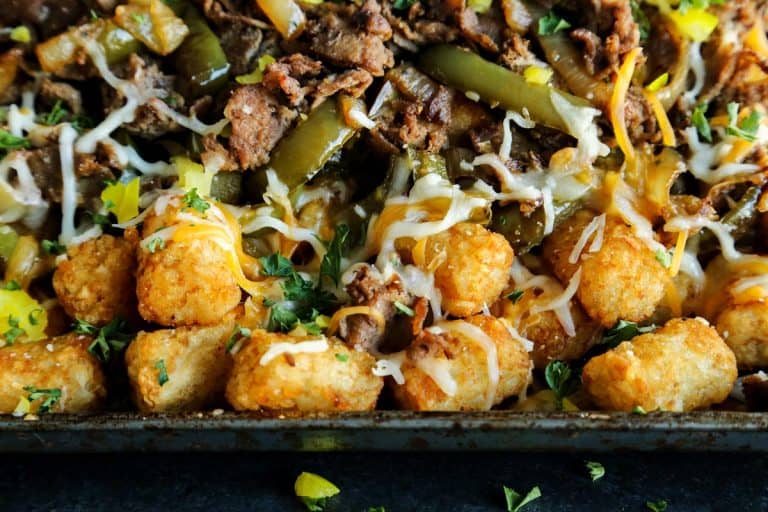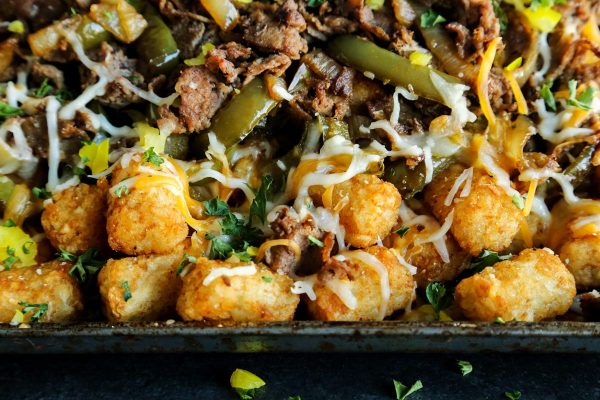 I don't/won't/can't eat soggy, limp tots. So in my recipe I tell you how to achieve crispy results for this pile of cheesesteak totchos awesomeness.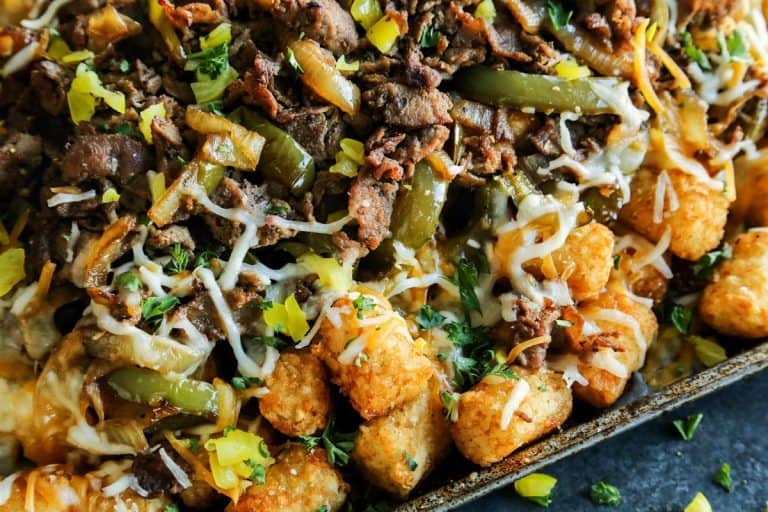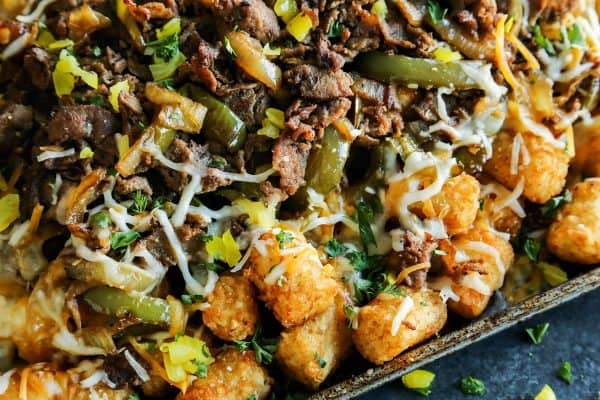 And let's talk about that beef, shall we?
It's WONDERFUL.
The beef comes frozen in individual 3.5-ounce packages (six packages per box), so you can make a little or alot. It's pre-sliced, super thin. And it cooks up incredibly fast in a hot skillet, from frozen or thawed.
And.
It has awesome texture and flavor!
This is one of those specialty items that I want to have in my freezer at all times, for quick and easy deliciousness.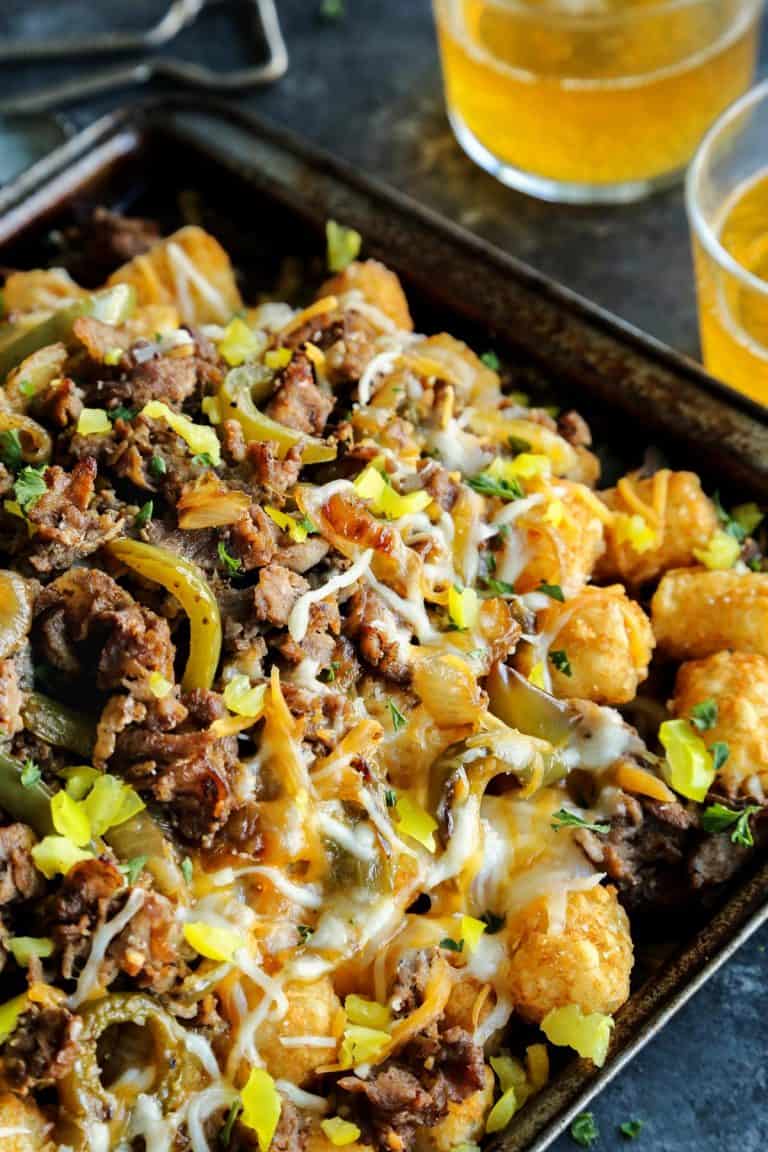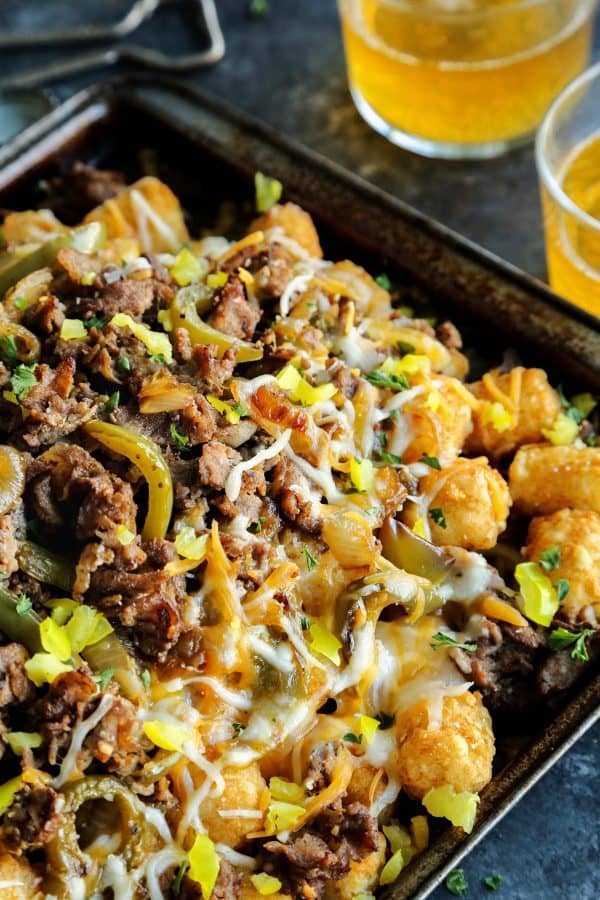 Cheesesteak Totchos
I do hope you'll add these cheesesteak totchos to your game day menu. Give me a holler here or on social media if you do – I'd love to hear from you!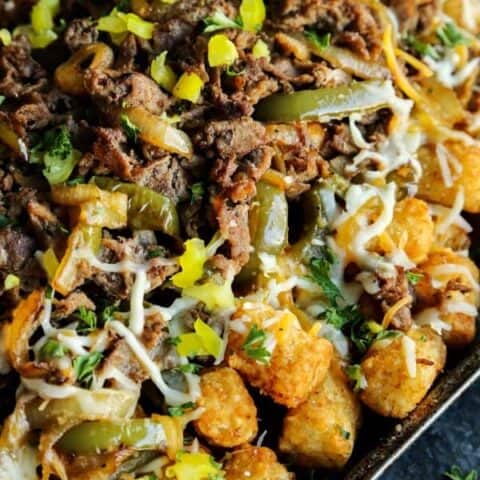 Cheesesteak Totchos
Yield: serves 12 to 16 as an appetizer
Prep Time: 30 minutes
Cook Time: 30 minutes
Total Time: 1 hour
This Cheesesteak Totchos recipe combines the flavors of one of our favorite sandwiches with a pile of crispy tots. It's one awesome appetizer!
Ingredients
1 bag (40 oz.) Schwan's® Crispy Taters
1-1/2 tsp. kosher salt, divided
1 T. unsalted butter
1 T. olive oil
1-1/2 large yellow onions, cut in half and then sliced into 1/4″-wide pieces
1 T. sugar
1-1/2 large green bell peppers, cut in half and then sliced into 1/4″-wide pieces
1/4 tsp. black pepper, divided
4 individual 3.5-oz. servings Schwan's® Philly Sliced Beef Steak, thawed in the refrigerator overnight
1-1/2 tsp. your favorite steak seasoning mix, plus a bit more for sprinkling over finished Crispy Taters (Start out with less, and taste test, as this amount will depend on the salt content of your seasoning mix)
1 tsp. Worcestershire sauce
8 oz. shredded cheese (We prefer a mixture of Provolone, Mozzarella, and Cheddar.)
OPTIONAL:
chopped or whole banana pepper rings
chopped fresh parsley
ketchup
hot sauce
Instructions
Preheat oven to 425°F. Place Crispy Taters on large 12″ x 18″ rimmed pan in a single layer. Bake for 20 minutes and then turn with a spatula. Bake 10 minutes more. Then place under broiler until nice and crisp. Remove pan from oven and sprinkle with 1 teaspoon of the kosher salt. Leave oven on.
While oven is preheating and Crispy Taters are baking, heat a large 12″ skillet over medium to medium-high heat. Add butter and olive oil. When butter has melted, add onions and stir to coat. Sprinkle with sugar and stir to coat again. Add sliced green peppers, sprinkle with black pepper and remaining 1/2 teaspoon kosher salt, and stir to incorporate. Stir mixture somewhat often at first and then only occasionally, for about 20 minutes total. Vegetables should be very tender, with some caramelization. To achieve caramelization, refrain from stirring as often toward the end of total cook time. Remove mixture to a plate and set aside.
Return skillet to burner over medium-high heat. Add thawed beef, breaking it up with a spatula or wooden spoon, stirring often. When mostly cooked, with just a touch of pink remaining, drain away any accumulated juices/fats. Sprinkle steak seasoning and Worcestershire evenly over the top of the beef, and then stir to incorporate. Turn heat to high to quickly burn off any excessive amount of juices/fats. Remove skillet from heat.
Place baked Crispy Taters onto a 10″ x 14″ rimmed pan or similarly sized oven-proof platter, spreading out an even layer on the bottom and then adding the rest on top. Sprinkle with a bit more of the steak seasoning, followed by half the cheese. Add onion and pepper mixture and beef, piling it on to the center of the Crispy Taters. Sprinkle on remaining cheese. Place pan in oven and bake until heated throughout and cheese has melted. Serve hot with additional optional condiments and garnishes. I highly recommend some banana peppers, so good for a tangy contrast!
Nutrition Information:
Yield: 12
Serving Size: 1
Amount Per Serving:
Calories: 238
Total Fat: 15g
Saturated Fat: 7g
Trans Fat: 0g
Unsaturated Fat: 6g
Cholesterol: 53mg
Sodium: 642mg
Carbohydrates: 12g
Fiber: 2g
Sugar: 4g
Protein: 14g
Nutrition information is automatically calculated by Nutritionix. I am not a nutritionist and cannot guarantee accuracy. If your health depends on nutrition information, please calculate again with your own favorite calculator.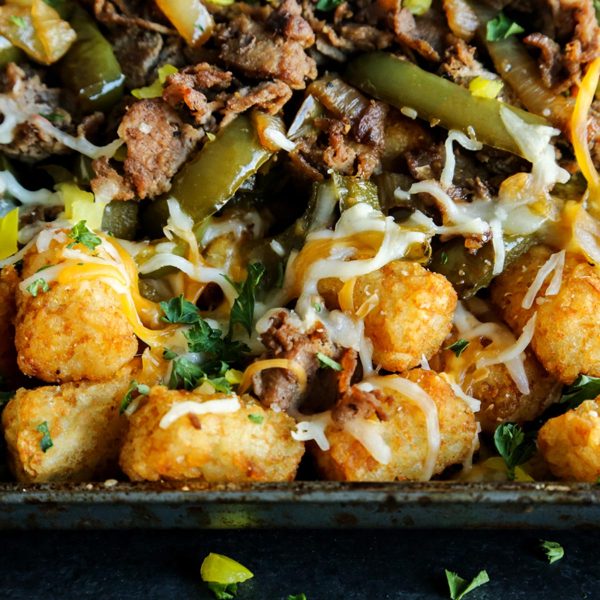 .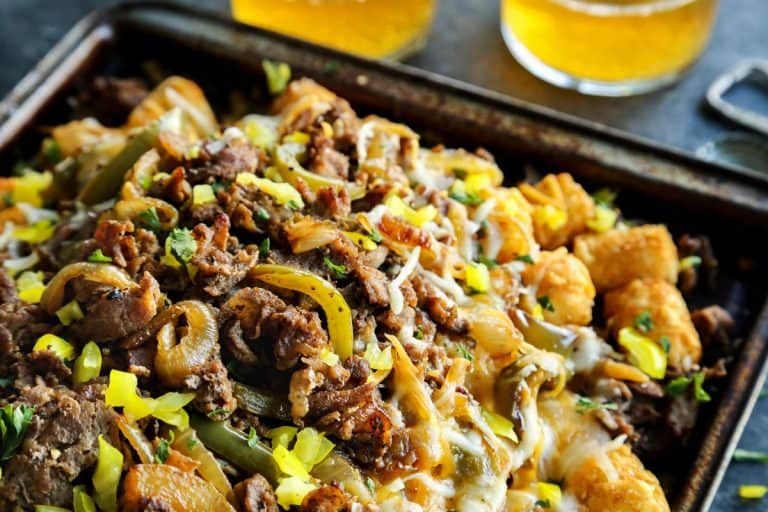 Here are a few more game day recipes you might like:


Connect with Schwan's on their website and social media channels: Facebook, Pinterest, and Instagram.
Click here and use the code YUM30 to save 30% on your first purchase!
This post is sponsored by Schwan's®, a local Minnesota company that I'm proud to partner with. All text and opinions are 100% my own. Thank you for supporting the brands that help make this site possible.