Grilled Honey Mustard Chicken Kebabs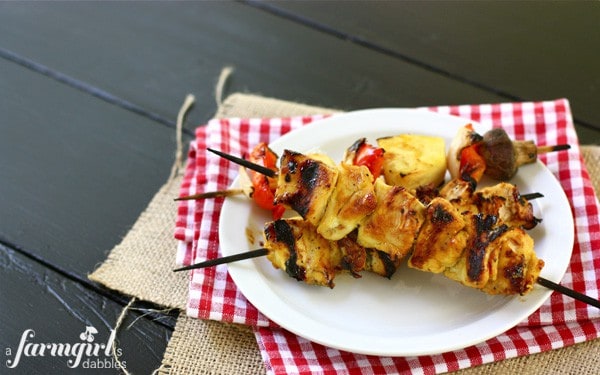 Shortly after our second daughter was born, we received several phone calls and emails from friends, wondering if they could drop off dinner for our family. This was something we hadn't experienced with our first daughter's birth, and I can't tell you how much we appreciated those homemade meals that appeared at our door after bringing Tessa home from the hospital. As our family adjusted to an entirely different schedule, while running on the less than adequate sleep that newborns are famous for, those meals were literally food for our souls.
These Grilled Honey Mustard Chicken Kebabs are a twist on a recipe from one of those meals. Sandy, a friend I met through our local MOPS (Mothers Of Preschoolers) group, delivered a baked version, complete with sides and dessert. Our family fell in love with the honey mustard chicken and it has frequented our table ever since. I recently got smart and adapted the recipe for kebabs, so we could enjoy that same deliciousness with lovin' from the grill.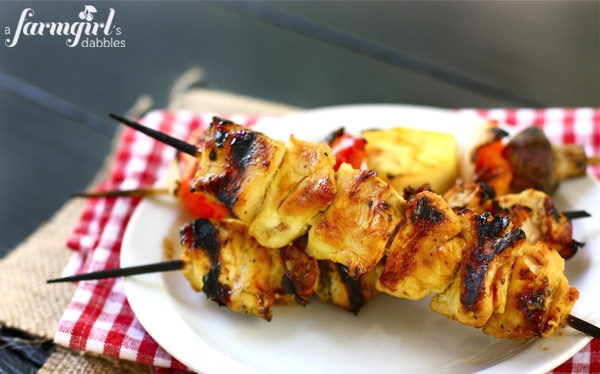 I heart kebabs.
And I especially love this sweet and tangy version for chicken that sports a short list of ingredients, including curry for some delicious warmth. The kebabs are easy to put together and they're a super tasty way to get out of your regular menu boredom. We're at the height of the grilling season. Show your family some grilled honey mustard chicken love!
Love honey mustard recipes? Be sure to also check out this Honey Mustard Chicken and Vegetables, a meal that cooks up in just one pan!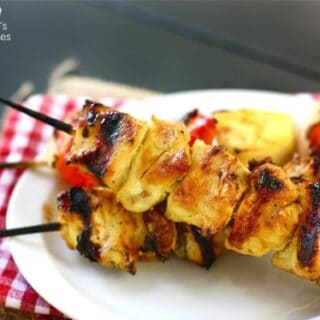 Grilled Honey Mustard Chicken Kabobs
Yield: 4 servings
Prep Time: 2 hours 15 minutes
Cook Time: 15 minutes
Total Time: 2 hours 30 minutes
The kabobs are easy to put together, with just a few ingredients - a super tasty way to get out of your regular menu boredom!
Ingredients
1 tablespoon vegetable oil
¾ cup honey
⅓ cup prepared yellow mustard
1½ teaspoons mild curry powder
1½ pounds boneless skinless chicken breasts (about 4 medium/medium-large sized chicken breasts), cut into 1¼" size pieces
1 large red bell pepper, cored and cut into 1¼" size pieces
½ large yellow onion, peeled into single layers and cut into 1¼" size pieces
kosher salt and freshly ground black pepper, to taste
Instructions
In a mixing bowl that's low and wide, stir together the oil, honey, mustard, and curry. Remove ½ cup of the honey mustard mixture and set aside for brushing on the kabobs while grilling. Add the chicken pieces to the bowl and fold to combine, coating all the chicken with the honey mustard mixture. Place a lid on the bowl (or cover with plastic wrap) and refrigerate for 2 to 4 hours, folding the chicken halfway through.
Thirty minutes prior to grilling, add marinated chicken pieces to skewers, alternating with pieces of red pepper and onion. Sprinkle assembled kabobs on all sides with salt and pepper, to taste.
Heat grill to medium/medium-high heat. Make sure grates are scrubbed clean and then oiled well (see Notes). The honey is sweet and sticky, so keep an eye on the heat so the kabobs don't get overly charred.
Grill for about 12-15 minutes total, turning every few minutes minutes. Liberally brush on the reserved honey mustard mixture during the final few minutes of grilling.
Notes
If using wooden skewers, place them in a shallow pan of water to soak when you start making this recipe. This will help them to not burn up as quickly on the grill.
To oil the grates, add some vegetable oil to a small bowl. Then fold a heavy paper towel a few times to make a smaller square. With a tongs, grasp the folded paper towel and dip it into the oil until the paper towel is soaked. Then run the paper towel over the clean, hot grates, repeating until all grill grates are thoroughly oiled.
Adapted from a baked Honey Mustard Chicken recipe that Sandy Heinsch introduced me to, originally found in the cookbook "Simple Elegance" from Our Lady of Perpetual Help Women's Guild in Germantown, TN.
Nutrition Information:
Yield: 4
Serving Size: 1
Amount Per Serving:
Calories: 367
Total Fat: 8g
Saturated Fat: 2g
Trans Fat: 0g
Unsaturated Fat: 6g
Cholesterol: 102mg
Sodium: 333mg
Carbohydrates: 36g
Fiber: 1g
Sugar: 35g
Protein: 38g
Nutrition information is automatically calculated by Nutritionix. I am not a nutritionist and cannot guarantee accuracy. If your health depends on nutrition information, please calculate again with your own favorite calculator.