Quick Pickled Celery
This Quick Pickled Celery is bright and tangy and crunchy, and so easy to make!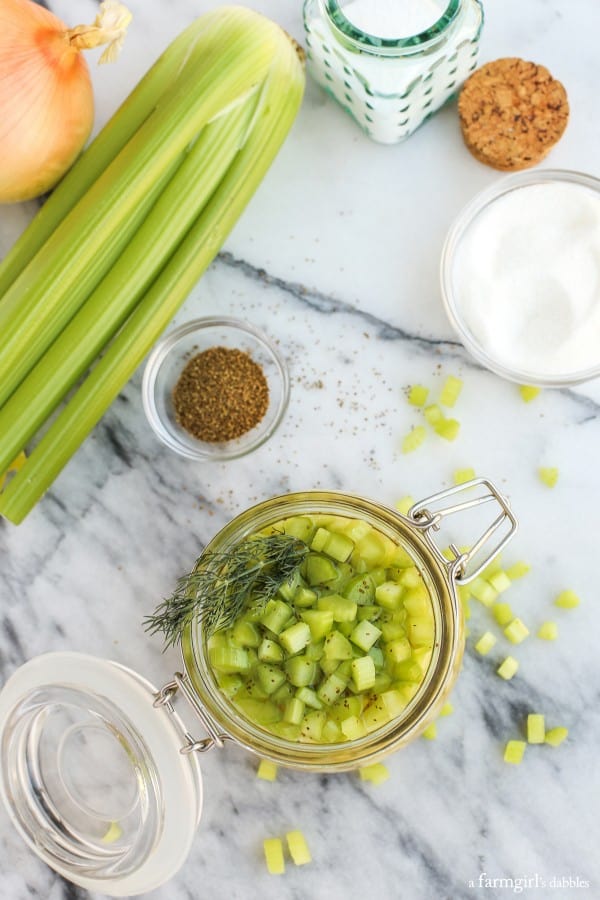 As far as I'm concerned, there can never be too many pickled vegetables. You know that about me by now, don't you?! My recipe archives include different pickled versions of carrots, squash, red onions, cauliflower, cucumbers, sweet corn, asparagus, and one of my very favorite pickled recipes for a miscellany of veggies.
So it should come as no surprise that I've found a delicious pickled way to now enjoy celery. This recipe for Quick Pickled Celery comes together in fast fashion. And there are so many ways to enjoy it!
*This post is sponsored by Dole.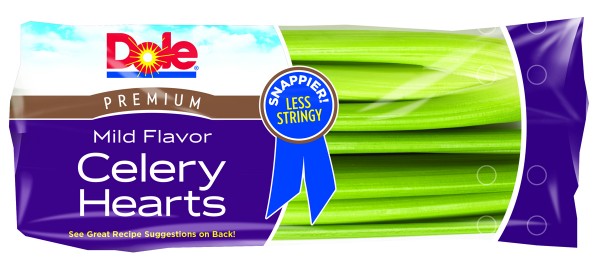 I'm hooked on this new variety of celery from Dole. When I visited the Dole Nutrition Institute near Charlotte, NC a couple months ago, I had my first taste. Besides being milder in flavor, with a snappier texture, my biggest takeaway is that these Premium Celery Hearts are less stringy. This celery is so much more appealing to me, and the kind I used to make this quick pickled celery. You'll also find it in my wheat berry and spinach salad with orange-curry vinaigrette, so pretty and delicious!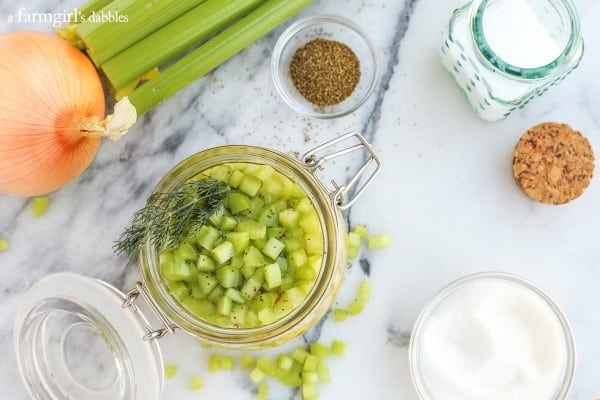 This pickled celery recipe requires no special canning equipment. It's a refrigerator version of pickling that comes together quickly and easily. A vinegar, salt, and sugar combination is heated on the stove top, poured over the diced celery, and then left to "pickle" in the refrigerator.
Pickled celery can then be used in a variety of ways. Stir it into tuna salad, egg salad, or most any of your favorite pasta or chopped salads. It also makes a great topper for a couple fried eggs at breakfast or a fresh green salad at lunch. Once you try this, I'm betting you'll find even more ways to add tangy crunch to your meals.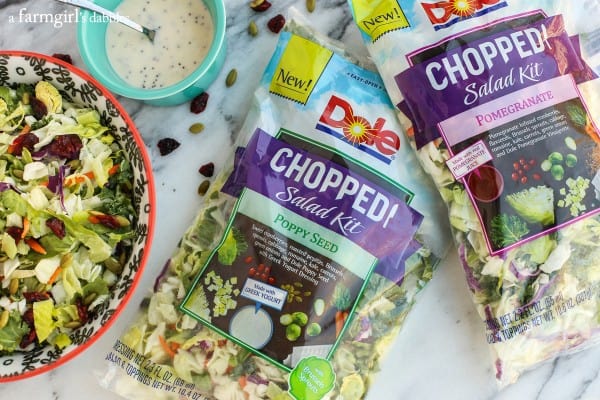 I also wanted to introduce you to a few more items Dole has recently rolled out. First, these two new chopped salad kits that combine the bite-sized taste and texture of DOLE® Chopped Salads with the on-trend appeal of shaved Brussels sprouts (yum!). These salads feature layers of flavor, texture, color, and crunch in every single bite.
Look for Dole's two newest chopped salad kits in the refrigerated salad section of your local grocery store:
The DOLE® Chopped Pomegranate Salad Kit adds shaved Brussels sprouts to crisp Romaine, Kale, red and green cabbage, green onions and julienned carrots, and tops it with dried pomegranate-infused cranberries, flaxseeds, and Dole's Pomegranate Vinaigrette dressing.
The DOLE® Chopped Poppy Seed Salad Kit tops a blend of shaved Brussels sprouts, crisp Romaine, Kale, red and green cabbage, green onions and julienned carrots with dried cranberries, pepitas, and Dole's Poppy Seed with Greek Yogurt dressing.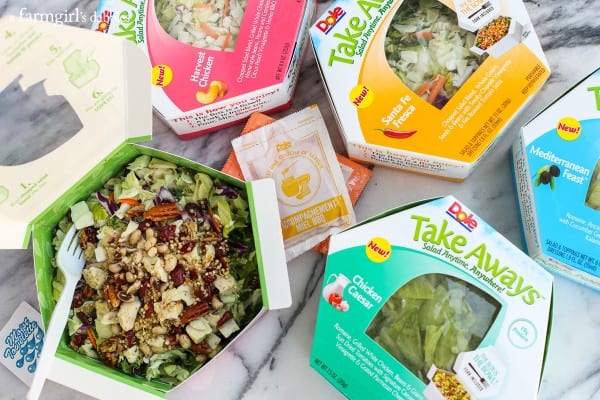 And these DOLE® TAKE AWAYS® are super fun! They are a new line of on-the-go salad meals combining salad greens with grains, nuts, beans, fruit, herbs and cheeses, packaged in a recyclable box that doubles as a salad bowl (there's even a towelette and disposable fork included!). Each salad is paired with a vinaigrette dressing, plus an optional finishing drizzle for an extra layer of flavor. Our girls love to pack these salads in their lunch boxes for school!
DOLE TAKE AWAYS will be arriving in stores soon, so be sure to keep an eye out for them. Here are the offerings:
Santa Fe Fresca – DOLE® Chopped Salad Blend including a variety of fresh vegetables, mixed with a whole-grain medley of red rice, quinoa, black beans and corn, topped with Dole's Smoky Chipotle Vinaigrette and a Fire Roasted Tomato finishing salsa. This salad is vegetarian and gluten free.
Mediterranean Feast – DOLE® Romaine is mixed with an ancient grain medley of wheatberries, barley, Garbanzo beans, almonds, olives, feta cheese, and almonds. Dole's Cucumber Greek Vinaigrette is included, plus a Tomato Kalamata drizzle for an extra layer of flavor in this vegetarian salad.
Chicken Caesar – DOLE® Romaine is combined with grilled chicken, Garbanzo beans, farro, and sun-dried tomatoes. Dole's Signature Caesar Vinaigrette is included in the salad bowl box, along with grated Parmesan cheese as a finishing flavor.
Harvest Chicken –DOLE® Chopped Salad Blend is mixed with a variety of fresh vegetables, grilled chicken, black-eyed peas, quinoa, roasted pecans, and cranberries. Dole's Citrus Peach Vinaigrette and a Honey BBQ drizzle are included with this gluten-free salad.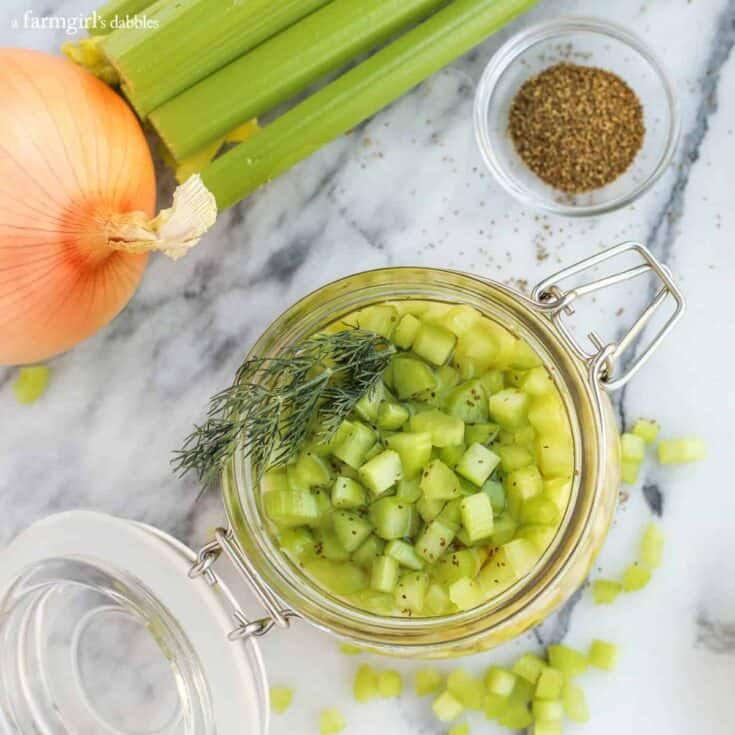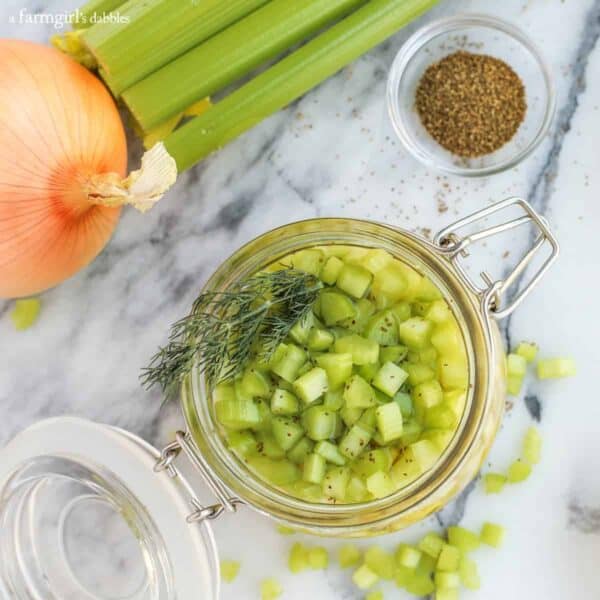 Before you go, here's that recipe for my Quick Pickled Celery. Enjoy!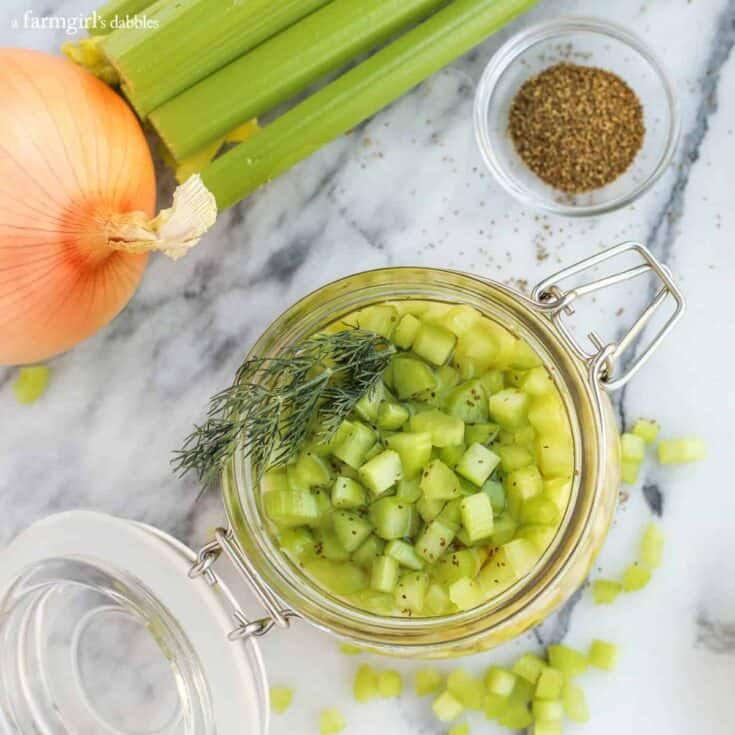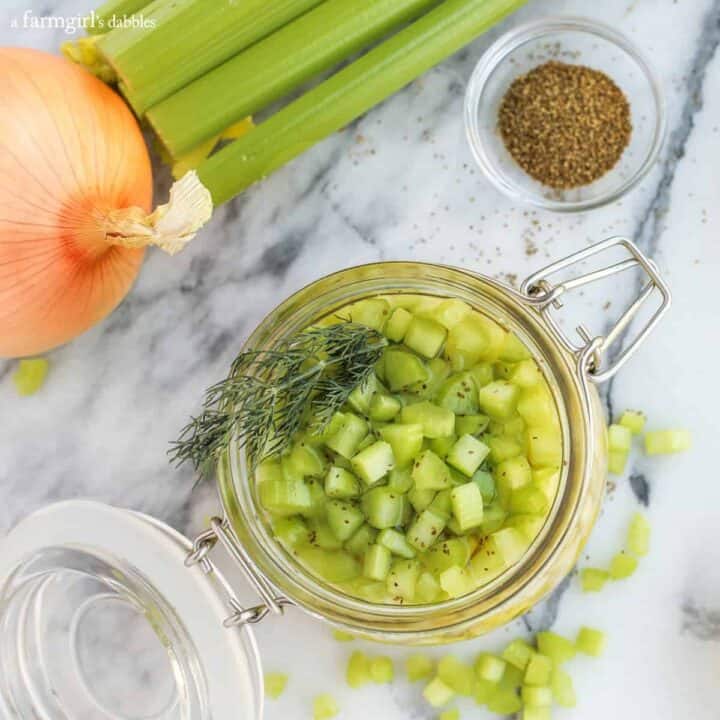 Quick Pickled Celery
Yield: about 2 cups
Prep Time: 5 minutes
Cook Time: 10 minutes
Additional Time: 2 days
Total Time: 2 days 15 minutes
This Quick Pickled Celery is bright and tangy and crunchy, and so easy to make!
Ingredients
2 c. finely diced fresh Premium Celery Hearts from Dole
1 T. finely diced yellow onion
big sprig fresh dill
2/3 c. white wine vinegar
1/3 c. water
3 T. sugar
1 T. kosher salt
1/4 tsp. celery seed
Instructions
Place diced celery and onion in a medium nonreactive bowl. Top with the sprig of dill and set aside.
In a medium saucepan over medium-high heat, stir together vinegar, water, sugar, salt, and celery seed. Stir occasionally, until sugar has completely melted. Pour hot liquid over celery, onion, and dill. Let mixture cool to room temperature on the counter. Put a lid on the bowl or transfer mixture to a jar. Refrigerate for 2 days before eating. Will keep very well for a few weeks in the refrigerator.
Nutrition Information:
Yield: 6
Serving Size: 1
Amount Per Serving:
Calories: 40
Total Fat: 0g
Saturated Fat: 0g
Trans Fat: 0g
Unsaturated Fat: 0g
Cholesterol: 0mg
Sodium: 1210mg
Carbohydrates: 9g
Fiber: 1g
Sugar: 8g
Protein: 0g
Nutrition information is automatically calculated by Nutritionix. I am not a nutritionist and cannot guarantee accuracy. If your health depends on nutrition information, please calculate again with your own favorite calculator.
This post is sponsored by Dole. I have partnered with them this year to bring you delicious new recipes bursting with fresh fruits and veggies. All opinions are 100% my own, as always. Thank you for supporting the brands that help make this site possible!