Sheet Pan Italian Chicken Sausage with White Beans and Peppers
Full of color, flavor, and comfort, this Sheet Pan Italian Chicken Sausage with White Beans and Peppers recipe is the perfect easy-to-make weeknight meal!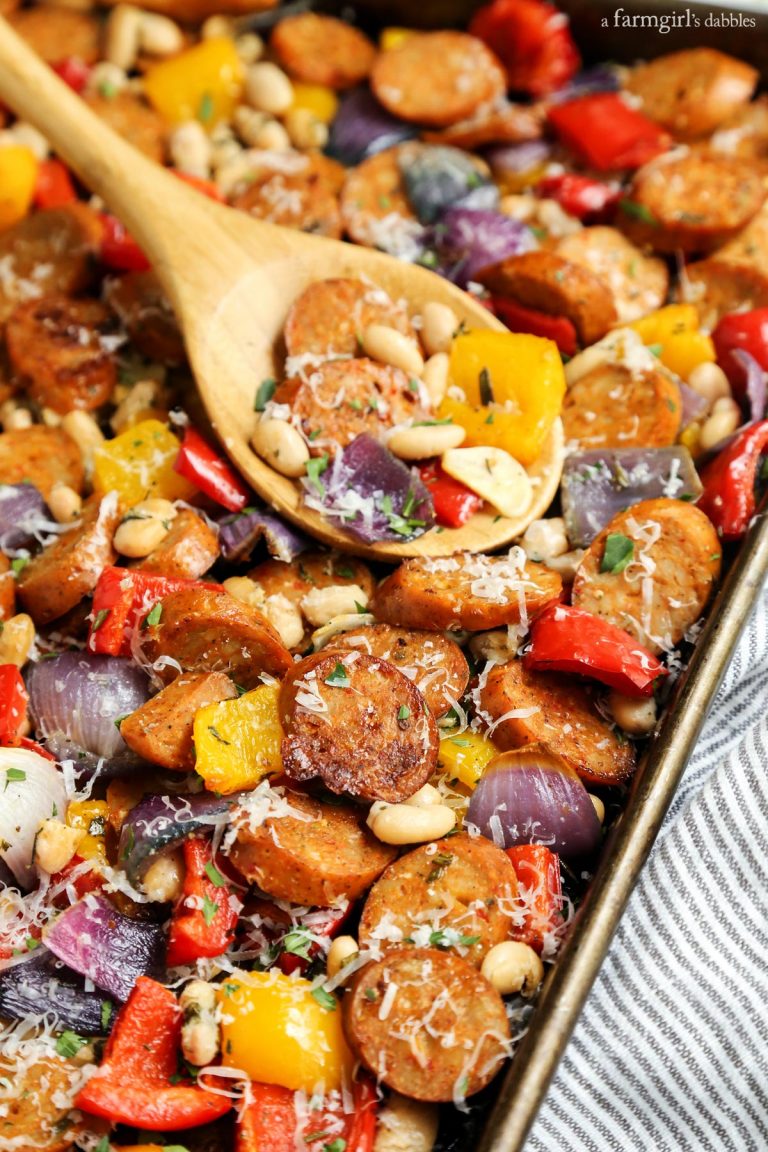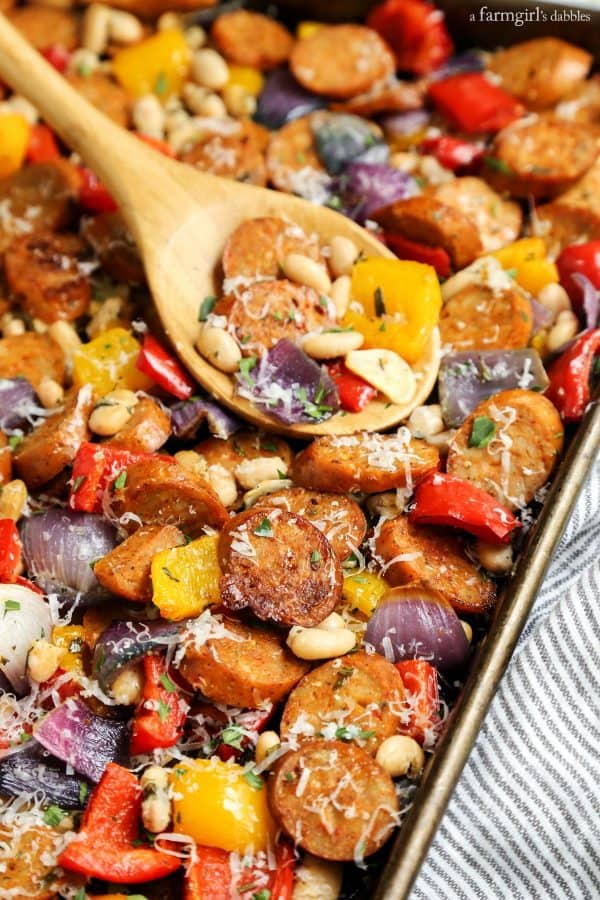 I've been making "sheet pan" dinners for forever. That is, before they were actually the hip way to get a tasty, healthy meal on the table in quick fashion, with only one pan to clean at the end. There's no denying the appeal this cooking method brings to busy folks with the goal of nourishing their family with a healthy weeknight dinner.
This recipe for Sheet Pan Italian Chicken Sausage with White Beans and Peppers is full of color, flavor, and comfort. With little effort, this meal comes together for big-time success.
* This is a sponsored post, created in partnership with Gold'n Plump®.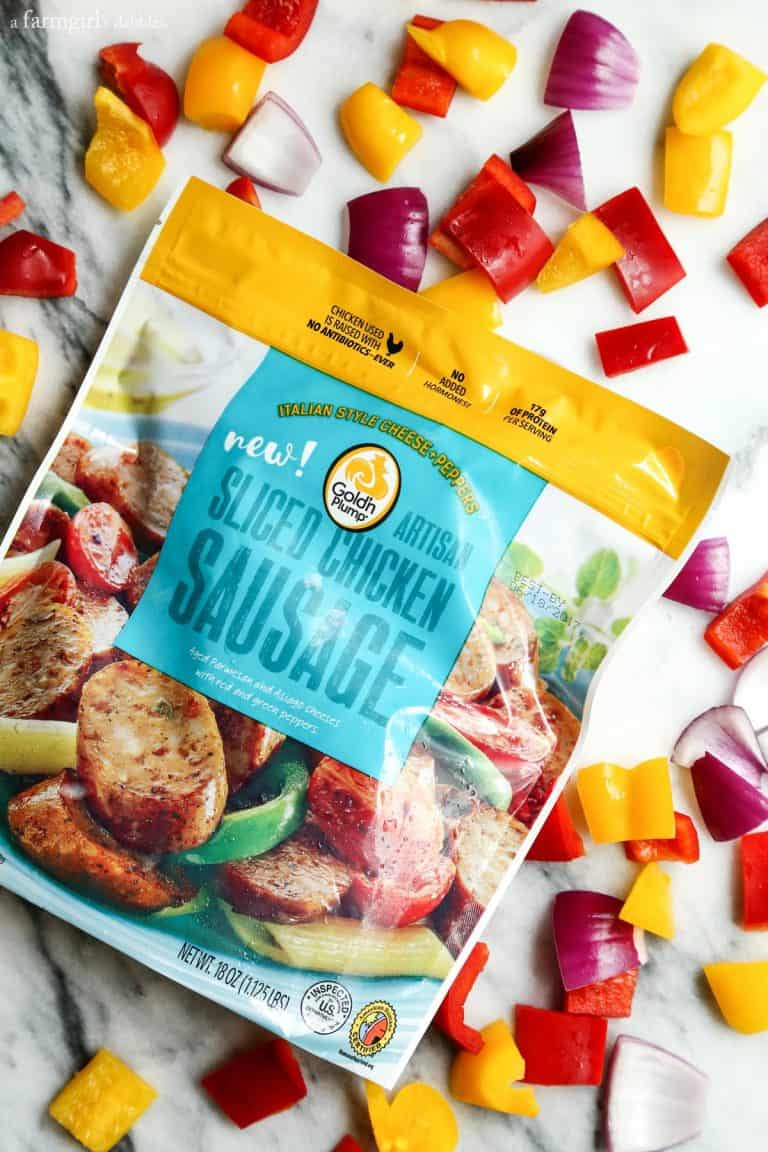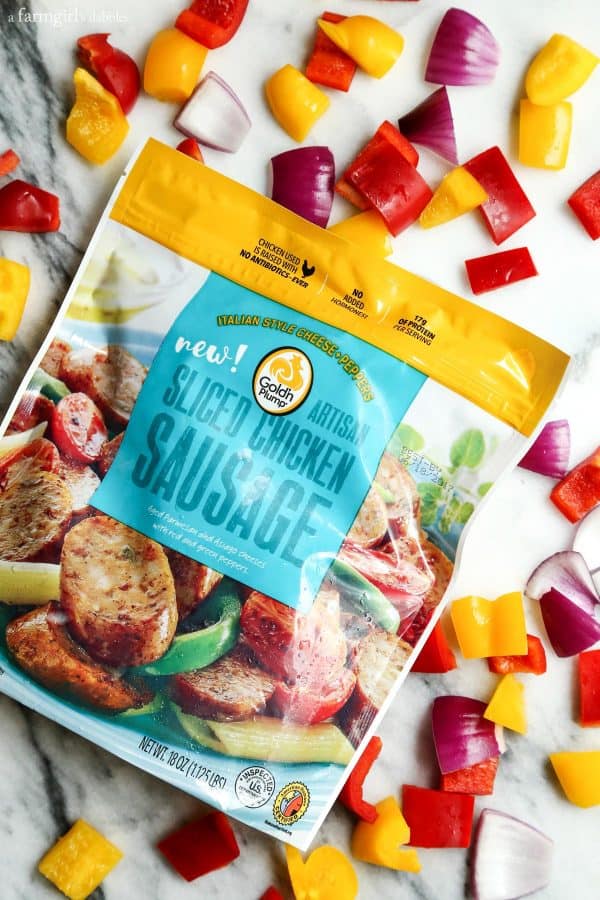 Where I grew up in rural South Dakota, we had a neighbor who made the very best sausage in the whole wide world. The texture and flavor simply could not be beat. But that sausage spoiled me. It made me a sort of "sausage snob", making it sometimes difficult to now find sausage that I like and will actually buy for my family.
So that's why I'm excited about this new sliced chicken sausage from Gold'n Plump. This sausage has both texture and flavor that is approved by my own sausage snobbery, and my family.
My family is especially fond of this Italian Cheese & Peppers flavor from Gold'n Plump, a regular addition to our menu these days. The sausage is made with real ingredients: 100% quality boneless skinless chicken thigh meat + aged Parmesan and Asiago cheeses, red and green peppers, and paprika. The chicken is coarsely ground with no fillers (no mushy, funky sausage here!) and then cut on the diagonal, leaving those flavorful additions visible to the eye.
You can find this fully cooked sausage in the freezer section. It comes in re-sealable, zip-top bags – perfect for making a smaller meal for one or two people and then throwing the bag back into the freezer!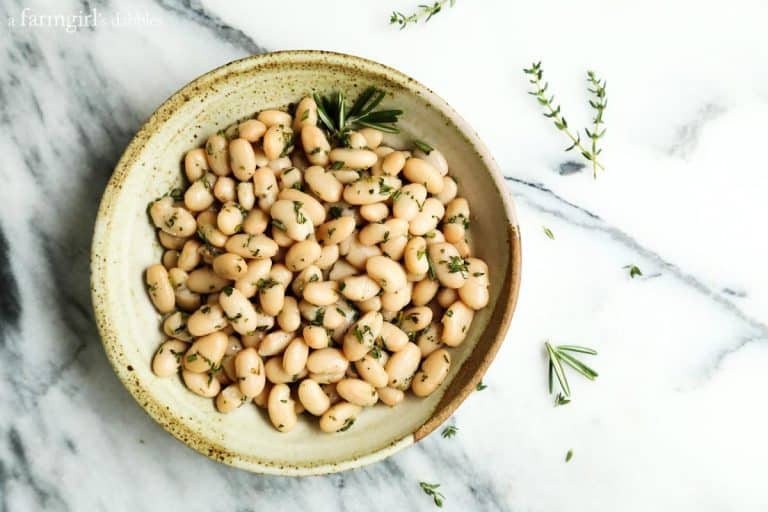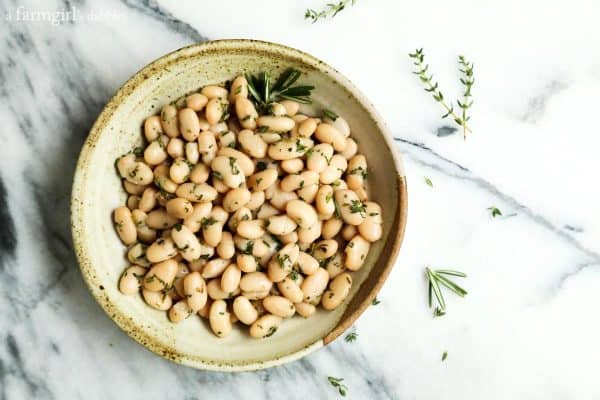 Besides sweet peppers and onions, there's an ingredient that I especially like pairing with sausage. It's white beans.
The creaminess of the beans is such a lovely compliment to the fresh veggies and the ground meat of the sausage. I added some fresh rosemary and thyme to bring all the flavors of this Italian-inspired meal together.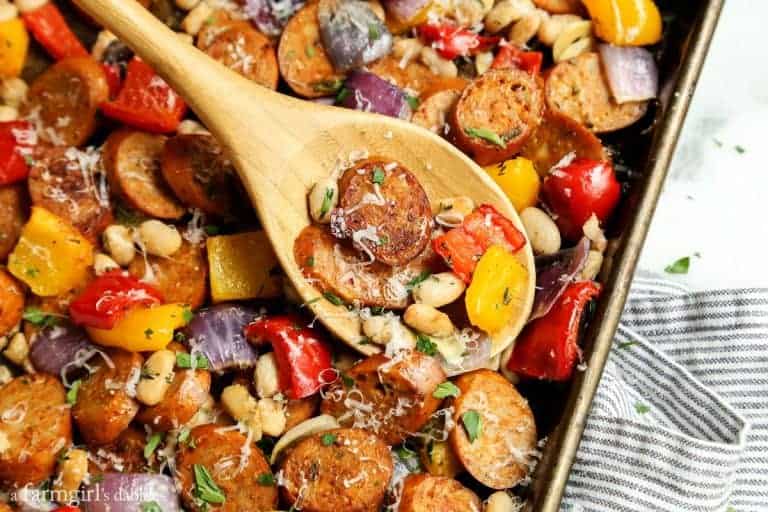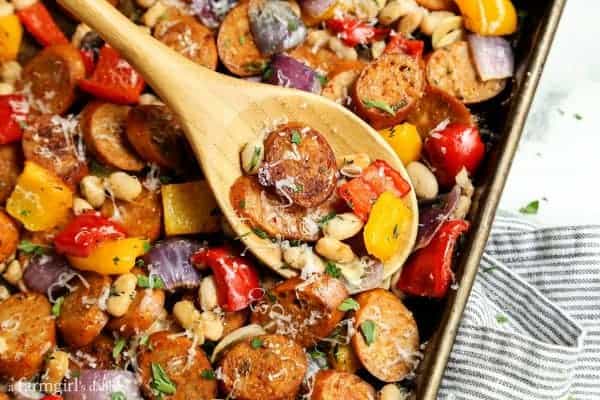 The final tasty touch before setting this sheet pan Italian chicken sausage dinner before your family is a good sprinkling of freshly shaved Parmesan. Because we all know that just a little more cheese is always a good idea.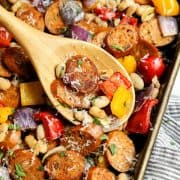 Sheet Pan Italian Chicken Sausage with White Beans and Peppers
Yield: 4 to 6 servings
Cook Time:40 minutes
Ingredients:
1 medium red pepper, cut into 1″ to 1-1/2″ pieces
1 medium yellow pepper, cut into 1″ to 1-1/2″ pieces
half of a large red onion, cut into 1″ to 1-1/2″ pieces
3 tsp. olive oil, divided
kosher salt
freshly cracked black pepper
1 (15-oz.) can white beans, rinsed and drained
2 tsp. chopped fresh rosemary
2 tsp. chopped fresh thyme
2 large cloves garlic, thinly sliced
1 (18-0z.) package frozen Gold'n Plump® Sliced Chicken Sausage – Italian Cheese & Peppers Flavor
2 tsp. chopped Italian parsley
freshly shaved Parmesan
Directions:
Place large sheet pan with sides (mine is 13″ x 18″) in center rack of oven. Preheat oven to 375° F.
When oven and pan are preheated, remove pan from oven and add red pepper, yellow pepper, and onion. Drizzle with 2 teaspoons of olive oil and sprinkle with salt and pepper. Quickly stir to combine, and then spread vegetables into an even layer. Return pan to oven and roast for 2o minutes without stirring.
While vegetables are roasting, combine beans, the remaining 1 teaspoon of olive oil, rosemary, thyme, and garlic in a medium bowl. Fold to combine.
Remove pan from oven and add the beans, folding to combine with the vegetables. Skirt the vegetables and beans to the outer edges of the pan, leaving the center bare. Add frozen sliced chicken sausage slices to the center of the pan in an even layer. Return pan to oven and roast for an additional 20 minutes without stirring.
Remove pan from oven. Fold everything together, and then sprinkle with parsley and Parmesan. Serve hot.
from a farmgirl's dabbles
©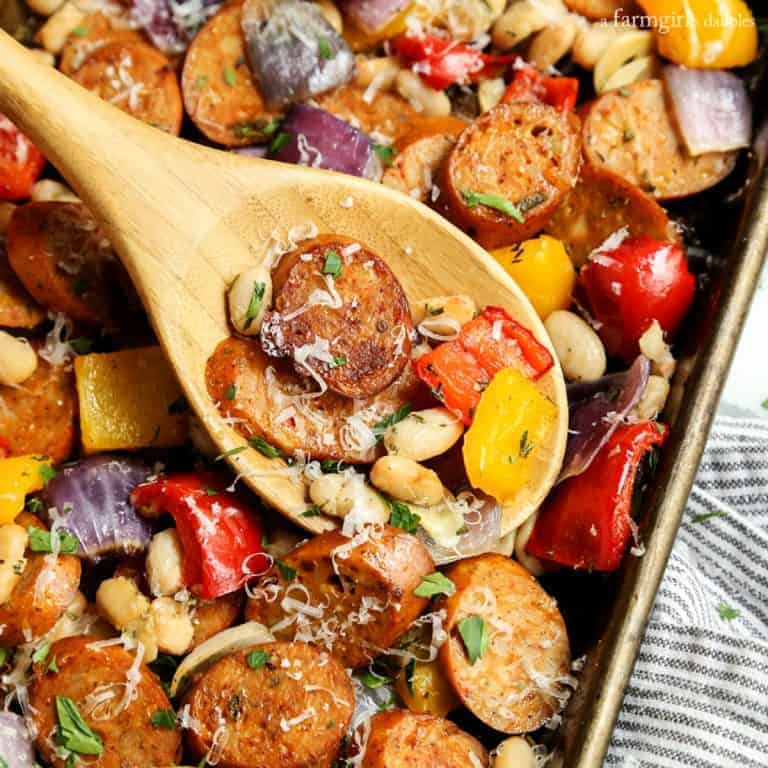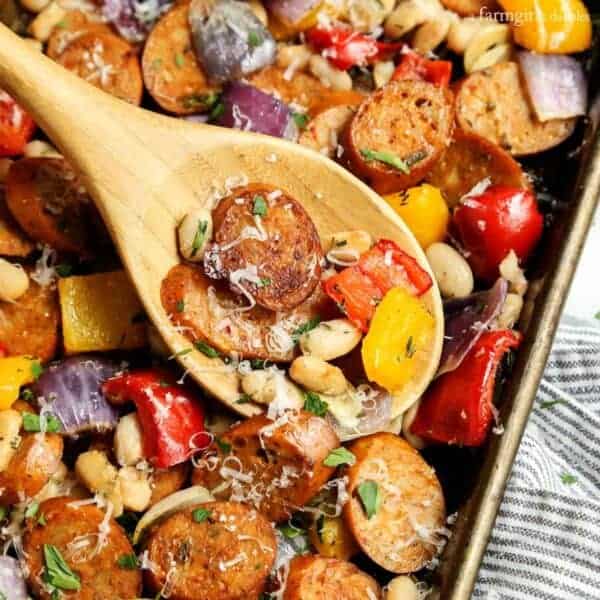 .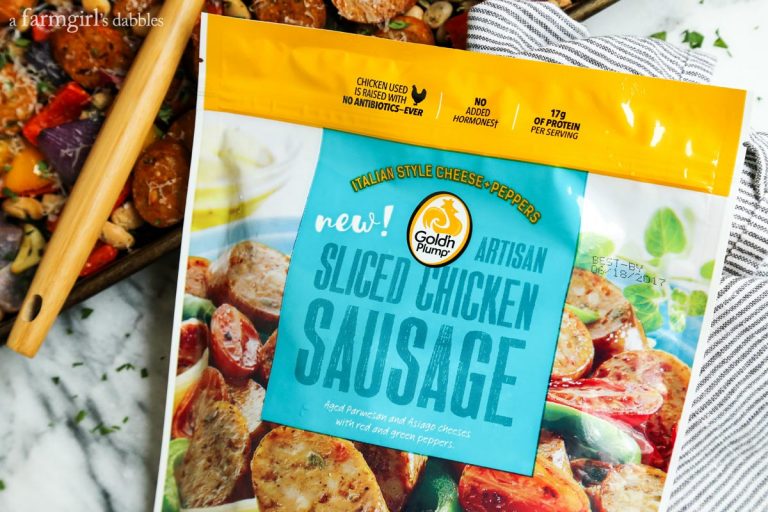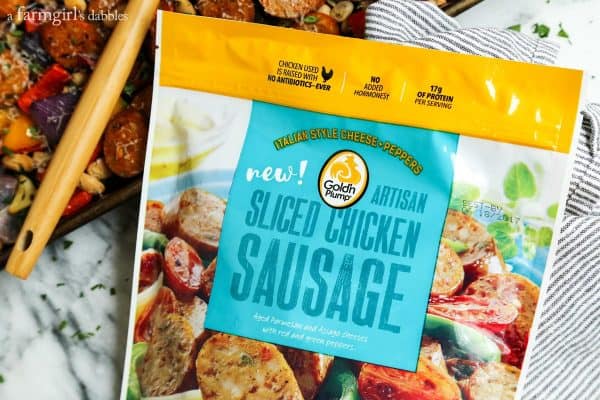 .

At Gold'n Plump, good chicken is their mission. The brand is proud to offer the new sliced chicken sausages made with these attributes:
chicken raised with No Antibiotics – Ever
no nitrites, nitrates, or MSG
no fillers, preservatives, or artificial flavors
less fat than beef and pork varieties
American Humane Certified™
Connect with Gold'n Plump on their website and social media channels: Facebook, Twitter, and Pinterest.
This post is sponsored by Gold'n Plump, a local chicken brand based out of St. Cloud, Minnesota. I am honored to be partnering with them again this year to bring you delicious new chicken recipes from our kitchen and backyard grills. All opinions are 100% my own, as always. Thank you for supporting the brands that help make this site possible!
We participate in the Amazon Services LLC Associates Program, an affiliate advertising program designed to provide a means for us to earn fees by linking to Amazon.com and affiliated sites. See our disclosure policy for more info.