Chopped Cheese Sandwich
With griddled and "chopped" ground beef and onions, plus melty cheese, it's easy to see why this Chopped Cheese Sandwich is always a hit! Serve on a toasted hoagie bun with lettuce and tomato for an easy lunch or dinner.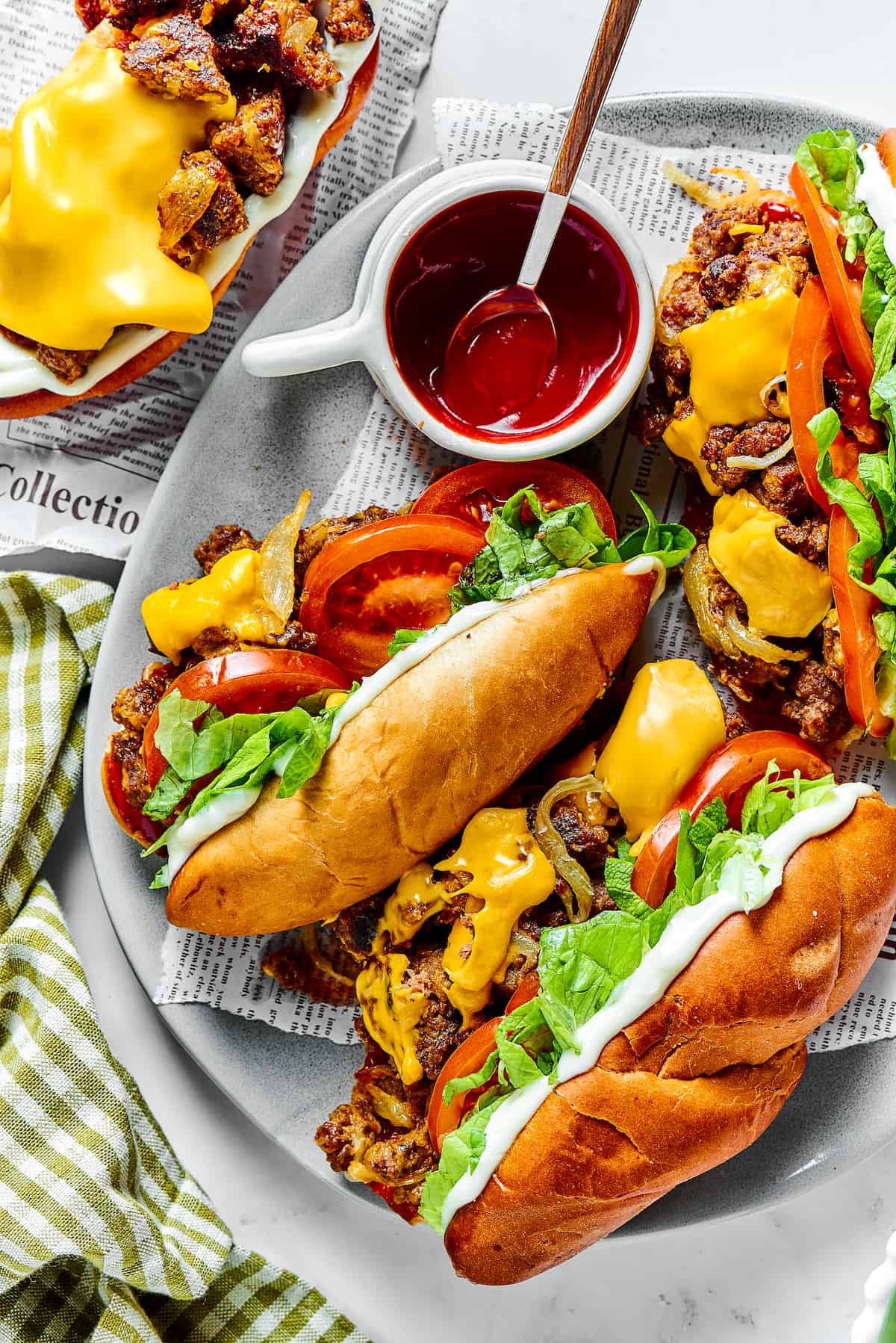 Classic New York Chopped Cheese Sandwich
If you love a good cheeseburger as well as a great Philly cheesesteak, then this Chopped Cheese Sandwich might just be your new favorite!
This chopped cheese recipe features a mixture of seasoned ground beef and onions that are cooked on a griddle (or in a skillet), then "chopped" together with a spatula as it griddles. Cheese is melted over the top – and then it's transferred to a ketchup and mayo-schmeared toasted hoagie bun along with fresh lettuce and tomatoes.
I have regular cheeseburger cravings, so I greatly appreciate having a recipe like this – an awesome cheeseburger riff that's quick and easy to make at home. It's a great option for a weeknight dinner, plus a super fun weekend meal enjoyed with a gathering of friends!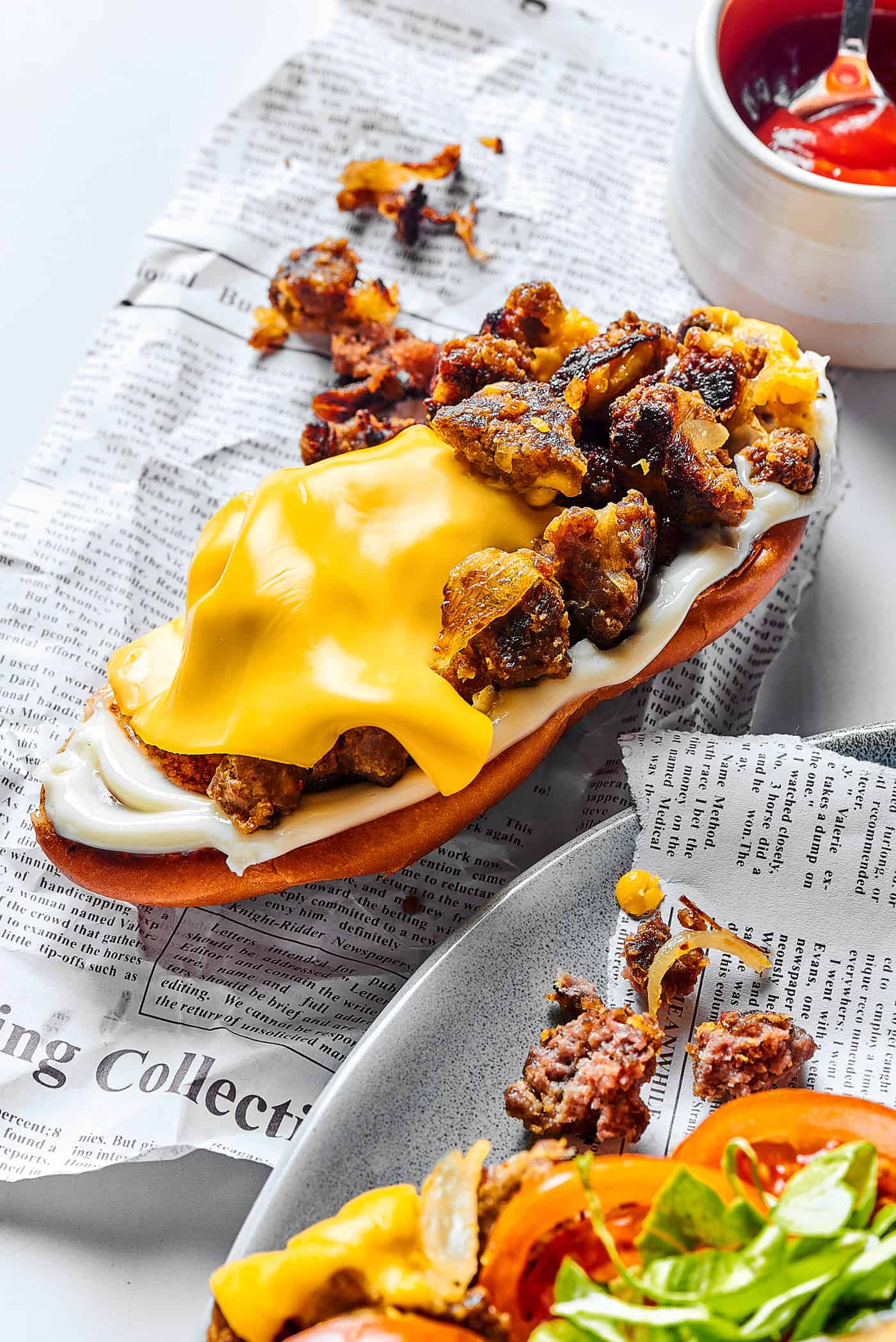 What Is A Chopped Cheese Sandwich?
The chopped cheese (or chop cheese) has been made popular from bodegas in some of New York City's boroughs, such as Harlem and The Bronx.
It consists of a sturdy toasted hoagie roll filled with a chopped mixture of griddled ground beef and onion with a layer of melted cheese over the top. You'll usually find mayo, ketchup, lettuce, and tomato added.
Basically, it's a chopped, loose meat variation of a cheeseburger.
Are Chopped Cheese Sandwiches The Same As Cheesesteak?
While the two sandwiches have some similar qualities, chopped cheese sandwiches are not the same as cheesesteak.
The biggest difference is that chopped cheese sandwiches are made with ground beef whereas Philly cheesesteaks are made with thinly sliced steak. Which means it's easier to prepare and easier on the pocketbook! (Our family also loves the chicken cheesesteak variation!)
Additionally, cheesesteaks originated in Philadelphia, PA and are usually topped with Cheez Whiz vs chopped cheese sandwiches originated in NY and are topped with slices of American cheese.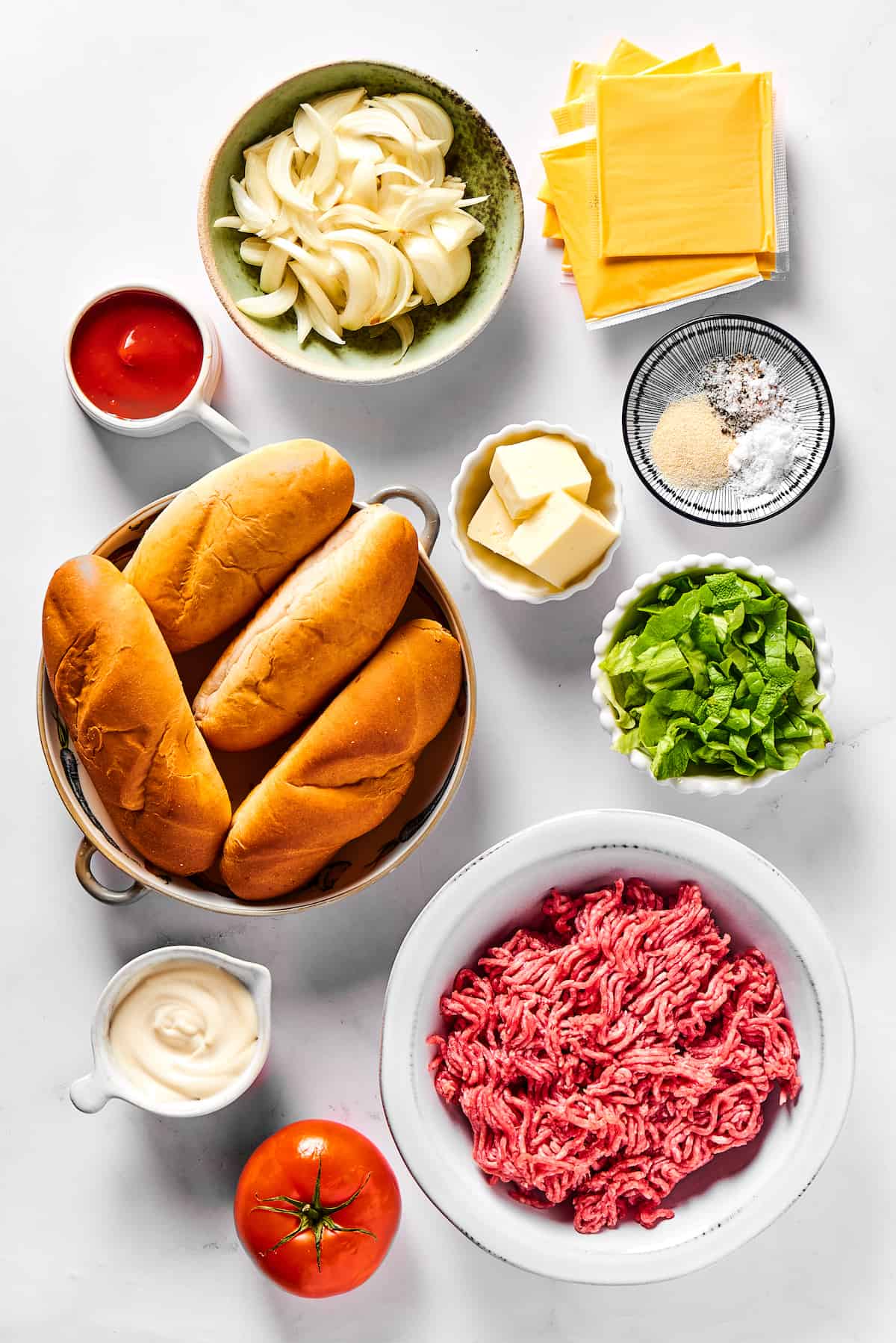 Recipe Ingredients
This tasty sandwich recipe is made with ground beef, onion, cheese, plus sandwich toppings and condiments.
See the recipe card below for exact measurements and full instructions.
Hoagie buns – Look for ones with that signature soft white bread and crispy crust.
Butter – To toast the bun, for added flavor and texture.
Yellow onion – Thinly sliced so they cook quickly.
Ground beef – I like to use an 80/20 beef blend, as the fat gives extra flavor and texture to the sandwich. Once the beef is fully cooked, you can drain off any excess fat if you like.
Seasonings – The beef is seasoned with salt, pepper, and garlic powder.
American cheese – Yellow American is a traditional chopped cheese topping. Cut it from a block or just use individually wrapped single slices.
Mayonnaise & ketchup – These common burger condiments are favorites of mine, but also traditional to this particular sandwich. Add these if you like.
Lettuce & tomatoes – Thinly slice the lettuce and tomatoes – the final toppings of this ground beef sandwich.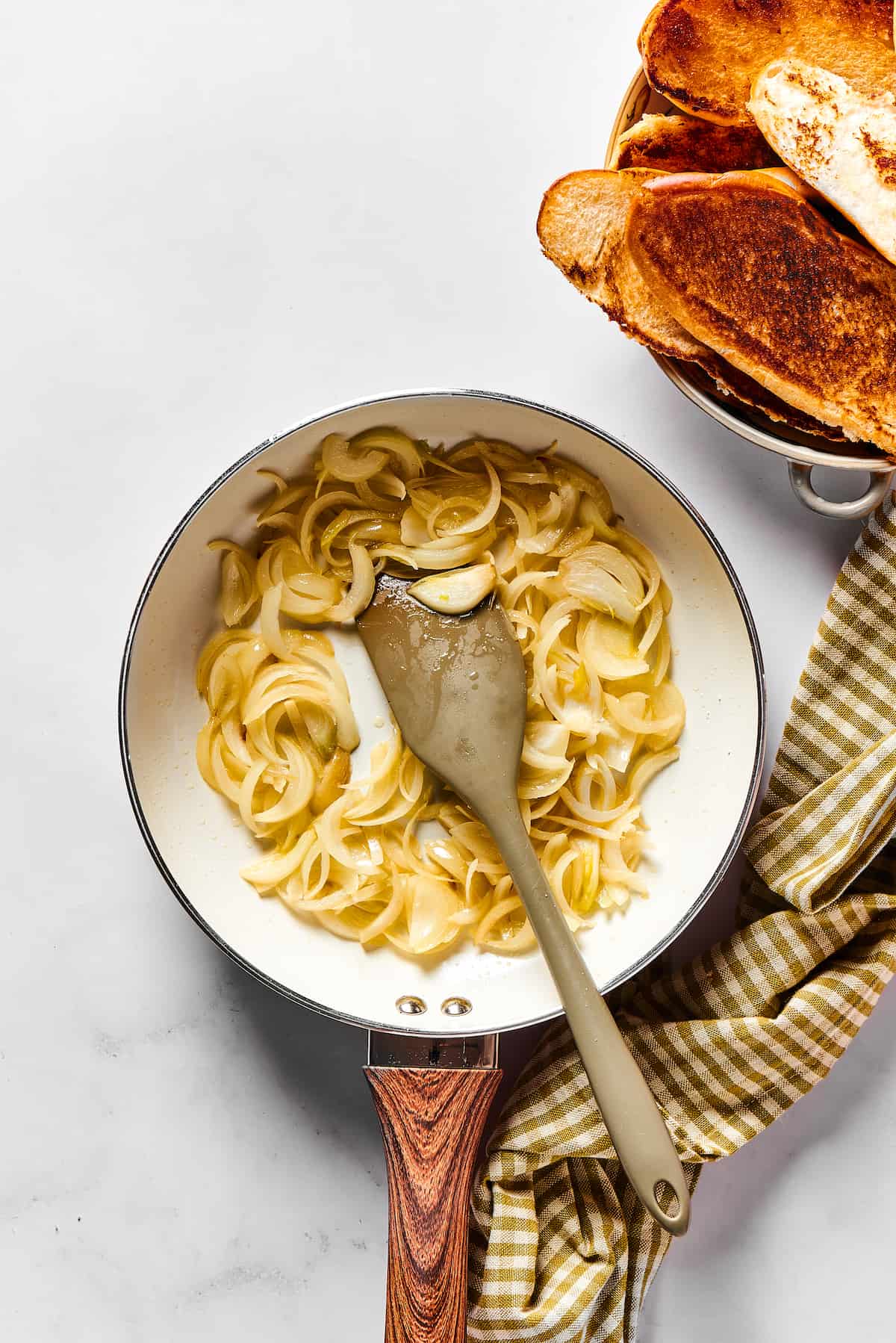 How to Make a Chopped Cheese Sandwich
Here's how to make this classic NY chopped cheese sandwich.
Toast the buns. Cut the buns in half and toast the cut sides in butter, in a skillet, until golden brown.
Cook the onions. Using the same skillet, cook the onions in butter until soft and translucent, about 6 minutes or so. Remove onions from skillet.
Prepare the beef. Season the beef with salt, pepper, and garlic powder. Form into a single large patty. In same skillet, cook the beef patty until browned on bottom side, 5-6 minutes. Flip and cook another 4-5 minutes. Add the onions back to the skillet and "chop" the beef patty and onions together using a rigid spatula.
Add the cheese. Divide the beef and onion mixture into 4 portions. Place 1 to 2 slices of cheese on each portion. Cook until cheese is melted and gooey.
Assemble the sandwiches. Spread mayo on one side of each toasted bun and ketchup on the other side, if desired. Then spoon individual portions of meat and cheese onto each bun and top with lettuce and tomatoes. (I also really like pickles!)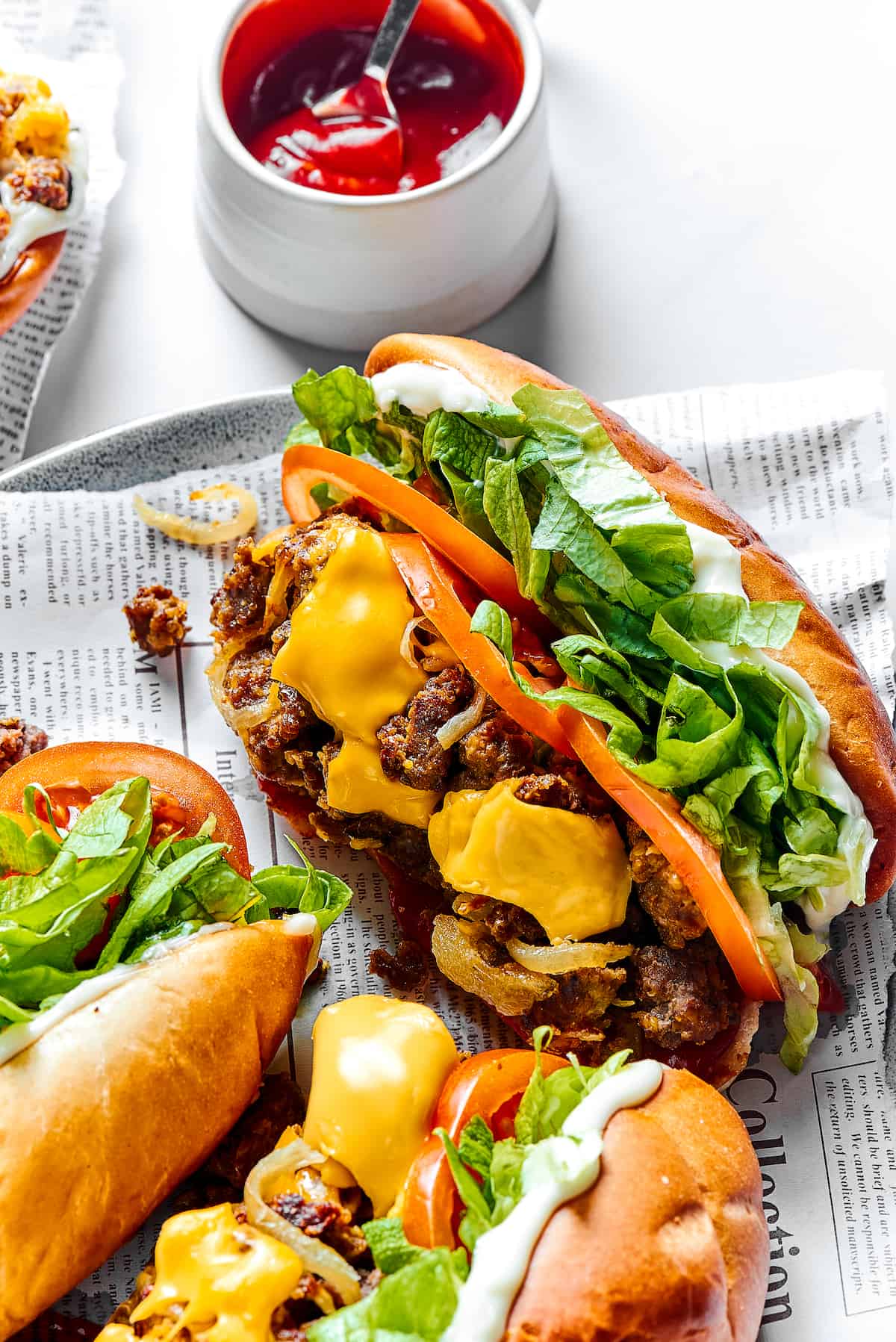 Tips & Variations
Here are a few ways to customize your chopped cheese sandwich.
Spice it up. If you want to add some heat to the recipe, you can add a diced jalapeño pepper or some hot sauce to the meat mixture, or swap out mayo for spicy mayo.
Add more savory flavor. If you like Worcestershire sauce, it can be a nice savory addition to the seasoning mix.
Use a different bread Instead of hoagie buns, you can use any type of bread you prefer, such as a kaiser roll, a sub roll, or even a wrap. Or, if you're watching carbs, go bread-less and serve the meat and cheese mixture over a bed of lettuce and tomatoes.
Why form the beef into a patty first? Forming the beef into a patty ensures that only parts of the ground beef achieve a nice sear, which gives the cooked meat more texture. As you can see in the photos above, you don't have to form the beef into a perfect patty shape by any means!
Don't crumble the beef too much. You want small crumbles of beef but not too small. Bite-sized pieces are okay, but you don't want pieces that are extra small like taco meat. I always aim for a variation of different sizes.
Use other condiments. Mustard would be great. And I adore pickles, so of course, I always offer a variety of those:

my mom's refrigerator sweet pickles
and I'll soon be sharing with you my recipes for bread & butter pickles, dill pickles, and sweet & spicy pickles!!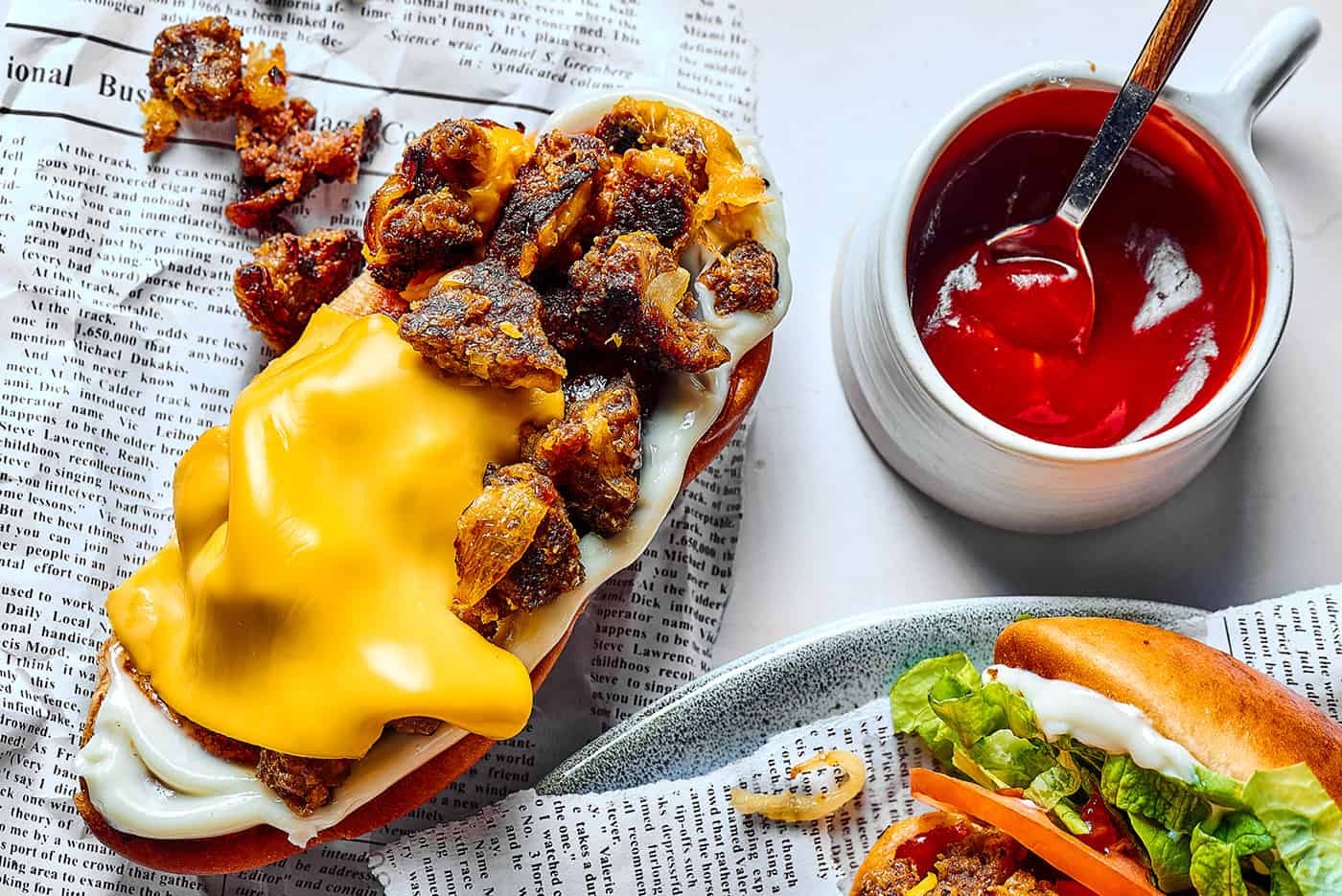 Serving Suggestions
A NY chopped cheese sandwich makes a great lunch or even dinner on its own, as it's quite hearty and includes some fresh vegetables. But I always welcome some potato chips or fries!
If you'd like to serve these sandwiches with a side dish or two, these would be nice additions to your table:
You can also choose to customize the toppings for serving. While lettuce and tomato are the traditional toppings, feel free to add other toppings like pickles, peppers, mustard, or hot sauce.
How to Store Leftovers
Assembled sandwiches should be enjoyed immediately. However, if you end up with leftover meat, you can refrigerate it in a sealed container for up to 4 days.
Reheat in the microwave or on the stovetop, then toast the bun, and assemble the sandwich as usual.
More Recipes With Ground Beef:
Like this Recipe? Save to Pinterest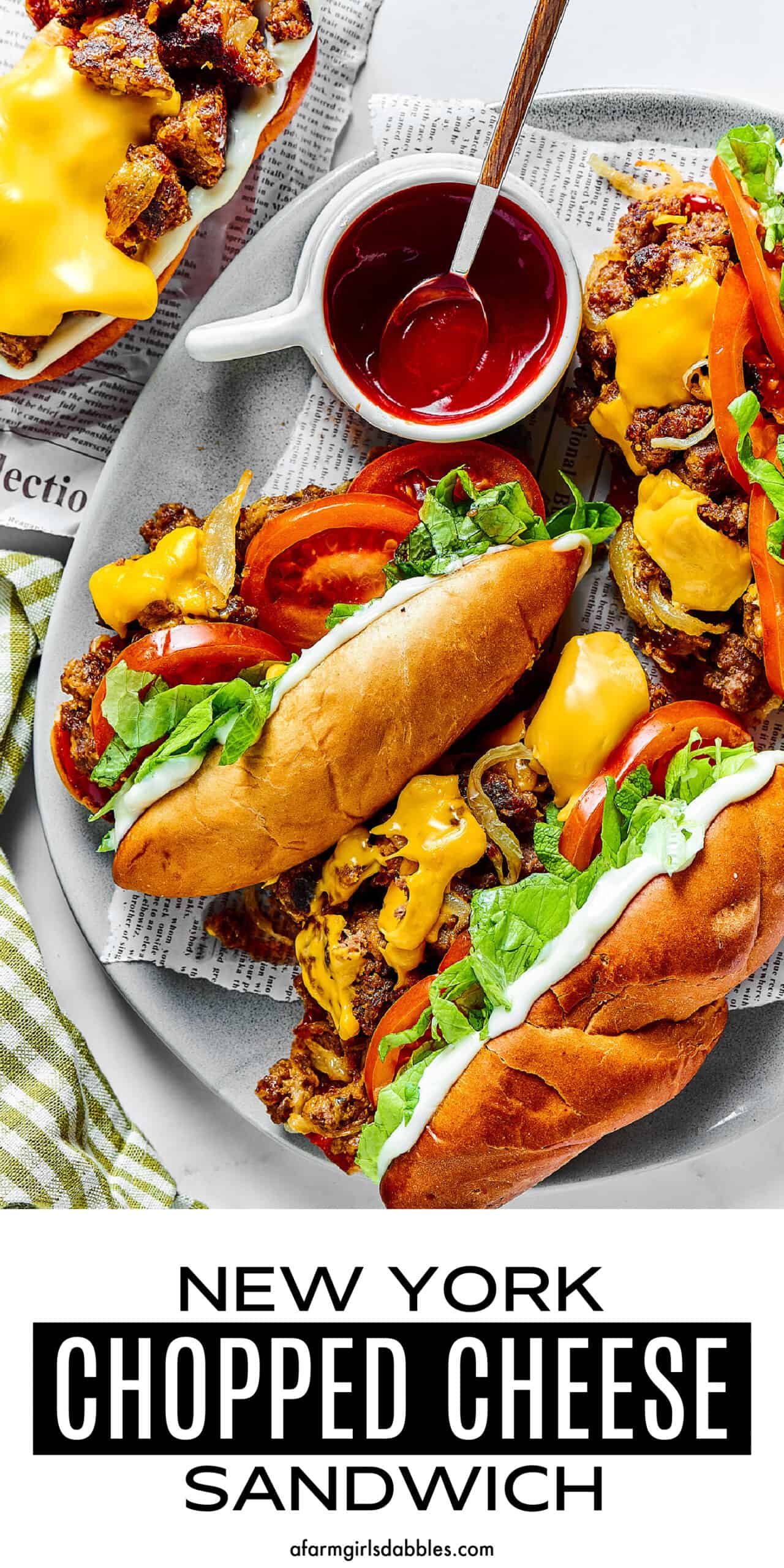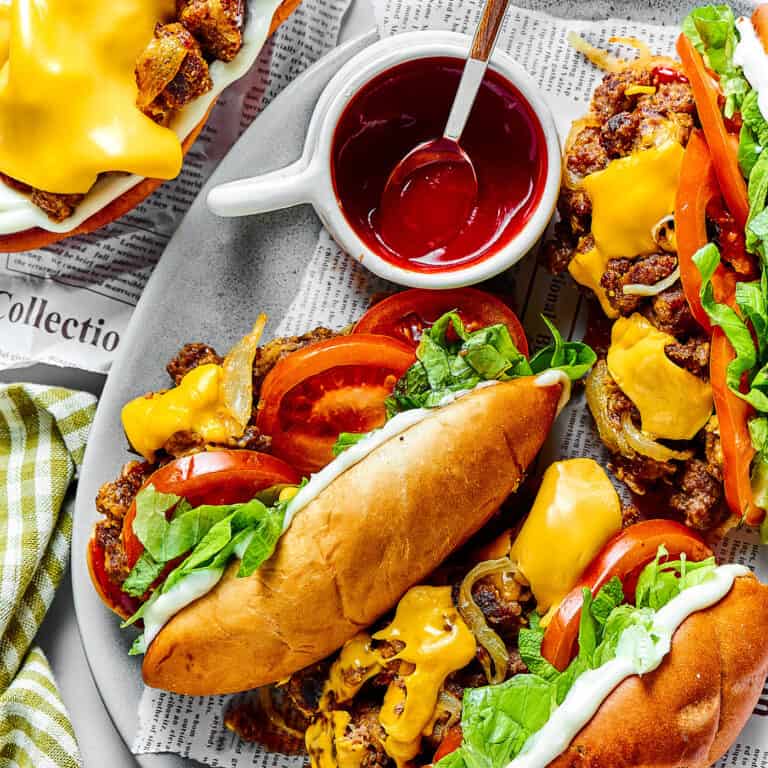 Chopped Cheese Sandwich
Yield: 4 sandwiches
Prep Time: 10 minutes
Cook Time: 20 minutes
Total Time: 30 minutes
With griddled and chopped ground beef and onions, plus melty cheese, it's easy to see why this Chopped Cheese Sandwich is always a hit! Serve on a toasted hoagie bun with lettuce and tomato for an easy lunch or dinner.
Ingredients
4 hoagie buns
2 tablespoons butter, divided
1 medium yellow onion, thinly sliced
1 pound 80/20 ground beef
2 teaspoons Morton kosher salt
½ teaspoon ground black pepper
1 teaspoon garlic powder
4-8 slices American cheese
½ cup ketchup, optional
½ cup good quality mayonnaise, optional
iceberg lettuce, sliced into thin strips
2 medium tomatoes, thinly sliced
Instructions
Slice buns in half. Warm a large skillet over medium heat, and then add 1 tablespoon of the butter. Once butter has melted, add buns, cut side down, and toast until they are golden brown. If needed, do this in batches, adding a tablespoon of butter to the skillet with each new batch. Remove buns from skillet to a plate and set aside.
Heat same skillet over medium-low heat with the remaining tablespoon of butter and stir in the onion. Cook for 6-8 minutes, stirring occasionally, until onions are softened and translucent. Remove cooked onions from skillet and set aside.
Heat same skillet over medium heat. Season ground beef with salt, pepper, and garlic powder. Shape ground beef into a large patty form, about 1" thick, and add it to the heated skillet. Cook until browned on the bottom side, about 5-6 minutes. At this point, if desired, drain excess fat from the pan. Then flip the patty over and cook for another 4-5 minutes, with some pink color still in the center of the patty. Cook time will depend on thickness of ground beef patty and cooking temperature.
Add the onions back to the skillet, with the cooked burger patty. With a rigid spatula, "chop" the beef patty and onions together, until you have bite-size pieces of beef. Once the pink color is gone from the beef, divide the chopped mixture into four equal portions, right in the skillet.
Place 1-2 slices of cheese on top of each portion and cook for 1-2 minutes, until cheese is melted and gooey.
To assemble sandwiches, first spread mayo on one side of the toasted bun and ketchup on the other, if desired. Then transfer each portion of meat and cheese mixture onto individual hoagie buns. Top with lettuce and tomatoes, plus any other condiments that you like. Enjoy immediately, while hot.
Nutrition Information:
Yield: 4
Serving Size: 1
Amount Per Serving:
Calories: 970
Total Fat: 54g
Saturated Fat: 21g
Trans Fat: 2g
Unsaturated Fat: 26g
Cholesterol: 169mg
Sodium: 2813mg
Carbohydrates: 69g
Fiber: 5g
Sugar: 14g
Protein: 52g
Nutrition information is automatically calculated by Nutritionix. I am not a nutritionist and cannot guarantee accuracy. If your health depends on nutrition information, please calculate again with your own favorite calculator.