Pina Colada
This classic Pina Colada recipe is fruity and refreshing, with sweet pineapple, creamy coconut, and rum. It's a fun tropical drink, the perfect rum cocktail (or make it a mocktail) for summer!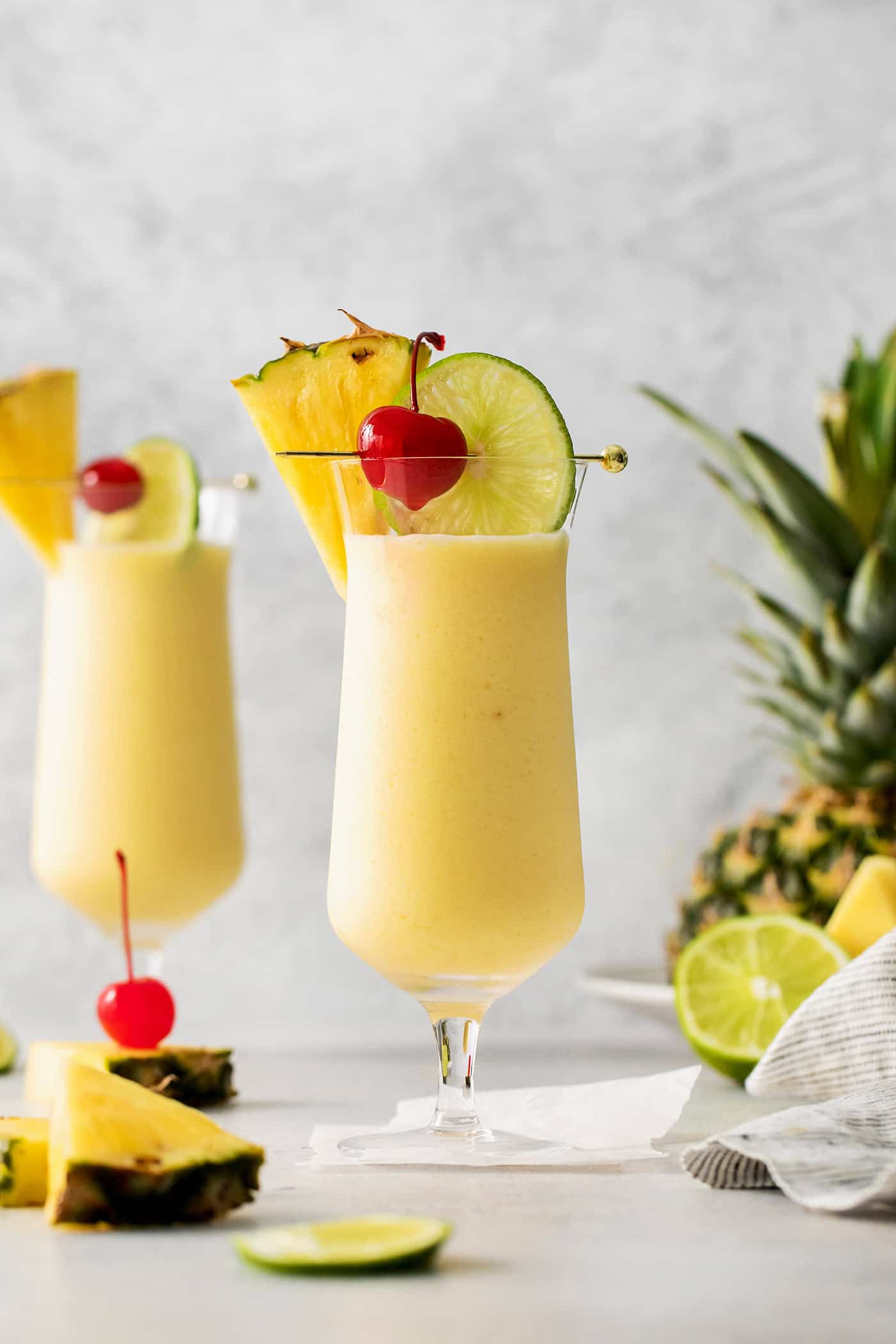 The Best Pina Colada Recipe
If there was ever a cocktail that represents a tropical vacation, it's a classic Pina Colada.
This drink is fruity and brightly flavored, lightly creamy, and fantastically refreshing – a perfect summer cocktail. It's also a looker, so fun with its fresh garnishes of pineapple and cherries!
This pina colada recipe is super easy. All you need is a handful of ingredients, a blender, and a few minutes of time. And you can easily adjust how boozy (or not) the cocktail is, which I always appreciate, as this also makes a great mocktail.
And unlike my other favorite summer cocktails – like a watermelon margarita, a peach mint julep, or a tall glass of ranch water – this pina colada is frozen. So it's especially refreshing on a hot day!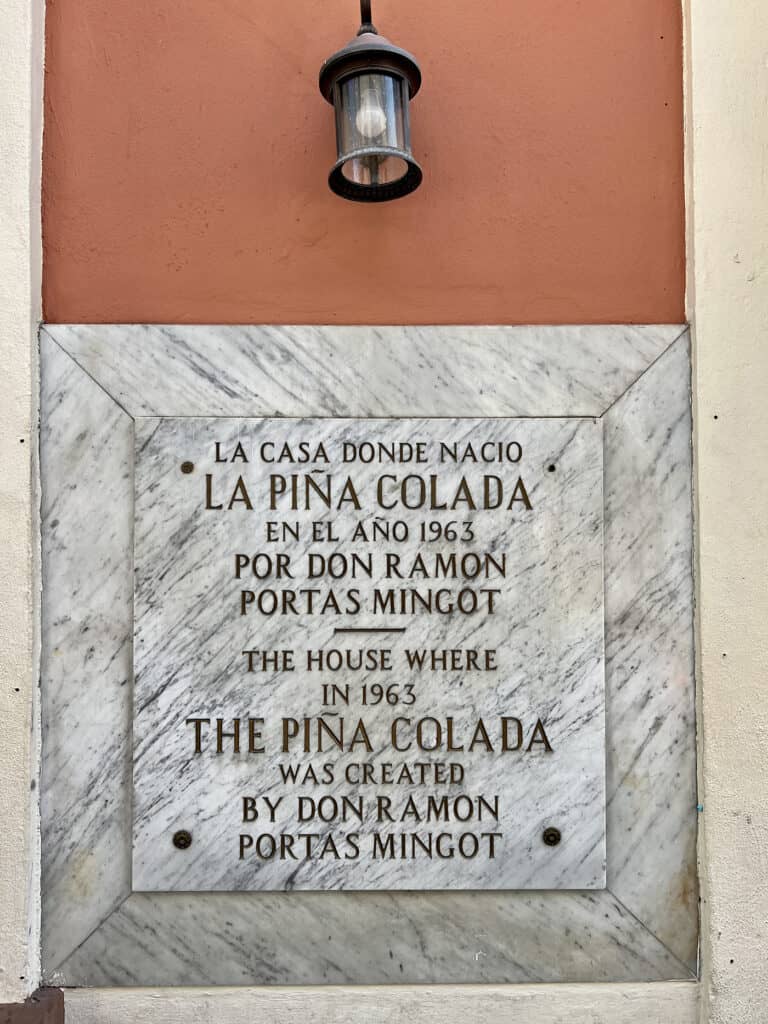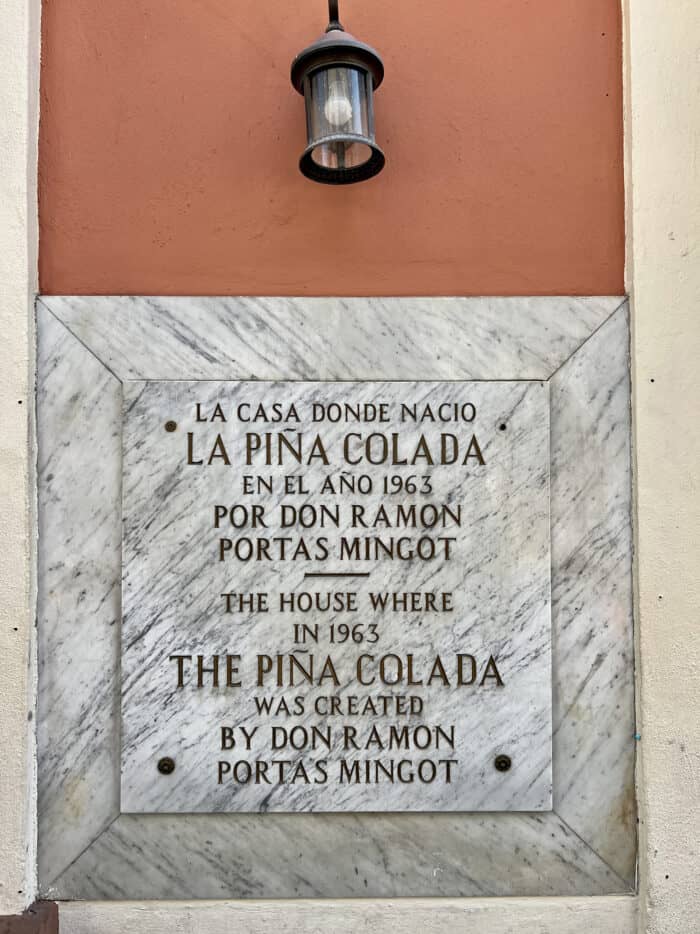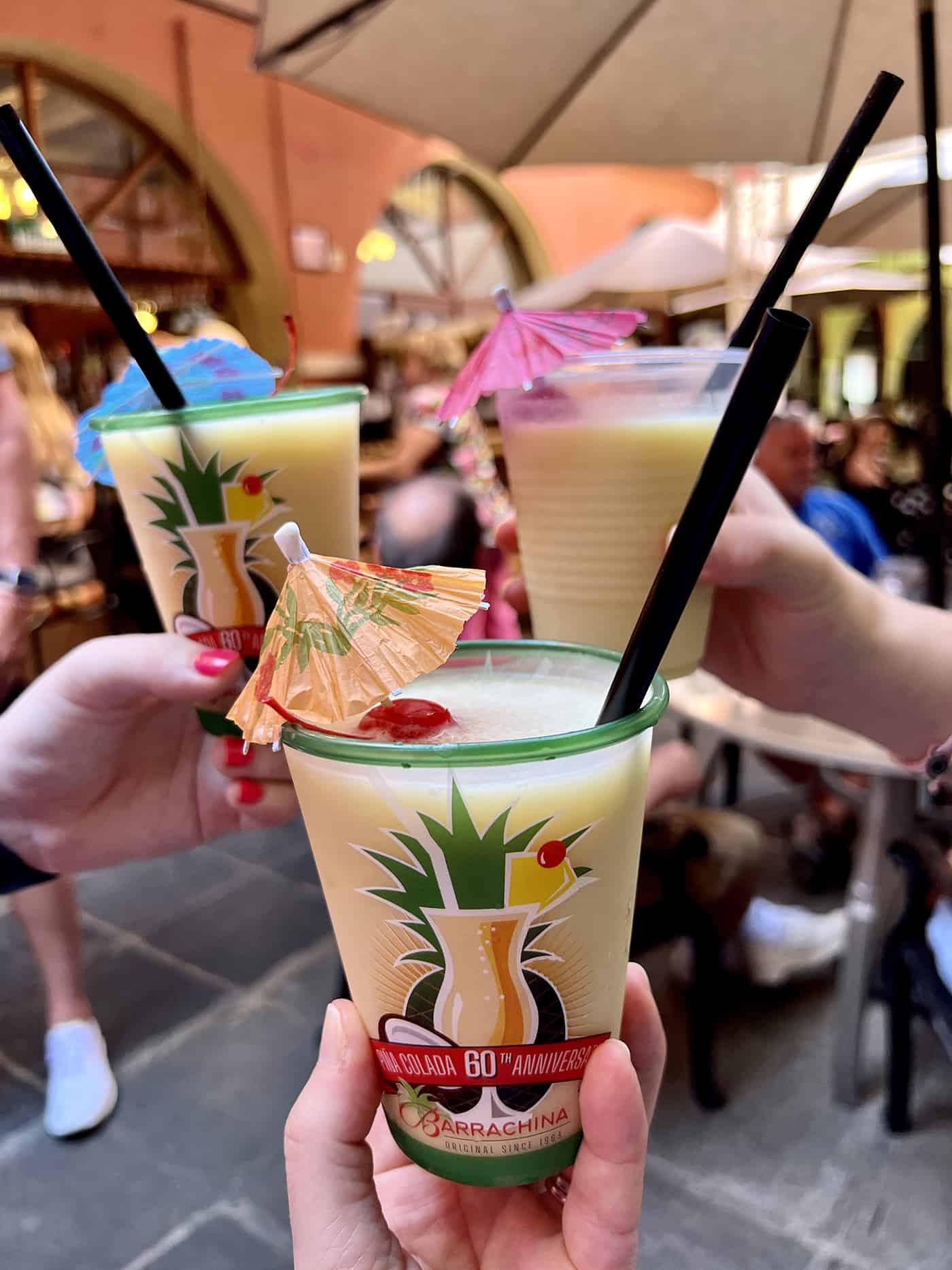 Where Was The Pina Colada Invented?
The piña colada is a classic cocktail that originated in Puerto Rico.
Its name means "strained pineapple" in Spanish. On the International Bartender Association's IBA official cocktails list (which means it has an official definition), it consists of pineapple juice, cream of coconut, and rum, served blended or shaken with crushed ice.
Our family recently visited Puerto Rico and enjoyed pina coladas at Barrachina, where bartender Don Ramón Portas Mingot is said to have invented the drink in 1963. Although some hail Ramón "Monchito" Marrero as the creator, while bartending at the Caribe Hilton in 1954. Whatever the origin, the pina colada became so popular that it was declared the official drink of Puerto Rico in 1978!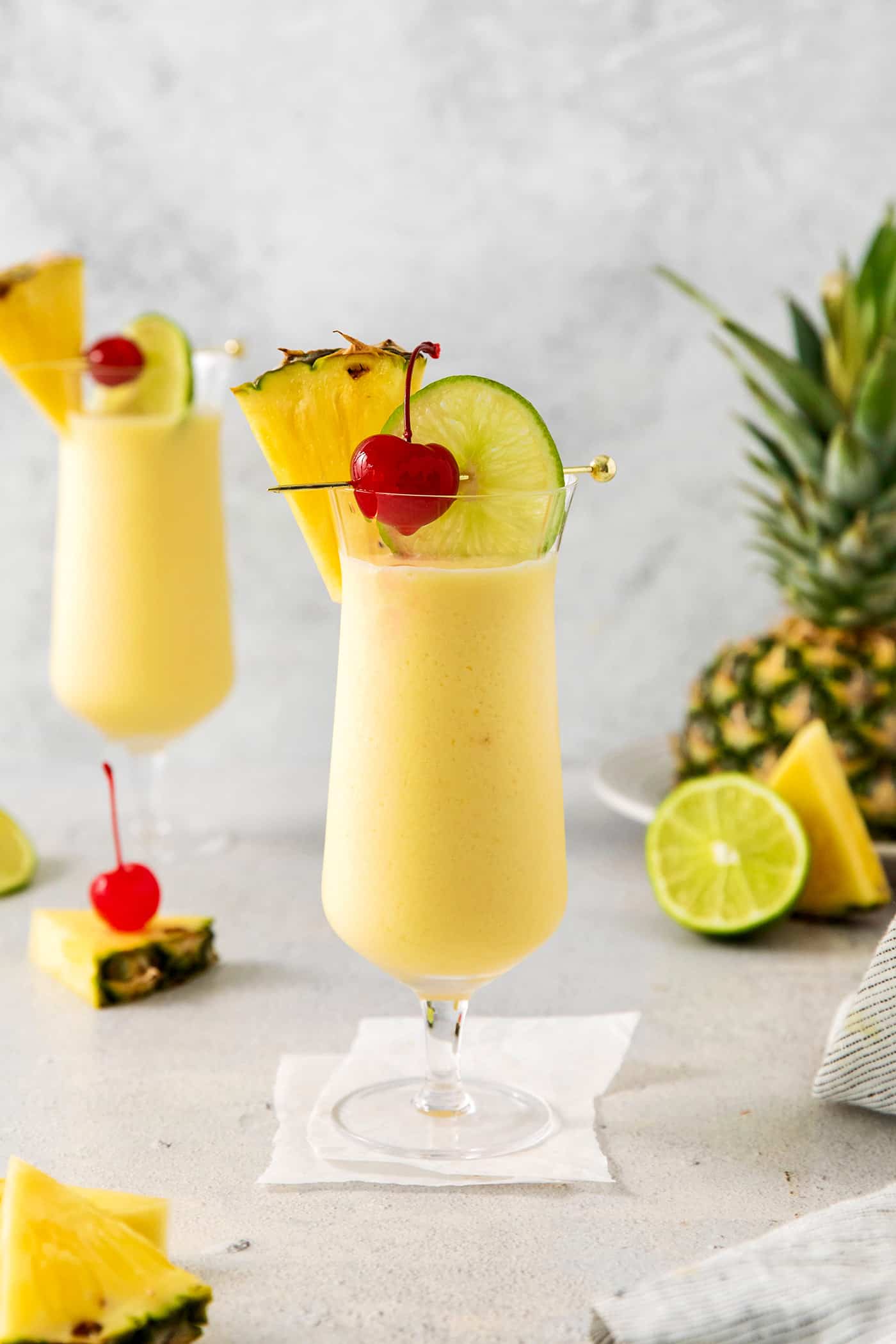 Why You'll Love This Tropical Cocktail
There are so many things I love about this recipe. Here are a few.
Quick and easy. From start to finish, this cocktail requires just a few minutes of prep.
Only 5 ingredients. And they're all easy to find, too!
Fantastic flavor. I love pineapple and coconut, and they're even better when they're together!
Fun & pretty! This drink is full of sunshiny attitude with its bright colors and fun-to-eat garnishes. Whenever we get away to a tropical location, this is the first drink on our minds!
Perfect for summer. And when we're not on vacation, this is a great drink for a hot summer's day. Its frozen texture and tropical flavor make it extra refreshing.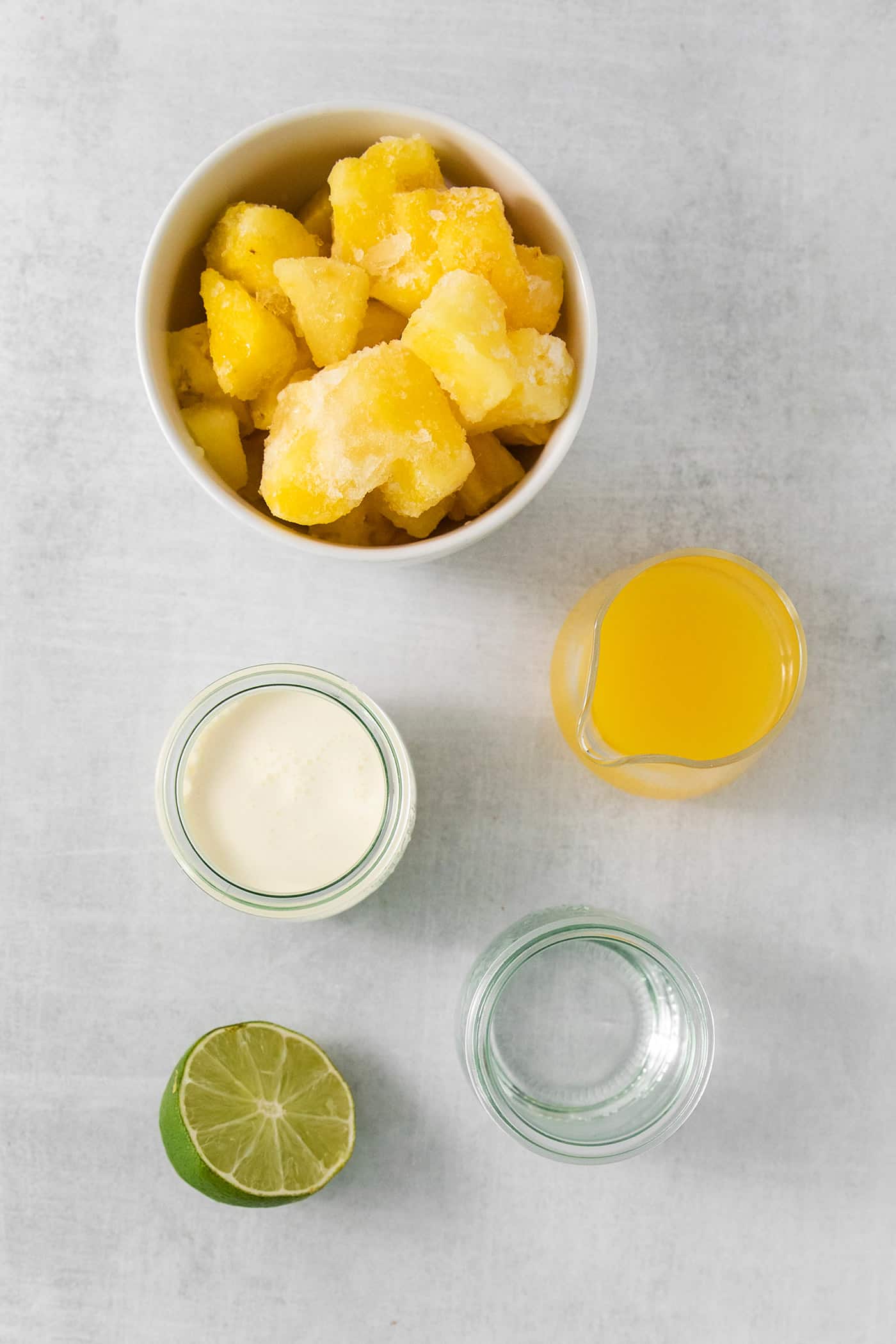 What You'll Need
You need just 5 ingredients to prepare this easy pina colada recipe.
See the recipe card below for exact measurements and full instructions.
Pineapple juice – Pineapple juice is the traditional fruity, pineapple base for this tropical cocktail.
Frozen pineapple chunks – Frozen pineapple both chills and thickens the pina colada. If you don't have frozen pineapple on hand, use 1½ cups of fresh pineapple chunks and 1 cup of crushed ice.
Cream of coconut – Cream of coconut sweetens the pina colada and adds a bit of creaminess. Two popular brands are Coco Reàl and Coco Lopez. Note that cream of coconut is NOT the same thing as canned coconut cream. You can usually find cream of coconut with the mixers in the grocery store – not with the coconut milk.
Lime juice – Lime juice adds another layer of fresh, bright acidity to the cocktail.
White rum – A classic pina colada calls for white rum. I like it for its clean flavor.
The IBA's definition of a piña colada is simply pineapple juice, cream of coconut, and rum – served blended or shaken with crushed ice.
From the ingredients list above, you can see that I also incorporate frozen pineapple chunks, which eliminates the need for ice when making a blended pina colada. I also like the texture that the pineapple adds.
I also add lime juice. Because I am a lime juice fanatic, ha! But you'll often see bartenders adding lime juice to their pina coladas, as it adds another layer of bright, fresh, tangy flavor. I'm definitely a fan!
What's The Best Rum For A Pina Colada Drink?
A classic pina colada cocktail is typically made with white rum. However, you can always use dark or aged rum if that's what you prefer – this will add a more complex flavor.
The popular Malibu pina colada variation uses Malibu coconut rum, which adds even more of a tropical flavor. (Delicious!!)
There's no need for a top-shelf rum with this drink, because the pineapple and coconut flavors are the major players here. But I always stay away from the cheap stuff. I recommend using whatever you already personally enjoy drinking.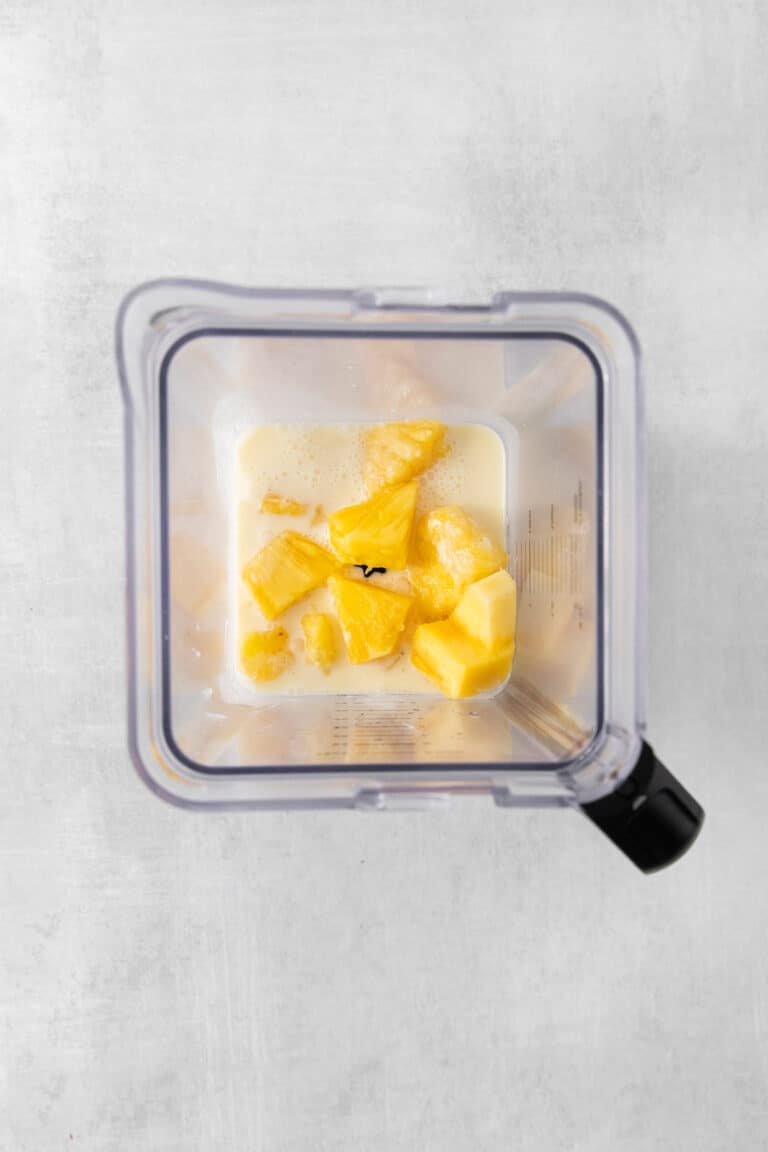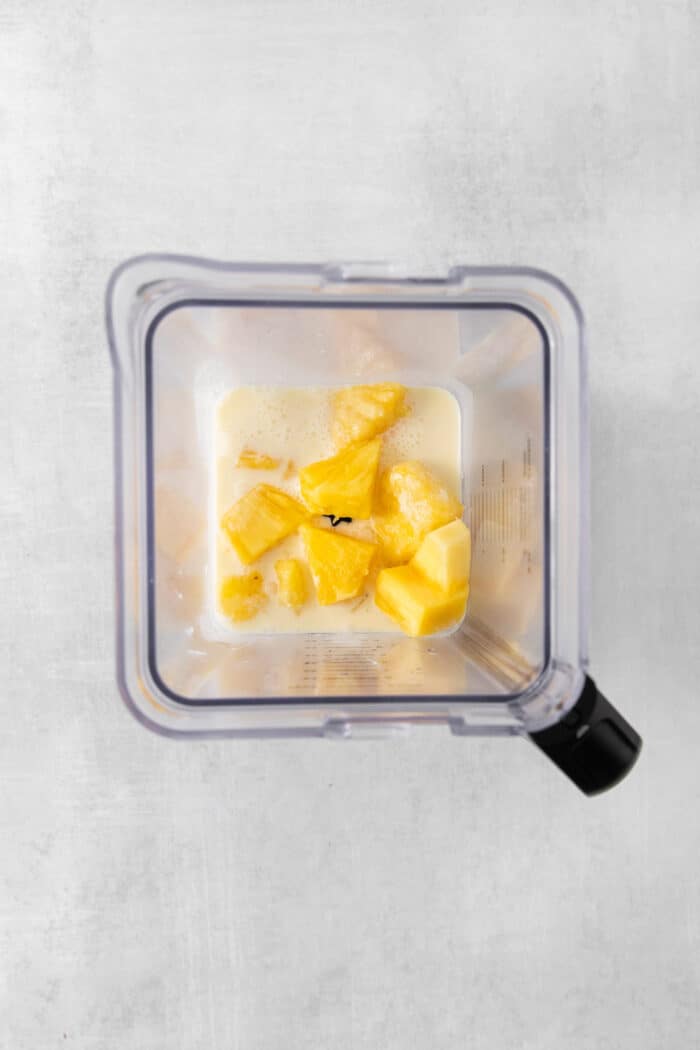 How to Make a Pina Colada
Here's how to make this classic cocktail at home – it's quick and easy!
Blend the ingredients. Add everything except for the rum to a blender. Blend until smooth and thickened.
Add the rum. Pour the rum into the blender and quickly blend to combine.
Enjoy. Divide between two glasses and garnish as desired.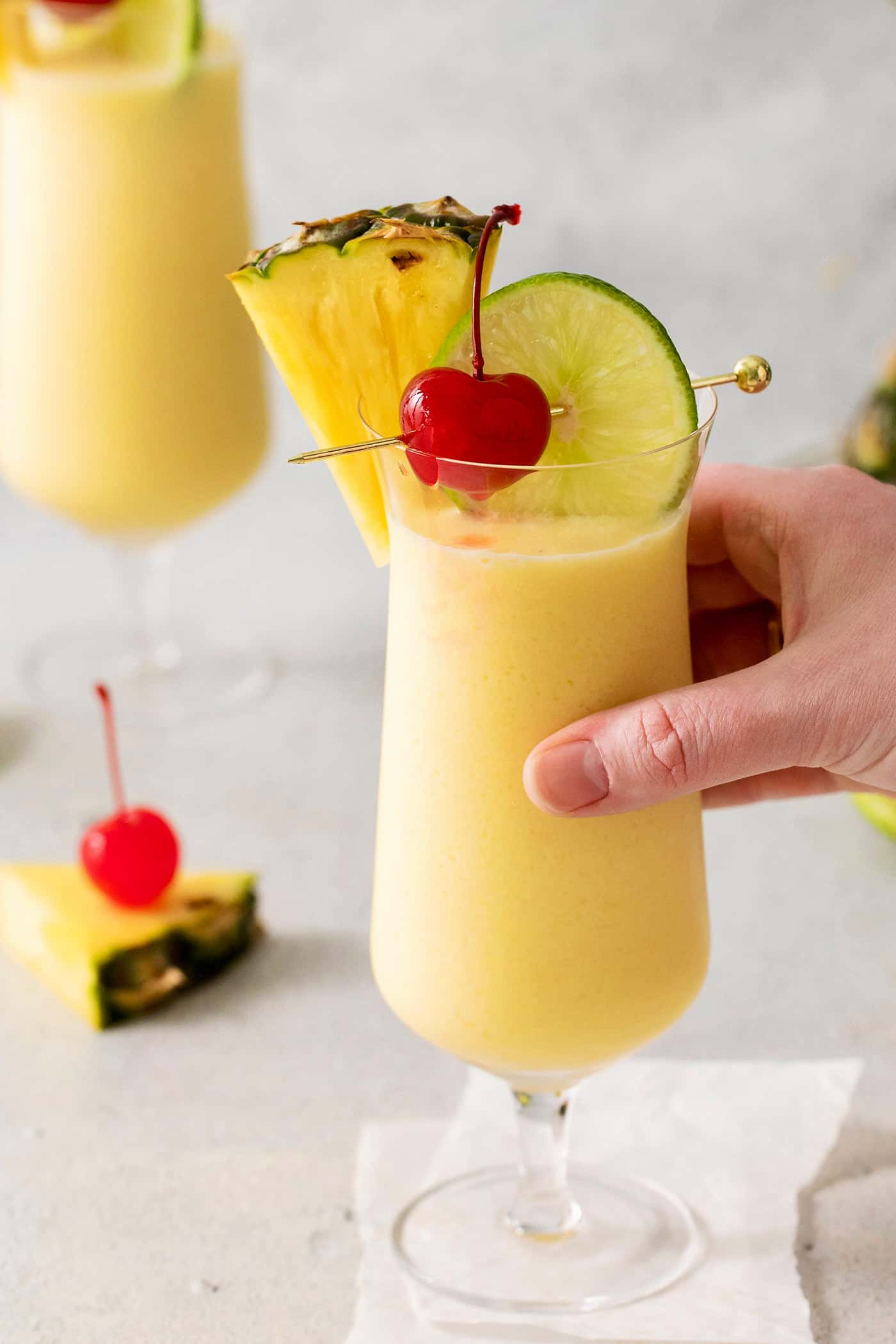 Serving Suggestions
Be sure to serve your pina colada cocktails immediately after preparing, while they're at their frozen best.
I like to garnish mine with the traditional pineapple slice and maraschino cherry, plus a fresh lime wheel. I love all that fun, bright color – plus, I like to eat the garnishes!
Some people like to add whipped cream – and we enjoyed a pina colada in Puerto Rico served this way. But I personally prefer the drink without.
A colorful straw or little umbrella is always a fun touch, too!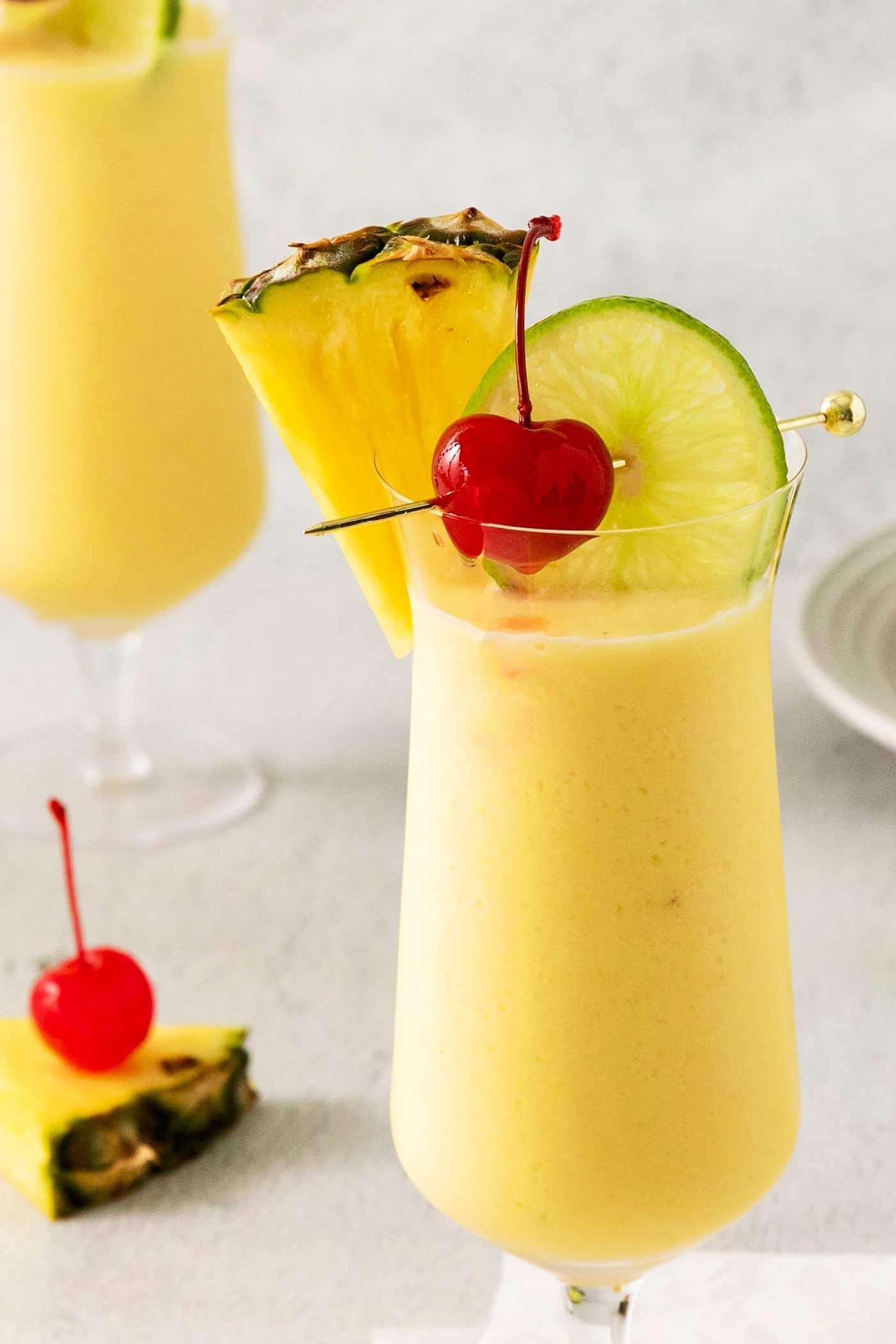 Can I Make A Big Batch Of Pina Colada Cocktails?
Since this is a frozen cocktail that should be served immediately after preparation, you can't really make a pitcher of pina coladas, like you can for other cocktails (margaritas, for example).
However, if you need to double or triple this recipe to make enough for several drinks, you can easily do that. Just keep in mind you may have to blend it a bit longer and/or make more than one batch, depending on the size of your blender, etc.
Can I Make A Virgin Pina Colada?
Absolutely. We do this a lot!
To make a virgin pina colada, simply omit the rum from this recipe. It's still a refreshing, tropical drink – and one that EVERYONE can enjoy!
If you're looking for another non-alcoholic version of a pina colada, also try out this pink panther mocktail. It's basically a pina colada with strawberry added, so good!
More Classic Cocktail Recipes:
Like this Recipe? Save to Pinterest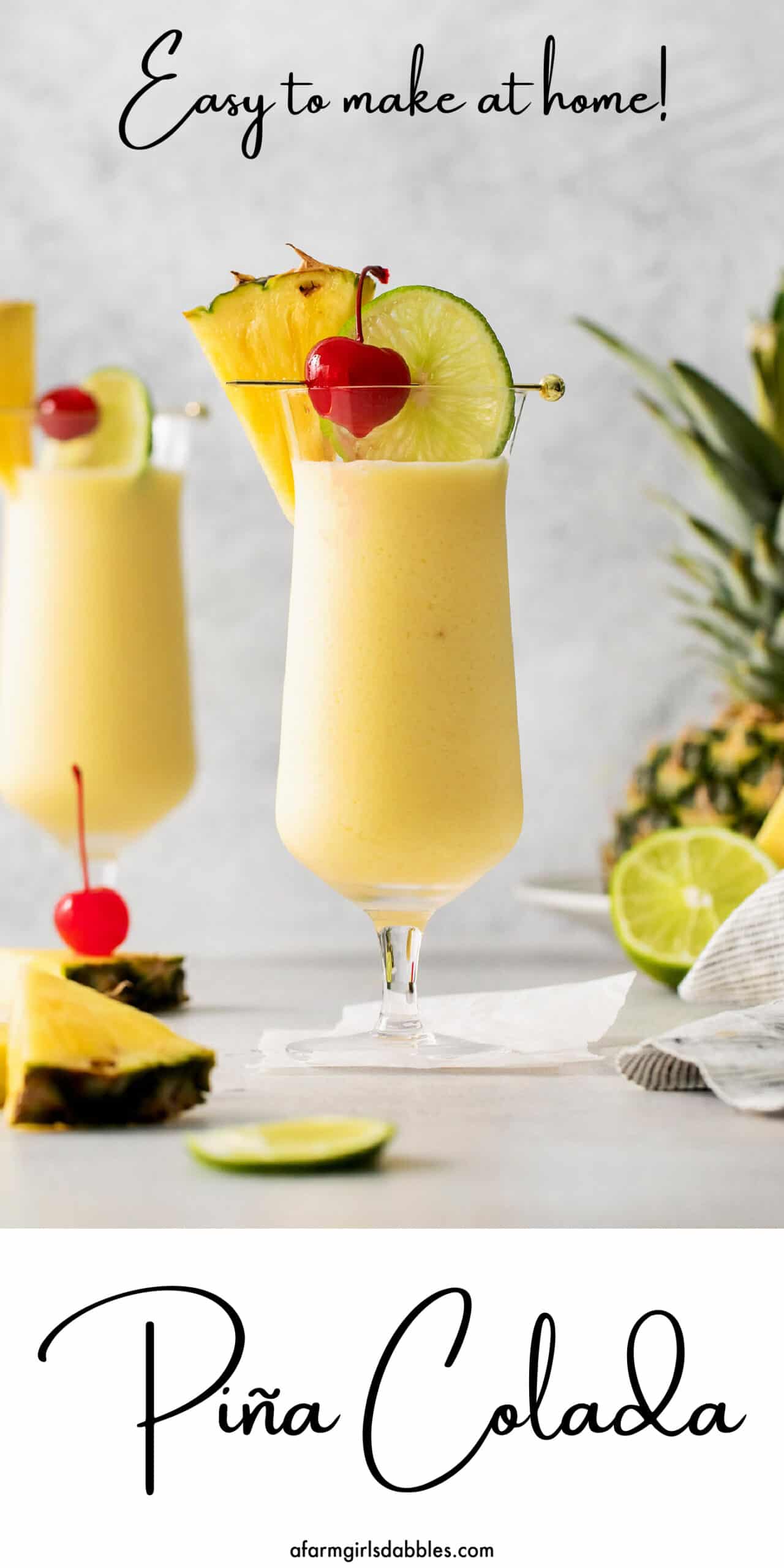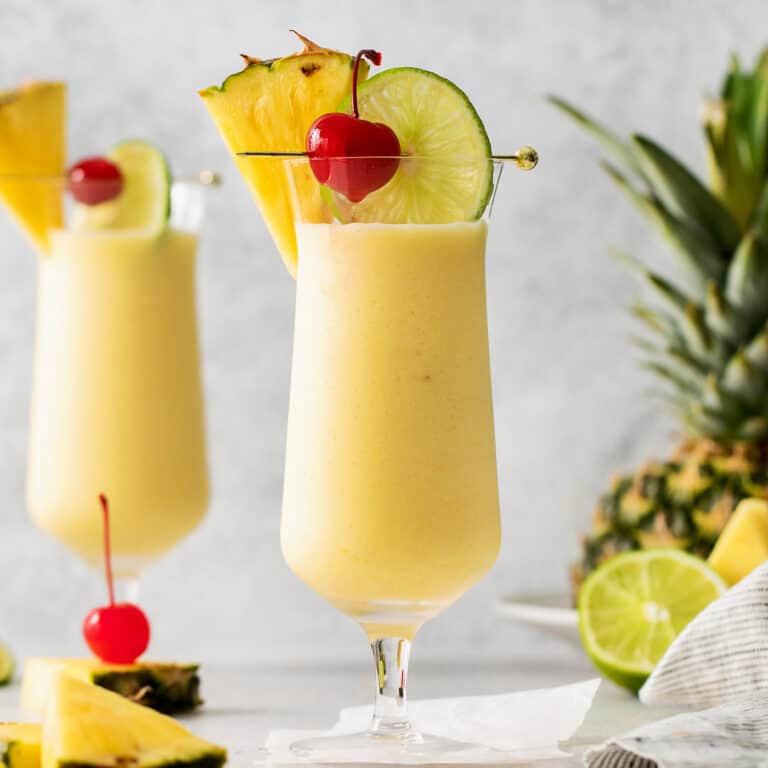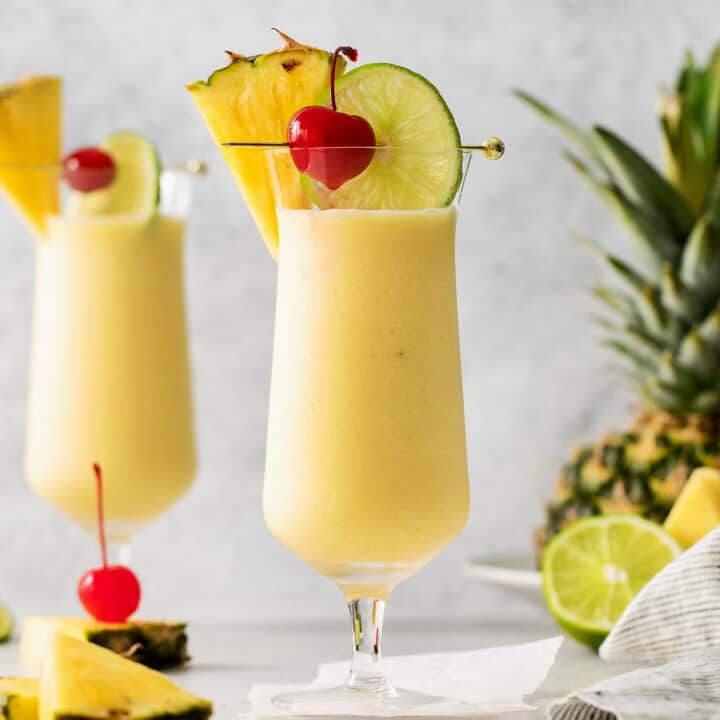 Classic Pina Colada
Yield: 2 cocktails
Prep Time: 10 minutes
Total Time: 10 minutes
This classic Pina Colada recipe is fruity and refreshing, with sweet pineapple, creamy coconut, and rum. It's a fun tropical drink, the perfect rum cocktail (or make it a mocktail) for summer!
Ingredients
2 cups frozen pineapple chunks
½ cup chilled pineapple juice
¼ cup cream of coconut
2 tablespoons freshly squeezed lime juice
⅓ cup white rum, or to taste
Optional garnish: pineapple wedges, maraschino cherries, and lime wheels
Instructions
Add the frozen pineapple, pineapple juice, cream of coconut, and lime juice to a high speed blender and blend until smooth and thickened, about 1 minute.
Add the rum and blend quickly to combine.
Divide between two glasses and garnish with pineapple wedges, cherries, and lime wheels. Enjoy immediately.

Notes
To make this a mocktail, simply eliminate the rum.
Nutrition Information:
Yield: 2
Serving Size: 1
Amount Per Serving:
Calories: 644
Total Fat: 23g
Saturated Fat: 18g
Trans Fat: 0g
Unsaturated Fat: 4g
Cholesterol: 34mg
Sodium: 137mg
Carbohydrates: 97g
Fiber: 9g
Sugar: 80g
Protein: 4g
Nutrition information is automatically calculated by Nutritionix. I am not a nutritionist and cannot guarantee accuracy. If your health depends on nutrition information, please calculate again with your own favorite calculator.