Banana Cake with Cinnamon Cream Cheese Frosting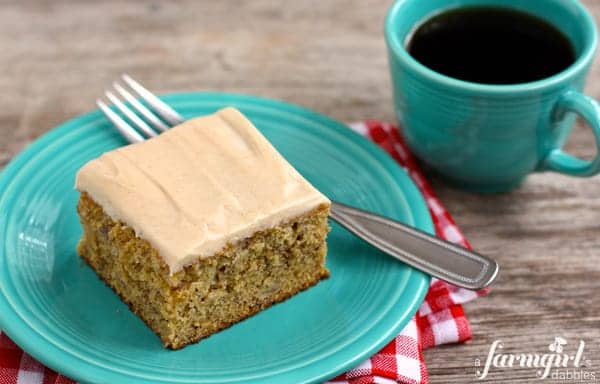 I'm the kind of person who buys twice as many bananas as I know we'll consume, just so I can be sure to have some brown and ugly, overripe ones to bake with. Our favorite banana muffins (usually plain, without the frosting as shown in the post) are definitely the most commonly baked item here in this house. They are moist and tasty and comforting, and we simply never tire of them. They are also extremely easy to put together, a recipe that I can now put our girls in charge of making without my help.
This Banana Cake with Cinnamon Cream Cheese Frosting came about simply because I wanted another form of baked banana goodness to rely on, to mix it up a bit around here. I know many people already have a go-to banana cake in their recipe box. But I did not. So I took the elements I like from those banana muffins, plus my favorite banana bread from Aunt Mary Jane, and came up with an easy banana cake recipe that my family has eagerly embraced.
Since I started playing around with King Arthur's white whole wheat flour last fall in pumpkin recipes, I've discovered that my family especially likes this flour incorporated with bananas. If our oldest daughter hears I'm making banana muffins, she'll even request that I use the white whole wheat. And nobody argues with her. ;)
So I knew this cake definitely needed to be made with white whole wheat flour…
And it turned out awesome. Everyone loves it. The cake is ultra moist and dense and full of flavor. And with that cream cheese frosting smoothed over the top, warmed up perfectly by cinnamon and allspice…it's one big pan of delicious comfort. Just one more good reason for me to keep on buying too many bananas!
Banana Cake with Cinnamon Cream Cheese Frosting
Ingredients
for the banana cake:

4 large very ripe bananas
1-1/2 c. sugar
3/4 c. (12 T.) unsalted butter, melted
1/2 c. sour cream
3 large eggs
1 tsp. pure vanilla extract
3 c. white whole wheat flour
1-1/2 tsp. baking soda
1/2 tsp. baking powder
1/2 tsp. salt
1 tsp. cinnamon
1/2 tsp. allspice

for the cinnamon cream cheese frosting:

8 oz. cream cheese, at room temperature
4 T. unsalted butter, at room temperature
2 c. powdered sugar
1 tsp. pure vanilla extract
1 tsp. cinnamon
1/2 tsp. allspice
Preparation
for the banana cake:
Preheat oven to 350°. Spray a 9'' x 13'' pan with cooking spray and set aside.
In a large bowl, thoroughly mash the bananas. Add the sugar, butter, and sour cream, and stir to combine. Add the eggs one at a time, stirring to combine after each addition. Then stir in the vanilla.
In a medium bowl, whisk together the flour, baking soda, baking powder, salt, cinnamon, and allspice.
Add half the flour mixture to the banana mixture, and stir to combine. Then add the other half of the flour mixture, stirring again. Spread batter evenly in prepared pan. Bake for about 30 minutes, or until nicely browned and a toothpick comes out with no wet batter. The cake surface should bounce back when you press on it. Cool completely before frosting.
for the cinnamon cream cheese frosting:
With an electric mixer, combine all ingredients until smooth and creamy. Spread frosting evenly over cake. Slice to serve. Store any remaining cake in the refrigerator.
Source
Adapted from my favorite banana bread recipe from Aunt Mary Jane and my favorite banana muffins.