How to Quick Pickle Vegetables
Here's everything you need to know about How to Quick Pickle Vegetables! It's so easy to make your own pickled produce, and I've included tips and variations, plus recipes for everything from pickled asparagus to rhubarb to classic dills to get you started!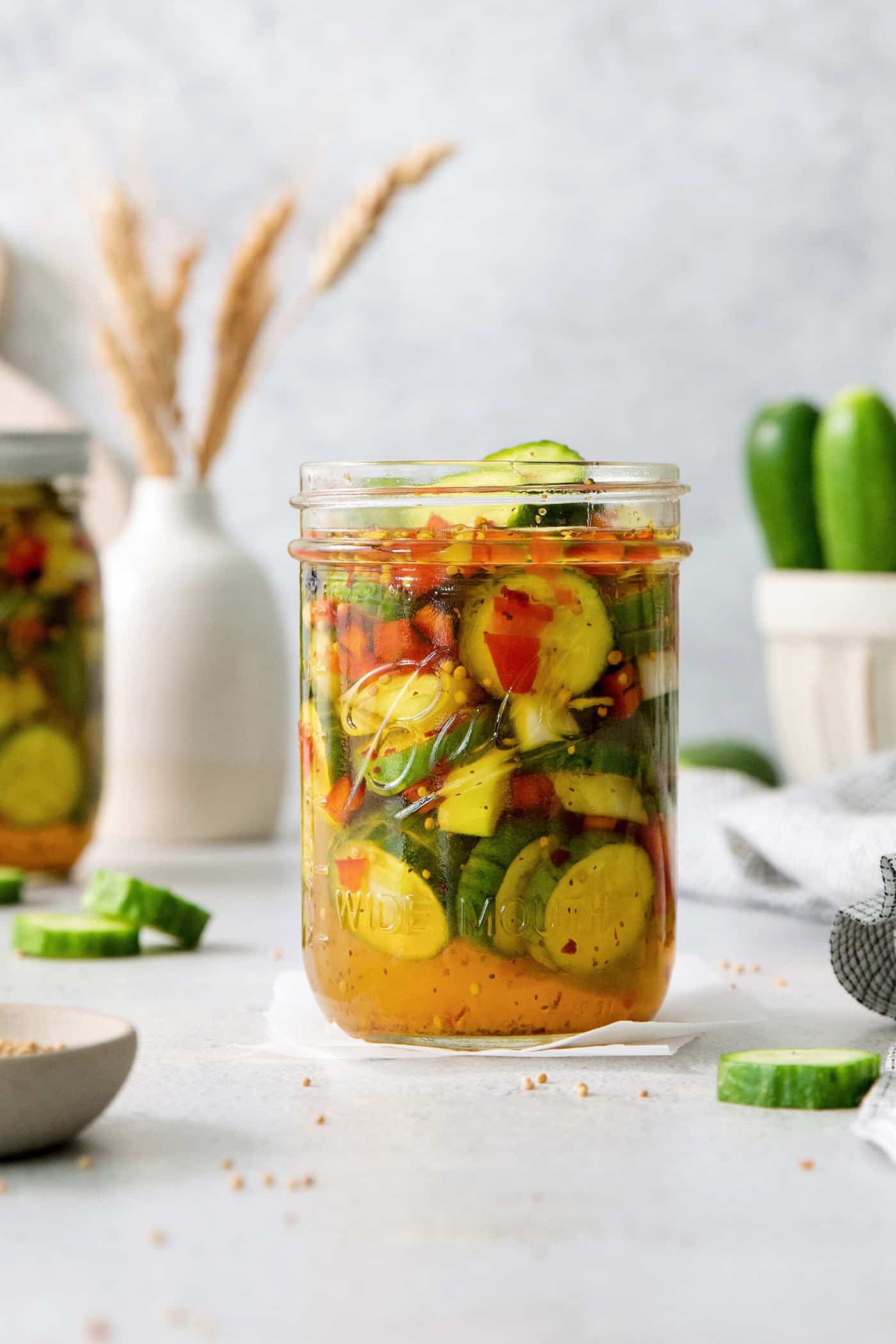 Everything You Need to Know About Quick Pickling Vegetables
I'm a huuuuuuge fan of both eating and making pickles. Here's everything you need to know about How to Quick Pickle Vegetables – it's so easy and delicious!
Quick pickling is so much more than just pickling cucumbers for traditional dill pickles or sweet pickles. This simple method of fresh food preservation yields a wide range of fresh-tasting deliciousness, from pickled jalapenos to pickled beets to pickled squash.
Also known as refrigerator pickles, quick pickles are made with a quick and easy method. There's no canning, hot water bath, hours in the kitchen, or stress. Quick pickled vegetables is the obvious answer to "What do I do with all these onions?!"
Once you've made a batch of my favorite pickled red onions or bread & butter pickles, you'll blissfully tuck them into burgers, tacos, and sloppy joes, and serve them alongside macaroni salad. If you enjoy a bloody mary stuffed with goodies, go ahead and throw some pickled veggies into your glass as well!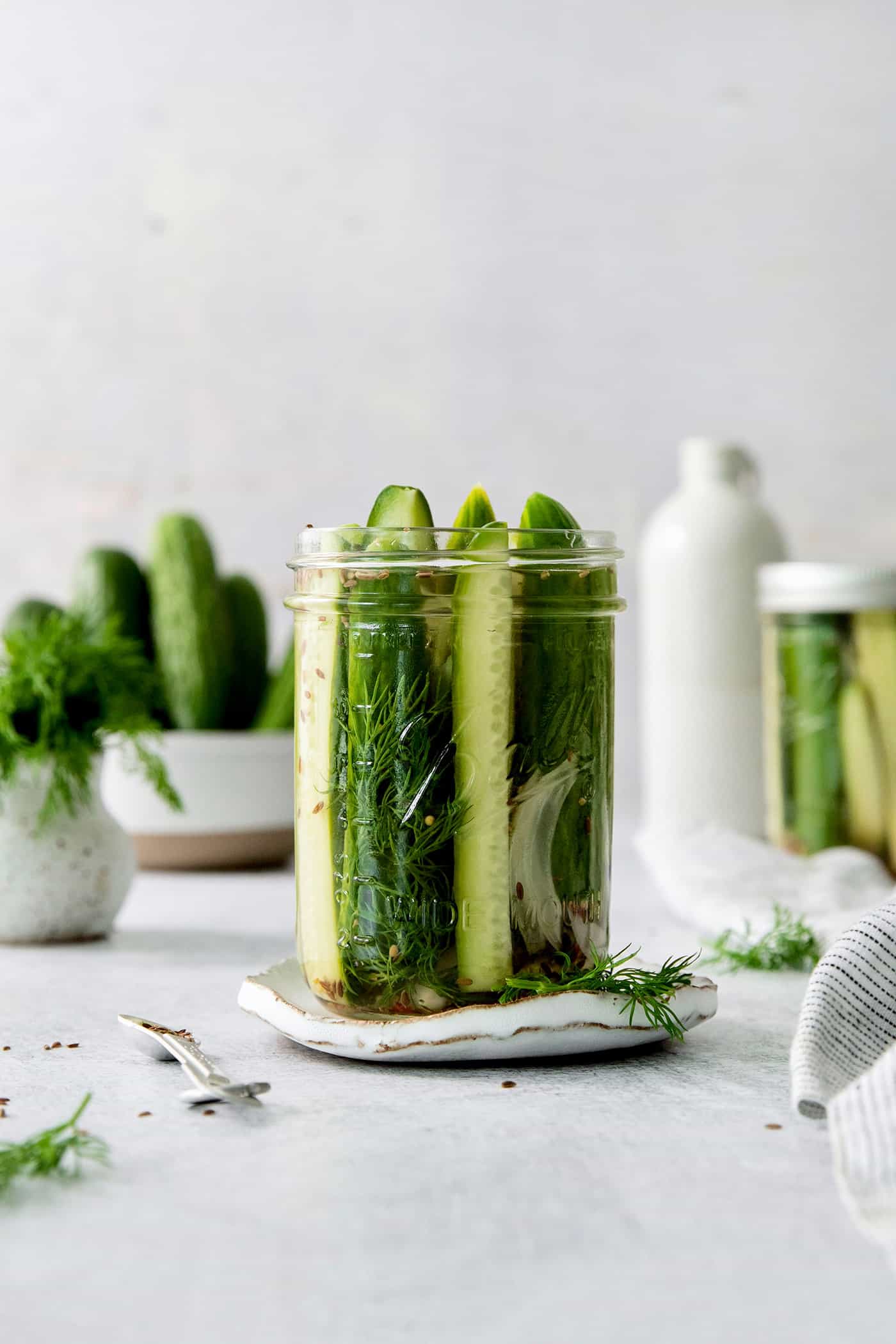 Quick Pickling vs Canning
On the farm, Mom did a wide variety of canning. My parents had a huge vegetable garden that included long rows of sweetcorn, a sizable raspberry patch, and an area for pretty cut flowers such as cosmos, zinnias, and gladiolus.
Mom canned beans, tomatoes, cucumbers, and so much more. She preserved a large quantity of vegetables – both pickled and not pickled – using a full canning process. This involved many hours in the kitchen, over a large pot of boiling water on the stovetop. And the big payoff was a pantry full of a colorful assortment of year-long deliciousness. Homemade pickled asparagus in the middle of winter is pretty fun, I have to admit.
But Quick Pickles are much different than that!
Here's a quick rundown of Quick Pickling vs Canning:
Quick Pickling: Quick pickles are pickled in a simple brine of vinegar, water, salt, and sometimes sugar and other flavorings/spices. They are stored in the fridge (thus they are often referred to as refrigerator pickles) and need just a day or two to pickle. These pickles have an especially fresh flavor and should be consumed within a few weeks or so (recipes will vary).
Canning: Otherwise known as preserving, canning pickles involves placing pickled produce in jars that are then processed in a hot water bath to seal them. They are stored in the pantry and will keep for 1 to 2 years (recipes will vary). These pickles generally have a deeper flavor than quick pickles.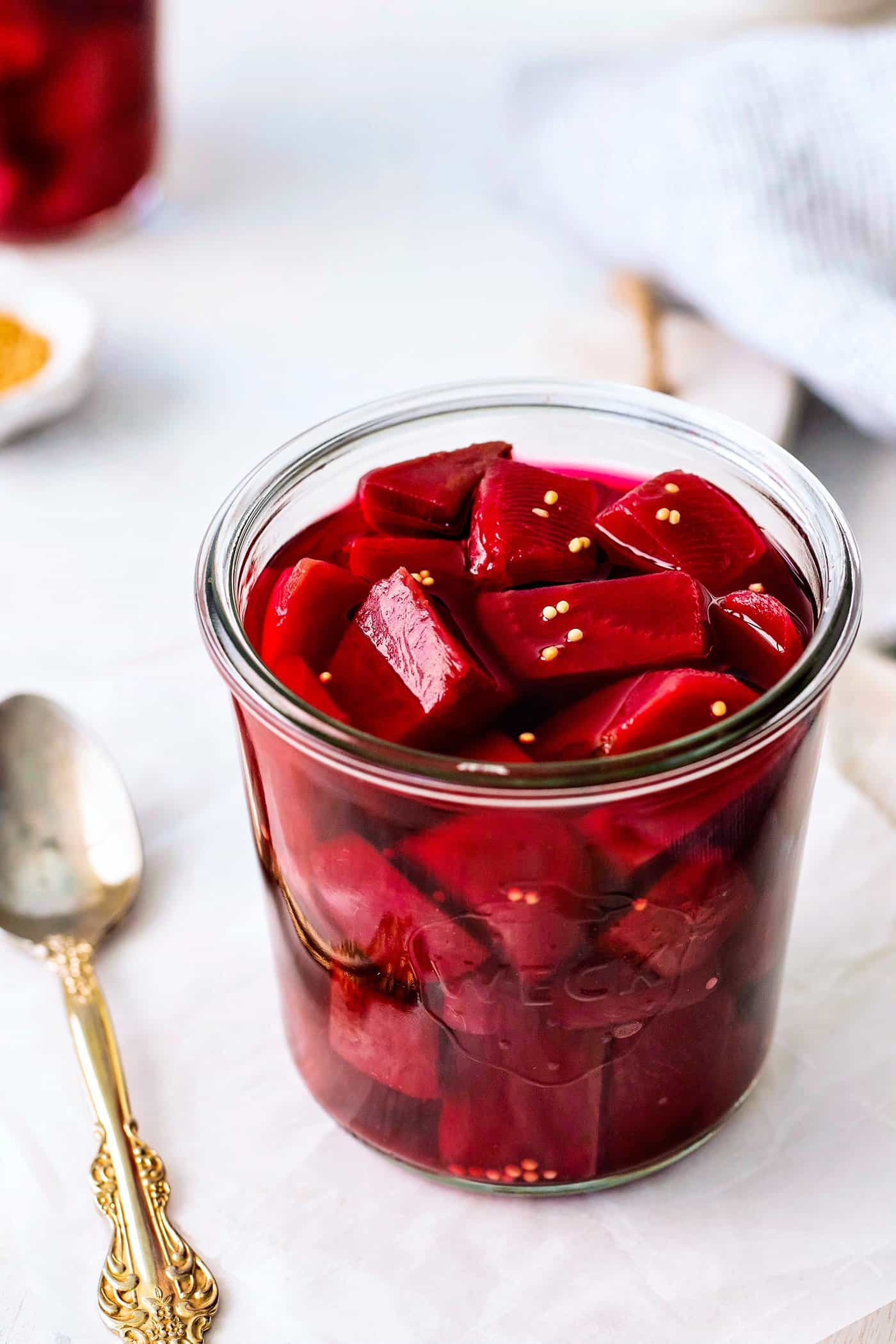 How Does Quick Pickling Work?
Quick pickling involves an incredibly simple method that relies on a brine made from a base combination of vinegar, water, and salt. You'll oftentimes see sugar or another sweeter, plus some flavorings and/or spices.
The homemade brine gives the vegetables a delightful tang and crunch, plus it keeps the pickled vegetables fresh in the fridge for several weeks or more.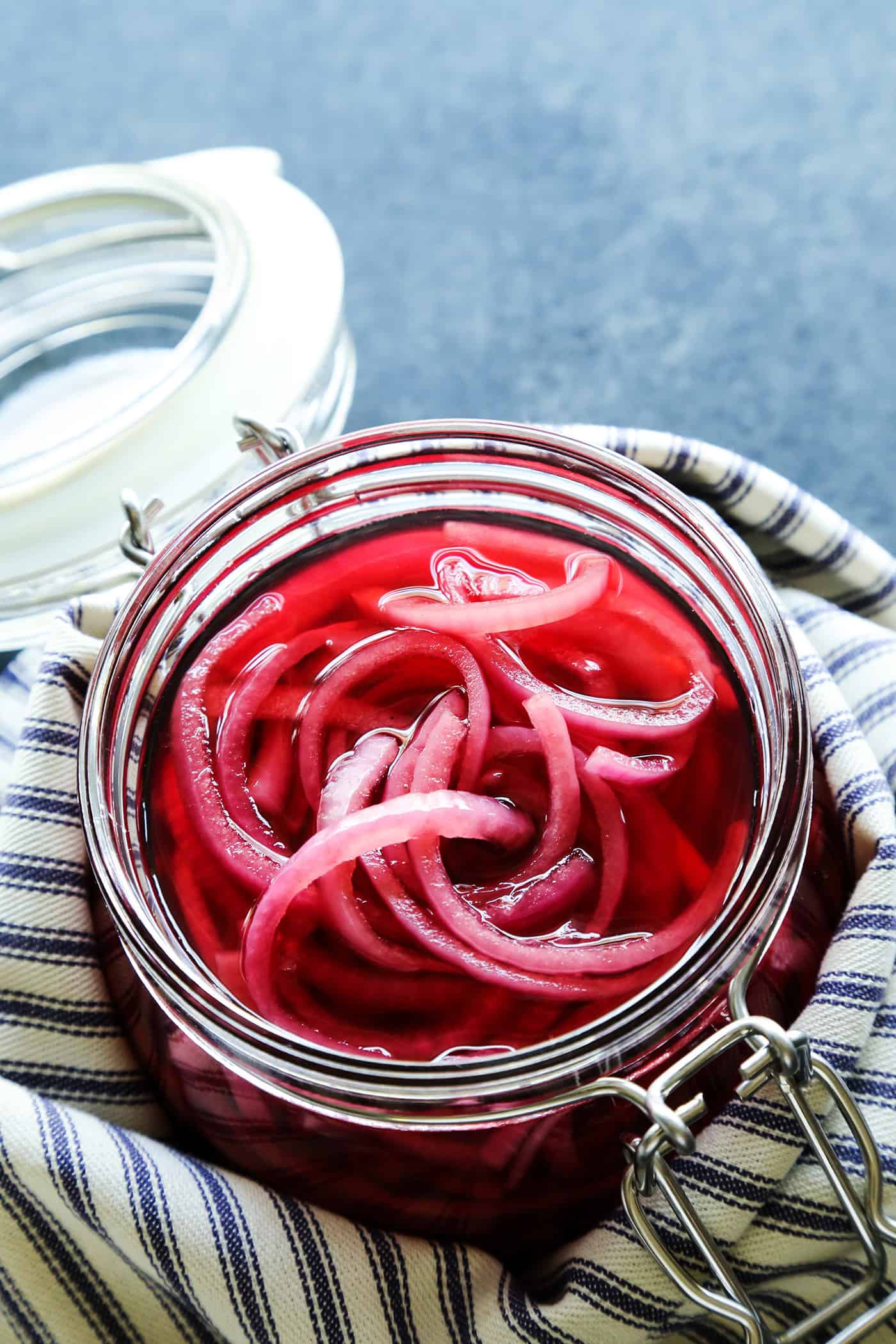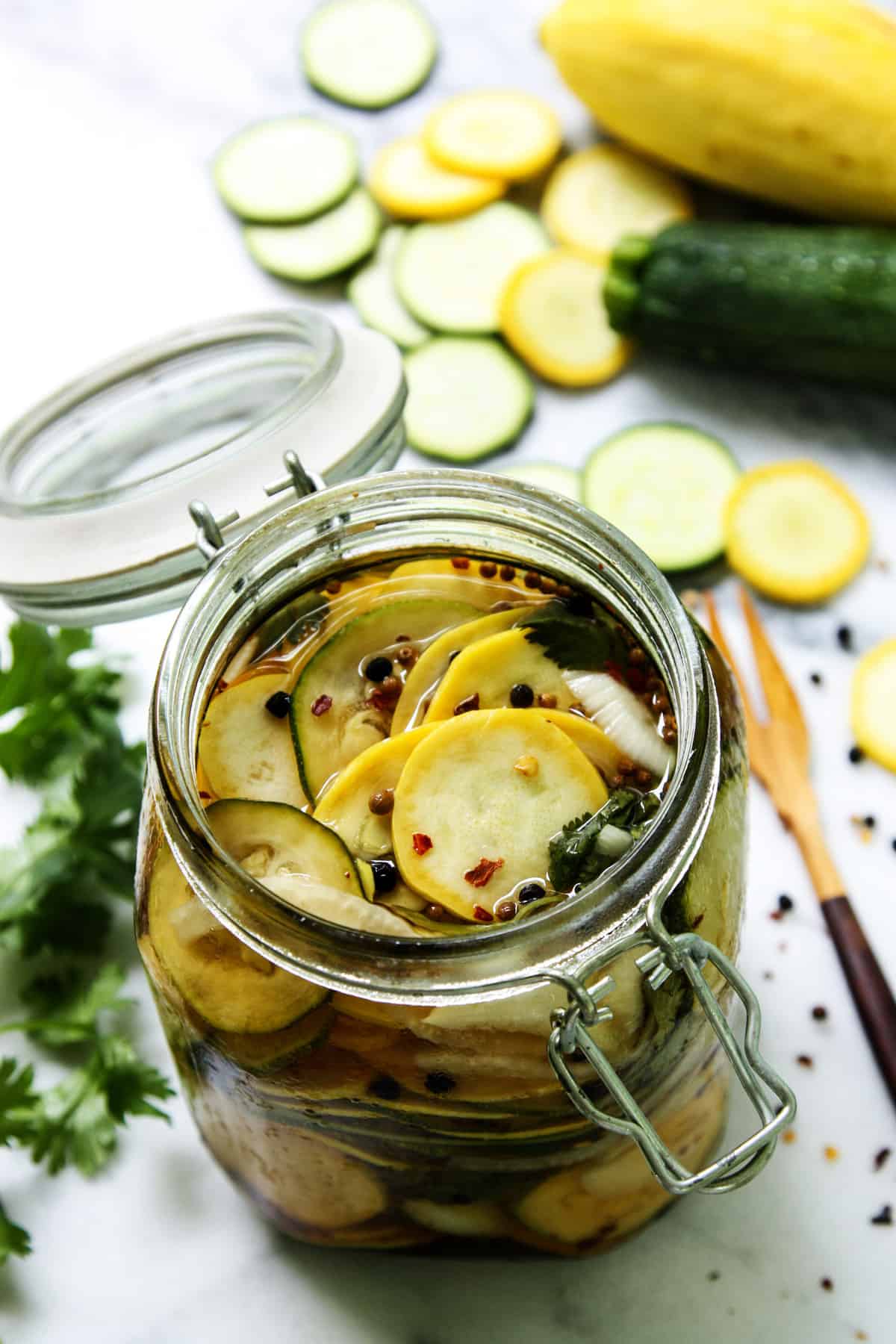 Best Vegetables for Quick Pickling
Most vegetables are great for quick pickling. I love quick pickling not just for the fresh taste, but because it's a great way to use up a lot of vegetables from the garden and farmers market (like cucumbers, carrots, or summer squash) – in a different, super fun way.
The main thing you're looking for is that the vegetables are in good shape. Choose ones that are fresh and firm – skip anything that's overly ripe and discard any bruised areas of vegetables. Otherwise, you can use most any vegetable you like for quick pickling.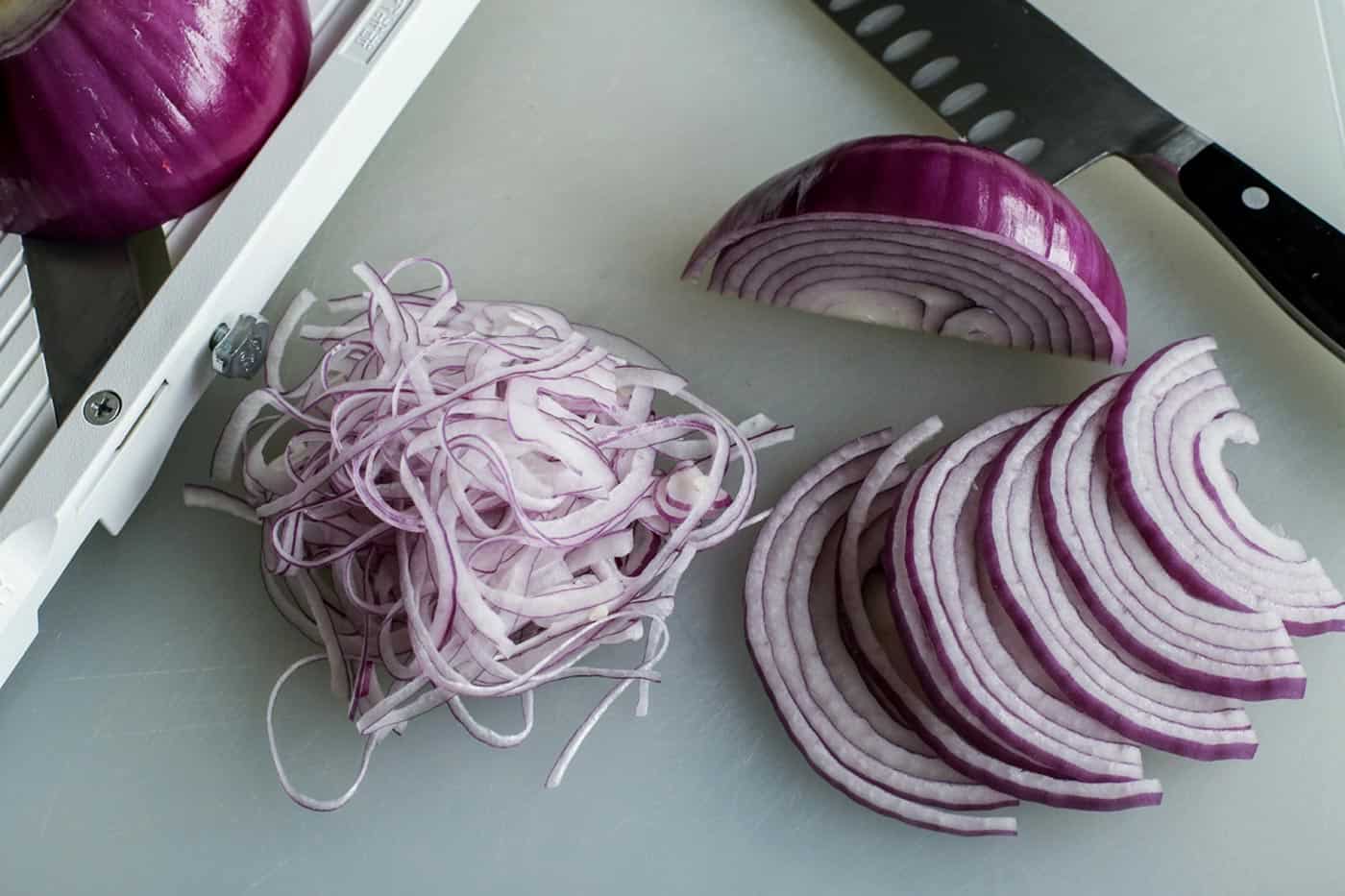 How to Prepare Vegetables for Quick Pickling
Once you've picked out fresh, firm vegetables, you'll want to wash them thoroughly.
In some cases, vegetables will need to be peeled or trimmed.
The shape you choose to cut the veggies – spears, coins, or slices – is up to you, although some vegetables, like cherry tomatoes or baby cucumbers, should be left whole.
Here are some ways to prepare different vegetables:
Thinly slice: Cucumbers, summer squash, ginger, red onion, carrots, beets
Cut into cubes: Beets
Cut into spears: Carrots, cucumbers
Peel: Carrots, beets, ginger, (sometimes) tomatoes
Trim: Asparagus, beans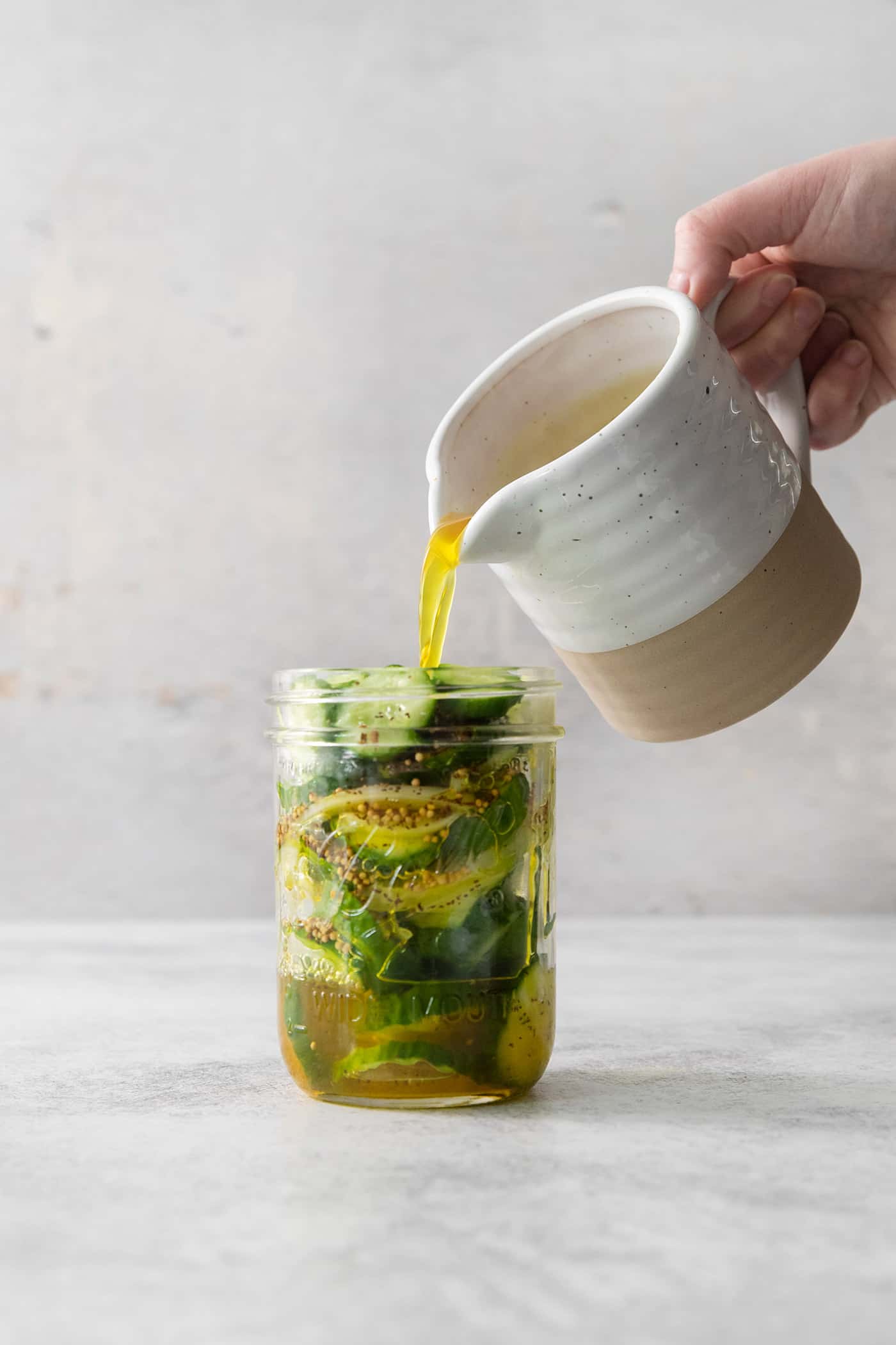 What's In a Quick Pickling Brine?
A quick pickling brine is a simple blend of vinegar, water, and salt. But you can add other ingredients to a homemade brine to give your pickles more flavor and oomph!
Here are a few suggestions of how to change up your basic brine:
Vinegar of choice – White vinegar works perfectly when quick pickling vegetables, but you could use apple cider vinegar, wine vinegar, rice vinegar, red wine vinegar (my favorite for pickled onions with a gorgeous pop of color!), or a combination.
Sugar – To give the vegetables a touch of sweetness and round out the flavor. You could also use honey, agave, maple syrup, and other sweeteners.
Dried herbs – Try adding thyme, dill, rosemary, basil, or oregano.
Fresh herbs – Instead of dried herbs, try fresh dill, thyme, rosemary, or oregano.
Spices – I like to include whole spices. Favorites include mustard seed, coriander, celery seed, anise, and peppercorns.
Ground spices – Turmeric, paprika, and chili powder add color and smoky flavor.
Heat! – If you like some zippy heat, add whole red pepper flakes or sliced hot peppers of your choice.
Garlic – Fresh garlic shows up in a lot of my quick pickling recipes for its wonderful flavor. You can leave the cloves whole, smash them, slice them, or mince them.
Other vegetables – I often add sliced or chopped onions and bell peppers to my jars of pickles.
Ginger – Another way to give a nice spicy bite. Peel it, then slice or chop it up first, before adding it to the brine.
Fruit peels – If you like citrus, it's fun to add thinly peeled outer skin (don't include the bitter pith) from oranges, lemons, and grapefruit to some pickled items.
How to Quick Pickle Vegetables
Quick and easy, here's how to quick pickle vegetables:
Choose fresh, firm vegetables.
Wash the vegetables thoroughly.
Trim and/or slice the vegetables into desired shapes.
Add vegetables to a jar.
Make the brine. A basic brine combines equal parts vinegar and water, plus salt and other herbs and spices and sugar if desired. Typically you'll cook the brine first before using it.
Add the brine to the veggies. Pour the brine over the vegetables and twist a lid onto the jar. Place the jar in the fridge and let it sit for at least 24 hours, preferably 48, for the best flavor.
I'm sharing a variety of recipes for pickled vegetables below. You'll find the exact measurements and more specific details in each of those recipe cards.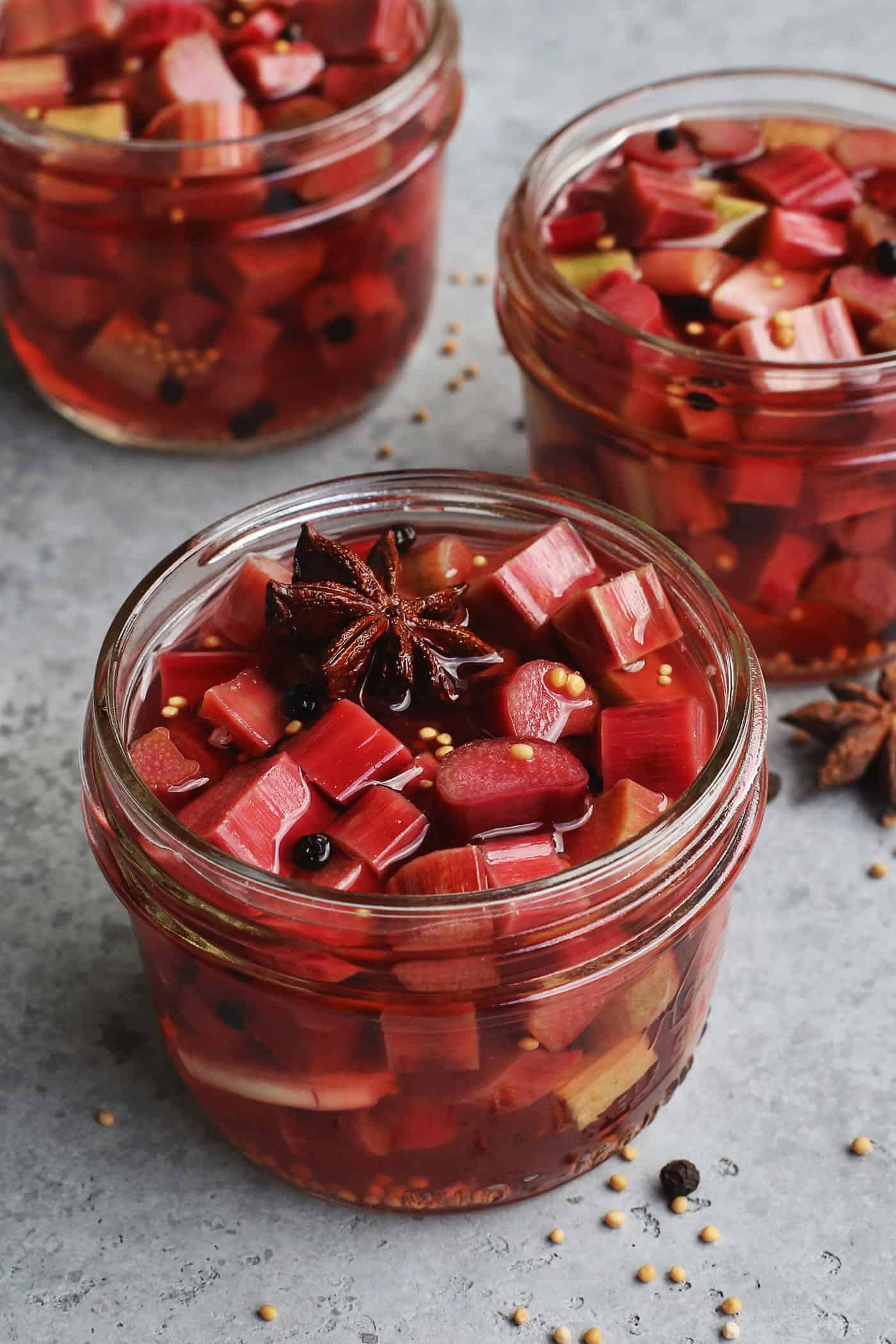 Tips for Success
Making quick pickled vegetables is easy and satisfying. Here are a few tips I've picked up that will help you make the best quick pickles:
Don't overcook the vegetables. If you need to cook vegetables (like beets or carrots) before pickling, make sure to not overcook them. Remove the veggies from the heat as soon as they start to soften. It's better to have them be a little too crisp than too soft. I am not a fan of mushy pickled vegetables!
Use wide-mouth glass jars. Wide-mouth jars are my favorite vessels for storing pickles, as they're easier to fill than jars with small mouths. They're also easier to serve from. But any glass jar or container will work, as long as it has a tight-fitting lid.
Don't overfill the jars. You'll want to pack the veggies into the jar snugly, then leave half an inch at the top of the jars. This allows space for the brine to cover the vegetables.
Try other seasonings. You can use my recipes as a jumping-off point and experiment with other flavors. Cinnamon sticks, onion, garlic, red pepper flakes, and bay leaves are all common additions to quick pickles. You can also use different vinegars.
Allow pickled vegetables to chill for at least 24 hours, preferably longer. If you can bear to wait 48 hours, your pickles will have a deeper, more pickled flavor. If you can't wait (it's hard to be patient!!), definitely try to hold out for at least 24 hours.
Store pickles in the fridge only. Unlike pickled vegetables that go through the full canning process, these are quick refrigerator pickles that need to be stored in the refrigerator. Do NOT store these in the pantry.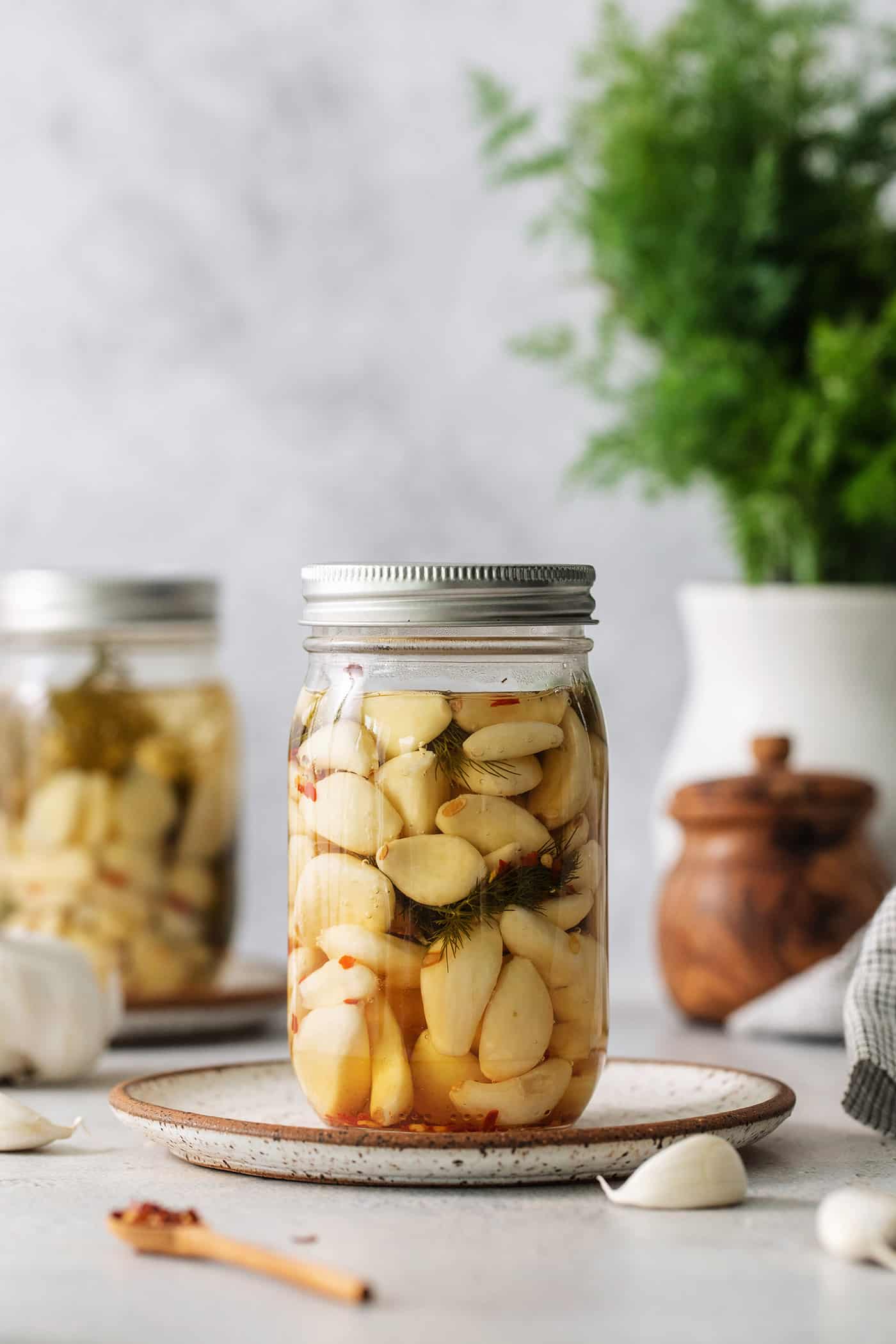 Proper Storage
Store your quick pickled vegetables in a glass jar with a tight-sealing lid in the fridge.
Glass containers won't react with the acidity of the brine. I always use traditional canning jars, but any glass vessel with a tight lid will work.
Quick pickles must be stored in the fridge. These pickled vegetables are NOT meant to be stored in the pantry, unlike canned pickles.
How Long Do Quick Pickled Vegetables Last?
A jar of quick pickled vegetables can keep well for up to 2 months in the fridge. But check each separate recipe for specific timing.
17 Quick Pickled Vegetable Recipes to Try
Quick Pickled Vegetables
From quick pickled beets to classic dills, these 17 Quick Pickled Vegetables are sure to satisfy any craving!
Like this Recipe? Save to Pinterest