IKEA Swedish Meatballs
This easy Swedish Meatballs recipe features perfectly tender meatballs with a rich and creamy gravy. This homemade version of IKEA Swedish meatballs is perfect with potatoes or noodles, plus traditional lingonberry preserves on the side.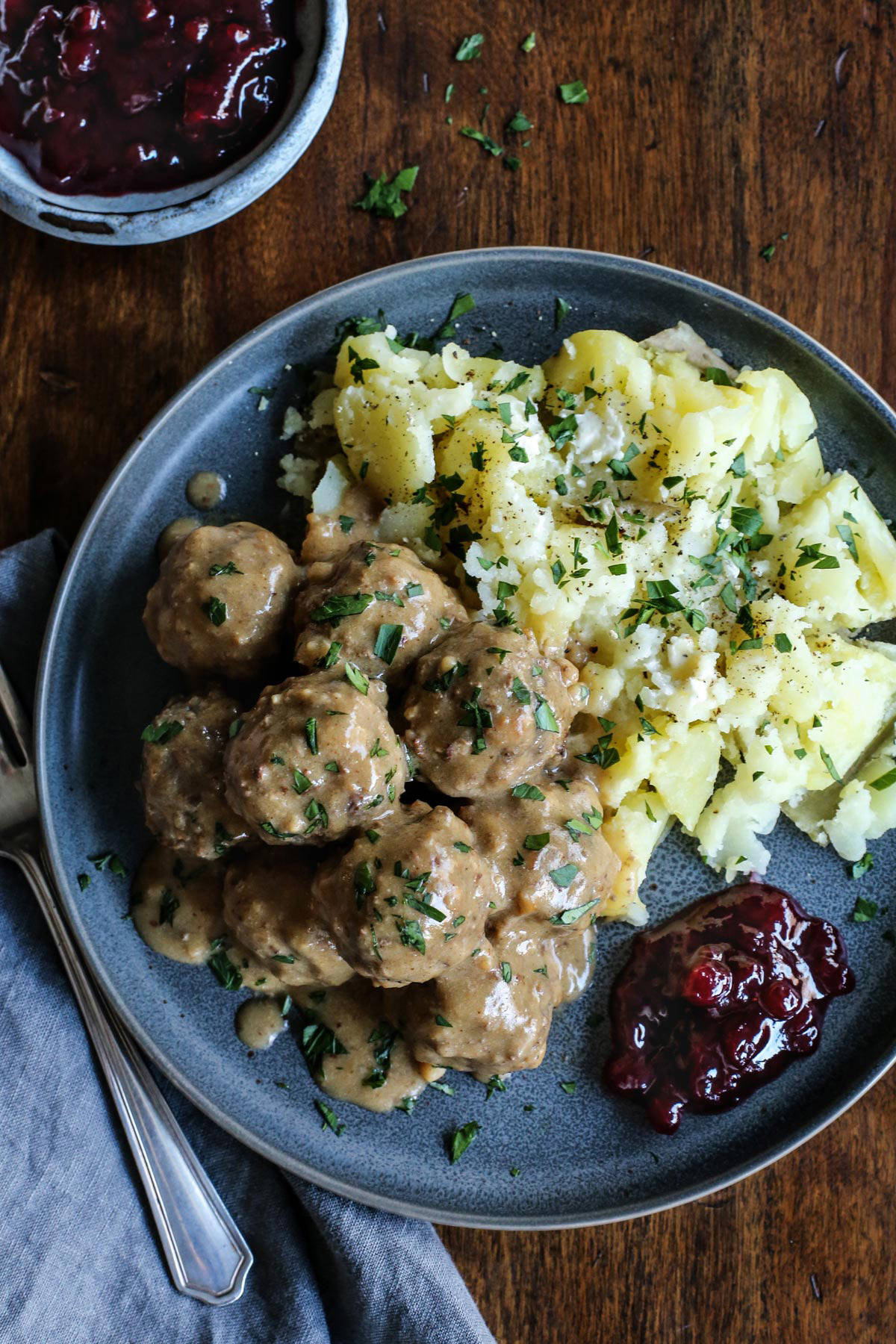 Homemade IKEA Swedish Meatballs
Sometimes I go to IKEA just because I'm hungry for Swedish meatballs. Yes, it's true!
And then there are other times when I'm really craving IKEA Swedish meatballs but just can't be bothered to drive to the store. That's where this recipe comes in. I can make some meatballs in my own kitchen and enjoy this comfort dish around our own table – there's no need to drive to IKEA!
Swedish Meatballs are easy to make. My recipe features perfectly tender meatballs covered in a rich, creamy homemade gravy. I like to serve them over creamy mashed potatoes or boiled potatoes with lots of melty butter. And I always make sure to offer some traditional lingonberry jam or my favorite cranberry sauce!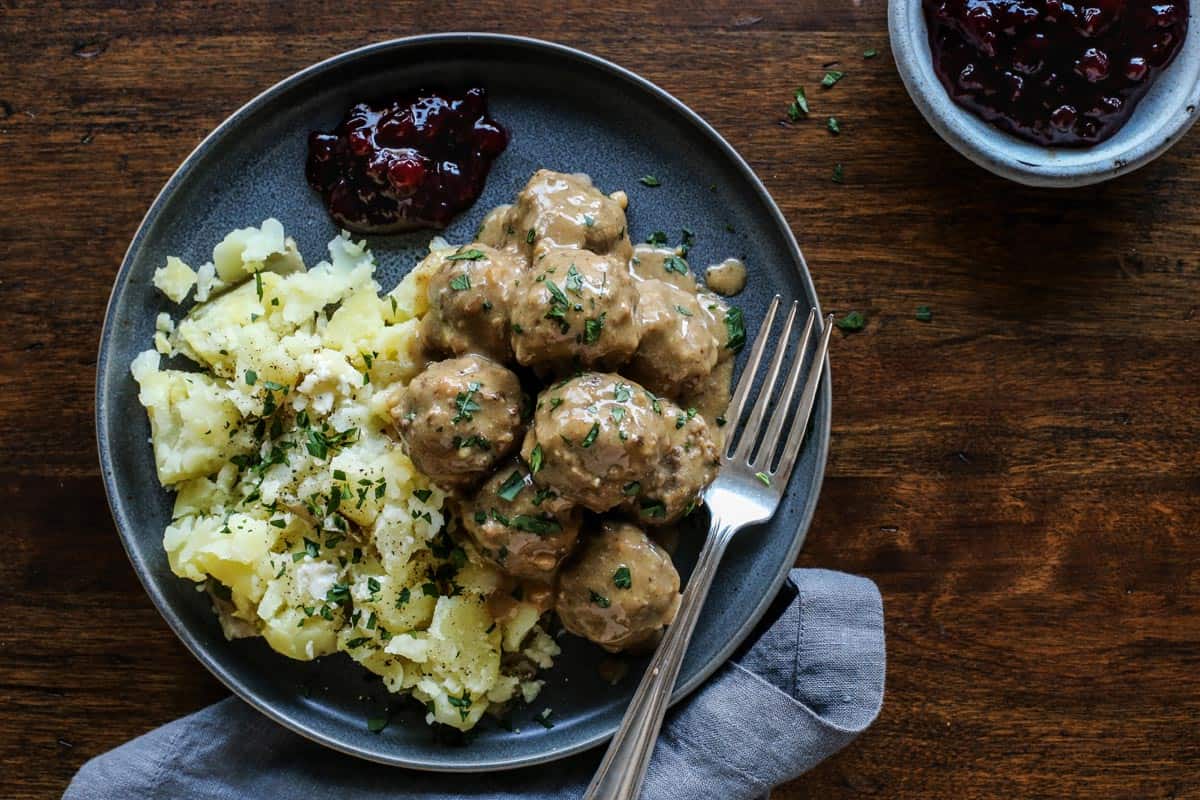 The First Time I Tried Swedish Meatballs
Do you remember the first time you ate Swedish meatballs? I sure do!
My first time was at IKEA in Schaumburg, IL, in the spring of 1999. Blake and I were finalizing our upcoming September wedding plans, and made an IKEA run to stock up on lighting for our outdoor wedding reception on my parents' farm.
We picked out tiki torches, hanging lanterns, strings of twinkle lights, and tea lights. They were perfect for our casual reception plans that included picnic tables, a roasted pig, a beer wagon, and a DJ (my cousin) in the garage.
And before we left IKEA that day, we stopped at the cafe for some of their famous Swedish meatballs. The rest is history. We were smitten with those tender little meatballs!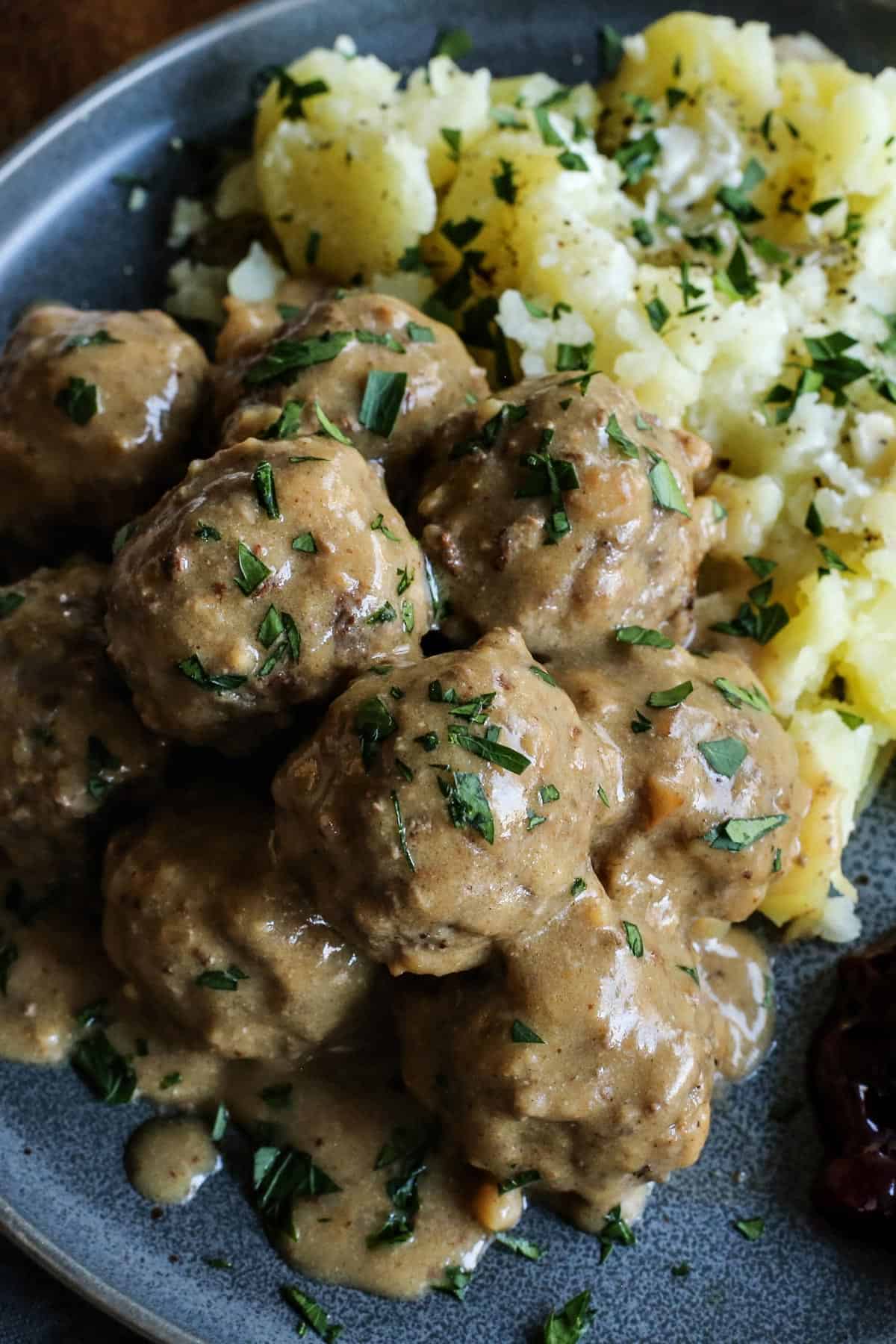 What Are Swedish Meatballs?
I grew up on my mom's all-beef meatballs, swimming in a deliciously creamy brown gravy. That meal has always been a favorite. So it didn't surprise me when I also fell for Swedish meatballs.
But what exactly are Swedish meatballs? Swedish meatballs are known as köttbullar in Sweden. And when it comes to traditional foods, this dish is as quintessentially Swedish as it gets.
And what makes Swedish meatballs different? Swedish meatballs are made with a mixture of ground beef and ground pork, and seasoned with spices such as allspice and nutmeg. The meatballs are typically smaller in size when compared to other meatballs (such as Italian meatballs and my mom's meatballs and gravy).
Traditionally, Swedish meatballs are served over mashed potatoes with a creamy brown gravy (versus Italian meatballs, which have a tomato-based sauce and are served over pasta), plus a side of tangy lingonberry jam.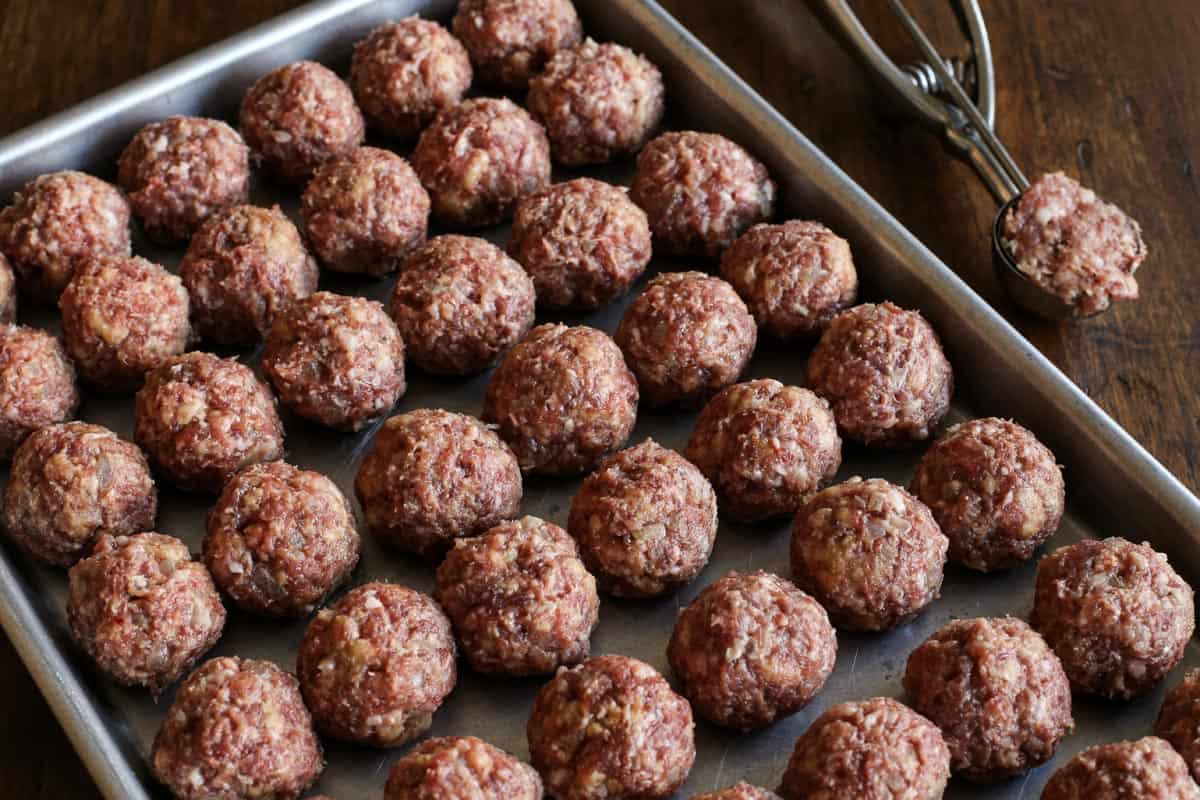 How to Make Swedish Meatballs
IKEA's meatballs are very tender and light in texture. My recipe includes mixing the ground meats with milk-soaked breadcrumbs to achieve that same bite.
Here's how I make Swedish meatballs:
Cook the onion. In a large skillet, sauté the chopped onion in butter until softened.
Make the meat mixture. In a large bowl, mix beef, pork, eggs, a little soy sauce, black pepper, sugar, allspice, nutmeg, and the sauteéd onions.
Mix breadcrumbs and milk. To a medium bowl, add the breadcrumbs and milk. Stir to combine.
Combine everything together. Add the meat mixture to the soaked breadcrumbs and combine.
Roll meat mixture into balls (I like to use a 1-1/2 tablespoon scoop). Transfer meatballs to a baking sheet.
Cook. In the same large skillet, brown the meatballs. Then transfer them to a baking sheet.
Make the gravy. Whisk flour into the skillet's pan drippings to form a smooth paste. Then whisk in chicken broth until smooth, and bring to a simmer. Add sour cream, Worcestershire, and a bit more soy sauce, whisking to incorporate. Simmer until thickened into a creamy gravy.
Finish the meatballs. Fold meatballs into the gravy, cover the skillet, and cook until everything is good and hot.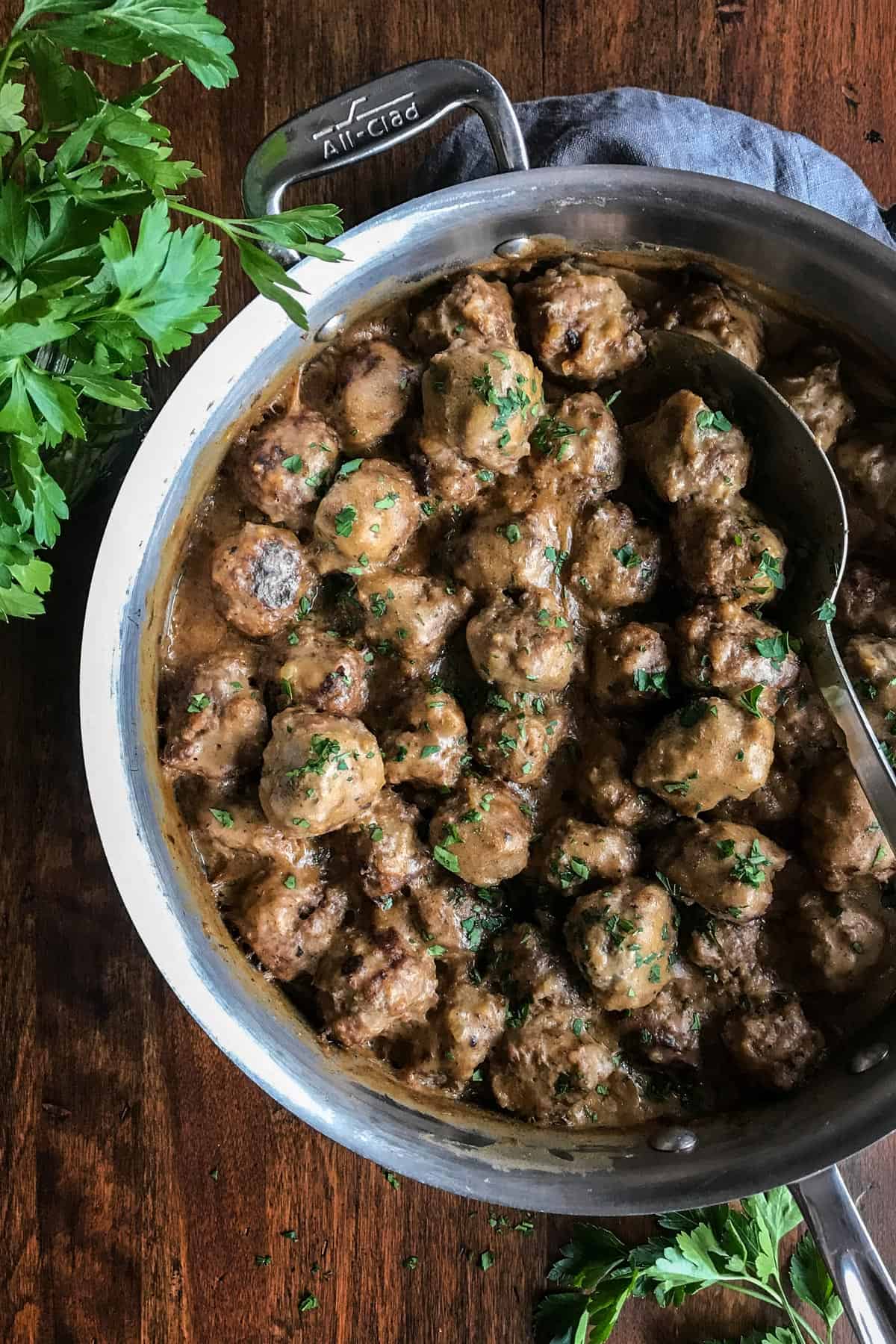 Plenty of people make gravy using cans of cream of mushroom soup. But I'm here to tell you that this easy-to-make homemade gravy is not only better tasting, but also fun to make. You won't believe how quickly it comes together!
Our oldest daughter often requests to be in charge of the gravy making. She likes to watch it evolve, has been making it for years at our house. Yes, it's really that easy!
Another great recipe that utilizes my homemade gravy making method is my Tater Tot Hotdish – do give it a try!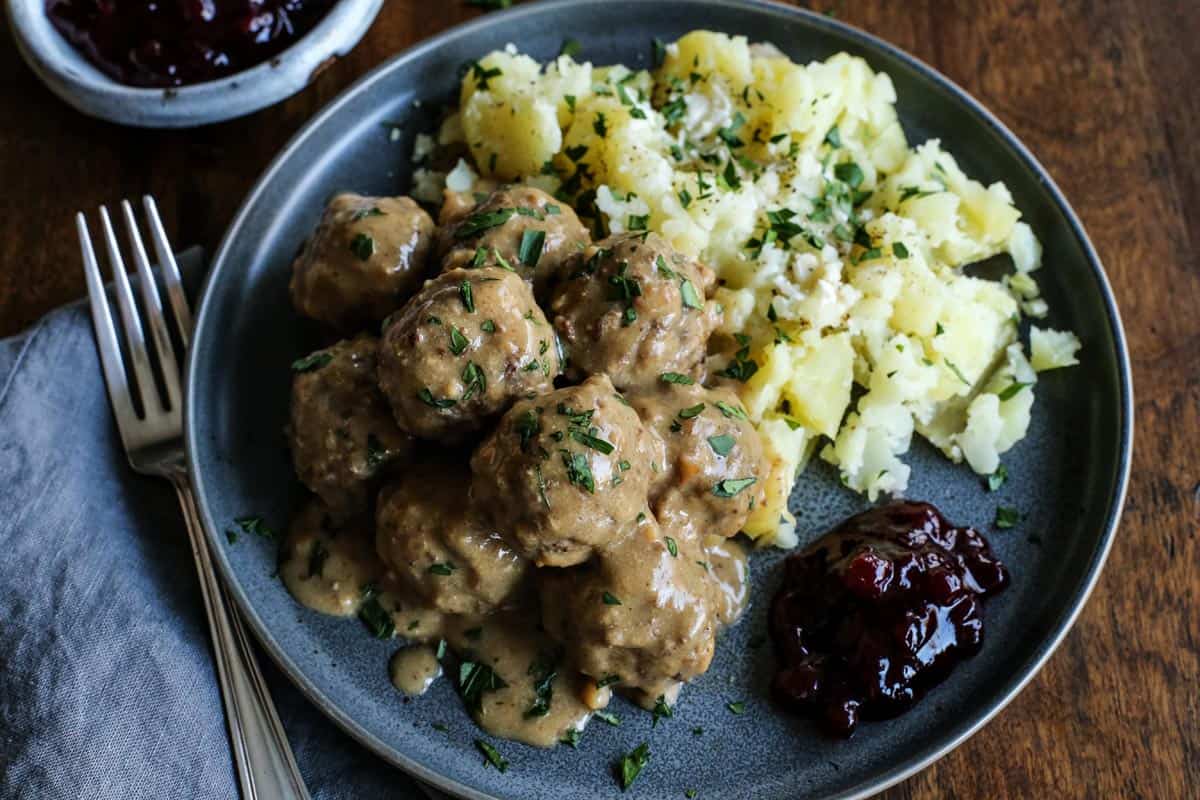 What Makes these the Best Swedish Meatballs?
I think this recipe is the best because the meatballs are incredibly tender and flavorful, and they're swimming in a rich and creamy gravy (or Swedish meatball sauce, as some people call it). They are absolute perfection over a serving of mashed potatoes or buttery boiled potatoes.
And the cherry on top of this meal? The piece that makes our IKEA Swedish meatballs replication complete? A spoonful of traditional lingonberry jam on the side, just like IKEA serves this meal. If you're wondering what that's like, just think about how good cranberry sauce is with your Thanksgiving turkey and gravy!
Tips for Success
Do use both beef and pork. Each meat offers its own uniquely delicious flavor. And the pork adds a juicier, more tender bite, which is what we're after here.
Don't skip the nutmeg and allspice. These spices are common and inexpensive, and lend that signature Swedish meatballs flavor.
Use a scoop to portion the meatballs. Then roll them by hand. This will give you uniformly sized meatballs that will cook more evenly. I think this scoop is the perfect size.
Use the pan drippings! This is a MUST! After transferring the browned meatballs out of the skillet, use those drippings to start the homemade gravy. This adds tons of great flavor. Don't even think about discarding the drippings!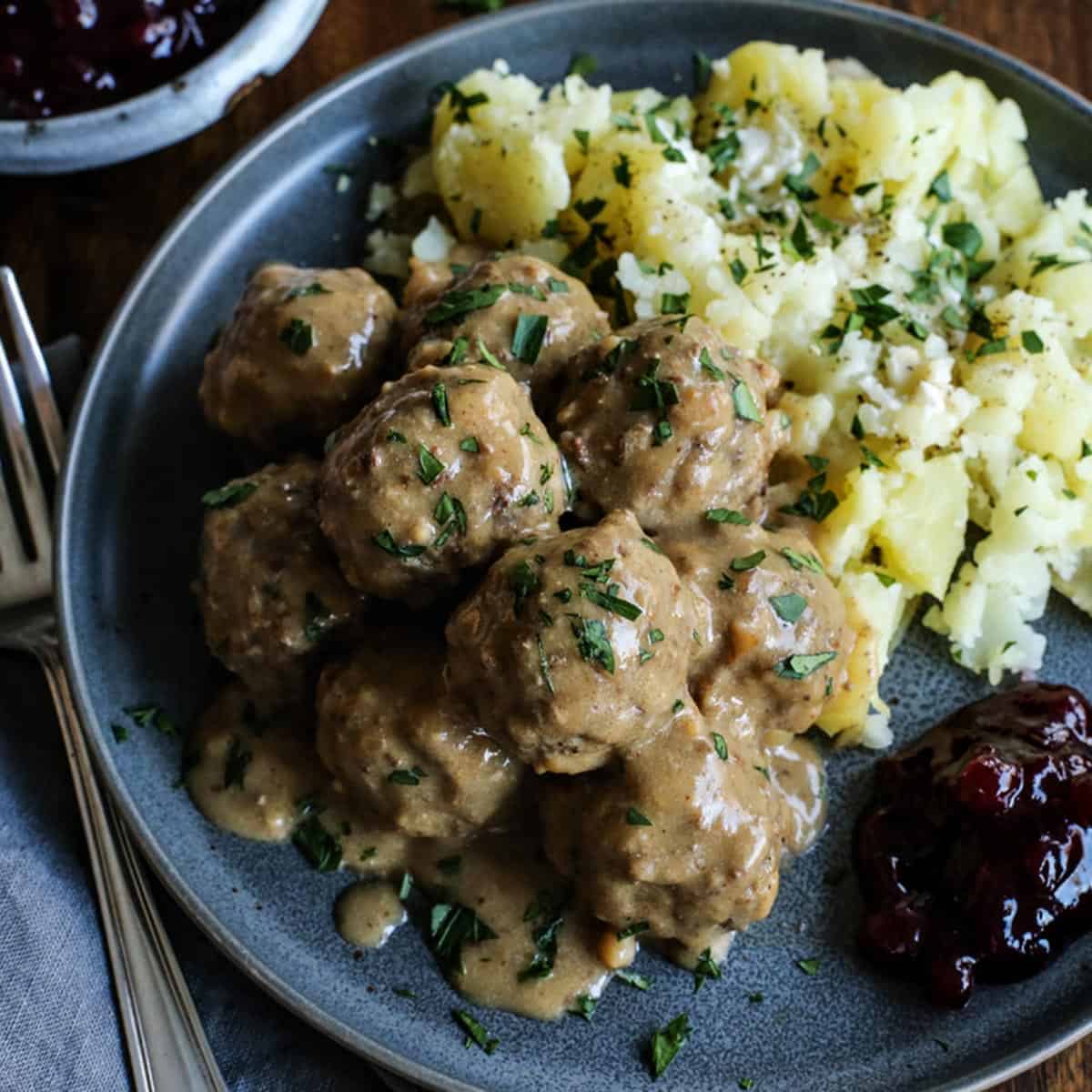 What to Serve with Swedish Meatballs
I believe that the best Swedish meatball experience is when they are served over creamy mashed potatoes or buttery boiled potatoes. Roasted potatoes or perfect baked potatoes would also be good. But I've heard back from plenty of you, loud and clear, that you also love noodles. So that's another option.
I've also mentioned lingonberry jam, which is a traditional companion to this meal. Other options would be cranberry sauce, applesauce, or apple compote.
If you're looking for some inspiration beyond that, I might recommend a green veggie, like string beans, broccoli, or Brussels sprouts. A fresh green salad is always welcome at our table, too.
Here are a few more recipes with creamy comfort: Also try my mom's Oyster Stew, this Creamy Enchilada Chili, and Leftover Turkey Casserole!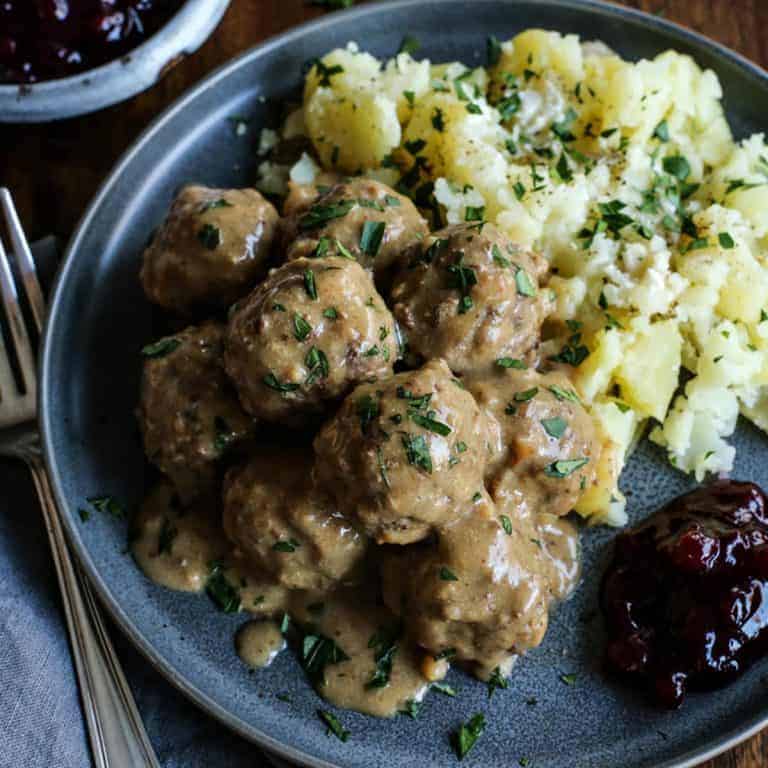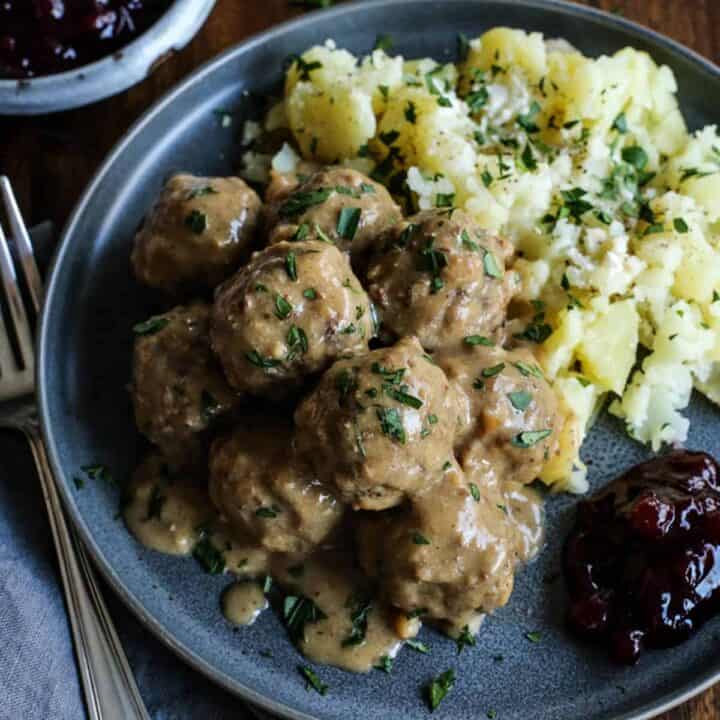 IKEA Swedish Meatballs Recipe
Yield: 8 servings
Prep Time: 20 minutes
Cook Time: 40 minutes
Total Time: 1 hour
Perfectly tender meatballs are coated in a creamy, richly flavored gravy. Serve with creamy mashed potatoes or buttery boiled potatoes, plus a spoonful of tart lingonberry preserves.
Ingredients
3 T. unsalted butter, divided
1 c. finely minced onion
1 lb. ground beef
1 lb. ground pork
2 large eggs, lightly beaten
3 T. soy sauce, divided
1/4 tsp. freshly ground black pepper
1 tsp. sugar
1/4 tsp. ground allspice
1/4 tsp. ground nutmeg
1-1/4 c. breadcrumbs
1/2 c. milk
1/4 c. all-purpose flour
2 c. chicken stock
1/4 c. sour cream
1 tsp. Worcestershire sauce
chopped parsley, optional garnish
lingonberry jam, optional side
Instructions
In a large skillet with tall sides, over medium to medium-low heat, melt 1 tablespoon of the butter. Add onion and sauté until completely soft and translucent, stirring regularly, about 8 to 10 minutes. Transfer onion to a plate and spread out the onion to cool completely.
To a large bowl add beef, pork, eggs, 1 tablespoon of the soy sauce, black pepper, sugar, allspice, nutmeg, and the cooled onions. Mix to combine evenly with a wooden spoon or your hands. You could also use a stand mixer.
Add breadcrumbs to a medium bowl. Pour milk over the top. Stir to completely combine. Then add to the meat mixture and use your hands to combine everything evenly.
Using a 1-1/2 tablespoon measure (I like to use a 1-1/2 tablespoon scoop), roll meat mixture into balls and then transfer to a rimmed baking sheet.
Using the same large skillet (no need to wash it, just wipe it out with a paper towel), place it over medium to medium-low heat. Add 1 tablespoon of the butter. Working in 2 batches and adding the remaining tablespoon of the butter between batches, brown meatballs on all sides, about 8-10 minutes per batch. Transfer meatballs to a platter or sheet pan.
Drain all but 2 tablespoons of drippings from skillet. If there are any especially dark (black) pieces left in the skillet, remove them. Otherwise, keep as much of that good flavoring as possible in the skillet. If you are left with less than 2 tablespoons of drippings, add some butter to equal that amount. Whisk in flour (a flat whisk works great!) until a smooth paste forms, and the paste is lightly browned. Slowly add chicken broth, whisking all the while to break up any lumps. Turn the heat up just a bit, to medium to medium-high. Bring broth to a simmer, whisking often. Add sour cream, Worcestershire, and remaining 2 tablespoons of soy sauce, and whisk to incorporate. Let simmer until sauce is nicely thickened into a gravy.
Add meatballs to gravy, folding gently to coat. Turn heat down to medium to medium-low, cover skillet, and simmer until meatballs are cooked and everything is nice and hot, about 10 minutes or so. Remove from heat and stir gently to coat meatballs.
Serve meatballs with creamy mashed potatoes or buttered boiled potatoes or, and a sprinkling of fresh chopped parsley. We also recommend some traditional lingonberry jam on the side!
Notes
Note: If using beef broth, only add half the amount of Worcestershire sauce and soy sauce to the gravy. Then taste test and add more of each if needed.
from a farmgirl's dabbles
Recommended Products
As an Amazon Associate and member of other affiliate programs, I earn from qualifying purchases.
Nutrition Information:
Yield: 8
Serving Size: 1
Amount Per Serving:
Calories: 668
Total Fat: 32g
Saturated Fat: 13g
Trans Fat: 0g
Unsaturated Fat: 16g
Cholesterol: 169mg
Sodium: 940mg
Carbohydrates: 49g
Fiber: 3g
Sugar: 7g
Protein: 42g
Nutrition information is automatically calculated by Nutritionix. I am not a nutritionist and cannot guarantee accuracy. If your health depends on nutrition information, please calculate again with your own favorite calculator.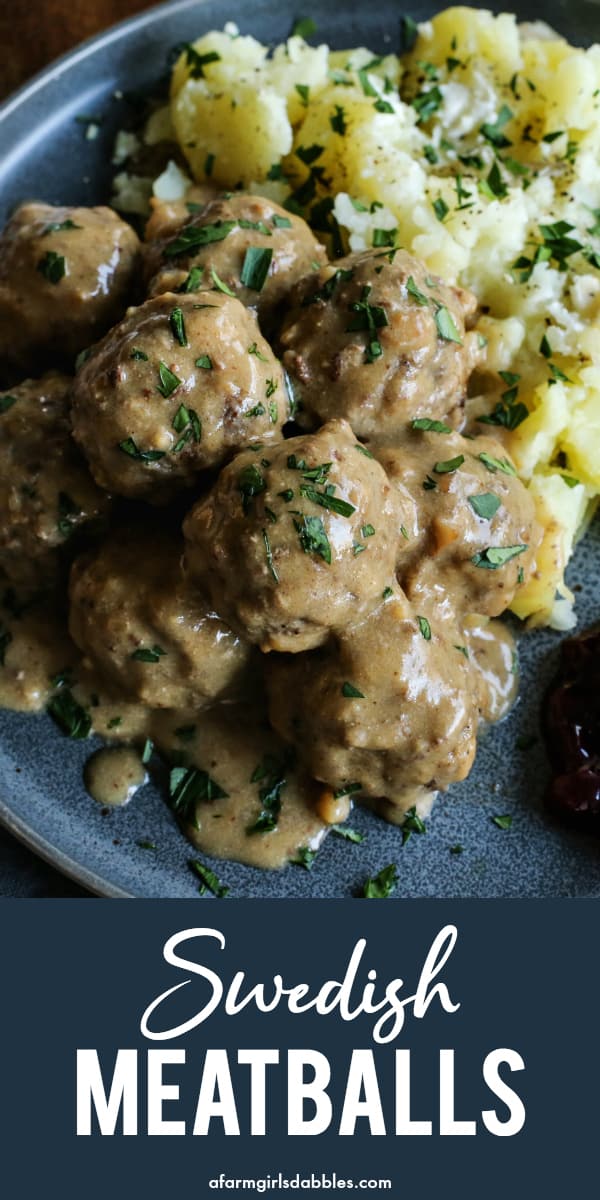 This post was previously published in 2013. Some of the photographs and some of the text were updated in 2019.