Honey and Chipotle Vinaigrette
This post may contain Amazon or other affiliate links. As an Amazon Associate I earn from qualifying purchases.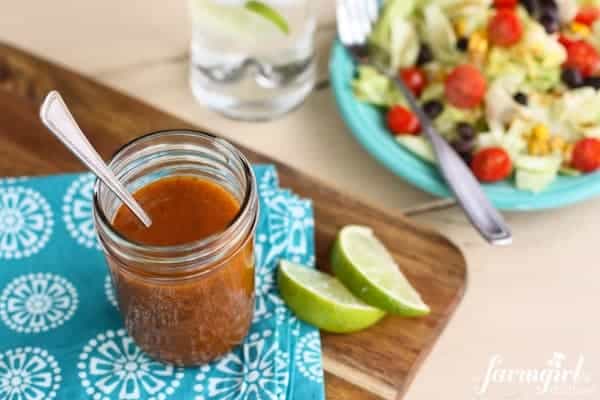 It's so easy to not make your own salad dressings and vinaigrettes. Just pick up a bottle from one of the too many choices at the store. Done.
But…when I do take the time to mix up my own for a fresh salad…wow, it's just so fantastic!
This recipe for Honey and Chipotle Vinaigrette comes from my longing to eat Chipotle Mexican Grill's salad bowl at home, without paying for an order "to go". Oh, how I love that salad (see my homemade version of Turkey Taco Bowls with Cilantro Lime Rice). My "usual" is a bowl full of crisp lettuce, a little rice, that awesome braised carnitas meat, black beans, fresh salsa, corn salsa, and sour cream. And don't forget that vinaigrette. Or a side of chips and guac!
It wasn't until I sat down and compared my little plastic cup of vinaigrette from the take-out bag with my own homemade version that I realized how very salty the restaurant's was. I think that this is one of the biggest advantages of cooking from scratch at home – being able to control the sodium in what we eat. Every time we go out to eat, I find myself so much thirstier than normal. And I don't like that!
While my own vinaigrette is not an exact copycat, in the end I'm liking it even more than the original. It has the sweet goodness of honey, packed full of bold flavors, just like Chipotle's. But it's brighter and more tangy, with more vinegar than salt. And I like that!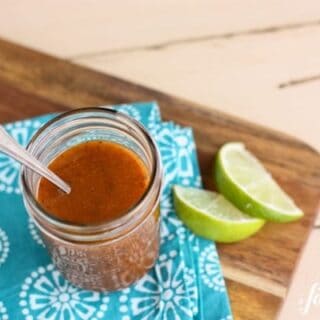 Honey and Chipotle Vinaigrette
Yield: about 1-1/4 cup
Prep Time: 10 minutes
Total Time: 10 minutes
It has the sweet goodness of honey, packed full of bold flavors, just like Chipotle's. But it's brighter and more tangy, with more vinegar than salt.
Ingredients
1/3 c. honey
1/4 c. red wine vinegar
1 T. ketchup
1 T. Dijon mustard
1 tsp. freshly squeezed lime juice
1 tsp. cumin
1 tsp. garlic powder
1 tsp. onion powder
1 tsp. dried Mexican oregano
1/2 tsp. ground chipotle
1/2 tsp. smoked paprika
1/2 tsp. kosher salt
1/4 tsp. black pepper
1/2 c. extra virgin olive oil
Instructions
In a blender, combine all ingredients except the oil. Blend on low for 20 seconds. With blender on low, slowly pour oil through the hole in the blender lid (place a towel over the top as you pour, to catch any splatters).
Use immediately or chill for an hour or two to let the flavors blend. Serve with your favorite Mexican salad, as a dip for veggies, or with tacos.
Notes
Inspired by the vinaigrette served with the salad at Chipotle Mexican Grill.
Nutrition Information:
Yield: 7
Serving Size: 1
Amount Per Serving:
Calories: 195
Total Fat: 16g
Saturated Fat: 2g
Trans Fat: 0g
Unsaturated Fat: 13g
Cholesterol: 0mg
Sodium: 249mg
Carbohydrates: 15g
Fiber: 0g
Sugar: 14g
Protein: 0g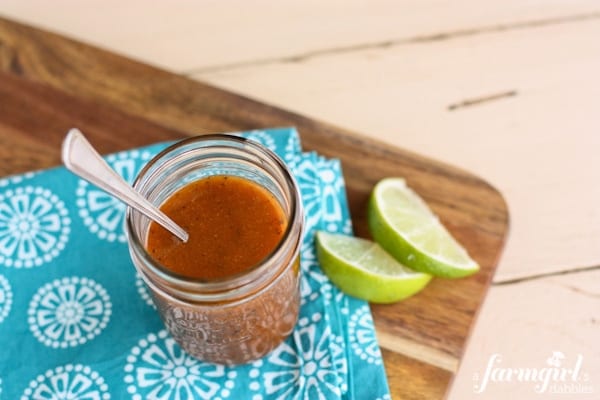 We participate in the Amazon Services LLC Associates Program, an affiliate advertising program designed to provide a means for us to earn fees by linking to Amazon.com and affiliated sites. See our
disclosure policy
for more info.