Slow Cooker Chili
This Slow Cooker Chili recipe is made with a combination of ground beef and ground turkey, plus canned tomatoes, beans, and classic chili seasoning. It's an easy, homemade chili that's cooked in the crockpot, for the richest chili flavor. Garnish with your favorite toppings for a hearty, delicious dinner any night!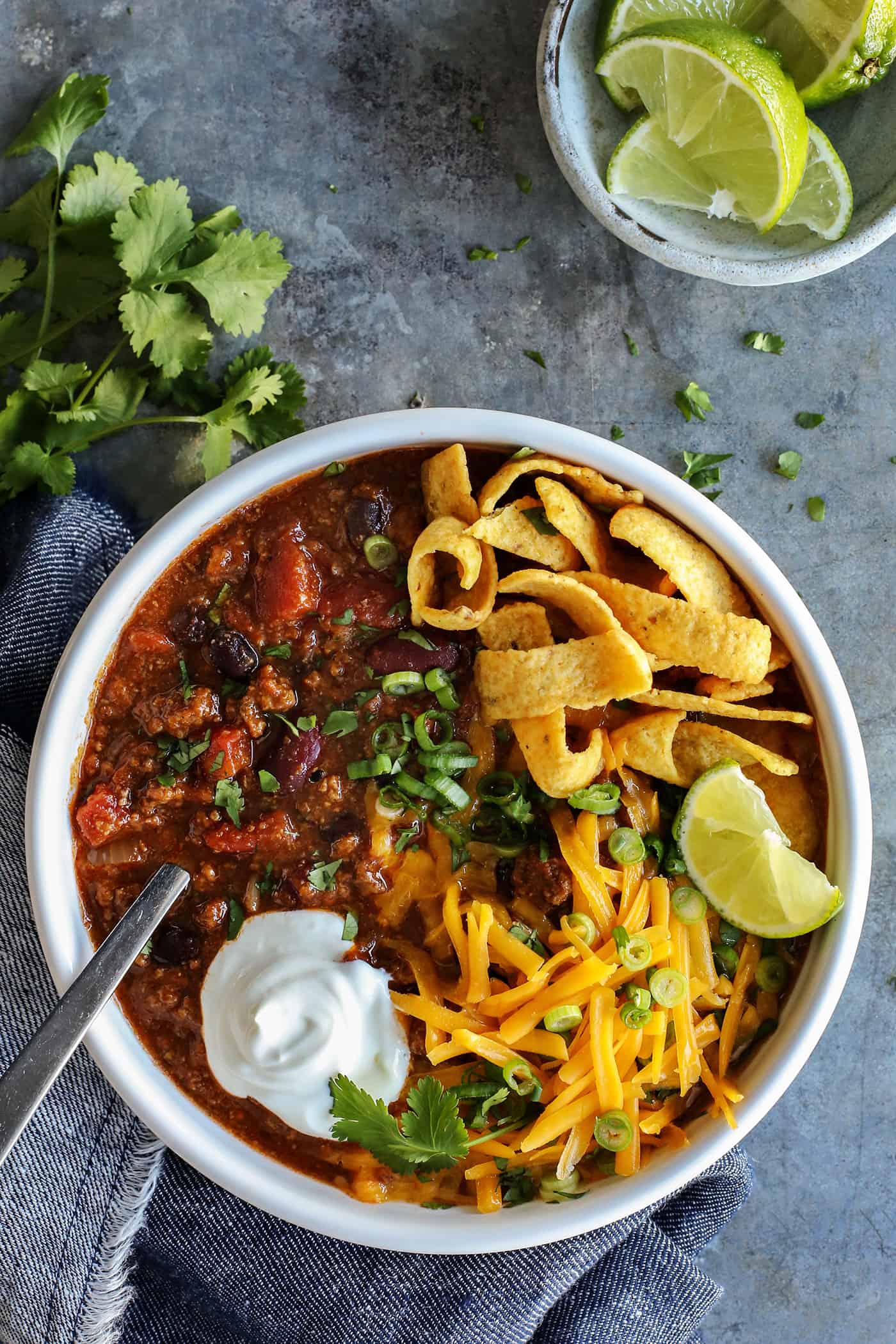 The Best Slow Cooker Chili Recipe
This Slow Cooker Chili recipe is rich and robust, my family's go-to when it comes to chili – and it's a top reader favorite, too! We like to eat it with Frito's and honey cornbread muffins, so good!
Blake loves that this recipe is extra hearty and protein-packed, with more than the usual amount of ground meat (I use a combo of ground beef and ground turkey). It's also not-so-heavy on the beans and loaded with layers of rich chili flavor.
This "dump everything in the crockpot and walk away" recipe is full of rich tomato goodness and perfect chili seasoning, where the crockpot melds all the flavors together in a glorious, almost-magical way.
Another awesome thing about this recipe is that it makes a large amount. It's great for feeding a larger group. Or I can freeze a meal or two for later – then all I need to do is warm it up, for a delicious EASY homemade chili meal!
Like chili? Here are a couple more fun chili recipes! My Creamy Enchilada Chili gives you all the flavors of enchiladas, without the tortillas. And End of Summer Chicken Chili is chock-full of fresh garden veggies and herbs – I especially love the fun pops of sweet corn kernels!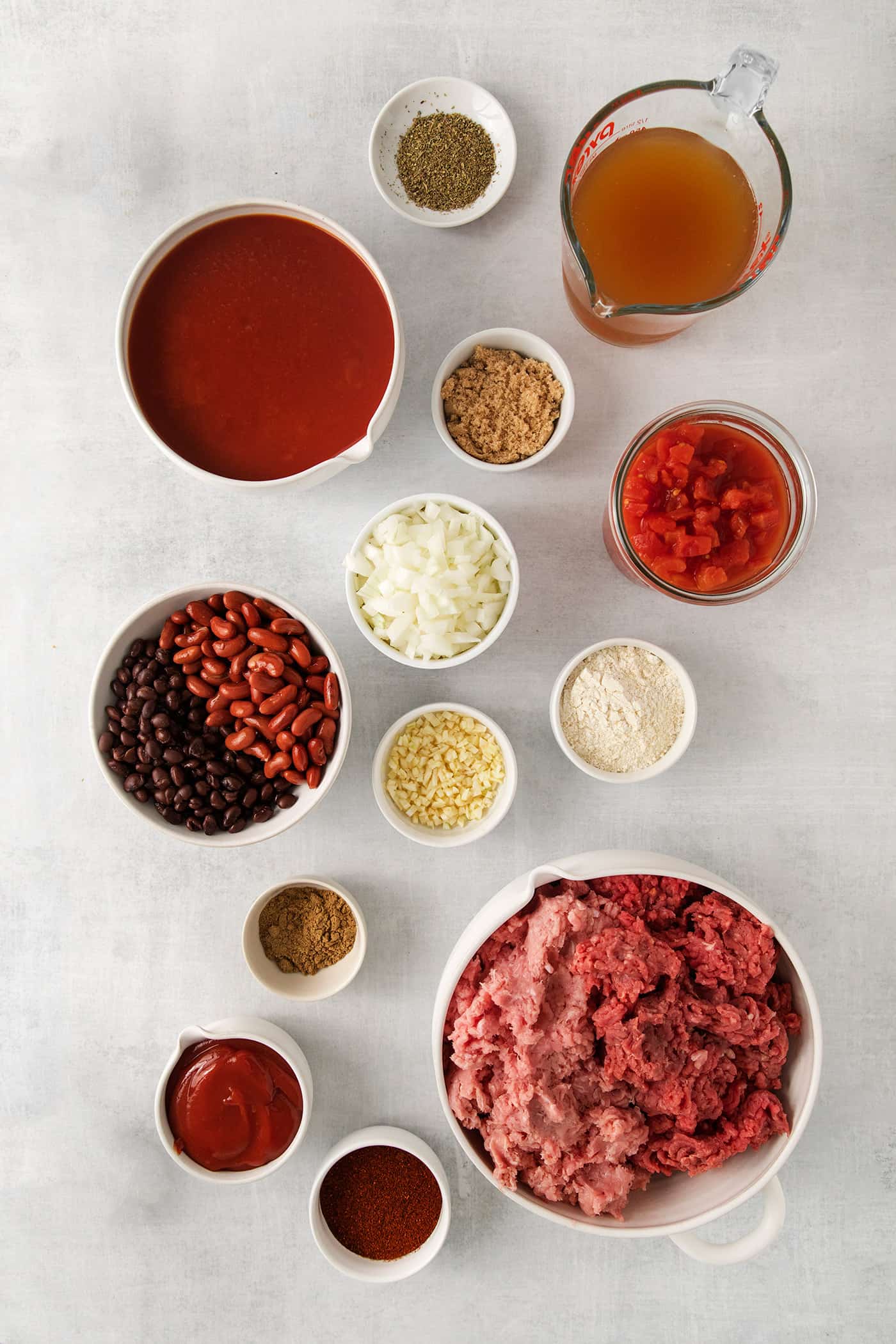 Recipe Ingredients
This homemade chili recipe is full of classic chili flavor. See the recipe card below for measurements.
Ground beef & ground turkey – Since this chili is heavy on the meat, I use a combination of beef and turkey. This gives me that rich beef flavor that I crave plus turkey's leaner protein. You could use all beef if you like, or all turkey – just know that the flavor profile will change.
Garlic & onion – For delicious earthy-sweet flavor that's common in chili.
Tomatoes & tomato sauce – I like the combination of canned diced tomatoes (with their juice) and tomato sauce. This gives a saucy "stew-like" consistency with a subtle chunkiness.
Ketchup – This enhances the tomato flavor with a bit of acidity and sweetness.
Beef stock – I always use a low-sodium broth, so I can adjust the sodium on my own.
Beans – I use 1 can of black beans and 1 can of kidney beans. Be sure to rinse and drain before adding them to the crockpot.
Yellow cornmeal – This adds a subtle yet beautiful earthy flavor, plus it thickens the chili a bit.
Chili seasoning – I keep this very classic and simple, with chili powder, cumin, Mexican oregano (or just use regular oregano), salt & pepper.
Brown sugar – Just a little bit! I get this chili ingredient from my mom, who throws a little bit of brown sugar into most of her tomato-based dishes, to take the edge off the tomato's acidity. I know that many people think it's blasphemy to add any kind of sweetener to chili (I'm lookin' at you, Jessica!) – if you're one of those people, just leave it out!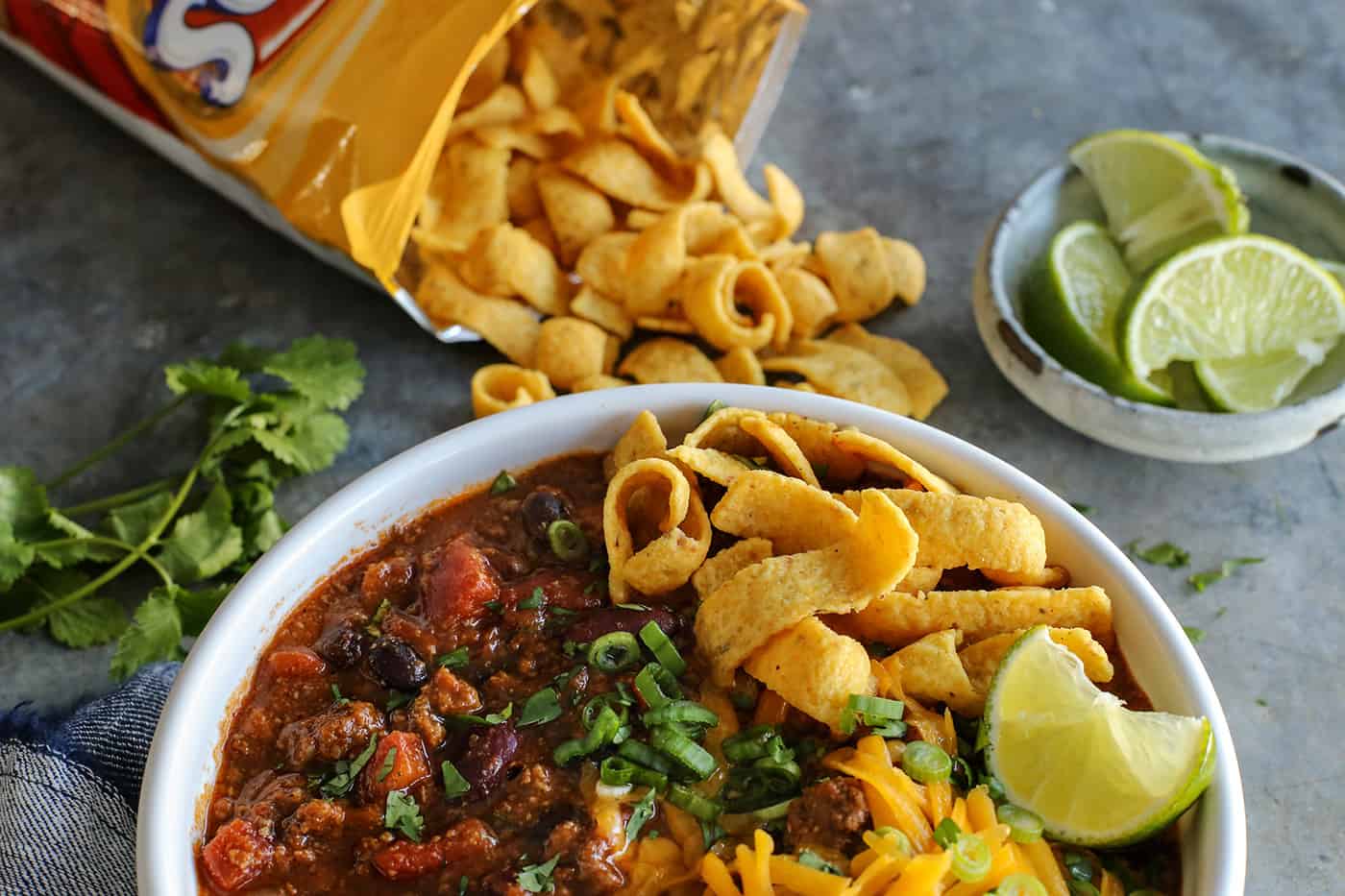 Chili Topping Ideas
The toppings are half of the fun of making this crockpot chili! Here are a few of our favorites:
Cheese – A classic chili topping. Shredded cheddar, Monterey Jack, or pepper jack, or crumbled queso fresco – whatever your favorite kind of cheese is, odds are it will be fantastic, all melty on top of a bowl of steaming chili.
Sour cream – The creamy tang goes really well with chili.
Tomatoes – Offer some chopped fresh tomatoes, for another layer of tomato flavor.
Onion – Some chopped green onion or red onion adds a fresh quality.
Avocado – Slice or dice it, for fresh, earthy, flavor and creamy texture. Guacamole would also be good.
Jalapeno – Offer on the side, sliced or chopped, for those who like some extra heat.
Pickled jalapenos – If you like heat AND pickles, why not try pickled jalapenos?!
Pickled onions – My pickled red onions recipe has been a longtime reader favorite – these pretty, pungent bites would offer a tasty contrast.
Cilantro – I like to offer a small bowl of roughly chopped cilantro leaves, for fresh green herby flavor.
Lime – I add fresh lime wedges to so many meals – tacos, rice bowls, chicken tortilla soup, carnitas – and it's fabulous with chili, too. Just squeeze a wedge over the top of your bowl right before you dig in!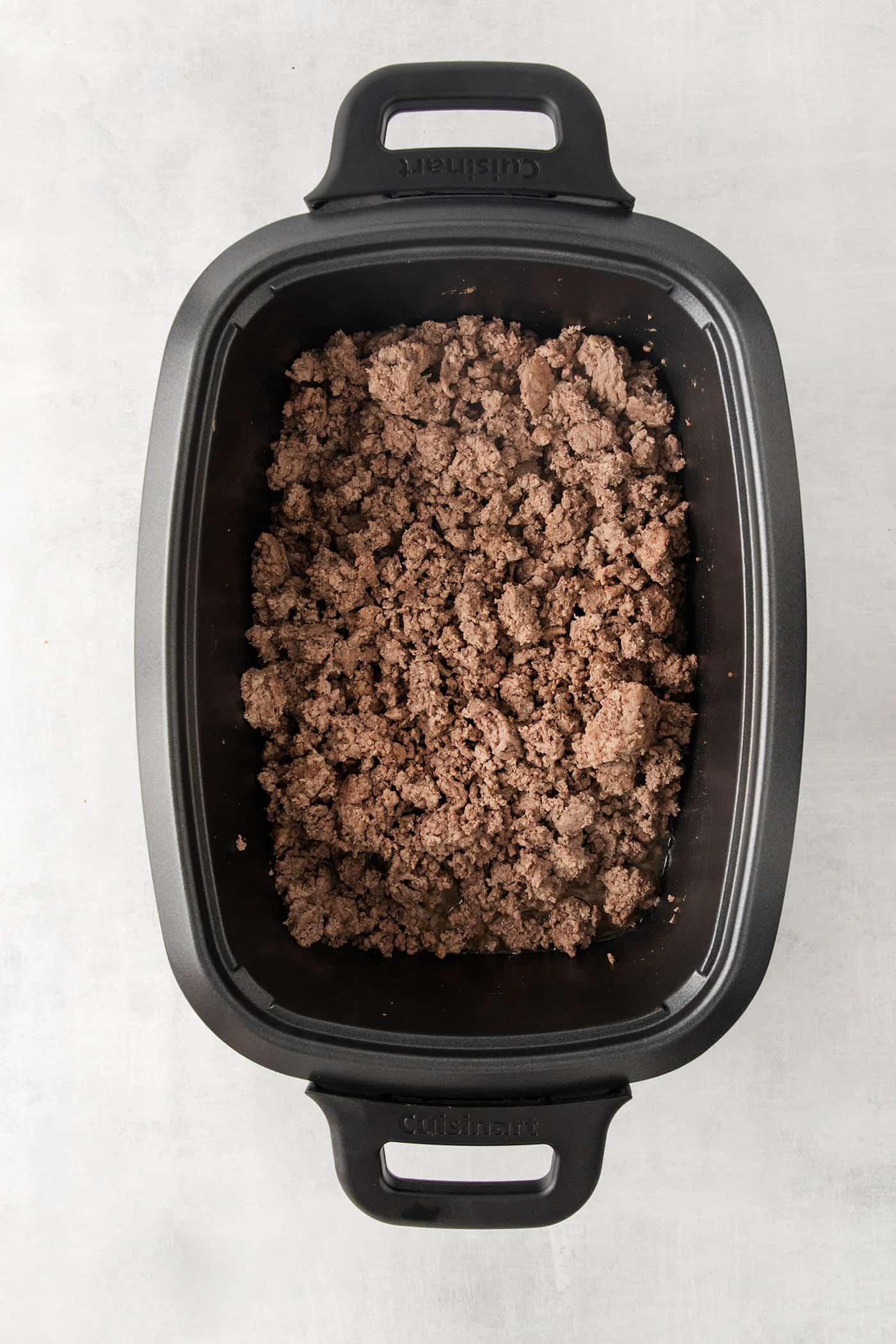 How to Make Chili in the Slow Cooker
It's easy to make chili in a slow cooker. And I especially like this recipe because it makes a large quantity – great for feeding a larger group or for freezing half for a future meal.
Brown the ground beef & turkey. Start by browning the ground beef or a combination of ground beef and ground turkey in a multi-cooker slow cooker. If your slow cooker doesn't have a browning function, brown the meat in a skillet and transfer it to the slow cooker.
Add everything else to your slow cooker. Then add all the remaining ingredients and give it a good stir to combine.
Set to cook and walk away. Set the heat to "high" and let the chili simmer away for six hours or so, stirring every couple of hours if convenient. It's really that easy!
Can I Make This Chili on the Stovetop?
If you don't have a slow cooker, then use a large heavy-bottomed pot on the stovetop.
Cook onion & garlic. Heat the pot over medium to medium-high heat, then add a tablespoon of oil. Once the oil is hot, sauté the onion for 5-7 minutes, stirring occasionally, until just softened. Then stir in the garlic and sauté for 1 more minute. Remove onion and garlic to a plate.
Cook meat(s). Then add ground meat(s) to the pot and brown, breaking the meat up as it cooks. Drain fat.
Simmer altogether. Add the sauteéd onion and garlic to the browned meat(s), followed by the remaining ingredients, and stir to combine. Stir occasionally, until chili is thoroughly warmed. Then turn heat down to low and simmer for 2 to 3 hours, stirring occasionally and scraping the bottom of the pot to ensure it's not burning.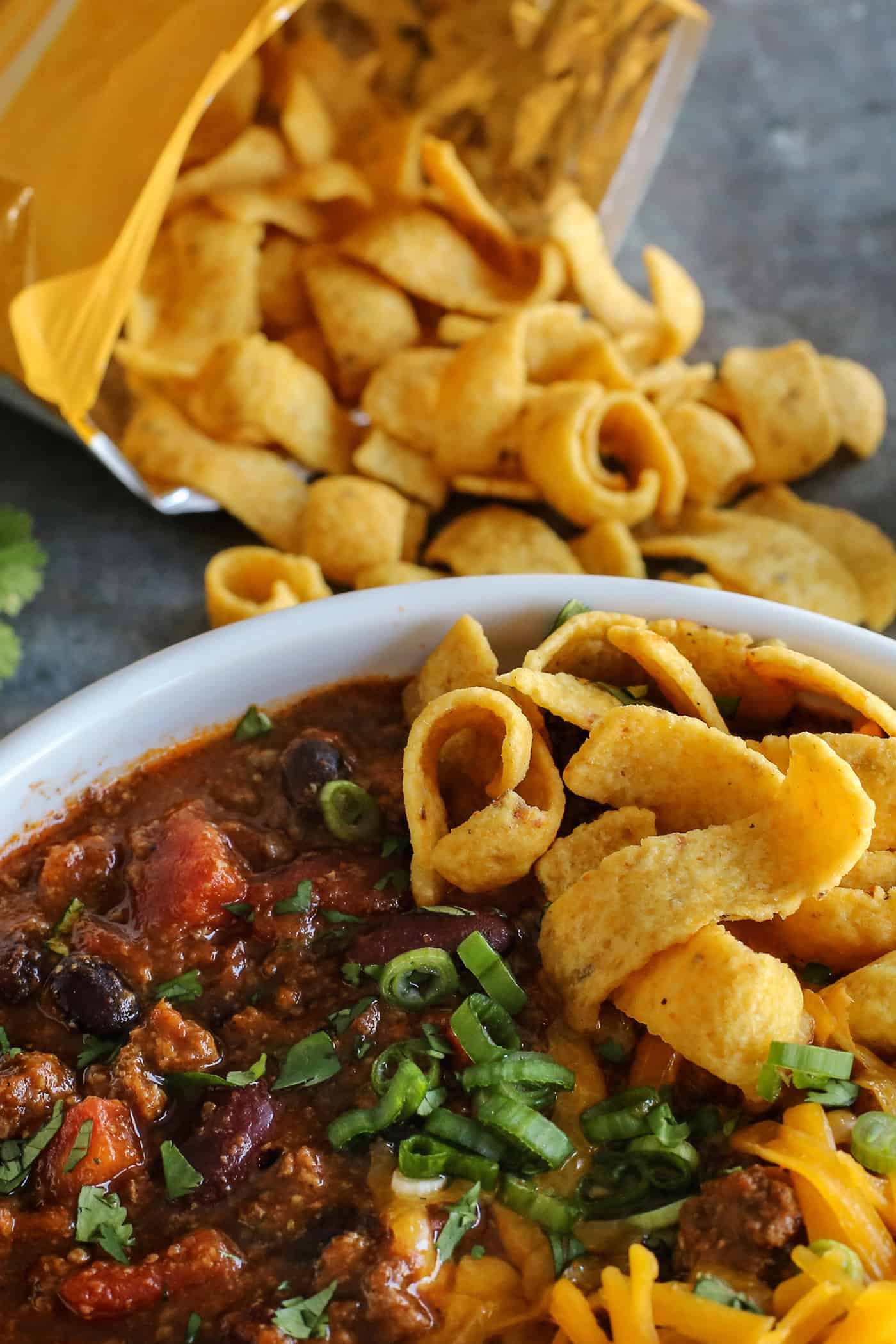 Tips & Variations for the Best Slow Cooker Chili
Here are a few tips to help you make the best crockpot beef chili possible.
Use good quality beef and turkey. Always keep in mind that your finished dish will only be as good as the ingredients that you use to make it.
Use good quality tomato products. I use and recommend Red Gold Tomatoes.
Add homemade stewed tomatoes. When I have my mom's chili stewed tomatoes on hand, you can bet that I'm absolutely adding some to my chili. This is my mom's secret chili-making ingredient, and it adds so much wonderful flavor.
Drain and rinse the beans. Before adding the beans to the crockpot, be sure to rinse them thoroughly and let them drain.
Adjust seasonings to suit your tastes. If you like heat, increase the quantity of chili powder or add a spicier chili powder, like cayenne. Chipotle powder would be fun, with its spicier, smoky flavor. I oftentimes add in quite a bit of extra black pepper, as I adore it. You could also add some minced fresh jalapeno pepper along with the onion and garlic. Or stir in your favorite hot sauce or sriracha!
Add more veggies. If desired, add in a diced bell pepper or two.
Add some bacon. Bacon adds a delicious smoked flavor, plus added protein and texture. Just chop some cooked bacon and stir it into the mix!
Don't cut the cook time too short. While the ingredients will be hot and cooked properly in less than 6 hours, I recommend the 6 hours of slow cooker time to achieve the best melding of flavors. That time in the slow cooker gives richer, deeper flavor to the chili.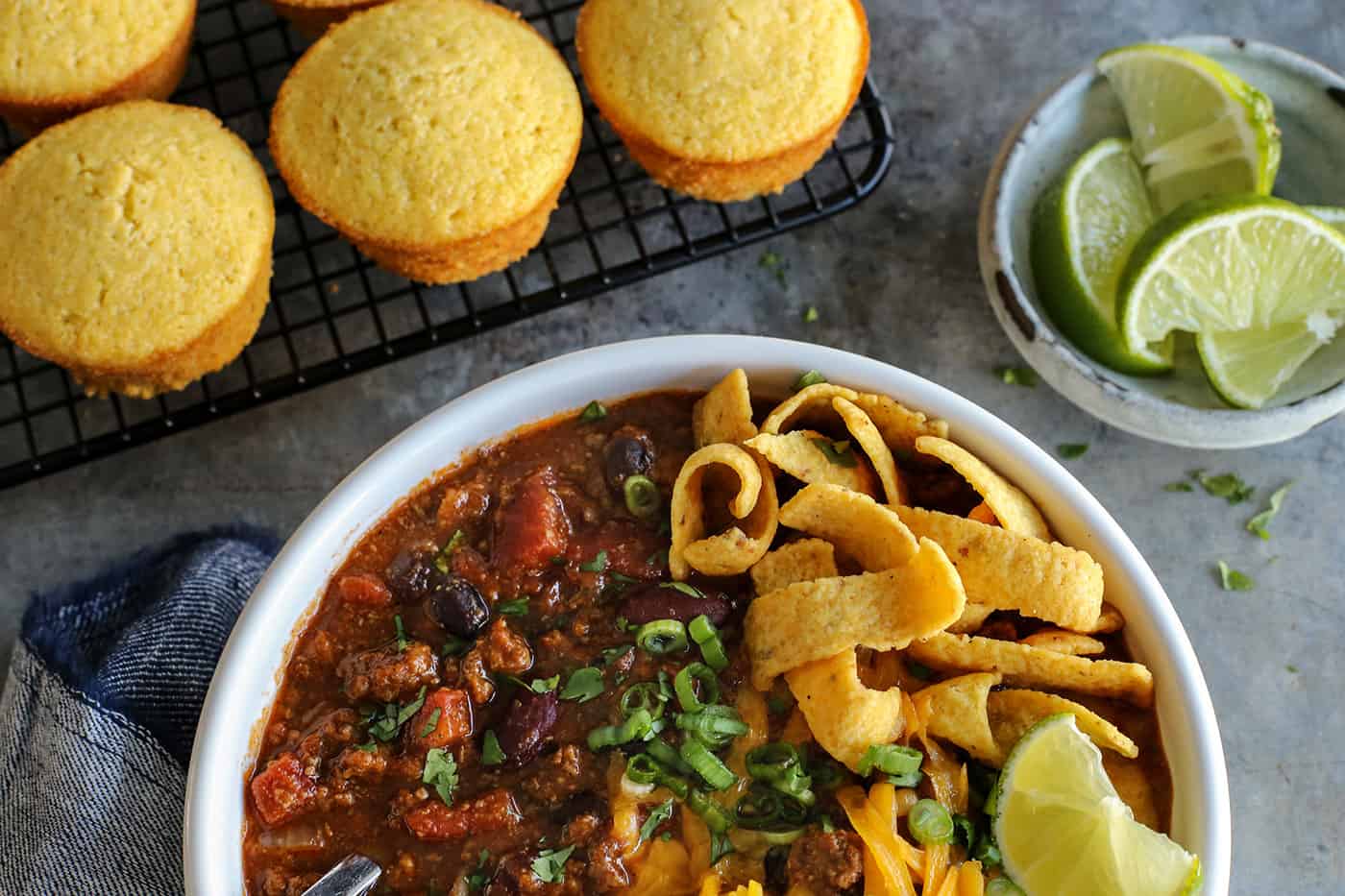 What Goes with this Beef Chili?
My family often requests a batch of honey cornbread muffins to go with this chili. The cornbread makes a perfect chili dipper, with a bit of sweetness that contrasts with the savory chili. Along the same line, this corn bake (aka corn pudding) would also be great.
The other family favorite request is cheesy garlic bread or a melty grilled cheese sandwich. They never so no to more cheese!
I grew up eating chili with saltine crackers. But our family also really likes Fritos corn chips with chili. Sometimes I buy the regular ones (shown in my photos). And sometimes I buy the "scoops" variety, which are awesome for just scooping up the chili, no spoon needed!
I also like chili with baked potatoes. Their crispy skins and tender, fluffy middles just beg to be eaten with chili and all the fixings.
And for all you hotdog lovers, don't forget about chili dogs and chili cheese dogs!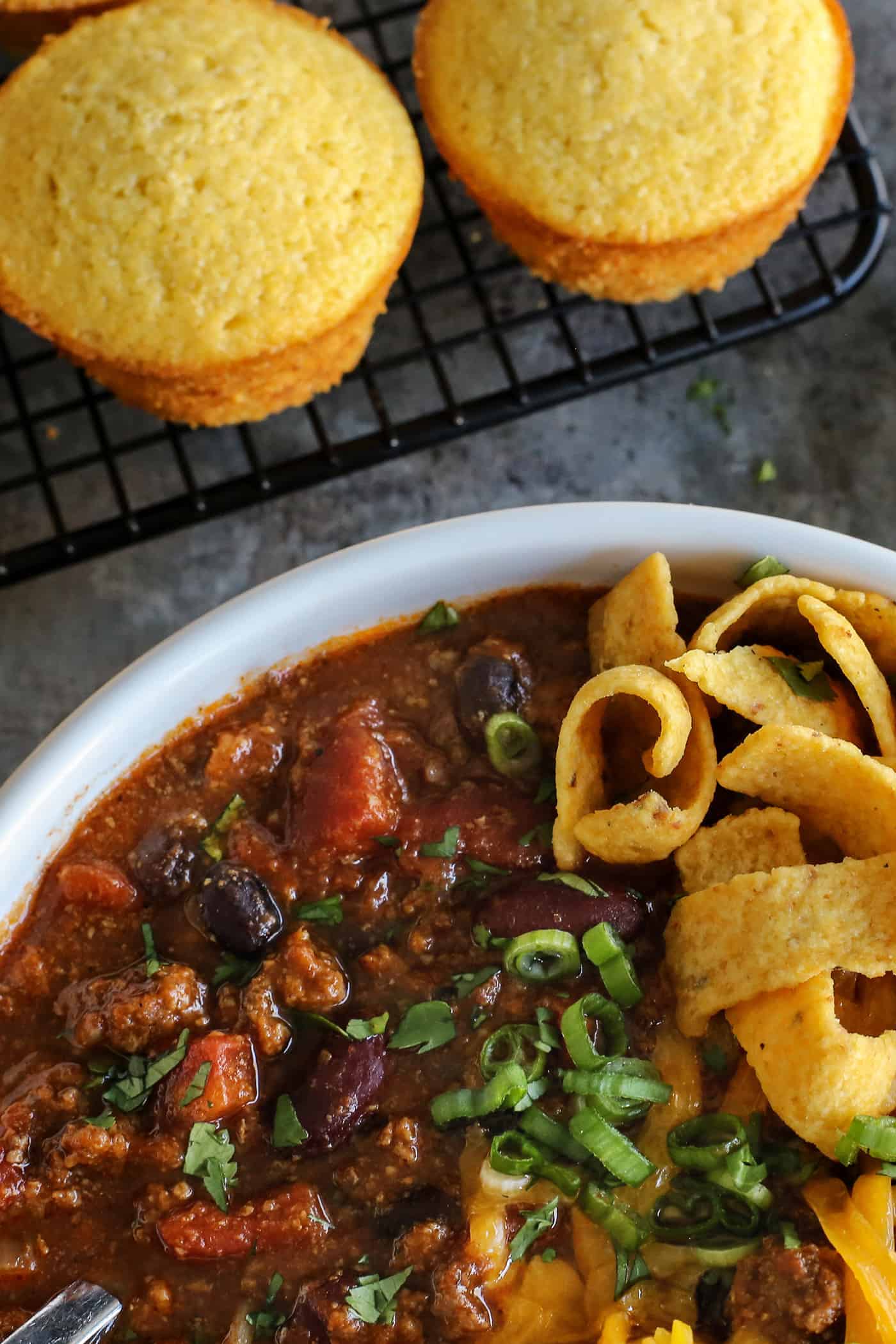 How to Store and Reheat Leftovers
This slow cooker chili can be stored in an air-tight container in the fridge for up to 5 days.
To reheat, scoop the desired amount of chili into a small saucepan over medium-low, stirring regularly, until it's hot.
However, you can also reheat it in the microwave. Just make sure to pause and give the chili a good stir about halfway through, to heat it evenly.
Can I Freeze Crockpot Chili?
Yes! This homemade chili freezes REALLY well. I do it all the time!
Just let the chili cool completely, then place it in one or more air-tight, freezer-safe container(s). Make sure you leave about an inch of space on top so that the chili has room to expand as it freezes.
When you're ready to eat the chili, simply thaw it in the fridge and reheat as described above.
More Ground Beef Recipes
Like this recipe? Save it to Pinterest!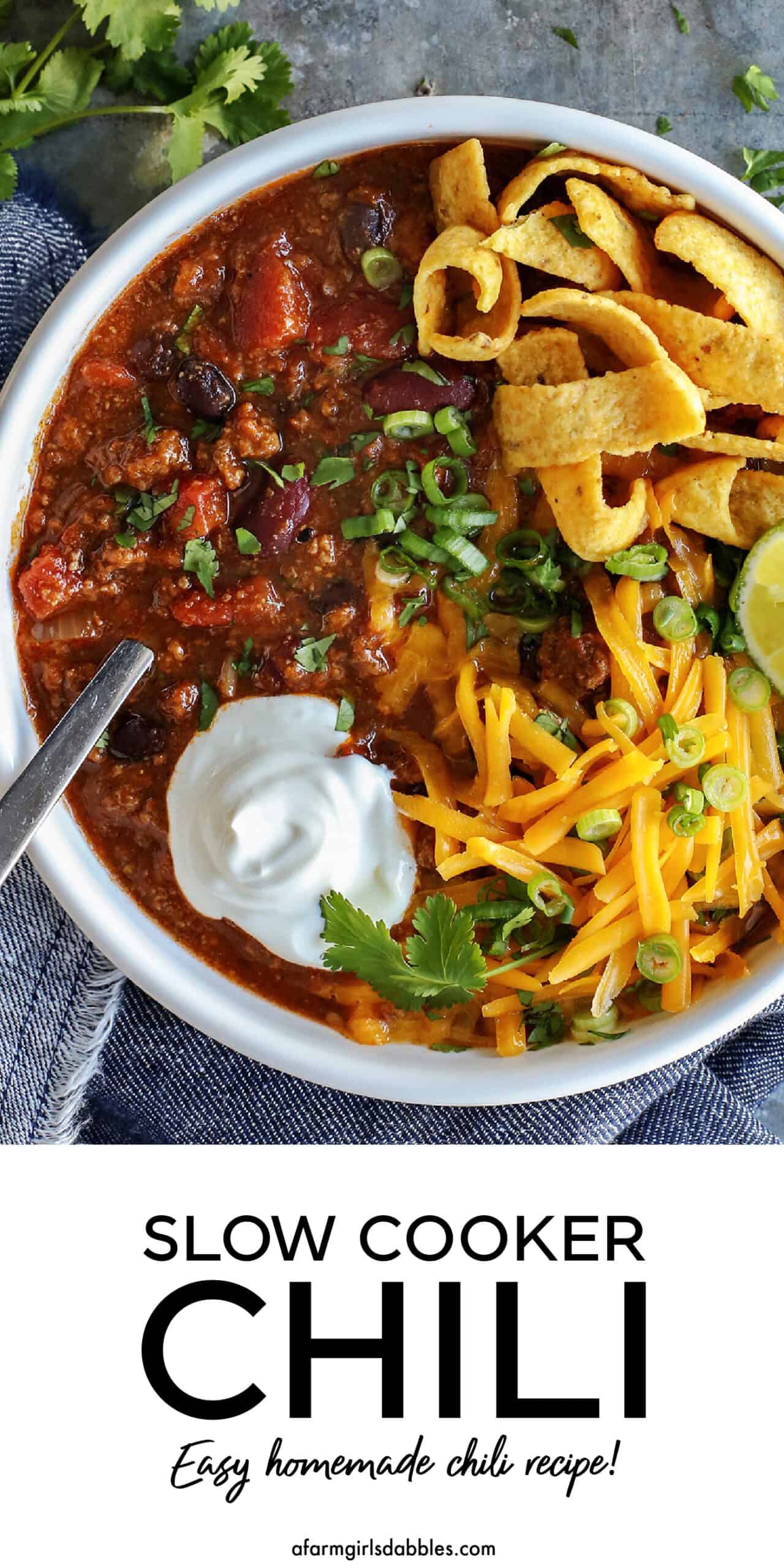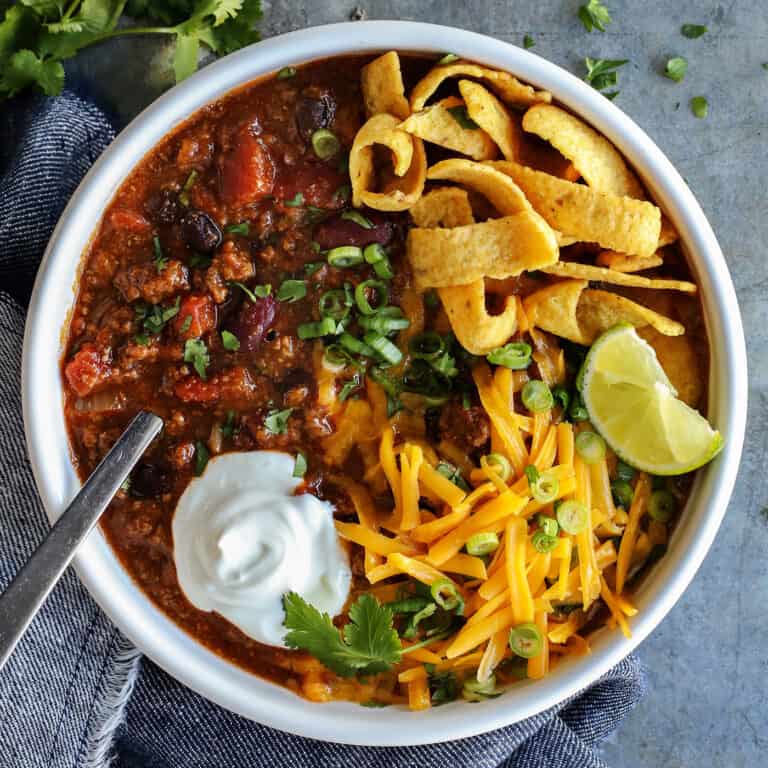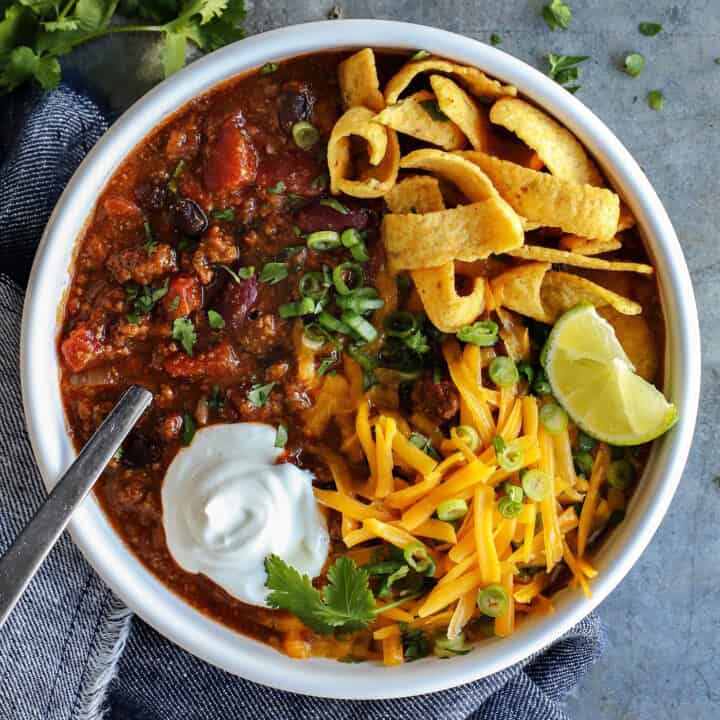 Slow Cooker Chili
Yield: 14 servings
Prep Time: 10 minutes
Cook Time: 6 hours 20 minutes
Total Time: 6 hours 30 minutes
This Slow Cooker Chili recipe is made with a combination of ground beef and ground turkey, plus canned tomatoes, beans, and classic chili seasoning. It's an easy, homemade chili that's cooked in the crockpot, for the richest chili flavor. Garnish with your favorite toppings for a hearty, delicious dinner any night!
Ingredients
3 pounds lean ground beef
2 pounds ground turkey (or just use all ground beef or more/all turkey, to equal 5 pounds of meat)
5 large garlic cloves, minced
1 large yellow onion, chopped
3 cans (14.5 ounces each) diced tomatoes, with juices
2 cans (14.5 ounces each) tomato sauce
¾ cup ketchup
2 cups low-sodium beef stock
1 can (15 ounces) black beans, drained and rinsed
1 can (15 ounces) kidney beans, drained and rinsed
⅓ cup yellow corn meal
3 to 6 tablespoons medium chili powder, to taste (will depend on the heat of your chili powder and your own heat preference)
2 teaspoons dried Mexican oregano (or regular dried oregano)
1 tablespoon ground cumin
3 tablespoons brown sugar, or to taste
kosher salt and freshly ground black pepper, to taste (I like a good amount of black pepper!)
Instructions
Brown beef and turkey in a slow cooker with a browning function. Drain fat. If you don't have a browning function on your slow cooker, then: In a large, heavy skillet over medium-high heat, brown the beef. Using a slotted spoon, transfer beef to a slow cooker. Drain fat. Add the ground turkey to the saute pan, brown it, and transfer it to the slow cooker with a slotted spoon.
While meat is browning, prepare and portion remaining ingredients. Add remaining ingredients to the slow cooker and stir to blend. Cover and cook on high for 6 hours, stirring briefly every couple hours.
To serve: Ladle chili into individual bowls and offer garnishes on the side, such as shredded cheese, sour cream, chopped onion, chopped cilantro, and sliced jalapenos. I also like to serve this chili with wedges of fresh lime, Fritos corn chips, and fabulous cornbread muffins. Pickled red onions would also be delicious!
Notes
This recipe makes a large quantity. You will need a slow cooker with a minimum capacity of 5 quarts.
This recipe is highly adaptable, feel free to play around with the kinds and quantities of herbs and spices to fit your own tastebuds.
Nutrition Information:
Yield: 14
Serving Size: 1
Amount Per Serving:
Calories: 500
Total Fat: 24g
Saturated Fat: 8g
Trans Fat: 1g
Unsaturated Fat: 13g
Cholesterol: 156mg
Sodium: 668mg
Carbohydrates: 24g
Fiber: 4g
Sugar: 12g
Protein: 48g
Nutrition information is automatically calculated by Nutritionix. I am not a nutritionist and cannot guarantee accuracy. If your health depends on nutrition information, please calculate again with your own favorite calculator.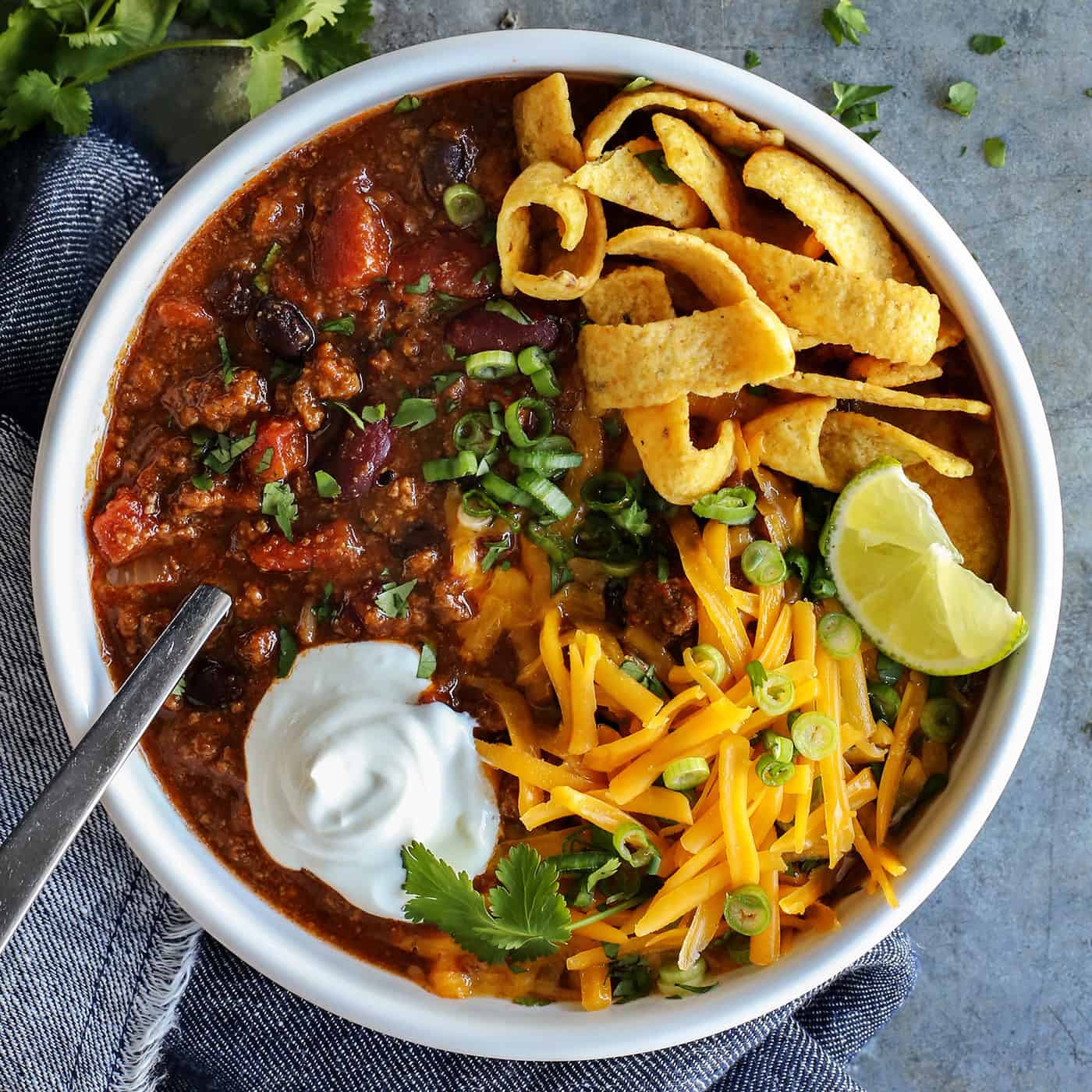 This post was originally published in 2012 and then updated in 2023.