Kristi's Cornbake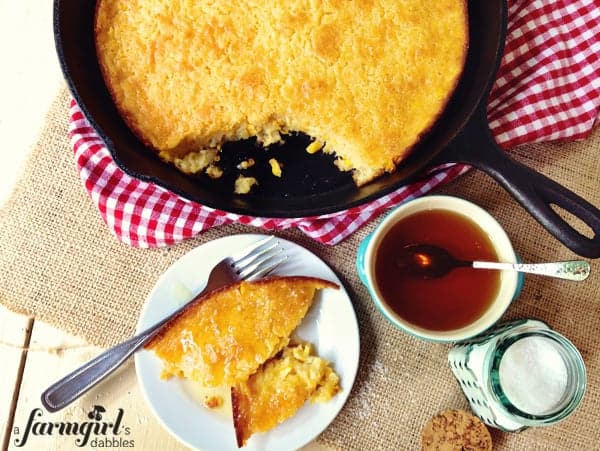 This is one of my favorite recipes ever, Kristi's Cornbake. I haven't actually made it for quite a few years, though. Because after I was introduced to it after attending a family gathering at my sister's in-laws'…well, I made it for every other meal thereafter…and completely burnt out on it.
But my craving came back with all the perfectly beautiful sweet corn available lately, and I decided to incorporate those fresh kernels into this super easy cornbake, swapping out the recipe's specified can of whole kernel corn.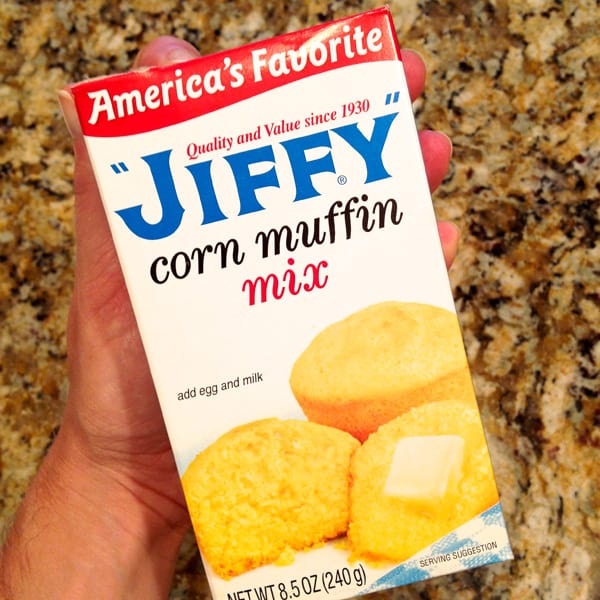 This dish is a great alternative to cornbread, and I like to alternate between it and our favorite honey cornbread muffins. You might have seen a version of this cornbake recipe before, as it's a popular one. A box of Jiffy corn muffin mix makes up the base of this creamy dish.
Kristi, the amazing cook who first introduced this dish to me, puts her spin on it with a little kick of fresh jalapeno. With peppers either chopped up and incorporated into the batter, or sliced and placed on top of the cornbake…it's a fun and delicious riff.
I've also played around with the recipe over the years, and alter it to fit what's on the current menu. It's a very forgiving recipe. If you like sweet cornbread, add some honey to the batter. And if you like an even sweeter treat, drizzle a bit of honey over the top of your serving (this actually makes a great dessert with a scoop of ice cream!). A sprinkle of coarse salt right before eating lends the perfect contrast to the sweetness.
This cornbake has been the coveted dish of many potlucks and family gatherings, and deserves a special invitation to any party serving grilled meat slathered in bbq sauce. I'm already planning a meal for next week when my parents are visiting to attend the Minnesota State Fair with us…there will be our favorite grilled bbq ribs from my friend Stephanie of fresh tart, a fresh batch of Mom's sweet refrigerator dill pickles, and a hot skillet of Kristi's Cornbake. A most excellent way to celebrate these last days of summer.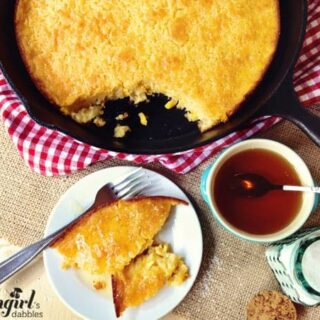 Kristi's Cornbake
Yield: 6 to 8 servings
Prep Time: 15 minutes
Cook Time: 45 minutes
Total Time: 1 hour
This cornbake has been the coveted dish of many potlucks and family gatherings, and deserves a special invitation to any party.
Ingredients
1 box (8.5 oz.) Jiffy Corn Muffin Mix
1 tsp. kosher salt, plus more for sprinkling over top before eating
2 c. cooked sweet corn kernels cut from the cob (or one 14 oz. can whole kernel corn, drained)
1 can (14 oz.) cream corn
1/2 c. butter, melted
1 c. sour cream
1 large egg, slightly beaten
1/4 c. honey, optional, if you like sweeter cornbread (I vary this quantity or completely omit, depending on my mood!)
chopped or sliced jalapeno pepper, optional
Instructions
Preheat oven to 375° F. Spray a 10'' cast iron skillet with cooking spray and set aside. You could also use a 9''x12'' baking dish, or something of similar size. Stoneware works well.
In a medium bowl, stir together the corn muffin mix, salt, both corns, butter, sour cream, egg, and honey. Pour into prepared skillet. Bake for 45 minutes, or until set and golden brown. Serve hot with a little sprinkle of coarse salt over the top.
If you like a little heat to your cornbread, add some chopped jalapenos to the batter or add jalapeno slices to the top of the batter once it has been poured into the skillet.
And if you like even more sweetness, drizzle a bit of honey over your serving and finish with a little sprinkle of coarse salt. A scoop of ice cream makes this a delicious dessert!
Notes
Adapted from Kristi Pickert's recipe box, a recipe she got from her mom who got it from a co-worker. Whew! Dontcha just love the shared recipe trail?! :)
Nutrition Information:
Yield: 8
Serving Size: 1
Amount Per Serving:
Calories: 255
Total Fat: 19g
Saturated Fat: 10g
Trans Fat: 1g
Unsaturated Fat: 6g
Cholesterol: 73mg
Sodium: 466mg
Carbohydrates: 19g
Fiber: 2g
Sugar: 6g
Protein: 4g
Nutrition information is automatically calculated by Nutritionix. I am not a nutritionist and cannot guarantee accuracy. If your health depends on nutrition information, please calculate again with your own favorite calculator.