How to Make Quick Pickled Red Onions
These Quick Pickled Red Onions are downright addictive! If you've ever wondered how to pickle red onions, this recipe is easy and is done in 15 minutes. The perfect addition to tacos, salads, burgers, and so much more!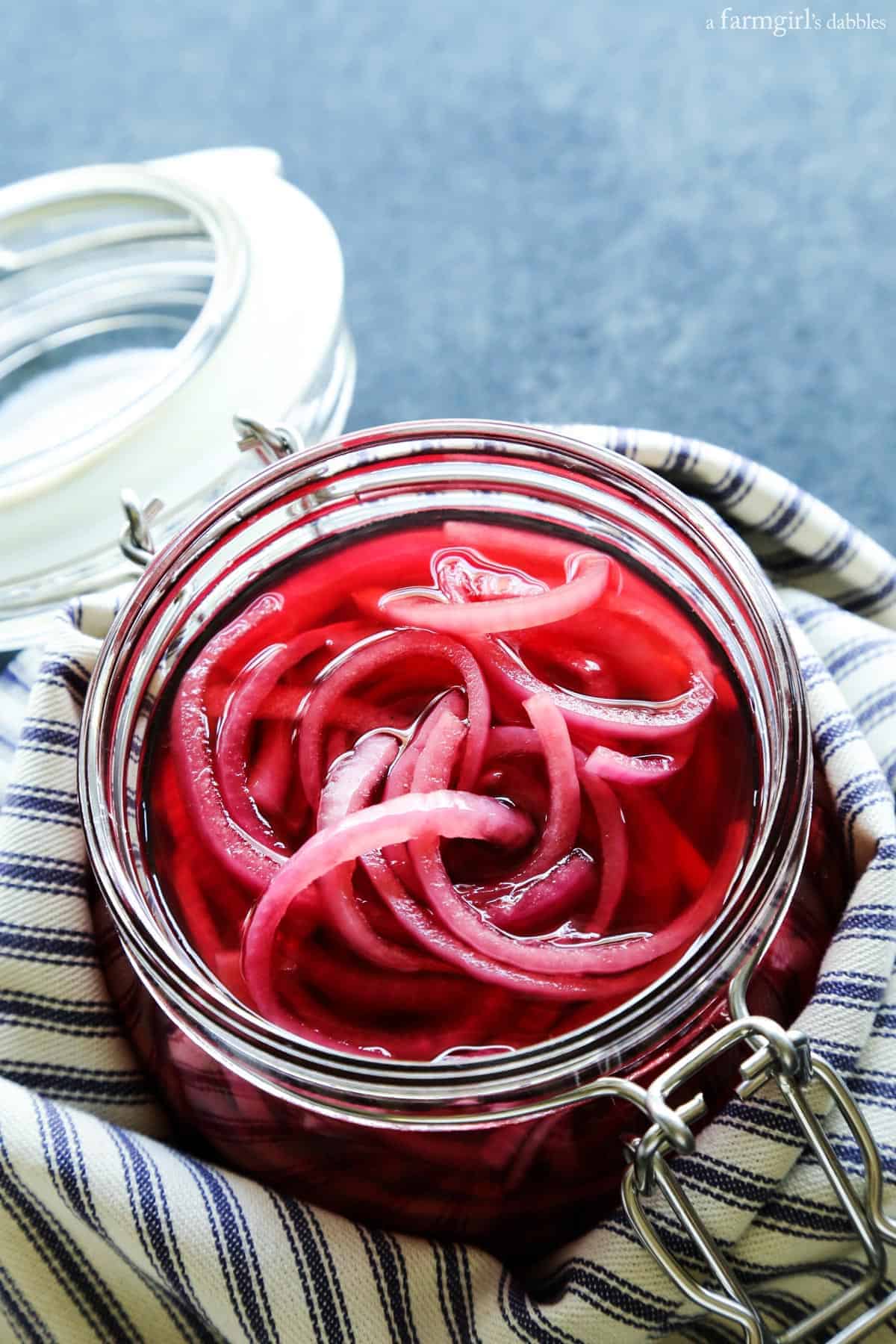 The Best Pickled Red Onions
Welcome to one of my favorite condiments in the whole wide world: Pickled Red Onions!
There are so many ways to use pickled red onions to add flavor to everything from tacos to salads to burgers. There's no reason why you shouldn't have a jar of these pickled onions in your fridge at all times!
This refrigerator version is so easy, and takes only about 15 minutes to make. The onions are crispity crunchity and perfectly tangy-sweet. They last for weeks in the refrigerator (if you can keep your fingers out of the jar!).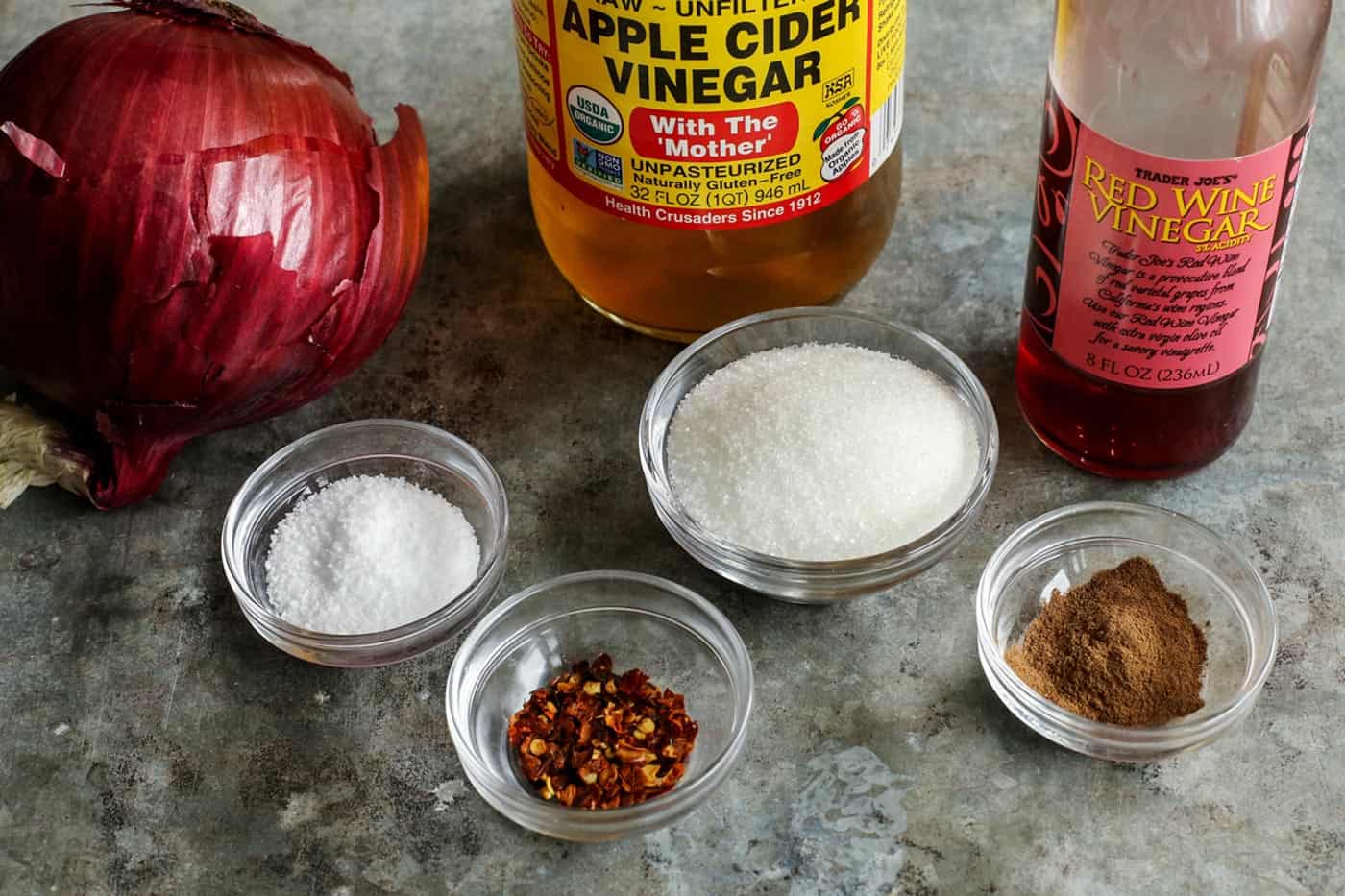 What You'll Need
All you need are four base ingredients to make pickled onions: red onion, vinegar, salt, and sugar. Here's a quick rundown with my notes, but be sure to scroll down to the recipe card for specific amounts.
Red onion – One large onion or two small ones.
Apple cider vinegar – This kind of vinegar adds a touch of tangy sweetness. I don't recommend using regular vinegar as the flavor profile is not the same.
Red wine vinegar – This vinegar adds a bit more depth.
Kosher salt
Sugar – I use white sugar. But I know that people also substitute honey, maple syrup, or agave.
Ground allspice – Only 1/8 teaspoon. I LOVE what this does for the flavor!
Red pepper flakes – For a little kick!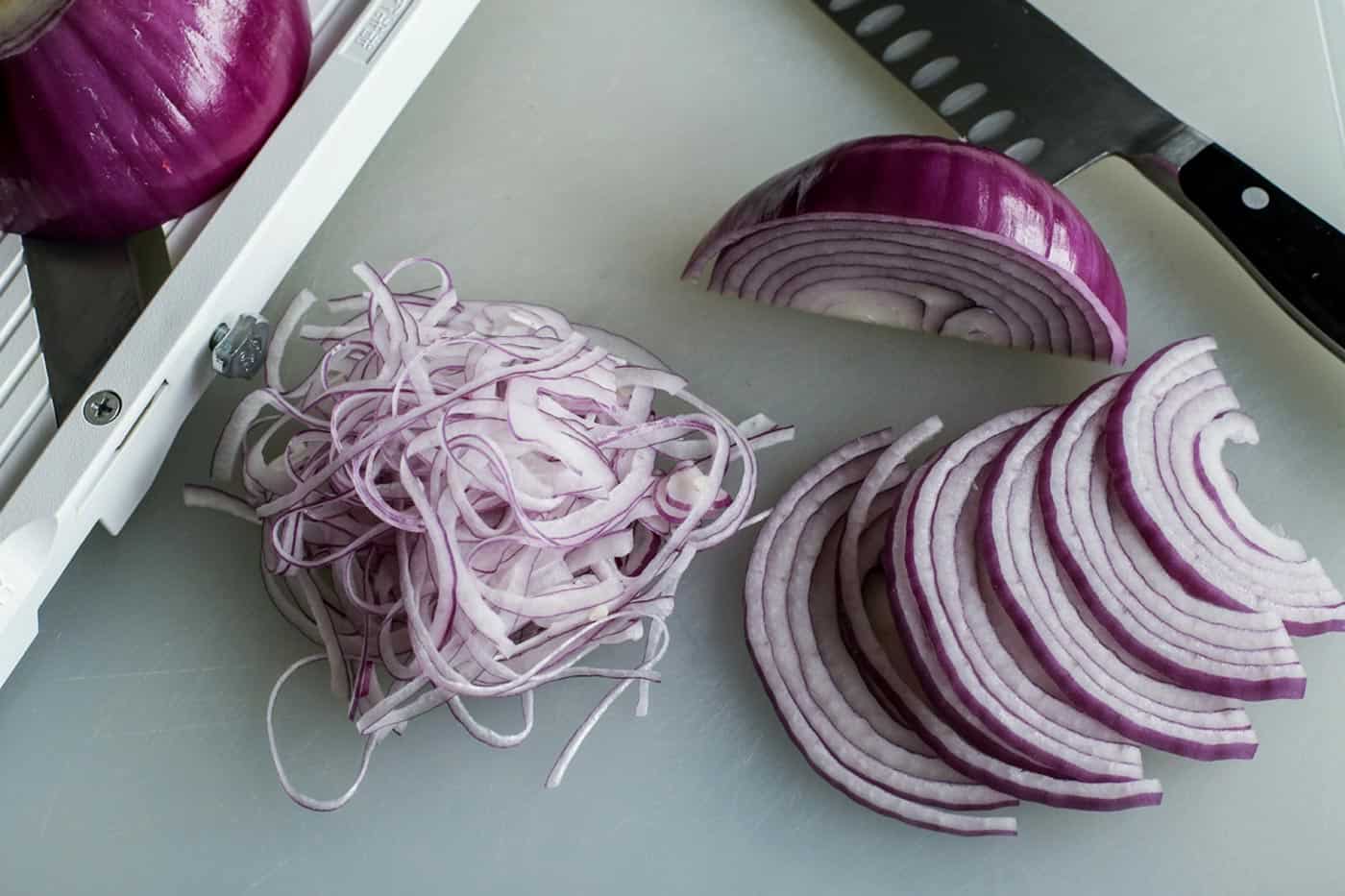 How to Pickle Red Onions
Making pickled red onions couldn't be any easier! Here is how to do it:
Slice the onions: Slice your red onion into half moon slices about 1/8 inch thick. Use a very sharp knife or mandoline for this.
Simmer the pickling mixture: In a medium saucepan, combine the apple cider vinegar and red wine vinegar with some sugar and salt on the stovetop.
Add some spice & the onion slices: Sprinkle in a bit of allspice and a few red pepper flakes, then add in your onion slices.
Pickle: Let the mixture cool completely.
Chill: Then pour into a glass container, cover tightly, and refrigerate until chilled.
And this is how to pickle red onions. Easy-peasy!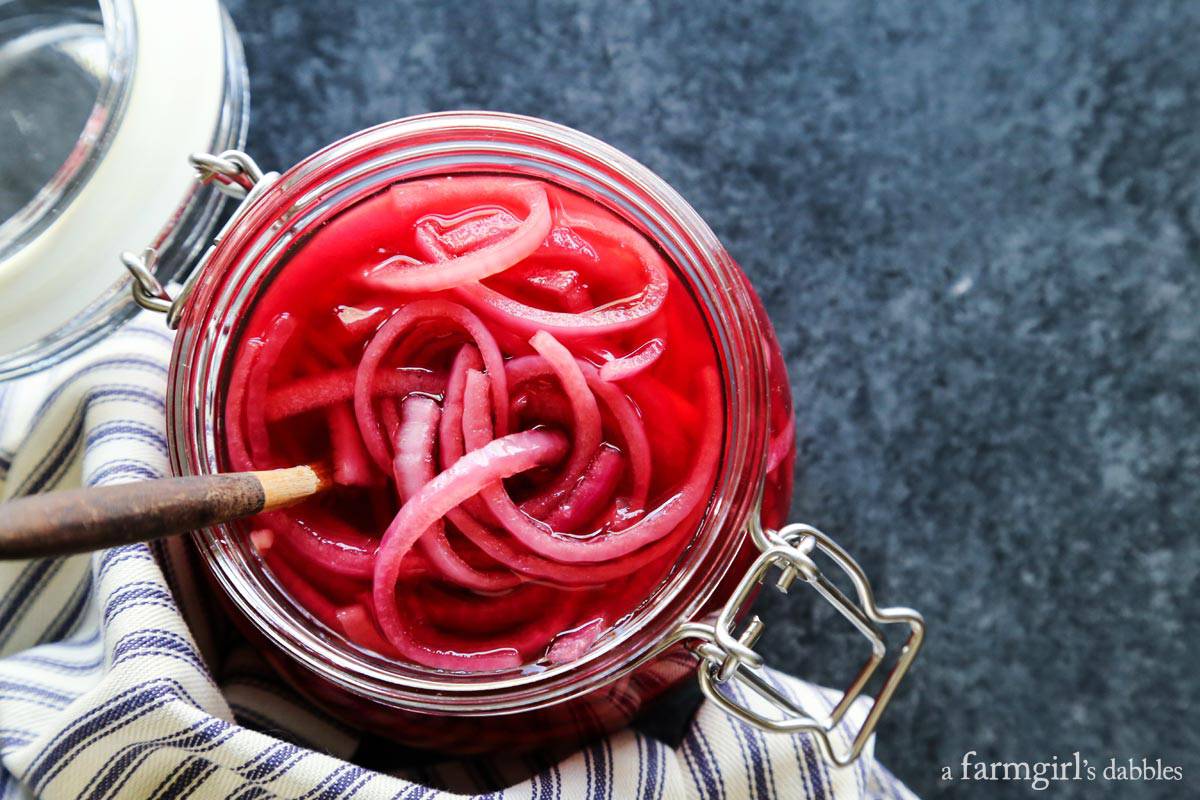 Variation Ideas
There are many, many ways to customize your own pickled onion recipe:
Slice the onions thick or thin. I tend to mostly slice the onions about 1/8″ thick, to get some toothsome "crunch" factor. But on occasion, I like to use my mandoline to create ultra-thin, almost frilly, slices. They're super pretty and delicate, perfect for making salads extra lovely. In the photos above, you can see the difference in sizes.
Use different vinegar. My recipe calls for a combination of apple cider vinegar and red wine vinegar. But you could try white vinegar, white wine vinegar, or rice vinegar, too.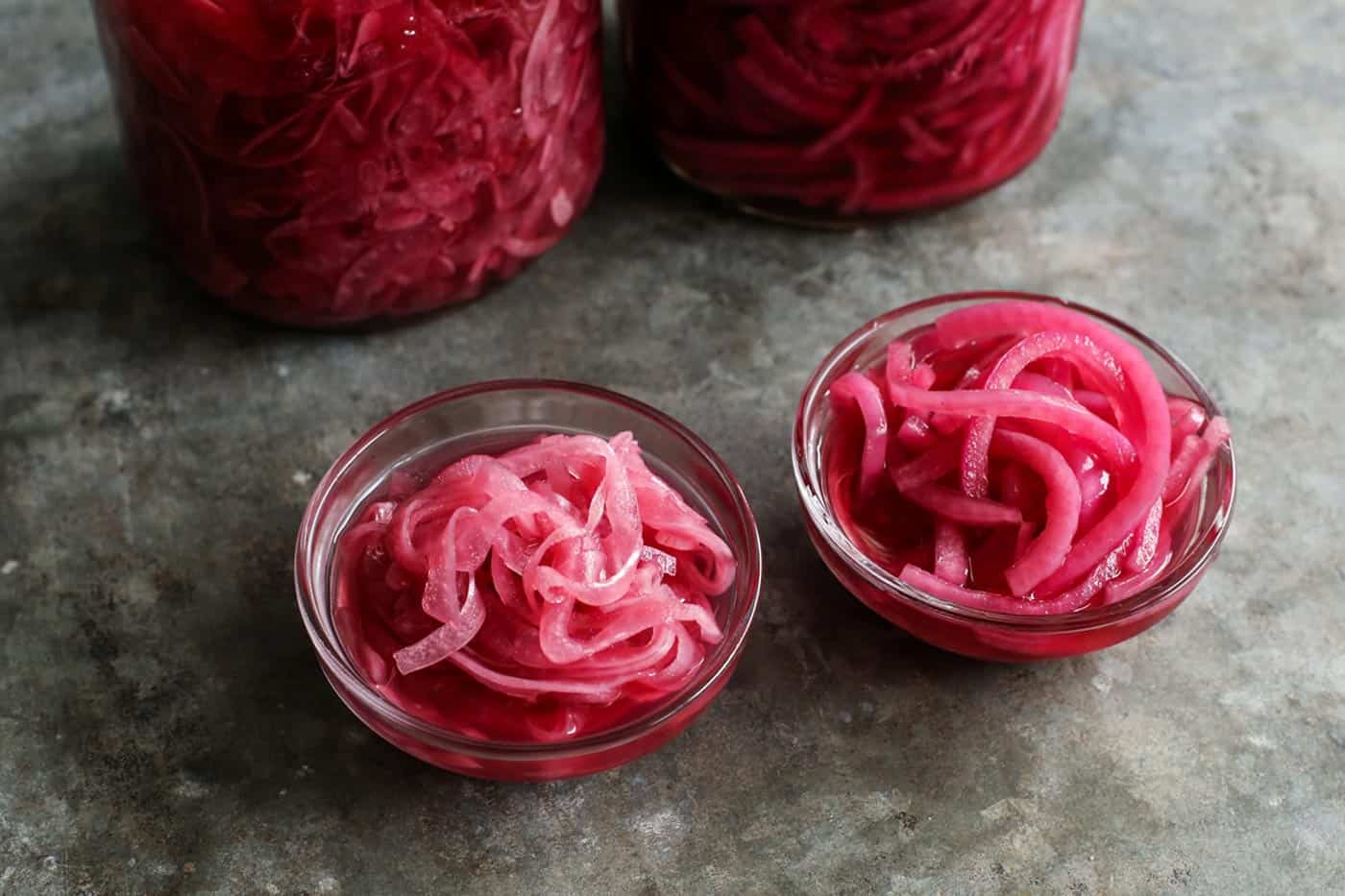 Possible Flavor Profiles
Spicy. This recipe calls for a "pinch of red pepper flakes", which gives the pickled onions just the slightest hint of heat. If you really like to "feel it", though, add a slice or two of habanero or jalapeno pepper to kick it up another notch or two. Or just add more of the red pepper flakes.
Peppery. Add a few whole peppercorns or some freshly ground black pepper to the jar.
Garlicky. Add a clove or two of fresh garlic. Smash the cloves or thinly slice them to impart even more of that garlic goodness.
Herby. I especially love the allspice that this recipe calls for. But you could mix it up by adding other dried herbs, such as oregano, bay leaf, or ground cumin. You could even use fresh herbs – think basil, mint, rosemary, parsley, and cilantro – but fresh herbs won't last as long in the pickling process, only up to a week.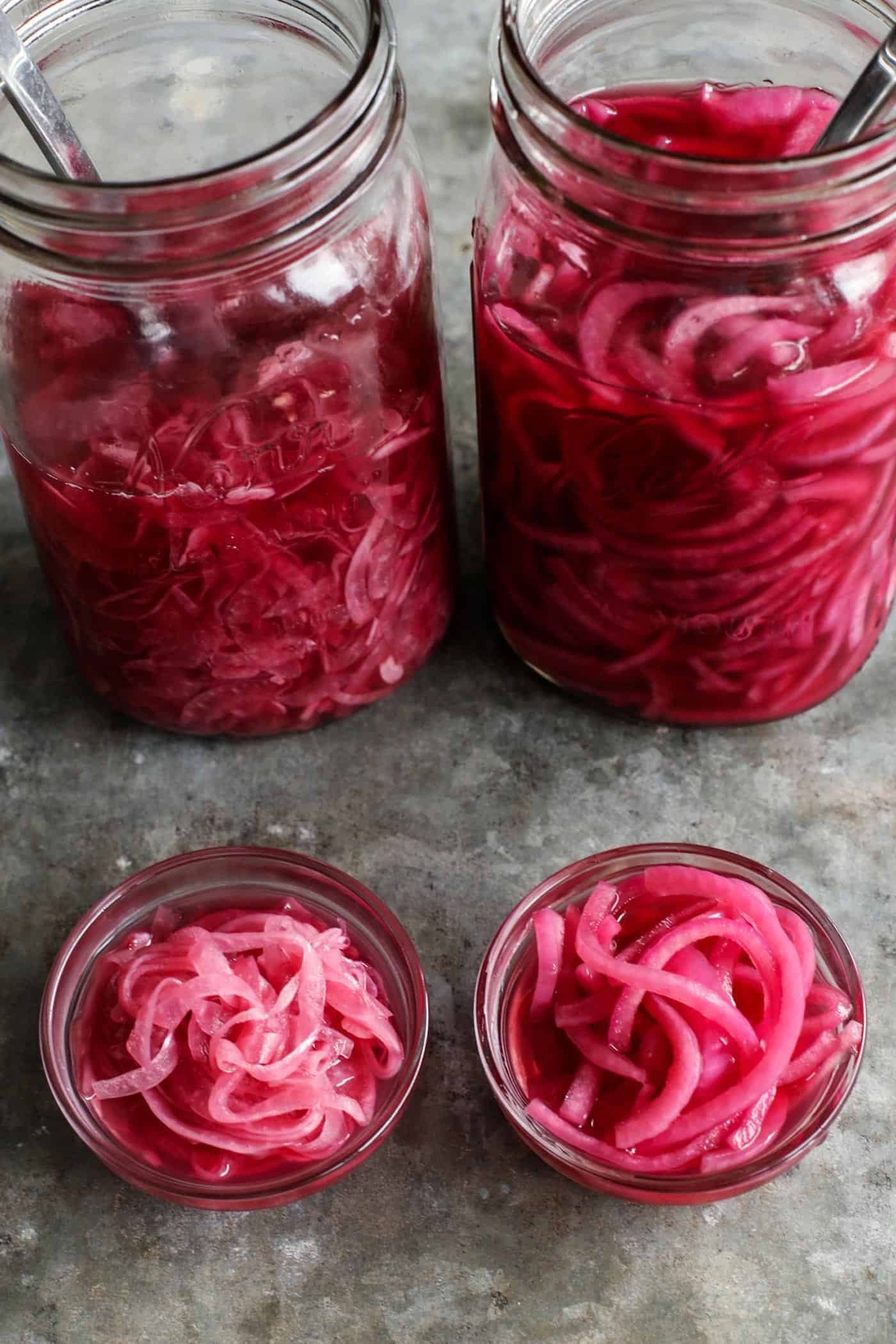 How Long Do Pickled Onions Last?
How long do they last or how long will they keep? These are very different questions. They probably won't last long because everyone is going to gobble these up! But pickled red onions will keep for up to a month when stored in an airtight container in the fridge.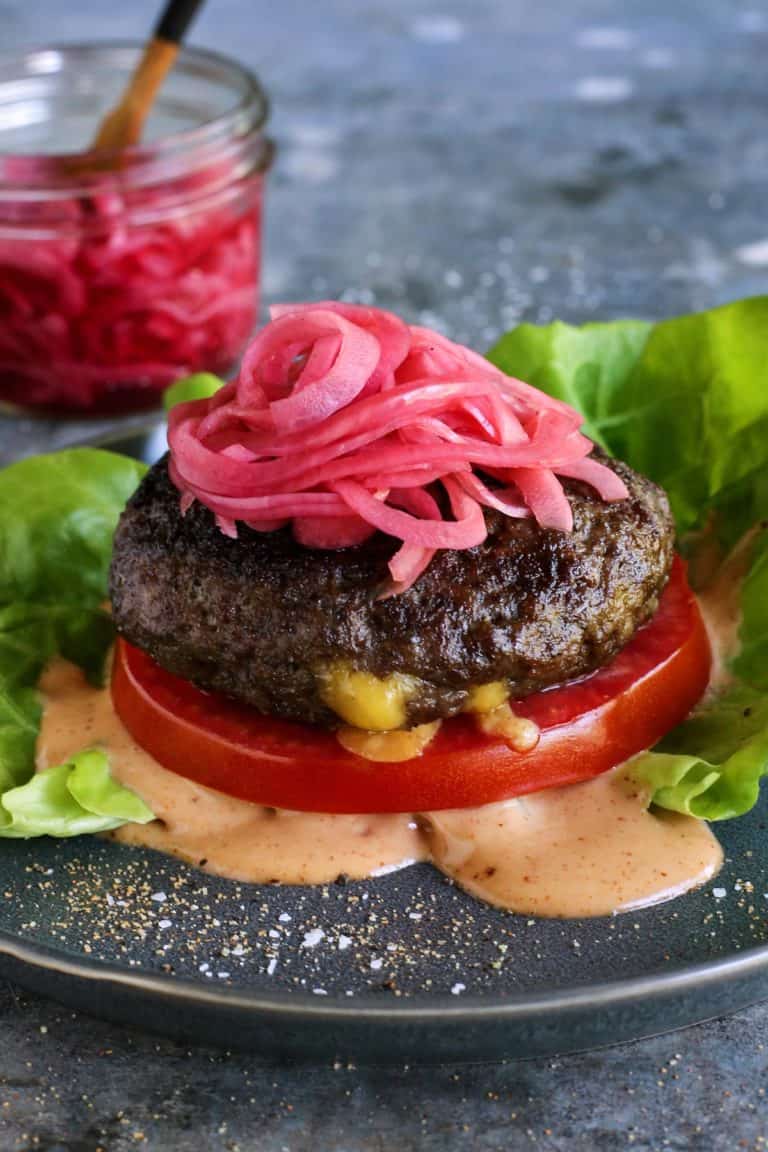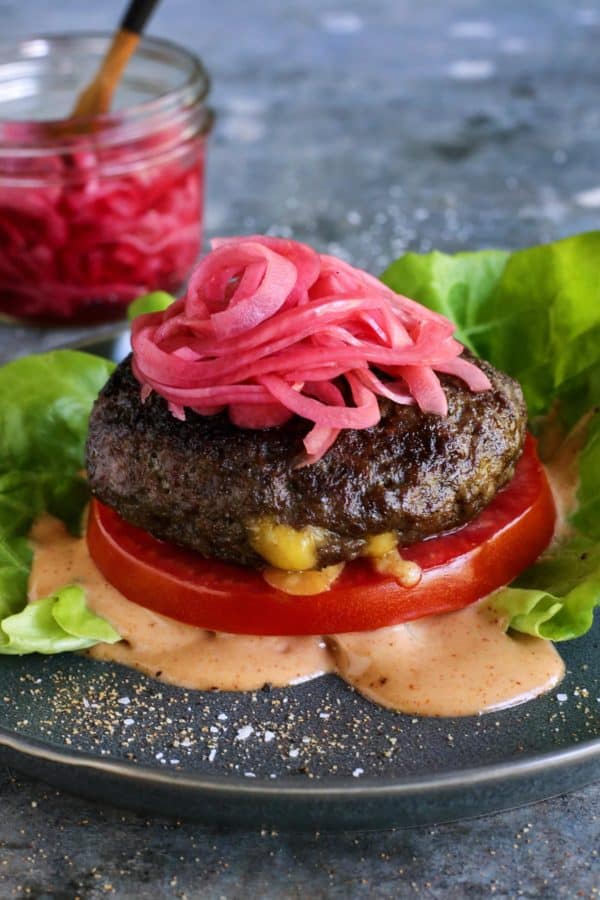 How Do You Eat Them?
Once you have a jar of these pickled red onions in your fridge, there are countless ways to use them!
The possibilities are truly endless!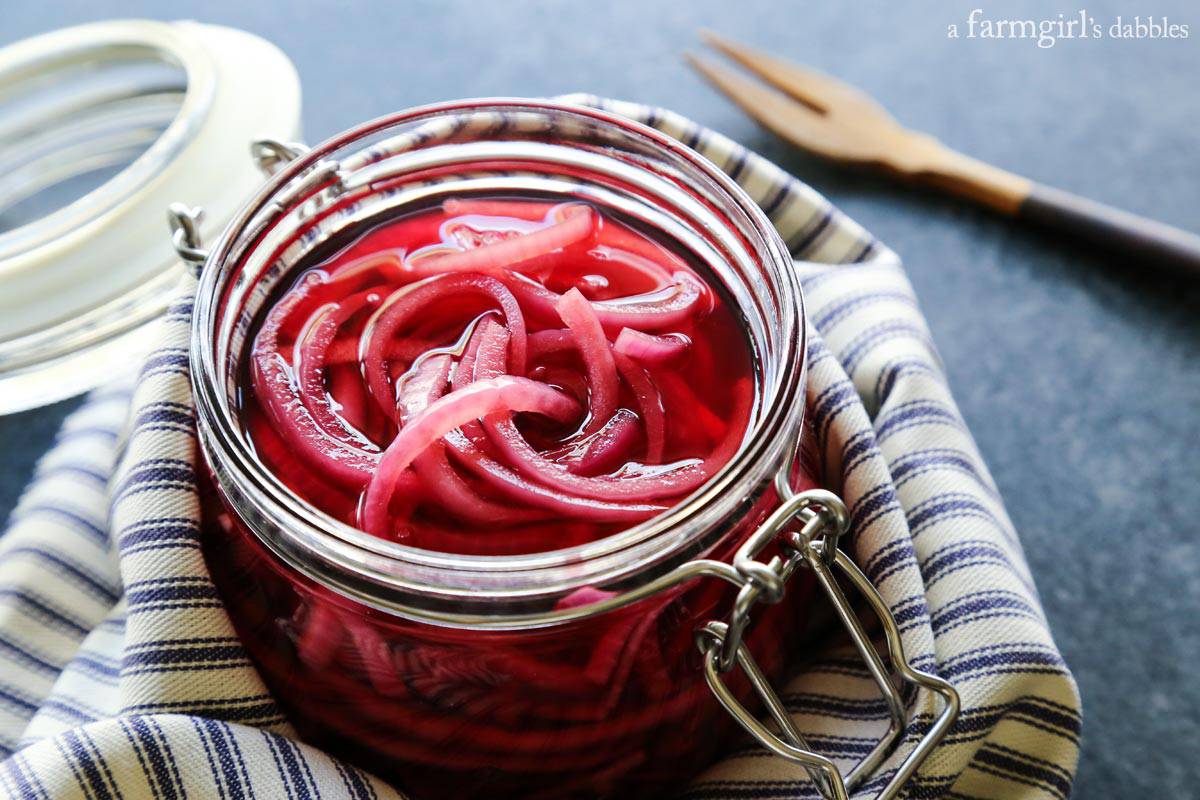 Looking for More Pickled Vegetable Recipes?
I loooooooove pickled vegetables, and it just doesn't get much better than quick refrigerator versions. Try my quick-pickled celery, carrots, squash, and the most beautiful medley of mixed veggies. My mom's easy recipe for sweet refrigerator dill pickles is also a longtime favorite.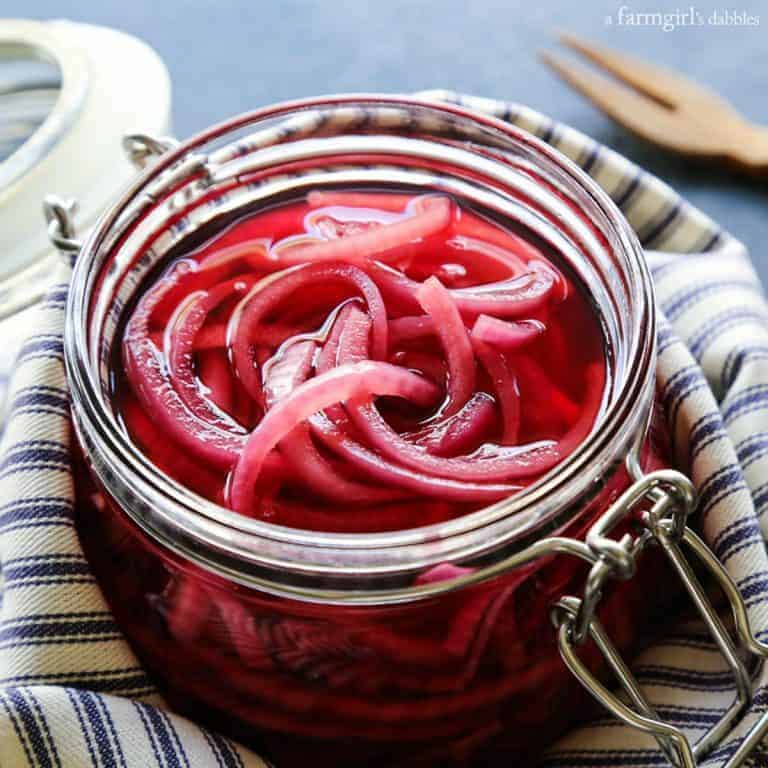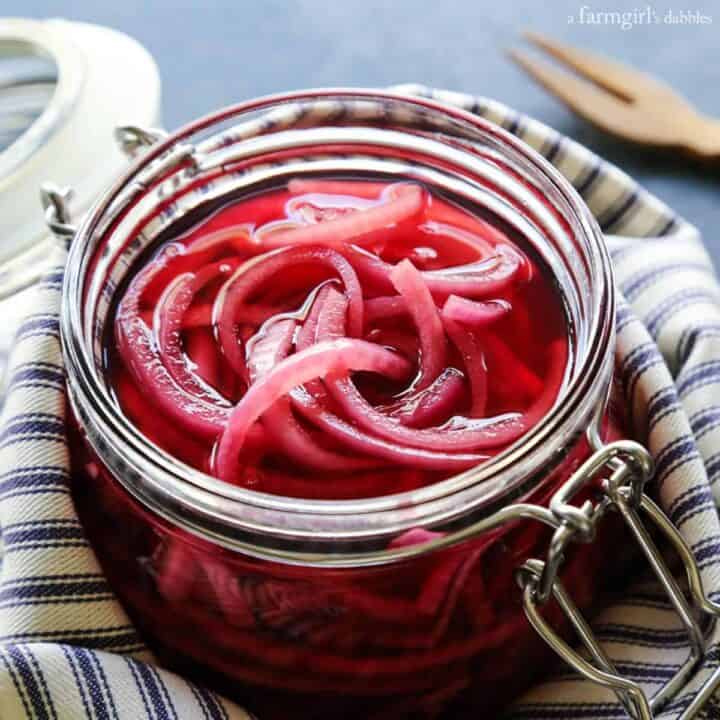 Quick Pickled Red Onions Recipe
Yield: about 2 cups
Prep Time: 10 minutes
Cook Time: 5 minutes
Total Time: 15 minutes
This recipe is incredibly quick and easy to make. The pickled onions are awesome with so many different meals - you'll quickly become addicted to having them on hand at all times!
Instructions
Slice the top and bottom off the onion and then slice onion in half, from top to bottom. Remove the outer peel. Lay the cut surfaces of the onion onto the cutting board, and then slice into half moons about 1/8" thick using a very sharp knife. I also recommend using a mandoline for slicing the onions, especially if you like super thin or very even slices.
In a medium saucepan, whisk together apple cider vinegar, red wine vinegar, sugar, and salt. Place over medium-high heat and bring mixture to a boil. Whisk until sugar and salt dissolve, then remove pan from heat and whisk in allspice and red pepper flakes.
Carefully add sliced onion to the pan and gently stir to combine. Let mixture cool completely at room temperature, stirring occasionally.
Pour into a glass container (I like to use a large canning jar), cover tightly with a lid, and refrigerate until thoroughly chilled. The pickled flavor will intensify over time, but it's good to go after resting overnight in the refrigerator. This recipe is for refrigerator pickling only and needs to be stored in a refrigerator. Enjoy for up to one month.
Notes
from a farmgirl's dabbles
Recommended Products
As an Amazon Associate and member of other affiliate programs, I earn from qualifying purchases.
Nutrition Information:
Yield: 16
Serving Size: 1
Amount Per Serving:
Calories: 24
Total Fat: 0g
Saturated Fat: 0g
Trans Fat: 0g
Unsaturated Fat: 0g
Cholesterol: 0mg
Sodium: 147mg
Carbohydrates: 6g
Fiber: 0g
Sugar: 5g
Protein: 0g
Nutrition information is automatically calculated by Nutritionix. I am not a nutritionist and cannot guarantee accuracy. If your health depends on nutrition information, please calculate again with your own favorite calculator.
Like this recipe? Save it to Pinterest!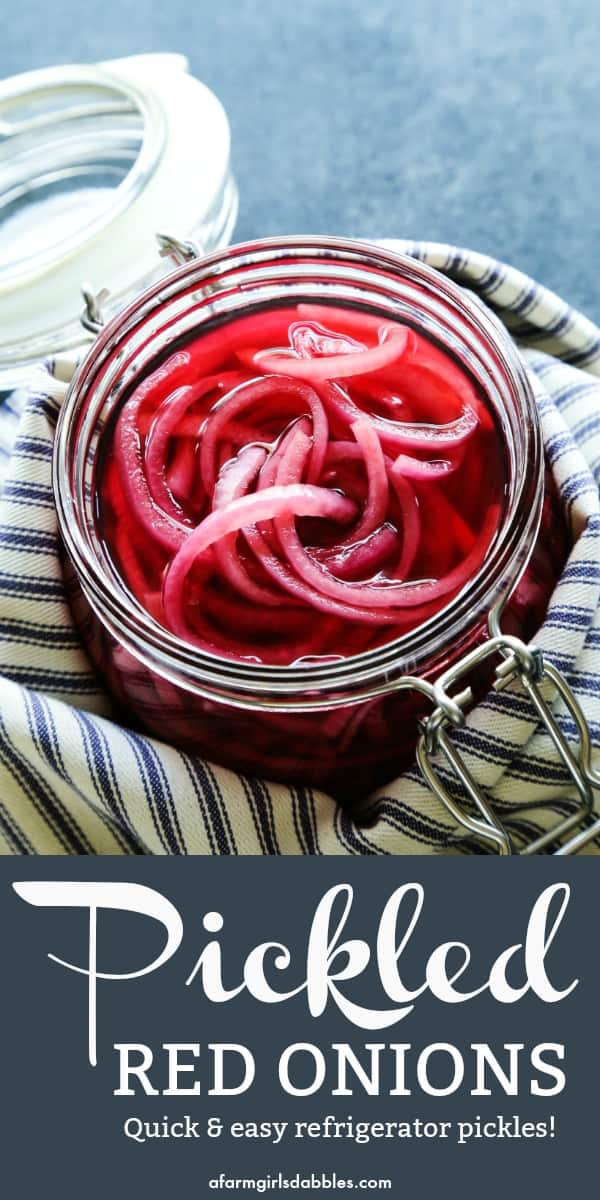 This post was originally published June 2014 and has been a popular reader favorite. Some of the photographs and text were updated May 2017.