Grilled Chipotle-Orange Salmon
Grilled Chipotle-Orange Salmon is sweet and smoky and beautifully spiced. This easy grilled salmon recipe promises to become a grilling season obsession!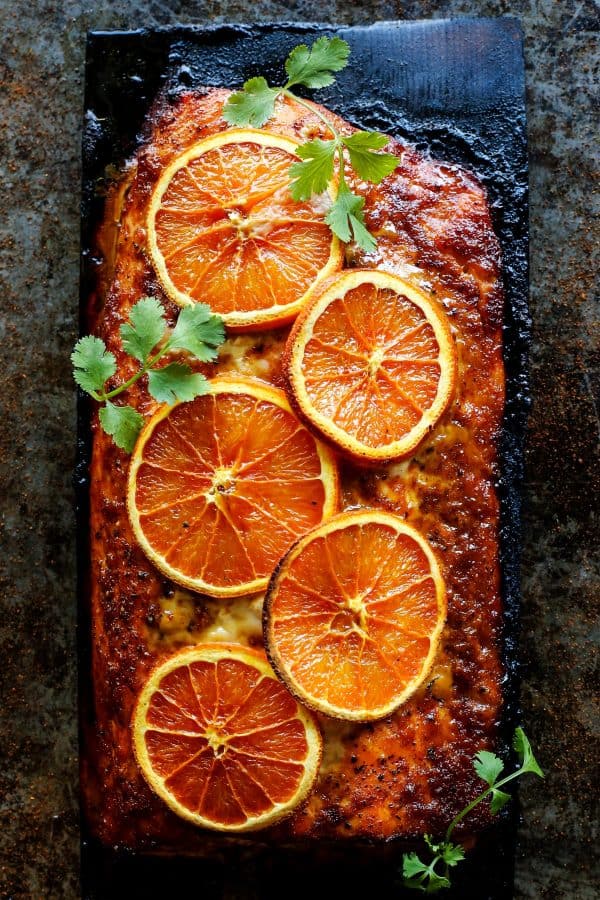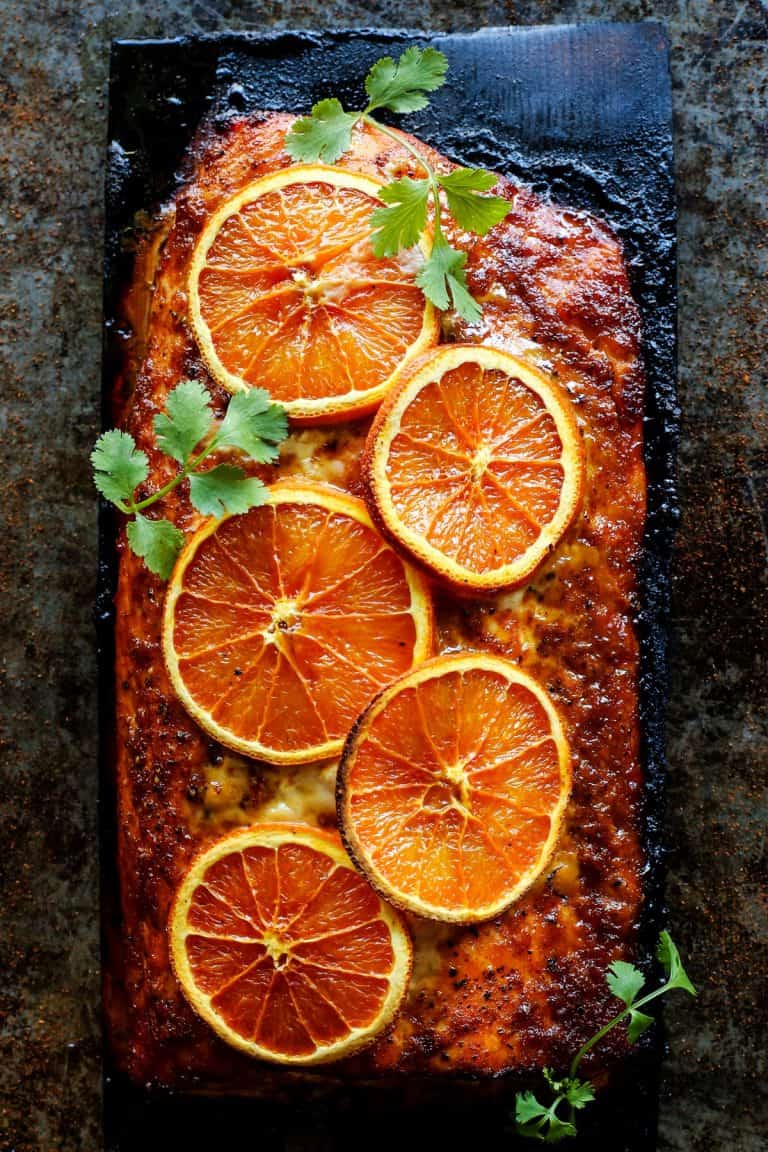 I've already told you what an awesome job my husband does with a fillet of salmon on the grill. His sweet and smoky grilled salmon is one of the grilling requests he hears most often from me. The salmon's smoky flavor, gorgeously thin crust of caramelized sugars, and ease of preparation make this a stand-out recipe.
If you haven't yet tried that salmon recipe, I encourage you to do so. The recipe has even convinced non-fish lovers (our daughters), to add some to their plates. I'm not even kidding.
Another recipe I want you to try is this Grilled Chipotle-Orange Salmon.
First of all, isn't this grilled salmon gorgeous?! We eat with our eyes first, and this dish is most certainly a looker.
It's also big on flavor. And for those who don't particularly enjoy the heat of chipotle pepper, the recipe can easily be altered.
*Here are a few more seafood grilling recipes I'm loving right now: Grilled Shrimp Ceviche and Cheesy Grilled Crab Quesadillas are both very fun recipes. And for a special treat, you just can't go wrong with Grilled Lobster Tails with Sriracha Butter. For those who aren't keen on fish and seafood (our daughters!), give this ultra tender and flavorful Beer Can Chicken a try!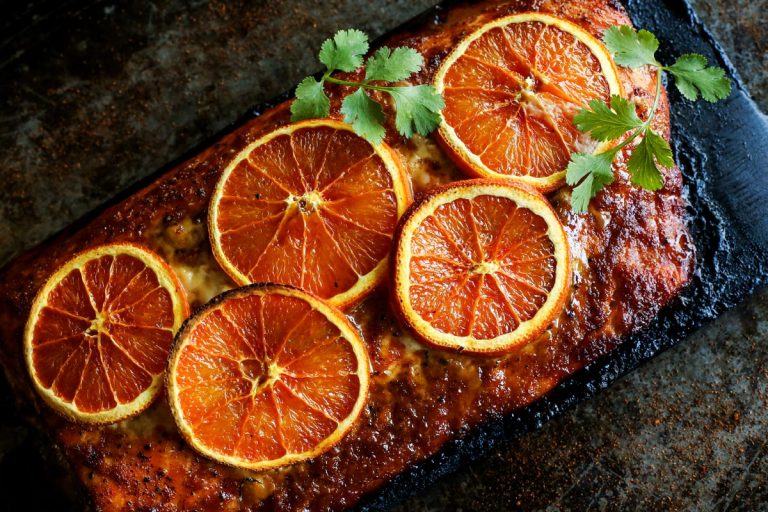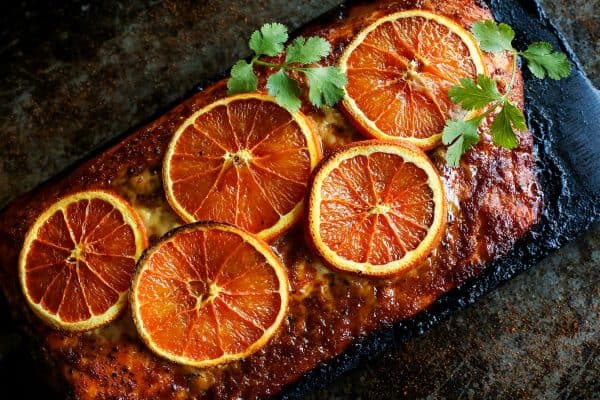 grilled salmon recipe inspiration
Years ago, our friend Annmarie shared her favorite lemon salmon recipe with me, one that she bakes in the oven. Blake and I liked the recipe, and then proceeded to play around with it, adapting it for the grill.
We like to use cedar planks when we grill, especially when it comes to fish. (Stuffed mushrooms are also a favorite for grilling on a plank, check out this recipe!) It didn't take us long to fall in love with the combination of smoky salmon with citrus.
And that was our jumping-off point, our inspiration, to creating this gorgeous meal of grilled salmon with orange.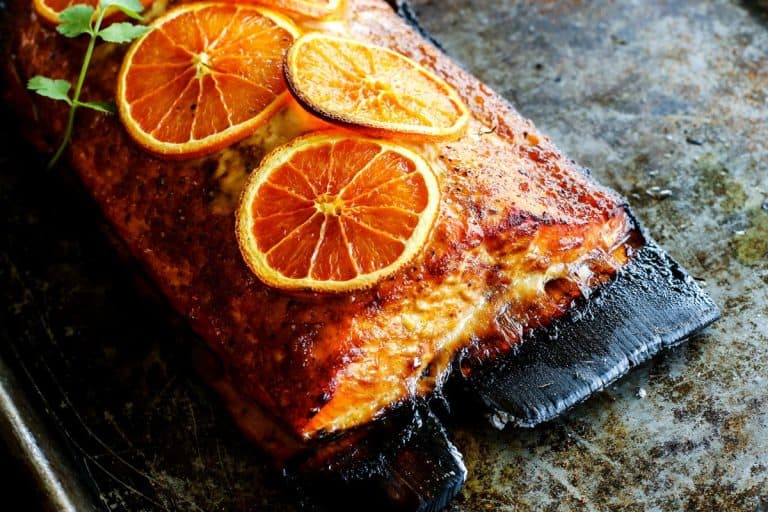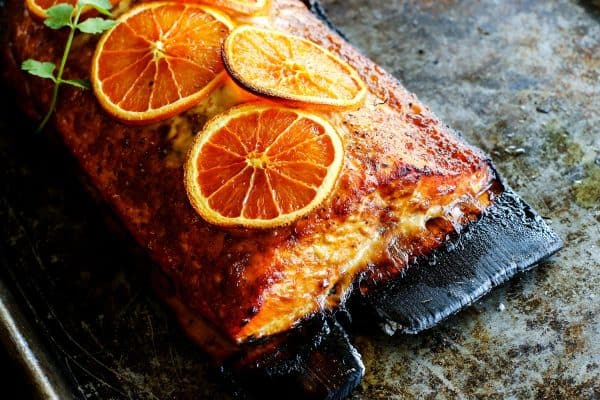 How to grill salmon
When we grill salmon, we ultimately prefer to let it cook on a cedar plank that we've soaked in beer and/or water for a few hours. The plank not only makes itself useful by providing a pan-like flat surface on the grill grates, but it also imparts wonderful smokiness into the fish.
For a thicker piece of salmon, it takes about 25 minutes or so to grill the salmon to perfect doneness. And there's no need to flip the fish. Just let it cook skin-side down on the plank. Transfer the cooked salmon on the plank to a pan, and serve it right from the plank. It makes for a fun presentation.
I must also mention what the cedar plank does for the orange slices on this salmon. The grill's heat infuses that wonderful cedar smokiness right into the citrus. It's like the best kind of dinner candy. When I'm done eating this meal, all you'll see are thin, charred orange rinds left on my plate.
Smoked citrus is downright addictive, and this grilled chipotle-orange salmon recipe will make a believer out of you!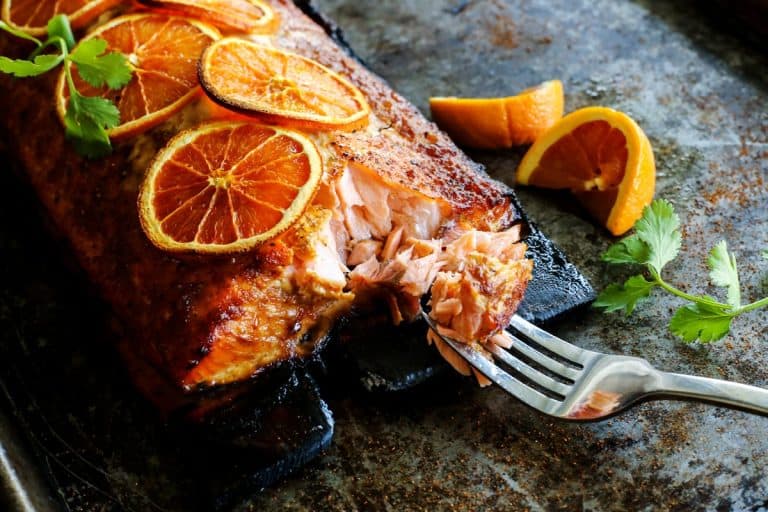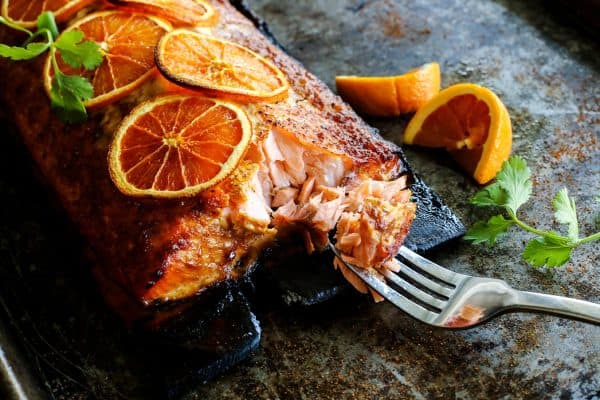 This orange salmon recipe is simple but powerful
Do you save the very best bites for last?
I do.
And in the case of this orange salmon recipe, I'd be saving the crispy outer edges of the salmon for my last bites. The salmon is flavored simply but powerfully, with chipotle, cumin, orange, and brown sugar. And the heat from the grill makes that sugar caramelize and crispify, creating the most magical edges.
You're going to love this recipe, I just know it!
What to serve with orange salmon
I like to serve fresh veggies or a salad with this grilled orange salmon recipe. Whether it's a simple salad using my mom's Sweet Onion Coleslaw Dressing or this Summer Quinoa and Veggies Salad with Honey-Shallot Vinaigrette, you simply cannot go wrong. If you feel like grilling some vegetables, these Grilled Mini Sweet Peppers with Goat Cheese are a family favorite.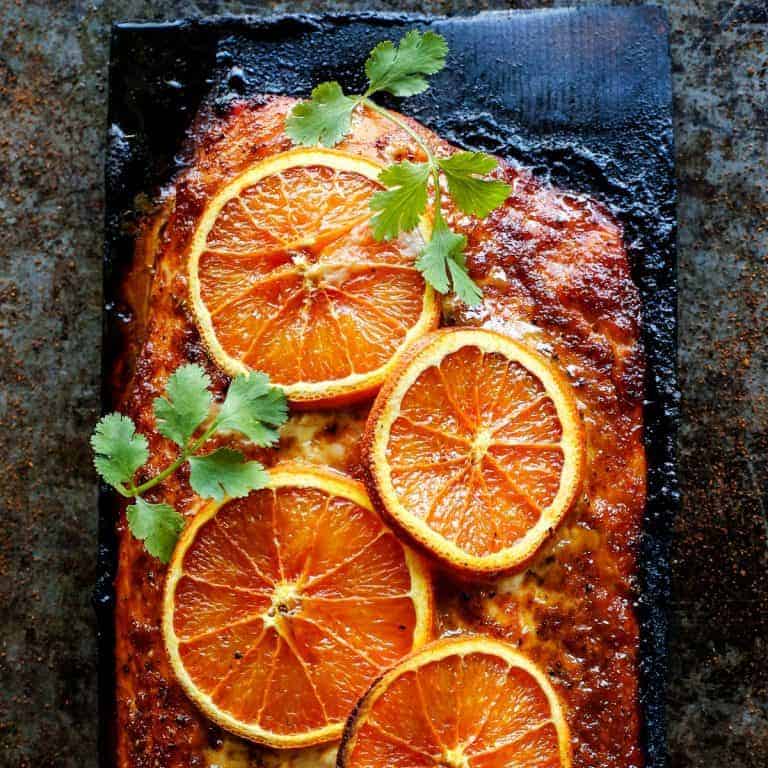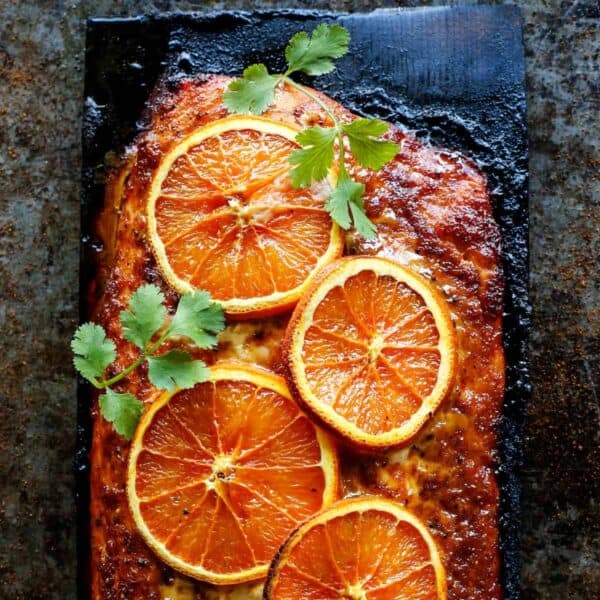 If you like this grilled chipotle-orange salmon, you might like:
*Here are a few more grilled fish and seafood recipes I'd like to try: Grilled Pesto Salmon in Foil from Cookin' Canuck, Prosciutto Wrapped Grilled Shrimp Skewers from foodie crush, and Grilled Shrimp and Sausage Kabobs from Taste and Tell.
Like this grilled salmon? Save it to Pinterest!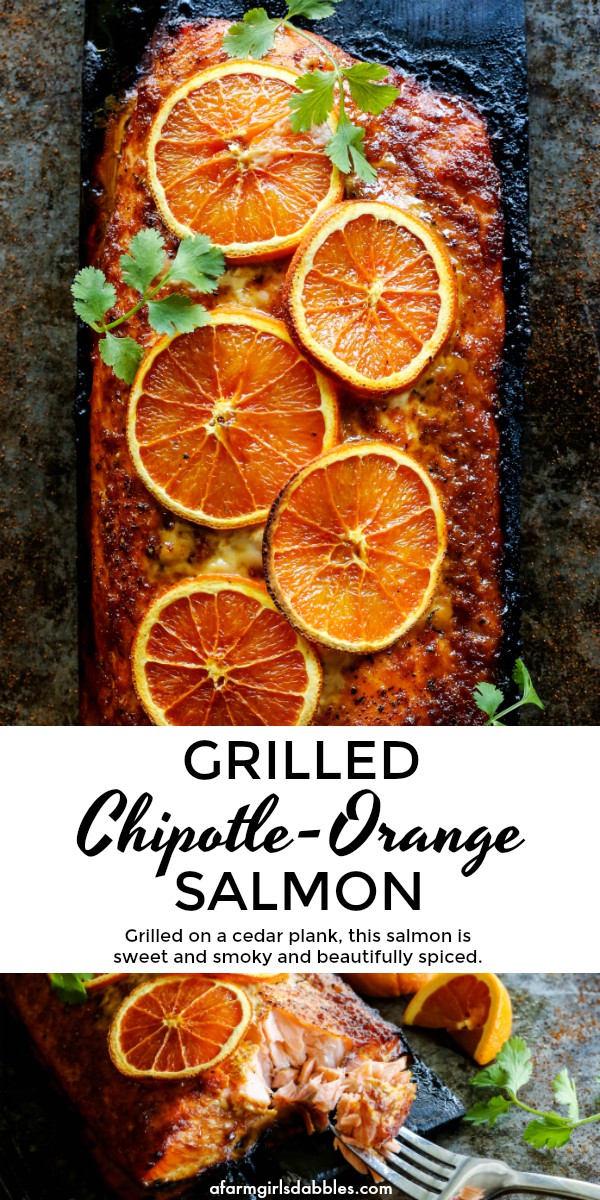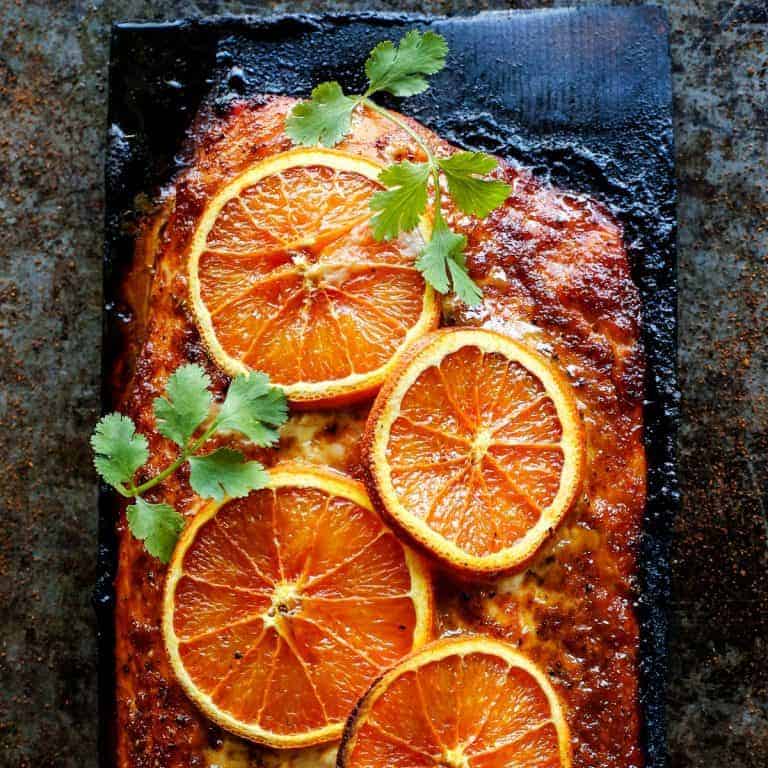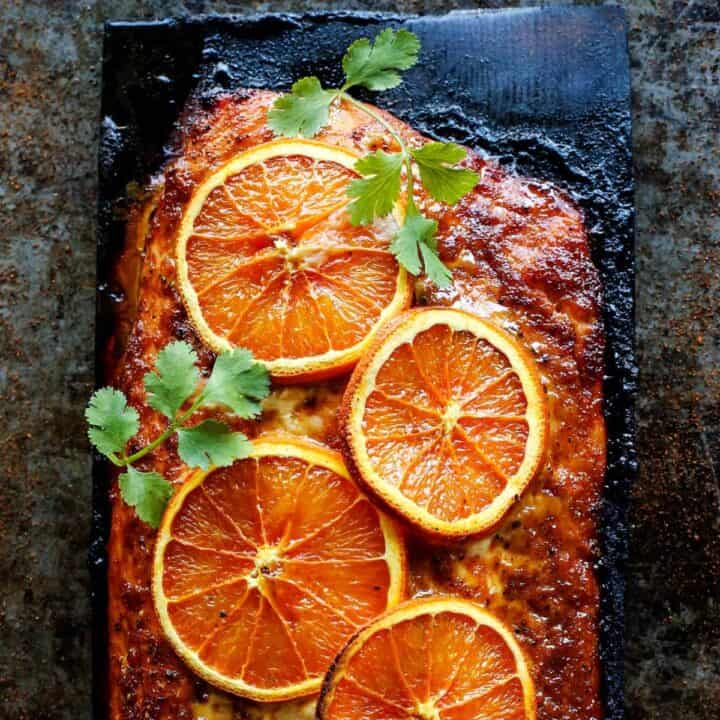 Grilled Chipotle-Orange Salmon
Yield: 6 servings
Prep Time: 25 minutes
Cook Time: 30 minutes
Total Time: 55 minutes
Sweet and smoky and beautifully spiced - and so very pretty - this recipe promises to become a grilling season obsession!
Ingredients
1.5 lb. salmon fillet, skin on
zest and juice from 1 large orange (navel, Cara Cara, whatever you like)
1/2 T. olive oil
1 T. brown sugar
1 tsp. chipotle chili powder
1/2 tsp. cumin
kosher salt
freshly ground black pepper
4 to 6 thin slices from another large orange
also needed:
1 can beer
2 cans water (just use the emptied beer can to measure)
spray bottle filled with water, for any flare-ups
Instructions
At least 4 hours prior to grilling, place a cedar plank inside a large rimmed pan. Pour in the beer, plus two beer cans of water to cover the plank. Add more water if needed. Place a couple heavy mugs on top of the plank to push the plank into the liquid. Let soak until ready to grill. If you don't want to use beer, just use all water. When possible, soak plank overnight.
When preparing to grill, take salmon out of the refrigerator. In a small bowl, whisk together orange zest and juice, olive oil, brown sugar, chipotle powder, and cumin. Set aside.
Drain liquid from pan with cedar plank, leaving the plank inside. Add salmon fillet, skin side down, to plank. Rub chipotle-orange mixture all over the top and sides of the salmon. Sprinkle with a bit of kosher salt and freshly ground black pepper. Top with fresh orange slices.
Heat grill to medium-high, about 415° F. Place plank with salmon on grill grates and cook for about 25 to 30 minutes for a thicker piece of salmon. Salmon thickness will vary, so thinner fillets will take less time to cook. The salmon is done when the thickest part of the fillet is beautifully pink but no longer has a translucent appearance. It should flake a bit when prodded with a fork. Have a spray bottle of water handy for any flare-ups on the wood plank. The wood will smoke and smolder, and slowly start to char and burn, becoming more fragile and brittle at the end of the cooking process. Your goal is to keep the wood smoking, and not burning up. Just use the spray bottle to keep adding moisture to the exposed wood (don't directly spray the salmon). To remove the grill plank, use a large grill turner to get under the plank to lift it onto a rimmed pan. Serve the salmon right from the plank inside the pan for a fun and fuss-free presentation.
Notes
from a farmgirl's dabbles
Recommended Products
As an Amazon Associate and member of other affiliate programs, I earn from qualifying purchases.
Nutrition Information:
Yield: 6
Serving Size: 1
Amount Per Serving:
Calories: 341
Total Fat: 15g
Saturated Fat: 3g
Trans Fat: 0g
Unsaturated Fat: 11g
Cholesterol: 71mg
Sodium: 201mg
Carbohydrates: 16g
Fiber: 1g
Sugar: 9g
Protein: 26g
(This post was originally published in 2015, and remains one of my favorite grilling recipes. Photos and some of the text were updated in 2018.)