Ruby Rhubarb Syrup
This post may contain Amazon or other affiliate links. As an Amazon Associate I earn from qualifying purchases.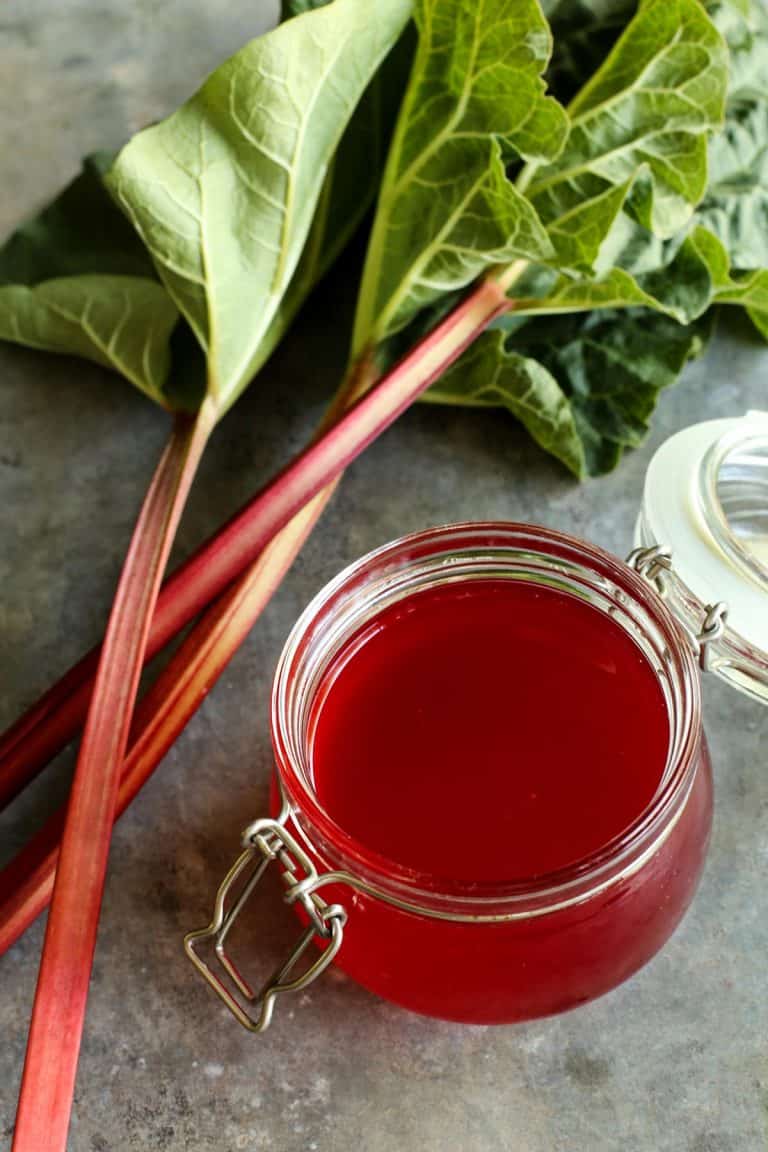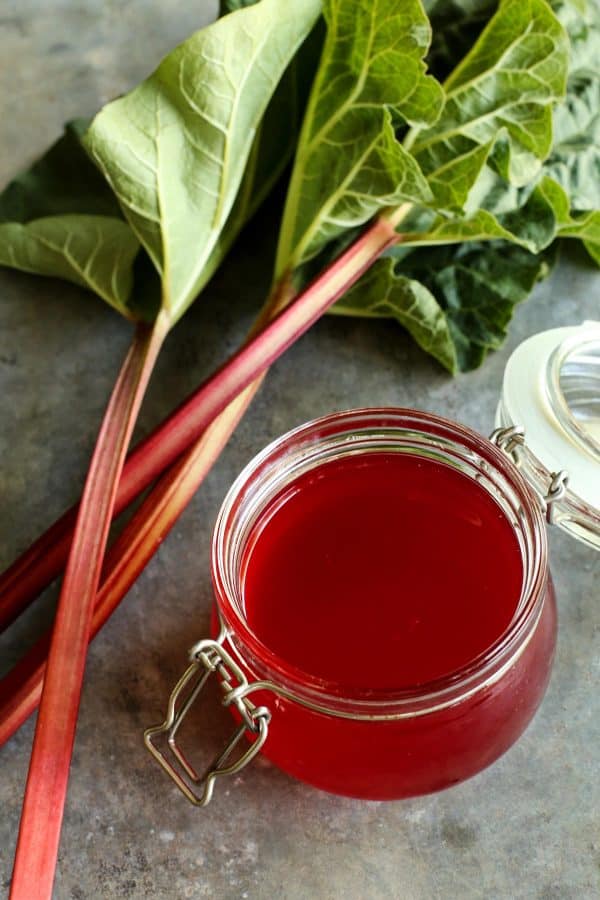 There are so many ways to use this easy and delicious Ruby Rhubarb Syrup! Keep this homemade syrup on hand for topping pancakes and desserts, or for mixing into cocktails and mocktails!
This Rhubarb Syrup Recipe Is A Family Favorite
It's impossible for me to cut rhubarb from our yard without thinking of Mom. As a kid, I thought she was completely nutso for her love of "that weed" growing alongside the garage on the farm.
But every year for the last half of my life, my fondness for rhubarb has grown. I divided a large plant a number of years ago, and I do believe it's time to do it again. Because every year, I find new ways to love it more and more!
I have been making this Ruby Rhubarb Syrup for many years now. It's definitely become a spring and summer tradition around here.
*Here are a few more rhubarb recipes I'm especially loving right now: My family has 100% approved this Rhubarb Sour Cream Coffee Cake. The super crispy topping on this Strawberry Rhubarb Crisp has won many fans…even those who swear they don't like rhubarb! And the delicious nostalgia of my grandma's Rhubarb Custard Pie will always hold a special place in my heart.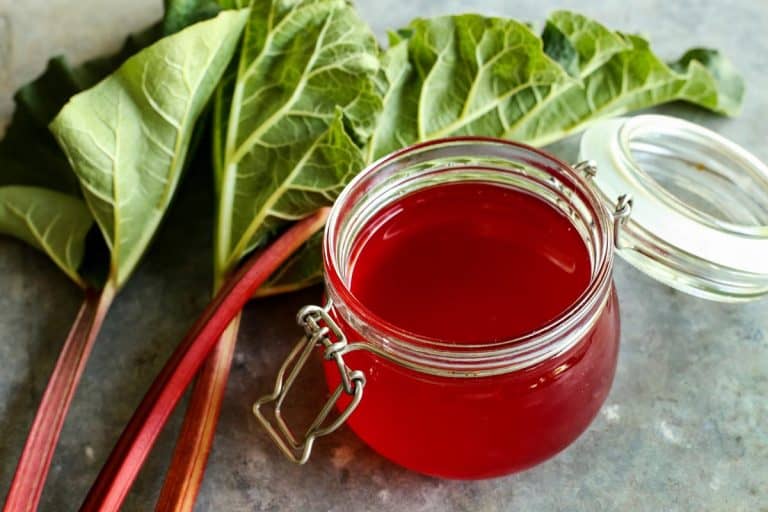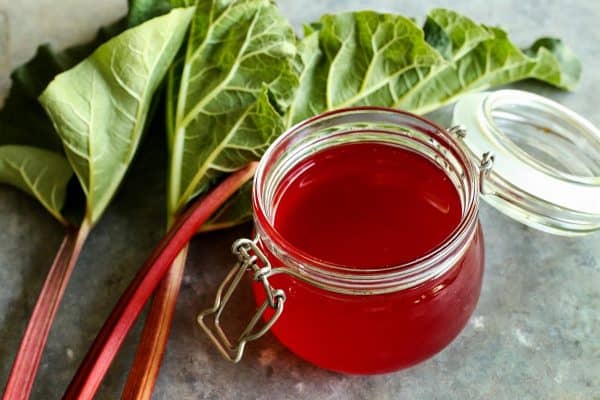 How To Make Rhubarb Syrup
I love the simplicity of this rhubarb syrup recipe. All it takes is some chopped rhubarb, water, sugar, and fresh lemon juice.
Soften the rhubarb in a pan with some water on the stovetop. Then strain it to remove the pulp. Add the sugar and bring the mixture to a boil to thicken a bit and intensify the flavor.
At this point, the kitchen is smelling softly sweet, so very lovely.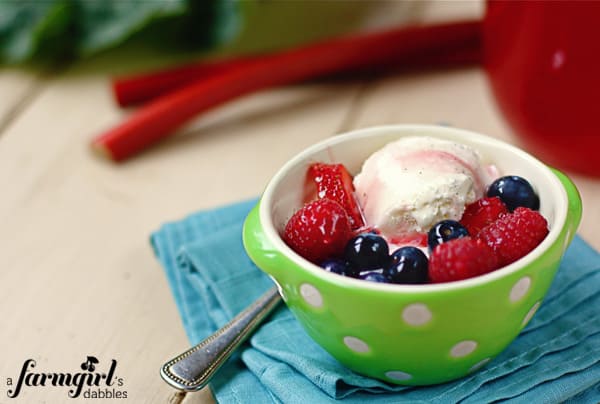 Also, just look at that color. The ruby rhubarb syrup definitely lives up to its name. And it's all natural. That shiny redness is pure rhubarb, no color added. It's gorgeous. (And tasty, too…I burned my tongue – more than once! – because I was too impatient for it to cool down.)
How To Use Rhubarb Syrup
The possibilities for how to use this rhubarb simple syrup are nearly endless..
I am always experimenting, but one of the very best ways is to drizzle it over vanilla ice cream and fresh berries.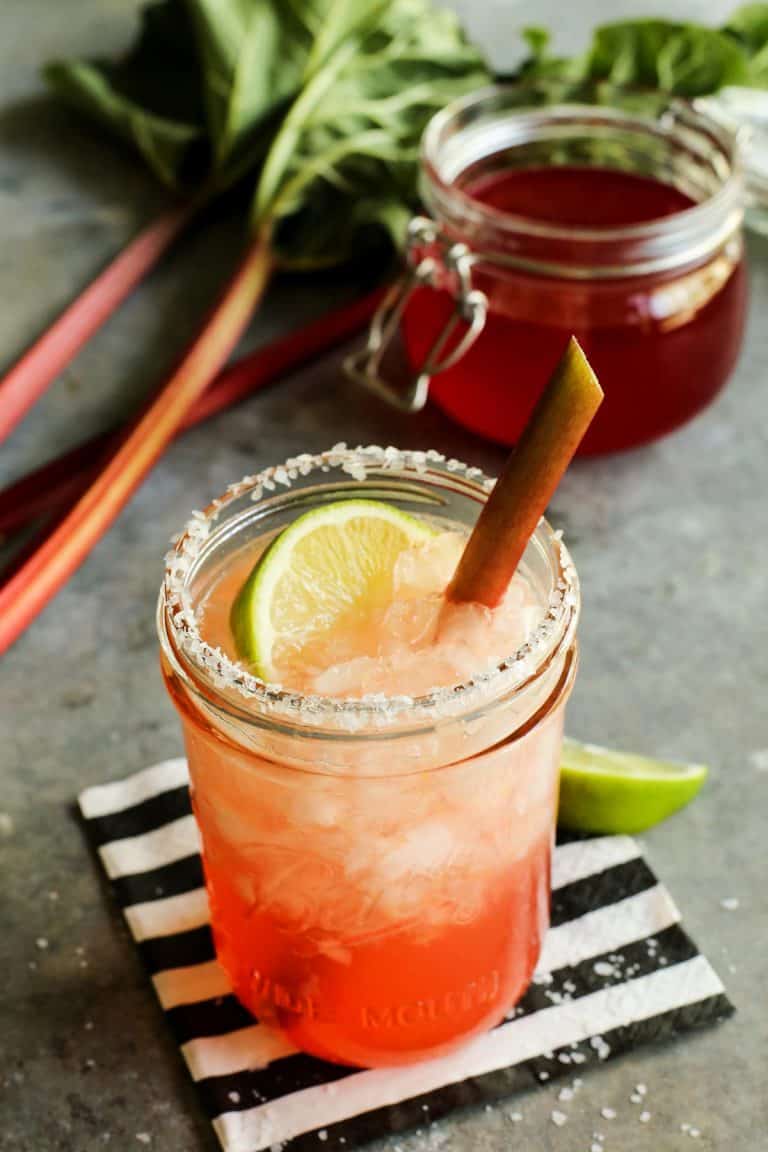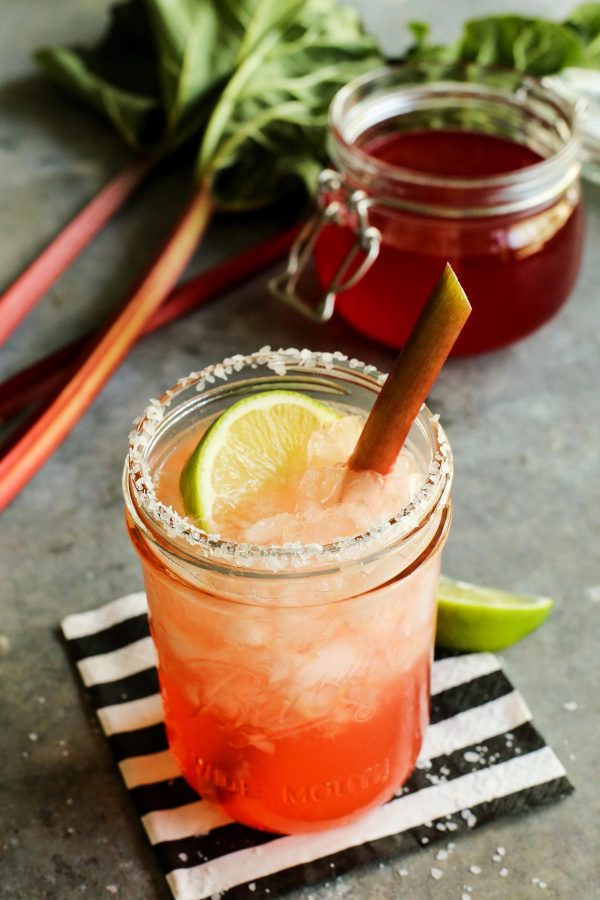 The rhubarb syrup is also great over waffles, pancakes, and French toast.

And cocktails and mocktails beg for a little bit of rhubarb's seasonal awesomeness.
A couple of my favorites are the Rhubarb Margarita and the Rhubarb Mojito. These two beverages have been so fun to serve when we entertain during the spring and summer. When our mint is flourishing, the mojito is a wonderful way to enjoy its bounty.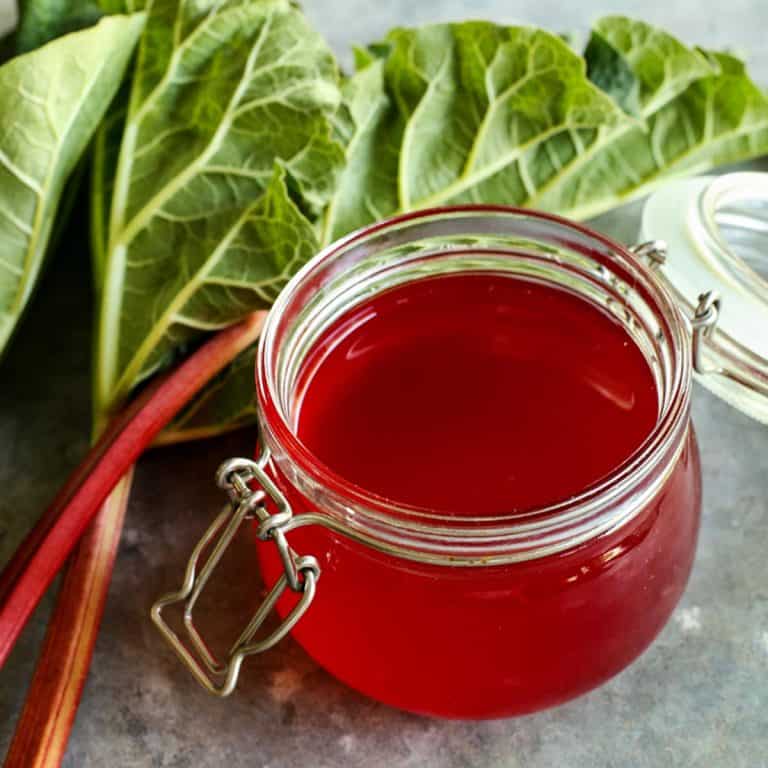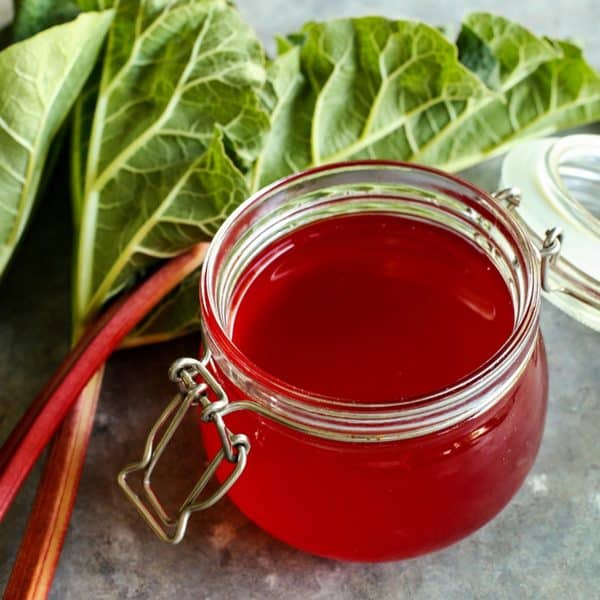 For a non-alcoholic beverage, we like to pour some of the syrup over ice in a glass and then top it off with club soda. Or pour a bit into some lemonade. Super fun!.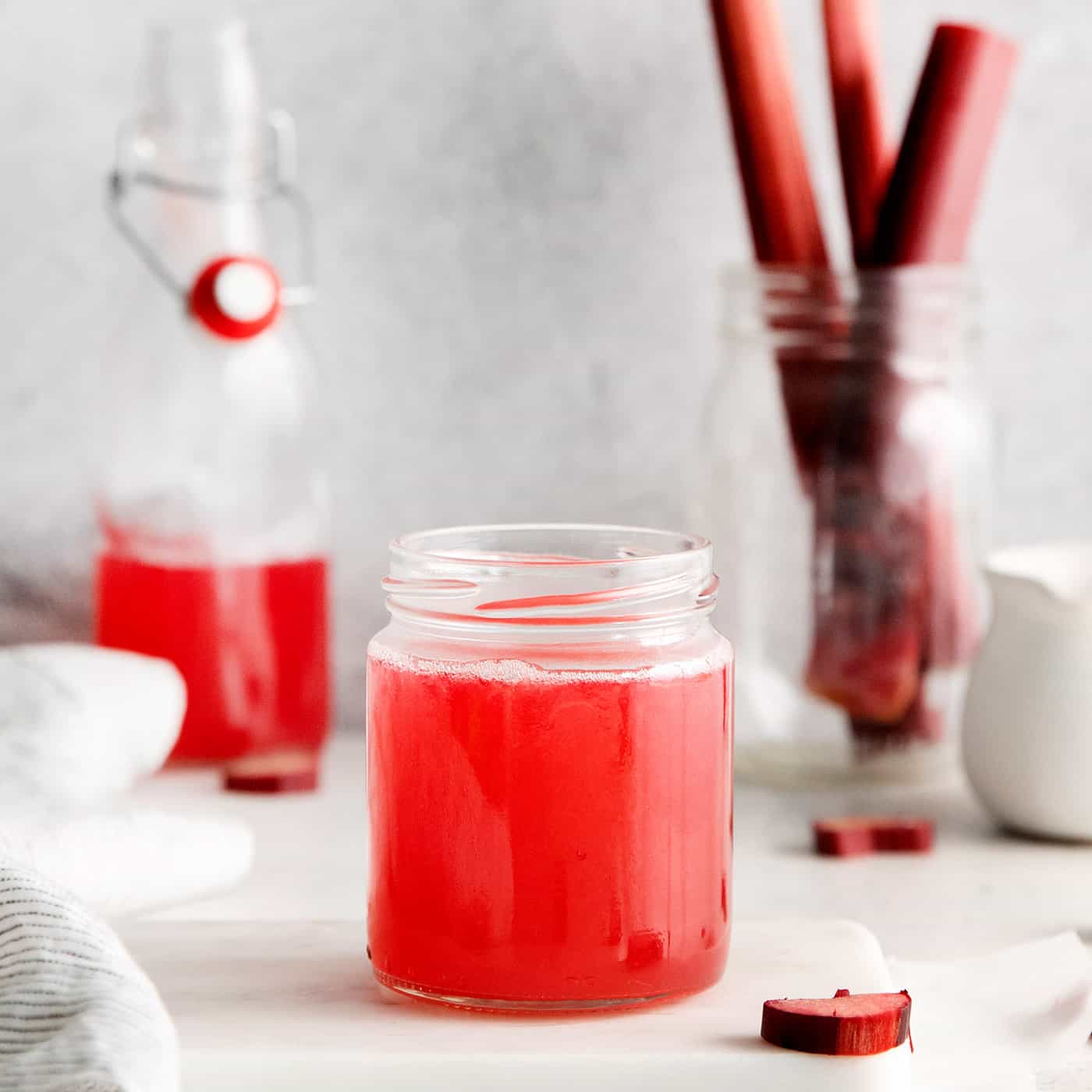 Ruby Rhubarb Syrup
Yield: 5 cups or 40 (2 tablespoon) servings
Prep Time: 20 minutes
Cook Time: 18 minutes
Total Time: 38 minutes
With a sweet-tart flavor, Ruby Rhubarb Syrup is just the thing for the best cocktails and mocktails, not to mention as a topping for pancakes and desserts!
Ingredients
6 c. chopped fresh or frozen rhubarb
1.5 c. water
3 c. sugar
1/2 c. fresh squeezed lemon juice
Instructions
In a medium saucepan over medium-high heat, bring the rhubarb and water to a boil. Lower the heat to medium-low, cover, and cook the rhubarb until it is tender, about 10 minutes. Stir to break up and release all of its juices.
Set a fine mesh strainer lined with a double layer of cheesecloth over a large bowl. Pour the rhubarb mixture through the strainer to remove the pulp. To get the most rhubarb juice out, pull up the corners of the cheesecloth and gently press on it with a wooden spoon to squeeze out the remaining juice. Measure the strained juice and add enough water to equal 3 cups.
Return the liquid to the saucepan over medium-high heat and stir in the sugar. Bring to a boil and cook until the sugar dissolves, about 8 minutes. Remove from the heat, stir in the lemon juice, and let cool. Strain again for the clearest ruby syrup, then pour into a container and refrigerate. Keeps well for up to 1 month.
Nutrition Information:
Yield: 20
Serving Size: 1
Amount Per Serving:
Calories: 126
Total Fat: 0g
Saturated Fat: 0g
Trans Fat: 0g
Unsaturated Fat: 0g
Cholesterol: 0mg
Sodium: 3mg
Carbohydrates: 32g
Fiber: 1g
Sugar: 31g
Protein: 0g
Nutrition information is automatically calculated by Nutritionix. I am not a nutritionist and cannot guarantee accuracy. If your health depends on nutrition information, please calculate again with your own favorite calculator.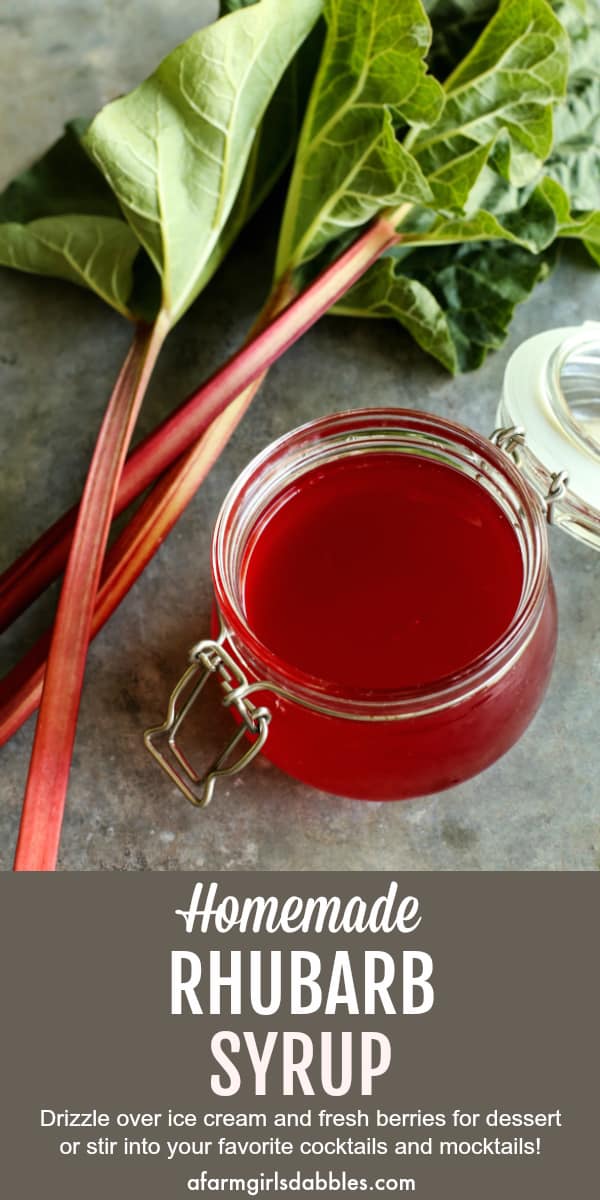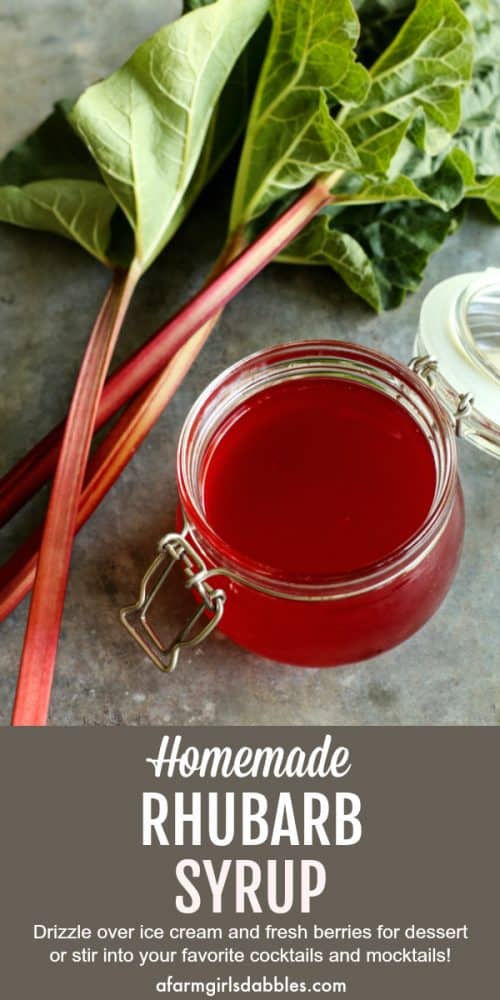 (This post was originally published in 2012, and remains a personal and reader favorite. Some of the photos and text were updated in 2018.)
We participate in the Amazon Services LLC Associates Program, an affiliate advertising program designed to provide a means for us to earn fees by linking to Amazon.com and affiliated sites. See our
disclosure policy
for more info.