Chewy Chocolate Chip Cookie Bars
This post may contain Amazon or other affiliate links. As an Amazon Associate I earn from qualifying purchases.
Chewy Chocolate Chip Cookie Bars are baked in a pan, a quick and super easy chocolate chip cookie recipe with no mixer and no chilling. You'll love how soft and buttery these are!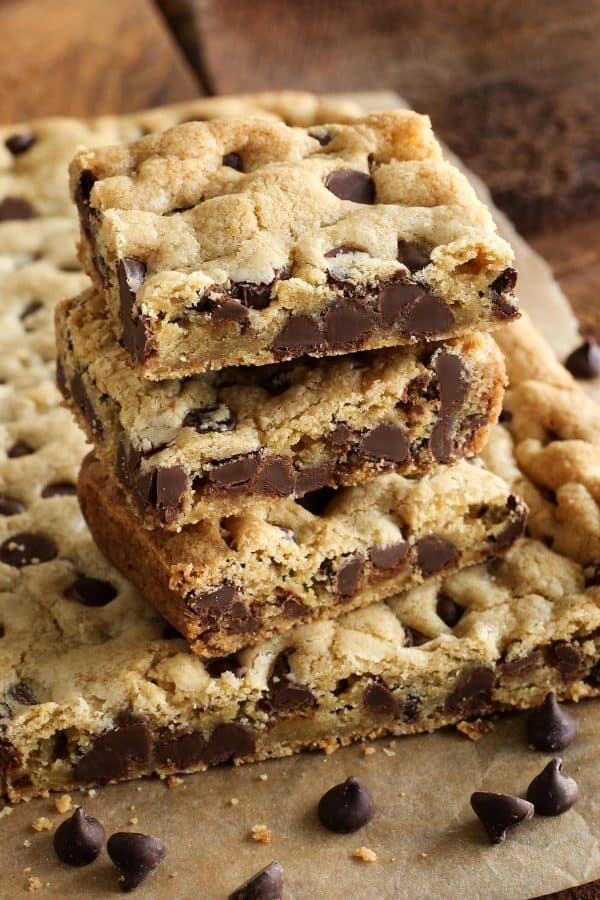 Chocolate Chip Cookie Bars
Well, Hello Spring. We've been waaaaaaaaiting for you!
This date, March 20th, holds so much more significance for our family than saying "Goodbye, Winter", however. It's also my dad's birthday AND Hatti's birthday. Yes, our oldest daughter was born on the same day as my dad…and just two days after Blake's dad's birthday.
To celebrate with a recipe here on the blog, I'm sharing another chocolate chip cookie related recipe, in honor of Hatti's love for chocolate chip cookies. My dad would definitely not pass up a good CCC, either!
This year, it's all about enjoying those chocolate chip cookie flavors, with easy-to-make bars.
(Last year I shared this Brown Butter Chocolate Chip Skillet Cookie, and the year before that this Cookie Monster Ice Cream that's stuffed with cookie dough.)
You're going to appreciate the fact that you can whip up a pan of these Chewy Chocolate Chip Cookie Bars in less than 15 minutes. But even more than that, you're going to love how buttery, chewy, and absolutely fantastic these cookie bars are. I promise!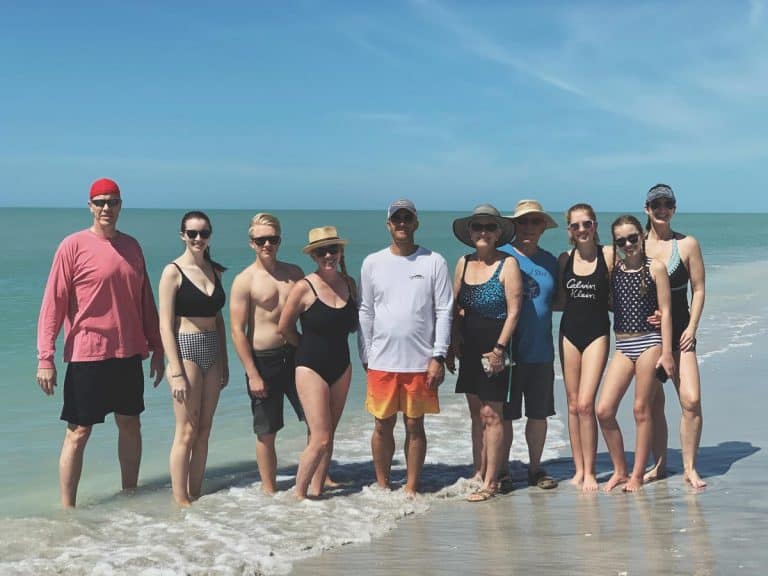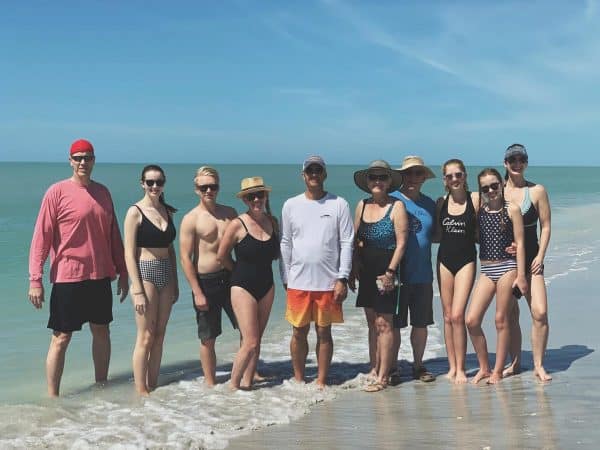 We just spent the past week of Spring Break on the gulf coast of Florida, staying with my sister's family. My parents were also there.
My sister and her husband are boat club members, and got us out on the water several times. The sun's warmth was healing, the very best cure for our long Minnesota winter.
And having our daughter and her grandpa together just a week before their birthday, well you know that called for some early celebrating!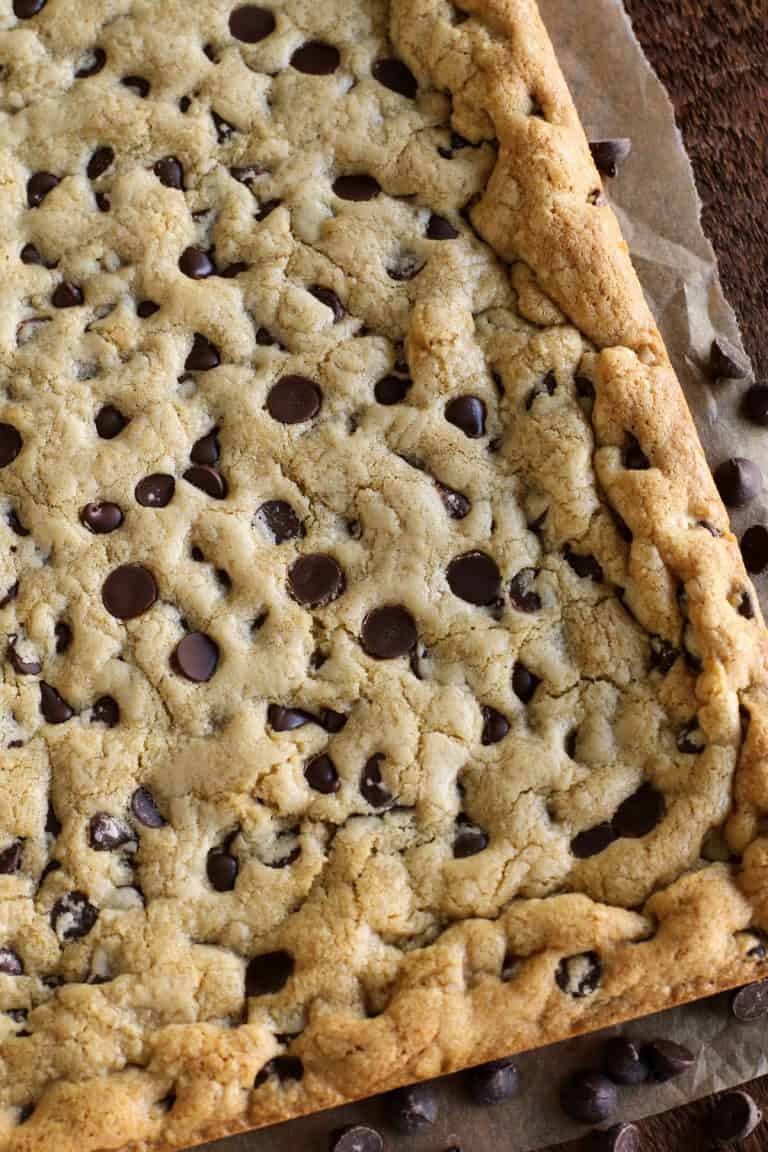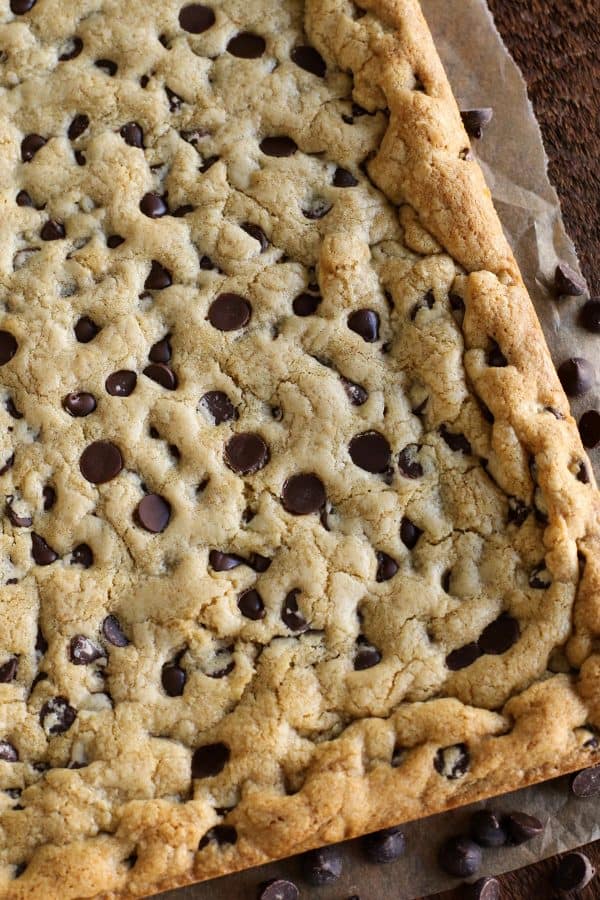 Bar recipes always win!
I realize that these chocolate chip bars may not look the most celebratory when it comes to a birthday treat. It's not exactly a 3-layer cake piled high with buttercream, adorned in sprinkles.
But I can't imagine anyone turning down one of these chewy treats, any day of the year.
They are a chocolate chip cookie party in a pan. I think that bar recipes always win!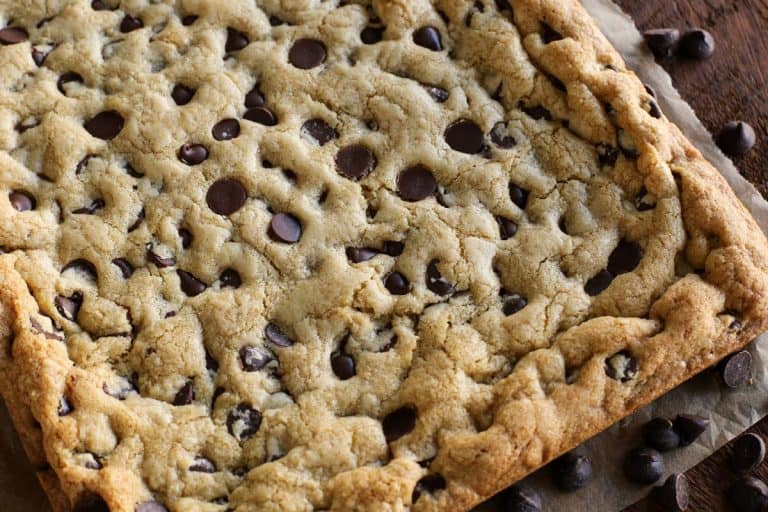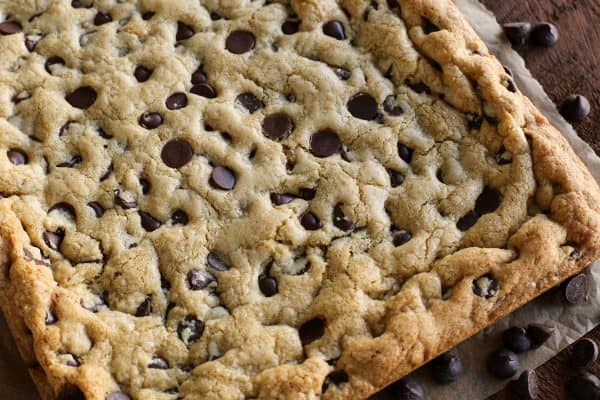 I also know how Hatti likes to bake a pan of her favorite brownies to treat her friends. The brownies are quick and easy to make, an old family recipe, and always disappear FAST.
So my sharing this new cookie bar recipe does serve another purpose. It's another easy and especially wonderful recipe that I'm sure Hatti will find herself making for her friends, for many years to come.
This recipe is a great way to quickly cure any CCC craving.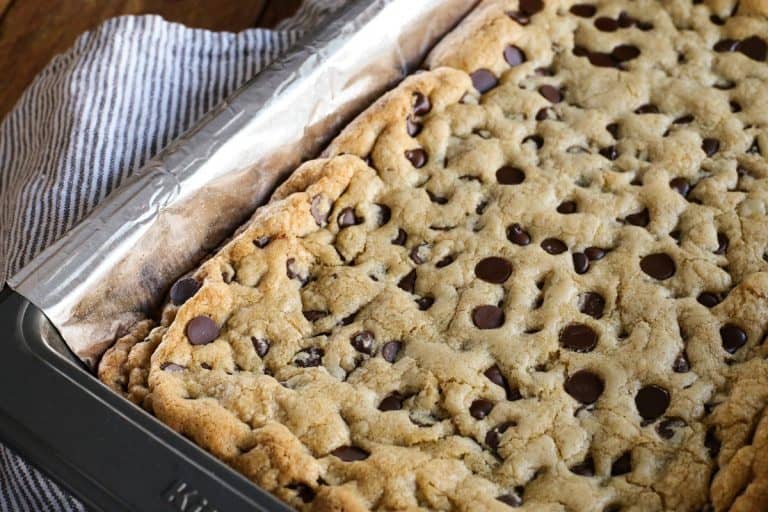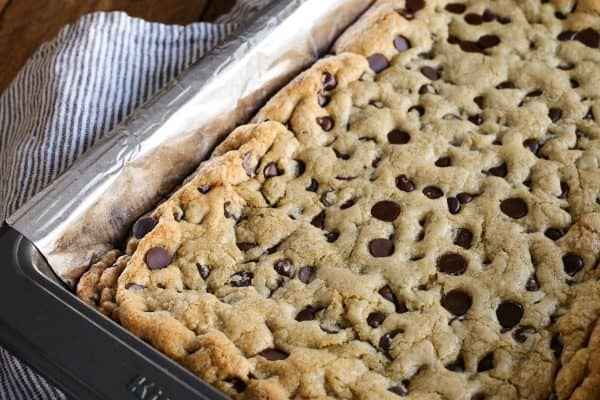 How to get perfect cuts
To achieve clean cuts to bars, brownies, and cakes, I'm a big fan of lining the pan with foil or parchment paper. I prefer to use heavy duty foil for this recipe, and to let the foil overhang on the long sides of the pan.
Then, after cutting around the perimeter of the pan, simply grab the foil overhangs and lift the bars out of the pan. Place the bars on a cutting board and cut into individual pieces.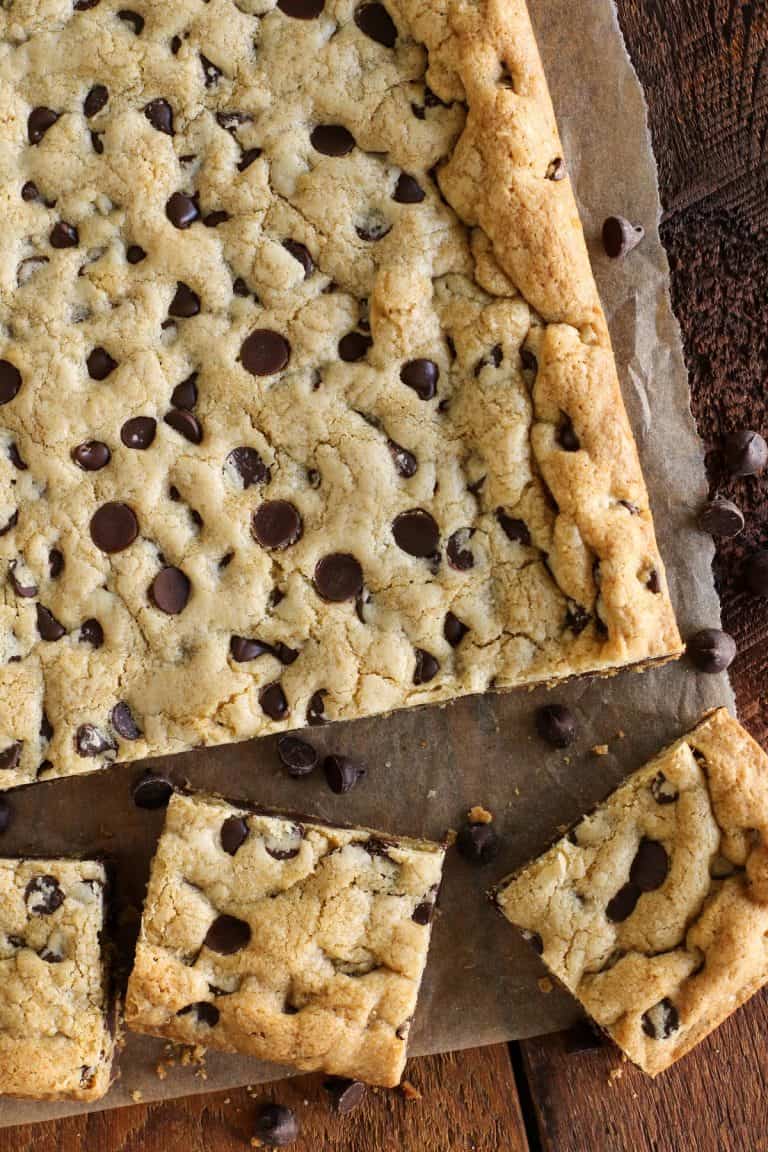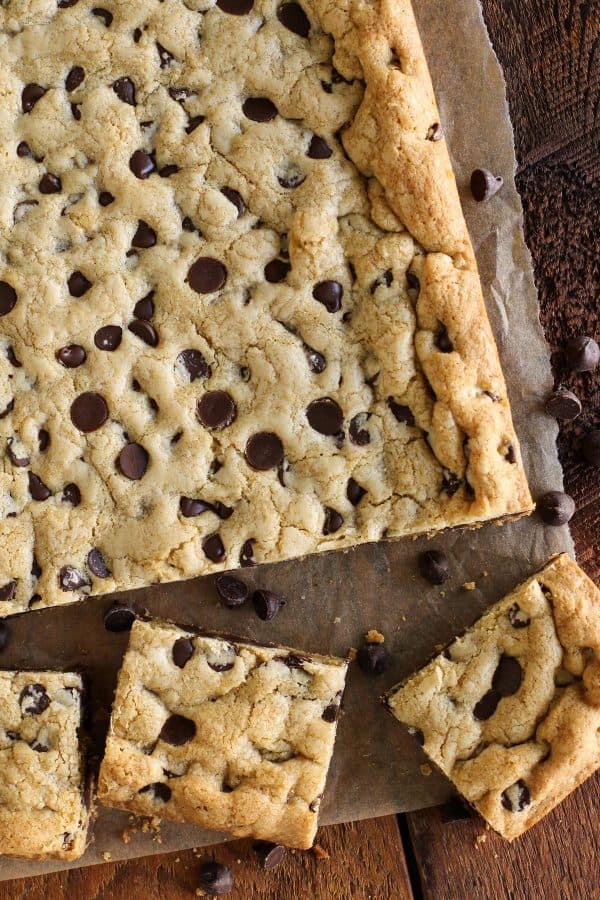 Like so!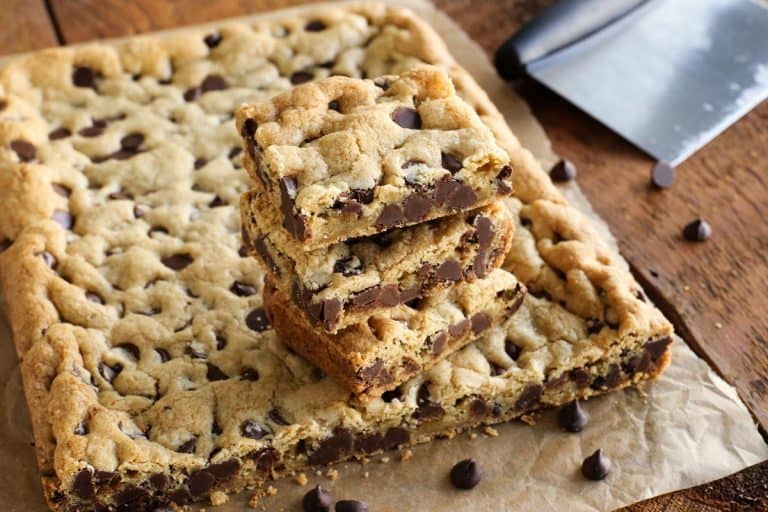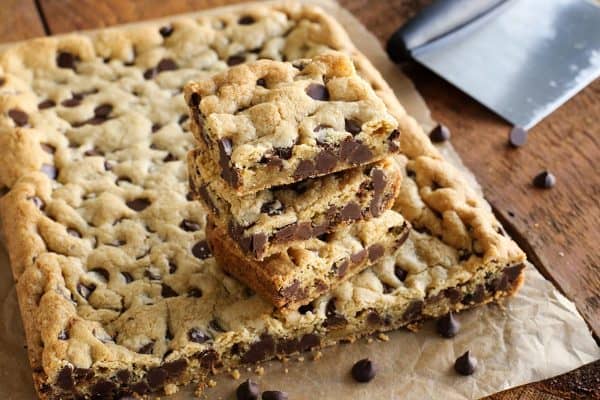 If you have a rigid pastry cutter, it does double-duty as a great bar-cutting tool.
How to double a 9×13 recipe
Sometimes a 9×13 pan of bars just isn't enough. Especially when they're THIS GOOD!
When you're looking to feed a crowd, just double the recipe. Simply grab a 13×18 pan with 1″ sides. Then double the ingredients and follow the recipe instructions.
The dough is quite thick anyway. And when doubling the recipe, the mixing is a bit of a workout. But I know you can do it!
Spread the dough out evenly in the pan.
Then bake the bars at the same 325 degrees Fahrenheit, but increase the baking time to 29 to 30 minutes, taking care to not over bake. Now you'll have TWICE AS MANY of the same soft, chewy, and delicious cookie bars!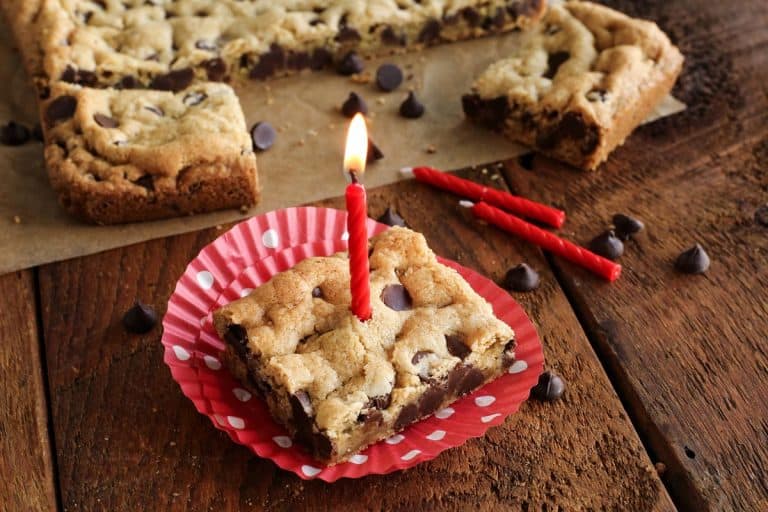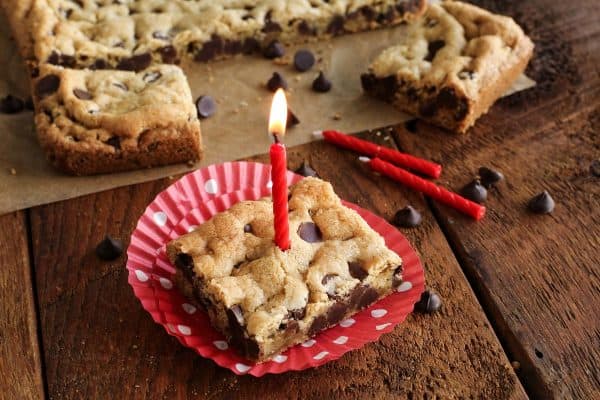 Happy Birthday, Hatti and Dad! We love you!
(See? All you need are some candles. Instant birthday party!)
Like this cookie bars recipe? Save it to Pinterest!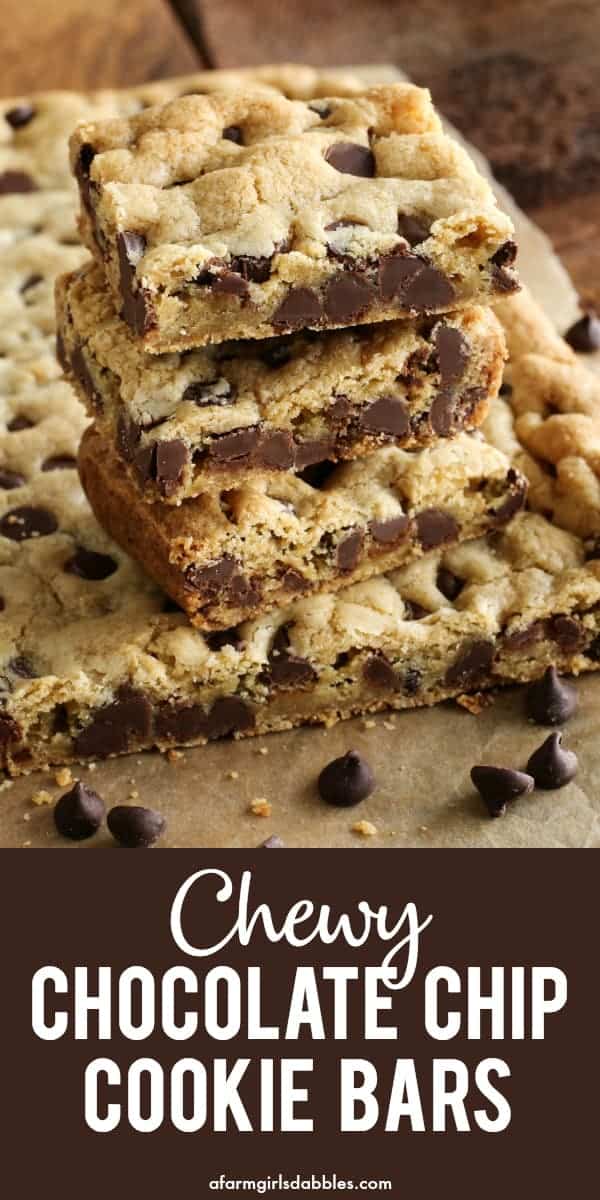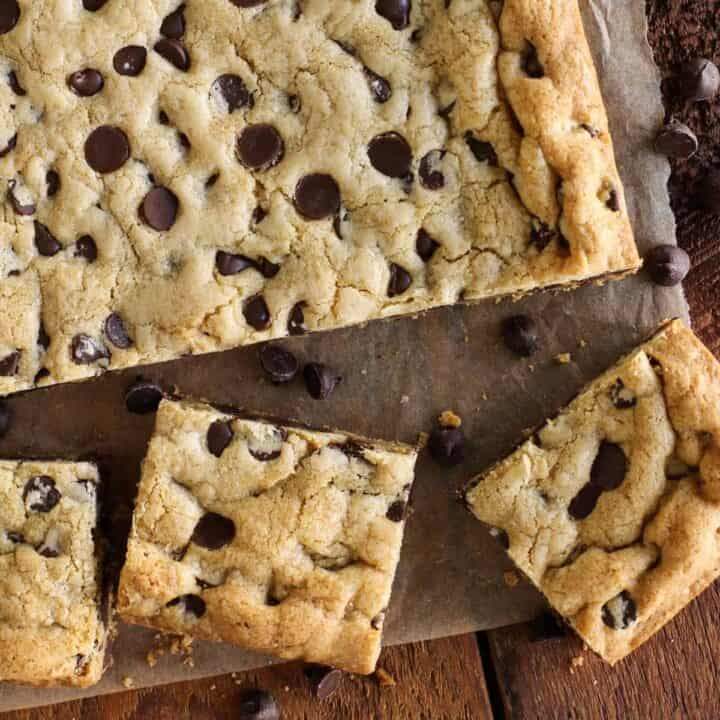 Chewy Chocolate Chip Cookie Bars
Yield: 24 servings
Prep Time: 15 minutes
Cook Time: 24 minutes
Total Time: 39 minutes
In need of a quick chocolate chip cookie fix? These chocolate chip cookie bars are super easy to make, with no mixer and no chilling. You'll love how soft and buttery and chewy these are!
Ingredients
2 c. + 2 T. all-purpose flour
1/2 tsp. kosher salt
1/2 tsp. baking soda
12 T. unsalted butter, gently melted and then cooled to room temperature
1 c. packed light brown sugar
1/2 c. sugar
1 large egg
1 large egg yolk
2 tsp. pure vanilla extract
2 c. semi-sweet chocolate chips, plus a bit more for sprinkling over the top of the dough (my favorite chocolate chips)
Instructions
Adjust oven rack to lower-middle position. Preheat oven to 325° F. Line a 9" x 13" metal baking pan (do not use a glass pan for this recipe) with heavy duty foil, letting the excess hang over the edges of the pan on the long sides of the pan. Lightly spray the foil-lined pan with non-stick spray. This will allow you to lift the bars out of the pan, for clean cuts. If clean cuts aren't a concern, just spray the interior of the pan lightly with non-stick spray and eliminate the foil lining.
In a medium bowl, whisk together flour, salt, and baking soda; set aside.
In a large bowl, whisk together melted butter, brown sugar, and sugar until combined. Add egg, egg yolk, and vanilla, and whisk until well combined. With a rubber spatula, fold dry ingredients into the wet mixture. When about half-way combined, add chocolate chips and continue to fold until just combined. Do not over mix.
Transfer mixture to prepared pan. This will be very thick. Press evenly into pan using the spatula and/or your fingertips. (Tip: Dough mixture can be sticky. I rub my finger tips in a little butter, and then press the dough into the pan.) If desired, sprinkle a few more chocolate chips over the top, pressing them in a bit.
Bake for about 23 minutes or so, or until top is light golden brown and slightly firm to the touch. For the chewiest bars, do not over bake. I might even recommend to slightly under bake! Remove pan to wire rack to cool to room temperature. Cut around perimeter of pan to loosen, and then lift bars from pan using the foil overhangs. Transfer to cutting board and cut into squares with a knife or rigid pastry cutter.
Notes
To double this recipe: Double the ingredients and follow the instructions, baking the bars in a 13x18 pan. The dough will be thick when mixing all of the ingredients, and there will be alot of it. Spread dough evenly into the pan. Bake at 325°F for 29 to 30 minutes, or until top is light golden brown and slightly firm to the touch. For the chewiest bars, do not over bake.
adapted from Cook's Illustrated May 2006
Recommended Products
As an Amazon Associate and member of other affiliate programs, I earn from qualifying purchases.
Nutrition Information:
Yield: 24
Serving Size: 1
Amount Per Serving:
Calories: 219
Total Fat: 13g
Saturated Fat: 7g
Trans Fat: 0g
Unsaturated Fat: 5g
Cholesterol: 38mg
Sodium: 124mg
Carbohydrates: 26g
Fiber: 1g
Sugar: 19g
Protein: 2g
Nutrition information is automatically calculated by Nutritionix. I am not a nutritionist and cannot guarantee accuracy. If your health depends on nutrition information, please calculate again with your own favorite calculator.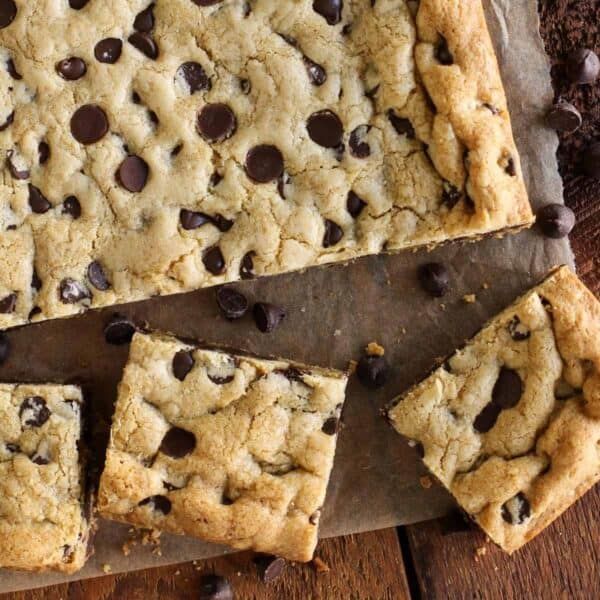 We participate in the Amazon Services LLC Associates Program, an affiliate advertising program designed to provide a means for us to earn fees by linking to Amazon.com and affiliated sites. See our
disclosure policy
for more info.