Butter Board with Bacon Butter
This Butter Board with Bacon Butter features toppings like dried fruits, nuts, and honey for an easy, savory butter charcuterie board. It's easily customizable and perfect for entertaining!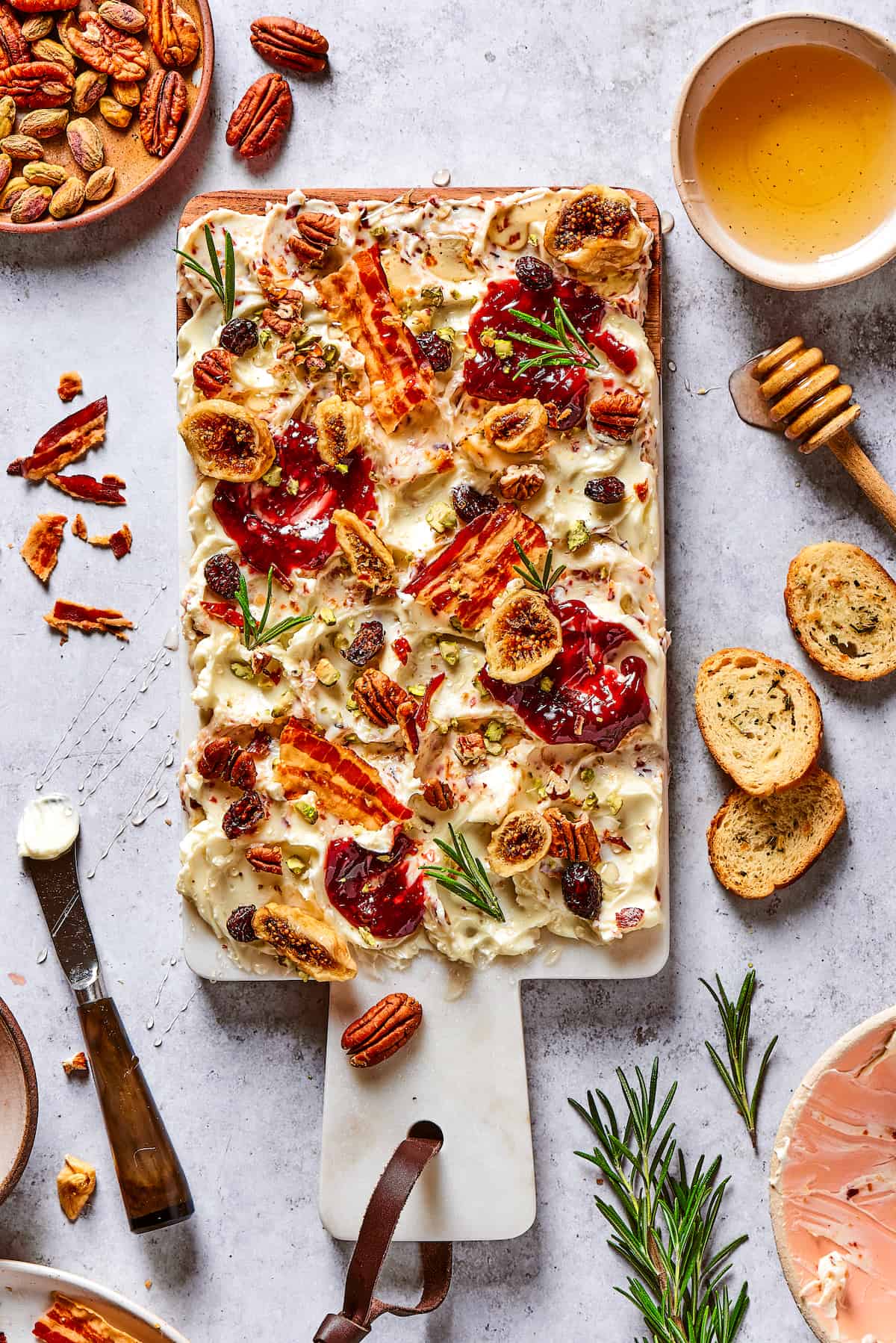 Easy Butter Charcuterie Board Recipe
This Butter Board with Bacon Butter is a delightful combination of sweet and savory flavors, plus creamy, crunchy, and chewy textures. It's easily customizable. And it's fabulous for entertaining, as it can be made ahead of time – a super fun and delicious butter board recipe!
If you relish in the joy of eating bacon and really good butter, then this recipe is for YOU!
This butter charcuterie board features a mix of salty bacon, sweet dried fruits, and nutty flavors from the pecans and pistachios. Raspberry jam and honey add a touch of sticky sweetness. And fresh rosemary adds pungent earthy flavor and a pop of fresh color.
This recipe allows for endless combinations based on flavor and dietary preferences, and can even be made gluten-free or dairy-free.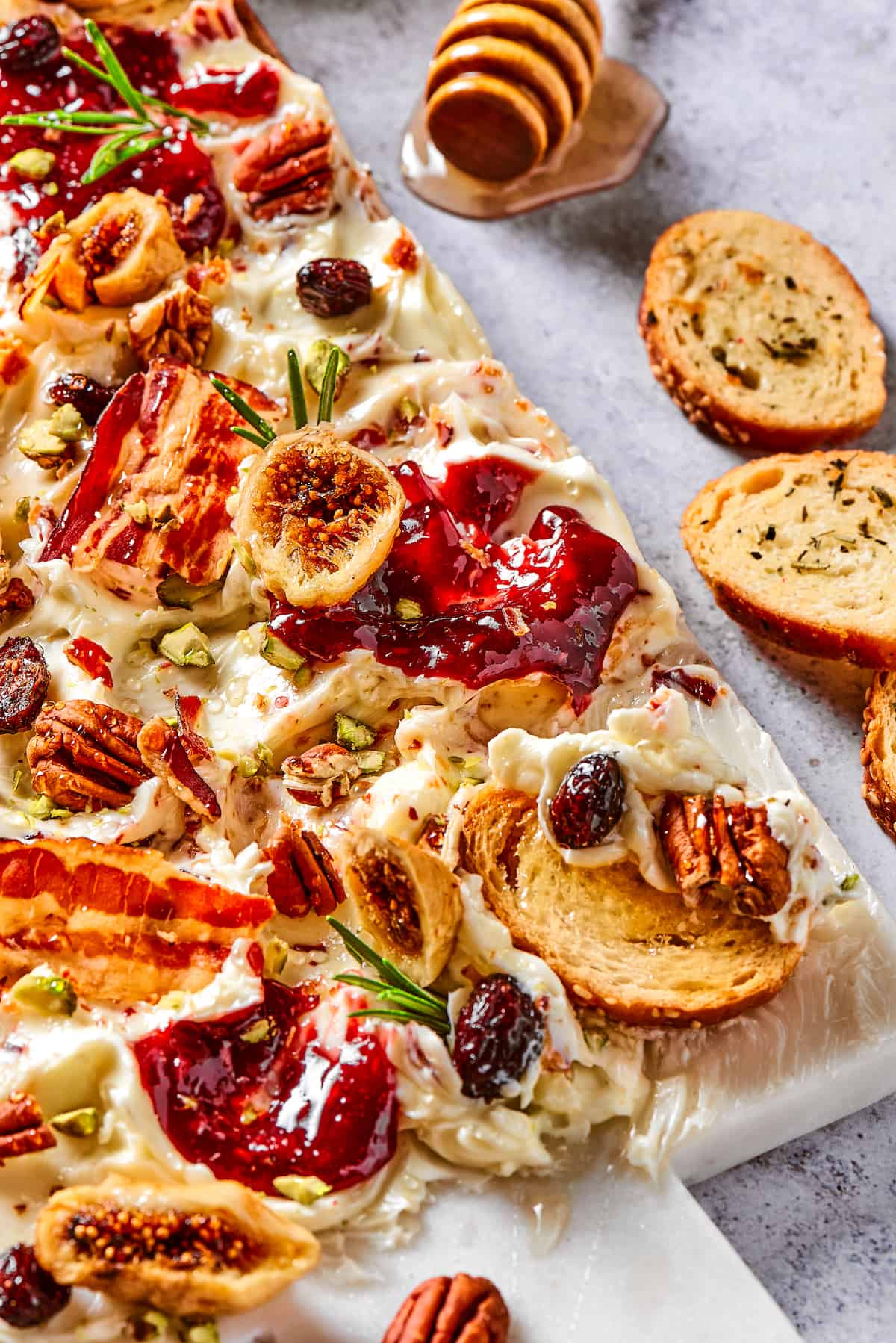 What Is A Butter Board?
A butter board (or butter charcuterie board) is a delicious and easy-to-make recipe that can be served as an appetizer, snack, or breakfast.
It consists of various types of butter and toppings spread onto a board. Then it's served with slices of bread or crackers.
Butter boards are typically served at parties and gatherings and may be part of a larger charcuterie board.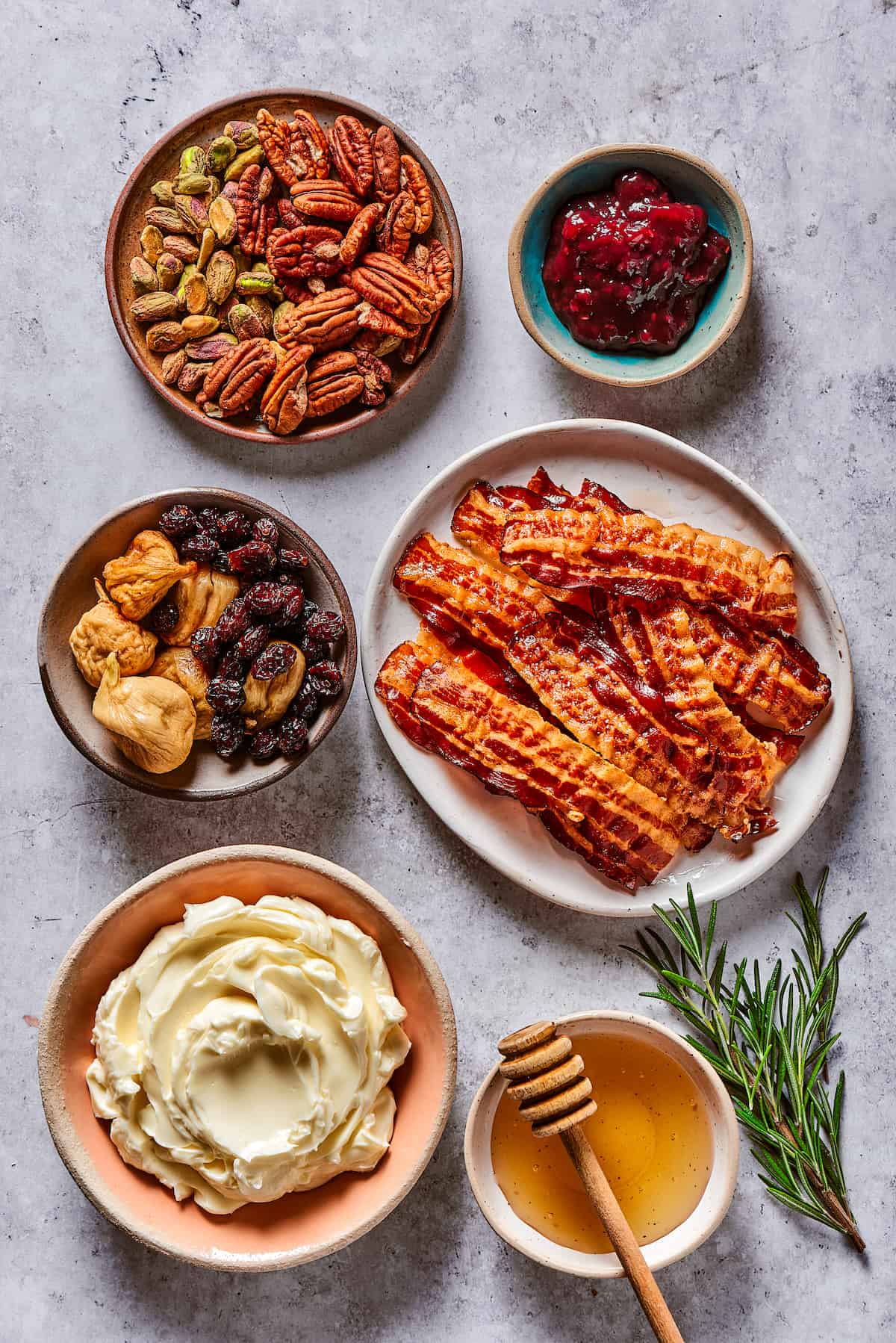 Recipe Ingredients
This savory butter board recipe is made with butter (of course), jam, nuts, dried fruits, and honey.
Scroll down to the recipe card for exact measurements and full instructions.
Butter – Start with unsalted butter, as we'll be adding bacon to half of it and then salting the other half. You won't want the extra saltiness in the bacon butter.
Bacon – Cook it until crispy. Then crumble some of it and add it to half of the butter. Slice the remainder of the bacon into 2-3″ pieces and add to finished butter board.
Berry jam – I most often use raspberry jam or raspberry blackberry jam, but use whatever you personally like to eat.
Nuts – I added rough chopped pecans and pistachios – but, again, use whatever nuts you like. I just recommend using nuts that are roasted and salted for the best flavor and texture.
Dried fruit – Dried cranberries and figs add a bit of sweetness and chewy texture to the butter board.
Honey – I like to use a good quality local honey.
Fresh rosemary – Adds a touch of earthy flavor and aroma. Plus it makes a beautiful fresh garnish!
French baguette – For serving. Any crusty bread that you already like will work, though.
What Butter Is Best For A Butter Board?
It's essential to use a high-quality butter that's extra rich and creamy to ensure undeniable success with this dish. Butter is the largest component of this recipe – and because it's meant to be enjoyed in its purest form, the flavor and texture needs to be amazing!
This is not the time to buy the cheapest store brand of butter. It's the time to splurge a little.
Land O'Lakes has an extra creamy variety (in a black box). Kerrygold is another great option. If you have access to some really good local butter, this can push your butter board over the top – we love the butter from Hope Creamery!
I also recommend using unsalted butter. This allows you to control the sodium level when you mix in other ingredients, especially the bacon.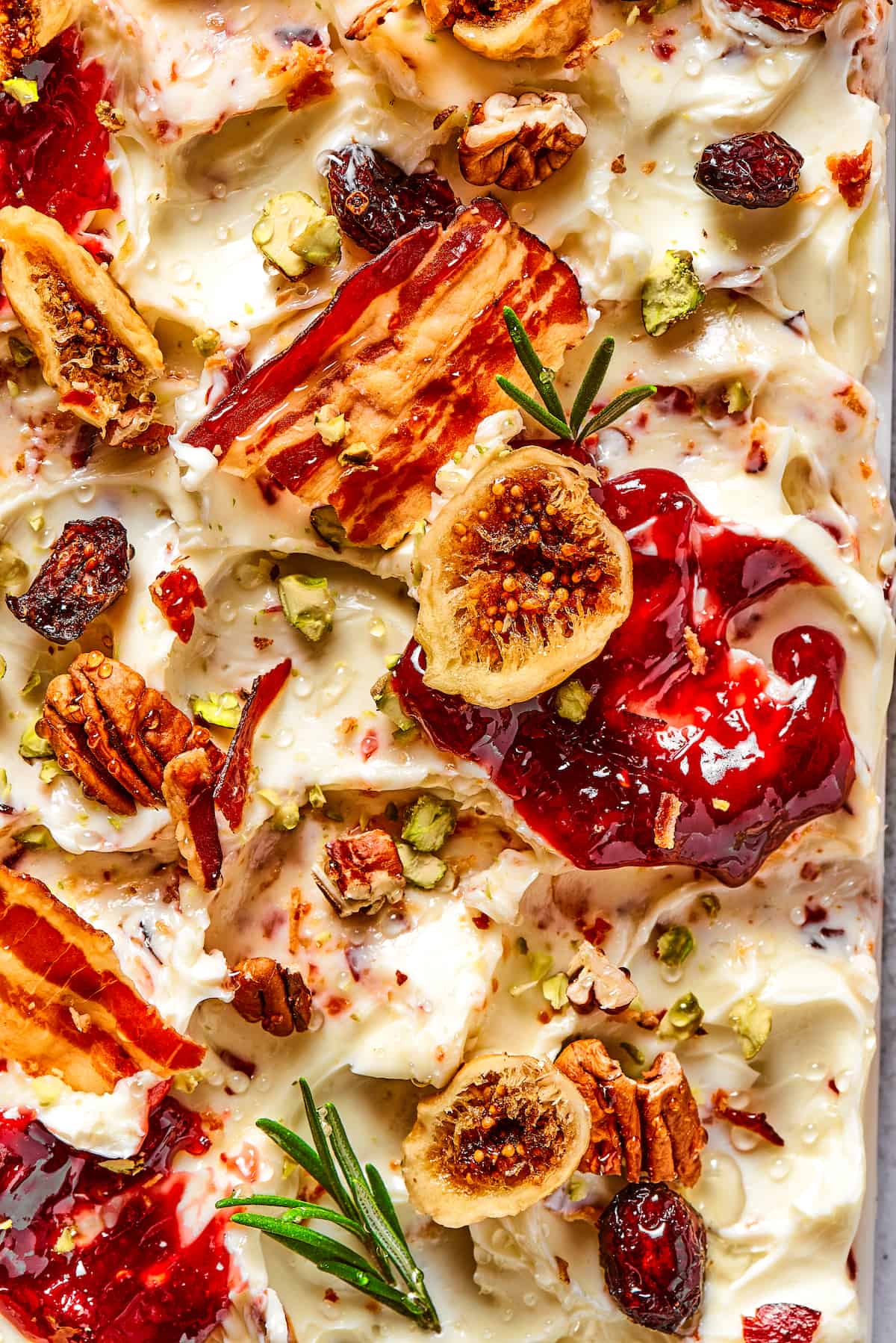 What Else Can I Add?
The wonderful thing about making a butter charcuterie board is that there are endless possibilities when it comes to toppings. While I've included my favorites in the recipe, here are a few other options:
Dried fruits – like tangerines, apricots, blueberries, peaches, apples, or strawberries
Honeycomb – instead of (or in addition to) honey
Herbs – thyme leaves would be lovely!
Spices – add dried red pepper flakes for some heat – or freshly ground black pepper or a sprinkle of cinnamon
Green onions or chives
Nuts – walnuts, almonds, cashews, macadamia nuts, pine nuts
Olives – any green or black olives that you already like!
Roasted garlic
Edible flowers
Coconut flakes
Chocolate
What About Other Flavored Butters?
I love a good flavored butter! They're delicious on popovers, bread, and toast – plus pancakes, waffles, and French toast.
Here are a few more options that you might want to include on your own butter board:
roasted garlic butter – just incorporate cooled roasted garlic cloves into the butter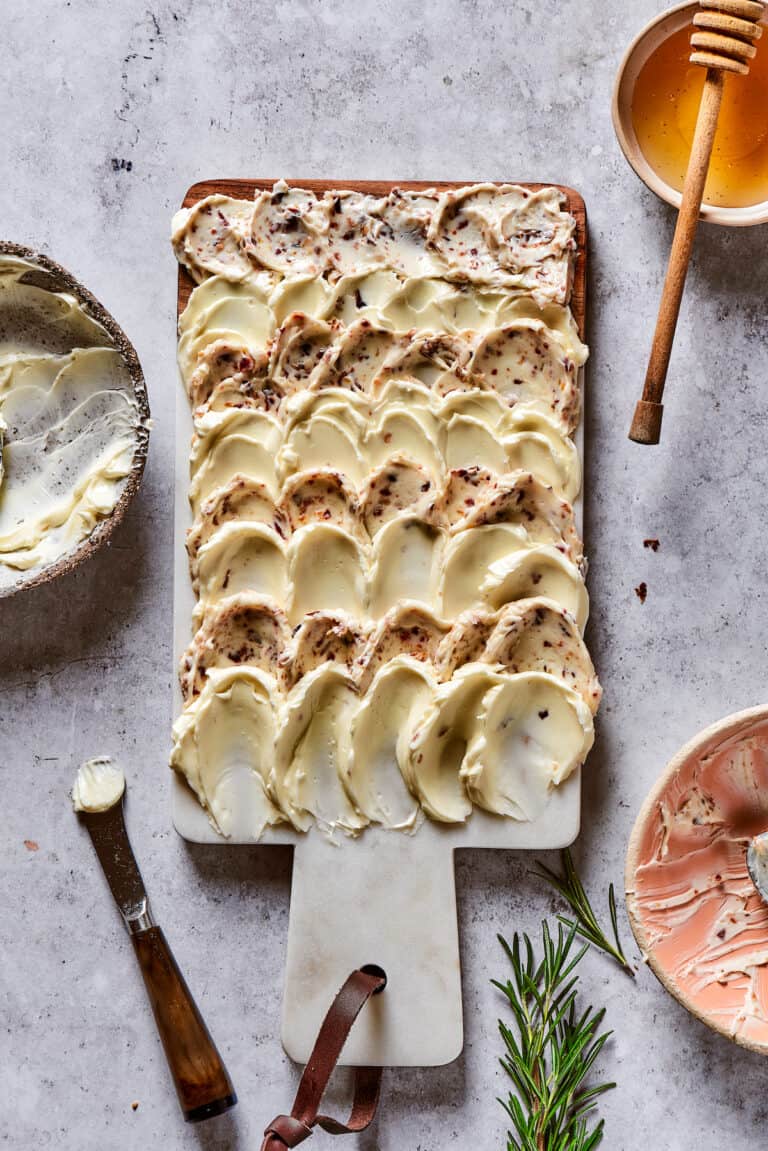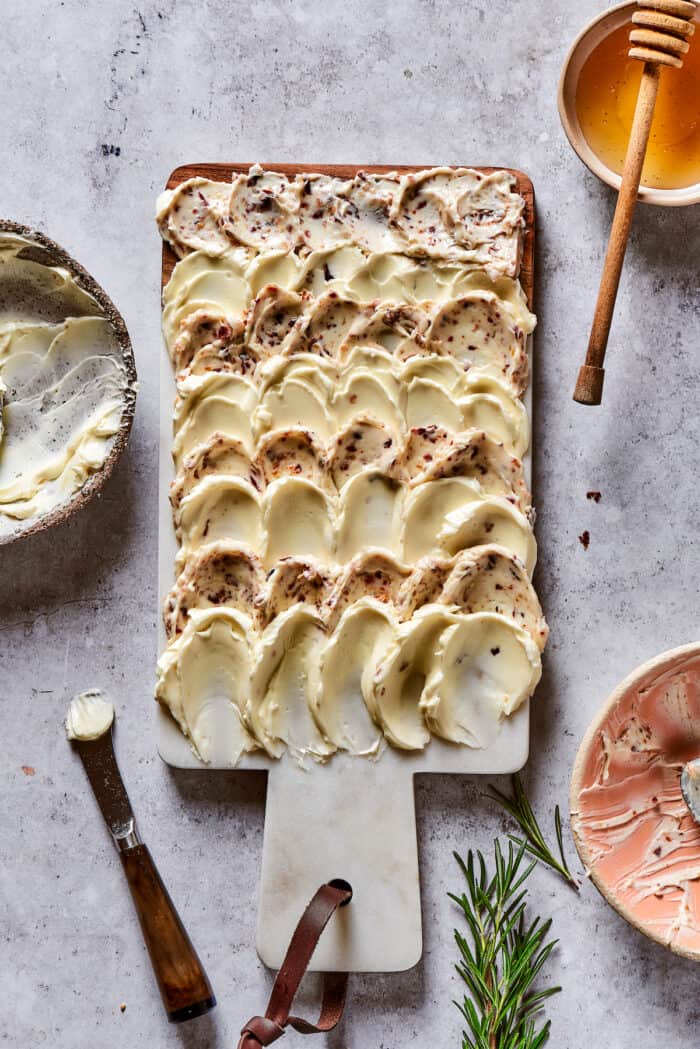 How to Make A Butter Board with Bacon Butter
Here's how to prepare the bacon butter and assemble the butter board.
Cook the bacon. Cook the bacon until crispy. Let cool. Then crumble part of it and slice the rest.
Make the bacon butter. Combine half of the softened butter with the crumbled bacon.
Make the salted butter. Combine the remaining softened butter with a bit of salt.
Spread the butter on the board. Alternate spreading the bacon butter and salted butter on a serving board or platter until all the butter is used. Apply in swirls for visual appeal, if desired.
Add the toppings. Top with dollops of raspberry jam, then sprinkle with the nuts and dried fruits. Add a drizzle of honey, tuck in a few bacon slices, sprinkle with a little fresh chopped rosemary, then garnish with rosemary sprigs.
Toast the bread. Slice the French baguette into 1/2″ thick slices and toast at 350° F.
Enjoy. Serve butter board immediately with warm baguette slices.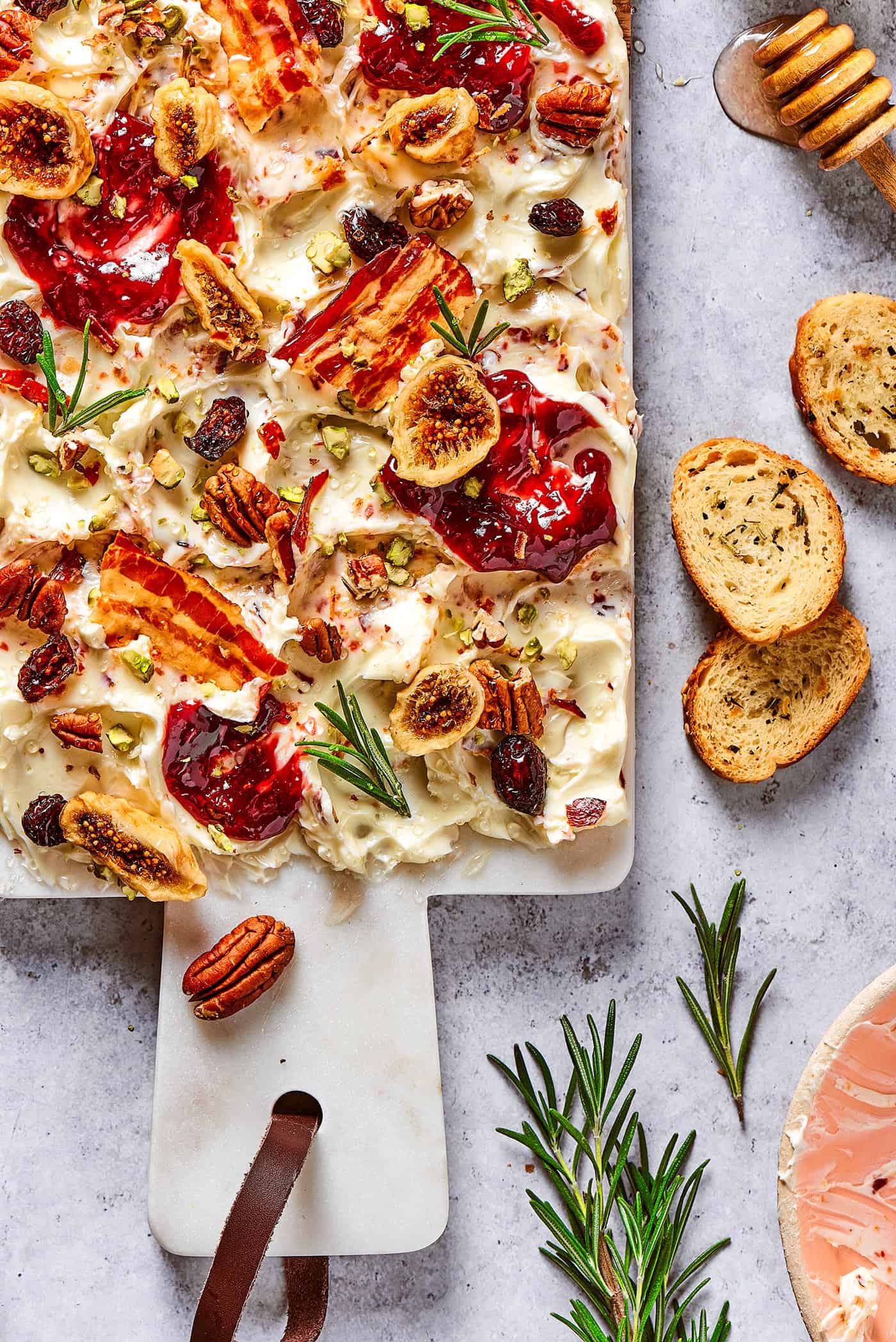 Tips For Assembling a Butter Board
If this is your first time preparing a butter board, here are a few things to keep in mind.
Spread the butter in swirls for a decorative effect. While you can easily just schmear the butter in one or two layers, I recommend spreading the two different butters in swirls. It adds an elegant, fun touch – and it's easy to do!
Be sure to use softened butter. You want the butter soft enough that it spreads easily. No cold chunks. And definitely not melted. I do not recommend softening it in the microwave, as it's very difficult to get just the right consistency. Instead, the easiest way is to leave it on the counter for 30-60 minutes or so. You can even cut it into small cubes to help it soften easier. Exact time will depend on the temperature of your butter and the temperature of your home.
Don't overload the toppings. While you can add as many different toppings as you'd like, keep in mind that you still want the butter – especially the bacon butter – to be the star of the show, and easily visible below the toppings.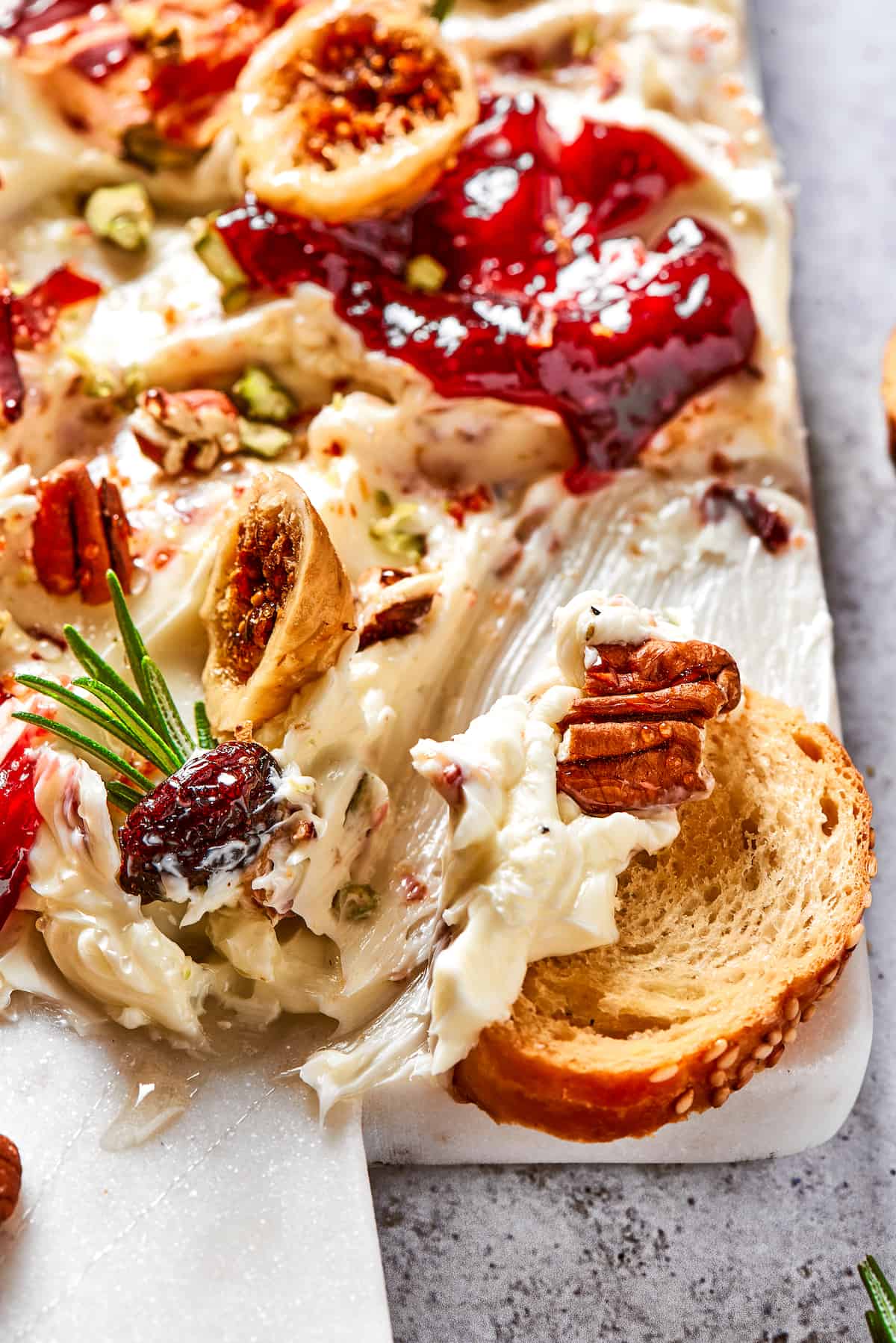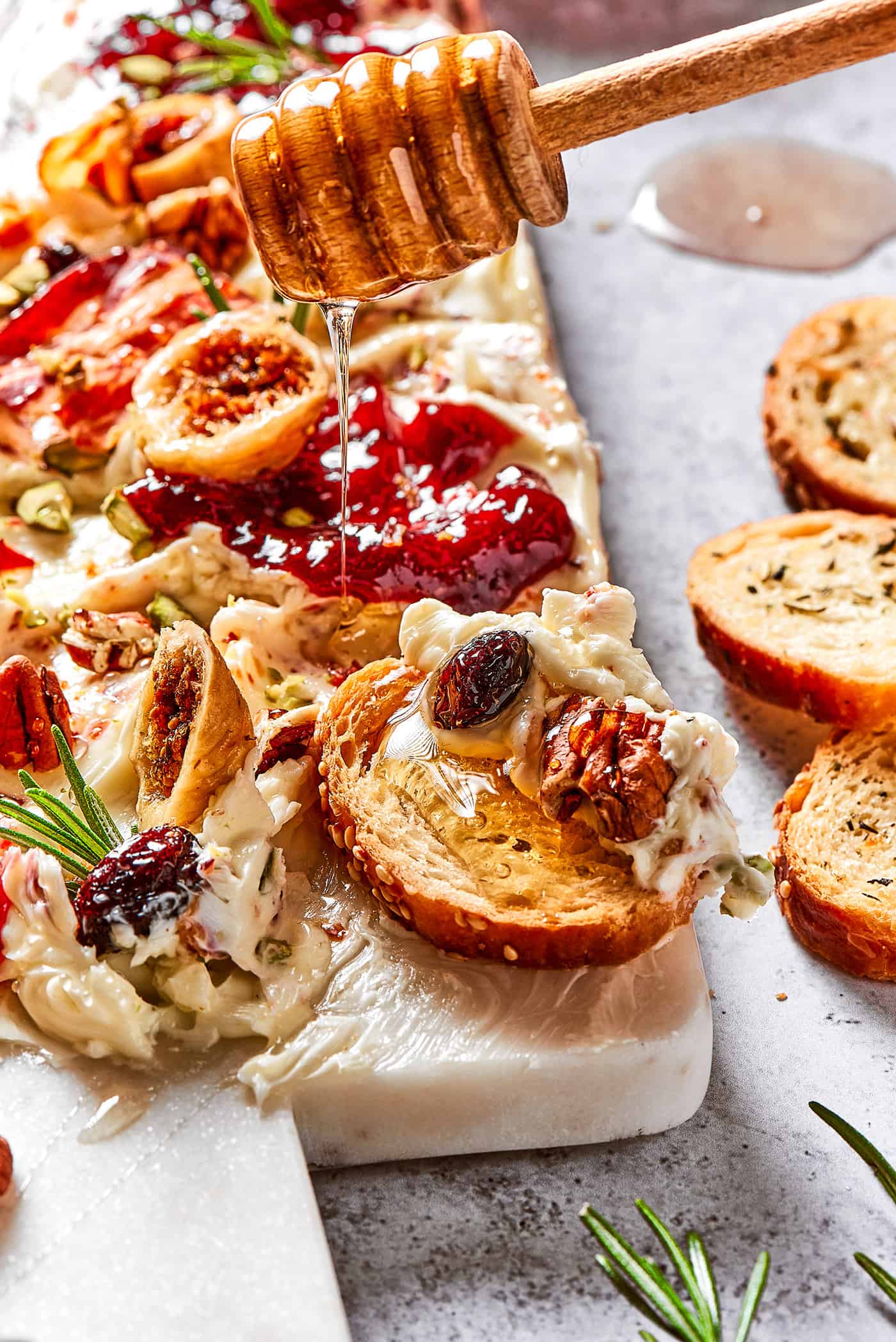 What to Serve With A Butter Board
My go-to for this savory butter board is a toasted French baguette but you can use any type of sliced bread. Some other options include:
Crostini
Sourdough
Naan
Pita chips
Crackers
Pretzels
You can even offer up a few different options, based on the toppings you choose to add.
Can This Be Assembled In Advance?
Absolutely. In fact, being able to make it in advance is one of the reasons this savory butter board with bacon butter has become a favorite entertaining recipe.
You can easily prepare and assemble the butter board in advance, cover it with plastic (making sure it doesn't cling to smudge the butter or jam), and refrigerate it overnight.
To serve, allow it to rest on the counter for 30 minutes or so (depending on your home temperature, etc.), to give the butter time to soften and become easily dippable again.
More Party Appetizers:
Like this Recipe? Save to Pinterest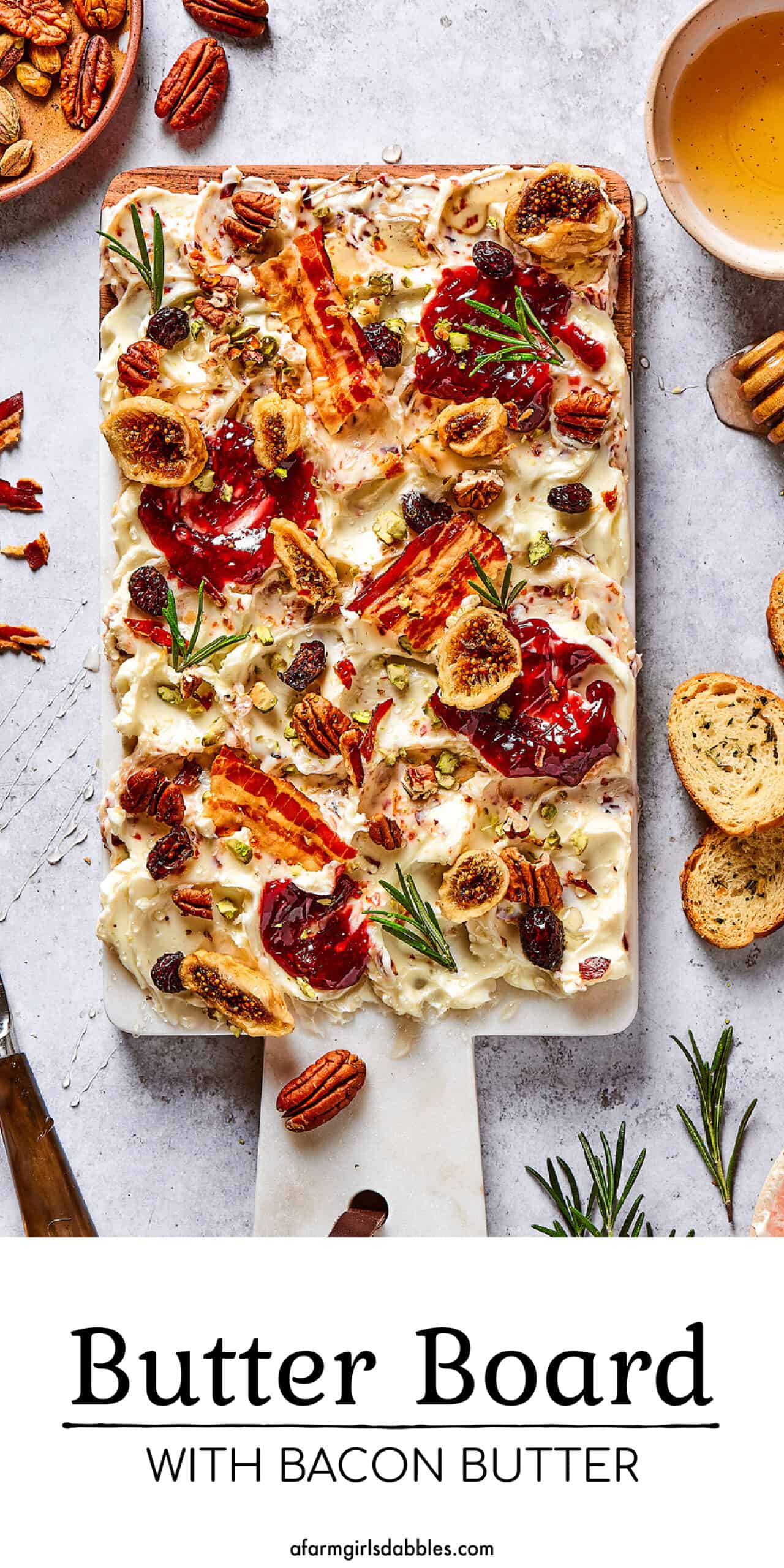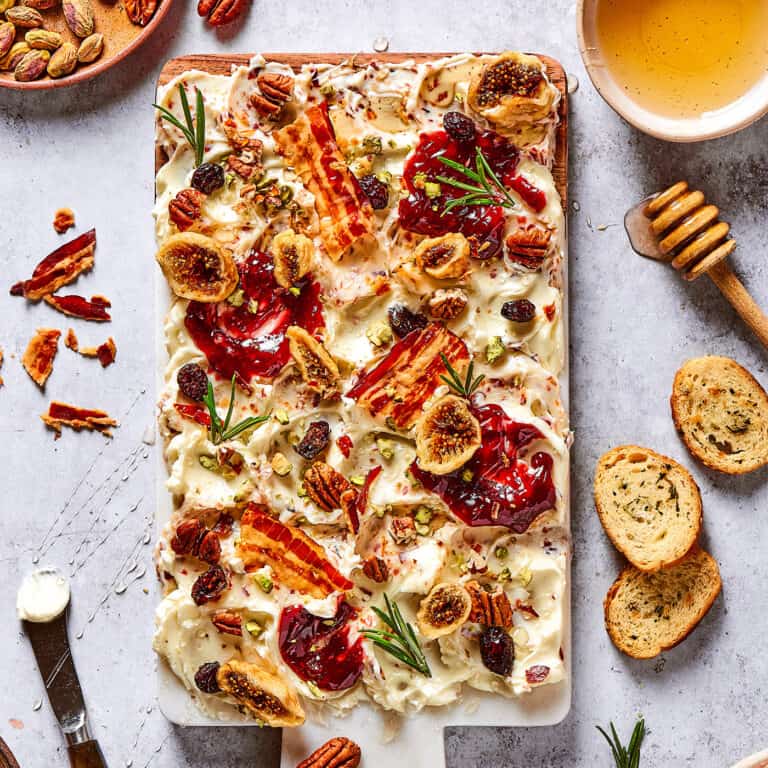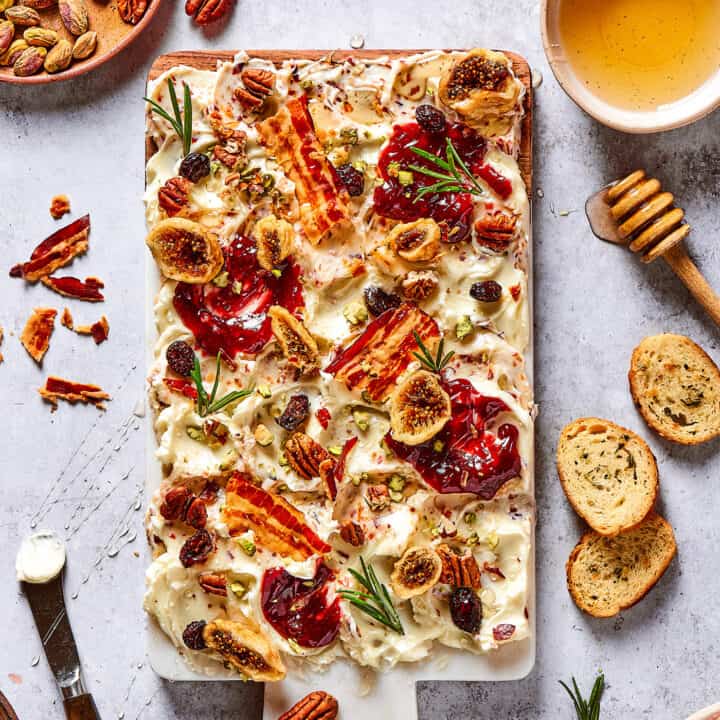 Butter Board with Bacon Butter
Yield: 8 servings
Prep Time: 10 minutes
Cook Time: 5 minutes
Total Time: 15 minutes
This Butter Board with Bacon Butter features toppings like dried fruits, nuts, and honey for an easy, savory butter charcuterie board. It's easily customizable and perfect for entertaining!
Ingredients
8 slices bacon
1½ cups (3 sticks) good quality unsalted butter, softened
½ teaspoon Morton kosher salt
¼ cup berry jam (such as raspberry jam)
½ cup rough chopped roasted & salted pecans
⅓ cup rough chopped roasted & salted pistachios
⅓ cup dried cranberries
⅓ cup halved or quartered dried figs
3 tablespoons honey
3 big sprigs fresh rosemary
1 French baguette
Instructions
Cook the bacon in a large skillet over medium heat until crispy, flipping as needed. Transfer the bacon to a paper towel lined plate. Allow to cool. Then crumble 6 slices, and cut the remaining 2 slices into 2-3" lengths.
In a medium bowl, combine half of the softened butter with the crumbled bacon until fully incorporated.
In a separate bowl, combine the remaining butter and salt.
On a food-safe board or large platter, spread the butter in rows - alternate between the bacon butter and plain butter, until all the butter is used. The butter should be soft but not overly soft or melty. Apply in swirls to add visual appeal (see photos in post).
Top the butter with dollops of jam.
Sprinkle the pecans, pistachios, dried cranberries, and dried figs over butter.
Drizzle honey over the top. Rough chop some of the fresh rosemary to equal 2 teaspoons and sprinkle it over the top. Add the rest of the rosemary for garnish. Tuck the larger bacon pieces into the butter board as well.
Preheat oven to 350° F. Slice the French baguette into ½" thick slices and place them on a baking sheet. Toast for 5 to 10 minutes total, flipping halfway in between, until baked to your desired crispness.
Serve the butter board immediately while the bread is still warm and crispy, to allow the butter to melt a bit when added to the bread.
Nutrition Information:
Yield: 8
Serving Size: 1
Amount Per Serving:
Calories: 372
Total Fat: 15g
Saturated Fat: 4g
Trans Fat: 0g
Unsaturated Fat: 10g
Cholesterol: 17mg
Sodium: 586mg
Carbohydrates: 52g
Fiber: 5g
Sugar: 25g
Protein: 12g
Nutrition information is automatically calculated by Nutritionix. I am not a nutritionist and cannot guarantee accuracy. If your health depends on nutrition information, please calculate again with your own favorite calculator.