Whipped Lemon-Vanilla Bean Butter
This Whipped Lemon-Vanilla Bean Butter is super fluffy, easy to spread, and simple to make. It's also delicious enough to be eaten with a spoon. I'm not even kidding.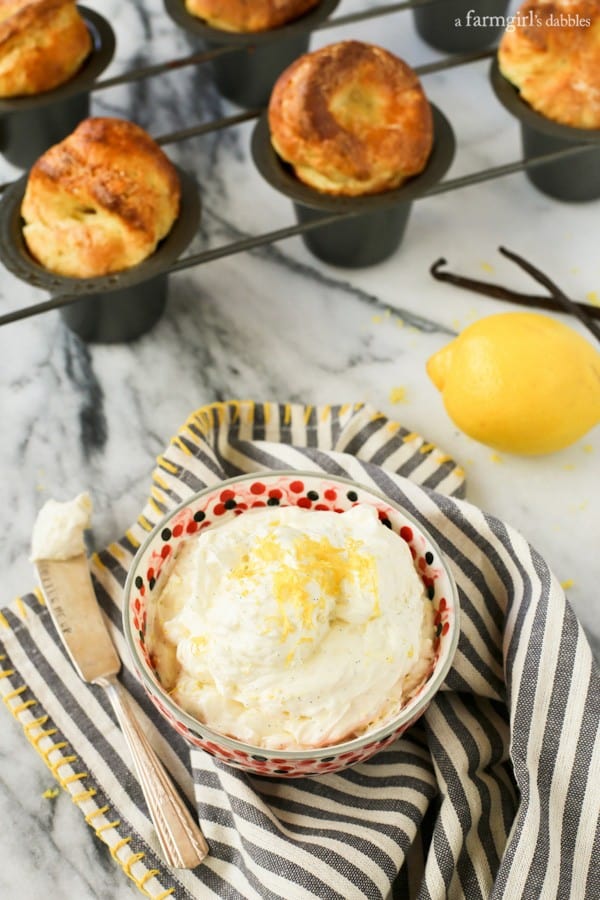 Kudos to every fine dining establishment that offers warm, fresh popovers and little cups of softly whipped butter before the main entrée arrives. This delicious sentiment is truly a gift for me, mostly because I rarely take the time to make these items myself. Which really is quite silly, as both of them are incredibly simple to make. So easy, in fact, that our girls made the popovers for these photos, with no help from Mom. And if you have a stand mixer, it does all the work for you to create a bowl of this wonderful Whipped Lemon-Vanilla Bean Butter. It's creamy and luscious and utterly unforgettable.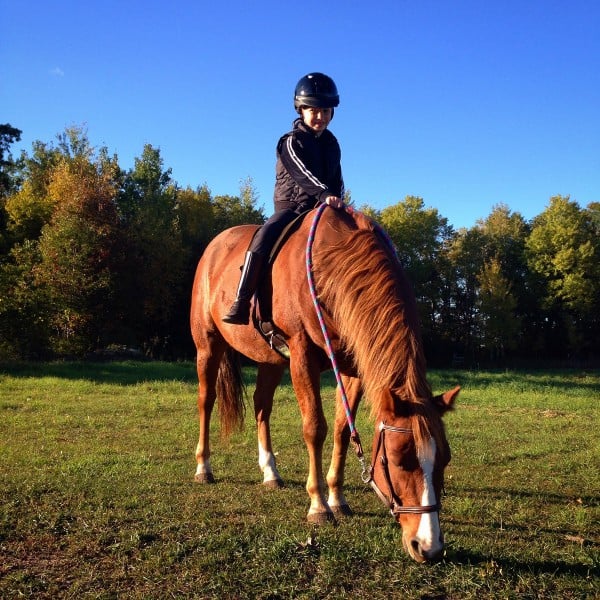 Today is all kinds of awesome. Let me tell you why…
This is the day that we welcomed our sweet Tessa into our family. She will proudly tell you that she is now 8 years old. Tessa is sweetness through and through, with a special love for animals, especially horses. She blesses us with her gentle, thoughtful, smiley, and playful ways each and every day. Happy Birthday, Tessa!
Today marks the 5th blogiversary of a farmgirl's dabbles. It's really hard for me to wrap my head around this. When I hit that first publish button on Tessa's third birthday, sitting in our living room with my family and visiting parents, I had no clue what was in store for me. Since then, I've met so many wonderful people, worked with awesome brands, and travelled to some pretty amazing places. This blog has been a ton of work, but the creativity, unique experiences, and ability to connect with people has been worth every single minute. I can't imagine my life without this space. THANK YOU so much for reading, commenting, making my recipes, and just plain supporting a farmgirl's dabbles. We couldn't do this thing without YOU!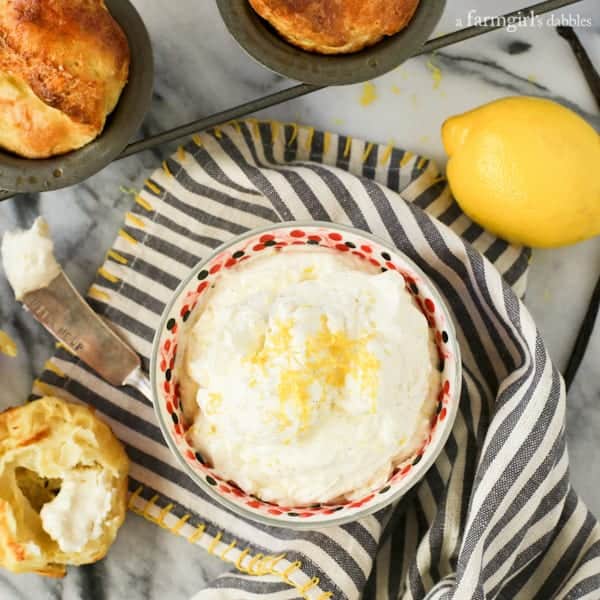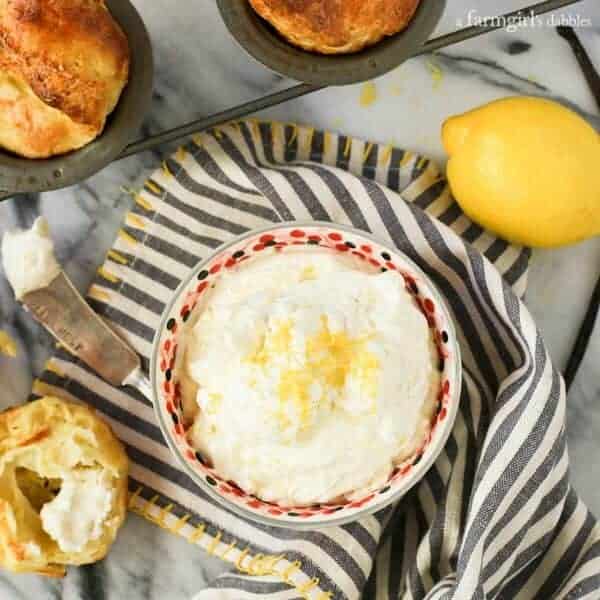 For the past five years, I've been dedicating birthday and anniversary posts to special people in my life, featuring recipes that they love or have requested. After giving Tessa a few recipe ideas to ponder, this whipped lemon-vanilla bean butter was her birthday request this year. Tessa is pretty fond of her lemons.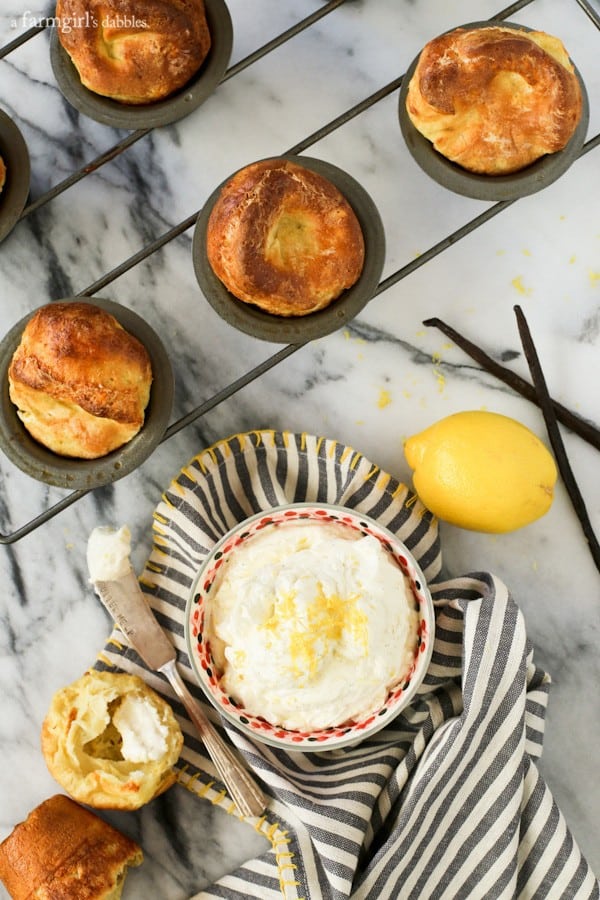 This flavored butter is so easy to whip up. Toss a couple sticks of unsalted sweet cream butter into the bowl of a stand mixer, along with a little milk, and let it whip. The milk expands the volume of the butter, making the end product super fluffy and easy to spread. I added in a bit of powdered sugar for a touch of sweetness, followed by scraped-from-their-pod vanilla beans, a good amount of tangy fresh lemon zest, and a touch of salt. The result is a lemon and vanilla flavored whipped butter that is good enough to be eaten with a spoon. I'm not even kidding.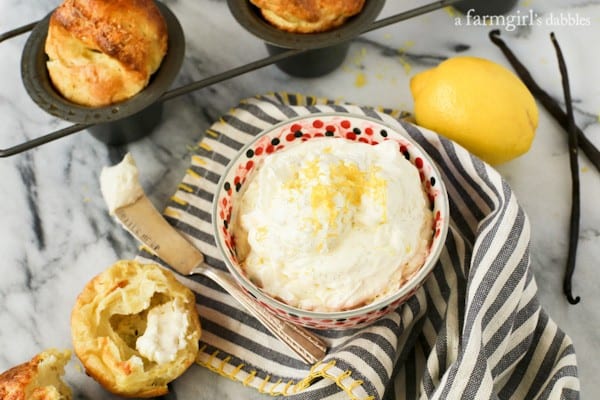 This bowl of whipped butter, lightly and gorgeously scented, disappeared quickly amongst a few batches of warm popovers and freshly baked muffins. I found it no surprise that when I asked Tessa what she'd like for her special birthday meal, she requested more popovers with whipped lemon-vanilla bean butter. And a grilled steak. Thatta girl. ;)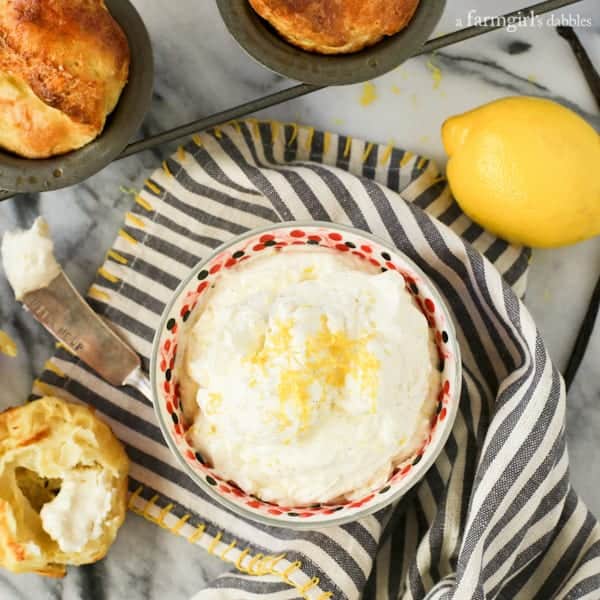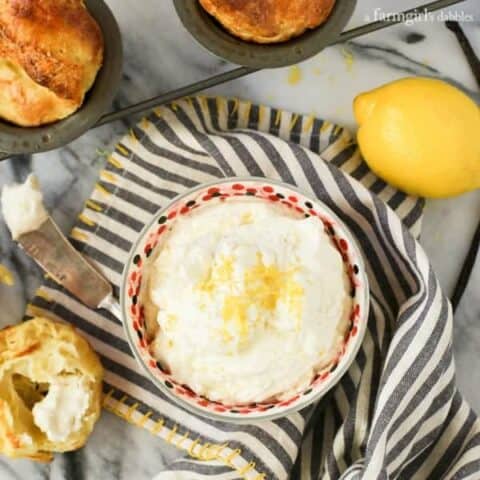 Whipped Lemon-Vanilla Bean Butter
Yield: Approximately 1 cup of butter
This Whipped Lemon-Vanilla Bean Butter is super fluffy, easy to spread, and simple to make. It's also delicious enough to be eaten with a spoon. I'm not even kidding.
Ingredients
1/4 c. milk
1 c. unsalted butter, softened to room temperature
1/4 c. powdered sugar
2 T. fresh lemon zest
vanilla beans scraped from 1/2 of a vanilla bean
pinch of kosher salt
Instructions
In the bowl of a stand mixer, beat milk and butter on low to medium-low speed until incorporated. This may take a bit for it to come together, but just be patient.
Then turn speed up to medium-high and beat for about 5 minutes, scraping down the sides and bottom of the bowl a couple times, until light and fluffy. Add remaining ingredients and beat again on medium-high speed for 1 more minute.
Serve with warm popovers or your favorite breads or muffins.
Notes
from a farmgirl's dabbles
Nutrition Information:
Yield: 8
Serving Size: 1
Amount Per Serving:
Calories: 223
Total Fat: 23g
Saturated Fat: 14g
Trans Fat: 0g
Unsaturated Fat: 8g
Cholesterol: 62mg
Sodium: 24mg
Carbohydrates: 4g
Fiber: 0g
Sugar: 4g
Protein: 1g
Nutrition information is automatically calculated by Nutritionix. I am not a nutritionist and cannot guarantee accuracy. If your health depends on nutrition information, please calculate again with your own favorite calculator.