Individual Coconut Tres Leches Cake Cups
Served in pretty ramekins, these Individual Coconut Tres Leches Cake Cups are a tasty, fun treat!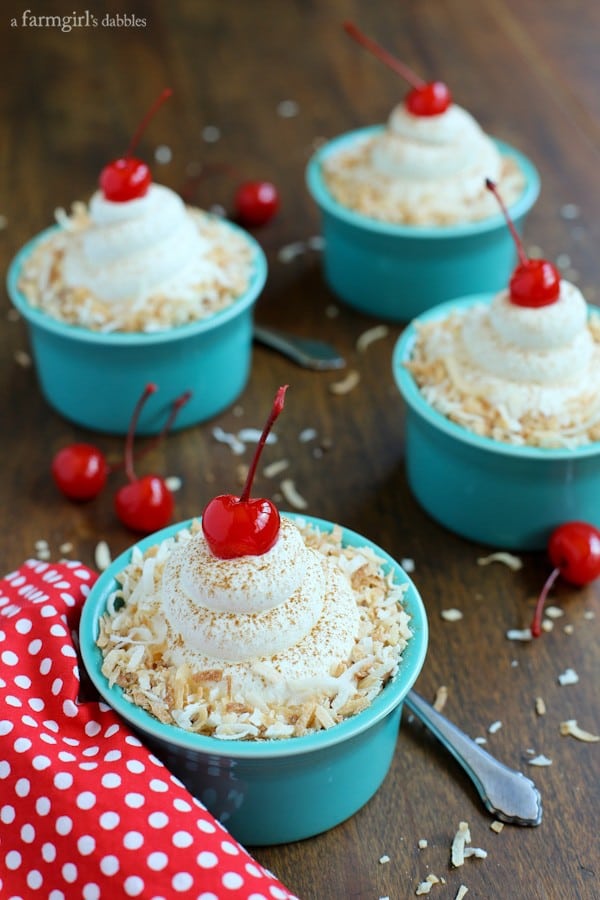 Ever since I had my first bite of tres leches cake a number of years ago at 112 Eatery, it's a dessert item that restaurant menus continue to tempt me with. I recreated my own version back then, and after sharing it at the office, was told by co-workers that I can bring in more of that cake any ol' time I please.
Now I'm back with a tropical single-serving riff on that wonderful treat, these Individual Coconut Tres Leches Cake Cups. My current coconut obsession continues!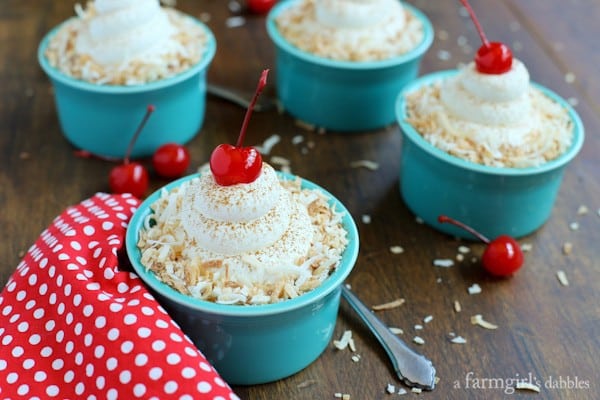 [rss-cut]

I've been wanting to incorporate the flavor of coconut into my tres leches cake, and have been playing around with this recipe for longer than I care to admit. But it's been worth the wait, I promise.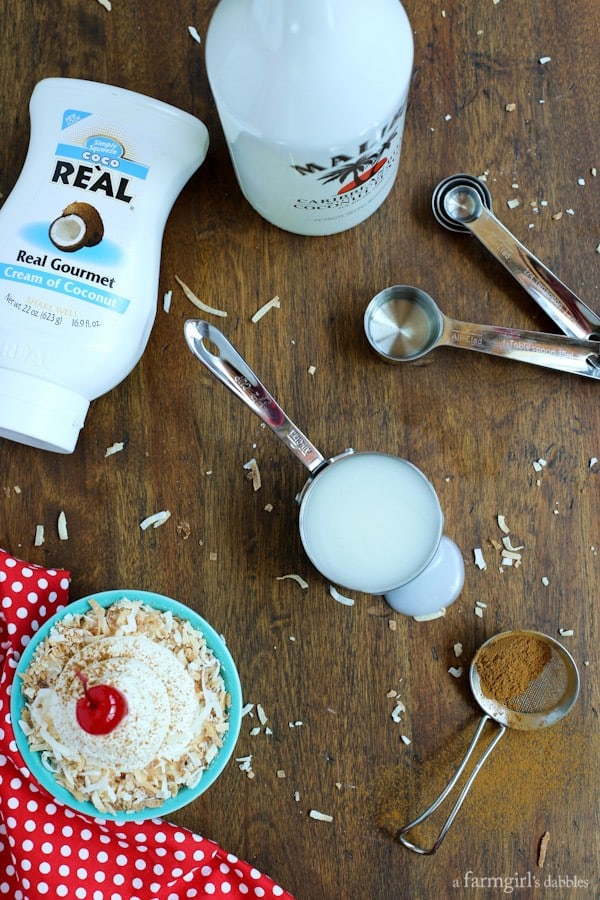 Tres leches translates to "three milks", which are soaked into an airy sponge cake. Typically that liquid soaking consists of evaporated milk, sweetened condensed milk, and half-and-half or heavy cream. Ever since last year's Cinco de Mayo, I've been playing around with coconut milk and coconut extract, etc. to come up with a coconut tres leches cake. But what I really liked best was using cream of coconut, something Ree turned me onto in her fabulous overnight coconut-ginger baked French toast dish.
So in this recipe, I replaced the half-and-half with cream of coconut. And then I poured in a few tablespoons of coconut rum, an idea I borrowed from my friend Julie's coconut tres leches cake recipe. This helped to heighten the coconut flavor in the cake. (And reminded me to dust off that neglected bottle in the back of the cabinet for a tropical cocktail hour!)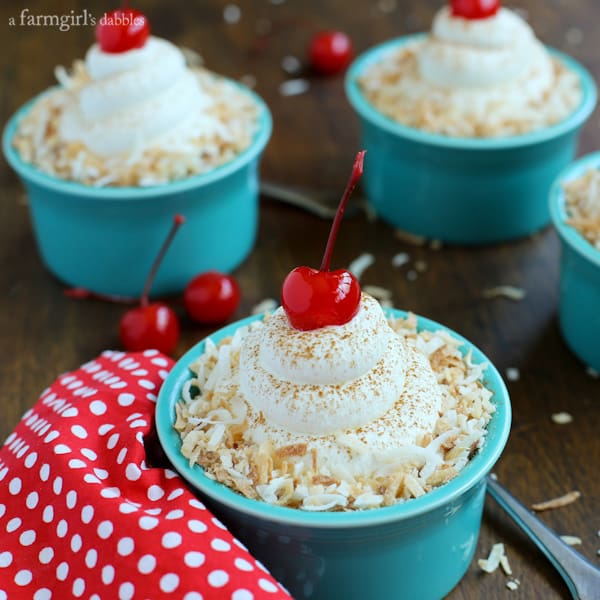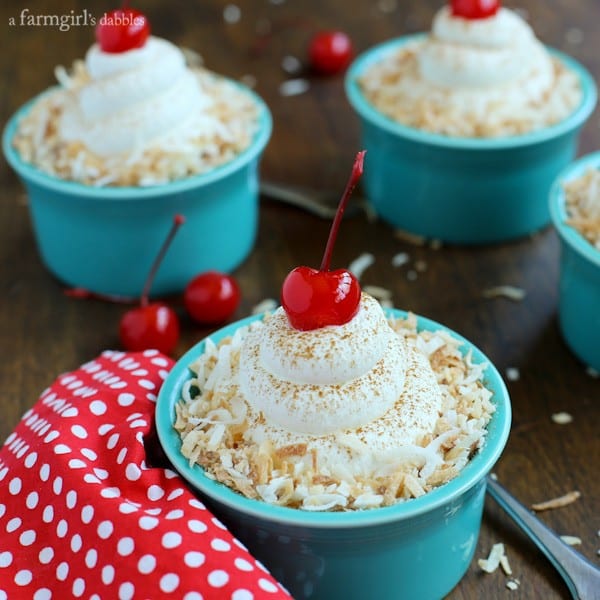 I upped the fun factor in these individual coconut tres leches cake cups by serving them in pretty turquoise Fiesta ramekins. And that big swirl of slightly sweetened whipped cream is nothing but pure fluffy joy. A sprinkling of cinnamon, plus a ring of toasted coconut adds pretty detail, plus layers of texture and flavor. And the stemmed maraschino is quite obviously the "cherry on top", the perfect final adornment.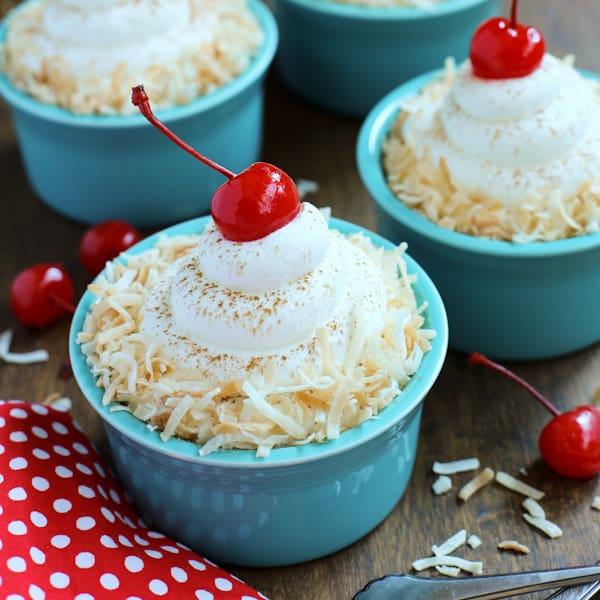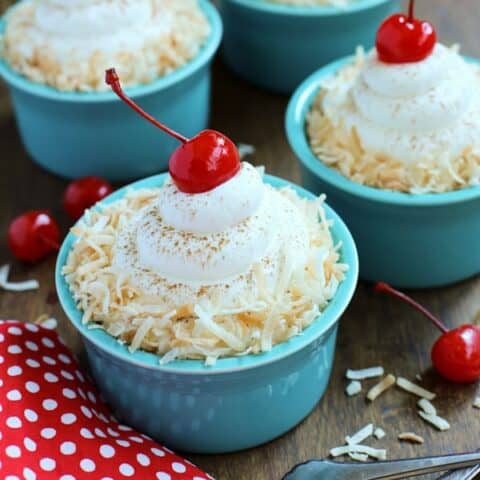 Individual Coconut Tres Leches Cake Cups
Yield: 6 individual cake cups
Prep Time: 20 minutes
Cook Time: 22 minutes
Additional Time: 1 hour
Total Time: 1 hour 42 minutes
Served in pretty ramekins, these Individual Coconut Tres Leches Cake Cups are a tasty, fun treat!
Ingredients
for the cake:
3/4 c. + 2 T. cake flour
1/2 tsp. baking powder
1/2 tsp. cinnamon
1/4 tsp. kosher salt
1/4 c. unsalted butter, at room temperature
1/2 c. sugar
2 large eggs
1 tsp. pure vanilla extract
for the glaze:
for the topping:
1/2 c. coconut
2 c. heavy cream
1/4 c. powdered sugar
1 tsp. pure vanilla extract
cinnamon, for sprinkling on top
6 maraschino cherries, drained well
Instructions
for the cake:
Preheat the oven to 350° F. Lightly spray six 3/4-cup ramekins, set them on a rimmed baking pan, and set aside.
Whisk together the cake flour, baking powder, cinnamon, and salt in a medium mixing bowl and set aside.
Place the butter into the bowl of a stand mixer. Using the paddle attachment, beat on medium speed until fluffy, about 1 minute. Decrease the speed to low, and with the mixer still running, very slowly add the sugar. Stop to scrape down the sides of the bowl, if necessary. Add the eggs, one at a time, and mix to thoroughly combine. Add the vanilla and mix again. Add the flour mixture to the batter in three batches and mix until just combined.
Transfer the batter to the prepared ramekins, dividing evenly amongst them. Bake for 20 to 22 minutes, or until the cake is lightly golden and a toothpick comes out just barely clean. Do not over bake. Remove pan of ramekins from the oven and let sit for 1 hour. Then poke the top of the cakes all over with a wooden skewer or fork.
for the glaze:
Whisk together the evaporated milk, sweetened condensed milk, cream of coconut, and coconut rum in a medium bowl. If you have a bowl with a pour spout, that works great!
Once combined, slowly pour the glaze over the ramekin cakes. It will seem like alot of glaze, but use it all, dividing as evenly as you can amongst the six ramekins. Take your time and let it keep soaking in as you pour. The cakes will not completely soak up the glaze until they have sat for awhile. So, cover the pan of ramekins with foil or plastic wrap and place it in the refrigerator for a few hours or over night.
for the topping:
Preheat oven to 400° F. Spread coconut evenly in a pan. Bake until golden, stirring occasionally, about 5 to 10 minutes. Remove from oven to cool completely.
Place the heavy cream, powdered sugar, and vanilla into the bowl of a stand mixer. Using the whisk attachment on low speed, whisk together until stiff peaks are formed. Increase mixer to medium speed and whisk until thick.
Spread the topping onto individual ramekin cakes or use a pastry bag with tip to swirl it onto the tops. Finish with a sprinkle of cinnamon and maraschino cherries. If serving immediately, place some toasted coconut around the edges of the swirled topping. If serving within a few hours, wait to add the coconut until right before serving for optimal crispy coconut freshness.
Nutrition Information:
Yield: 6
Serving Size: 1
Amount Per Serving:
Calories: 572
Total Fat: 43g
Saturated Fat: 27g
Trans Fat: 1g
Unsaturated Fat: 13g
Cholesterol: 183mg
Sodium: 243mg
Carbohydrates: 42g
Fiber: 1g
Sugar: 38g
Protein: 7g
Nutrition information is automatically calculated by Nutritionix. I am not a nutritionist and cannot guarantee accuracy. If your health depends on nutrition information, please calculate again with your own favorite calculator.