Pumpkin Layer Cake with Creamy Cinnamon Whip
This post may contain Amazon or other affiliate links. As an Amazon Associate I earn from qualifying purchases.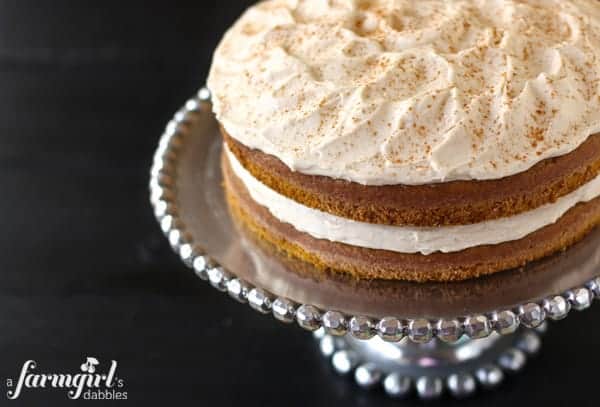 Our youngest daughter is always full of sweetness and compliments. And she's a very truthful soul. So when she declared that this Pumpkin Layer Cake with Creamy Cinnamon Whip is the best thing I've made, EVER…well, you just gotta believe her!
A friend and I recently attended a free King Arthur Flour traveling baking demo in our area. The subject for the evening was "Baking with Yeast and Whole Grains", two subjects I am interested in learning more about. I have to say that I walked away from the evening more convinced than ever that I have ALOT to learn about in these specific areas of baking. Frank, King Arthur's speaker/demonstrator, was nothing short of amazing at sharing his knowledge. He deftly fielded question after question from the audience of obviously more-experienced-than-me bread bakers. I was in awe.
One of the things that particularly stood out for me that evening was learning about King Arthur's white whole wheat flour. Because, truthfully, I'm not the biggest fan of regular whole wheat's heavier flavor and texture. I'm just not willing to wholly sacrifice the milder flavor and lighter texture that all-purpose flour gives me. But I do, in fact, want the goodness that whole wheat delivers in terms of fiber and nutrition. So I was intrigued to try out this new-to-me product.
My first experiment in using King Arthur's white whole wheat flour was with this pumpkin layer cake. And I was so pleased with how it turned out! The cake was moist, beautifully flavored and textured, and my family loved it! It made me excited to start swapping out the all-purpose flour in some of my favorite recipes.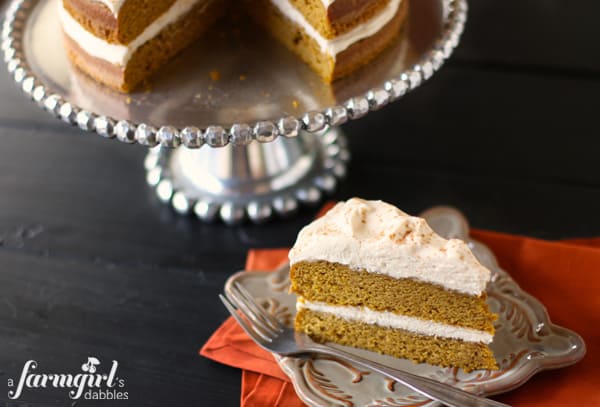 This impressive dessert is comprised of alternating layers of moist spiced pumpkin cake and the dreamiest creamiest cinnamon spiked whippy frosting. It's easy to put together. I purposefully didn't use any special decorating equipment, like frosting tips and special spatulas, so you could see just how approachable a beautiful layer cake really can be. I'm confident that this fall pumpkin treat would look mighty gorgeous on anyone's Thanksgiving table.
Disclosure: Thank you to King Arthur Flour for providing flour and cookbooks for my review. All text and opinions are 100% my own.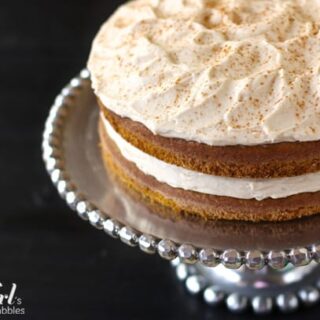 Pumpkin Layer Cake with Creamy Cinnamon Whip
Yield: 12 to 16 servings
Prep Time: 30 minutes
Cook Time: 25 minutes
Total Time: 55 minutes
This Pumpkin Layer Cake with Creamy Cinnamon Whip is the Thanksgiving dessert you've been waiting for!
Ingredients
for the pumpkin cake:
2.5 c. King Arthur white whole wheat flour
1 tsp. salt
1 tsp. baking soda
1 tsp. baking powder
2 tsp. cinnamon
1/2 tsp. ground ginger
1/4 tsp. ground nutmeg
1/4 tsp. ground cloves
1.5 c. sugar
3 large eggs
1 15-oz. can pumpkin (not pre-spiced)
3/4 c. butter, melted
1 tsp. pure vanilla extract
for the creamy cinnamon whip:
1.5 c. heavy whipping cream
1.5 c. powdered sugar, sifted
12 oz. cream cheese, at room temperature
2 tsp. pure vanilla extract
1 tsp. cinnamon, plus more for dusting the assembled cake
1/8 tsp. ground ginger
Instructions
for the pumpkin cake:
Preheat oven to 350° F. Prepare two 9" round cake pans by first buttering and flouring each pan. Then line the bottom of the pans with parchment paper rounds, and butter the paper. Set aside.
In a medium bowl, sift together flour, salt, baking soda, baking powder, cinnamon, ginger, nutmeg, and cloves. Stir in sugar to incorporate. Make a well in the center of the flour mixture and set aside.
In another medium bowl, combine the eggs, pumpkin, melted butter, and vanilla. Add the pumpkin mixture all at once to the flour mixture. Stir until just moistened (batter may be just a bit lumpy). Divide batter evenly between the two prepared pans.
Bake for 25 to 30 minutes, or just until a wooden toothpick inserted into centers comes out clean. Do not overbake. Let cool completely in pans on a wire rack.
for the creamy cinnamon whip:
Using a chilled bowl and beaters, whip the cream until stiff. With mixer on low, add powdered sugar and beat just to combine. Remove sweetened whipped cream to another bowl and set it in the refrigerator.
Add cream cheese to the same chilled bowl and cream until very smooth, about 1 to 2 minutes. Blend in the vanilla, cinnamon, and ginger. Now add the sweetened whipped cream back into the chilled bowl with the cream cheese, gently folding to combine.
to assemble the layer cake:
Arrange first layer of cake on platter or cake stand. Place about half of the creamy cinnamon whip on top of the cake, in the center. Using a spatula or the back of a serving spoon, start to gently spread the frosting out to the edge of the cake, making an even layer.
Place the second layer of cake on top of the creamy cinnamon whip and press it down very gently to compress the layers just a bit. Add the remaining creamy cinnamon whip to the center of the top cake layer and spread it out to the edges in the same fashion. Incorporate swirls with the back of a spoon, if desired.
Dust top of cake with additional cinnamon. Chill cake for 2 to 3 hours for best cutting results.
Nutrition Information:
Yield: 16
Serving Size: 1
Amount Per Serving:
Calories: 411
Total Fat: 26g
Saturated Fat: 15g
Trans Fat: 1g
Unsaturated Fat: 8g
Cholesterol: 108mg
Sodium: 422mg
Carbohydrates: 42g
Fiber: 2g
Sugar: 34g
Protein: 5g
Nutrition information is automatically calculated by Nutritionix. I am not a nutritionist and cannot guarantee accuracy. If your health depends on nutrition information, please calculate again with your own favorite calculator.
We participate in the Amazon Services LLC Associates Program, an affiliate advertising program designed to provide a means for us to earn fees by linking to Amazon.com and affiliated sites. See our
disclosure policy
for more info.