Skillet Lasagna
This Skillet Lasagna recipe features all the classic lasagna flavors and ingredients, with less work. It's an easy weeknight dinner recipe made in one skillet, so you won't be left with a sink full of dishes!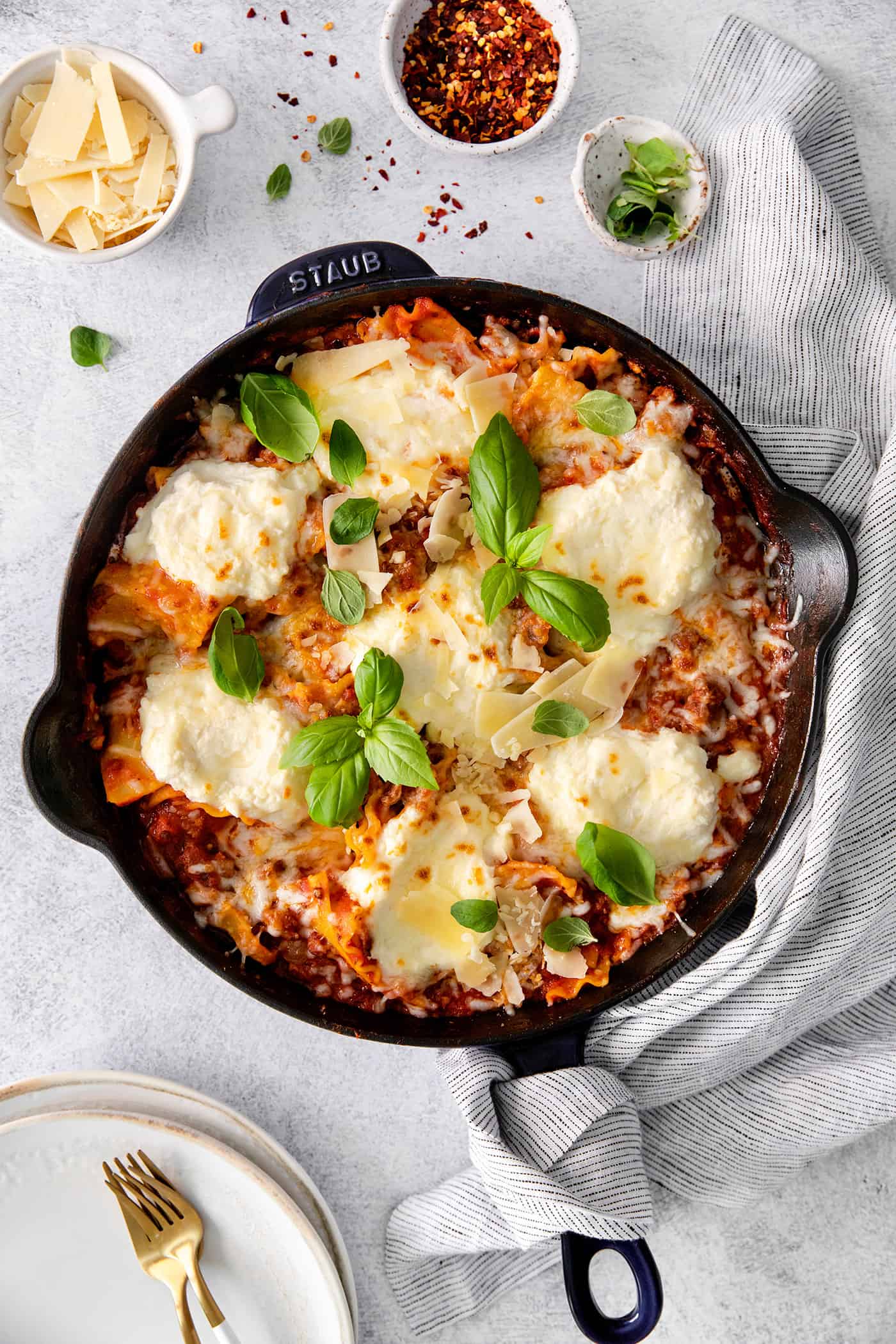 Easy One Pot Lasagna Recipe
This recipe takes classic comfort food and turns it into a quick and easy weeknight dinner recipe. Lasagna is one of my family's favorite meals – we love it for its comfort and wonderful flavors…and lots of cheese, of course!
But I oftentimes just don't feel like making a pan of lasagna. It's not that it's hard to make, just that it can be time-consuming to make and to clean up .
Enter this Skillet Lasagna recipe. This recipe uses all the classic lasagna flavors and ingredients but requires 0 layering and very little prep. In fact, you need just one small bowl (to combine the cheeses, for the same "cheesy yum" as my lasagna soup recipe) and one skillet. That's it. Everything is prepared right in one skillet, so there's no need for various mixing bowls or an assembly line for the layers.
This easy skillet dinner has quickly become a family favorite – especially for me, because it's a great recipe to pull together when I want something hearty and delicious that won't take a lot of time!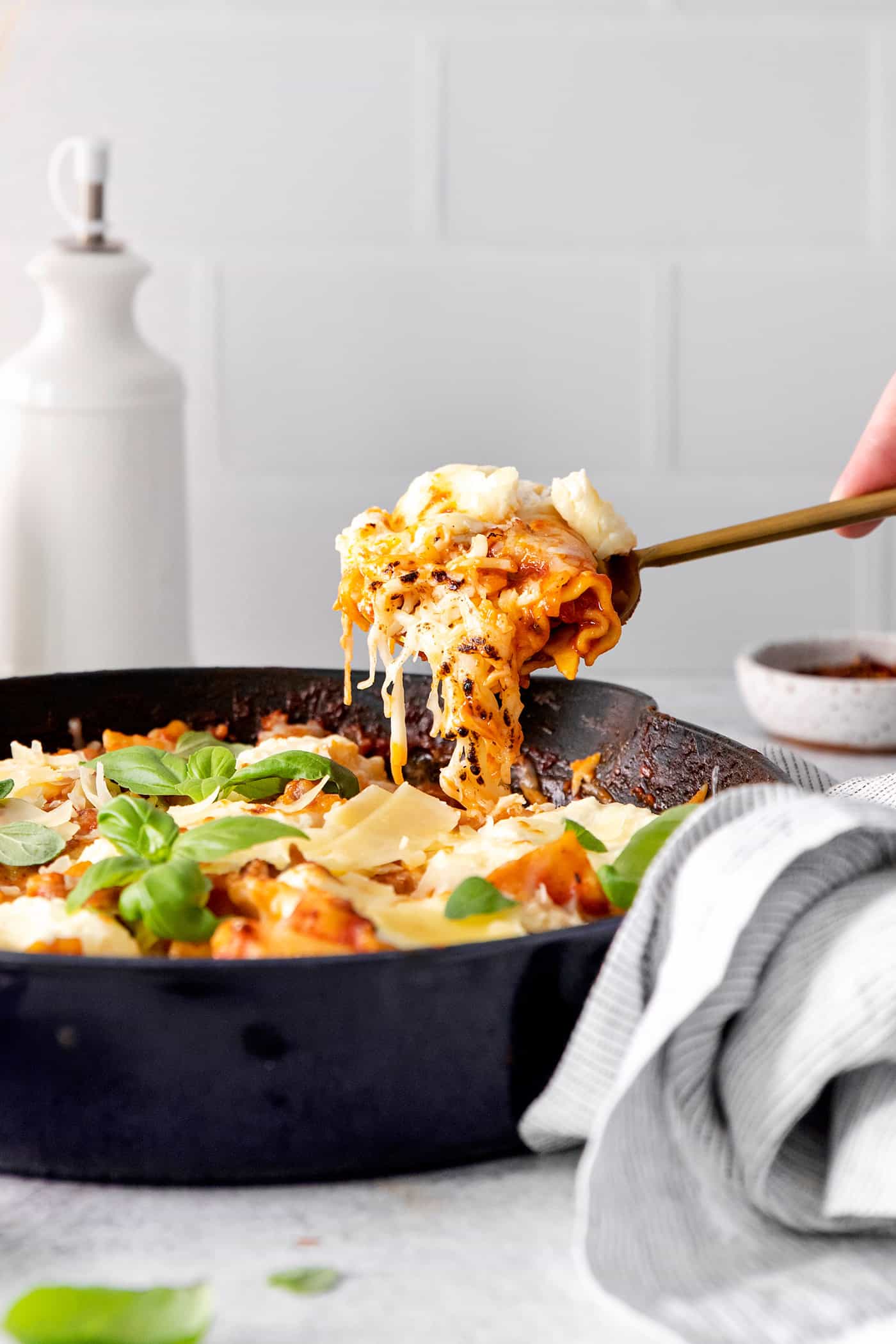 If you love lasagna as much as we do, be sure to also check out: My famous Lasagna Soup – so many people adore this recipe! Then there's Classic Lasagna, an easy recipe made in a 9″x13″ pan, and Lasagna Stuffed Peppers. And how about this Spicy Lasagna Hotdish?!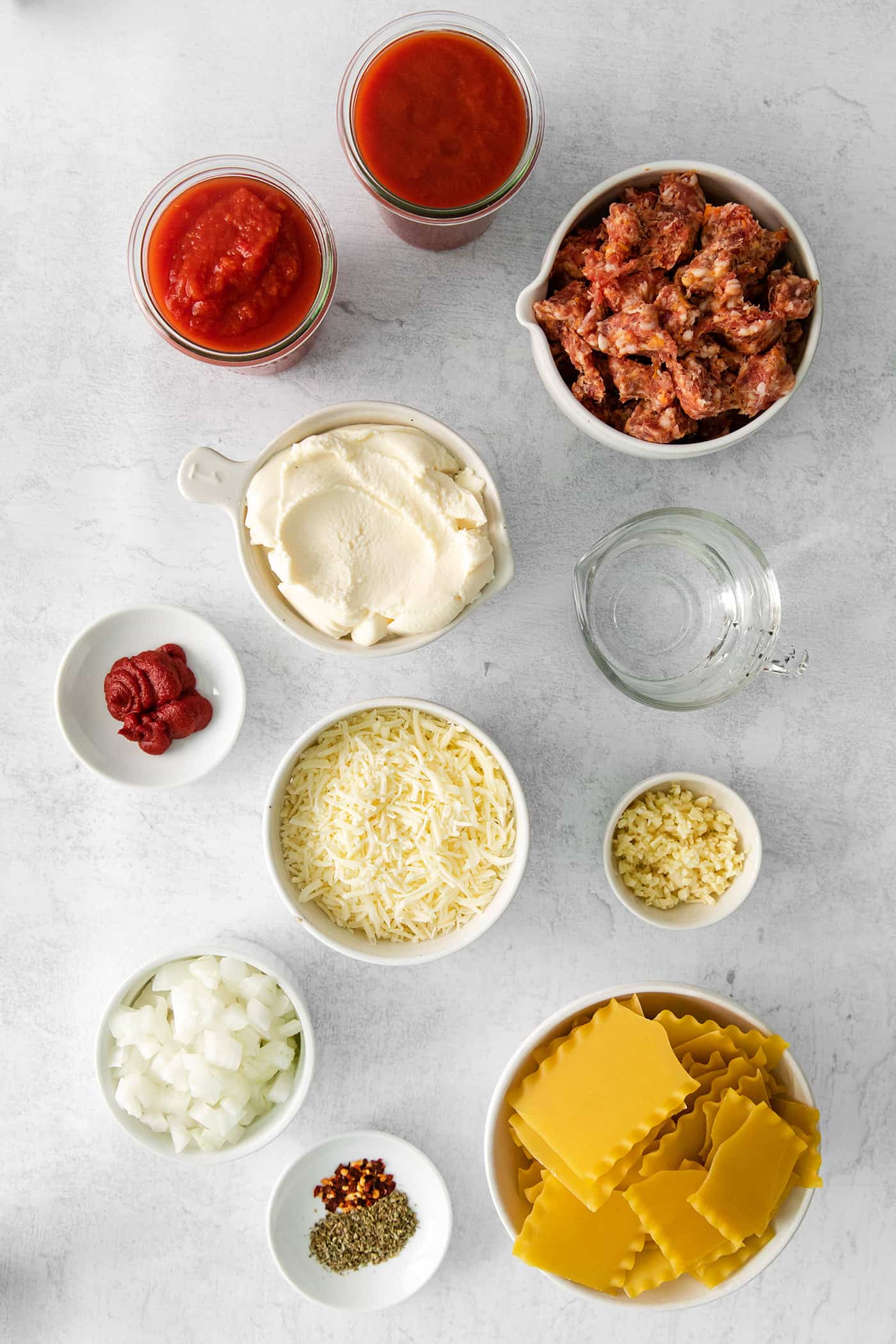 What You'll Need
The ingredients used in this recipe are almost identical to those used in a traditional lasagna recipe.
Italian sausage – Italian sausage is my favorite meat to use in lasagna – it has incredible richness and flavor.
Onion – I'm using a sweet Vidalia onion in this recipe but a standard yellow onion would work too.
Garlic – Garlic enhances the flavor of the tomatoes and sausage – plus it's a classic lasagna flavoring.
Tomato paste – Tomato paste adds concentrated tomato flavor to the sauce.
Water – Water helps thin the sauce so there is enough liquid to cook the lasagna noodles. If the sauce ever becomes too dry, feel free to add a bit more water.
Crushed tomatoes – Crushed tomatoes help create our marinara sauce. I like to have small bits of tomatoes in the sauce but if you prefer a smooth sauce, just swap the crush tomatoes for an additional can of tomato sauce.
Tomato sauce – Tomato sauce adds additional liquid and tomato flavor to our marinara sauce.
Dried Italian seasoning – Dried Italian seasoning enhances the herb flavors in the sausage and adds the classic herbiness that we all love in Italian marinara.
Red pepper flakes – Red pepper flakes add a bit of spice. Feel free to add as little or as much as you like.
Lasagna noodles – Lasagna noodles are a key player in lasagna. In this recipe, I use traditional uncooked lasagna noodles broken into small pieces – I find this gives the most authentic texture. But you could also use no-bake lasagna noodles to get your meal on the table even quicker!
Ricotta cheese – Ricotta adds a delicious creaminess to the lasagna. I like to dollop the ricotta mixture on the skillet (rather than mix it in) so you get big puddles of cheesiness.
Grated Parmesan – This gets stirred into the ricotta, along with some of the mozzarella, to create a delicious "cheesy yum". The same kind of deliciousness that you might already know from my lasagna soup recipe!
Shredded mozzarella – I use whole milk mozzarella in this recipe because it melts smoother and and has a creamier texture than part-skim mozzarella, plus it just plain tastes better! If you can't find whole milk mozzarella, no worries – your skillet lasagna will still turn out great.
Fresh basil – Fresh basil adds a delicious flavor and fragrance that puts this meal over the top. If you don't have basil on hand, sub in some Italian parsley.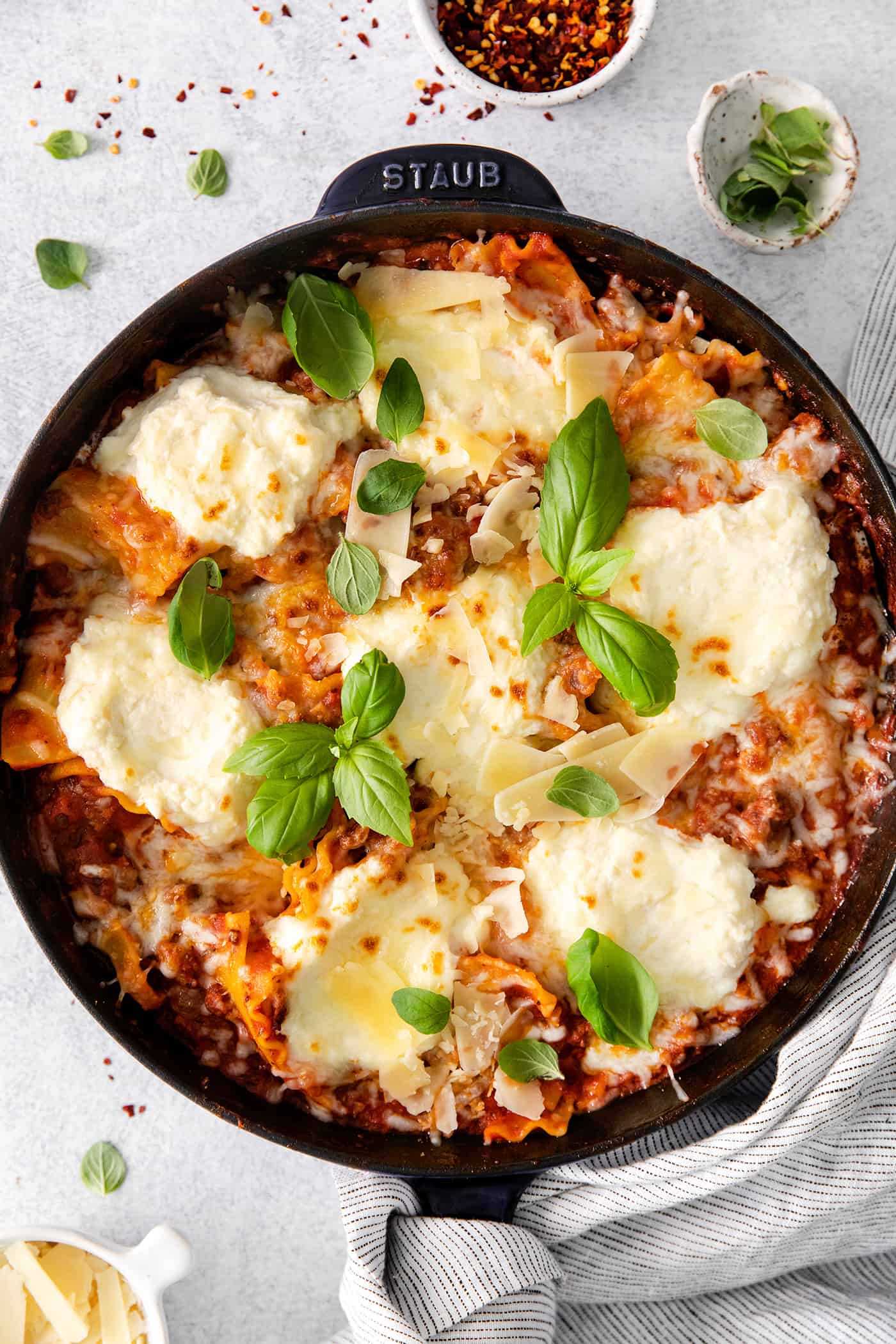 Recipe Variations
Here are a few ways to switch up this easy skillet dinner, including ways to make it vegetarian.
Switch up the meat. I opt for mild Italian sausage and then add red pepper flakes to taste, but you could use hot sausage if you prefer. If you can't find bulk sausage, just cut the casings off of sausage links. Feel free to swap out the sausage for ground beef, turkey, or chicken, if you prefer. A 50/50 blend of sausage and beef would give great flavor too. Just know that the other ground meats do not have additional Italian flavors added, so you might want to add more dried Italian seasoning.
Can I use other noodles? While lasagna noodles are ideal, since this is a lasagna, you can also use bow-tie or other similar noodles. I use traditional lasagna noodles in this recipe, for the best chewy texture. But if you're a fan of no-cook lasagna noodles, go ahead and use them – they'll cook up even faster! You can also partially cook some broken lasagna noodles in a separate pot of boiling water while the sausage cooks, and then add the noodles to the skillet after the tomato products get added – this will also cut down overall cooking time.
Add some veggies. This is an easy recipe to hide some veggies in. Try cooking some chopped sweet peppers, spinach, zucchini, or other veggies with the sausage and onions.
Make it vegetarian. Want to turn this into a vegetarian dinner? Just omit the ground sausage and add in some extra veggies.
Make it spicy. If you prefer a little heat to your dinners, use some spicy Italian sausage or increase the amount of red pepper flakes used.
How to Make Skillet Lasagna
This one pot lasagna is super simple to make. Here's how to do it in just a few easy steps.
Cook the sausage. Cook the sausage until it's about halfway browned, breaking it into small pieces. Drain any excess grease away. Add the onion and cook until the sausage is browned and onion is softened. Then stir in the garlic and tomato paste.
Make the sauce. Add a can of crushed tomatoes, a can of tomato sauce, Italian seasoning, red pepper flakes, salt & pepper, and a cup of water. Bring to a simmer.
Cook the noodles. Break the lasagna noodles into 1″ to 2″ pieces and cook in the sauce until tender, adding more water as needed, about 20 to 25 minutes total.
Make the cheese mixture. Combine the ricotta cheese, grated Parmesan, and part of the mozzarella in a small bowl. Season with salt.
Melt the cheese. Remove the skillet from the heat and place dollops of the ricotta mixture on top. Sprinkle with the remaining mozzarella. Add a lid and let the skillet sit for 5 minutes to melt the cheese. If desired, place the skillet under the broiler to brown the cheese.
Serve. Garnish with fresh basil and ENJOY!
Tips for Success
For the best, cheesiest homemade lasagna, keep the following in mind.
Drain excess grease. Since everything is being cooked in one pan, it's important to drain away any excess grease from the sausage.
Add water as needed. The sauce will thin as the noodles soak up the water – add ½ cup of water at a time, as needed, until the noodles are al dente.
Use whole milk cheese. For both the ricotta and the mozzarella I prefer using whole milk versus skim or part-skim, as it melts easier and has a much creamier, richer texture and flavor.
Customize to your preference. The great thing about a classic recipe like lasagna is how many ways you can make it your own. Play around with the spices and ingredients until you end up with the perfect lasagna for your family.
What's the best skillet to use? I'm using my Staub 11" Traditional Deep Skillet for this and it's the perfect size!
Can I use no boil noodles? You definitely can use no-boil noodles, just know that you won't need to add as much water and it will take less time to cook. No-boil noodles have a texture that's softer and less chewy than traditional lasagna noodles.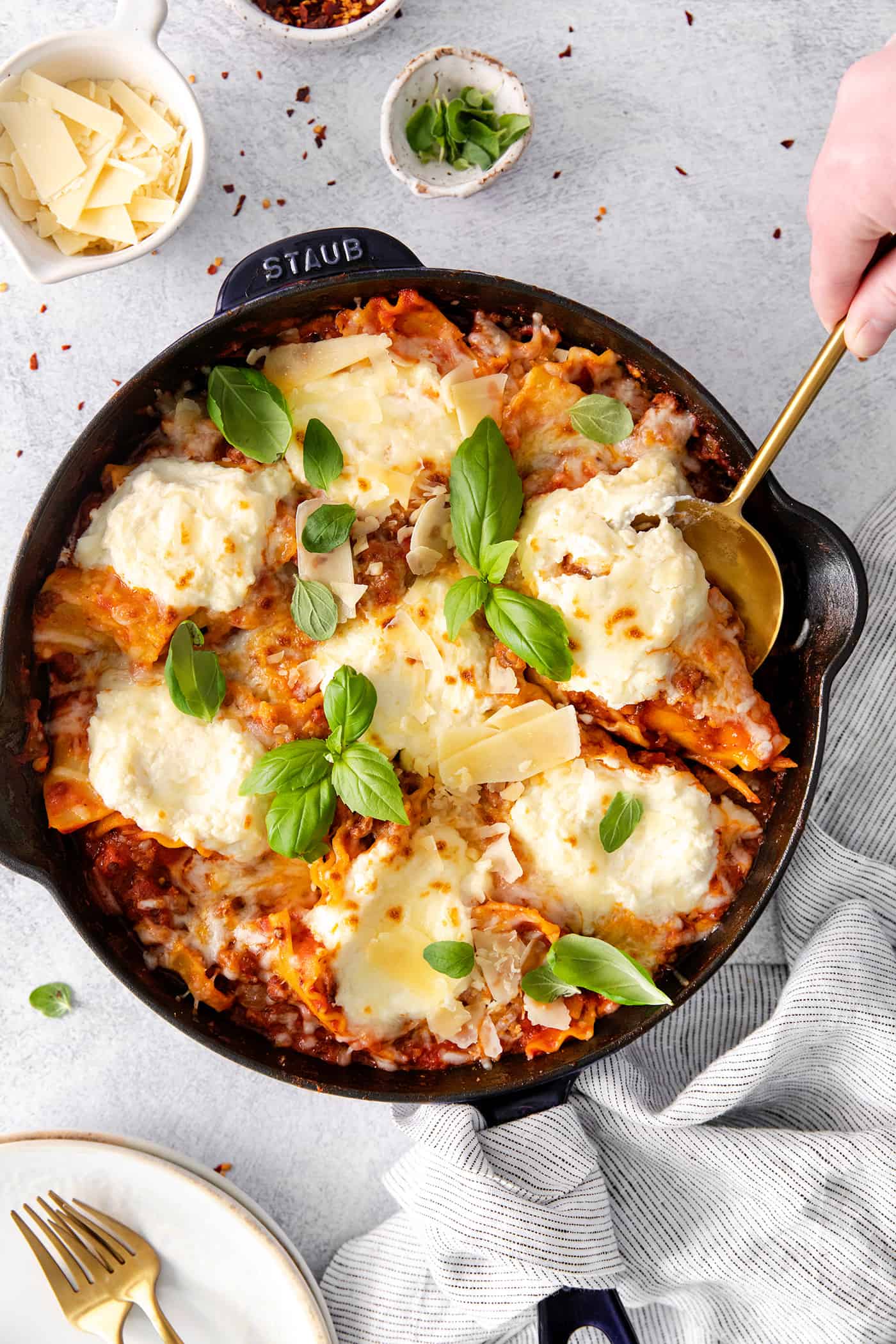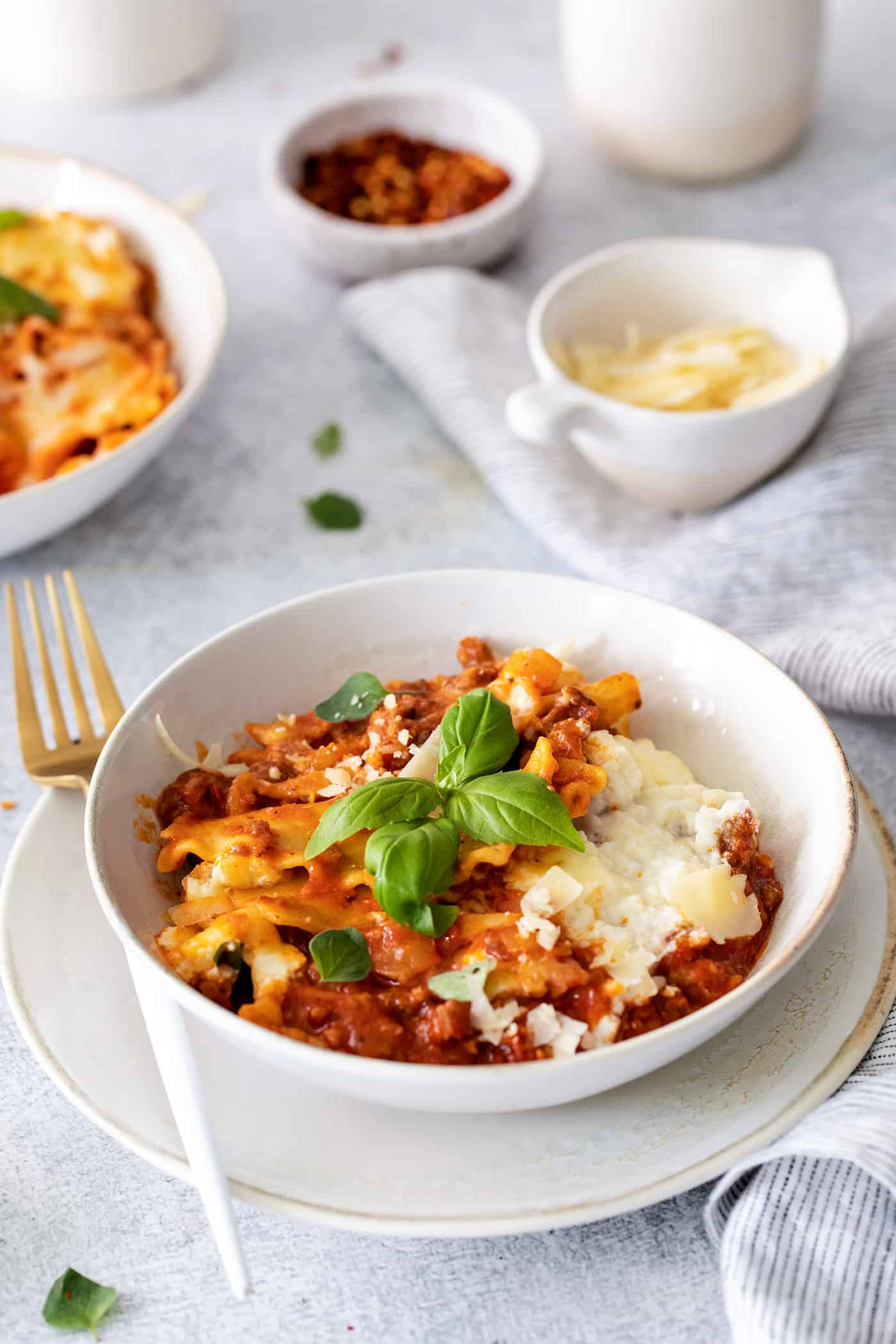 Serving Suggestions
Like the traditional dish, this one-pot lasagna is absolute perfection when served with some homemade garlic bread and an Italian side salad. If you don't have any garlic bread, any crusty bread will work – it's always fun to have something to scoop up every last bit of that tasty sauce!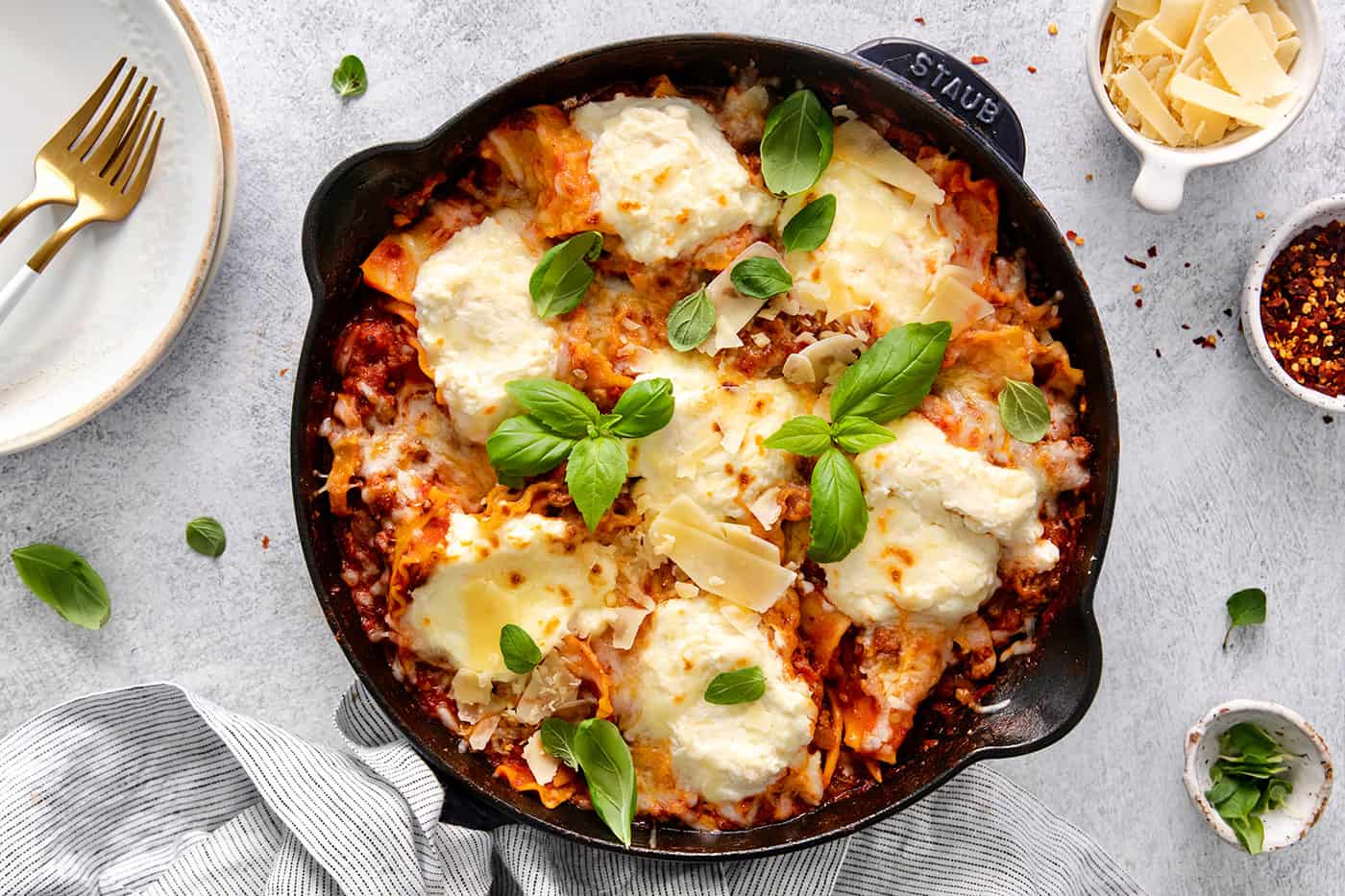 How to Store & Reheat Leftovers
Leftover skillet lasagna can be stored in the fridge for up to 4 days. Reheat individual portions in the microwave or return to the stovetop and simmer until hot.
One pot lasagna can also be frozen for up to 2 months, either wrapped tightly in foil or in an airtight, freezer-safe container. Thaw overnight in the fridge, then reheat at a simmer on the stovetop.
More Skillet Dinners:
Like this recipe? Save it to Pinterest!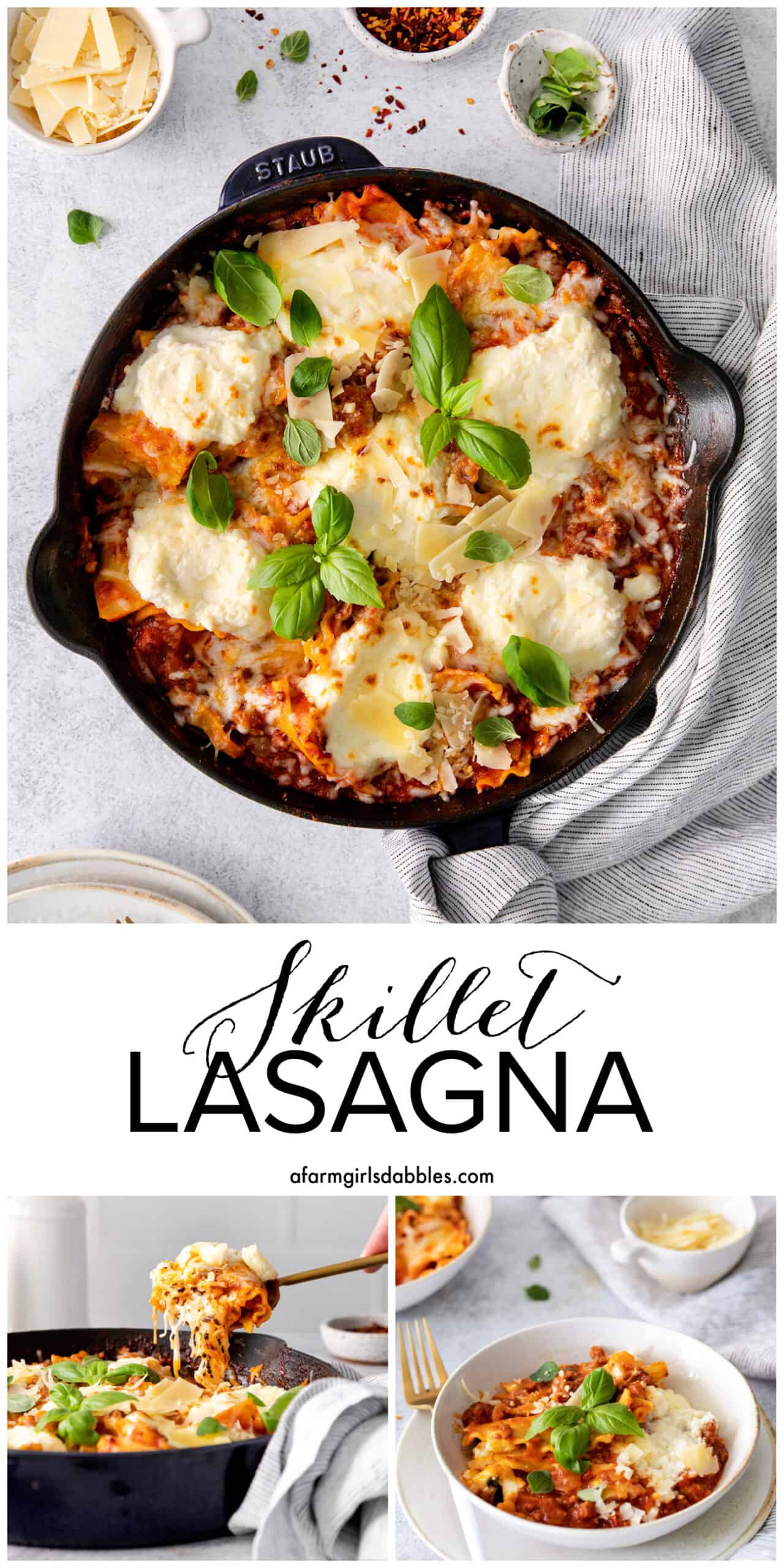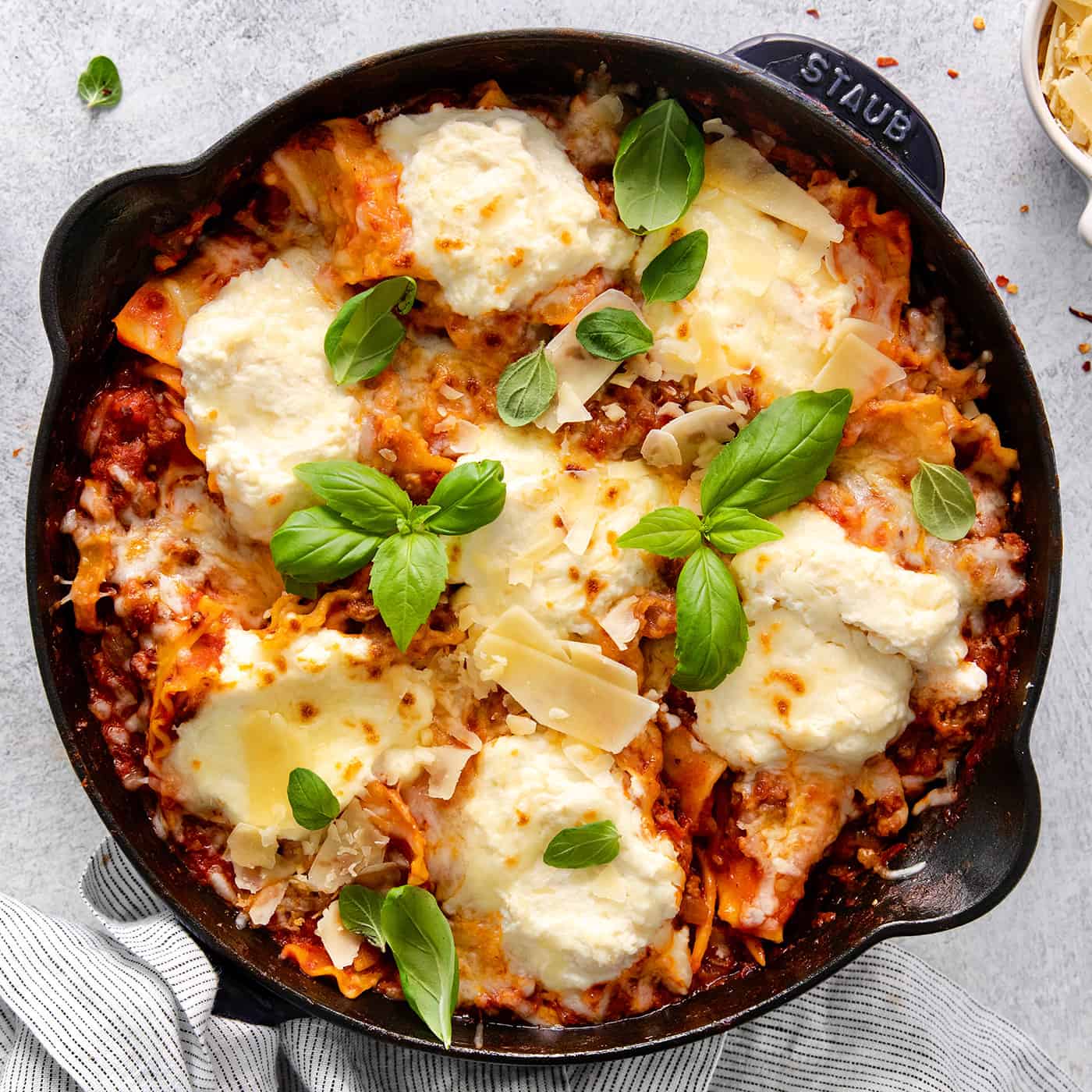 Skillet Lasagna
Yield: 8 servings
Prep Time: 5 minutes
Cook Time: 45 minutes
Total Time: 50 minutes
This Skillet Lasagna recipe features all the classic lasagna flavors and ingredients, with less work. It's an easy weeknight dinner recipe made in one skillet, so you won't be left with a sink full of dishes!
Ingredients
1 pound bulk mild Italian sausage
1 small sweet or yellow onion, diced
2 large cloves garlic, minced
2 tablespoons tomato paste
1 ½ - 2½ cups water, as needed
1 (15 ounce) can crushed tomatoes
1 (15 ounce) can tomato sauce
1 teaspoon dried Italian seasoning
1/4 teaspoon red pepper flakes, optional (add less or more, to taste)
1/2 teaspoon kosher salt
1/2 teaspoon black pepper
8 ounces traditional lasagna noodles
1 cup whole milk ricotta cheese
1/4 cup grated Parmesan
1 ½ cups shredded whole milk mozzarella
Fresh basil, for garnish
Instructions
Heat a very large (at least 11") high-sided skillet over medium heat. Add the Italian sausage and cook for a few minutes, breaking it up as it cooks into bite-size pieces. Once it is halfway browned, spoon out any excess grease and discard. Then add the onion and cook for about 5 minutes, or until sausage is browned and onion is softened and translucent.
Add the garlic and tomato paste. Stir until the tomato paste coats the sausage and cook for an additional minute.
Add 1½ cups of the water, crushed tomatoes, tomato sauce, Italian seasoning, red pepper flakes, salt, and pepper. Stir together and then bring sauce to a gentle simmer.
Break the noodles into 1" to 2" pieces and add them to the skillet, pressing them into the sauce. Cover and cook for 20-25 minutes, stirring periodically to keep the noodles from sticking together. The sauce will thin as the noodles soak up the water – add an additional ½ cup of water, as needed, until the noodles are al dente.
While the noodles cook, combine the ricotta cheese, Parmesan, and ½ cup shredded mozzarella in a small bowl. Season with a pinch of salt.
When the noodles are tender, remove the skillet from the heat. Stir the sauce one more time and then place big dollops of the ricotta mixture on top (but don't stir them in). Sprinkle remaining 1 cup of mozzarella over the top and then place lid back on top of the skillet and allow it to sit covered for 5 minutes to melt the cheese. Option: For a browned cheesy top, place the uncovered skillet under the broiler for 3-4 minutes, or until the cheese is blistered to your liking.
Garnish with fresh basil (use whole, sliced, or chopped leaves) - and ENJOY!
Nutrition Information:
Yield: 8
Serving Size: 1
Amount Per Serving:
Calories: 387
Total Fat: 25g
Saturated Fat: 12g
Trans Fat: 0g
Unsaturated Fat: 15g
Cholesterol: 67mg
Sodium: 822mg
Carbohydrates: 17g
Fiber: 1g
Sugar: 4g
Protein: 22g
Nutrition information is automatically calculated by Nutritionix. I am not a nutritionist and cannot guarantee accuracy. If your health depends on nutrition information, please calculate again with your own favorite calculator.